FLASH! Twelve hours after I posted this, this morning I read this…
Anthony Fauci's pandemic emails: 'All is well despite some crazy people in this world' (msn.com)
"I saw the Science interview, how could I say such a word 'big mistake' about others? That was journalist's wording. Hope you understand," Gao, director of the Chinese Center for Disease Control and Prevention, wrote to Fauci in a March 28 email. "Lets work together to get the virus out of the earth."
"Lets work together to get the virus out of the earth."
"I understand completely. No problem," Fauci wrote back. "We will get through this together."
Was it Russia? Seeing his operatives losing the White Culture War, Putin invades parts of America in order to weaken the mixed-race Democrats. THE RANGE WARS are on in ernest.
Cybersecurity attack hits world's largest meat supplier JBS' IT systems in the US and Australia (msn.com)
JBS USA, the world's largest meat supplier, says it was the target of an "organized cybersecurity attack"
attack."


In a statement, JBS, which has its U.S. headquarters in Greeley, Colorado, said the attack affected some of its servers supporting its North American and Australian IT systems.
"The company took immediate action, suspending all affected systems, notifying authorities and activating the company's global network of IT professionals and third-party experts to resolve the situation," the company said in its statement. "The company's backup servers were not affected, and it is actively working with an Incident Response firm to restore its systems as soon as possible."
Cheney fires back at Flynn over coup remark
Russia to build up troops near western border to combat threat from NATO
Stung by the last-minute setback for one of the G.O.P.'s top legislative priorities, after Democrats killed the measure with a dramatic walkout Sunday night, Gov. Greg Abbott suggested he would withhold pay from lawmakers because of their failure to pass the bill.
"No pay for those who abandon their responsibilities," Mr. Abbott, a Republican who strongly supported the bill, wrote on Twitter as he pledged to veto the section of the budget that funds the legislative branch.
Sign up for The Morning newsletter from The New York Times
G.O.P. leaders said they would revive their efforts in a special session of the Legislature. The bill's chief architect in the State House of Representatives, Briscoe Cain, said the walkout might enable Republicans to craft a measure even more to their liking.
"At the end of the day, this turned out to be a good thing," said Mr. Cain, the chair of the House Elections Committee. "We'll come back with better legislation and more time for it. Special sessions are focused."
Posted on August 9, 2019 by Royal Rosamond Press
I just saw Angie Craig on the Lawrence O'Donnell show, and she says Trump is poised to lose the rural vote. Farmers are bailing on Trump's Bailout that they see as parasitical welfare. Rena (Irene) has been a model-muse-goddess for this Range War between the right and the left. Trump has made farmers extremely left-leaning – against their will. Rena picked a fight with me about "left-leaning" that may lose Trump and the Republicans the election -in the end. Who saw this coming?
I want to make peace with my model and muses, Rena and Belle, who I have called Renabelle. There are Farm and Art lessons to be learned – then taught! If we lose our art and agriculture, then we have lost our history. What about our justice? We are on the verge of losing our Respect. Where are our real roots?
John Presco
https://en.wikipedia.org/wiki/Angie_Craig
Rep. Angie Craig Champions Minnesota Farmers at Farmfest
August 8, 2019Press ReleaseRep. Craig meets with local producers, speaks at listening session on farm economy
Yesterday, U.S. Rep. Angie Craig attended Farmfest in Morgan, Minnesota to continue her fight to preserve Minnesota's family farms, meet with local producers, and share her work on the House Agriculture Committee.
As a Member of the House Agriculture Committee, Rep. Craig has made supporting Minnesota farmers a top priority. On the heels of new trade announcements between the United States and China, Rep. Craig underscored the importance of a sound trade strategy that opens markets for farmers and gives them the opportunity to pass their farms along to the next generation. Rep. Craig has proven her commitment to greater Minnesota by bringing rural voices to Washington.
To that end, Rep. Craig participated in a listening session on the state of the farm economy with Secretary Sonny Perdue, Chairman Collin Peterson, and members of the Minnesota Delegation to discuss the bipartisan work that is being done to support Minnesota farmers. She also visited the booths of the Minnesota Farm Bureau, Minnesota Soybean Growers, Minnesota Corn Growers, Minnesota Pork Producers, Minnesota Cattlemen's Association, and the Minnesota Department of Agriculture, among many more. At these booths, Rep. Craig heard about how she can be a strong partner in Congress for smart trade policies and expanded markets for producers.
"I spent 25 years working in business where much of our sales were exports and China was one of our fastest growing markets. I'm incredibly concerned that we've asked the nation's farmers to take a little bit of pain for a long-term gain on this trade war," Rep. Craig said at the listening session. "I see a lot of pain from Second Congressional District of Minnesota and I don't see a strategy in sight. I'm rooting for the administration to be successful, but I'm not sure how much longer our farmers can wait. The current trade assistance does not make them whole."
Posted on April 16, 2020 by Royal Rosamond Press
Montana keeps inviting Ammon Bundy to come act like he is the Messiah of the New Code of the West. When I beheld Rena Easton in the light, I thought;
"If Jesus had a daughter, she would look like this beautiful creature!"
With the political attack on Governor Whitmer by Bundy and the 3 Percenters, the main topic of this blog – has come to past! I am….REDEEMED! I can say and do almost anything! I own a Immunity Card. All my tormentors are gist for my novel and picture show. I am tempted to make a film where Jesus as an old man shows up in the streets of Bozeman Montana with his drop-dead gorgeous granddaughter.
When Deputy Dan Mayland and I had our chit-chat, he passed on a message from Rena.
"She wants you to know she does not want to affect the publication of your newspaper."
This is what made me suspicious that her and Dan's harassment of me was a group effort who believed in Constitutional Rights, something Belle Burch and Alley Valkyrie did not subscribe to – and Kim Hafner!
"I don't care if you believe I am Jesus. You got to listen to my granddaughter! She delivers the best New Code of the West sermon you ever heard!"
The real movie these Faux Cowboys want to see is…Jesus of Montana. I will have Jesus walking about in Boho Cow-Bo clothes. Will he be wearing boots. I will have him spout my Biblical revelations as Faux Cowboys and Faux Cowgirls' go crazy.
For two years Rena and Dan knew I hit their sweet spot with my Bundyish prophesy. Did they call me up and say;
"We're sorry we made you out to be dangerous and insane. Just for the record, are you encouraging Oregonians to defy Governor Brown's isolation order? Are you telling your Beatnik Cult followers not to wear masks so you can infect, and kill 0ff the Straight People? Just thinking aloud!"
John Presco
Michigan Governor Gretchen Whitmer has hit back at the thousands of protesters who defied her stay-at-home order on Wednesday, saying the rally was "political" and had endangered people's lives.
Protesters took part in a drive-in rally, dubbed "Operation Gridlock," on Wednesday to show their opposition to the stay-at-home order issued by Whitmer due to the coronavirus pandemic. "Operation Gridlock" was listed on Facebook as an event hosted by the Michigan Conservative Coalition and the Michigan Freedom Fund.
Many demonstrators got out of their vehicles by the state capitol building in Lansing and brandished signs bearing messages including "Michigan Against Gretchen's Abuses" and "Stop The Fear, End The Lockdown."
A Michigan State Police spokesperson told Newsweek the protest attracted an estimated 4,000 people and the demonstrators were "peaceful." The spokesperson said the majority of demonstrators remained in their vehicles and those on foot were practicing social distancing.
No tickets were issued during the protest for violating Whitmer's stay-at-home order, but the spokesperson said one arrest was made—a 45-year-old man for simple assault against another protester.
https://www.newsweek.com/michigan-governor-hits-back-protest-stay-home-order-1498228
https://1worldonline.com/insight.html#!/94895/33056701-8f3a-4f21-ae7b-efa90974009a/en
https://www.theguardian.com/world/2020/apr/15/michigan-coronavirus-protest-stay-home-order-gretchen-whitmer
https://ravallirepublic.com/news/local/article_93213542-43c7-5012-b577-0eeaa10d98ff.html
https://www.theguardian.com/us-news/2018/oct/14/ammon-bundy-republicans-far-right-figures-montana-anti-government-event
HELENA – An Oct. 13 event in Whitefish that says it will highlight property and civil rights is coming under criticism from several groups, saying it will feature anti-government conspiracy theorists and is an affront to public land.
The organizer of the conference said the event is none of those things and criticized her critics.
Speakers at the "New Code of the West" event sponsored by This West is OUR West include Ammon Bundy, leader of the armed occupation of Malheur National Wildlife Refuge and a participant in a standoff against law enforcement officials at his father Cliven Bundy's ranch in Nevada, critics said.
"By inviting Ammon Bundy, organizers and participants of this event are attempting to normalize the seizure of public lands and to legitimize threats against federal and local law enforcement," Bob Brown, a state legislator for 27 years, former Montana secretary of state and a Whitefish-area resident, said in a Sept. 27 news release opposing the conference.
Ammon Bundy is holding court in a chilly warehouse by the railroad tracks in rural Emmett, Idaho. Yes, that Ammon Bundy.
Four years after the standoff at Oregon's Malheur National Wildlife Refuge, Bundy remains a leading anti-government activist. On this March day he's rallying people against the stay-at-home order Idaho issued to curb the spread of COVID-19. Among other things, Bundy is threatening to lead a march on the homes of Idaho Governor Brad Little and the director of the state's Department of Health and Welfare. He also says he'd like to form a human cordon around businesses staying open in defiance of the order.
"A guideline would be great, but an order is inappropriate, and it's absolutely unconstitutional and unauthorized," he said about Idaho's rules restricting travel and shutting down many businesses.
Ammon Bundy, right, rails against Idaho's stay-at-home order to a crowd in Emmett, Idaho, on March 26, 2020.
Heath Druzin/Boise State Public Radio
To battle the coronavirus pandemic, many state governments are ordering residents to shelter in place. That's creating a rift in anti-government circles. In places like Idaho, some militia leaders are vowing to openly fight these orders. Others say obey for now, but watch for overreach.
Many do agree on one thing, though: don't touch our guns.
Everything the CDC warned against
The scene at the warehouse in Emmett is like something from a pandemic safety nightmare. Dozens of people sit elbow to elbow, greeting each other with hugs, even posing for pictures with an arm around Bundy's waist.
The small rally is also illegal, according to the emergency order issued by Idaho's governor.
Bundy's involvement raises eyebrows in part because he has led two armed standoffs with federal agents, including one at an Oregon wildlife refuge that ended with state troopers killing one of his followers. And Bundy wouldn't rule out a similar scenario in response to coronavirus-related restrictions.
"I think we have to do whatever it takes," he said. "I hope we don't have to go to that extent."
But some in what is also known as The Patriot Movement see it differently.
One of the men who took up arms to defend Bundy and his father against the federal government has broken with Bundy on the pandemic response. Eric Parker is the president of the militia group The Real 3%ers of Idaho. They are part of the national movement the Three Percent, with loosely affiliated statewide groups that focus on weapons training, disaster preparation and survival tactics.
Unlike Bundy and many of his followers, Parker is taking the pandemic threat seriously.
"We understand this is a health crisis," Parker said. "We would expect everyone to act accordingly."
He's encouraging his fellow Three Percenters to follow the stay-at-home order.
RELATED COVERAGE
But he also said his members are monitoring enforcement and documenting abuses by any authorities.
"We believe that that's the possible flashpoint," he said.
Firearms seen as 'essential'
What does unite anti-government movements during the pandemic is the importance of firearms. On a recent online broadcast of the prepper-focused Radio Free Redoubt, host John Jacob Schmidt said he's relieved to be surrounded by heavily armed preppers during a crisis.
"It feels so good to be living in the American Redoubt," he said.
The American Redoubt is generally thought of by survivalists and militia groups as a region encompassing parts of Idaho, Washington, Oregon and Montana. It is seen by them as a kind of last refuge from societal collapse.
Todd Savage lives in North Idaho and runs Black Rifle Real Estate, which caters to preppers and followers of the Redoubt movement. He says his business is booming over the past month as concerns about COVID-19 have jumped to the fore.
Given that his company name is a nod to the AR-15 rifle, it's unsurprising that he thinks guns are essential during a pandemic.
"The only thing that stops a bad guy with a gun is a good guy with a gun," he said. "When somebody is breaking down your door because they're desperate for food, water, medicine for their family, what are you going to do?"
Studies suggest that gun use for self-defense is exceedingly rare. A 2015 study published in the journal Preventive Medicine found that self-defense gun use occurs in less than one percent of all crimes when the victim and perpetrator encounter each other. But many preppers and and anti-government groups urge their neighbors to stock up on guns and point to extraordinary crises, such as a deadly pandemic, as times when self-defense is most important.
Followers of the Redoubt movement were galvanized by the controversial memo issued by the Department of Homeland Security suggesting that gun stores be deemed essential services. It was the latest in a series of overtures to the far right from the Trump Administration.
Alexander Barron, who runs the Charles Carroll Society, a website focused on the American Redoubt, said he was encouraged by DHS' move.
"I support President Trump wholly when he recommended to governors nationwide that things like firearms, gun stores and shooting ranges remain as essential services for the American people during these times of need," he said.
Watching for a red line
David Gletty spent years infiltrating anti-government groups as a paid operative for the FBI. He said some anti-government groups may see the fear of COVID-19 as an opportunity.
"It's a true crisis, but it's a great recruitment tool for these militias," he said.
Gletty said many who adhere to an anti-government mindset don't recognize the authority of any government officials past their county sheriff. That could mean the potential for violence.
"They are prepared if the government does come with law enforcement and try to shut them down," Gletty said. "That's that's where the red line will be."
For now, at least, no one has crossed that line.
Bob Brown (Photo: File photo)
He said the event "flies in the face of the values Montanans of all political persuasions share" and has no place in Montana.
Others listed on the news release include the Montana Wilderness Association, some Whitefish city officials, the Montana Human Rights Network, Rep. Shane Morigeau, D-Missoula, a member of the Confederated Salish and Kootenai Tribes and former state lawmaker Carolyn Pease Lopez, a member of the Crow tribe.
"This event is targeting American Indian people across the state and the West," Pease Lopez said. "We must stand together undivided against bigotry and any efforts to insert anti-Indian sentiment into the political mainstream."
Laura Lee O'Neil, the main organizer of the event and founder of "This West is OUR West," took issue with the allegations.
"While I respect their First Amendment right to speak, I most assuredly do not agree with the disparaging name-calling used in this 'Press Release.'" she said in an email. "Our event is in no way advocating nor supporting an extremist, violent, anti-government, anti-Indian agenda."
"I personally have great respect for our country's Constitution, and am simply exercising my First Amendment right in promoting a civil dialogue and discussion on issues important to us here in Montana and throughout the Western states," she wrote.
The This West is OUR West website states the country is under threat of federal government overreach, the removal of state jurisdiction and protection and falling victim to international global agendas.
"We share common concerns, provide useful information and offer networking capabilities among the voices across the West," the website states.
The website states the event will be 8 a.m. to 6 p.m. event at the Grouse Mountain Lodge and will look at "land, water, property and civil rights in the Western United States."
Elaine Willman, which the critics of the event said is one of the most well-known anti-Indian activists in the country through her work with the Citizens Equal Rights Alliance, will also speak.
Rep. Kerry White, R-Bozeman (Photo: Courtesy)
Another person listed to speak is Rep. Kerry White, R-Bozeman.
White, according to his biography on the event website, introduced a bill that was signed into law in 2017 urging the U.S. Congress to release certain wilderness study areas in Montana from consideration for inclusion in the National Wilderness Preservation system, calling for dropping nearly 1 million acres from possible federal wilderness consideration.
White said Monday he did not know the list of speakers when he was asked to discuss the health effects of wildfire smoke.
"I thought this was an educational event but it seems the press release has labeled this as an anti-government event," White said via email. "Not what I had in mind when I accepted several months ago to show my presentation on the health effects of these wildfires. Anti government is not my position."
He said he would contact the organizer to get more details on the purpose of the event.
He also defended a Facebook post when he was planning to go to Nevada during the standoff that involved the Bundy family.
"It was not to support Bundy and in fact my post explained clearly that several legislators were going to attempt to bring a peaceful end to the situation," White said.
Another state official scheduled to speak is Rep. Matt Shea, R-Wash.
The Montana Human Rights Network has said This West is OUR West is rooted in the militia movement of the 1990s and "espouses an ideology at the nexus of the anti-government, anti-Indian, and anti-environmental movements."
O'Neil disagreed.
"As is stated on our website, This West is OUR West promotes 'Uniting Western States, Protecting Our Rights.' And, since those God-given rights are clearly stated in the Bill of Rights and the Constitution, under which our government is structured and regulated, we are in no way anti-government," she said.
O'Neil said it was "shameful that some must resort to name calling and untruthful slander simply because others may have differing opinions."
She said Montanans prefer unity over the division "and celebrate our right to peacefully assemble and speak freely and respectfully."
Montana Wilderness Association, in partnership with Montana Wildlife Federation, Montana Human Rights Network, and Love Lives Here, will have an event on the same day as New Code of the West. It is called Montana Undivided: A Rally for Human Rights and Public Lands.
The event will be 10 a.m. Oct. 13 at Depot Park in Whitefish.
After the screening of a documentary about her husband, Finicum's widow, Jeanette, gave a sometimes tearful speech. She also criticized the media, saying: "It's not your responsibility to tell us how to think and believe."
The slickly produced documentary was sponsored by the rightwing Center for Self Governance (CSG). Before the screening, speaking directly to reporters who had been placed at a table at the head of the room, the CSG president, Mark Herr, accused the media of "label-lynching" Finicum and other Malheur occupiers.
Alex Newman, foreign correspondent for the conspiracy-minded John Birch Society, led a prayer for the media before delivering a lecture connecting the so-called "deep state" to the Council on Foreign Relations and the Bilderberg Group.
Other speeches featured claims about conspiracies by communists, Muslims and the United Nations.
In a wide-ranging presentation, the Republican Washington state legislator Matt Shea connected the Council of American Islamic Relations to Hamas; said a mosque in Spokane was owned by the Muslim Brotherhood; characterized the grassroots progressive organization Indivisible as communist; and demanded the management of public lands be "transferred back to the states".
Shea once said journalists were "dirty, godless, hateful people".
Elaine Willman, a campaigner against Native American treaties and indigenous water rights whose work has been promoted by The West is Our West, claimed: "Federal Indian policy is unconstitutional." She also said Paulette Jordan, an Idaho Democrat aiming to make history as the first Native American state governor, would be "serving two masters" if elected, due to previous service on the Coeur d'Alene tribal council.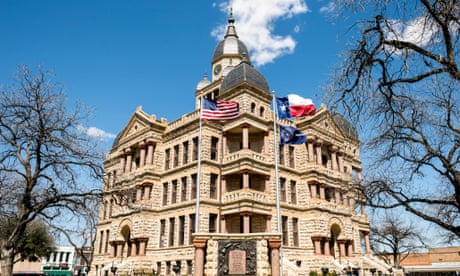 Read more
A Montana state legislator, Kerry White, appeared on a panel featuring Dan Happel, who uses his radio show, Connecting the Dots, to promote the "Agenda 21" conspiracy theory, which holds that the United Nations environmental initiative is a tool to establish world government. White claimed increased wildfires in the west were caused by reduced forestry, not climate change.
The Montana Human Rights Network (MHRN) characterized the conference as a platform for "anti-government extremism and anti-Indian bigotry". It helped organize a protest a mile from the conference venue, in a park in downtown Whitefish. Around 300 people attended.
A spokeswoman for MHRN, Cherliyn DeVries, said Bundy's invitation to the New Code of the West event was "very disappointing" and did not reflect the views of the local community, which she said was "supported by public lands".
"He's proven himself to be a violent extremist," she said. "Violent extremists divide communities … This is not who we are. The middle is broad and deep."
Asked if the political movement served by the conference was growing, Ammon Bundy said: "If you call it a movement, it's growing."
Share this:
Posted on April 15, 2020 by Royal Rosamond Press
540 × 304Goodreads
The Masque of the Red Death by Edgar Allan PoeThe Masque of the Red Death – Spencer Baum – Mediummedium.com
Amazon.com: The Masque of the Red Death eBook: Edgar Allan Poe …amazon.com
The Masque Of The Red Death" – Free stories online. Create books …storyjumper.com
Pin by Ashley Wood on tattoos | Edgar allen poe art, Poe tattoo …pinterest.com
The Masque of the Red Death – Lucy A. Snyderlucysnyder.comThe masque of the red deathslideshare.net
Let this be a game of beautiful landscapes! – Drawceptiondrawception.com
Amazon.com: The Masque of the Red Death eBook: Edgar Allan Poe …amazon.com
Essay masque of the red death – Write my Paper on Masque of the …silkstudio.com.au
The Masque of the Red Death | The Listlist.co.uk
"Back in December, back before masks, and social distancing, and back before we all reeked of hand sanitizer and uncertainty, the Washington Post published a giant exclusive in which, through official government documents, the newspaper laid bare the lies and malfeasance behind America's war in Afghanistan. At the time, it seemed as though this would be one of the biggest stories of the past five years. Instead, it disappeared from the national conversation even before the pandemic ate every news cycle. Meanwhile, the war ground on as American involvement gradually dissipated. So, while I hope that The New York Times's massive "Red Dawn" reporting over this past weekend manages to have a shelf life beyond Monday's Five O'Clock Follies, I'm not making book on that either way.
To recap, in what appears to be a general alarm within Camp Runamuck, the Times was gifted with a trove of e-mails that detailed extended e-conversations between infectious disease experts in and out of government that came to be called "Red Dawn" by the participants. Let us simply say that El Caudillo del Mar-a-Lago and his administration* do not come out of these conversations at all well."
Red Dawn of the Rouge Death
The Last Western Novel
by
John Presco
On April 15, 2020, I awoke with a very powerful and more direct message from my Angel. She allowed me to hear the Voice of God more directly. I was told to stop all people from taking my healing energy, gather all that energy, and apply it to the World Healing you have been doing most of your life.
In 1991 I began my novel about John the Baptist being the husband of Mary Magdalene, who inherited his teaching that is hidden from us. Jesus was a disciple of John who was turned into an inaccessible sky-god by Saul-Paul who hated Mary and the church she founded. Paul hunted down Mary and her church. In 'The Lion of God' Paul peruses John and Mary to the island of Cypress. We have no birth and death day for Mary who is replaced by Jesus's mother in a fictional and usurping way. Did Mary give birth to John's child, or, children? This question is born to my door when my sixteen year old daughter was revealed to me in 2000. I was not completely aware I had a child. Her mother is one of the thieves of God's Healing that His female angel gave to me when I came back to life on a beach in California.
Five years ago I had a dream. I was in Rena Easton's home in Montana. there were men in her living room talking about me. I assumed they read my blog and were real angry. Rena met me in her backyard, said goodbye, and gave me a kiss. When I awoke, I wondered if they were members of a militia that had ties to the church Rena went to. This dream led me to author 'The Royal Janitor'. Rena's boss became her bodyguard, Miriam Starfish Christling, who locked my Muse in the Tower of Clean in the Siberian wasteland that is Montana. I found a photo of the "House of Clean".
I suspect our President is taking a clue, or, is working with his Gun Men Miltitias to depict the Democrats as Socialist saboteurs, who are hell-bent to keep American shutdown so they will win the White House. Here is the High Noon showdown I saw……in my dreams!
https://www.npr.org/2020/04/13/832961674/in-idaho-far-right-republicans-defy-coronavirus-health-restrictions
Posted on February 11, 2014by Royal Rosamond Press
I suspect Rena brought my letter to work to show her boss after telling her about it. She asked to read it. Did she fear she would lose her employee/slave for fifteen years, and thus pointed out things in my letter that might suggest I am a sexual deviant – after Rena's body? If so, it is her boss that is after Rena's body, mind, and soul.
Here is the story of Cinderella and Sleeping Beauty in Siberia. I was prepared to change the dreary life of a sixty year old woman that became afraid of men. Her boss knew this. She was jealous, because no knight in shining armor is coming her way. It had to be too good to be true.
'The House of Mean & Clean' is where once left-leaning women go to be brainwashed. Disguised as a battered women's shelter, the inmates are given a mop and a pamphlet on the right-leaning Dead End Jesus, then put to work. Any attempt to contact liberal people on the outside, will be punished. Your mail will be examined. Any encoded mail will be scoured by the Thought Police. I have been accused of Crimethink.
So, there is Clean& Mean Rena, working away and reciting poetry. She thought she had someone who cared, who would love to hear her poems, but, her boss convinced her I was a another monster, like her father, like her last husband. Rena has been taken hostage, and is the model prisoner. This is how 'Capturing Beauty'….ends!
"I have a million poems memorized. I can always gauge my highs and lows by my focus, and my desire and ability to recite them whilst vacuuming at work. My mind can roam free there, but I do get ever so tired, and bored, lonely as well.
I love my boss – Raelene. She is very professional, very tough, but ever so kind. I enjoy manual labor."
Jon Presco
Copyright 2014
https://en.wikipedia.org/wiki/The_Masque_of_the_Red_Death
In Idaho, Far-Right Republicans Defy Coronavirus Health Restrictions
April 13, 202012:47 PM ET
Libertarian activist Ammon Bundy (second from right) prays during an Easter Sunday church service he organized despite concerns over the coronavirus outbreak in Emmett, Idaho.
Jim Urquhart/Reuters
Ammon Bundy, who led an armed occupation of a federal wildlife refuge in Oregon in 2016, hadn't been drawing much attention from news cameras or social media lately, until COVID-19.
In defiance of Idaho's stay-at-home order, which he claims is an affront to personal liberties, the militia leader — who was acquitted by an Oregon jury in 2016 — has been regularly holding in-person meetings in the Idaho farming town of Emmett where he now lives.
Bundy, in a cowboy hat and jeans, usually addresses a couple dozen people while glancing at notes on his MacBook.
"If it gets bad enough and our rights are infringed upon enough, we'll physically stand in defense in whatever way we need to," he said recently.
Bundy often strikes a similar tone as his father Cliven Bundy did in the days leading up to an earlier standoff near the family's Nevada ranch in 2014. The meetings are usually streamed on Facebook and garner several hundred followers and scores of passionate comments.
National
A Resort Town Becomes A COVID-19 Hot Spot, And Says: Stay Away
Ammon Bundy had pledged to hold a nondenominational Easter service in a venue holding up to 1,000 people. In reality on Sunday, a much smaller crowd would turn out at a warehouse he owns in a dusty lot near the Emmett railroad tracks.
"They'll speak all matter of evil against you, they'll say that you are just trying to bring attention to yourself, they'll say that you are trying to destroy other people's freedoms because if you go outside and you breathe somebody might die," said Diego Rodriguez, a minister who spoke at the event.
The event appeared to draw about 60 people, about half of whom when asked by Rodriguez said they'd traveled from out of state. Some seemed to know each other and hugged and shook hands. No one wore masks or any other protective gear. Outside, American flags were mounted on pickup trucks with bumper stickers promoting the Three Percenters militia, as a man at the entrance blew on a shofar, an adopted symbol of the rebellious anti-federal Patriot Movement.
Even in one of the nation's most conservative regions, all of this might have been dismissed as bluster were it not for the fact that several elected officials in the rural Northwest are making similar calls for defiance as Ammon Bundy.
"Quite frankly, I don't know why Idaho is falling in line with some of the most liberal governors across the nation," said Rep. Heather Scott, a state lawmaker from Blanchard, in northern Idaho.
On her YouTube channel and in her regular newsletter to constituents, Scott called COVID-19 the virus that threatened to kill the Constitution. She also routinely casts doubt on the severity of the pandemic.
"The lying, Trump-hating media who continues to push global and socialist agendas has told us that there is an emergency," Scott said in her YouTube video.
Fellow local Republican and Bonner County Sheriff Daryl Wheeler also sent a letter to Gov. Brad Little (R-Idaho) asking him to call an emergency session of the legislature to rescind the stay-at-home order. It's been in place since March 25 and is set to expire this week.
The governor and the state's attorney general have maintained the order is constitutional and will be defended in court if a challenge comes.
So far their strategy also appears to be one of non-engagement. Both declined interview requests and have spoken very little about their party's defiant group. There have been no reports of police responding to any of the recent militia gatherings. This region — from conservative eastern Oregon and Washington state to the remote forests of the Idaho panhandle — has had a long history of far-right extremism, both homegrown and imported.
Randy Blazak, chair of the Oregon Coalition Against Hate Crime, says the COVID-19 pandemic is fertile ground for these groups' recruitment efforts. It's a time of high anxiety when civil liberties are taking the back seat to public health restrictions.
"They're really focusing on how this might be an opportunity to advance their very extremist views," Blazak says.
While there have been hundreds of cases in Blaine County, Idaho, and on reservations in the West, as a whole Blazak says there haven't been many reported infections yet in rural areas.
"The people in rural America don't quite see the real body count," he says. "So it's very real for them to deny the severity of the virus."
Health officials say it's dangerous to cast doubt on stay-at-home orders, one of the only real tools to stop the spread of COVID-19 until a vaccine is available.
In Bonner County, where the sheriff has said businesses should reopen and people should be free to move about, Dr. Morgan Morton, the chief medical officer at Bonner General Hospital, calls it a small, vocal minority in her community that's trying to drown out the urgent guidelines crafted by the experts, in this case the medical community and health care workers like her on the front lines.
"There are a lot of levelheaded people up here," Morton says. "I just hope they're listening to us and not them."
Morton, who's also an OB-GYN in the lakeside town of Sandpoint, worries that the county's 25-bed hospital will be quickly overwhelmed if COVID-19 keeps spreading. They only have four ventilators and six emergency room doctors.
Doctors there have said recently that their community shouldn't be taking medical advice from its sheriff.
"The most frustrating part is these are people who have clout with the community and are giving these recommendations when really it's not their area of expertise," Morton told NPR.
As of Monday, Idaho was reporting more than 1,400 coronavirus cases and more than two dozen deaths.
Posted on July 8, 2018by Royal Rosamond Press
The Royal Janitor
Whenever Miriam – was that way – her receptionist made a sign on her desk to warn everyone. It was a little Japanese flag that she stuck in her pen and pencil holder she bought at Staples.
"Watch out! Bonsai!"
To take her mind off the severity of her menstrual cramps, Miriam would put on one Tribulation video after another, and criticize the very faulty math and scripture. These episodes left her in an acute state of heightened awareness. Wearing that look, she told you she was your divine superior, and, if she chose to, she could squash you like a bug. She would tilt her head back and let you see into her nostrils that would flare when you really pissed her off. Everyone in the office tried t avoid making eye contact with her. But, that filled her with more endless rage. Victoria would send her off to the firing rage, or, the marshal arts practice, but, she was soon back, standing on the other side of her desk.
"You think you are better than me. Don't you?"
Victoria heard Miriam had mastered French kickboxing after hearing she was very good at it. she knew if they got started, they would not stop until the other was a bloody pulp. Looking up into the eyes of the Tiger, and seeing her nostrils flaring like the gills of a Great White. Victoria had enough!
"You're on the rag, aren't you?"
"What are you talking about (bitch?)"
Victoria whips out a calendar.
"We….I mean I have been keeping a record. Here are the moon days you go berserk,"
"No! Stop it! You're hurting me!"
"I'm sending you to the doctor. Something is wrong………….."
Miriam came around the desk and kicked away the chair that Victoria just vacated so she would have room to deliver a knock-out kick to her bodyguard's jaw!
"Shut the fuck up you dirty evil bitch, or I will tear you heart out! I know what's wrong me. It's none of your fucking business why I wear that platinum wig!"
All of a sudden, Victoria had an epiphany. All the pieces of the puzzle – flew into place! All her talk about the men who got an erection at the Adamite Nudist Colony, how she had to be covered up. She felt like an outcast. She felt she was being punished. When she had her first menstrual cycles, she was made to stay home with an old hag that mentally tortured her. She knew all the dreadful Russian witch story aimed at terrorizing young pubescent maidens. She was told if she told her parents of their lessons they would born a Succubus, and monstrous child that would eat everyone in the middle of the night.
Victoria realized that Miriam was sexually screwed up, and in need of a psychiatrist. But, there was something else.
"Oh my God, Miriam! You're a…….."
"Virgin." Miriam whispered. And her hard stare softened, replaced with tears.
"Menstrual cramps can range from mild to quite severe. Mild menstrual cramps may be barely noticeable and of short duration. They are sometimes felt as just a sense of heaviness in the abdomen. Severe menstrual cramps can be so painful that they interfere with a woman's normal activities for several days.
Posted on November 27, 2018by Royal Rosamond Press
Being an American Nazi sympathizer and racist is THE TOPIC these days! I have longed suspected Christian Nazis in Bozeman Montana turned Rena against me. I had a dream, that is now linked with the dreams of Siener van Rensburg.
Trump 'The Nightmare' is down South waving around a rope and a lynching hoping to save a Republican seat. Get out! Get out of the Republican party founded by my kindred as an Abolitionist party and movement.
Seer Jon
https://www.msn.com/en-us/news/politics/'race-is-always-the-key'-trump-dives-into-cultural-firestorm-in-mississippi-senate-contest/ar-BBQ8jls?ocid=spartandhp
Posted on July 6, 2018by Royal Rosamond Press
With Pussy Grabber's attack on the Me Took movement in Montana, I am set free of the false charges Rena Easton filed against me. I 'Dreamer Jon' used Rena to see into the future that he warned was coming. We were destined to meet. We are a work of art.
Jon Presco
Posted on May 31, 2017by Royal Rosamond Press
You do realize CEO Jeff Laszloffy needs sinners and the transgender folks to make his life work – and his Holy Foundation?
"Laszloffy is no good until he has his covfefe!"
What is COVFEFE? It is a wicked coffee bean being brought West on a train by Antonin Artaud, Gertrude Stein, Van Gough, and Hemingway. The Satanic Four have a wicked desire to convert Montana into a Pink FeFe State by having the Montanians drink The Devil's Seed of Conversion. This BAD NEWS will perk Lazloffy up. No doubt he will pass out more yellow scarves to protect the delicate necks of his Dull Believers, who are not who they used to be. They were very dull to begin with. Then, they got bored out on that vast Bozeman plain that is turning out to be The Devil's Stage'. Look out when White People get bored – in the name of The End Time Jesus!
The two horseman under the two clocks accent my High Noon masterpiece I have been working on for three years. Jeff and Greg gather the Chozen Ones in the Montana State Capitol of The Holy Last Chance, and await the Christian Passover. Those wearing a yellow scarf will be spared. Those without the scarf, will be turned into French Speakers – for starters! Artaud is coming!
Cathy Griffith and Tyler Shields were going to get on board, but, they forgot to run their ghoulish act past the Art Augur, who would have applied his Art Seal making it a real work of art along the lines of Hermann Nitsch.
"I caption this 'there was blood coming out of his eyes, blood coming out of his … wherever,'" she wrote Tuesday.
Before we delve further into this Art Gone Wrong, let us work on our pronunciation of covfefe. Let us go to the source. In this video we hear Artaud under the influence. In these photographs we see Antonin before he had his first cup of covfefe. He knows he must look calm and collected, or, his waiter will not serve him. Seconds after he has ingested covfefe, Antonin is in state of puffing enjoyment. Nicotine goes well with covfefe. Now that our President has abolished the International Bad Air Act – light em up – anywhere!
In the third photo, Artaud is already in need of a second cup. His eyes are rolling to the back of his skull, a dead give-away he is about to lose control. When he is refused service, Artaud grabs his waiter by the neck – and body-slams him to the floor!
Need I repeat the WARNING? Covfefe will severely wrinkle your skin and eventually turn you into a Cowering Covfefe Coward who must have some more Precious, as this brew is called. Talking to ones self, or Jesus, is a side effect. Need I point out the rumor, that our President has overdosed on covfefe, and is up all night tweaking and tweeting, he well on his way to becoming a Covfefe Creature of the Night. While most of us are asleep………he glowers over us all. Big Brother is twittering you!
Jon Presco
http://www.msn.com/en-us/news/politics/trump-targets-%E2%80%98negative-press-covfefe%E2%80%99-in-garbled-midnight-tweet-that-becomes-worldwide-joke/ar-BBBIpTa?li=BBmkt5R&ocid=spartandhp
At 12:06 a.m. Wednesday, President Trump tweeted a strange sentence fragment.
"Despite the constant negative press covfefe," the tweet read. That was it. It ended abruptly, as if someone stopped him, or he stopped himself, or perhaps he never meant to send it.
Posted on January 25, 2016by Royal Rosamond Press
My kindred, Senator Thomas Hart Benton was the sole proprietor of the Oregon Territory, and helped the Homestead Act become the law of the land. Freed Slaves were encouraged to take part in this Government Giveaway Program. John Fremont and Jessie Benton were Abolitionists. John emancipated the slaves of Missouri, hoping they would come into the Oregon Territory and lay claim to the wilderness the British had lay claim to. The British retreated and gave up their rights to Oregon, thanks to my kindred.
Cliven Bundy, the father of Ammon Bundy, used the word "Negro" in making his bullshit claim that white rugged cowboy types should take what they want. This echoes 'Manifest Destiny' that Senator Benton promoted which had its drawbacks. The important aspect is, the Bundyites are basing their takeover of Oregon land upon real historic legislation my kindred made. Therefore, I have more right to said lands then the Bundy family according to their flawed logic. I am ordering the Bundyites off my land.
Get out! Now! You are trespassers, squatters, and parasites of my Family Legacy!
I will be making a replica of Fremont's flag to take with me to Burns. I am the anointed Government Giver of the West. The Bundys speak with forked-tongue because they want the Federal Government to give them more land. Well, Cliven tore up his Homestead contract, and is a dirty racist pig – who suggested black people were better off as slaves!
Vacate my ancestral land – varmints!
Jon Presco
a.k.a Uncle Samaclaus
President: Royal Rosamond Press
The leader of militants at the Malheur National Wildlife Refuge gave two demands to FBI officials Friday for negotiations toward a resolution to continue. The exchange happened outside an FBI staging area near Burns, Oregon.
In a brief meeting with FBI officials, Ammon Bundy made it clear he will not talk about or negotiate a resolution to the three-week occupation of the refuge until his demands are met.
First, he required someone from the FBI meet him face-to-face for the discussions. A brief negotiation took place over the phone Thursday between Bundy and an FBI negotiator.
When the anti-government rancher Cliven Bundy stepped before the cameras to "tell you one more thing I know about the Negro," he also stepped into far-reaching and noxious American historical myths about self-sufficiency, race, and rugged individualism. Bundy's actual words – delivered in a Western drawl by a man in cowboy hat and boots, against a backdrop of sagebrush and desert scenery – were mostly the same old "government makes people dependent" arguments that saturate the right-wing blogosphere and FOX News.
But there was something else embedded in Bundy's observations about "the Negro" that bears mentioning.
Students of the history of the American West have long known that the strong, rugged individualists that populate our movies, TV shows, and myths always depended on government – to give them ownership of their farms and ranches, to subsidize private corporations like railroads for access to markets, for federal troops for protection from Indians, and federally funded dams and canals for irrigating their fields and sustaining their livestock and towns.
The idea that Bundy's pioneer ancestors somehow made their fortunes ("built that") without any help, before the invention of government assistance, the Bureau of Land Management or federal regulations, is preposterous.
Bundy's claims also echoed Mitt Romney's "47 percent" remarks to wealthy contributors during the 2012 campaign, when the Republican nominee intimated that nearly half of Americans believe they are victims and entitled to a range of government support to which they have become dependent. But Romney's division of Americans into "makers" and "takers" gets a lot more complicated if you examine
our country's complex history of clearing, settling and subduing the West.
https://rosamondpress.com/2017/12/09/vic-mark-presco-won/
Posted on May 25, 2018by Royal Rosamond Press
I am one of the few people in the world who now own The Right Stuff to wage cyber warfare on the Cyber Bully, President Trump. Trough the risen spirit of Dame Elizabeth Rosemond Taylor, as Cleopatra Rosemond Bond, I can destroy the Trump-Putin machine. I summon the Daughter of Ra to dispatch the enemies of the Constitution!
I am offering to do painting from Rena Easton's photographs when she was young. I am looking for a new Dutch Model to play Cleo.
Jon Presco
President Trump began berating Homeland Security Secretary Kirstjen Nielsen in the Oval Office earlier this spring, according to administration officials, griping about her performance and blaming her for a surge in illegal border crossings.
Chief of Staff John F. Kelly, who installed her in the job, jumped in to defend her.
The two men then sparred over Nielsen as she silently watched. At one point, Trump noted the border numbers were lower under Kelly and wondered aloud why Nielsen could not perform as well, according to these officials, who spoke on the condition of anonymity to describe the private meeting.