Posted on March 2, 2022 by Royal Rosamond Press

I might be the world's authority on Culture Wars thanks to my ex-muse, Rena Easton, making a false report to Deputy Sheriff, Dan Mayland, who called me from Bozeman Montana one evening. That's the Deputy above on a horse. He looks real serious about getting his man. How about rounding up transvestites at a Drag Queen show?
How ironic that Rena inspired me to author a James Bond novel that soon stars two lesbians' after I saw Putin's Cossacks whipping Pussy Riot. Victoria Bond's bodyguard gets drunk on one ZigZag beer, a woke kind of beer made in Portland. Governor DeSantis is threatening to build a prison near Disneyworld. Everything is coming true because I had my thumb on the American Pulse. If Budweiser knew I existed, they would have consulted me before throwing a billion down the drain.
Budweiser is getting bomb threats because they got a transgender selling beer. I keep seeing a man dressed as a woman on a can of Bud – with his mouth open! Is this real? When you go to take a sip, your lips are an inch – from its lips! Who did this? Who cost Budweiser – A BILLION BUCKS – and counting? You know I'm going to blog a dozen times on this. In the mean time, I suggest Budweiser air my response. Never retreat! Time to get real and employ some humor, some Will Rogers Humor. For a handsome fee I will star in the new ads – as Johnny Sunday!
"I don't mind taking a little old lady to Cowboy Church now and then; but, when I do, I cant wait to get back to my ol pick-up truck I call Big Blue, get me a cold one out of the cooler in the bed, and crack open a tall can of Big Faith Lite, the beer of Sky-bound Cowboys! Yee-haw!"
John Presco
https://www.facebook.com/CowboyChurchOfOregon/
Budweiser factories nationwide were reportedly the targets of bomb threats this week as emotions run high over parent company Anheuser-Busch's marketing deal with its new Bud Light pitchwoman Dylan Mulvaney.
The Los Angeles Police Department confirmed that officers responded to a call from the Anheuser-Busch facility in the Van Nuys section of the city on Thursday.
A spokesperson for the St. Louis-based beermaker told Patch that several other facilities across the country received bomb threats.
Budweiser releases new pro-America ad with iconic mascot in wake of Anheuser-Busch Mulvaney controversy
By
Michael Lee, Fox Business
April 17, 2023 12:01am
https://imasdk.googleapis.com/js/core/bridge3.568.1_en.html#goog_363328634
0 seconds of 1 minute, 0Volume 0%
This video file cannot be played.(Error Code: 232001)
Budweiser has released a new patriotic advertisement as its parent company struggles with controversy over its endorsement partnership with transgender influencer Dylan Mulvaney.
The advertisement, which was released on social media Friday, features one of Budweiser's famous Clydesdale horses traversing the country from New York City to the Grand Canyon, passing by scenes in the American heartland as a narrator delivers a patriotic message.
"This is a story bigger than beer," the ad's narrator says in the ad. "This is the story of the American spirit."
As the ad plays, the Clydesdale horse passes by some of the most famous American landmarks, showcasing the New York City skyline, the Lincoln Memorial in Washington DC, small towns, and farmland.
At one point, the ad showcases two people raising an American flag as one places her hand over her heart.
"Brewed for those who found opportunity in challenge and hope in tomorrow," the ad's narrator says as the horse passes by the flag raising duo and the Lincoln Memorial.
The patriotic ad comes as Anheuser-Busch, which owns Budweiser, continues to deal with backlash over a partnership between another one of its popular brands, Bud Light, and Mulvaney.
Anheuser-Busch has suffered a financial hit as calls to boycott its brands have spread across the country, with one Missouri bar owner telling Fox Business last week that sales of bottled Bud Light dropped 30%, while draft sales dropped 50%.
Kid Rock shoots up Bud Lights in Dylan Mulvaney protest
https://imasdk.googleapis.com/js/core/bridge3.568.1_en.html#goog_363328635
0 seconds of 35 secondsVolume 90%
Budweiser's famous Clydesdales, which have been a staple of the company's advertisements for decades, have also found themselves in the middle of the controversy.
A Budweiser distributor in Missouri canceled all scheduled events to showcase the horses last week amid safety concerns for its employees, the New York Post reported.
"We aren't going to comment on the issue … everything is still sensitive in social media," and executive for the distributor told the Post.
Anheuser-Busch CEO Brendan Whitworth recently broke his silence on the issue Friday, issuing a statement saying the company never intended to divide people.
"We have thousands of partners, millions of fans and a proud history supporting our communities, military, first responders, sports fans and hard-working Americans everywhere," Whitworth said. "We never intended to be part of a discussion that divides people. We are in the business of bringing people together over a beer."
Anheuser-Busch did not immediately respond to a Fox News request for comment on the advertisement. 
https://www.businessinsider.com/desantis-threatens-to-build-a-state-prison-next-to-disney-world-2023-4
DeSantis made it clear that he won't let Disney off easy after the company's power grab this year.
He threatened to build a state prison and said the legislature would impose new ride inspections.
Disney hasn't said what it'll do next, but it's not expected to give up its power without a fight.
Posted on August 20, 2018 by Royal Rosamond Press
I debated about Miriam Starfish using force to put down Maximorphius, the cook and owner of 'The Bum's Rush' bistro in Eugene. My subconscious altered the name of Max's Tavern, which is around the corner from The Bum's Rush. Miriam Starfish almost skewers Professor John Bond, a name that is a conjunction of John Dee and James Bond, I just discovered. She has a love-hate relationship with John (played by me) who give a lecture on the Habsburg painting and – the Division of the Roses! What!!!!!!! I have yet to write that lecture – that is now the key to my book!
Posted on April 26, 2017 by Royal Rosamond Press
Trump sided with the Bundy Boys. It looks like Donald read my blog and made a list of all the things he could destroy – with Rena Easton's help!
Jon
President Trump ordered federal officials to review two decades of national monument designations, calling them "another egregious abuse of federal power."
At a Wednesday signing ceremony, Trump framed the order as a way to return power to states and individuals after former President Obama and his predecessors blocked development on hundreds of millions of acres of federal land and water by creating monuments.
"Today I'm signing an executive order to end another egregious abuse of federal power and to give that power back to the states and to the people, where it belongs," Trump said before signing the order at the headquarters of the Interior Department, which oversees most monuments and will be responsible for the review.
"The previous administration used a 100-year-old law known as the Antiquities Act to unilaterally put millions of acres of land and water under strict federal control," he said.
"Today, we are putting the states back in charge. It's a big thing," Trump continued.
The order is aimed primarily at the highly controversial Bears Ears National Monument, a 1.3 million-acre site in Utah that Obama designated in December. His action protected areas sacred to American Indian tribes but also prevented any potential development, like oil and gas drilling.
Trump said the designation happened "over the profound objections of the citizens of Utah." Utah Republican Sens
Posted on December 21, 2017 by Royal Rosamond Press
In her letter Rena said I was "left-leaning" and bid me not to be hard on ranchers. The Pussy Grabbing Party' was real nice to ranchers, and is treating them with kid gloves.
"The bill is very positive for agriculture," Wolff said. "Farmers and ranchers were very vocal about telling their members of Congress what was important to them."
How many farmers and ranchers are there in America?………….20,000!
Rena was going to play a big role in my Recovery Novel.
Jon
http://www.capitalpress.com/Nation_World/20171220/gop-tax-bill-includes-provisions-for-farmers-ranchers.
More than 63,600 lives were lost to drug overdose in 2016, the most lethal year yet of the drug overdose epidemic, according to a new report from the National Center for Health Statistics, part of the US Centers for Disease Control and Prevention. Most of those deaths involved opioids, a family of painkillers including illicit heroin and fentanyl as well as legally prescribed medications such as oxycodone and hydrocodone. In 2016 alone, 42,249 US drug fatalities — 66% of the total — involved opioids, the report says. That's over a thousand more than the 41,070 Americans who die from breast cancer every year.
http://www.cnn.com/2017/12/21/health/drug-overdoses-2016-final-numbers/index.html
Chief U.S. District Judge Gloria Navarro in Las Vegas dismissed a jury seated last month for the long-awaited trial of Cliven Bundy, his sons Ryan and Ammon Bundy and self-styled Montana militia leader Ryan Payne.
It is the latest in a string of failed prosecutions in Nevada and Oregon against those who have opposed federal control of vast swaths of land in the American West.
Jurors acquitted the two Bundy sons of taking over a federal wildlife refuge in Oregon for more than a month in early 2016 and amid calls for the U.S. government to turn over public land to local control.
In the Nevada case, Navarro faulted federal prosecutors for failing to turn over all evidence to defense attorneys, including records about the conduct of FBI and Bureau of Land Management agents during the standoff.
"The government is obligated to disclose all evidence that might be favorable" to the defense, the judge said.
The case stemmed from an armed confrontation that capped a decadeslong dispute over Cliven Bundy's refusal to pay grazing fees. The 71-year-old rancher says his family has grazed cattle for more than a century in the area and insists public land belongs to states, not the U.S. government.
Government agents began rounding up his cattle. The four on trial were accused of enlisting armed gunmen to force government agents to abandon the effort.
"A mistrial is a very bad result for the government," said Ian Bartrum, a University of Nevada, Las Vegas, law professor who has followed the case closely.
Bartrum had cast the trial as a test of whether the federal government could enforce its own land policy in Western states where it owns or controls vast expanses.
"It looks even worse because it isn't the sort of jury nullification we've seen before, but actual incompetence (or worse) by the prosecution," Bartrum said in an email. "It certainly erodes a lot of confidence in the federal government's motives."
Acting U.S. Attorney Steven Myhre had no immediate answer about whether prosecutors would retry the case. If so, the Bundys and Payne still would face 15 felony charges including assault and threats against federal officers, firearms counts, obstruction and extortion.
Prosecutors also failed to win full convictions against others at the Nevada standoff the tense confrontation near Bunkerville, about 80 miles northeast of Las Vegas.
Six men who acknowledged carrying assault-style weapons faced a trial and a retrial. Two were acquitted, two were convicted of some charges and two are free after pleading guilty to misdemeanors to avoid a third trial. None was found guilty of conspiracy.
Payne had pleaded guilty in July 2016 to a felony conspiracy charge before trial in the armed takeover of the Oregon wildlife refuge. He's now fighting to withdraw his plea and his expected sentence of more than three years in prison.
When Rena called sheriff, Dan Mayland, and filed a false police report wherein she claims I was stalking her, she in affect put up a WANTED poster in her county, and the whole State of Montana. How many citizens of the fine State, where my grandfather was born, have heard the egregious slander, and extreme abuse, coming from an old girlfriend who I claimed was my Muse, and was the Muse of my famous sister, Christine Rosamond Benton, the granddaughter of Royal Rosamond, who is kin to famous Benton artists. The Benton family also helped secure and procure the Oregon Territory for the United States.
Rena Eastons' four page letter began with a recital of the dire straights she and her husband were in that could not help but solicit a desire to help this couple, which I publicly offered on my blog the day before Rena contacted the sheriff, and made false accusations against me. How can I not conclude Rena is still in that "dark and dangerous place" she told me about in her letter where she apologizes to me for "being a abusive girl".
"Greg, I want you to know & listen. I apologize for being an abusive girl when our paths crossed in 1970. I had come out of a dark and dangerous place, and you helped me. Please forgive me. No one deserves abuse. I have learned a lot now."
Posted on January 10, 2016 by Royal Rosamond Press
LaVoy Finicum told reporters that "this is intended to be a peaceful occupation." (Caitlin Dickson/Yahoo News)
Ammon Bundy is not a Citizen of Oregon. He is a citizen of Arizona. My kindred, John Fremont was appointed the Governor of Arizona – and California! No votes were cast. Bundy and his brother crossed State lines with guns, and encouraged other armed men to do the same, so as to administer Justice in my State. Name the Oregon citizens who gave Ammon a written or oral invitation to come right wrongs in my State? Did these Oregon citizens go to Salem to address their grievances before they invited un-elected citizens from another State to solve our problems? Is there a problem? If so, how can an outsider fix it? Why would this outsider be treated, or given the power of a Lawman? Does Ammon have any court documents singed by a Judge in his State giving him a right to confront and disobey the local Sheriff? Is Bundy a self-elected Special Federal Agent who believes a higher power has bid him to protect the U.S. Constitution?
Look at gramps checking Dudley Do Right out. You can read his mind.
"This is the righteous kind of man I want my granddaughter to marry. She is so ripe, ready to be plucked. If she goes to college she will be hit on by negroes. The Fuehrer – I mean Jesus – will curse me if I allow this to happen. I should go get my gun – an American flag – and join the cause!"
"Almost two years after Cliven Bundy, the renegade Nevada Mormon who orchestrated an armed confrontation with the federal government to avoid paying fees for grazing cattle on public land, wondered aloud to reporters about whether "the Negro" was better off under slavery than "under government subsidy," his son Ammon (also a Mormon) is treating us to a farcical, yet still potentially deadly, reprise of the standoff led by his father. "
Instead of children reading real history about the State of Oregon, they will fall in love with the image of the Lone Righteous Cowboy Against the World. Why is he being crucified – along with his horse? All he wants to do is protect God, Flag, Country – and marry a healthy blonde frauline with pigtails! He wants to fill her with the Good Seeds of Patriotism.
Allow me to put forth a hypothetical argument. Let us go back to 1857. Let us say Oregon is a Slave States that allows Oregon citizens to own slaves. Let us say a Citizen of Nevada is an Abolitionist, and he hates the idea that Oregon is a Slave State. So he gathers together a group of armed men, crosses a State line, and seizes property in Oregon that he and his posse will not vacate until all the slaves in Oregon are set free!
What is a Bund Model? Bundy's Model Mormon Woman? Ammon means 'son of my people'. He could be the son of forty women who came marching out of Utah like locusts hell-bent on overcoming the world! And in their bellies grew 'The Spawn of Ammon'?
https://en.wikipedia.org/wiki/League_of_German_Girls
Scherl:
BDM- Mädchen bei einer Gymnastikvorführung
7525-41
Ammon Bundy, meet John Brown, Thadeus Stevens, and John Fremont. The latter is in my family tree! These men liberated millions of people not just a handful of selfish cowboys who do get federal money.
On the day the President of the United States was innagurated, many Republicans from the Red States held a secret closed meeting and agreed to oppose our elected President in all his indeavors – stating State Rights! Now, these same men back armed men coming to my State – to spread what is clearly propaganda. They speak with forked tongue, and reinforce their conflicting message with a show of arms. This puts them on the same level as Hitler and Stalin – AND REAL TRAITORS – who are not confined to a democracy. Men have turned on their king, and their country, all over the world, and in all ages! Consider Judas Escariot and King Jesus!
"He also accused local government leaders of collaborating with federal agencies to silence support for the Hammonds among county residents. That leaves people "no way for redress except for action we have done," he said.
He also addressed Native American statements about the refuge land first belonging to indigenous people.
"I really don't know much about that," he said. "That is interesting and they have rights as well."
Bundy again launched into a defense of the occupation.
He said the group has compiled information that he believes exonerates Harney County ranchers Dwight Hammond Jr., 73, and his son, Steven Hammond, 46.
http://news.yahoo.com/burns-oregon-residents-find-unexpected-common-ground-with-bundy-movement-185240014.html#
The United States Government is not at war with Cowboys. This is propaganda coming from the Kick brothers who want to get the Federal Government off their back, and destroy the True Power of the People. To use children in the treacherous treason, is right out of the playbook of Hitler, Stalin, and Moa. It makes me sick to see a pretty Aryan blond teenager eyeing the sexy cowboy. My ancestors were Real Pioneers who fought against the last Caliphate.
Posted on March 16, 2022 by Royal Rosamond Press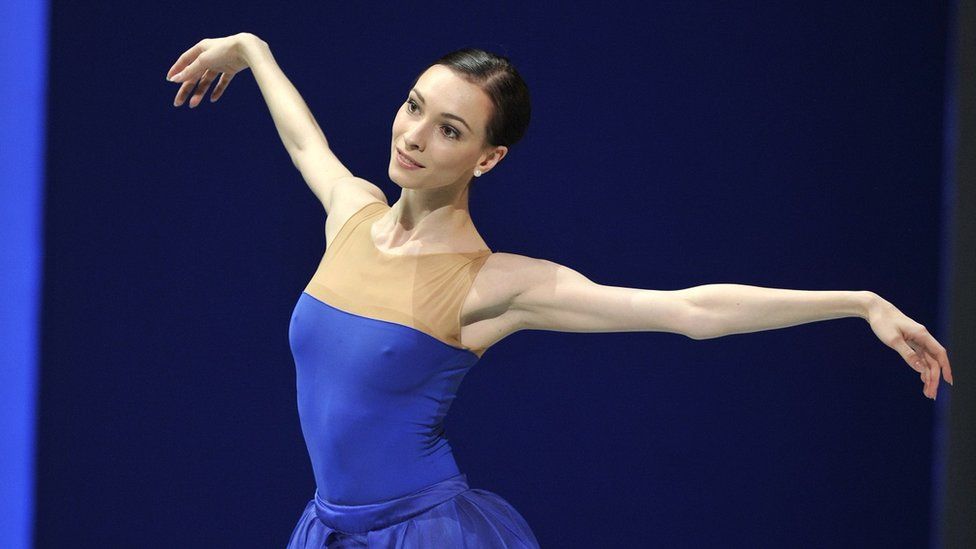 IMAGE SOURCE,GETTY IMAGESImage caption,
Olga Smirnova pictured performing in London in 2016
High Noon High Noon
The First Cowboy Ballet
by
John Presco
Copyright 2022
SYNOPSIS: A famous Russian Ballerina flees for her life to America after the Revolution. The Bolsheviks put a bounty on her head because she was the favorite of the Czar and his family. Nichola's daughter imitated her, wanted to be like her.
She is captured by Indians while on a stagecoach going West. A Handsom young buck wants her for his wife, but, she has to perform the tribal dance ritual. She nails it – and then some! She is the founder of the Peaceful Spirit Dance that brings peace to all the Plaines tribes. She is given a war bonnet which she performs her famous ballet in when she comes to Laramie. The sheriff does not buy a word of her story. She challenges him to a Dance-off at High Noon in the middle of the street. He brings his posse of young dudes, and she brings her Hooped Maidens who throw off their hoop-skirts to expose skin-tight leotards with tutu. The older church ladies -gasp! A Gay Man in pink, scolds them, then does his Happy to be Pink dance. The bare-chested dudes wearing lamb-chaps – thrust out their chest and circle the happy hoop maidens. The Handsom Buck – now a chief – blows into town for the grand finale.
I will author a version for the Kabuki Theatre.
Bolshoi star ballerina quits famed Moscow company: 'I never thought I would be ashamed of Russia' (msn.com)
Bolshoi ballerina Olga Smirnova, an international ballet star who recently publicly denounced the Russian invasion of Ukraine, has quit the famed Moscow ballet company and joined the Dutch National Ballet, the Amsterdam organization announced Wednesday.
Jane Campion challenges Sam Elliott to 'a shootout' over 'Power of the Dog' feud | Fox News
From left: 1883 castmembers Marc Rissmann, Billy Bob Thornton, Tim McGraw, Sam Elliott and LaMonica Garrett. Yellowstone, which the prequel series is based on, saw its season 4 premiere grow to 10.5 million viewers on Paramount Network alone.
Jane Campion challenges Sam Elliott to 'a shootout' over 'Power of the Dog' feud
The actor previously roasted the director's film, which is nominated for 12 Academy Awards
By Stephanie Nolasco | Fox News
Fox News Flash top entertainment and celebrity headlines are here. Check out what clicked this week in entertainment.
NEWYou can now listen to Fox News articles!
Listen to this article
0:00 / 4:141X
Jane Campion offered to settle her feud with Sam Elliott in the ol' fashioned way.
The "Power of the Dog" director recently appeared on the Hollywood Reporter's "Awards Chatter Podcast" and revealed the pair had unfinished business to take care of.
"OK, Sam, let's meet down at the Warner Bros. lot for a shootout!" the 67-year-old joked to the outlet. "I'm bringing Doctor Strange [the Marvel character portrayed by Benedict Cumberbatch, the star of her latest film] with me!"
https://7b0ca1cd8ae9dffedca10d58a188590e.safeframe.googlesyndication.com/safeframe/1-0-38/html/container.html
A spokesperson for the 77-year-old didn't immediately respond to Fox News Digital's request for comment.
SAM ELLIOTT ADMITS HE'S NOT A 'YELLOWSTONE' FAN, SAYS IT'S 'TOO MUCH' LIKE 'DALLAS'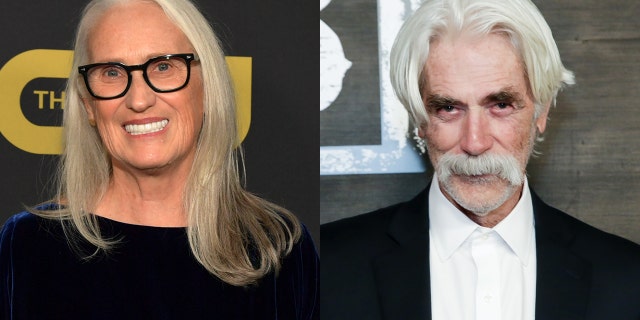 Jan Campion challenged Sam Elliott to a movie 'shootout' amid their feud over 'The Power of the Dog'. (Getty Images)
The real-life drama began when Elliott criticized the 67-year-old's take on the Western genre during his recent appearance of Marc Maron's "WTF" podcast.
When Elliott was asked if he had seen the film, the star replied, "You want to talk about that piece of s—?"
Elliott referenced a full-page ad in the Los Angeles Times that featured a review blurb that described the film as "an evisceration of the American myth." The film is also nominated for 12 Academy Awards.
"I thought, what the f—?" Elliott said of the adaptation from the 1967 novel by Thomas Savage. "This is a guy who has done Westerns his entire life. 'The evisceration of the American myth.' It looked like — what are all those dancers, those guys in New York that wear bow ties and not much else? Remember them from back in the day?"
CLICK HERE TO SIGN UP FOR THE ENTERTAINMENT NEWSLETTER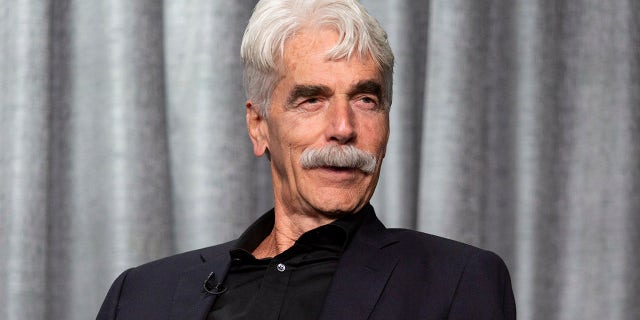 Sam Elliott didn't hold back when it came to criticizing 'The Power of the Dog'. (Photo by Vincent Sandoval/Getty Images)
"Oh, the Chippendales?" Maron asked.
"That's what all these f—ing cowboys in that movie looked like," Elliott replied. "They're all running around in chaps and no shirts. There's all these allusions to homosexuality throughout the f—ing movie."
Maron replied, "Yeah, I think that's what the movie's about," speaking to the fact that Cumberbatch's character, Phil Burbank, is homosexual and has yet to come out of the closet.
It was then that Elliott fixed his crosshair on Campion, who is nominated for three Academy Awards this year.
CLICK HERE TO GET THE FOX NEWS APP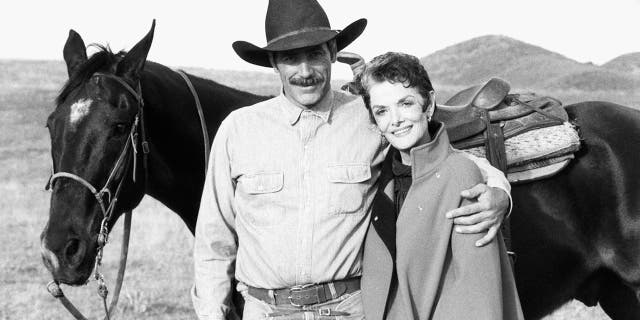 Sam Elliott, seen here with Jane Russell, has made his mark in Westerns during his decades-long career. (Photo by NBCU Photo Bank/NBCUniversal via Getty Images via Getty Images)
"[Jane Campion's] a brilliant director, by the way," Elliott insisted. "I love her work, previous work. But what the f— does this woman from down there, New Zealand, know about the American West? And why in the f— does she shoot this movie in New Zealand and call it Montana and say, 'This is the way it was?' So that f—ing rubbed me the wrong way, pal."
"I mean, Cumberbatch never got out of his f—ing chaps," Elliot maintained of the film. "He had two pairs of chaps — a wooly pair and a leather pair. And every f—ing time he would walk in from somewhere … he never was on a horse, maybe once — he'd walk into the f—ing house, storm up the f—ing stairs, go lay in his bed in his chaps and play his banjo. It's like, what the f—?"
Meanwhile, Netflix appeared to have heard Elliott's remarks, and a day after the interview was sent into the ether, the streaming giant tweeted a scene that showed Kodi Smit-McPhee's character telling his mother, who is played by Kirsten Dunst, "He's just a man. Only another man."
Elliott doubled down on his sentiment by the end of the back and forth, adding, "Where's the Western in this Western?… I took it f—ing personal, pal."
JANE CAMPION USES FIVE LETTERS TO SLAM SAM ELLIOTT FOLLOWING 'POWER OF THE DOG' CRITICISM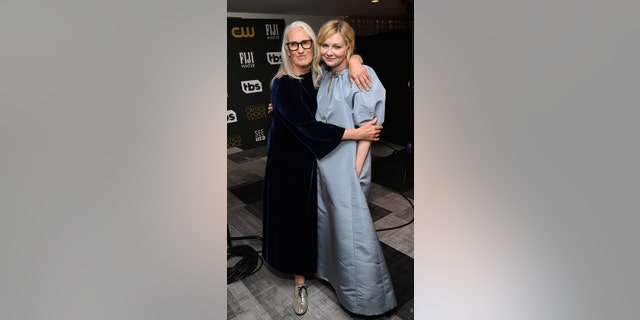 (L-R) Jane Campion and Kirsten Dunst as they celebrate the 27th Annual Critics Choice Awards at Fairmont Century Plaza on March 13, 2022, in Los Angeles, California. (Photo by Michael Kovac/Getty Images for Champagne Collet & OBC Wines)
During the DGA Awards on Saturday night, Campion had a few choice letters in response to Elliott's criticism of her film.
The director, who was asked for her response about the actor's shocking comments, refused to hold back.
"I'm sorry, he was being a little bit of a B-I-T-C-H," she told Variety before the ceremony. "He's not a cowboy; he's an actor. The West is a mythic space and there's a lot of room on the range. I think it's a little bit sexist."
Campion noted that she viewed Elliott's crude criticism as a slight against her as a female filmmaker.
https://7b0ca1cd8ae9dffedca10d58a188590e.safeframe.googlesyndication.com/safeframe/1-0-38/html/container.html
"When you think about the number of amazing Westerns made in Spain by (director) Sergio Leone," she explained to the outlet. "I consider myself a creator. I think he thinks of me as a woman or something lesser first, and I don't appreciate that."
Fox News' Julius Young contributed to this report.
Posted on December 13, 2022 by Royal Rosamond Press
Starfish: "You lived in a tower?!!"
Victoria Bond: "Yes, this little one here on the left. I had goats – and cows – that I herded with my Friesian horse."
Starfish: "This is you? You look very spoiled. How old are you?"
Victoria: "I was – very very spoiled. I looked down on everyone."
Starfish: "You still do. It's in your blood."
Victoria Bond gave her wife a sideways glance – with furled brow.
https://www.nbcnews.com/news/world/dutch-farmers-emissions-global-right-wing-culture-war-rcna60269
Posted on August 22, 2020 by Royal Rosamond Press
It is 7:47 12-13-22 – and I have been released from BONDAGE! When Rena Easton started her Cutltual Range War with me, employing Deputy Sheriff, Dan Mayland, I got on the internet and looked for a new model and muse. I found Lara Roozemond who lives in Holland.
Everything fits. All the pieces have come together – on a budget of $800 dollars a month! I have been true to myself and my craft as a writer and artist. I got my 'Gone With The Wind' and a real John Steinbeck novel. I could not no wrong.
John Presco 'Auhtor of James Bond Books'
How Dutch farmers became the center of a global right-wing culture war
https://www.nbcnews.com/news/world/dutch-farmers-emissions-global-right-wing-culture-war-rcna60269
Posted on May 25, 2017 by Royal Rosamond Press
Deputy Dan……….Mayland, is a hunk. I'm sure Rena noticed.
I'm going to work more on my movie script 'The Janitor'. It begins late one rainy and dark night. Deputy Sheriff Dan is working the swing shift when he jumps out of his skin. On a bench sits Rena Easton. Not able to speak, Rena breaks the ice,
"I wondered how long it would take you to notice me. I've been sitting here for exactly 22 minutes and sixteen seconds."
"Why didn't you approach the desk, say something to me!"
"I'm shy. I am the reclusive widow of Sir Ian Easton. Perhaps you have heard of me? I need your help. Someone I knew forty years ago got too close. I need you to back him off. No rough stuff. Just give him a scare. He owns a newspaper and is getting nosy. I hired some goon, who grabbed him by the neck and body-slammed him, but, that just roused his curiosity even more! He wants to see how I've aged. As you can see, I haven't. He must not know. He painted my portrait. I was his muse. You know the drill.
Posted on August 21, 2018 by Royal Rosamond Press
Posted on July 6, 2018 by Royal Rosamond Press
Keep in mind I am an artist. Rena Easton is my muse and Christine Rosamond's muse. She is my model for Victoria Bond. We got into a spat over cattle ranchers and she had Deputy Sherriff Dan Mayland give me a jingle – a warning shot! I told Dan I don't know where Rena lives, nor do I have her phone number. I got pissed!
"Aren't you out of your jurisdiction? You told me you saw no threats in my letter, so, why are you calling me? You say Rena does not want YOUR call to affect my newspaper in any way, so why are you harassing this reporter? I am going to talk to my Congressman!"
Dan became more contrite. I suspected he knew about the Posse Comitatus. I suspect Dan hangs with some right-wing nationalists.
Posted on July 6, 2018 by Royal Rosamond Press
With Pussy Grabber's attack on the Me Took movement in Montana, I am set free of the false charges Rena Easton filed against me. I 'Dreamer Jon' used Rena to see into the future that he warned was coming. We were destined to meet. We are a work of art.
Jon Presco
The Tea Party is no grassroots organization. It was born of the Koch brothers and Freedomworks, with the help of Dick Armey. Along with Cheney and Armey, these brothers, should be arrested and tried for Treason for the reason they do not abide by the results of a Democratic Election. Instead, they have plotted to undermine our Democracy and the Federal Government during a time of war.
With the formation of a Coalition of Real Freedom Fighters, it is now understood by real world leaders, that the war George W. Bush and Cheney waged in Iraq, is not over, and may never be over. If this is the case, then it is up to the Commander-in-Chief, and his party, to make long-term plans to fight this war, without being hindered by real traitors, and an insane Congress that is AWOL.
My illustrious ancestors fought the British as South Carolina Patriots, and may have waved the 'Don't Tread On Me' flag over their head. On this day, I grab this flag out of the clutches of fake military wing-nuts loyal to the fake End Time Rapture, Quacks, who together form a co-terrorist coalition – that have done nothing to bring the battle to ISIS. Instead, these treacherous Sore Losers employ ISIS to defeat Democratic candidates.
I hand over the flag of True Patriots to our Commander in Chief to do with it what he will. I suggest he use it to represent the Coalition of World Freedom Fighters, a means to bring a message to ISIS.
"Don't tread on us, or you will die!"
Jon Presco
http://nypost.com/2014/09/24/president-obama-addresses-un/
https://rosamondpress.com/?s=benton+witherspoon
http://news.yahoo.com/burns-oregon-residents-find-unexpected-common-ground-with-bundy-movement-185240014.html#
The ongoing dispute started in 1993, when, in protest against changes to grazing rules,[2] Bundy declined to renew his permit for cattle grazing on BLM-administered lands near Bunkerville, Nevada.[3] According to the BLM, Bundy continued to graze his cattle on public lands without a permit.[4] In 1998, Bundy was prohibited by the United States District Court for the District of Nevada from grazing his cattle on an area of land later called the Bunkerville Allotment.[3] In July 2013, the BLM complaint was supplemented when federal judge Lloyd D. George ordered that Bundy refrain from trespassing on federally administered land in the Gold Butte area of Clark County.[5]
http://www.history.com/this-day-in-history/fremont-appointed-governor-of-california
The Kansas Nebraska Act transformed the political landscape. The Whig party collapsed. Anti-slavery Democrats and Whigs formed anti-Nebraska parties. In 1856, the new Republican party ran John C. Fremont for the presidency on a platform that denounced slavery as a relic of barbarism. Fremont carried eleven of the sixteen free states.
But Brown regarded politics as nothing more than "talk—talk—talk." The Dred Scott decision increased the feeling of desperation among radical abolitionists.
In American political discourse, states' rights refers to political powers reserved for the U.S. state governments rather than the federal government according to the United States Constitution, reflecting especially the enumerated powers of Congress and the Tenth Amendment. The enumerated powers that are listed in the Constitution include exclusive federal powers, as well as concurrent powers that are shared with the states, and all of those powers are contrasted with the reserved powers — also called states' rights — that only the states possess.[1][2]
https://en.wikipedia.org/wiki/States%27_rights
The Supremacy Clause of the United States Constitution (Article VI, Clause 2) establishes that the Constitution, federal laws made pursuant to it and treaties made under its authority, constitute the supreme law of the land.[1] It provides that state courts are bound by the supreme law; in case of conflict between federal and state law, the federal law must be applied. Even state constitutions are subordinate to federal law.[2] The federal government possesses only the supreme authority accorded it by the Constitution. However, the scope of this authority is very broad, as the federal government is tasked with providing for the general welfare of the United States.
https://en.wikipedia.org/wiki/Supremacy_Clause
"No State shall make or enforce any law which shall abridge the privileges or immunities of citizens of the United States."
This Constitution, and the Laws of the United States which shall be made in pursuance thereof; and all treaties made, or which shall be made, under the authority of the United States, shall be the supreme law of the land; and the judges in every state shall be bound thereby, anything in the constitution or laws of any state to the contrary notwithstanding.
A major Southern argument in the 1850s was that banning slavery in the territories discriminated against states that allowed slavery, making them second-class states. In 1857 the Supreme Court sided with the states' rights supporters, declaring in Dred Scott v. Sandford that Congress had no authority to regulate slavery in the territories.[11]
1. All rights not delegated to the federal government by the Constitution nor denied by it to the states.
2. The political position advocating strict interpretation of the Constitution with regard to the limitation of federal powers and the extension of the autonomy of the individual state to the greatest possible degree.
http://www.civilwar.org/education/history/civil-war-overview/statesrights.html
John Brown (May 9, 1800 – December 2, 1859) was a white American abolitionist who believed armed insurrection was the only way to overthrow the institution of slavery in the United States.
During the 1856 conflict in Kansas, Brown commanded forces at the Battle of Black Jack and the Battle of Osawatomie. Brown's followers killed five slavery supporters at Pottawatomie. In 1859, Brown led an unsuccessful raid on the federal armory at Harpers Ferry that ended with the multi-racial group's capture. Brown's trial resulted in his conviction and a sentence of death by hanging.
Brown's attempt in 1859 to start a liberation movement among enslaved African Americans in Harpers Ferry, Virginia (later part of West Virginia), electrified the nation. He was tried for treason against the Commonwealth of Virginia, the murder of five men and inciting a slave insurrection. He was found guilty on all counts and was hanged. Southerners alleged that his rebellion was the tip of the abolitionist iceberg and represented the wishes of the Republican Party to end slavery. Historians agree that the Harpers Ferry raid in 1859 escalated tensions that, a year later, led to secession and the American Civil War.
https://en.wikipedia.org/wiki/John_Brown_(abolitionist)
http://www.treasurenet.com/forums/kgc/381439-john-brown-told-who-kill-radical-republicans.html
Ammon Bundy, the most prominent public leader of the occupiers, didn't address the group's response to the rumors at his daily news conference at the refuge, except to say that a Twitter feed attributed to him is being run by someone else.
The tweets — including one comparing the militants' stand to Rosa Parks' bus protest — triggered a storm of social media comment.
"I don't have a tweet account," Bundy said, "but from what I hear, he's actually doing a pretty good job."
He also addressed Native American statements about the refuge land first belonging to indigenous people.
"I really don't know much about that," he said. "That is interesting and they have rights as well."
Bundy again launched into a defense of the occupation.
He said the group has compiled information that he believes exonerates Harney County ranchers Dwight Hammond Jr., 73, and his son, Steven Hammond, 46.
The men were convicted of arson for setting fires that burned federal land. They each served short prison terms that the sentencing judge thought just, only to be told by other judges they had to go back to serve longer. They reported to a federal prison in California on Monday.
"We feel it is strong enough that going through the proper measures we will be able to get the Hammonds released," he said.
The Hammonds' case has reignited the debate about how the federal government runs its lands. The U.S. government holds deed to three-fourths of Harney County. Ranching done for a century and more is under pressure from environmentalists, recreationalists and hunters.
Bundy said he has eyewitness accounts from county residents that federal workers used a drip torch to light fires that the Hammonds fought against.
He also criticized federal authorities for "coming down into the states and exercising territorial law" — an overreaching that has ensnared the Hammonds and leeched into other aspects of people's lives, including "curriculum in schools we don't want" and mandatory health care.
He also accused local government leaders of collaborating with federal agencies to silence support for the Hammonds among county residents. That leaves people "no way for redress except for action we have done," he said.
Bundy reiterated the group's promise not to leave the remote wildlife refuge until the Hammonds get out of prison and the territory is opened up for private landowners.
If the father and son ranchers are released, "it will be well worth our effort," he said.
BURNS — The FBI has staged at the Burns Municipal Airport, blocking entrance to a U.S. Bureau of Land Management base there used to fight fires during the summer.
Men in FBI gear were posted Saturday in a sport utility vehicle along Airport Road about five miles east of the city, keeping cars and trucks from entering a BLM "SEAT Base" where another large vehicle sat equipped with FBI signage, numerous antennae, a satellite dish and other gear.
The men declined to answer questions or identify themselves and asked a reporter not to enter the SEAT Base on foot. SEAT stands for "single engine air tanker," a small agricultural airplane used to drop fire retardant on wildfires. Law enforcement officials have been posted there for days.
http://www.oregonlive.com/pacific-northwest-news/index.ssf/2016/01/oregon_standoff_fbi_stages_at.html
BURNS, Ore. — "He's coming," a man on horseback shouted, waving a large American flag against the glistening backdrop of the snow-covered Malheur National Wildlife Refuge. "He" was Ammon Bundy, the leader of a group of armed protesters who have occupied this federal refuge in southeastern Oregon for a week. Flanked by supporters, including his brother Ryan and spokesman LaVoy Finicum, Bundy made his way up the hill Friday to tell a swarm of reporters that he and his fellow occupiers were not planning to heed the sheriff's recent offer of safe retreat from the town, at least not yet.
The concept of states' rights had been an old idea by 1860. The original thirteen colonies in America in the 1700s, separated from the mother country in Europe by a vast ocean, were use to making many of their own decisions and ignoring quite a few of the rules imposed on them from abroad. During the American Revolution, the founding fathers were forced to compromise with the states to ensure ratification of the Constitution and the establishment of a united country. In fact, the original Constitution banned slavery, but Virginia would not accept it; and Massachusetts would not ratify the document without a Bill of Rights.
The debate over which powers rightly belonged to the states and which to the Federal Government became heated again in the 1820s and 1830s fueled by the divisive issue of whether slavery would be allowed in the new territories forming as the nation expanded westward.
Videos
History Articles
Resources
The Missouri Compromise in 1820 tried to solve the problem but succeeded only temporarily. (It established lands west of the Mississippi and below latitude 36º30′ as slave and north of the line—except Missouri—as free.) Abolitionist groups sprang up in the North, making Southerners feel that their way of life was under attack. A violent slave revolt in 1831 in Virginia, Nat Turner's Rebellion, forced the South to close ranks against criticism out of fear for their lives. They began to argue that slavery was not only necessary, but in fact, it was a positive good.
As the North and the South became more and more different, their goals and desires also separated. Arguments over national policy grew even fiercer. The North's economic progress as the Southern economy began to stall fueled the fires of resentment. By the 1840s and 1850s, North and South had each evolved extreme positions that had as much to do with serving their own political interests as with the morality of slavery.
As long as there were an equal number of slave-holding states in the South as non-slave-holding states in the North, the two regions had even representation in the Senate and neither could dictate to the other. However, each new territory that applied for statehood threatened to upset this balance of power. Southerners consistently argued for states rights and a weak federal government but it was not until the 1850s that they raised the issue of secession. Southerners argued that, having ratified the Constitution and having agreed to join the new nation in the late 1780s, they retained the power to cancel the agreement and they threatened to do just that unless, as South Carolinian John C. Calhoun put it, the Senate passed a constitutional amendment to give back to the South "the power she possessed of protecting herself before the equilibrium of the two sections was destroyed."
Controversial—but peaceful—attempts at a solution included legal compromises, arguments, and debates such as the Wilmot Proviso in 1846, Senator Lewis Cass' idea of popular sovereignty in the late 1840s, the Compromise of 1850, the Kansas-Nebraska Act in 1854, and the Lincoln-Douglas Debates in 1858. However well-meaning, Southerners felt that the laws favored the Northern economy and were designed to slowly stifle the South out of existence. The Fugitive Slave Law of 1850 was one of the only pieces of legislation clearly in favor of the South. It meant that Northerners in free states were obligated, regardless of their feelings towards slavery, to turn escaped slaves who had made it North back over to their Southern masters. Northerners strongly resented the law and it was one of the inspirations for the publishing of Harriet Beecher Stowe's Uncle Tom's Cabin in 1852.
Non-violent attempts at resolution culminated in violence in 1859 when Northern abolitionist John Brown abandoned discussion and took direct action in a raid on the arsenal at Harpers Ferry, Virginia. Though unsuccessful, the raid confirmed Southern fears of a Northern conspiracy to end slavery. When anti-slavery Republican Abraham Lincoln won the presidential election in 1860, Southerners were sure that the North meant to take away their right to govern themselves, abolish slavery, and destroy the Southern economy. Having exhausted their legal and political options, they felt that the only way to protect themselves from this Northern assault was to no longer be a part of the United States of America. Although the Southern states seceded separately, without intending to form a new nation, they soon banded together in a loose coalition. Northerners, however, led by Abraham Lincoln, viewed secession as an illegal act. The Confederate States of America was not a new country, they felt, but a group of treasonous rebels.