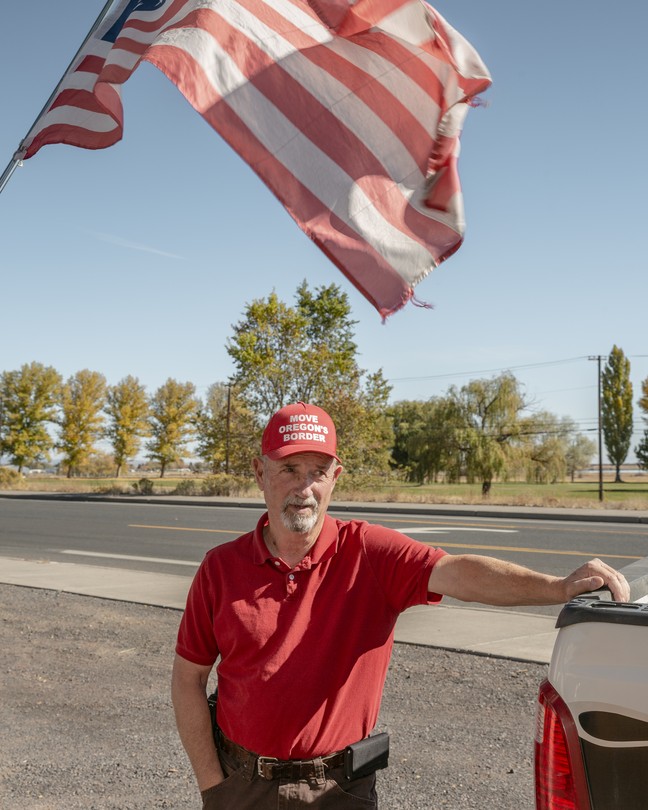 Mike McCarter, the head of Move Oregon's Border and Citizens for Greater Idaho, talks outside HC Sporting Goods ahead of a Move Oregon's Border meeting in Hines, Oregon, on Saturday,
Many Americans are suggesting the Chinese are preparing to invade the United States. If true, why would they want – our land? Well, good grazing land with water, is now a premium. Montana has been trying to get their beef over to China. There is a thing called Traceability. China is afraid of diseases. Is this what those balloons are doing – tracking Montana cattle? I bet you can read those tags from 80,000 feet up with a good lens.
Study the map of Greater Idaho, drawn up by greedy white men – who came to the Americas for MORE LAND. They slaughtered millions of SAVAGAES – and stole their land. They had permission from God, because Native Americans – were not Christians! Study the photo of Mike McCarter. He is a 'Pale Face' Irish-Scott involved in more 'Land Grabbing'. He claims sub-humans in Oregon's big cities don't deserve all that GRAZING LAND – because they are sexual degenerates! They are – NOT CHRISTIANS!
https://www.bendbulletin.com/localstate/la-pine-man-leads-greater-idaho-effort/article_ac4f0a16-5b4c-11ea-aab6-dfc5a23b2817.html
What if the Chinese Government WANTS much beef from Montana, but, doesn't want to deal with the Liberal, Leftist Radicals – and their newspapers – that ask too many good questions? What if China has been drawing Cultural Maps, and is wanting to put White Chinese Sheeple on The Trading Land? What if they see MAGAs as brainwashed Secessionist Sheep who would love to cut the big cites out of the deal? Why have any money go to the degenerate cites? Giant Chinese balloons could descend – and harvest their cattle, then drop off big bags of tax free money for The Sheeple, The Disloyal Ones who betrayed Oregon – and the United States of Americhin Christlings!
What if Liberal Lesbians – ended this trade? Would China put their White Sheeple Soldiers inside the Giant Cattle Harvesting Balloons?. Consider – The Trojan Horse!
Is this Manifest Destiny – in reverse? John Astor brought opium to China. A wave of Christian Missionaries resulted in the Boxer Rebellion. Does Mike Carter like Astor's – FAMILY VALUES? How about Putin. Has McCarter sought foreign backing? Millions of Christians – love Putin – who is launching another Christian terrorist wave into Ukraine. This is – Christian Deregulation!
John Presco
EXTRA! I looked at the McCarter genealogy – and found a coven of witches'! How many witches and warlocks did Rosamond Senter – spawn? Is Mike the front man of a secret Witch Colony in Idaho and Oregon, who have made secret deals with the Red Chinese, because, they hate Christian Values – too?
I feel a Netflix series coming on…
'The Rosy Witches of Idaho'.
Witches in Sheeple Clothing?
"Rural Oregonians in general and Eastern Oregonians in particular are growing increasingly dismayed by the manner in which Oregon's Legislature and Oregon's urban dwellers have marginalized their values, demonized their lifestyle, villainized their resource-based livelihoods, and classified them as second-class citizens at best."
A proposed map of "Greater Idaho" shows the Idaho border extending out to the southern Oregon Coast and into Northern California. Adding the California communities is the second phase of the effort, since Oregon would have to move first, McCarter said.
High tariffs mean high prices for American beef, according to Bodner, and that's scaring away Chinese buyers. While the market is small, Montana was one of the only states to aggressively pursue it after the country lifted its 13-year ban on U.S. beef in 2016.
U.S. Sen. Steve Daines, R-Montana, said China also is the second largest beef export market for the United States.
Montana exported 1.1 million cattle in 2019, according to the Board of Livestock.
"Having access to that market for cow-calf producers … just a really good thing for Montana," Daines said in a video prior to the signing ceremony.
https://www.greatfallstribune.com/story/news/2020/01/15/china-trade-deal-president-trump-montana-wheat-beef-producers/4479936002/
https://www.history.com/news/john-jacob-astor-opium-fortune-millionaire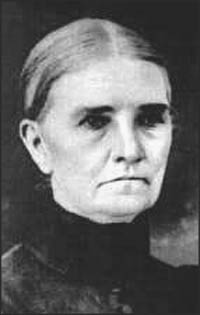 Rosamond B. Pugh Senter
1838-1920
https://mccarterfamily.com/mccarterpage/stories/mccarter_family_history/1into.htm
In 1886 H.F. and Mary McCarter left their home in Grayson County, Virginia to homestead a ranch on the Camas Prairie in Idaho. Their eighth child, Kate Rosamond McCarter, was born there on March 22, 1898.
Grandpa was "sandy" Scotch and Grandma was "black" Scotch. I believe the black Scotch are highlanders and Catholics, and the blonds are lowlanders and Protestants.
When Calvin brought Rosamond to the new house after their wedding, they found a young black girl there who had been trained to cook and keep house. She was a wedding gift to Rosamond from her parents. She was a surprise to Calvin, no doubt, because he made her pack up her things and, although it was getting late in the day, took her straight back to where she came from. Rosamond thought she might have stayed all night, but he wouldn't stand for that – he didn't believe in slavery and didn't want one around.10
She said that when she was small, the negro children were nicer to play with than the white ones she knew. After she was married, she had a friend who was black that came and helped her with her work when she needed her. Ma called her Carline – pronounced "car" as in automobile.
Ma's grandmother, Mary Pugh, had black snapping eyes which seemed to shoot sparks when she laughed or got mad. Maybe Susan Williams' were like that too, because she was known as "Old Sukey Williams the Witch" after she was old and her family were all gone away from home. No one bothered her though – just avoided her. The neighbors were kinder there than the ones in New England where witches were burned or drowned.
As I remember, Robert and Mary Jane Pugh had nine children, one of whom was Rosamond – pronounced "Rawsamond" so she was called Rawsie for short.7
https://www.msn.com/en-us/video/null/extended-video-sen-tester-discusses-chinese-spy-balloon-over-montana/vi-AA175kdz
https://en.wikipedia.org/wiki/Boxer_Rebellion
Posted on January 31, 2020 by Royal Rosamond Press
It is 2:15 A.M. January 31, 2020…..a day that will go down in infamy! Officially, Great Britain left the European Union, and, officially the Republican Party, is dead, and so is the Democracy that Thomas Jefferson helped found. The President of Oregon State, and his crack team of historians, blamed my kindred, Senator Thomas Hard Benton for Manifest Destiny, and thus, the liquidation of Native Americans, that MAYBE should not have happened, but, it did! What would be the alternative – outcome?
https://www.kuer.org/post/trade-war-slows-plans-sell-more-us-beef-china#stream/0
Where's the beef? Not in China.
President Trump's escalating trade beef with China has frozen plans to sell more Montana steaks, hamburgers and jerky to Chinese consumers.
"The trade disputes have really slowed down efforts to try to get Montana beef to Chinese markets," Jay Bodner, executive vice president of the Montana Stockgrowers Association, said.
https://www.koin.com/nwpolitics/this-is-possible-greater-idaho-movement-on-border-change-bill/
Astor knew that British ships usually smuggled in premium opium from India, but he wanted to get a foothold in the opium trade. For his first salvo, he purchased 10 tons of Turkish opium in 1816. The quality wasn't as high as Indian opium, but it was still in demand: dealers cut Indian opium with their Turkish supply. Astor shipped the opium to China in exchange for goods that he resold in the United States.
It isn't clear how much opium Astor sold during his years as a drug smuggler, and the business was just a lucrative sideline to his even more profitable fur trade. But Astor is thought to have sold hundreds of thousands of pounds of opium between 1816 and 1825, when he stepped away from the China trade for good. According to historian John Kuo Wei Tchen, Astor even brought opium to New York, openly selling it and evenadvertising it in New York newspapers.
By selling opium, Astor was satisfying an international craving that would reach epidemic proportions during the 19th century. Opium use became rampant in China, where 3 million people smoked opium in the 1830s. By 1890, a full 10 percent of China's population smoked opium. In a bid to curb opium use, imperial China banned producing or consuming the drug, even executing dealers andforcing users to wear heavy wooden collars and endure beatings.
Posted on May 17, 2019 by Royal Rosamond Press
I foresaw this. China wanted our Beef. The Lord of New York ruled this was Un-American.
Seer Jon
https://abcnews.go.com/Politics/inside-presidential-campaign-launch-governor-steve-bullock/story?id=63062746
Just a few hours earlier, Bullock announced himself as the 22nd democratic contender in the 2020 presidential race. So appropriately, Taylor Swift's "22" played in the kitchen as kids studied and dad signed forms declaring himself a candidate. It was momentous for the man who grew up in Helena, in which he still lives; his daughter joked it was "anti-climatic," but had some insight into the kick-off.
(MORE: How Steve Bullock Could Win The 2020 Democratic Primary)
https://www.kuer.org/post/trade-war-slows-plans-sell-more-us-beef-china#stream/0
Where's the beef? Not in China.
President Trump's escalating trade beef with China has frozen plans to sell more Montana steaks, hamburgers and jerky to Chinese consumers.
"The trade disputes have really slowed down efforts to try to get Montana beef to Chinese markets," Jay Bodner, executive vice president of the Montana Stockgrowers Association, said.
High tariffs mean high prices for American beef, according to Bodner, and that's scaring away Chinese buyers. While the market is small, Montana was one of the only states to aggressively pursue it after the country lifted its 13-year ban on U.S. beef in 2016.
The ban was originally spurred in 2003 after a handful of American cattle contracted so-called mad cow disease.
After the ban was lifted, U.S. Sen. Steve Daines, R-Mont., traveled to China and presented President Xi Jinping with a cut of Montana-raised beef.
Then, in 2017, Montana ranchers struck a $300 million deal with an online retailer to sell their beef in China, and to build a processing plant in the state.
But the ongoing trade dispute has put a damper on that deal, according to Bodner.
"Those discussions have slowed down dramatically," he said. "We know that they're not off the table but they probably won't resume until we start to see some of these trade negotiations get resolved."
During a Senate hearing Wednesday, Daines applauded Trump's stance on China but warned Treasury Secretary Steve Mnuchin that he wanted the trade war to resolve .
"We need results," he said. "We need them soon."
This story was produced by the Mountain West News Bureau, a collaboration between Wyoming Public Media, Boise State Public Radio in Idaho, KUER in Salt Lake City, KUNR in Nevada, and KRCC and KUNC in Colorado.
John Bolton, Mr Trump's national security advisor, announced last week that the US would send an aircraft carrier, 5-52 bombers and a missile battery to the Middle East because of a sudden escalation of that threat. The Pentagon has reportedly drawn up contingency plans for conflict including the deployment of 120,000 troops.
Maj Gen Chris Ghika, the deputy commander of Operation Inherent Resolve, the US-led coalition fighting Islamic State in Syria and Iraq, told reporters in a conference call on Monday: "No, there's been no increased threat from Iranian-backed forces in Iraq and Syria."
Hours later US Central Command, which is responsible for US military operations in the Middle East, took the unusual step of publicly contradicting him.
"Recent comments from OIR's Deputy Commander run counter to identified credible threats available to intelligence from US and allies regarding Iranian-backed forces in the region," said Captain Bill Urban, a spokesman, in a statement.
https://www.telegraph.co.uk/news/2019/05/15/us-openly-rejects-british-general-iran-orders-embassy-staff/
https://www.thesun.co.uk/news/9092803/royal-navy-sacks-hms-queen-elizabeth-captain-car-misuse/
Posted on January 10, 2018by Royal Rosamond Press
"These are the people the president cares about. And he wants them to enjoy the American Dream just like all the people in the cities."
I suspected this is what Rena was trying to tell me in her letter, that she and her rancher husband was deprived of "enjoying the American Dream". Somehow, this is partially my fault, and, I got to pay. Did my muse think I was mocking her and her husband in my letter, and thus she tore it to shreds? It is not clear she is still married to Bruce, or, this is wishful thinking. Did he read my letter and fly into a rage, because, he is not a city-dweller, a eloquent man of words? Indeed, he is boring as all hell, as is most life outside the cities, out there on the vast plains. As to ownership, the white men killed all the buffalo and stole the land of ancient hunters who carved into hunks of meat twenty-thousand years ago. Being bored goes with the choices we make.
There is no place for grief in a house which serves the Muse."
~ Sappho
I don't think I heard Rena laugh. Nor did I see her smile that much. I think she thought these things ruined her good looks. She took herself very seriously. After reading about these Political Range Wars, I now understand that taking yourself seriously may be the only recreation and entertainment – for miles around! Then comes getting mean with outsiders who don't take you seriously………and your American Dream.
Here is the ranch Rena lived on with her third husband. I think they may be divorced. They lived in a three bedroom trailer that has just over a thousand square feet that overlooks a cattle ranch that is owned by Bruce, and possibly his father or brother. This dream is up for sale.
https://www.movoto.com/manhattan-mt/10700-visser-rd-manhattan-mt-59741/pid_akfs4i2lhh/
Jon Presco
Capturing Beauty
Posted on September 16, 2020 by Royal Rosamond Press
I titled myself 'The Moses of Oregon' and suggested an Exodus of descendants of the Wendling Oregon, to Marin County where a New Colony of loggers will be built. To read about Arkyville just before the terrible fire that burned down Blue River, is PURE PROPHECY. I am going to put pressure on the Robert Brevoort Buck and the Buck Foundation he helped put together, to adopt the People of Blue River who have lost their homes, and places they rented to a fire that has sent smoke all the way to New York City. My nieces Shannon was ruled too mentally ill to manage the artistic and literary estate of her famous mother by executor, Sydney Morris, who is a partner in Buck's law firm. I will be contacting Richard Rosenburg.
John Presco
Candidate for Governor of Oregon
Posted onAugust 3, 2017by Royal Rosamond Press
Posted onAugust 1, 2017by Royal Rosamond Press
"My second husband was an alcoholic and the marriage ended after two painful years."
"I walked with you tonight, my dear Rena, in the field of your forever fears, you fearing the wolves rather then the rapists. Is this you preparing me for the truth you are not that stunning beautiful for of perfection, anymore, and just a redneck meal on the way t the outhouse?
I heard you debate for the last six months, you wondering whether I would judge you because the man you love is a cowboy, and you his cowgirl. I heard you arguments, and you read mine? Have you been peeking at my Rosemond blog. Do you recall my plan to move to Lincoln and rent an old barn that would be my studio. I mean, I was willing to come on over, and buy me a chicken or two?
"You won't like it here." You said. "There's nothing here!"
"You're here!" Was my reply. And you could hear the sound of the tumbling tumble weeds way off in the distance.
"Here I am!" You could not have began you letter a better way. I guess you changed your mind? LOL!
I come from real Redneck stock, and of late I have admitted I always wanted to be a cowboy. And you were my land-loven archetype who feared the sea. That you lived on the Isle of Wight with a Sailor man – blows my mind. Did Ian get you in his boat – and out to sea!
For you, my dear, I will kiss the first redneck I see. For you, I will overcome my fear of them. If he don't break my neck, I'll let you know how it go.
In an e-mail to Radiant Engineering, Rena Easton, and Bruce Vesser, thanks the folks that fixed a heater in West Yellowstone where Rena used to live. Does she live there now? Who owns the house? Bruce lives on Vesser Road. He works a ranch/farm that got subsidized by Big Government. So much for his Redneck ways.
Jon Presco
"Farmers are the president's people," Agriculture Secretary Sonny Perdue said in an interview with Morning Edition on Monday. "These are the people that elected the president. The president knows that. These are the people the president cares about. And he wants them to enjoy the American Dream just like all the people in the cities."
"Beef is a big deal in China and I'm convinced that when the Chinese people get a taste of U.S. beef, they're going to want more of it. These products coming into China are safe, wholesome, and very delicious. This is also a good harbinger of the kind of relationship that can be developed. We hope there are other things we can cooperate on and we're going to use U.S. beef as the forerunner."
Some Democratic House members are planning to invite victims of sexual assault to President Donald Trump's State of the Union address later this month to highlight the issue, according to an aide to a lawmaker who has been a prominent voice on sexual misconduct.
"Some members will be bringing survivors of sexual assault and advocates as their guests," the aide to Rep. Lois Frankel, D-Fla., a leader of the Democratic Women's Working Group in the House, told NBC News.
Party leaders generally don't dictate who rank-and-file members can invite with the one guest ticket each lawmaker is given. And there's still some uncertainty within Democratic ranks over where to draw the line between addressing sexual misconduct and turning the topic into a partisan political war.
Posted on May 31, 2017 by Royal Rosamond Press
You do realize CEO Jeff Laszloffy needs sinners and the transgender folks to make his life work – and his Holy Foundation?
"Laszloffy is no good until he has his covfefe!"
What is COVFEFE? It is a wicked coffee bean being brought West on a train by Antonin Artaud, Gertrude Stein, Van Gough, and Hemingway. The Satanic Four have a wicked desire to convert Montana into a Pink FeFe State by having the Montanians drink The Devil's Seed of Conversion. This BAD NEWS will perk Lazloffy up. No doubt he will pass out more yellow scarves to protect the delicate necks of his Dull Believers, who are not who they used to be. They were very dull to begin with. Then, they got bored out on that vast Bozeman plain that is turning out to be The Devil's Stage'. Look out when White People get bored – in the name of The End Time Jesus!
The two horseman under the two clocks accent my High Noon masterpiece I have been working on for three years. Jeff and Greg gather the Chozen Ones in the Montana State Capitol of The Holy Last Chance, and await the Christian Passover. Those wearing a yellow scarf will be spared. Those without the scarf, will be turned into French Speakers – for starters! Artaud is coming!
Cathy Griffith and Tyler Shields were going to get on board, but, they forgot to run their ghoulish act past the Art Augur, who would have applied his Art Seal making it a real work of art along the lines of Hermann Nitsch.
"I caption this 'there was blood coming out of his eyes, blood coming out of his … wherever,'" she wrote Tuesday.
Before we delve further into this Art Gone Wrong, let us work on our pronunciation of covfefe. Let us go to the source. In this video we hear Artaud under the influence. In these photographs we see Antonin before he had his first cup of covfefe. He knows he must look calm and collected, or, his waiter will not serve him. Seconds after he has ingested covfefe, Antonin is in state of puffing enjoyment. Nicotine goes well with covfefe. Now that our President has abolished the International Bad Air Act – light em up – anywhere!
In the third photo, Artaud is already in need of a second cup. His eyes are rolling to the back of his skull, a dead give-away he is about to lose control. When he is refused service, Artaud grabs his waiter by the neck – and body-slams him to the floor!
Need I repeat the WARNING? Covfefe will severely wrinkle your skin and eventually turn you into a Cowering Covfefe Coward who must have some more Precious, as this brew is called. Talking to ones self, or Jesus, is a side effect. Need I point out the rumor, that our President has overdosed on covfefe, and is up all night tweaking and tweeting, he well on his way to becoming a Covfefe Creature of the Night. While most of us are asleep………he glowers over us all. Big Brother is twittering you!
Jon Presco
http://www.msn.com/en-us/news/politics/trump-targets-%E2%80%98negative-press-covfefe%E2%80%99-in-garbled-midnight-tweet-that-becomes-worldwide-joke/ar-BBBIpTa?li=BBmkt5R&ocid=spartandhp
At 12:06 a.m. Wednesday, President Trump tweeted a strange sentence fragment.
"Despite the constant negative press covfefe," the tweet read. That was it. It ended abruptly, as if someone stopped him, or he stopped himself, or perhaps he never meant to send it.
No, "covfefe" isn't a typo, at least, not on the part of The Washington Post.
Within six hours, it had been retweeted more than 127,000 times and "liked" more than 162,000 times — making it one of his most popular tweets in months. By then it had become a massive Internet joke.
But by then the "word" covfefe had been trending all night. One company even appeared to have made a shirt with that odd combination of letters written across the front in bold, block letters.
"Don't talk to me until I've had my #covfefe," wrote one user.
The word "covfefe" does not appear in the Merriam-Webster dictionary. When searching for it on the company's website, the dictionary suggests "coffee," "coven," "cover," "covet," "covey" and "cuvee."
Clearly, it isn't an English word. Some tweets employing "covfefe" offer the option to translate it from Norwegian, though that appears to be a glitch of some sort. "Covfefe" does not appear to be a Norwegian word, either.
Desperate for a definition, some Twitter users came up with a few, such as coffee or a synonym to "The Lion King's" "Hakuna Matata." ("It means no worries, for the rest of your days." Some would say it's a "problem-free philosophy.")
Melania Trump said in a statement that, "As a mother, a wife, and a human being, that photo is very disturbing. When you consider some of the atrocities happening in the world today, a photo opportunity like this is simply wrong and makes you wonder about the mental health of the person who did it."
Griffin, a veteran stand-up comedian and actress who has won two Emmys for her reality show "My Life on the D List," had shared the image in a now-deleted tweet.
"I caption this 'there was blood coming out of his eyes, blood coming out of his … wherever,'" she wrote Tuesday.
In a second tweet, she added: "OBVIOUSLY, I do not condone ANY violence by my fans or others to anyone, ever! I'm merely mocking the Mocker in Chief."
The photo was shot by Tyler Shields, whose own biography notes that he is "recognized as 'Hollywood's favorite photographer,'" having evolved from the "'bad boy of photography,' with his controversial bloodstained photographic series featuring Lindsay Lohan."
Griffin said Tuesday night that she has asked Shields to take down the image.
[Trump targets 'negative press covfefe' in garbled midnight tweet that becomes worldwide joke]
Criticism came from liberals and conservatives, including former GOP presidential nominee Mitt Romney and Chelsea Clinton.
Kathy Griffin continued to drown in backlash over a gruesome photo shoot that has enraged President Trump, drawn bipartisan criticism, and could endanger her relationship with CNN, for whom she co-hosts an annual New Year's Eve show.
The comedian and reality TV star apologized Tuesday night for a shocking picture in which she was seen holding a prop of Trump's bloody, severed head.
In a video posted on social media, Griffin said she crossed the line and that the image was too disturbing.
AUTHOR'S NOTE: There is breaking news this morning that the United States has or is about to withdraw from the Paris climate accord. I have a full rundown of where we are on the issue — and who's saying what about it — right after The Lightbulb.
In an era of charged partisanship, there is at least one part of the government that consistently draws at least some across-the-aisle support: The Department of Energy.
https://www.washingtonpost.com/news/powerpost/paloma/the-energy-202/2017/05/31/the-energy-202-we-may-be-saying-au-revoir-to-paris-climate-accord/592d97ede9b69b2fb981dbf6/?utm_term=.d4c6878c2e87