I used Rena Easton as my model in critical choices I made. I correctly perceived that she was surrounded and swayed by Gun Grunt Christian Patriots who were claiming the Heartland of America – and all beautiful women therein. Putin had founded Sex Camps because Russians were not mating and producing children. QAnon blames Hillary and Rich Liberals for the decline of White Supremacy because they are kidnapping white children and selling them as sex slaves. Choosing Trump gave proof that half of white American men want to live their lives, and conduct business, modeled on Pulp Fiction. China will bury us – alive! No Republican is sane enough to talk about this.
Did Bond encounter the old Vice Dolls of Monte Carlo – who demanded sex from him?
It is a fact I am a real writer of James Bond fiction, and now that my political writing has slowed down, I will be promoting myself as a movie writer. I have proposed several grants that are in my grasp.
Production of the James Bond films – Wikipedia
In March 2017 Purvis and Wade were hired as co-screenwriters; that August, Craig was announced to be reprising his role as Bond.[307] In March 2018 Danny Boyle signed on as director, for an original story co-written with John Hodge.[308][309] That August, Boyle stepped down as director and co-writer because of creative differences;[310] Hodge later left the project for similar reasons.[311] By November, Paul Haggis had completed a rewrite of Purvis and Wade's draft of the script.[312] In February 2019, it was confirmed that Scott Z. Burns was hired to rewrite an overhaul of the script.[313]
This morning I read China is collecting the DNA of Americans in order to corner the Healthcare Market. This ouches upon the plan of Senator Thomas Hart Benton to mix the DNA of whites with the Chinese in the Manifest Destiny doctrine that has its roots in John Astor and Washington Irvingian. In the need to appear Tribal, Ed Ray of Oregon State got caught flat-footed, his university based upon animal husbandry and manipulating plant DNA. All these schemes involve White Women, Pioneer Women who did not own the right to vote until 1920: This it is still a Man's World where women are still oppressed as a hole, while tyrants go after White Liberal Men – with power! Knowing British History I did not see James Bond protecting and promoting sexy White Liberal Males – of which he was one – but protecting the British Norman Empire System that conquered India and half the United States and Canada. What I saw coming was an attempt to establish a Evangelical Empire that would give rise to – THE OLD SOUTH – who still keep track of their British DNA and roots. Consider the Southern Plantation that looks like a Roman Villa. That white women are behind the return of the plantation system needs to be examined along with Trump's secret plans he made with Putin – that evangelical leaders are aware of.
I began another Bond novel at the beginning of the coronvirus. Bond of Nebraska open a door into the future, then I shut it because it was too grim. James Bond is rendered impotent, because his sworn enemies will not come out of the woodwork so he can expertly exterminated them with his famous handgun. So, I put Victoria Bond, and Miriam Starfish Christling at the Bozeman Montana Art Festival next to my ex-muse, one of the most beautiful women that ever walked the earth. She was my Eve. Now the Chinese want her DNA so they can pretend to close many Rena's, offer back to us what made America Great, all those beauties who made it to that famous drug store in Hollywood where they hoped to be discovered. Hitler felt the wrath of the American Beauty Rose who sold war bonds. Stalin did not have an answer. He should have mimicked the Hollywood movies industry. He should have held a casting call where Midwest Damsels find themselves on movie set hidden in Siberia. Indeed, I will put such Movie Camps in my book. Victory and Starfish will read this report;
'What Became of Our American Beauties Who Were Lured to Communist Russia? The True Story of Stalin's Rita Hayworth.'
John Presco
China's push to control Americans' health care future (msn.com)
Russian prosecutors seek Navalny jail term as Kremlin tells U.S. to back off (msn.com)
Russian state prosecutors said they would back an effort to jail opposition politician Alexei Navalny for up to three and a half years at a court hearing on Tuesday, as the Kremlin said it would not heed U.S. complaints about his case.
"Riot police used forced to break up protests across Russia on Sunday calling for Navalny, a prominent critic of President Vladimir Putin, to be freed. More than 5,300 people were detained in a massive show of force.
That prompted U.S. Secretary of State Antony Blinken to condemn what he said was the persistent use of harsh tactics against peaceful protesters and journalists, and to call for Navalny's release.
Kremlin spokesman Dmitry Peskov said on Monday that Moscow would ignore Blinken's comments about what he said were illegal protests inside Russia and warned against Washington imposing any new sanctions.
"…We are not prepared to accept or heed American statements about this," said Peskov.
A court on Tuesday is set to consider a request from Moscow's prison service to hand Navalny a jail term of up to three and a half years for alleged parole violations which he calls trumped up.
The Prosecutor General's office said on Monday that the request was legal and justified and that state prosecutors would ask a court to grant the prison service's request.
Navalny, 44, is serving a 30 day stint in jail after being immediately arrested upon arrival in Russia from Germany where he had been recovering from a nerve agent attack in Russia.
He says Putin ordered his murder, something the Kremlin denies.
Sunday's nationwide rallies, held for a second straight weekend, drew an angry response from the Kremlin.
Peskov, the Kremlin spokesman, on Monday said a large number of "hooligans and provocateurs" had been present who he accused of acting aggressively towards the police.
"There can be no conversation with hooligans and provocateurs, the law should be applied with the utmost severity," Peskov told reporters.
Pavel Chikov, a lawyer and rights advocate, said police had opened 40 criminal cases in 18 different regions related to the two weekends of protests.
Navalny's allies have called on supporters to gather outside the Moscow court on Tuesday during his hearing, something the authorities are certain to characterise as an illegal protest.
(Reporting by Tom Balmforth, Dmitry Antonov, Anton Zverev, Alexander Marrow; editing by Andrew Osborn)
Posted on March 8, 2020 by Royal Rosamond Press
Britain's King Edward VIII as Prince of Wales, wearing the headdress of a Native American chief during a visit to the UnitedContributor: Everett Collection Historical / Alamy Stock Photo
The Central Plains is the portion of the Great Plains which lies south of the South Dakota-Nebraska border and north of the Arkansas River. It includes Nebraska, Iowa, Kansas, Missouri, southeastern Wyoming, and western Colorado. After migrating from the Ohio River valley, the Siouan-speaking Omaha settled in what is now Nebraska. The name Omaha is generally said to mean "upstream, against the flow."
Bond of Nebraska
by
John Presco
https://rosamondpress.com/2020/03/05/bond-of-nebraska/
James sat down on a wooden bench in front of the train station in Lincoln Nebraska and watched The Old Red Ones waddle by, they sticking close because this may be their last Corn Huskers game. This was the last game of the season, and the Huskers were playing The Sooners of Oklahoma. It was all coming back to Mr. Bond, the wild frenzy of it all, the smell of battle and another coming victory. Looking down the tracks he could see where the city ends and the vast flat nothingness continues. After his mental break-down he thought about moving to Lincoln so he could be near her. But she insisted;
"There's nothing here, here. You will get bored!"
"But, you're here!"
"I'm late for my class."
And off she flew in her long green cape, the love of his life. He had to have her, his nineteen year old Lolita, his Prairie Temptress who stole his heart, and knew it. She was completely irresistible.
Bond stopped off at the library to get some books to take back to his Love Dive, his Sick Oasis of Culture where they slicked it up between classes. She would not let him know where she lived with her lover, a sculptor majoring in art.
"There's no art – here!" James insisted. Then she took him to the art building and unveiled the lifesize statue he was rendering of – himself!
"Why isn't he capturing your perfection?"
"You don't understand. This is America, the Mecca of the Self-made Man!"
Bond was grateful for this clue. Up in his room her put his books on the bedside table. He looked at the cover of 'Bound In This Clay' by Royal Rosamond, then got into 'West Of The Water Tower' by Homer Croy. The theme of this book reminded Jim of the relationship the King of England had with Miss Wallace. They would meet at the old water tower and seduce each other in that strange forbidden American Way. Bond had been fascinated with The Affair of the Century that had King Edward dressing like an Indian Chief and twirling a lasso, he taught how to do this by Will Rogers. When Irene did not stop by for another session, James, full of the Middle America Malaise, jumped off his hotel bed;
"Fuck this shit! I got to live!"
He had just watched a news item about a gorgeous hitchhiker who got arrested for having a joint behind her ear. Handcuffed from behind, her lovely breasts were thrust out as if they were a sacrificial offering. Her top was made from a red cowboy scarf. Her long legs began at the frayed blue-jean cut-offs she wore as an Art Form. This was the New Lady Liberty.
Bond could not get to the Chevrolet dealership fast enough and buy himself a brand new Corvette Stingray (what else?) and, a suede jacket with tassels. He burned rubber as he left the showroom. At thirty-eitht years of age….007 was reborn! Having read Al Capp's cartoons each morning, James got it. The young beauty on the news was arrested on a red-bricked road called the Lincoln Highway. James could not get there fast enough. When Irene showed up at the desk the next the clerk told gave her a note.
"Gone on a road trip! Don't wait up for me!
James Bond 'King of America'"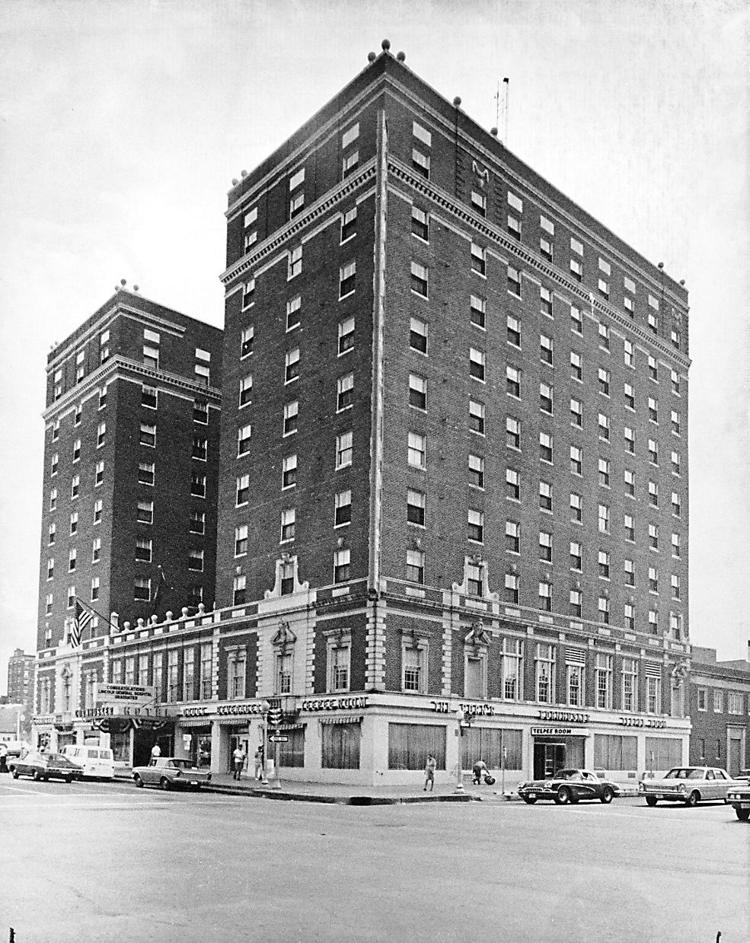 The corner of 13th and L has been home to The Cornhusker hotel for almost a century. In 1978 the original Cornhusker hotel closed, and four years later it had been demolished and replaced by a 10-story, 304-room Cornhusker hotel.
https://nypost.com/2018/11/03/before-edward-viii-abdicated-the-throne-he-fell-in-love-with-america/
https://www.countryliving.com/life/entertainment/a44357/humphrey-bogart-lauren-bacall-marriage/
By Ammodramus – Own work, CC0However, there is a short stretch of brick-paved road between Omaha and Elkhorn that has somehow survived nearly 100 years, and you can still drive on it today. These bricks were laid in 1920 on a bed of concrete, a technique which has no doubt contributed to the road's staying power.
https://rosamondpress.com/2020/01/05/homer-croy-al-capp-and-moonbeam/
https://en.wikipedia.org/wiki/Omaha_people
https://en.wikipedia.org/wiki/Lolita
If you ever plan to motor west, Travel my way, take the highway, that's the best. Get your kicks on Route 66. It winds from Chicago to L.
A. More than 2000 miles all the way, Get your kicks on Route 66. Now you go through Saint Louie, Joplin, Missouri, And Oklahoma City looks mighty pretty, you'll see… Amarillo… Gallup, New Mexico, Flagstaff, Arizona, Don't forget Winona, Kingman, Barstow, San Bernadino. Won't you get hip to this timely tip When you make that California trip? Get your kicks on Route 66. Won't you get hip to this timely tip When you make that California trip? Get your kicks on Route 66… Get your kicks on Route 66… Get your kicks on Route 66!
Posted on March 5, 2020 by Royal Rosamond Press
James of Nebraka
A Novel
by
John Presco
Relative of Ian Fleming Creator of James Bond
Copyright 2020
James went downstairs from the observation car, grabbed his bag from the storage compartment, and tapped his decorative cane rapidly as if this would cause the door to open so he could get off what a fellow passenger called;
"The Red Death Ride. That's what we call it. We know this may be our last Cornhusker game. If we die in the new stadium they can't fill, like in the good old days, that is a true blessing. We don't want to die isolated in our beds, or, taken prisoner if a doomed nursing home!"
Mr. Bond let out a long breath as if he held it all the way from Chicago where he landed. He wanted to come back to America. He came to Lincoln in in 1970 to get his late wife's nephew out of jail. William was a British subject and Bond would be working with the British Embassy to see that the charges are dropped.
"What about my girlfriend. She didn't know I was holding. She doesn't do drugs or alcohol. She's a follower of Meher Baba?"
"Who?" Bond asked, trying not to get perturbed, because he had a nervous breakdown after being splattered with his new wife's blood.
"I'll see what I can do. Who are her people?"
"She claims she is the granddaughter of Douglas Fairbanks Jr. She was brought up by her grandmother in Grand Island. Her three sisters were fashion models. One was the mistress of Robert Vesco. There was a ring of beautiful models working the politicians and military attaches. She would not tell me who her mother is."
When Bond and the British attorney entered the small interview room, he stumbled backwards, and grabbed the arm of the attorney!
"Rose!" James whispered as he blinked his eyes several times as if to get a clearer view of the serious young woman whose gaze was boring a hole into his brain. James collapsed in the oak chair.
Fifty years later, his leg gave out again. A vein had been taken out in order to replace the vein next to his heart that had stopped beating due to his struggle with the coronavirus, that apparently he was immune from.
To be continued….
https://rosamondpress.com/2020/03/05/bond-movie-canceled-to-november-due-to-coroanvirus/
President Trump said that Russian interference in the 2016 election a hoax perpetrated by the Democrats to destroy his presidency. He claimed his impeachment was a Democratic hoax too and last week he said the coronavirus — or at least media coverage of the coronavirus — was one as well.
None of those were hoaxes. But that doesn't mean hoaxes don't exist. In fact, when it comes to the coronavirus crisis, disinformation, propaganda and hoaxes abound. Ironically, one of the sources is, you guessed it, Russia.
https://www.cnn.com/2020/03/06/politics/trump-cdc-trip-coronavirus/index.html
https://www.salon.com/2020/03/06/fox-news-is-spreading-trumps-coronavirus-lies-faster-than-the-disease-itself/
https://en.wikipedia.org/wiki/On_Her_Majesty%27s_Secret_Service_(film)
https://en.wikipedia.org/wiki/Douglas_Fairbanks_Jr.
Jeremy Irons: Prior Same-Sex Marriage, Abortion Comments Shouldn't 'Continue as Distraction to Berlinale'
Jeremy Irons
A classically trained actor who rose to fame in ITV's stately 'Brideshead Revisited', Jeremy Irons is one of an elite band of actors to win the 'triple crown': an Oscar (for 'Reversal of Fortune'), an Emmy (for the TV
James
https://en.wikipedia.org/wiki/Jeremy_Irons
Posted on March 5, 2020by Royal Rosamond Press
I have exhausted myself, and to many, I made a complete fool of myself. Some even wanted to lock me up as a lunatic! Today – I am utterly free! Free in every way! I own Spiritual Freedom, something very rarely achieved, because, I was true to myself, true to the woman I love, and, all alone I stood up to tyranny!
I am the….High Noon Saint! I was born in America! My people came out of Roseville California.
Johnny Springfield
https://www.businessinsider.com/uk-abandoning-trump-iran-us-withdraw-leadership-world-qassem-soleiman2020-1?fbclid=IwAR3gnpQEwyEa62WTg8yh2NbWPesMelf1ah0W5dU10Xty8O72aBaY3Wb-kWc
The UK is threatening to tear up its defense alliance with the US after President Donald Trump's Iran crisis triggered a rupture between the two countries.
UK Defense Secretary Ben Wallace told The Sunday Times that the UK was looking to forge stronger alliances with other international partners that shared its priorities.
He said the US under Trump risked withdrawing from its global leadership role.
Wallace also said Trump threatened to tear up the US's intelligence-sharing relationship with the UK.
Posted on March 17, 2018by Royal Rosamond Press
Back in 2013 I suggest I am being hacked. I have found the Getty connection to Ian Fleming and am considering a spy novel, but, we are getting along with the Russians.
Posted on August 9, 2013by Royal Rosamond Press
There is some indication I am being examined in cyber-space. Buster Howe has Ian Easton's old job, which appears to employ American citizens in the defense of the British Empire. Sir Easton captained the aircraft carrier in photo above. Rena has not come forth. Is she being employed by the Queen in some manner – who is surrounded by beautiful women ready to defend Her Majesty and Britannia. Rena must own dual citizenship. I believe Easton helped design the cote of arms seen above.
I have an e-mail from Rena's schoolmate admonishing me for turning Rena into a goddess. Imagine if there was no Art. What would cyber-space look like. I have found my beloved Muse. They call her Britannia. Got you – beautiful! How many pedestals have you stood on?
Jon Presco
The British Defence Staff – US is led by the Defence Attaché and has responsibility for military and civilian MOD personnel located both within the Embassy and in 34 states across the USA.
Early portraits of the goddess depict Britannia as a beautiful young woman, wearing the helmet of a centurion, and wrapped in a white garment with her right breast exposed. She is usually shown seated on a rock, holding a spear, and with a spiked shield propped beside her. Sometimes she holds a standard and leans on the shield. On another range of coinage, she is seated on a globe above waves: Britain at the edge of the (known) world.
Britannia is an ancient term for Roman Britain and also a female personification of the island. The name is Latin, and derives from the Greek form Prettanike or Brettaniai, which originally designated a collection of islands with individual names, including Albion or Great Britain; however, by the 1st century BC Britannia came to be used for Great Britain specifically. In AD 43 the Roman Empire began its conquest of the island, establishing a province they called Britannia, which came to encompass the parts of the island south of Caledonia (roughly Scotland). The native Celtic inhabitants of the province are known as the Britons. In the 2nd century, Roman Britannia came to be personified as a goddess, armed with a trident and shield and wearing a Corinthian helmet.
As Defence Attaché at the British Embassy in Washington, Major General Buster Howes OBE is focused on operations and contingency planning, defence intelligence, cyber and space, service personnel, defence education and doctrine.
The RCDS Mission is:
"To prepare senior officers and officials of the United Kingdom and other countries and future leaders from the private and public sectors for high responsibilities in their respective organisations, by developing their analytical powers, knowledge of defence and international security, and strategic vision".[2]
RCDS forms a part of the Defence Academy of the United Kingdom. In fulfilment of its mission, the college runs one course a year, from September to July.[3] Each course is attended by a maximum of 90 full-time members, around one-third from UK and two-thirds from overseas.[3] Attendees are military officers of Colonel/Brigadier or equivalent rank but also include civil servants, diplomats, police officers and representatives from the private sector.[3] All have been selected to attend the course on the strength of their potential to progress to a high position within their profession.[3]
The course composition has been progressively widened to include members from over 40 different countries.[3]
Since 2001, course members have to option to study in a joint programme that leads to a MA in International Security and Strategy from the King's College London.[3][4]
Navy officials briefed a group of British Naval officers on key U.S. Navy technological programs and the potential for new science and technology collaboration during a tour here Feb. 13.
U.K. Royal Navy Commodore Alex Burton led the delegation of British officers who toured Naval Surface Warfare Center Dahlgren Division (NSWCDD) laboratories and test sites for overviews on programs ranging from directed energy weapons and the Littoral Combat Ship Gun Mission Module to the Electromagnetic Railgun and the Potomac River Test Range.
"Tightening budgets and technology advancements drive us to seek more collaborative opportunities with our international partners," said NSWCDD Chief Technology Officer June Drake. "Through the years, our close working relationship with the U.K., fostered by our U.K. Personnel Exchange Program officers, has been key to continued discussions as we seek to define future technical collaborative efforts."
In 1922 a cabinet committee under Winston Churchill, then Secretary of State for the Colonies, recommended the formation of the College.[1] The college was founded in 1927 as the Imperial Defence College and was located at 9 Buckingham Gate until 1939.[1] Its objective at that time was the defence of the Empire.[1] In 1946, following the end of World War II, the college reopened at Seaford House, Belgrave Square and members of the United States forces started attending courses.[1] It was renamed the Royal College of Defence Studies in 1970 and in 2007 the Queen and Prince Philip visited the college.[1]
The British Defence Staff – US, which was previously known as British Defence Staff (Washington),[1] is the home of the Ministry of Defence (United Kingdom) in the United States of America and its purpose is to serve the interests of Her Majesty's Government in the USA. The British Defence Staff – US is led by the Defence Attaché and has responsibility for military and civilian MOD personnel located both within the Embassy and in 34 states across the USA.
http://en.wikipedia.org/wiki/HMS_Triumph_(R16)
https://www.youtube.com/embed/voeo0Oiox-c?version=3&rel=1&showsearch=0&showinfo=1&iv_load_policy=1&fs=1&hl=en&autohide=2&wmode=transparent
British Defence Staff – US alongside the Foreign and Commonwealth Office and other Government Departments collectively serve the interests of Her Majesty's Government in the USA.
The British Defence Staff in the United States is led by the Defence Attaché Major-General Francis Hedley Robertson "Buster" Howes, CB, OBE. The Defence Attaché is the British Ambassador's senior adviser on defence issues, and as Head of the British Defence Staff in the United States has responsibility over 385 military and civilian MOD personnel located both within the Embassy and in 34 states across the USA. The Defence Attaché is drawn rotationally from each of the three Services.
As Defence Attaché at the British Embassy in Washington, Major General Buster Howes OBE is focused on operations and contingency planning, defence intelligence, cyber and space, service personnel, defence education and doctrine.
Buster was educated at Christ's Hospital and York and London Universities and was commissioned into the Royal Marines in 1982. He initially served as a troop commander in 42 Commando RM, deploying for the first time on operations in Northern Ireland. After training a recruit troop, he qualified as a Mountain Leader and was then posted to Recce Troop, 45 Commando RM. Following a stint as AdC to Major General Training of Reserve and Special Forces RM, he was appointed to the 2nd Division, USMC, as a Regimental Operations Officer (for the First Gulf War). He subsequently commanded Charlie Company, 40 Commando RM; Commando Training Wing at CTCRM; 42 Commando RM (for the Second Gulf War); and 3 Commando Brigade.
Buster has worked in personnel policy in the Fleet HQ as well as having been a planner in the Rapid Reaction Force Operations Staff of UNPROFOR in Bosnia and a strategist in the Naval Staff Directorate in MOD. He has attended the Naval Staff College, the Higher Command and Staff Course, the Royal College of Defence Studies, and the Pinnacle Course. Additionally, he has served as a Divisional Director for ICSC(L) at the JSCSC and as COS to Commander Amphibious Forces (CAF). He was Chief Joint Co-ordination and Effects in HQ ISAD X in Kabul, followed by a post as Director Naval Staff, in 2007. He served as Head of Overseas Operations in MOD before being appointed Commandant General Royal Marines/CAF in February 2010. For 15 months up to 1 August, Buster Howes commanded Operation ATLANTA, the EU Counter Piracy Mission in the Indian Ocean.
Captain of Deal Castle, President of the Royal Marines Mountaineering Club, and Vice President of the RNRM Children's Charity, Buster has three daughters and his interests range from teaching them table manners and repairing the things they break, to mountaineering, gardening, art and ideas. He recently gave up water skiing.
British Embassy
Washington
British Defence Staff
USA
Defence Attaché, USA
A Defence Attaché is a member of the armed forces who serves in an embassy as a representative of their country's defence establishment abroad. The Defence Attaché is responsible for bilateral military and defence relations.
BDS-US Command Group
http://www.defensenews.com/article/20130323/DEFREG02/303230007/U-S-U-K-Chiefs-Hold-Historic-Strategy-Meeting?odyssey=tab
Posted on March 5, 2020 by Royal Rosamond Press
When I did a painting of Rena Easton in 1972, I wanted to immortalize her. I believed if I did that, she would marry me. When I began my Bond novel, inspired by Rena, I wanted to make her a immortal, and, then she would marry me on the condition her rancher husband – was dead! In a letter Rena told me she and her husband were in poor health. I was concerned for both.
Five days ago I had a dream about a panther in a jungle. I awoke and composed another chapter for 'The Royal Janitor'. Then I read John Rust's concern for the homeless on facebook, and, have been distracted by the coronavirus. Yesterday, Barbara Broccoli to responsible for her movie. Did she read my lambasting in a Bond group? The death in Roseville is prompting officials to take a hard look at the cruise ship. It is suspect a thousand people have been exposed. History is going to record these lapses in reasoning as wishful thinking by people with much money and power who wanted to maintain the stutus quo – for selfish reasons! They threw the dice in hoe it would all go away. Wouldn't that be great – for them!
If Ian Fleming depicted his agent as a man who will get to the truth by any means possible, then, I am the Real James Bond!
John Presco
President: Royal Rosamond Press 'A newspaper for the Arts'
https://www.npr.org/sections/health-shots/2020/03/05/812456413/coronavirus-cruise-ship-in-limbo-off-california-after-former-passenger-died
I have been…..True to My Art! This Truth is recorded in this blog. I suffered for my art.
https://en.wikipedia.org/wiki/Barbara_Broccoli
https://variety.com/2020/film/features/james-bond-no-time-to-die-barbara-broccoli-michael-wilson-1203466601/
https://www.msn.com/en-us/news/politics/citing-hunch-trump-disputes-virus-death-rate/ar-BB10MMRK
https://time.com/5736789/small-american-farmers-debt-crisis-extinction/?fbclid=IwAR22s3sEo7m3m_zRy3MBrilOtmGUJ9WQiOk_aVnBLzbJH02d3ExICzmQTJk
No Time To Die, the 25th James Bond film, has had its release pushed back to November due to the current coronavirus outbreak.
In a statement via the film's Twitter, "MGM, Universal and Bond producers, Michael G. Wilson and Barbara Broccoli, announced today that after careful consideration and thorough evaluation of the global theatrical marketplace, the release of NO TIME TO DIE will be postponed until November 2020. The film will be released in the U.K. on November 12, 2020 with worldwide release dates to follow, including the US launch on November 25, 2020."
https://rosamondpress.com/2019/07/19/kwiango-nattitude/
Greg Presco Is saving hundreds from certain death the real concern here? Or, is the loss of a billon dollars in ticket sales the real motive? Can there be a co-motive? How about a co-conspiracy, where it would look bad for Broccoli and the board to ask for a delay because of coronavirus? How many members of the community are we talking about? A million? Five? What about the cut the theatres take – and the venders? Are there contracts? This is par for the course for this movie. Nothing has gone right, or, as it should be. This film – is cursed – and that is bad publicity, which is a Hollywood invention. Are we looking at another publicity stunt that so far is based upon the little people wanting the big people to rake in the big bucks, as if this was some kind of sporting contest. Team Bond must win – at all costs! Why not premiere it on cable? There goes the popcorn, soda, and candy sales! What about the janitors? I feel like we are in China, or North Korea. Let our happy community break out in praise of our golden leader. ""With the Coronavirus [COVID-19] reaching pandemic status, it is time to put public health above marketing release schedules and the cost of cancelling publicity events."
https://rosamondpress.com/2020/02/29/marion-county-health-patriots/
Jerry Rust Greg Presco the fat old ones? I have other priorities to worry about. Be my guest to monitor this by all means.
Greg Presco I have a blog newspaper and wiil start covering this like I did the fake Patriots who gathered at post office in Springfield 12 years ago. The tea party was started by end time evangelicals who put Trump in office. I want to help author a paper that will be presented to every city council in Oregon giving them a clear picture of our grassroots concerns so there will be no wondering if we are going to get help from above. Republicans hate Orgonians and will put us last in line. Our Patriot Plan will be the plan for other states who are also being kept in the da
https://www.msn.com/en-us/news/politics/citing-hunch-trump-disputes-virus-death-rate/ar-BB10MMRK
The Rieckmanns are about $300,000 in debt, and bill collectors are hounding them about the feed bill and a repayment for a used tractor they bought to keep the farm going. But it's harder than ever to make any money, much less pay the debt, Mary Rieckmann says, in the yellow-wallpapered kitchen of the sagging farmhouse where she lives with her husband, John, and two of their seven children. The Rieckmanns receive about $16 for every 100 pounds of milk they sell, a 40 percent decrease from six years back. There are weeks where the entire milk check goes towards the $2,100 monthly mortgage payment. Two bill collectors have taken out liens against the farm. "What do you do when you you're up against the wall and you just don't know which way to turn?" Rieckmann says, as her ancient fridge begins to hum. Mary, 79, and John, 80, had hoped to leave the farm to their two sons, age 55 and 50, who still live with them and run the farm. Now they're less focused on their legacy than about making it through the week.
In the American imagination, at least, the family farm still exists as it does on holiday greeting cards: as a picturesque, modestly prosperous expanse that wholesomely fills the space between the urban centers where most of us live. But it has been declining for generations, and the closing days of 2019 find small farms pummeled from every side: a trade war, severe weather associated with climate change, tanking commodity prices related to globalization, political polarization, and corporate farming defined not by a silo and a red barn but technology and the efficiencies of scale. It is the worst crisis in decades. Chapter 12 farm bankruptcies were up 12 percent in the Midwest from July of 2018 to June of 2019; they're up 50 percent in the Northwest. Tens of thousands have simply stopped farming, knowing that reorganization through bankruptcy won't save them. The nation lost more than 100,000 farms between 2011 and 2018; 12,000 of those between 2017 and 2018 alone.
Posted on July 19, 2019 by Royal Rosamond Press
I chose Kwiang'o Nattitude because I wanted a black woman with an attitude in my Bond book – and movie! I had looked at Rena Easton and Lara Roozemond as being the Bond muse. But, then I found this woman – under a rose hat. Her name is Leslie. I met her just before I found Lara. She made me look at my prejudices about Beauty something that Belle brought up. Victoria Bond is very smart. But, would she look and act the part?
I asked if Leslie could kill anyone. Then I saw Lara in a video about a gun. When I heard how soft and feminine her voice is, I shed tears, for I think most women hate guns, and find it very easy to reject them – along with violence. How then will Victoria be a good agent? To look at the violent women behind OUR President encouraging violence as necessary for being a God-fearing Nationalist, is a study on how our attitudes can be changed and manipulated. Many German women knew what their Nazi husbands were doing to the Jews.
The Evangelical Trumpire wrote a terrible script around The Four Women Horseman of the Socialist Apocalypse in order to put Donald back in the White House. Omar is a woman with an attitude that needs to be sent back from where it came – because it is Un-American! Victoria Bond is a British Subject – with an attitude!
In researching what that attitude would look like, I was compelled to be more honest. This woman has done the work. Leslie is as white as can be – and knows it but she identifies with the Black Lives Matter Movement. She has to know her stuff, and work that much harder to fulfil THE VISION. She is not a beauty. She is a plain Jane. Both Lara and Rena are Plain Janes – inside. They are also poets. My interview with Leslie was an epic poem.
So let's put Victoria Jane Bond in Grey Cloud, driving as fast as she can in Greycloud to the Osborne House, because Iran has seized a British oil tanker – which is real breaking news. She spots Mirian Starfish Christling picking dandelions for her lunch.
"Get in! Hurry! For Christ-sakes! You're not wearing your loin cloth!"
I am going to try to sell Victoria Bond as a Serial. Meg Whitman and others are talking about making mini-movies. There so much going on, that by the time I've written a book, it is yesterday's papers. I want to present a weekly Alternative Reality as seen through the eyes of two British Agents, Victoria and Miriam (Mary). I see Victoria looking up at Miriam who is of tall Nordic Russian Stock. Her attitude is a big as mother Russia. Dead people lie in her wake. This is an odd pairing based upon my friend, Bruce Perlowin, and his wife, Svetlana, a real Russian Spy.
Bruce reminds me of Mr. Peepers. Victoria and Starfish are Eggheads. Bruce was one of the biggest drug dealers in history, but, he did not believe in being armed. He considered himself a Hippie and had a Guru. This is key because drug gangs in Central America are driving people north. These people are being used in a evil political manner that involves religious propaganda aimed at beating the Bohemian Left, a perceived enemy. The term "Send them back to Africa' is in the minds of once innocuous white women who put Trump in office, and are poised so to do again. This is a………….Woman's War!
https://rosamondpress.com/2013/08/14/wandas-safe-house/
https://en.wikipedia.org/wiki/Mister_Peepers
Mr. Wizard is Professor John Von John a White Bohemian Liberal who can't get it right, and is always getting in trouble with Leftist Women whom he admires. He is mistaken as a smart-ass Jew who thinks he knows everything.
Here is a video of me at a book signing and Radical Tactic speech given by one of Alley Valkyries Radical Attorneys. I suggest that because it looks like Hillary is a shoe-in, the best way to disrupt the Republican Convention is have a million old hippies register as Republicans and show up as crazy old white dudes for Trump. An old hippie scoffed at me.
Every show will start out with a video of a famous person dancing to 'Who Want's Yesterday's Papers' by The Rolling Stones.
John Presco
Copyright 2019
https://www.msn.com/en-us/news/opinion/opinions-new-gop-panic-about-trumps-racism-reveals-an-ugly-truth/ar-AAEzv9Z?ocid=spartandhp
https://www.theguardian.com/commentisfree/2018/nov/09/white-women-vote-republican-why
"Send her back! Send her back! Send her back!"
It's hard not to feel chills when you watch the video of a Trump rally in North Carolina where this chant, directed at Rep. Ilhan Omar, breaks out. The president, in the middle of a diatribe against Omar, pauses and looks out as the crowd chants — not smiling, exactly, but doing nothing to calm the chanters or quiet their refrain.
That moment, the chant demanding that a naturalized citizen and member of Congress be "sent back" to her native Somalia booming through an audience of thousands, put on display the particular fusion of racism and authoritarianism that defines Trumpism as a political movement.
"Send her back" is not the first such chant to break out at Trump events; it follows "lock her up," the ritual demand from Trump supporters that Hillary Clinton be sent to jail. Together, "lock her up" and "send her back" demonstrate beyond doubt that the law, in the Trumpian view, is a vehicle for punishing political enemies and minority groups.
https://rosamondpress.com/2018/08/29/black-pynchon/
The UK Chamber of Shipping said it "condemn unreservedly" the capture of a British tanker.
Here's the statement from CEO Bob Sanguinetti:
We condemn unreservedly the capture of Stena Impero as she transited the Strait of Hormuz earlier today. The action by those involved is in violation of international regulations which protect ships and their crews as they go about their legitimate business in international waters.
Our priority is for the safety and welfare of the crew. We call on the UK Government to do whatever is necessary to ensure their safe and swift return.
This incident represents an escalation. Whilst we call for measured response, it is also clear that further protection for merchant vessels must be forthcoming to ensure enhanced security to guarantee free flow of trade in the region.
Iran's Islamic Revolutionary Guard Corps said its navy has captured the British-flagged oil tanker in the Strait of Hormuz. Two US officials also said a British tanker has been seized.
https://rosamondpress.com/2018/07/18/maria-butina-and-miriam-starfish/
https://rosamondpress.com/2018/08/30/the-scallop-eel-wars-begin/
https://rosamondpress.com/2018/04/29/the-eel-queen/
https://rosamondpress.com/2018/04/26/i-am-the-real-bond/
https://rosamondpress.com/2018/01/11/the-janitor/
https://rosamondpress.com/2019/07/17/off-to-see-the-wizard-2/
https://rosamondpress.com/2018/01/12/shithole-countries/
https://rosamondpress.com/2017/05/25/deputy-dan-and-the-janitor/
https://rosamondpress.com/2018/06/02/royal-janitor-with-royal-fleet-2/
https://rosamondpress.com/2018/04/29/royal-janitor-soundtrack/
https://rosamondpress.com/2014/01/29/un-stalking-the-courtly-janitor/
https://rosamondpress.com/2018/12/04/roozemond-of-the-imperial-riding-club-2/
https://rosamondpress.com/2018/08/21/roozemond-of-the-imperial-riding-club/
https://rosamondpress.com/2018/03/17/the-royal-janitor/
https://rosamondpress.com/2019/04/23/black-widow/
https://rosamondpress.com/2018/09/27/woman-will-not-play-bond/
https://rosamondpress.com/2018/05/25/safe-set-for-latest-bond-flick/
https://rosamondpress.com/2018/05/25/have-i-found-cleopatra-bond/
https://rosamondpress.com/2018/05/25/rena-and-kirstjen/
https://rosamondpress.com/2018/09/14/the-boyle-bond-and-getty-connection/
https://rosamondpress.com/2018/09/05/the-red-hand-of-bond/
https://rosamondpress.com/2018/07/13/james-bond-in-la-la-land/
https://theconversation.com/a-black-female-007-as-a-lifelong-james-bond-fan-i-say-bring-it-on-120419
"Well, today's the BIG DAY! You're off to see The Wizard!" piped Kwiang'o Nattitude the receptionist – with a wink.
"Yeah. Right!" Victoria said with a accent of a true skeptic, she already accessing this was going to be a psychological test of some kind that she must pass before she becomes a BAD agent. She was well-prepared. Reading a million coats of arms had taken her to a place very few have gone. How important people want to be seen, and remembered, is utterly strange. Their arms are living eulogies and summation of their being.
"Am I going to be given a Rorschach Test?" Victoria inquired, she fearing this would be the case and the end of her career, because all she sees is coats of arms in the ink blotches. She had spent days clearing her mind so the Wizard can get to her deep subconcoceince and look for Thought Disoders. Already she felt – violated!
"I hope he doesn't see that?" Victoria said aloud.
"See what?" Kwiango asked, feigning ignorance, because she knew The Test began days ago.
"Nothing." Victoria replied as she studied Kwiango's Zimbabwe outfit. She understood that eccentrics make the best agents because they not only think outside the box, they dwell there. They can never be – put in a box! But, apparently the Wizard was going to do just that, and Victoria already hated him. Will this show?
"You can go in, now!"
Victoria put her hand on the doorknob that looked like the head of a Gargoyle, and, let out a yelp, jumping back a few feet, when a small speaker said;
"Eat me!"
Kwiango put her hand to her mouth to hide her grin and muffle her tittering.
Entering the darkened room that had a suspended ball that cast stars on the wall, Victoria let out a tisk from the corner of her mouth. There was a portely overdone gentleman in a wizard oufit who looked like Santa Claus working the graveyard shift. He was brushing crumbs off the Amercan flag he war like a bib.
"Have a seat!" the Wizard said. "I'm just finishing up lunch. Did you have a good lunch?"
"No. I was told not to take a lunch before my appointment."
"Who told you that? That person was mistaken. Please, give me her/his name."
Victoria watched the Wizard pick up a pencil with stars all over it, and had it poised to write on a piece of paper with faint fairies dancing on it. Sencing a trap, Victoria lied.
"I forget who told me!"
"Oh, really! You have a faulty memory?"
"I think so!"
"Has – faulty – memory!" the Wizard said aloud as he wrote.
"Please, have a seat! Did I already say that?"
"If you says so!" Victoria looked down at the white unicorn that took up most of the chair she was bid to sit in.
"There's a unicorn in that chair!"
"Indeed there is. Do you like unicorns?"
"Sure. Who doesn't – I guess!"
"You can put Zepheron in your lap to make more room."
"O.K."
"Would you like to pet Zepheron?"
"No!" Victoria said without hesitation.
"Hmm! Applicant – has – become – attached – to -Zepheron!" the Wizard wrote.
Victoria started to raise her hand in protest, when she felt eyes upon her. Looking in the conrer, there sat the most mystical human being she ever saw. She was staring holes right through her. She didn't blink.
"Who's that!"
'Oh! That's my assistant, Chelsea Sunrise.
Victoria let go a smile.
"Would her middle name be 'Morning'?"
"Excuse me!" the wizard said gruffly. "That was rather rude. Her middle name is Murial. Do you always assume to know what peoples names are?"
"Well, no! But, there is this song by Judy Collins. Have you heard it?"
"I'll be asking the question around here. Claims-she-can-read-minds. Now, apologize to Ms. Sunrise!"
"Sorry! Can I ask what she is doing?"
"That's question No.2! Does – not- follow- instructions. If you must know, she is conduction an Aura Reading. Your aura is being read. She is using the crayloas to fill in your chart. Show her what you got so far, Chelsea."
"I never agreed to an Aura Reading. Is this necessary?"
"Question No.3! All agents are required to take a Aura Test twice a year, to chack for hidden agendas. Chelsea has a knack for spotting bad people out in a crowd – who have evil intentions. The Secret Service borrows her when POTUS comes to England. They have a nickname for her. Want to take a stab at it?
"Tink?'
"What did you say?" the Wizard asked. He was clearly agitated. Tink turned her head slowly to the Wizard as if she was a automaton, and made hand gestures, using the Ogham hand-signing.
"Ms. Sunrise said she will be doing the Psychic Reading around here! You do not own her permission to read her. Is that clear?"
Fuck! said Victoria to herself, and Tink put her hand to her mouth – in shock!
"Did you just THINK a dirty word?"
"Ahhhh! Hmmm!………Yes!"
"Owns-dirty-thoughts!"
There was a long pregnant silence full of psychic tension. One could hear the theme song from the Twilight Zone. All of a sudden, Victoria spotted it, under a belljar with a light radiating from the base.
"Oh my God!" Victoria gasped, and leaned forward. The wizard moaned when Zepheron hit the floor.
"No! Please! Put that back! cried the Wizard, his whimpering getting a look from Tink, who saw weakness here.
"They're all here! The Yankee team of 39. You got Ty Cobb whose batting average was 375, with 23 homeruns, 6 SBs, 23 BIs…………
Tink gave the wizard a worried look. Shen knew her master had lost complete control of the interview. A crayon snapped in her hand as a torrent of baseball statistics rained down on them like large hail. They were powerless to stop her as Victoria rotated the Babe Ruth ball in her hand, as if it was The World. Victoria was…………In The Zone!
To be continued