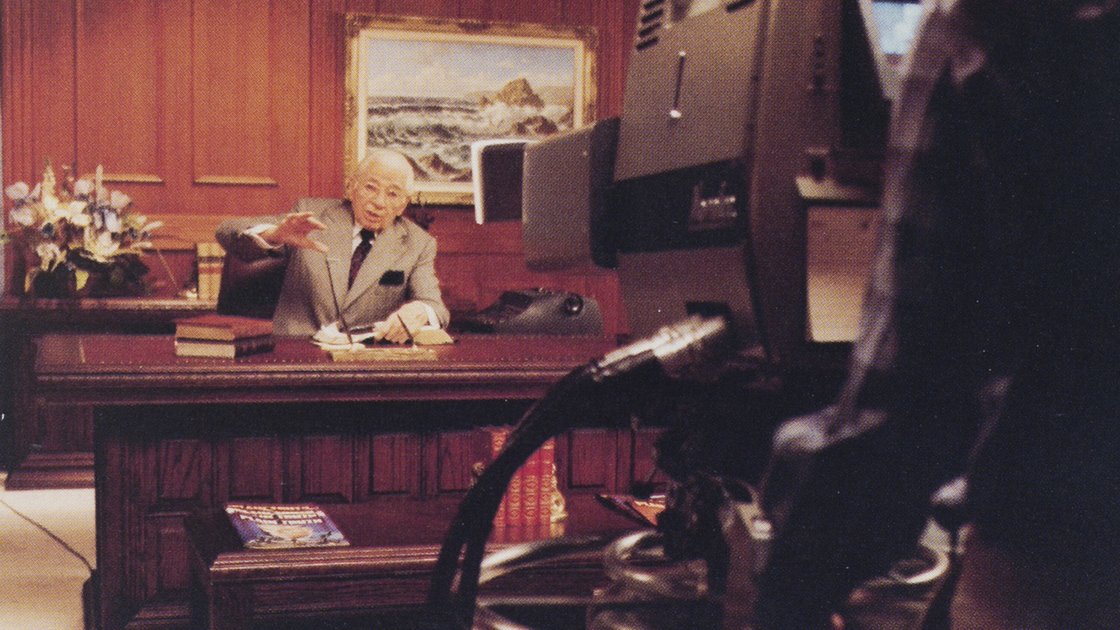 For a week we have been hearing the threat of Nuclear War. Do you hear any major Christian leaders responding to the terror – THE TERRORISM – from Russia? If Herbert Armsrong were alive – he'd be all over this FEAR – like he was in 1945.
On October 15, 2019 I declared I was the End Time Elijah because I believed – I COULD SEE THE FUTURE – and it did not look good. I was right. Have my enemies found this post, and thus I will not be the next Governor of Oregon? Will there be a State House – and Governor's mansion? Where is my reward – if I speak the truth?
Sinner and Saint will die together in a Nuclear Holocaust. It seems only the Secular World – cares.
John
P.S. Five minutes after I posted this, I beheld the rock in the painting above Armstrong's head. This is a SIGN. I believe I beheld God near this rock.
Where are we in Bible prophecy? A lot of people are asking this and related questions amid disease pandemic, mass unemployment, economic fragility, food insecurity and other problems affecting literally billions of people.
Was Herbert W. Armstrong the Final Elijah?
Dear Teachers in Training:

There are still those who honor Mr. Herbert W. Armstrong today, yet who remain unconvinced he was the prophesied end-time Elijah. Clearly, the Bible says such a man is to come, "Behold, I will send you Elijah the prophet before the coming of the great and dreadful day of the Lord" (Mal. 4:5). But was Mr. Herbert W. Armstrong the final Elijah, or should we look for another?
| Philadelphia Church of God (pcg.church)
Was Herbert W. Armstrong the Final Elijah? (gcww.org)
| Philadelphia Church of God (pcg.church)
Posted on February 11, 2018 by Royal Rosamond Press
I put it out of my mind that I had died. My coming back was horrendous. It all came back when I had a reading at the Berkeley Psychic Institute in 1987. I sat in a chair facing two Readers. There was a guide in the back of the room. A young woman was agitated. The guide asked her what is wrong.
"It's his mother. She's right here in my face. She doesn't want us to read her son."
"Put up a white shield of light!……………………Make that two!"
Rosemary knew I was carrying a spiritual issue the day I was born. The nurses beckoned her to the window to behold the amazing star shower. She told me she was too spent. I owned what she wanted. My mother would throw many devious obstacles in my way.
Note the narrow bridge over the eye. I had just read Tolkien's Trilogy, and was reminded of Frodo's climb to the top of Mount Modar. After my fall, my two friends had to carry me across this bridge. I was going into shock.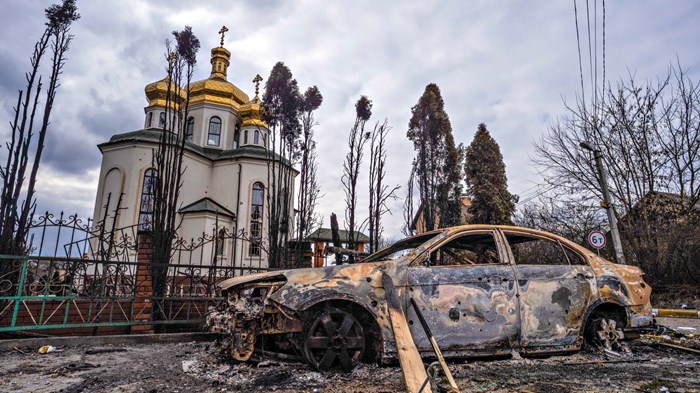 Image: Kaoru Ng / SOPA Images/LightRocket / Getty Images
A damaged church and burnt car in Irpin, Ukraine, caused by a Russian military attack on March 9, 2022.
One month ago, Taras Dyatlik gathered in Moldova with friends and partners for another 10-day round of mundane seminary meetings. Serving as regional director for Eastern Europe and Central Asia for Overseas Council, he was a lynchpin for strategy and funding for a network of theological institutions in
Three days later, he was desperately scrambling back to Kyiv. Dyatlik's family—like much of Ukraine—was under Russian military fire. And the only thing louder than the air raid sirens that would soon pervade his sleepless nights was the silence of his Russian colleagues.
"It's not a conflict, it's not a situation, it's not tension within Ukraine; this is invasion, this is aggression; this is not a special operation," he said, using the terms employed by most Russians—and too many otherwise cautious supporters in the West.
He emphasized the Bible shows the importance of precision in language.
"It's not just that Abel died or that Jesus was just betrayed; Judas betrayed Jesus, Cain killed Abel," he said. "Not just that a man sinned; Adam and Eve sinned. Biblical truth has names, has a cause-and-effect chain."
Dyatlik's charged remarks mirrored others voiced at an online roundtable organized Thursday by the Ukraine-based Eastern European Institute of Theology (EEIT). About 500 supporters, partners, and general wellwishers registered for The Russia-Ukraine War: Evangelical Voices, eager to hear from fellow believers on the front lines.
Posted on October 15, 2019 by Royal Rosamond Press
It is 2:33 A.M. October 15, 2019, and, I have no choice but to conclude I am the End Time Elijah. The evidence that elects me, is the insistence by my daughter – I do not exist! Her need to un-born me is so strange. I have been posting on a near-death experience group. Twenty minutes ago I read that Elijah did not die. He was taken up to heaven. I had avoided looking at this idea. Having been to heaven, and back, I do wonder about my second death. Will I have one, or, will I be – taken up? I described my feeling of being taken about five days ago.
To have come back to earth when I came back to life has been very interesting. To leave a message to my un-born grandchild who I am forbidden to have a relationship for all these/those mortal reasons – elects me! Serial Killer get letters from their daughters with pics of the new grandchild.
The betrayal of my beloved Kurds is very Biblical. I am elected! I may be THE ONLY WAY for Jesus to come back.
Two years ago I told my dear friend, Marilyn, that many things in my life-being are coming true, which may not be good, because I am the prophet who brings forth The End of the World. I am running out of things to do. God did not want me to be a father and a grandfather.
John 'The End Time Elijah'
"Mr. Armstrong said many times that he was the father of us all either directly or indirectly! All of us were brought into God's Work through his teachings. Today the wcg is destroying the very teachings that brought their members into the Church!
That doesn't mean Mr. Armstrong was or is to be called "father." It is not a title. It's just a spiritual fact. It just means that God used him to help convert the rest of us. Elijah and Paul both understood this truth. However, neither Elijah nor Paul were addressed as "father." That is forbidden by God's law (Matthew 23:9). But God still used them as a "father figure" to call people into His truth.
Elijah, Paul and Mr. Armstrong were all used by God to raise up His Work. Then all the people came into the truth through them directly or indirectly. Only in that sense are they "fathers."
Here is the vital prophetic lesson. If we are going to succeed as Elisha did, we must look upon Mr. Armstrong as our spiritual "father," in terms of our calling. Then we will hang on to the truths God taught us through him.
The wcg has made over 35 major changes since Mr. Armstrong died! They are not saying "my father, my father"! They are destroying what God built through him because of their rebellious and disrespectful attitude.
When John the Baptist denied that he was Elijah (John 1:21,25), he must have been denying that he was Elijah the Tishbite, who had mightily opposed the Baal worshipers on Mount Carmel during the reign of king Ahab (1 Kings 19), and was taken into the sky by a whirlwind after passing his mantle to Elisha, his successor (2 Kings 2).
This must have been John's meaning, for not only did Jesus say that the Baptist was the prophesied Elijah, but Zacharias (John's father) knew that his son would fulfill the prophecy concerning the coming Elijah (Luke 1:13-17, 76-79). Surely John himself knew that he was the one prophesied to prepare the way for Christ. In fact, John 1:23 indicates that John was aware of his prophesied role.
Yet, as clear as the New Testament is in identifying John as the prophesied Elijah, some claim that Malachi's prophecy about Elijah pertains primarily to someone other than John. They claim that John did not truly fulfill the requirements of the Elijah-office, that he did not restore anything (as Elijah is supposed to do), and that John was but a type—a mere forerunner, at best—of an end-time Elijah who would do a much greater work than John did.
But does the Bible explicitly teach that the "Elijah" prophecy would find its primary fulfillment in the time of the end, just before the Second Coming of Christ? Does the New Testament indicate that an "Elijah" other than John would come on the scene and "restore all things" before Christ returns?
And was John the Baptist a (comparatively weak) forerunner or type of a future Elijah whose great ministry would make John's efforts seem rather pitiful?
Let's now turn our attention to the Scriptures, and 'allow divine revelation to help us separate what can be certainly known from speculation and guess work. Our beliefs and practices must be based on what can be known, not on fanciful theories and highly speculative ideas.
https://m.jewsforjesus.org/jewish-resources/messianic-prophecy/the-messiah-would-be-preceded-by-elijah-the-prophet/
https://www.cog-pkg.org/publications/booklet/tro/elijah.html
Posted on June 14, 2015by Royal Rosamond Press
There are members of my family and ex-friends who choose to believe it is my fault I lost my daughter when she was still a minor, and, I later deserved to lose my grandson six years after he was born out-of-wedlock. Rather then explain to my face why they believe I deserve to be UNBORN from my Family Tree, they have ostracised me, excommunicated me, and made me out to be insane. In no way can I own a religious or spiritual agenda – either! I must be the lowest of the low, the most perverted of the perverts – that is deserved of death. Any monies are objects of value I own – belong to them! I do not deserve to be published, have a best seller, or, a movie made from my story. To do this to me is – prophetic!
The Messiah of the Jews is supposed to be a reviled, sniveling low-life scum that is degraded and abused by the Children of God. He is not the Chefon Jesus, the big strapping Ayran blonde with sexy blue eyes. Am I wearing the coat of many colors? Consider the Art Dynasty I have put forth in our Family History. Do they say, "Thank you!" No, they sold me into slavery – after cutting my hair-a-tage. Look! Over there! Who are those murderers enslaving children – after they destroy the ancient roots of their parents? ISIS is destroying the colorful art of the world and attacking museums.
I am a genealogist of renown. To be severed from my Family Tree by know-nothing morons who own no gifts, is prophetic! They are anointing me! They are crucifying me, the one who came to restore Zion!
https://en.wikipedia.org/wiki/Coat_of_many_colors
"For seven women will take hold of one man in that day, saying, "We will eat our own bread and wear our own clothes, only let us be called by your name; take away our reproach!" 2In that day the Branch of the LORD will be beautiful and glorious, and the fruit of the earth will be the pride and the adornment of the survivors of Israel. 3It will come about that he who is left in Zion and remains in Jerusalem will be called holy– everyone who is recorded for life in Jerusalem.…"
"Seven women will take hold of one man in that day" What does this mean?
When Jesus told the Samaritan Woman at the well that she had five husbands, he explained how this was possible according to the Laws of God. She then went amongst her people and BROADCAST the good news. This one man had seven wives. It is my intent to revive the Radio Broadcasting of Armstrong's Message about the End-time Elijah.
Last night a woman came to me in a dream and once again had my friend's phone dial my phone – all by itself – because she was in danger. Chris became a Nazarite in 1994. We agreed we are not afraid of ISIS who claim Jesus will come save them in their End-Time. This will not be the case. Someone has to say so, and stop being afraid. We are not afraid. In the sixties we took on the most powerful nation on earth that was bombing and terrorizing the People of Vietnam – in the name of Jesus! You reap what you sew!
Christine and I just agreed to be WITNESSES for the Light of God. What is in a name? She has agreed to record her visions. We have reborn the RADIO CHURCH OF GOD! We are not associated with any church or anyone who claims they inherited Armstrong's church. We are DIRECT BROADCASTERs – of THE TRUTH!
Jon The Nazarite
After posting this my ministry was – out the door!
"Do you believe Herbert Armstrong was an apostle and the Elijah of the last days." Because so many new contacts seem very interested in this topic—and we have answered it so often on an individual basis—it makes sense to address the question comprehensively in this Monthly Letter for all who are yet seeking an answer.
http://www.herbert-armstrong.org/Miscellaneous/Mysterious%20End-time%20ELIJAH.pdf
https://en.wikipedia.org/wiki/Herbert_W._Armstrong
In October 1933, a small 100-watt radio station in Eugene, Oregon, KORE, offered free time to Armstrong for a morning devotional, a 15-minute time slot shared by other local ministers.[23] After positive responses from listeners, the station owner let Armstrong start a new program of his own. On the first Sunday in 1934, the Radio Church of God first aired.[24] These broadcasts eventually became known as The World Tomorrow of the future Worldwide Church of God.[25] Shortly thereafter, in February, 1934, Armstrong began the publication of The Plain Truth, which started out as a church bulletin
http://www.cogwriter.com/elijah.htm
http://www.cogeternal.org/2000s/01024_0702hwaapostleorelijah.htm
KORE (1050 AM) is a radio station in Springfield, Oregon broadcasting a Christian radio format. Licensed to Springfield and Eugene. The station is currently owned by Support Christian Broadcasting.[2]
KORE is Eugene's oldest radio station. It originally signed on from Portland in 1927, but moved to Springfield a few months later. Originally a full-service radio station, it switched to country in 1970 and adopted its current Christian format in 1973.
John 4 New International Version (NIV)
Jesus Talks With a Samaritan Woman
4 Now Jesus learned that the Pharisees had heard that he was gaining and baptizing more disciples than John— 2 although in fact it was not Jesus who baptized, but his disciples. 3 So he left Judea and went back once more to Galilee.
4 Now he had to go through Samaria. 5 So he came to a town in Samaria called Sychar, near the plot of ground Jacob had given to his son Joseph. 6 Jacob's well was there, and Jesus, tired as he was from the journey, sat down by the well. It was about noon.
7 When a Samaritan woman came to draw water, Jesus said to her, "Will you give me a drink?" 8 (His disciples had gone into the town to buy food.)
9 The Samaritan woman said to him, "You are a Jew and I am a Samaritan woman. How can you ask me for a drink?" (For Jews do not associate with Samaritans.[a])
10 Jesus answered her, "If you knew the gift of God and who it is that asks you for a drink, you would have asked him and he would have given you living water."
11 "Sir," the woman said, "you have nothing to draw with and the well is deep. Where can you get this living water? 12 Are you greater than our father Jacob, who gave us the well and drank from it himself, as did also his sons and his livestock?"
13 Jesus answered, "Everyone who drinks this water will be thirsty again, 14 but whoever drinks the water I give them will never thirst. Indeed, the water I give them will become in them a spring of water welling up to eternal life."
15 The woman said to him, "Sir, give me this water so that I won't get thirsty and have to keep coming here to draw water."
16 He told her, "Go, call your husband and come back."
17 "I have no husband," she replied.
Jesus said to her, "You are right when you say you have no husband. 18 The fact is, you have had five husbands, and the man you now have is not your husband. What you have just said is quite true."
19 "Sir," the woman said, "I can see that you are a prophet. 20 Our ancestors worshiped on this mountain, but you Jews claim that the place where we must worship is in Jerusalem."
21 "Woman," Jesus replied, "believe me, a time is coming when you will worship the Father neither on this mountain nor in Jerusalem. 22 You Samaritans worship what you do not know; we worship what we do know, for salvation is from the Jews. 23 Yet a time is coming and has now come when the true worshipers will worship the Father in the Spirit and in truth, for they are the kind of worshipers the Father seeks. 24 God is spirit, and his worshipers must worship in the Spirit and in truth."
25 The woman said, "I know that Messiah" (called Christ) "is coming. When he comes, he will explain everything to us."
26 Then Jesus declared, "I, the one speaking to you—I am he."
Marion Harris was a vaudeville and revue headliner, famed for her renditions of jazz songs. She began her recording career in 1916 performing such standards as "Look for the Silver Lining", "I Ain't Got Nobody Much", "After You've Gone" and "The Man I Love". In 1929 she turned down an offer from Universal to substitute her voice for a film player…. See full bio »Born:Mary Ellen Harris
http://www.imdb.com/name/nm0400913/
http://ir.library.oregonstate.edu/xmlui/bitstream/handle/1957/10805/Vol_19_No_1_Spr_1974.pdf;jsessionid=8E8365AA67285F86C04C8159174585FE?sequence=1
With the move, the station also received new call letters…KORE. J. Raleigh Wildman of Springfield was reportedly Eugene's first salaried chief engineer and disc jockey with KEGH-KORE during this period of time. The partnership of Hill and Phillips also owned KIDO, Boise, Idaho, the first full-time commercial station in that market on 1000 KC with 1,000 watts of power.Somewhere along the way, KORE changed dial position to 1420 KC. In 1930 the only radio station on the air in Eugene was KORE with 100 watts of power at 1420 Kilocycles on the AM dial. KORE shared the dial position with Portland station KXL, who would eventually move to 750 Kilocycles. By the late '30's the Hill-Phillips partnership dissolved and Hill kept KORE in Eugene with Phillips getting KIDO in Boise. Early station personalities included Chief Engineer Wildman, Tom Hall, Program Director Day Foster, Stan Miller, Ted Charles and Rush Hughes.Hall left KORE to work in Walla Walla, Washington, Foster went to Portland but eventually returned to join Eugene Attorney Iriv Kincaid to co-found KASH, but was killed in an auto accident before he could take an active role in that station. Miller left for KIRO in Seattle, Charles departed for KAST in Astoria, OR. but later returned to run a frozen foods business (King Charles), Hughes left KORE to work for the Mutual Broadcasting Network.Some of the early programming included live talent show remote from the McDonald Theater, a Man-on-the-street interview with George Herbert, wrestling matches broadcast from the Eugene Armory and remote broadcast of U of O football games from Hayward Field with sportscaster Day Foster.Violet Hill, Frank Hill's wife took an early role in station programming and operations in the '30's and personally selected and purchased every record at the station at that time. She also was responsible for their cataloguing and filing as well as monitoring the station broadcasts for poor musical selection, miss- pronounced words or other problems. According to the memoirs of Ted Charles, she would bring these matters to the attention of the staff with a friendly informal note. The KORE phone number was the single digit "3" according to "Early Day Broadcasting in Lane County"About 1936 KORE moved from downtown Eugene to a new location in the remodeled facilities of what had been the Eugene Country Club at 2600 Willamette, on the southern edge of the city. Play It Again Sports sits at the approximate location of the studio building and the 175 foot self supporting tower was just to the North about where the Subway Sandwich shop is located in the little shopping plaza on the West side of Willamette Street..In 1938 Dolph Janes joined the station as a part-time newscaster while still a student at the University of Oregon. Dolph would later leave KORE for a full time Job in Bend at KBND. He was replaced by Duke Young who would later move on to start his own station, KFMY-FM. Dolph returned from Bend, did a stint in the Army and returned to KORE as News Director in 1948.In 1941, the North America Broadcast Radio Agreement required the frequency change of 802 of the 893 AM stations on the air at that time. KORE was moved up the dial by 30 Kilocycles to 1450. They were also granted an increase in power, 1000 watts daytime and 250 watts night. Station personnel of that era included Production Manager Day Foster, Traffic Manager Marjorie Jackson, Chief Engineer Harold Gander, Van Shannow, Stan Miller and Jack McCarthy. Station Manager in the '40's was Lionel Trommilitz, Laura Plank hosted a women's show on KORE and later at KASH, Bruce Nidever was a staff announcer and Floyd Viken replaced Gander as Chief Engineer.
Posted on August 25, 2018 by Royal Rosamond Press
Posted on April 1, 2012by Royal Rosamond Press
Above is a photograph of Bennett Rosamond the Grand Master of the Orange Order in Canada. Bennett is with members of Lodge 389 in Lanark, or, Almonte. The image on the banner is that of William of Orange who is carried in Orange Parades. That is Bennett on the far right, looking like Gandalf, or, a Levite Prophet. He is a giant.
According to the History of the Rosemond Family by Leland Rosemond, the Rosamond family were members of the Orange Order in Leitrim Ireland, and fled to Canada after a Rosamond son killed a Catholic lad who was invading the Rosamond home with a gang bent on doing my kindred harm.
https://www.glasgowlive.co.uk/news/glasgow-news/keep-clear-of-catholic-church-15067675
Two hours after my last post, I run into a real obstacle as I lie on the couch with my tablet. I love problem solving, research – and discovery! It looks like Victoria's Orange Parade has been canceled due to a problem with a Catholic priest. Really! How predictable. My Rosamond ancestors were Orangemen, and three brothers had to flee Ireland after they shot a Catholic lad who invaded their home. This is what Peter was saying about the Old Saint Andrew's course. If you designed it today – you would be sued! Everything has to run its course. You play the ball where it lie. To see our President swinging away in a deep sandtrap of his own design, is, pathetic. We are left wide open – for attack!
I made up my mind when I began my Bond novel to tackle the hardest problems of our time, because, I want US to beat our enemy. I don't want to best them in a game of golf, I want to utterly destroy their reason for picking a fight, any fight – with anyone! Priggish Priests and Ministers make the worst generals in the world! What's morality got to do with it? Putin rose to power as a ruthless homophobic. He plays every shot out of a mud hole.
Now it's time for Pope Francis to tee-off, from the bottom of a cesspool! Who designed this fucking course? Why is it this way? How can we change it so WE can all play? Hitler and the Nazis never played fair. There is no retreat. Tackle the toughest problems, or, turn in your badge, your cross, and your bum-fuck excuses. Let the winners step up to the plate! Swing for the fence – mother-fuckers! Swing as hard as you can!
I do not condone violence. Being a original hippie was a study in non-violence. We took the hard way. The sound of that glass bottle bouncing off the steel grating, is chilling.
John Presco 007
Posted on April 19, 2018by Royal Rosamond Press
Being part Dutch, and able to trace her lineage to William The Silent, got Victoria Bond an invite to march in the Orange Parade. But, when she insisted she play her 'Contraption', some of the most diplomatic folks of the Isles slithered up to her, and, as calm as can be, tried to talk her out of it.
"There will be trouble!"
"What kind of trouble? There's always trouble. I'm not giving up my pipes – mon! That would be like me, asking you, to give up your nuts. Coo'mon! Drop em!"
Jon Presco
Copyright 2018
The Orange Order has cancelled a planned walk after it was banned from passing a Catholic church where a priest was allegedly attacked.
Glasgow City Council told the organisation it would have to re-route Saturday's march away from St Alphonsus' Church in Trongate.
Police warned riot officers would have to be deployed to combat a counter-protest if had gone past the church.
But on Friday it emerged the Orange Order has now scrapped the event.
A council spokesman said: "Yesterday's public processions committee imposed a new route and start time on a march by Orange and Purple District 37, due to take place this Saturday.
"The organiser has now informed the council that it no longer intends to go ahead with the event and the procession has been withdrawn entirely."
Franco Origlia/Getty Images
Has the Pope and the Catholic Church's Stance on LGBTQ People Evolved?
Pope Francis has upset some conservative Christians with his evolved rhetoric on gay people, but has anything really changed?
by Jeff Taylor 8h ago
The World Meeting of Families is currently underway in Dublin, Ireland, with Pope Francis visiting on Saturday and Sunday.
The gathering is a celebration of, and reflection upon, the family within the Church, and comes as it continues to struggle with how to respond to the clerical sexual abuse scandal.
PAUL FAITH/AFP/Getty Images
Additionally, it occurs in the shadow of lingering questions over gay rights, and what constitutes a family to the Church.
The Catholic Church has long opposed the march toward LGBTQ liberation, but under Pope Francis there have been signs of progress. At least, it seemed that way to many. The extent to which true progress is being made remains an open-ended question, with plenty of signs of work still needing to be done.
Signs of Progress?
"If someone is gay and he searches for the Lord and has good will, who am I to judge?"
Those words from Francis, delivered to the press in 2013, caused a stir in both the LGBTQ community and among the faithful. To many, it was a clear sign that the Church would move in a more tolerant direction.
There have also been headlines suggesting Francis has signed off on civil unions for gay couples, based on something he said during a conversation with French journalist Dominique Wolton, who published the material in the book Politics and Society. In actuality, he said little of substance on the matter… but more on that later.
On the topic of civil unions, he said he sympathized with countries that have legalized them, noting the importance of accounting for "different situations of living together."
More recently, the Pope again made waves when a survivor of clerical sexual abuse, Juan Carlos Cruz (pictured below), said Francis told him God made him gay, and that both He and the Pope loved him that way.
TIZIANA FABI/AFP/Getty Images
This would signify perhaps the most open-minded statement he has made on the issue.
This year is also the first time there has been a pro-LGBTQ family talk during the World Meeting of Families.
Rev. James Martin noted that many in the LGBTQ community had been "deeply wounded" by being treated like "lepers" by the Church.
PAUL FAITH/AFP/Getty Images
Martin (above) spoke of an autistic man who told him "the pastoral association said that he could no longer receive communion in the Church, because even saying that he was gay was a scandal." He also noted the Church's lack of understanding of the transgender community, urging it to do more to listen to their experiences.
He spoke to a packed house and received a standing ovation, The Irish Times reports.
Has Anything Really Changed?
While those steps forward do represent some degree of change, if only in rhetoric, the devil, if you'll forgive the pun, is in the details.
Francis's "who am I to judge?" question heard round the world is much less revolutionary when you look more closely.
Franco Origlia/Getty Images
While the individuals themselves might be pardoned from judgment, their behavior is not. As it so happens, Francis did not say anything that went against the Church's official doctrine on the subject.
"The number of men and women who have deep-seated homosexual tendencies is not negligible," the Catechism of the Catholic Church reads.
"This inclination, which is objectively disordered, constitutes for most of them a trial. They must be accepted with respect, compassion, and sensitivity. Every sign of unjust discrimination in their regard should be avoided. These persons are called to fulfill God's will in their lives and, if they are Christians, to unite to the sacrifice of the Lord's Cross the difficulties they may encounter from their condition."
PATRICK HERTZOG/AFP/Getty Images
A nun walks by a flag held by members of Italian gay rights group demonstrating, 31 July 2003, at piazza San Pietro in the Vatican City against the publication of a document opposing marriage equality.And what does that look like exactly? Chastity.
"Homosexual persons are called to chastity," it goes on. "By the virtues of self-mastery that teach them inner freedom, at times by the support of disinterested friendship, by prayer and sacramental grace, they can and should gradually and resolutely approach Christian perfection."
Viewed under this light, it becomes clear that his reported comments to Cruz are, while seemingly affirming, not veering from any official doctrine.
As for his comments on civil unions, the quote that inspired headlines declaring he was in favor of them reads as anything but. In fact, he only invokes the term to differentiate such partnerships from "real," as in heterosexual, marriages.
Francis said:
What can we think of marriage between people of the same sex? "Matrimony" is a historical word. Always, in humanity, and not just in the Church, it was a man and a woman. It's not possible to change it just like that […] It's not possible to change it. It is part of nature. That's how it is. Let us call it, then, "civil unions." Let us not play with truths.

It's true that behind all this we find gender ideology. In books, kids learn that it's possible to change one's sex. Could gender, to be a woman or to be a man, be an option and not a fact of nature? This leads to this error.

Let us call things by their names. Matrimony is between a man and a woman. This is the precise term. Let us call the same-sex union a "civil union."
Hardly a ringing endorsement.
ANDREAS SOLARO/AFP/Getty Images
Demonstrators take part during a sit-in at St Peter's Square in Rome to slam the Vatican for its opposition to a UN resolution that would decriminalise homosexuality worldwide, on December 6, 2008.Francis has also called gay parenting "ungodly," and reportedly told bishops in a closed-door meeting to keep gay men, or anyone suspecting of being such, out of the priesthood.
Meanwhile, his statements on transgender people also leave much to be desired.
The Pope reportedly criticized a trans-inclusive education policy during a private meeting, and instead argued children must be taught to appreciate their "body as male or female."
He has also criticized medical interventions that assist people in transitioning, claiming it could "risk dismantling the source of energy that fuels the alliance between men and women and renders them fertile."