Cheney of Truth Wyoming
by
John Presco
An idea for a book, movie, or series about the Culture Wars Gone West.
Congressman Liz Cheney does the right thing and stands up against the Bad Guys, knowing they would threaten her life, and the life of others – if they speak the truth.
My mother almost married Marsh Lewis whose father owned a large Lima Bean ranch. She dated Errol Flynn who played a cowboy. Her father sold a Western story to Gaston Méliès who founded the Star Film Ranch. The movie Wyoming Outlaw was filmed in California – and not Wyoming!
Ari Fleischer goes after Kevin Kostner, and not his former boss who had illegal dealing with a Porn Star. Trump was a T.V. Actor.
John Presco
Former White House Press Secretary Ari Fleischer said he thought Cheney's embrace of Costner's support would backfire.
"Liz is already going to lose, but while many fans love Costner and enjoy Yellowstone, who in Wyoming thinks he's one of them?" Fleischer tweeted.
"It never ceases to amaze me how important Hollywood thinks it is," he said.
Law and Order (1953)
This was the fourth film version of W.R. Burnett's novel Saint Johnson, about a two-fisted sheriff cleaning up a corrupt town. It was another western lead for Reagan, and a role that fit him well. Still, most fans prefer the 1932 version starring Walter Huston and co-written by Huston's son, John.
In need of warmer winters to allow for year round film production, Méliès moved the Star Film Company to San Antonio, Texas, and leased twenty acres including a two-story house and large barn that became the "Star Film Ranch" movie studio.[1] He acted in two of his movies playing a priest in The Immortal Alamo (1911) and The Kiss of Mary Jane (1911).
In April, 1911, Gaston moved the company to Santa Paula, California, following the trend of other movie studios to relocate in California.
Kevin Costner has got legs.
Literally, that's true. But figuratively as well.
The seemingly innocuous photo of the "Yellowstone" actor wearing a tee-shirt calling out his support for Liz Cheney continues to get attention.
Cheney first surfaced the photo of Costner's shirt-wearing support in a tweet that said "Real men put country over party."
Congressional challenger Harriet Hageman, who grew up on a Wyoming ranch, has taken a dim view of Costner's credentials as a rancher and his support for Cheney. But she does like the TV series.
"Yellowstone is a good show, but Kevin Costner is a pretend rancher in a Hollywood production shot mostly in Montana, not Wyoming," Hageman told Cowboy State Daily.
"And I'd bet that if he had to work a real ranch for a day, he'd call his agent to get him out of there. I'll take the support of the people of Wyoming any day of the week over a liberal actor who voted for Joe Biden."
Former Trump spokesman and current Hageman advisor Tim Murtaugh took it a step further.
Murtaugh tweeted a photoshopped version of Costner with a different message on the tee-shirt.
"I'm for Liz Cheney leaving office," the shirt read.
Whether any of this makes any difference to voters can be debated.
Former White House Press Secretary Ari Fleischer said he thought Cheney's embrace of Costner's support would backfire.
"Liz is already going to lose, but while many fans love Costner and enjoy Yellowstone, who in Wyoming thinks he's one of them?" Fleischer tweeted.
"It never ceases to amaze me how important Hollywood thinks it is," he said.
Here.
Corriganville was a 1,500 acre piece of land in Simi Valley purchased by western film star Ray "Crash" Corrigan in 1937. The site was a working movie ranch for nearly three decades, and was used in the making of roughly 3,500 western films and television series such as Fort Apache, The Lone Ranger, and The Adventures of Rin Tin Tin. Actors like John Wayne, Gene Autry, Johnny Weissmuller, Tex Ritter, Joel McCrea, Dale Evans and so many others filmed movies here.
https://www.conejovalleyguide.com/welcome/the-corriganville-movie-ranch-site-in-simi-valley-is-a-ventura-county-historical-landmark#:~:text=Corriganville%20was%20a%201%2C500%20acre%20piece%20of%20land,Ranger%2C%20and%20The%20Adventures%20of%20Rin%20Tin%20Tin.
Posted on December 8, 2014 by Royal Rosamond Press
I found this letter two days ago on the Rosamond photo file I got several years ago. I could not make out the signature, and googled Sulphur Mountain and Santa Paula. This is a letter from the famous director, Gaston Melies, the brother of the even more famous director, Georges Méliès.
I was in shock. I considered the thousands of hours of research I have done without receiving a dime, and now, at the bottom of the shaft of the mine I have dug for myself, I find a gem. I now owned the engine that drove my grandfather, that kept him going forward, he never giving up. Did he tell everyone around him Gaston will make a movie from his story 'The Finding of the Last Chance Mine', one day? If not, there were plenty more stories where that came from – a veritable mother load!
Why wasn't I told about this letter? Why didn't my grandmother tell me she was Bohemian Grove Wood Nymph? The sad truth now hit home. Being a writer, a gambler, a poet, a drifter, a artist, and a free spirit, are not good things to be, especially when they are associated with 'Being a Failure'. Royal Rosamond failed to strike it big, and take his Rosy family to Hollywood where they would be rolling in doe. Instead, Mary Magdalene Magdalene was forced to make hats in order to feed her four beautiful daughters – and her husband who took the pen name, Royal. This is why Mary told him not to come home when he failed to sign that book deal with Homer Croy who wrote 'They Had to See Paris' starring the most famous cowboy of the time, Will Rogers. Roy Reuben Rosamond, was all washed up. He was a has-been wannabe. This prospector never saw his beautiful wife, and his four daughters, again, but for my mother, Rosemary Rosamond, who went to Oklahoma City to see the abject failure, one last time. Roy had a newspaper stand and tutored young folk in the art of poetry.
If you are a creative person, you know for every star, there are a thousand souls who did not make to the Big Tent. In biographies of famous people you notice there is a creative group that surrounds them. If you are authoring a biography, you string connections together and hang them on a tree.
Francis Ford starred in Gaston's movie 'The Ghost of Sulphur Mountian'. Francis is the brother of the really famous director, John Ford, who is known for his Westerns. Roy Rosamond claimed he was a real Cowboy, so did Joaquin Miller who amused the Pre-Raphaelites and European Royalty with his Western garb. This image was tailor-made for Miller by Ina Coolbrith the darling of the Bohemian Club. Then there is the Salon Jessie Fremont had in San Francisco that Mark Twain and Bret Harte attended. The Western Star is born. Now add to this the artwork of Thomas Hart Benton, and Christine Rosamond Benton, then you behold the core cultural movement in America, that left the East Coast, high and dry.
Last, but no least, is Jack London's Last Chance Salon in Oakland, and Steinbecks 'Grapes of Wrath' that John Ford directed. Sprinkle in the Radical Republicans, who did battle with the folks that starred in 'Birth of a Nation' and what you get is gritty Westernized Socialism and a Commie Witchhunt.
I can now see my mother knew about this deal to secure her father's story, and make sure Gaston owns the copyright. Rosemary flirted with the idea she would be a movie star, and once dated a B Actor named George. She used to show us his picture and ask;
"How would you kids have liked to have been George's children and be born in Hollywood? He asked me to marry him. Instead, I married that SOB father of yours."
Drats! Our story is tailor made for W.C. Fields who stepped on my aunts toes at a tennis match. This got the attention of Errol Flynn, who sent his friend over to give Lillian an invite, with phone number!
You see, it took over ten years to gather together my family history, because the women in the family had grown bitter – wrathful! Here is a video of the other man Rosemary should have married. His father owned a vast tract of Lima Bean fields in Camarillo, just east of the little town of Santa Paula where Gaston moved his movie company 'Star Film Ranch' in 1911. He was following a trend. Some say tis was the film capitol of California. The Rosamond household was not but twelve miles away at 'Ventura by the Sea'. Did Gaston make a search of the local talent for his next movie?
Royal's story appeared in West Coast Magazine. A similar story about a mine, along with 'The Squaw Girl', appeared in Out West magazine in 1911. There is mention of a "dramatic copyright' which indicates Royal was writing with the movies in mind. This puts my grandfather at the epicenter of the first California Movie industry. Was he aware of the movie 'The Squaw Man' that Christine Rosamond's first biographer mistakenly attributed to Roy? How much money did Tom Snyder receive for getting it wrong? That book did not sell, and was a abject failure. My daughter, her mother and aunt, and my surviving sister, backed this losing effort.
Jon Presco
Copyright 2014
http://www.discoversantapaula.com/SantaPaula_Filming.htm
Gaston Méliès (French: [meljɛs]; February 12, 1852 – April 9, 1915) was a French film director who worked primarily in the United States. He was the brother of the famous film director Georges Méliès.
Gaston and the third and elder Méliès brother, Henri, ran the family shoe factory in Paris. They landed a contract with the French War Ministry that looked to make them both wealthy. Unfortunately, the price of leather increased sharply, and they were unable to meet their costs. The factory shut down and the Méliès lost their business.[1]
Georges Méliès had produced films in France, which had become popular around the world. Some distributors began pirating Méliès work, especially in the United States. Georges Méliès asked his brother Gaston to go the United States and guard Georges's copyrights.
Gaston Méliès arrived in New York City in 1902, formed the American branch of the Star Film Company, and began distributing his brother's films. By 1903, Gaston began making films himself, mostly documentaries. The films were not successful. In the summer of 1907, Gaston Méliès returned to France take care of some business with Georges. On September 11, 1907, he married Hortense-Louise de Mirmont, an elder sister of Lucien Reulos' wife, who was one of Georges Méliès' first collaborators.[2] The new couple left Paris a few days after their marriage and travelled from Le Havre to New York on the ship La Savoie, where they arrived September 28, 1907.
In need of warmer winters to allow for year round film production, Méliès moved the Star Film Company to San Antonio, Texas, and leased twenty acres including a two-story house and large barn that became the "Star Film Ranch" movie studio.[1] He acted in two of his movies playing a priest in The Immortal Alamo (1911) and The Kiss of Mary Jane (1911).
In April, 1911, Gaston moved the company to Santa Paula, California, following the trend of other movie studios to relocate in California.
In 1912 and 1913 Méliès travelled with his family and a film crew of over 20 people in the South Pacific, New Zealand, Australia, Tahiti, Southeast Asia and Japan in search of exotic subjects for his films.[3] For the summer of 1912 and well into 1913 Gaston sent footage back to his son in New York, but it was often damaged or unusable. Gaston was no longer able to fulfill Star Film's obligation to Thomas Edison's company. Gaston lost $50,000 and had to cease production. He went to California, sold the American branch of Star Films to Vitagraph Studios, and then returned to Europe. He and his brother Georges (who blamed Gaston for his own financial difficulties) never spoke to one another again.
Méliès and his wife moved to Corsica in the winter of 1913. He died in Corsica on April 9, 1915 of "shellfish poisoning." He was buried on April 14, 1915 in Saint-Vincent Cemetery in Montmartre, Paris, in a tomb belonging to his second wife's family, De Mirmont.[2]
Filmography[edit]
Unless otherwise referenced, the following information is adapted from the research of Paul Hammond.[4] All films were released by the Star Film Company.
http://es.wikipedia.org/wiki/Francis_Ford_(actor)
http://en.wikipedia.org/wiki/Georges_M%C3%A9li%C3%A8s
Marie-Georges-Jean Méliès, known as Georges Méliès (/meɪˈljɛs/;[1] French: [meljɛs]; 8 December 1861 – 21 January 1938) was a French illusionist and filmmaker famous for leading many technical and narrative developments in the earliest days of cinema. Méliès, a prolific innovator in the use of special effects, accidentally discovered the substitution stop trick in 1896, and was one of the first filmmakers to use multiple exposures, time-lapse photography, dissolves, and hand-painted color in his work. Because of his ability to seemingly manipulate and transform reality through cinematography, Méliès is sometimes referred to as the first "Cinemagician".[2] His films include A Trip to the Moon (1902) and The Impossible Voyage (1904), both involving strange, surreal journeys somewhat in the style of Jules Verne, and are considered among the most important early science fiction films, though their approach is closer to fantasy. Méliès was also an early pioneer of horror cinema, which can be traced back to his The Haunted Castle (1896).
http://es.wikipedia.org/wiki/Francis_Ford_(actor)
http://en.wikipedia.org/wiki/Georges_M%C3%A9li%C3%A8s
http://en.wikipedia.org/wiki/The_Squaw_Man_(1914_film)
The Star Film Company moved to California in April 1911. Gaston originally planned to relocate to Santa Barbara but chose Santa Paula instead, perhaps because the scenery was better, or perhaps because it was less expensive. In Santa Paula, he built stages across from a resort called Sulphur Mountain Springs, where the troupe rented rooms. Financially, things started going wrong for Gaston. His popular stars, Edith Storey and William Clifford moved to other companies. His California films were not as profitable as the Texas films had been. In November 1911, Gaston met with Vitagraph Studios in New York and sold fifty percent of his company, including his brothers negatives and distribution rights.[6]
In 1917 Ford founded a short-lived independent company, Fordart Films, which released the 1918 Berlin via America with Phil Kelly, and briefly opened his own studio at Sunset Boulevard and Gower Street. At the same time Ford mentored his younger brother, collaborating frequently as writers, directors, and actors in each other's projects; but as early as 1917, it was clear that John's star was on the rise. Frank's directorial style remained suitable for serials, but failed to evolve.[3] Ford's final known directoral credit is for the 1928 The Call of the Heart, a 50-minute vehicle for "Dynamite the Devil Dog".
The Ford brothers were, at the best of times, critical of each other, and sometimes sharply antagonistic. Ford wrote an unpublished memoir in 1934 called "Up and Down the Ladder" which is "filled with bitter and sometimes heartrending complaints about how old-timers who had helped create the industry had been shunted aside by younger men."[4]
From the late 1920s, and for the next two decades, Ford sustained a career as a grizzled character actor and bit player. He is often uncredited, as in his appearance in James Whale's 1931 Frankenstein. Among his most memorable roles was that of the demented old man in The Ox-Bow Incident (1943).
Directed by Oscar Apfel and Cecil B. DeMille and produced by DeMille and Jesse L. Lasky, the screenplay was adapted by Beulah Marie Dix from the 1905 stage play, of the same name, written by Edwin Milton Royle.
This first screen version of the story was the legendary DeMille's first movie assignment. It also holds the distinction of being the first feature-length movie filmed specifically in Hollywood. It was not the first to be made in the Los Angeles area, and film historians agree that shorts had previously been filmed in Hollywood, with In Old California considered the earliest. Harbor scenes were shot in San Pedro, California and the western saloon set was built beside railroad tracks in the San Fernando Valley. Footage of cattle on the open range were shot at Keen Camp near Idyllwild, California, while snow scenes were shot at Mount Palomar.[2]
The Squaw Man went on to become the only movie successfully filmed three times by the same director/producer, DeMille. He did a silent remake in 1918, and a talkie version in 1931.
While Miller toured Europe and lived out their mutual dream of visiting Lord Byron's tomb, Coolbrith was saddled with custody of his daughter, and the care of members of her own family, so she set up house in Oakland and accepted the position of city librarian. Her poetry suffered as a result of her long work hours, but she mentored a generation of young readers including Jack London and Isadora Duncan. After she served for 19 years, Oakland's library patrons called for reorganization, and Coolbrith was fired. She moved back to San Francisco and was invited by members of the Bohemian Club to be their librarian.
Coolbrith began to write a history of California literature, including much autobiographical material, but the fire following the 1906 San Francisco earthquake consumed her work. Author Gertrude Atherton and Coolbrith's Bohemian Club friends helped set her up again in a new house, and she resumed writing and holding literary salons. She traveled by train to New York City several times and, with fewer worldly cares, greatly increased her poetry output. On June 30, 1915, Coolbrith was named California's poet laureate, and she continued to write poetry for eight more years.
http://en.wikipedia.org/wiki/Ina_Coolbrith
Santa Paula was the early film capital of California. Gaston Méliès brought his Star Film Company to the city in 1911, filming movies such as The Ghost of Sulphur Mountain.
The city has been featured in Hollywood media on numerous occasions. Some examples include:
On the television drama The West Wing, Santa Paula is the hometown of fictional presidential candidate Arnold Vinick (Alan Alda). In early 2005, Santa Paula Mayor Mary Ann Krause began a lobbying campaign to have Santa Paula declared Vinick's hometown. In a publicity move for the town, city officials officially "claim[ed] Senator Arnold Vinick as a resident of Santa Paula," in April 2005, and opened an official campaign headquarters for the fictional Republican Senator in the town's train depot. (Santa Paula for Vinick) On October 14, 2005, NBC released Vinick's official biography and revealed Santa Paula as the town in which he was raised. [1]
The Santa Paula train depot has been a location for various productions. It was one of the locations for the miniseries The Thorn Birds (1983), starting Richard Chamberlain. Dennis DeYoung, former lead singer of the popular 1970s rock group Styx, filmed the music video for Desert Moon, also the title of his first solo album, at the depot in 1984. The depot was used in the season 3 finale of Glee (2012).
Parts of the movie Disorganized Crime (1989), starring Fred Gwynne of the Munsters, was filmed downtown on Main Street.
Main Street and other locations featured prominently in the 1990 Winona Ryder film Welcome Home, Roxy Carmichael.
Chaplin (1992) filmed throughout the surrounding area and held a casting call in town for background actors.
Santa Paula also served as one of the locations for the motion picture Mr. Woodcock (2007), starring Billy Bob Thornton.
A good portion of Joe Dirt (2001) starring David Spade was filmed downtown as well as at the popular restaurant Mary B's.
The Lindsay Lohan movie Georgia Rule (2007) was filmed in Santa Paula.
The majority of the 1997 film Leave It to Beaver was filmed in Santa Paula, with many Santa Paula residents being cast in minor character roles and as extras. The famous scene of Beaver trapped in the giant coffee cup had Main Street blocked off for almost a week while filming continued.
Parts of the Brian De Palma movie Carrie (1976), starring Sissy Spacek, were filmed in Santa Paula.
Other movies that were filmed partially in Santa Paula include The Philadelphia Experiment (1984), the Chinatown sequel The Two Jakes (1990), the Martin Short/Danny Glover buddy comedy Pure Luck (1991), For Love of the Game (1999), Bubble Boy (2001), starring Jake Gyllenhaal, and Bedtime Stories (2008) starring Adam Sandler .
After a 1994 fire destroyed their sets in nearby Fillmore, the TV series The Young Indiana Jones Chronicles filmed in various locations including Santa Paula's Ebell Mansion.
The James M. Sharp House is an historical Italian villa-style house built in 1890. It is located on West Telegraph Road, just outside of Santa Paula, and has been the setting for several movies including Amityville 4 (1989) and The Black Gate (1995), and How To Make An American Quilt (1995).
Various commercials, including a Super Bowl Budweiser commercial, have been filmed in downtown Santa Paula.
Parts of The Rockford Files episode "Coulter City Wildcat" were filmed in Santa Paula.
Posted on September 28, 2011 by Royal Rosamond Press
My mother, Rosemary, was born in Ventura, in 1926. She was the third daughter of four born to Mary Magdalene, and Royal Rosamond. Rosemary's father was an author of three novels, and contributed to Out West and other early California magazines.
Posted on May 31, 2021 by Royal Rosamond Press
My kin fought alongside Francis Marion, 'The Swamp Fox'. My grandfather, Frank Rosamond, was named after Francis. as where other members of the Rosamond family.
John
REGARDING SARAH JANE HODGES AND MARION FRANCIS "FRANK" ROSAMOND
>From 1850 Choctaw County, MS census:
Posted on September 13, 2013 by Royal Rosamond Press
My kindred, Samuel Rosamond, Lemuel Benton, and Gavin Witherspoon, fought under the Francis Marion 'The Swamp Fox' in the War of Independence. John Witherspoon is a Signer and is kin to the Preston family, as are the three Patriots above. These four men are kindred to the Stewart family, and thus William and Harry Windsor. Add to this roster, the Hart and Hull family, then here is America's most illustrious and Patriotic Family.
http://www.carolana.com/SC/Revolution/patriot_military_sc_captains.htm
https://rosamondpress.wordpress.com/2011/07/04/patriot-samuel-rosamond/
He sent Lt. Col. Lemuel Benton with sixteen men to seize the pass over Horse Creek. Horry's men stumbled over a sentry who fired a shot, and they quickly rushed Sumter's home with Col. Marion's remaining 134 men closely behind them. In a brief fight, they killed or captured 22 British Regulars and two Loyalists. One of the Continental prisoners, Capt. Perry Benson of the 5th MD Regiment, was wounded as well.
http://www.carolana.com/SC/Revolution/revolution_battle_of_great_savannah.html
Rosamond, Samuel
Ninety-Six District Regiment
1777
1782
A Captain under Col. Robert Anderson at Siege of Ninety-Six (1781) (Upper Ninety-Six District Regiment). A Lieutenant under Capt. Adam Crain Jones during 1782. Also at battle of Kettle Creek (GA). Aka Samuel Roseman.
Benton, Lemuel
Cheraws District Regiment
1775
1777
Promoted to Major in 1777. Promoted to Lt. Col. In 1780, then Colonel in 1781.
Witherspoon, Gavin
Berkeley County Regiment
1780
1782
From Williamsburg District. A Captain under Col. Richard Richardson, Jr. (aka Richardson's Regiment)
Pee Dee Swamp w/4 men, Tearcoat Swamp, Halfway Swamp #1, Georgetown #6, Wiboo Swamp, Witherspoon's Ferry, Fort Motte, Quinby's Bridge, Shubrick's Plantation, Eutaw Springs, Videau's Bridge, Wadboo Swamp
Witherspoon, James
SC Light Dragoons
1779
1782
1779-1780, a Captain under Maj. Hezekiah Maham, Col. Daniel Horry. 1781-1782, a Captain under Lt. Col./Col. Peter Horry (Kingstree Regiment, Horry's Light Dragoons, and SC 4th Regiment of State Dragoons). From Williamsburg District.
Georgetown #6, Eutaw Springs
Witherspoon, John
Lower Craven County Regiment
1777
From Williamsburg District. Earlier, a Lieutenant. A Captain under Col. Hugh Giles.
Posted on October 5, 2011 by Royal Rosamond Press
A branch of the Rosamond family came to Texas in covered wagons and settled in Weldon. They were the Real McCoys who will go down in history because of Sweeny's aliance with Rick Perry, a fake cowboy and patriot. The Hodges family alsocame to Texas.
Jon Presco
William A. Rosamond and his wife Canzada (Coleman) Rosamond and their six sons and other members of the Rosamond Family came from Kosciusko, Mississippi, where his parents owned a plantation on Big Black River. They came here in covered wagons in 1866 and experienced all the hardships on the way – wild animals and other threats to their lives.
They first settled for a short time in White Rock Creek where they were near water. Next they moved to Houston County. W.A. Rosamond, my grandpa, owned a gin and also a grist mill. And, was a farmer here in Weldon, Texas near the ole Huntsville and Crockett road. On this road was a stage stop, a short distance from their place. They had to hunt for their meat and other food. (Weldon?) was not a very clear settlement.
Canzada, my grandma, was a good hunter. She would go out and kill wild turkeys and other wild animals for their food – wild hogs. (She) cured meat by smoking it a long time. (They) had to make their lye soap as they saved grease. Their wash days were not easy – had to go to a tank & wash, boil (their clothes) in a black wash pot. Then had to Battle their clothes to dry them – beat them with a paddle.
William A. Rosamond (my grandpa) told of a hunt he was on – it was nite time. He and a friend had one shell left. They saw something so they climbed a tree. They saw two eyes shining so they used their last shell, didn't know if they killed the animal or not because they could still see two eyes shining. But, when it got (to be) daylight, they could see a panther and it was dead.
W.A. Rosamond (my grandpa) found a baby girl in the mill hopper when he went to work one morning. This was in the late 1800s. They raised the baby.
One place they owned here (Weldon), Canzada planted some pecan trees. They are over a hundred years old – still bearing pecans.
I do not have records or dates of the land they owned – only one small farm, about 40 acres – here in Weldon, Texas. It belonged to Joseph A. Rosamond (my papa) and all of his children were born on this place.
Willam A. & Canzada Rosamond – Sons
Mechanization of Lima Bean Threshing
Joe Terry is interviewed by Wallace E. Smith
Edited with additions from Alvin F. Aggen and others
In this short article from 1980 Joe Terry, a Ventura County farmer, is interviewed on how mechanization changed lima bean threshing in the county. Lima beans were once a major agricultural export in the county. Terry's recollections offer a snapshot of the social world of agricultural laborers, including a brief mention of Native American workers that creates more questions than it answers. It also highlights the ways in which technological change and automation of physical labor is not a new issue. Terry's memories show that while new technologies can save time, they just as often have kinks that need to be worked out. As technology changes, it can also create a need for specialized skills. Footnotes are those of the original author unless otherwise stated. The article is from Volume 25, Issue 3 (Spring 1980).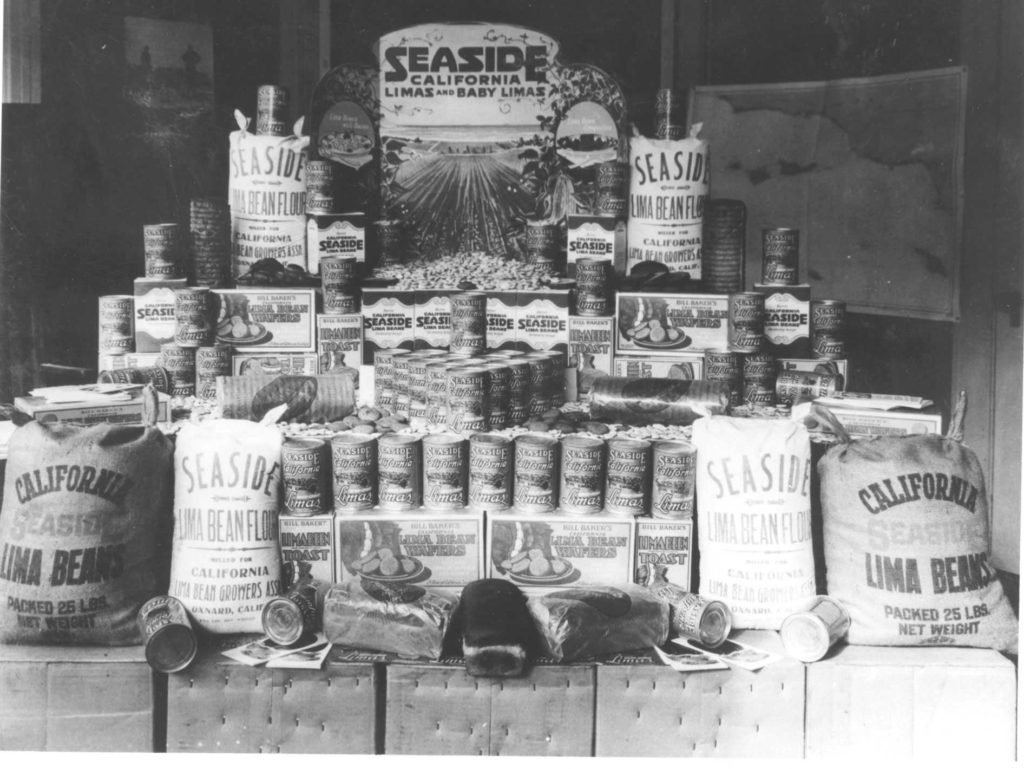 FIFTY-TWO MEN, 38 horses, 14 wagons and a steam engine were needed to keep Jim Kelly's huge lima bean separator 1 running without a letup in the early days of one of Ventura County's most important and lucrative businesses. Kelly, a blacksmith, and machinist here before the turn of the century, built a number of these machines in the Nineties2 The Terry separator was built in 1890 for James Ward, Marion Cannon and Charles E. Cook, farmers in the Mound area between Ventura and what was then the town of Montalvo. Their early-day agricultural partnership for the mechanical threshing of beans used a building and lot of Cook's to store the machinery. The monster was 15 feet high, 12 feet wide and 40 feet long.
Joe Terry bought this bean separator from Cook in 1925. For 37 years he put it to use on his own land near Somis, on acreage he leased in various areas and on bean fields owned by other farmers. The Terrys, father and son, came to Ventura County in 1906. The younger man farmed on his own in Orange County from 1914 to 1919 but returned to join the home operation on Aggen Road seven years before his father's death. Since his retirement, a third Terry, also named Joe, has farmed the property.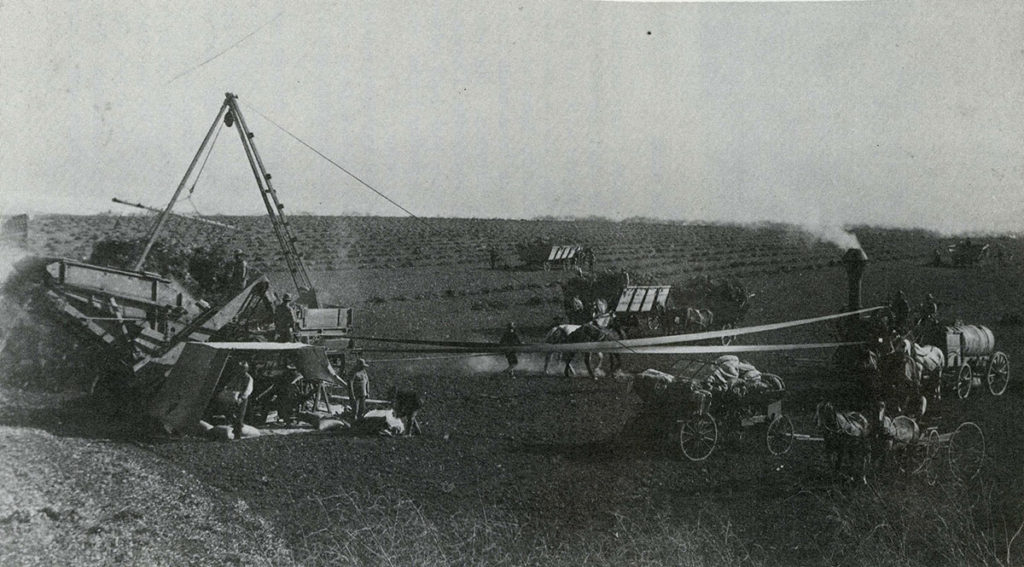 "Dad used to hire Pala Indians as his crew," Joe Jr. remembered. "He'd turn them loose in Oxnard every Saturday night. Some of the finest people I ever knew." He recalls one in particular, Richard Attache who once played football at Carlisle with the great athlete Jim Thorpe. But not all of the Terry crew were Indians. 3 4
"Men who followed the harvests would show up for the bean harvest and in 30 to 40 days the crop would be sacked," the elder Terry said. "Then they'd leave for some other crop harvest. It was no trouble at all to round up a crew. We'd just drive out to where they lived, sometimes in a lean-to under the gum trees, and recruit a crew in short order." 5
A dollar and a half a day and board would hire a man to drive one of the 14 wagons, Terry remembers. The wagons would haul a continuous supply of cut bean vines to the thresher, which was attached to a moveable steam engine by a heavy leather belt between 60 and 70 feet long. The vines were dumped onto a platform on one side of the thresher. Beans came out the other side and the chaff was blown out through a long moveable funnel at the rear. Two wagons were kept busy hauling the chaff away. This could be baled and sold for cow feed, but it was fuel if the engine was a hay burner.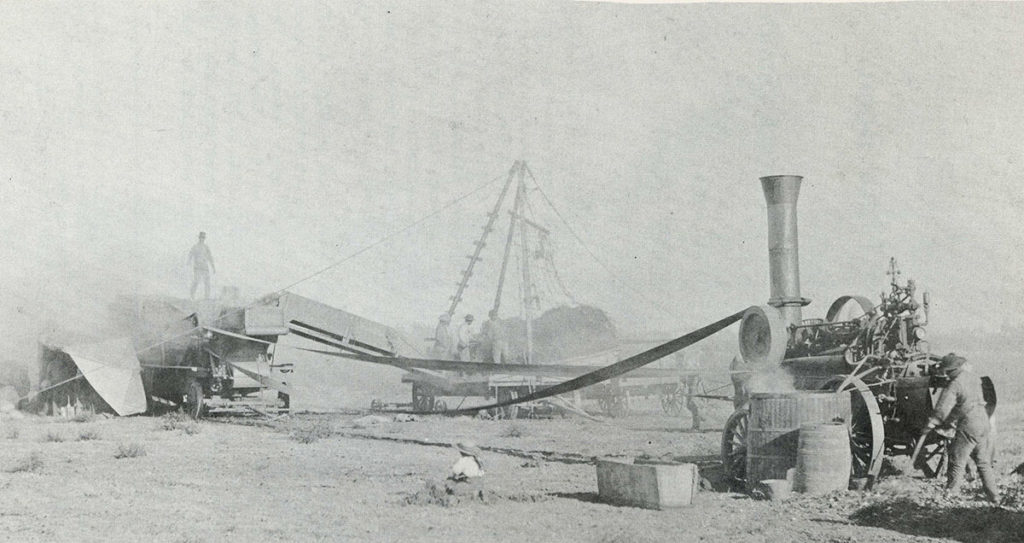 Crewmen were nearly always experienced adults, Terry explained. Younger men could handle the teams. Wagons in which the bean vines were hauled to the thresher were 16 feet long, 10 feet wide just above the wheel rims and flared out to 16 feet at the top. The wagons came with the separator to the threshing site, furnished by Terry when he contracted to do the job. Various Ventura County firms made them. They had metal rims, and so did Kelly's huge threshers. But when Terry brought home his separator, a Hueneme blacksmith, Cleveland Wiltfong, overhauled it and replaced the metal rims with hard rubber tires. Wiltfong served for many years as Terry's separator tender, running the machine and keeping it in good running order.
Two-horse teams moved most of the wagons, but four were needed on the water wagon because of the extra weight. It took six or eight horses to pull the thresher into position (even more on rough ground) because it weighed from eight to 10 tons.
When Terry acquired the bean separator, Caterpillar tractors were just coming into widespread use. "I was about the first in Ventura County to use a Cat on a bean thresher," Terry said. "I threshed beans in Ventura across Thompson from where Sears now stands, also in Camarillo and Hueneme and other communities. We carried our chuck wagon with us and set it up and went to work."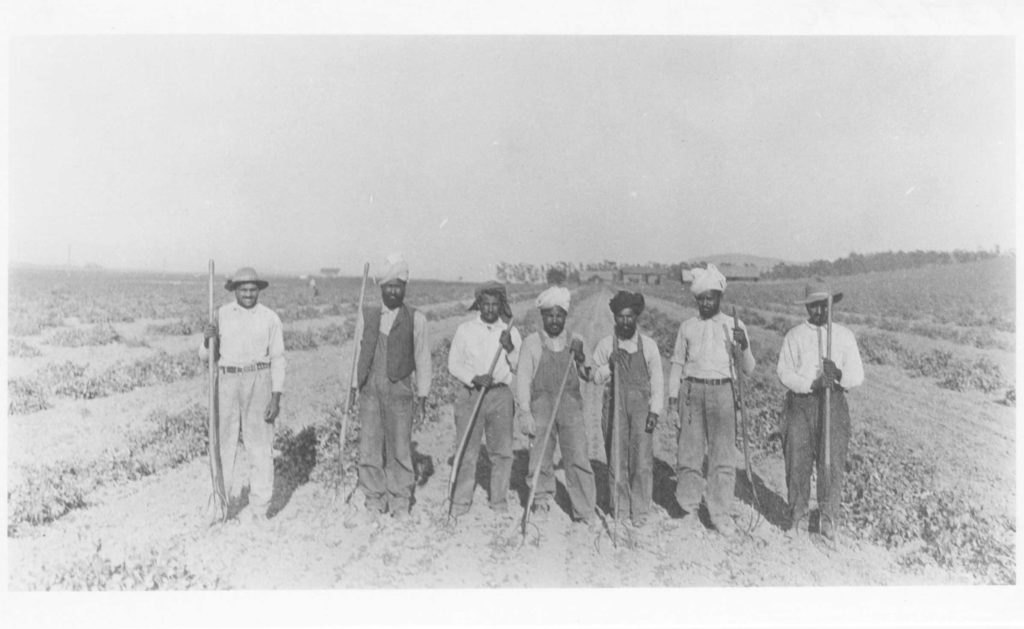 The man who drove the water wagon to the threshing site then went back for the chuck wagon. His cook, whose first name was Fred, had a flunky 7 to help him. He had to be on the threshing site before the men awakened. They were bedded down in the straw piles. The chuck wagon was 30 feet long, with benches inside where the men ate.
The crew could seldom start hauling in the beans until 8:00 a.m., and sometimes they had to wait until noon for the vines to be dry enough to harvest the beans. "We usually threshed beans till eight at night," Terry said. "The men who pitched the vines into the separator would take lanterns from the chuck wagon's storage box and hang them on their wagons until they were loaded; and we'd hang a lantern on the separator so they could find us again in the dark."
There was no daylight saving[s] time in those days. Even in the summer months, it would
grow dark before 8:00 o'clock. It took more hand labor to harvest beans on the hillsides; but they could be grown anywhere the ground could be plowed. Irrigation was no problem since beans were dry farmed.
The beans emerged into a small, sheltered area known as the "doghouse," where four men worked at top speed. One filled the bean sacks and the other three sewed them shut.8 "That's where the action was," Terry said. "Those men could handle 1,500 to 2,500 sacks a day."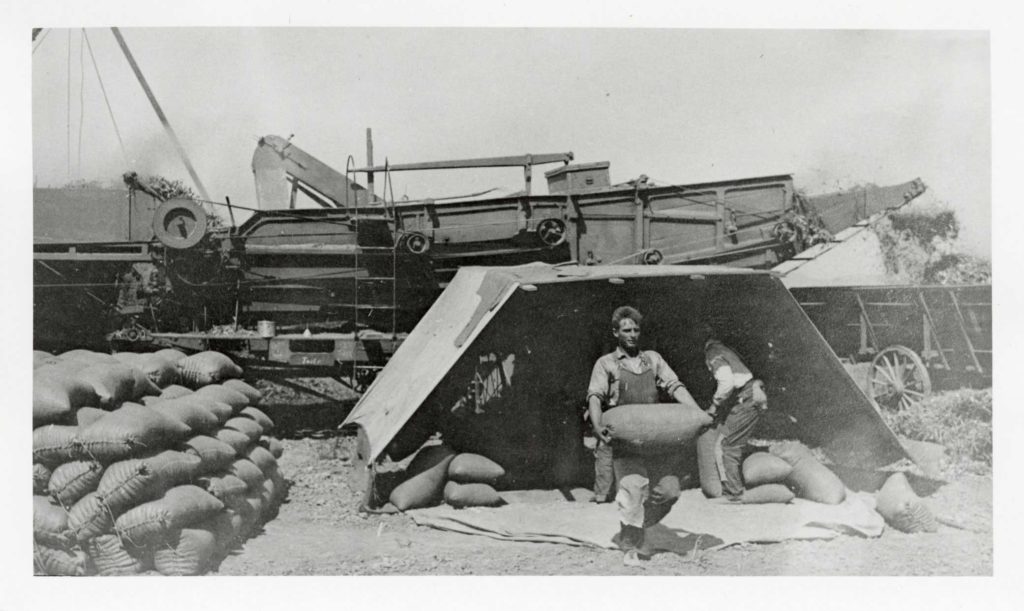 The sacked beans were then hauled off to be stored for marketing at the nearest Southern Pacific Milling Co. warehouse in Somis. The company had storage facilities also in Moorpark, Santa Susana, Camarillo, El Rio, Oxnard, Ventura9, Montalvo10, Saticoy, Santa Paula, and Fillmore.
Eighty-pound sacks were used at first; later on 100-pound. The huge threshers were shared: "You couldn't afford to have all that equipment for just one farm," Terry pointed out. "I've threshed beans clear into November." Terry believed he could harvest 10-25 sacks of beans to the acre without irrigation and without fertilizer, both of which have long since sharply increased the yield per acre. Terry recalls that he was paid 25 cents a hundredweight for threshing and sacking limas on other farmer's land, furnishing the men, horses and wagons, and the food for the crew. The farmer whose beans were being threshed would supply feed for the 38 horses and wood for the chuck wagon range. Whenever it rained, which was infrequent during the summer months, Terry had to pull his crew off the job until the vines dried out enough to resume threshing. It was an expensive happenstance. "We still had to feed all those men," Terry said.
In the old days between 50,000 and 60,000 acres of Ventura County land were planted to beans each May, harvested usually in September. Some yields were as high as 50 sacks to the acre. But preparations for the harvest began in the fields of the farmers: vines to be cut, gathered and the piles turned after two weeks to dry the pods underneath.11
When the East Winds swept through the beanfields, the vines rolled up into long cylinders, which made them more difficult to pitch into the wagons.12 Kelly built many of the separators; but William Hamilton, a Hoosier machinist who lived on Harrison Avenue in Ventura, made a number of the huge machines for Ventura Manufacturing & Implement Co. on Front Street.13 Hamilton was minus two fingers from his left hand, [a] victim of a machine shop accident.
"Last time I saw Jim Kelly," Terry recalls, "he was working for Jim and Tom Gill about 1940. His son went up to King City as foreman for the Hobson-Lagomarsino Ranch." He does not recall when Kelly died. "He was an old man when I first knew him in 1925," Terry said.
But there were many others threshing beans. Jim Gill had two sons, and all three threshed both grain and beans. Robert Lefever can remember an Angelo Milani working with him and his father, Supervisor Bob Lefever. H.R. (Rich) Jewett was the machinist for Walter Duval and the McGraths. Dick Lunsford can recognize his father in a threshing crew which used a wheel tractor for power. Bob Pfeiler recalls John Dawley and Enoch Waters.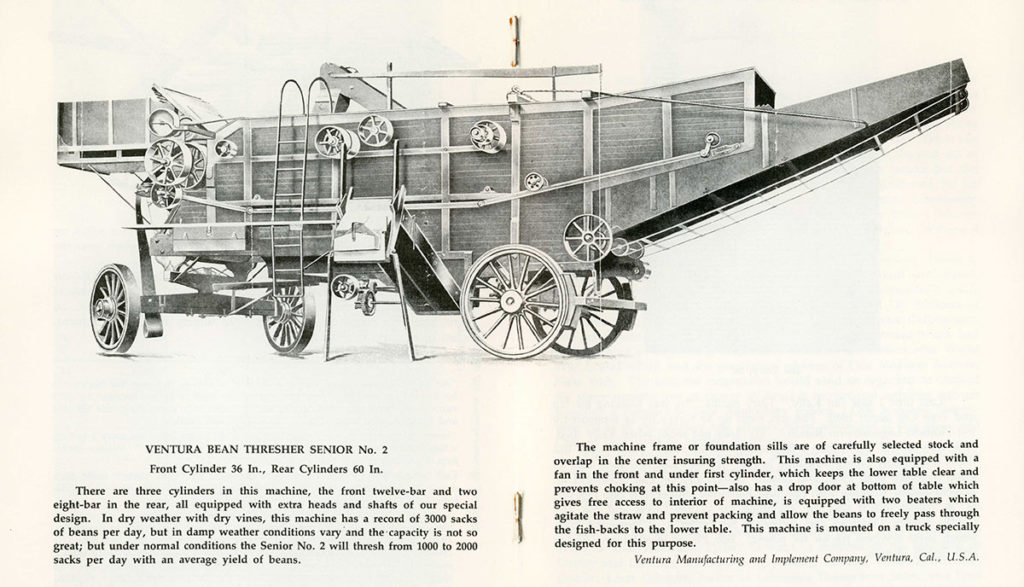 https://www.facebook.com/profile.php?id=100067601978732
https://calisphere.org/item/648748b8b6d885519f81f1a29e0bc553/
Posted on October 5, 2011 by Royal Rosamond Press
Above are photos of Governor Rick Perry and his wife (future fist lady?) with real neo-Confederates, who replaced my kin, Alexander Hodges, as leader of the Sons of Confederate Veterans, an organization that was dedicated to tending to Confederate and Southern graves. Now, the SCV is dedicated to seeing that our President fail in all his endeavors, so Sweeney the Swine and his ilk can take over America after destroying the Federal Government.
Above are photos of my Rosamond kindred tending to the lost – and now found – graves our our ancestors. My great, great grandfather lie here, James Rosamond. I believe the Sweeney family is buried nearby.
Wildflower seeds were spread around the Rose of the World graveyard, thus, fulfilling a prophetic fairytale. Sleeping Beauty is named Rosamond. I made a video where I reveal the secret of our Nation's Flag. The red and white stripes represent the Apothercary Rose that is associated with Fair Rosamond Clifford. This is her dress. She wears a cape full of heavenly stars. She wears a wreath of stars – as her crown. This is the Queen of Heaven – that I have come to awaken! Here come the Rebirth of a Nation!
Jon the Nazarite Prince
`Like a rose among thorns, so is my darling among the maidens' (Song
of Songs 2:2).
Then round about that place there grew a hedge of thorns thicker
every year, until at last the whole castle was hidden from view, and
nothing of it could be seen but the vane on the roof. And a rumor
went abroad in all that country of the beautiful sleeping Rosamond,
for so was the Princess called; and from time to time many Kings'
sons came and tried to force their way through the hedge; but it was
impossible for them to do so, for the thorns held fast together like
strong hands, and the young men were caught by them, and not being
able to get free, there died a lamentable death.
Many a long year afterwards there came a King's son into that
country, and heard an old man tell how there should be a castle
standing behind the hedge of thorns, and that there a beautiful
enchanted Princess named Rosamond had slept for a hundred years, and
with her the King and Queen, and the whole court. The old man had
been told by his grandfather that many Kings' sons had sought to pass
the thorn-hedge, but had been caught and pierced by the thorns, and
had died a miserable death. Then said the young man, "Nevertheless, I
do not fear to try; I shall win through and see the lovely Rosamond."
The good old man tried to dissuade him, but he would not listen to
his words.
Posted on June 9, 2021 by Royal Rosamond Press
"We know when we are not wanted, Mr. Buck. We got enough oil, water, tree, and agriculture trouble. We are cashing in our chips. You tell Miss Pierrot – we want nothing to do with that damn gallery. What do we know about art, anyways? When the bank took our land, we knew we were licked!"
It Could Have Been Chinatown | Rosamond Press
The artist, Thomas Hart Benton, did illustrations for John Steinbeck's 'Grapes of wrath'. Had my niece, Drew Benton, seen them? Drew needs to do a painting of how she escaped death, when she ended up in the ocean next to my sister. Did she feel afraid down in that cove, in the 'Jaws of Death'? How much does she know about Dunken The Frog? She can end the Fraud!
Drew and I are kin to Elizabeth Rosemond Taylor – and thus all members of the Getty Family – who The Buck Boys tried to hurt – especially the Governor of California, who I am going to send a message after this post. In theory, Drew and I own the Rich California Literary Deposit. This Benton is old enough to understand. Liz starred in the movie 'GIANT' which is the companion book and movie to 'THE BIG TREES'………with – WELLS FARGO STAGECOACH!
THE NINE MUSES sent me my BIG STAR as I stood on the Venice Pier. Time to cash in my chips. I'm going to try to sellf my Books and Movies directly to Amazon, who have a line of wine.
John Presco
President: Royal Rosamond Press
Battle For Buck's Beverly Hills | Rosamond Press
Non-Disclosure Mad Man | Rosamond Press
Posted on December 30, 2019 by Royal Rosamond Press
Last night Santa Claus gave me a gift. I found a little Bohemian Book on the internet titled 'Europe After 8:15' that is written by several authors, and illustrated by my kin, Thomas Hart Benton, who illustrated Steinbeck's 'Grapes of Wrath'. Benton's illustrations resemble the work of my later sister, Christine Rosamond Benton, especially he 'Story Teller' series. Christine was married to the muralist, Garth Benton, a third cousin of Thomas Hart Benton.
Posted on August 24, 2019 by Royal Rosamond Press
Here's the truck that Rena Easton owns. It's a 2009 GMC Sierra that she dives down the hill of the Vissar Ranch, a small spread that raises cattle with the help of a $100,000 Government subsidy. I chatted with a man my age on a bench who raised Emu for their meat. His Emu ranch was too far off the beaten path so he sold it and moved to Coos Bay where he catches salmon like crazy. I love Oregon!
The Resident God in the White House threw another tantrum today, and the market lost 600 points. What has caused Messiah Trump to really lose it for the last several months, is, Montana threw in the towel. They want out of the tariff wars. The dream is – dead! Playing cowboy, and lying to your bank, are two different things. You can't put a sail on these becalmed prairie schooners. The Visser ranch – is doomed! Trump tells these yokums he is going to let them get over on the liberal city hippies, and they fell for it, the oldest trick in the book! They are toast!
All I wanted to do was render you as a goddess, and you went to the Sheriff. How about Rhea to Trump's Apollo – and Caligula! Big bruiser trucks and a perverted Emperor: and now Montana will not be planting soy beans this season? Can't turn on your truck radio without hearing about the bright future in soybeans! I will author an ode to soybeans and have it published in a local paper.
I see Rena as The Giant American Midwest Woman, and she is the mate of Paul Bunyun. She is cleaning up after the mess Donald made of her beloved State. Now is the time to save her, my beloved blue muse!
I forgive you Rena!
The movie Giant was based upon the King Ranch. My kin, Elizabeth Rosemond Taylor starred as the wife of a ranch owner. I feel my well is going to come in, and, I might buy a ranch……….in Montana! I hear they will be dirt cheap – after Grabby Donald is done.
The movie/series I forever want to make is 'Ballad of a Soldier'. I will have to have Rena and Starfish cross paths, perhaps at the new Russian gym in town, they coming to own everything after the Great National Wheat Bankruptcy.
"Hey! You're pretty buff………..for an old lady!"
I'll have Yulia running naked in a wheat field to complete a old fantasy of mine. Here are my grandfather's Montana stories.
https://en.wikipedia.org/wiki/Rhea_(mythology)
The Amazon forest
burns hot tonight
my love.
Soon
there will be no oxygen
in the air
To breath, my love
my love of air
is no equal
to my memory of you
In the last
of everything
in the consuming sparks
that dance around the moon
I save my last breath
for you
For you
my last sigh
John Presco
https://www.mtpr.org/post/montana-farmers-call-end-us-china-trade-war
https://en.wikipedia.org/wiki/King_Ranch
https://en.wikipedia.org/wiki/Giant_(1956_film)
Montana could be caught in the spillover effects when China levies higher tariffs on U.S. products.
It's another step in the ongoing trade war between China and the United States.
Last year, tariffs nearly knocked out Montana's wheat exports to China.
The market has been less than stellar since, according to farmers in the state, which includes Lyle Benjamin, President of Montana Grain Growers Association.
Two days ago I posted on the Black Mask stories that were published by H.L. Mencken, who is the main author of 'Paris After 8:15. The mind-blower, is, Willard Huntington Wright is S.S.VanDine who wrote the Philo Vance detective series. Philo may be the model for James Bond. Ian Fleming is my kin via the famous actress, Elizabeth Rosemond Taylor. Philo is a foppish dandy who I want to raise from the dead in a series of books or mini-movies for I-phones. Royal Rosamond Press is going to re-publish 'Europe After 8:15. The text and illustrations fall under my copyright. I believe I am the literary embodiment of Martin Eden, who was conjured up by Jack London.
The true history of the Presco family is told by John Steinbeck who wrote famous books about fictional characters. We are……The Real McCoy!
John Presco
President: Royal Rosamond Press
Copyright 2019
Posted on June 9, 2020 by Royal Rosamond Press
Capturing Beauty
by
John Presco
Copyright 2020
There is no sadder tale to tell then when one begins their life story with the betrayal of their daughter. It is a long road to haul a tragedy with no happy ending. Where is the redemption in the scheme of things? What justifications drove children to betray their parents, a parent? All the good and great work is ruined, even the telling of how it happened has lost the reader, the audience, before the curtain opens. For this stage they maketh is for real scoundrels who have no love for beauty, art, and even money: for they made all the money vanish, all the hard work, is destroyed.
http://en.wikipedia.org/wiki/Sleeping_Beauty
Posted on January 18, 2022 by Royal Rosamond Press
Property in Montecito is soaring. There is a strange undeveloped property up for sale. Three days ago Christine Wandel told me her mother made her come home for lunch to keep her from enjoying the wonderful lunches at Brimmer and May. Miss McCoy asked Christine what she had for lunch.

"A can of Lima Beans."

My dear friend was systematically being tortured for causing the Filene scandal. Our mothers were very toxic, to put it mildly. They are women out of Greek Dramas. How fitting they both will haunt the (relocated to Camarillo) Ampitheater above the new ranch of Ruben Blades & Family!

I wanted to marry Christine and introduce her to……..Rosemary! But, then they would have met! The Rose and The Thorn of Beacon Hill would team up to – rule the world! Ruben has escaped the wrath – for now!

Ellen Bothin is the daughter of Anthony Chabot 'The Water King'. His ghost will haunt the ruins of Mar Y Cel, he tormented by the two Harpies who complain they are forever thirsty. All of California's water woes are blamed on him. Shades of Chinatown.

I texted Peter last night and said he needs a bigger role in The Haunted Robe. He has not responded. I will offer him the role of Ruby Blaze 'The Gourd Master' who plants sacred gourds in the ruins of Mar Y. I will play an old Private Detective – John-John Kennedy – who believes the 1925 earthquake was manmade, or, caused by aliens who built a secret chemtrail spaceport employing a nuclear weapon. John-John got the attention of The Trumpwon Cult when he posted a search for his lost son….

JOHN-JOHN-JUNIOR

The cult believes the JJJ stands for John, Joseph, and Jesus! The J Trinity!

John Presco

https://www.politico.com/news/2022/01/17/trump-rally-arizona-2024-527253

https://en.wikipedia.org/wiki/Anthony_Chabot

https://en.wikipedia.org/wiki/Mar_Y_Cel

Bothin, California – Wikipedia

https://www.wsj.com/articles/a-california-property-vacant-except-for-century-old-ruins-lists-for-78-million-11642190914

In the foothills above Montecito, Calif., a roughly 330-acre property with the remains of an amphitheater and stone aqueducts is hitting the market for $78 million.

With views of the coast, it is one of the largest undeveloped properties in the wealthy enclave, said listing agent Chris Harrington of Coldwell Banker Realty. Known as Mar Y Cel, the property is a series of 18 parcels, he said.

The ruins of an amphitheater that once had about 200 seats.

The sellers are Keith Schofield, 83, a research chemist and retired professor at the University of California at Santa Barbara, and his wife, Kay Robinson Schofield, 74. The couple bought the property for $14 million in 2000 with the intent of building a family compound, Mr. Harrington said.

Mar Y Cel is a local landmark developed at the turn of the last century by Henry and Ellen Bothin, Mr. Harrington said. Mr. Bothin was an industrialist who made a fortune in steel and real estate, according to "Henry E. Bothin, Philanthropist of Steel," by Michael Casey, Mr. Bothin's great-grandson.

In the early 1900s, Mr. Bothin and his wife built a roughly 12,000-square-foot mansion called Piranhurst at the foothills of the Santa Ynez mountains, records show.

The Remains of the Day

After an earthquake in 1925, a wall with arches remains. PHOTOS: PREVIEW FIRST(2)

To bring water to the estate, they developed an elaborate irrigation system consisting of gardens and reservoirs, as well as gravity-fed aqueducts, waterfalls and scalloped basins. "They were obsessed with water," said Mr. Schofield. "Back in 1900, water was everything—as it is today."

The Bothins also built an amphitheater with about 200 seats halfway up the hill, and a "tea house" at the apex of the mountain where they hosted parties. Both were largely destroyed by an earthquake in 1925, Mr. Harrington said.

After Mrs. Bothin died in the 1960s, her heirs split the property in two, selling Piranhurst separately.

Mar Y Cel, comprising the remains of the tea house and amphitheater, traded hands several times before the Schofields bought it in 2000, records show. By then, it had fallen into disrepair, Mr. Harrington said. The couple cleared some of the paths, re-established water lines and repaired and maintained stonework, he said, but their plans to build on the property never came to fruition.

A stone aqueduct was installed in the early 1900s to irrigate the estate.PHOTO: PREVIEW FIRST

"We do have a house in Santa Barbara already, on the Riviera, and it boils down to you can't have two major houses in the same town," Mr. Schofield said. Now that the couple is getting older, he said, they are ready to move on.

SHARE YOUR THOUGHTS

What would you like to see happen to this property?

About 150 acres of Mar Y Cel are held in conservation by the Land Trust for Santa Barbara County. Mr. Harrington said 10 of 18 parcels could be easily developed and are ready for the permitting process. He said a potential owner could build a family compound, as the Schofields envisioned, or a community of luxury homes. In addition to the 18 parcels, Mr. Harrington said three other parcels spanning about 12 acres are being offered separately for $12 million.

Mr. Harrington said the "crazy market" makes it the right time to sell. "What makes this unique is the ruins that are on it," he said. "It feels like old Italian ruins."

Posted onDecember 15, 2021byRoyal Rosamond Press

Lima Bean

by

Vincent Rosamond Rice

Chapter One – Creating An Artificial Mental Illness

When Ruby Blaze entered the Cosmic Bagel, he was happy to see there was only one place to sit now that the COVID had been defeated by a vaccine cleverly put in the mysterious Chem-Trails. Those paranoids who believed in Chem-trails, were exactly the people who refused to get vaccinated, thus, they were more open to the idea their Personal Choice and Willpower was constantly under attack, and, they lost this battle, but, there would be more in the future. Oh well! You can't win them all!

"Alls well – that ends well!"

Placing his plate and cup of Java carefully on the table, so as not to disturb the elderly gentleman with the long white beard, he was soon befuddled as to what this hermit-like dude was doing. He has a stack of four books before him, and one book in his hand. His lips are moving as he reads, then, he puts that book at the bottom of the stack, and opens the next book, and reads from the marked page. Ruby detects faint whispering as he takes a sip of Columbia-strong. Then, that book is placed at the bottom of the stack – and the next book is raised to the wrinkled tanned face of this very absorbed – nut! He has to be a nut. This is why there was a seat open next to him. The COVID was gone, but, mental illness was here to stay. There is no cure, no vaccine one can take. Gently clearing his throat, Ruby ventures this;

"Excuse me. I read the book you have in your hand. It is a very good book."

"Excuse me….Did I ask you for a book review. Look what you have done. You broke my concentration. I'm going to have to start all over again."

To be continued

Share this:
Rosamond Press
Laying Claim To The Literary History of Ventura County
by
Vincent Rosamond Rice
Here is a writer for the LA Times declaring there is no Literary History in Ventura County. I beg to differ – because I know better! My Aunt Lillian told me she saw her father, Royal Rosamond, typing in the living room with Erle Stanley Gardener.
"My father taught him how to write!"
https://www.latimes.com/archives/la-xpm-1993-06-10-vl-1534-story.html
Did Lillian mean Royal taught Erle how to type? My aunt told me that her mother, Mary Magdalene Rosamond went to Ojai to visit her friends in the Theosophic Society. Did they have their library, yet? Then there is the Meher Baba retreat. I read God's book 'God Speaks'.