File – Israeli women's rights activists dressed as characters in the popular television series, "The Handmaid's Tale," protest plans by Prime Minister Benjamin Netanyahu's government to overhaul the judicial system, in Tel Aviv, Israel, Saturday, March 11, 2023.
Ohad Zwigenberg – staff, AP
Let me begin by declaring that my first girlfriend, Marilyn Reed, invented WOKE when she was fifteen. To see Republican Lawmakers and Candidates blame EVERYTHING on the inventors of WOKE after declaring they are running for office – because Jesus wants them to – is as vile a lie as one can make. It is coming from Christian Think Tanks blessed by Jesus-Leaders who are doing everything possible to take nails out of the poor crucified Black Man, – and stick them in the Rich White Racist Man!
Nikki Haley is not really running for President. She has been anointed to Make The Sign of The Cross, and put Donald Trump back on the cross, because he's the choice of the Racist People.
In 1963, Marilyn gave me the book 'The Last Temptation of Jesus Christ' – and my life was changed forever. This is a very WOKE book. M introduced me to Jazz Great, Les McCann, and the radical idea of her half-sister. M grew up in a racially mixed family and married a Black Jazz Artist.
On this day, I anoint Marilyn Reed….The Female Messiah! It is her calling to answer The Lie of Nikki. It is M's job to define WOKE – and Jazz – at the same time! Is there a connection?
There are Jews and others demonstrating in the streets of Israel because Neinayahu is doing away with the Justice System in order to stay in office. This outrage is compared to what Trump and his Christian Handlers are doing. Not able to WIN with an altred nartive – they change the rules! Who is they? Reliious Leaders associated with Moses.
"Let my people go!"
This is what Nikki is saying – with outstretched hands – that carry a stigmata for those who have the eyes to see. Lucifer is portrayed by a young girl who takes a nail out of Jesus, and convinces him he does not have to die for all our sins. Earlier, they try to throw Jesus off a cliff, for announcing he is going to make Gentile 'God's Chosen People'.
Say – what? Was Mary Magdalene O.K. with this mission.
M was my Magdalene. For millions of young men all over the world, there was a crucifixion when they lost their first flame. M is the President of a Gospel Choir which I anoint the only valid religious organization. They understand WOKE!
It's time to bring out….THE BIG CANNON! Put up – or shut up! There was a Big Plan to destory the WOKE narrative – before Trump got elected! How many Republicans were in on the Big Plan – before Trump lost the election! Wake up! The Big Plan – is still alive! It's all they got!
Have a nice day!"
John The Nazarite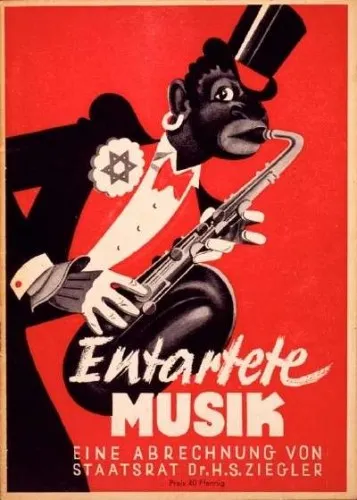 It is possible to trace the Nazi's fear of jazz and swing back at least as far as the radical nightclubs of Weimar Germany (setting for the musical Cabaret), which Goebbels described in his diary as "a Babylon of sin." But the Reichsminister also recognized, Horst Bergmeier and Rainer Lotz note, that "National Socialism set to music was not what most listeners wanted when switching on their radio sets," and as the war years bit into German morale and bombs rained down on German cities, he began to make compromises that would have been inconceivable before 1939.
https://www.smithsonianmag.com/history/hitlers-very-own-hot-jazz-band-98745129/
https://www.heraldbulletin.com/news/nation_world/in-israel-tvs-dystopian-handmaids-is-protest-fixture/article_92c2d11c-d5c3-55b8-aae3-afb9fb05289d.html
TEL AVIV, Israel (AP) — It's become an ominous fixture of the mass anti-government protests roiling Israel: a coil of women in crimson robes and white caps, walking heads bowed and hands clasped. They are dressed as characters from Margaret Atwood's dystopian novel, "The Handmaid's Tale," and the eponymous TV series.
The beautiful blonde in the photo above is my childhood sweetheart, Marilyn Godfrey. We met at Univeristy High School in West Los Angelas in 1962. I was sixteen, and she, fifteen. Two years later, Marilyn's mother forced me to attend four Billy Graham crusades at the LA Colesum, if I wanted to see my beautiful lover again. When I failed to go down on the field, fall to my kness, and be Saved, Marie Godfrey forbid me to see the love of my life. If I tried, she would have me arrested. I was seventeen.
As a five thousand person choir sang 'Jesus I Come' I got up and walked to the rose garden through the Roman arches. I was all alone, one voice against ten thousand. How Marilyn found me, is a miracle. She said this, with tears in her eyes;
"If you are not saved, my mother will never let me see you again!"
Looks and sounds to me the evangelical voice is not oppressed in America, and, the Grahams are full of shit. How dare they piss and moan because their ilk failed to take over my democracy, and rule it in the name of Jesus – in proxy! The voice of the American People – has been heard! God hates liars – especially those who lie in His Name!
I was one voice crying in the wildeness. I was not old enough to vote. I was in love.
"Repent!"
Jon 'The Nazarite Judge'
Then he said, "The Scripture you've just heard has been fulfilled this very day" (4:21).
At first the people in the synagogue were impressed by what Jesus said. But then he stirred the pot by predicting that he would not be accepted in Nazareth and by connecting his ministry to the actions of the prophets Elijah and Elisha, who healed Gentiles but not their fellow Jews. This angered the synagogue congregation, whic
Oh, Nikki. You're So Wrong.
There is much Nikki Haley could learn from a true heroine of the South Carolina Confederate flag removal: Bree Newsome Bass.
Opinion Columnist
Sign up for the Opinion Today newsletter Get expert analysis of the news and a guide to the big ideas shaping the world every weekday morning. Get it sent to your inbox.
There was a moment in which people thought — and many liberals feared — that Nikki Haley, former South Carolina governor and former United States ambassador to the United Nations, would be the post-Donald Trump face of the Republican Party as a political candidate.
She was somewhat respected, had crafted an image of competence and seemed to have more of a moral center than many Republicans now toeing the line in support of Trump. Also, she would solve, or at least challenge, two of the issues that continue to dog Republicans: racism and misogyny. She is an Indian-American woman.
But, Haley burned all that to the ground when she engaged in an astounding bit of revisionist racial history about the Confederate battle flag and its relationship to Dylann Roof, the then 21-year-old white supremacist who in 2015 gunned down nine black worshipers in the historic Emanuel African Methodist Episcopal Church.
In an interview for Glenn Beck's podcast, Haley said:
"Here is this guy that comes out with his manifesto, holding the Confederate flag and had just hijacked everything that people thought of. We don't have hateful people in South Carolina. There's always the small minority that's always going to be there, but people saw it as service and sacrifice and heritage. But once he did that, there was no way to overcome it."
The Walt Disney World Resort in Florida is scheduled to host what has been billed as the "largest LGBTQ+ conference in the world" later this year, in a move that could trigger conflict with Governor Ron DeSantis who has already clashed with the entertainment behemoth over LGBTQ rights.
In this combination image, a file photo of Mickey Mouse at Disneyland 2008 California and Florida Governor Ron DeSantis delivers the "State of the State" address at the Florida State Capitol in Tallahassee, Florida, on March 7, 2023.© Kevin Winter/CHENEY ORR/AFP via Getty Images
Out & Equal, a group that campaigns for gay, lesbian and transgender rights in the workplace, is due to hold its 2023 workplace summit at the resort, from September 11-14.
In February, DeSantis signed into law a bill appointing a five-person board to oversee Reedy Creek Improvement District, which Disney has managed as a largely self-governing authority over the past 50 years.
The move followed a statement from Disney criticizing DeSantis's Parental Rights in Education legislation, dubbed the "Don't Say Gay Bill" by critics. Under this legislation, any discussion of sexual orientation or gender identity is banned in Florida's schools, up until the fourth grade.
According to Out & Equal's website, around 5,000 people are expected to attend its workplace summit in September, which it describes as "the preferred place to network and share strategies that create inclusive workplaces, where everyone belongs and where LGBTQ+ employees can be out and thrive."
Four people tied to the Oath Keepers, on trial for their actions related to the Jan. 6, 2021, Capitol attack, were found guilty Monday of the most serious charge of conspiring to obstruct the certification of Joe Biden's 2020 election win.
https://www.timesofisrael.com/liveblog-january-21-2023/#:~:text=Protesters%20against%20the%20Netanyahu-led%20government%20gather%20outside%20the,Benjamin%20Netanyahu%E2%80%99s%20government%20and%20its%20intended%20judicial%20overhaul.
https://www.msn.com/en-us/news/politics/judge-says-special-prosecutor-has-evidence-trump-may-have-broken-law-sources/ar-AA18UOht
Prosecutors in the special counsel's office have presented compelling preliminary evidence that former President Donald Trump knowingly and deliberately misled his own attorneys about his retention of classified materials after leaving office, a top federal judge wrote Friday in a sealed filing, according to sources who described its contents to ABC News.
U.S. Judge Beryl Howell, who on Friday stepped down as the D.C. district court's chief judge, wrote last week that prosecutors in special counsel Jack Smith's office had made a "prima facie showing that the former president had committed criminal violations," according to the sources, and that attorney-client privileges invoked by two of his lawyers could therefore be pierced.
Trump has repeatedly denied any wrongdoing in his handling of classified documents.
https://www.msn.com/en-us/news/politics/florida-gov-ron-desantis-strikes-back-criticizing-donald-trump/ar-AA18WzTQ
Despite months of taunting, DeSantis hadn't engaged with Trump's attempts to provoke him, which has grown increasingly common as DeSantis has emerged as Trump's top challenger for the 2024 GOP presidential nomination.
"To me, it's just background noise," DeSantis said of Trump's taunts.
And of the nicknames Trump has coined for the Florida governor, among which is "Ron DeSanctimonious" and "Meatball Ron," DeSantis said he didn't mind what people called him as long as they also called him a "winner."
"It's not important for me to be fighting with people on social media. It's not accomplishing anything for the people I represent," DeSantis added. "If I got involved in all the under tow I would not be able to be an effective Governor."
Posted on March 9, 2012 by Royal Rosamond Press
Yesterday was International Women's Day. The most international woman I know is Shannah, the half-sister of my first girlfriend, Marilyn Godfrey. Shannah's father was a Filipeno, and her mother's father was a Jew. Shannah was married to Ron Jefferson, Les McCann' drummer. She was living in Paris when I met Marilyn. Shannah co-authored a novel about Fela Kuti 'A Bitch of a Life, with Carlos Moore.
Marilyn and I were fifteen and sixteen when we met. She took me into the Hollywood Hills to meet Les, who was like a father to Marilyn who lived in his home with his French wife during the summers. Marilyn was befriended by Jazz trombonist, J.J. Johnson who may have been known to the German Swing Kids who rebelled against Hitler's ideology.
Marilyn changed my life course. She had just read 'The Last temptation of Jesus Christ' a novel that played a big role in our lives, for when her mother found it under her bed, she burned it and forbid my first girlfriend to see me again – or she would have me arrested. I got my own copy, and finished it, alone. My Christ-complex was set in stone.
To see all the reversals the Christian radical politician is making in the inroads I was apart of, is heart-breaking. The scene of Jesus with his children coming upon Paul the corrupter of his teaching, is very applicable to my life.
I have known culture shock and culture warfare. I was on the frontline. We were America's Swing Kids. The first album I bought was Bo Diddley. I stole an African Drum album from Rexall drugs and practiced my moves before a mirror. I invented dancing without a partner at Oakland Highschool in 1961. I did a mean pony that propelled me fifteen feet from my partner while fifty of my peers formed a circle around us.
I pegged my black pants and wore Spannish boots. I carried white drumsticks with red flames painted on them in 1959. I wore a leather jacket with a surreal chessboard I painted on the back. I played chess during the summer. My artwork toured the world in a Red Cross show. My paintings made young women cry.
This is the "toughest" rock video ever made. These girls are "tough" as the youth of Oakland would say about a beautiful sexy girl. This was open rebellion. This hip-action – rocked the world!
Have you noticed the solar flares that are a sign of the end days in the movie 2012.
Name
The name "Swing Kids" (Swing Kinder) is a rough translation of the German Swingjugend ("Swing Youth"), which was a sort of parody of the numerous youth groups that flourished before the National Socialists. They also referred to themselves as Swings or Swingheinis ("Swingity"); the members were called "Swing-Boy", "Swing-Girl" or "Old-Hot-Boy".
[edit] Counter-culture
During the Nazi regime, many of the youth in Germany (ages 10 to 17) were encouraged to join the Hitler Youth. The leaders of this organization realized they had to offer some attraction in the area of social dancing in order to recruit new members.[2] Instead of adopting the popular swing dance (because it was viewed as degenerate and tied to the "damnable jazz'), they resorted to the new-German community dances.[2]
This proved to be unsuccessful, because instead of embracing the Hitler Youth pastimes, city girls and boys crowded the swing dance joints.[2] This seemed to be the case particularly in the town of Hamburg, where the swing scene was at large.[2] These teenage hoppers were known as "Swing–Heinis", a name the authorities called them.[2]
They danced in private quarters, clubs, rented halls, and more notably, Café Heinze.[2] These adolescents dressed a little differently than the others who were opposed to swing. For example, boys added a little British flair to their clothes by homburg hats, growing their hair long, and attaching a Union Jack pin to their jacket.[2] Girls wore short skirts, applied lipstick and fingernail polish, and wore their hair long and down instead of applying braids or German-style rolls.[2]
Posted on October 31, 2011 by Royal Rosamond Press
Last night, I met with Marilyn Godfrey Reed at the Jazz Station in downtown Eugene. Her husband, Kenny Reed, was performing with his band 'Stone Cold Jazz'. Marilyn was scheduled to sing.
Sitting at the bar, Marilyn put a book before us. It was the biography of a world famous artist written by his sister. After talking on the phone earlier, we had agreed that my childhood sweetheart would author the preface, give a testimony as to her real life experiences with the Presco family, especially its creative members, who on March 24, 1994 were eliminated from the family, and replaced with a hand-picked family, carefully chosen by Stacey Pierrot after she legally captured the beautiful Rosamond images. Six days ago, Vicki suggested Pierrot got the money to purchase our families Creative Legacy from her father who owns two Nip and Tuck hospitals, he making a fortune saving women's vanity as they grow older.
Posted on September 15, 2022 by Royal Rosamond Press
The Eugene Black Panther Party membership was about 20 members with 15 underground members. Howard Anderson was the Captain and Ray Eaglin, the General.
Being an investigative reporter, a historian, and a seer, is about the most thrilling thing you can be. Yesterday I was going to post….All Roads Lead To Marilyn….and suggest those four streets on the Waterfront be named after her….Marilyn Road. Marilyn Street. Marilyn Way. Marilyn Lane. Why? Because this White Woman has done more for the Black Man, and the Indian Man, than is believable!
Above is a pic of Marilyn with her half-sister, Shanah. M went to live with her in Paris after graduating from High School. She found herself surround by radical blacks. After Shanah disappeared, her mother saw Eldridge Cleaver on the Pat Robertson show, and sent him a letter asking if he knew where Shanah was. He did. There was a reunion. I met S in Eugene. I doubt she knew there was a chapter of the Black Panthers in Eugene. The founders came from Compton that is next to Watts when M and S went to hear Jazz. S was married to Les McCann's drummer, Ron Jeffries. J.J. Johnson made dinner for M when she was fifteen. The LA Story – is fiction.
For some reason I wanted to hold a contest to rename the Waterfront streets after Lena and her sisters who came up from the South to make ships for the war. I then found the truth in a thesis written by a graduate of the U.of O.
The Ferry Bridge Village was located in Alton Baker Park where the Black Culture Festival was held. I am sure they did not know. You could see this Hobo Camp from EWEB and the Waterfront Park. Many of the black residents came up from the Bay Area where they worked making Liberty Ships. When the war ended, the cities the Government made for them – were abruptly closed. I founded The Marin Shipmates around this travesty!
I'm waiting to hear the decision of the Judge who stopped the investigation of Donald Trump who stole Top Secret documents. Imagine if the Black Panther stole Top Secret documents – and rushed the Capitol as an angry mob bent on overthrowing the U.S. Government. We would be watching public executions by firing squad.
Shanah lived with Carlos Moore who wrote a book about Fela that became a his musical. I want to write a musical titled…..Compton on the McKenzie. It's about Black Panther relocating from Compton to Eugene Oregon. This musical play – writes itself!
John Presco
President: Royal Rosamond Press
Black Panthers | MNCH Exhibits (uoregon.edu)
Eugene Oregon Chapter (itsabouttimebpp.com)
Black Panther Party Photo Eugene Oregon 1969 Archival Print – Etsy Australia
Oregana photos: Black Panthers emerge & U of O … | UO Office of the President | Oregon Digital
The Black Doll Of La La Land | Rosamond Press
Posted on December 2, 2019 by Royal Rosamond Press
A review by John Presco
Last night I got to see the most soulful and tired woman on the planet. I saw a bereft and powerful woman put her late husband, Kenny Reed, to rest. Marilyn Reed is the most generous human being I will ever meet. When Mary Anne and I got married, no one made any plans. Mary Anne did not think about a wedding dress, so Marilyn leant her train dress she designed and sew. My wife was stunning. However, she did not tell me she hated staying in hotels and motels, the residue of living with Thomas Pynchon in Mexico. So, we had nowhere to spend our wedding night. Marilyn offered us her bed, and that's where we spent the night. However, I had reservations of consummating our marriage with my first flame in the other room – on the couch! This was enough. Love filled the air. My friend, Bryan McClean sang at our wedding, which caused Marilyn to break out crying. She was -giving me away! She had visions of us getting married, one day.
When I got on the stage at the Jazz Station, I gave Marilyn away to her husband. I acknowledged and bless their union. I told the audience that I was present when they first fell in love. Then I talked about them holding hands, till Kenny let go. I said I know how Kenny felt, because I let Marilyn go back in 1963, never thinking I would see her again. These loving hello's and these loving goodbyes. What more could a man ask for? What more could Marilyn provide? I acknowledged her and her husband's walk, and talk, and holding hands with Jesus – in front of the Inspirational Gospel Sounds Choir – that M is the President of.
I thanked Marilyn for her devotion to our community. I acknowledged she had done everything possible to save her husband's life. For six days she was with him at the hospital.
After the Reed Farewell, I walked around downtown Eugene, after dark, in my great coat. I was filled with peace. I felt love and amnesty for all.
Thank you Marilyn for walking by my side all these blessed years. You're the greatest!
I will post videos when I make them.
John Presco
Share this:
Posted on August 29, 2020 by Royal Rosamond Press
Yesterday I am sitting on the bus bench looking at these two good ol boys come out of a black Japanese-built beater – with a Confederate flag on top. They had big guts and grey hair. They were letting it all hang out after Franklin Graham gave our President ABSOLUTION in the White House Rose Garden. They then went inside a phone store. I debated about crossing the street and yanking that flag from atop the car. These seniors were about my age. Were they looking to go down in a blaze of glory? I then thought about going over and talking to them, inform them I am about to form a branch of the Black Panther Party called…
MARIN SHIPMATES
I bought MARINSHIPMATES.COM before I went to see my doctor. The night before, I watched a old movie about MARINSHIP. It was about the Government BUYING land in Marin County, and city named MARIN CITY to build Liberty Ships – and oil tankers. Then I see King Faidal and his bodyguards coming aboard the flag ship
THE TAMALPIAS
Broadway's Dead End Rap Kids | Rosamond Press
Mark Meadows complying with DOJ subpoena, turning over documents previously shared with House Jan. 6 committee (msn.com)
The Marin Shipmates | Rosamond Press
The Black Panther Party, founded by me and Huey Newton in Oakland-California in 1966 grew quickly into a national organization. While Huey P. Newton sat in jail, a political prisoner, I organized five thousand people into the Black Panther Party in forty-nine chapters and branches across the USA. This is the history of one of those chapters:
The Eugene, Oregon chapter of the Black Panther Party started in 1968 and ended around 1970. It had a profound impact on the city of Eugene, the students of the University of Oregon and the small number of African-Americans that were born or had lived in Eugene most of their lives. Most importantly was how the Black Panther Party influenced the Black students at the University of Oregon.
The Black Panther Party grew out of the Black Student Union of the University of Oregon.. Black students had issues that primarily dealt with the University community, racism and academics. This left a void in the overall struggle of the small Eugene ineffective Black community. The Black Panther Party occupied this hold with community-based programs.
At this time, two brothers named Elmer and Aaron Dixon headed the Seattle Chapter of the Black Panther Party. They came down to Eugene to help organize the Eugene Chapter. They left three Seattle members in Eugene to support the development of the Eugene Chapter of the Black Panther Party.
The Black Panther Party established a few community survival projects. These projects were located off the University of Oregon campus and focused on the poor people of Eugene. Because the Black Panther Party had an overall philosophy of looking at issues from a class analysis and not only a race analysis, these projects served the total poor community, Black and non-Black people. These projects were:
A Free Breakfast Program that served 20-30 young children everyday.
A Liberation School that focused on African and African American history and some of the untrue accounts of Eurocentric academics/curricula.
A Public Speaker Program that participated in demonstrations/rallies on Vietnam, racism, or all the other "isms." These speaker programs also tried to educate the greater Eugene community on the goals and philosophy of the Black Panther Party.
The membership of the Black Panther Party at its height was 18-20 members with 10-15 underground members. The Black Panther Party had a lot of support from many whites at the U of O and in the community. The core members of the Eugene Chapter were from Compton/Los Angeles (southern California). Most had a pre-Panther relationship with each other that went back to elementary school. Most core members knew each other's families (i.e., mothers, fathers, sisters, and brothers). All Black Panther Party members had experienced racism in Eugene that primed them to join such a revolutionary organization. Most core members were brought to or influenced to move to Eugene from the leadership members of the Black Panther Party. (Howard and Tommy Anderson) However, most moved to Eugene before the start of the Black Panther Party.
Howard Anderson was Captain of the Eugene Chapter. He was the first person from Compton to move to Eugene in 1965 after working in the southern United States; in Mississippi and Alabama with CORE (Congress on Racial Equality) and SNCC (Students for Non-Violence Coordinating Committee). In 1966, Howard convinced his younger brother Tommy Anderson to move to Eugene and attend the U of Oregon.
The Eugene Chapter of the Black Panther Party developed very good supportive relationships with other revolutionary organizations. Some of these organizations or individuals were as follows:
1. Patriot Party – Euro-Americans that focused on the poor whites. The head of this organization was a man called "Preacher Man." The Eugene Chapter was organized by Chuck Armsbury and his wife.
2. Brown Berets – headed by a small group of Chicanos from Los Angeles with Ray Verdugo as their Eugene Chapter head. They organized resistance to the exploitation of the Chicano community in Eugene and other migrant farming communities in surrounding areas.
3. Asian student organizers that focused on racism, stereotyping and other issues related to students of Asian descent. Ellen Bepp and Sandra Muraoka were the contact people.
All Power To All The People!
Bobby Seale
The Eugene Black Panther Party membership was about 20 members with 15 underground members. Howard Anderson was the Captain and Ray Eaglin, the General.
Image credit: Special Collections and University Archives, University of Oregon Archives
Children at the Eugene Black Panther's free breakfast program raise their fists in solidarity. This program fed up to 40 children—Black and non-Black—each morning before school. The aim was to prevent students from poor families from going to school hungry.
Image credit: Daily Emerald Archives
Actor forges friendship with Black Panther through role in Fela! – MSR News Online (spokesman-recorder.com)
Fela: The Man, the Music and the Legend – The Observer (fordhamobserver.com)
Eugene Oregon Chapter (itsabouttimebpp.com)
On the eve of Lincoln's birthday, according to the editors, Eugenians needed to address these problems as a cohesive community. This editorial seems to mark a change in tone for the Register-Guard. The paper would continue to advocate for racial equality in future decades and to approach racism more directly as the African-American community grew throughout the 1950s and 1960s. During this heady era, Eugene formed the Congress on Racial Equality and attracted a number of Black Panthers from California.
Short History of the Black Panther Party in the Eugene, Oregon Chapter
Written by Jaja Anderson (Tommy)
Though you may not have heard Fela's songs or the term "afrobeat," you've most likely heard music influenced by his rebellious lyrics and driving melodies. Afrobeat is a mix of funk, psychedelic rock, jazz, and old West African chants and rhythms. An energetic Mambo sang Fela's clever chants such as "Teacher Don't Teach Me Nonsense" and "Yellow Fever" to blaring saxophones and thumping drums; his lyrics, originally sung in Nigerian pidgin, are defiant at oppressive authority and multinational corporations. Today, you could easily find traces of Fela's music in funk and hip-hop songs.
Next Fela talks about his time in Los Angeles during the late 1960s where he is fascinated by America's sexual and drug revolution. While in L.A., he meets singer and former Black Panther Sandra Izadore (played by Saycon Sengbloh), who influences Fela to explore black literature such as "The Autobiography of Malcolm X" and to get involved in the black power movement. After gaining success with Africa 70 in the states, Fela returns with his band to Nigeria where he founds his own commune, "Kalakuta Republic." Now back in his home country, Fela expresses his determination to uplift his fellow Nigerian people. His frustration with the Nigerian government comes out through his song "Zombie," a song highly critical, and even mocking his country's politics and military. Suddenly, the audience is horrified as it watches Fela's commune is infiltrated by one thousand soldiers who burn all of Fela's buildings, rape his dancers, destroy all of his equipment and musical records and kill his senile mother, Funmilayo (played by Lillias White).
---
Posted on December 29, 2012 by Royal Rosamond Press
While in a nightclub of a friend, I suggested to Rick Cobian we produce a inaugural celebration. He and Kenny Reed had just done a song about Obama and had played it several times. "Hey Obama!" was the extent of the words. I gave Kenny these words and called around town to see if I could gather some performers on short notice. At the time, Kenny, Rick and I were partners in the Bohemian Bank, based upon my ideas to change the American economy that was based upon the 'Get Hippie' religion of the right-wing idealogues who have brought our government and our economy to a halt.
We chose the Bakery, and I brought the Rosamond print to put on the bare wall. That is Marilyn Reed singing chorus, and Izzy Whetstine the Prankster poet who also read at the Granary.
Jon Presco
Oregon's Hello to Obama
A Inaugural Production
By
Jon Presco
Copyright 2009
Opening scene
A dark stage
A beam of light comes down upon Rick and Van.
A soft slow beat begins on the congas.
Van joins in.
Van: "Obama. Obama. Obama. Obama"
Van's voice fades as does the spotlight.
Silence.
A spot shines down center
Rick drums
Female dancer dressed like the Fool dances into the light.
She has bells on her ankles and on her neck and hat.
Other unseen drummers join in.
The Merry Jester does a furious, leaping solo dance.
Faster and faster she dances
And then collapses.
Getting up, she shades her eyes and looks right then left, then, behind her
"Where did everybody go?" she asks.
"Am I all alone?"
The Jester wanders off, calling out;
"Hello! Is anybody there?
Olly olly oxen free!"
Doesn't anyone want to play?
"Olly olly oxen free!"
Her voice fades away.
(The phrase can also be used to coordinate hidden players in the game "kick the can", where a group of children hide within a given radius and a "seeker" is left to guard a can filled with rocks. The seeker has to try to find the "hiders" without allowing them to sneak in and kick the can.)
http://en.wikipedia.org/wiki/Olly_olly_oxen_free
Right of center stage, Niesha begins a Cello solo
The background grow light – a deep thalo blue
There is a street light, a flame that grow bright.
There is a sign on the post;
"BON JOUR"
A spotlight from above
A black saxophonist wanders in to join Niesha in a Ode to Expatriates.
The Fool joins in with a ballet
Spotlight and flame fade.
Middle Stage
Theme: A Nation within a Nation
Native American drummers in a circle are silhouetted against gold sun (big O)
They sing
Native American Dancers come to center stage from right and left.
After a minute the Fool joins their dance.
The dancers file off stage, leaving seated drummers
A strobe light begins stage left, followed by colorful laser rays.
Behind the shadowy Street Drummers is a colorful Peace banner
Strobing.
Spotlight on Eugene street drummer who begin drumming.
Some folks are beating on bottles
WOOdstock !
Silence
A black brother stands up and sings
"O say can you see
some change a'comin?"
Brother drummers answer;
"Yea man
It's a O Bama Nation"
Black brother;
"You don't need no ticket
Just get Onboard "
"Peace Brother!"
Brothers give new peace sign of the O and begin African beat
From stage left come Caroline's African dance troop.
The Merry Jester joins in.
Quiet. Darkness.
Stage Right
A spotlight brightens slowly on a flag with a circle of fifty stars in the filed of blue.
Above the flag are the words "Oh say can you see." Below flag, these words; "A Big Change a comin?"
Kenny is on a raised stage with Jazz group and horn players.
Kenny begins his Obama song.
After singing it once through, he sings
"Aloha Amego Obama
Ola Obama Aloha
Gi odi, Oh moho, Samba, Fofo, Amego, Obama
Ly ho yat, Haa he, Samba,
Obama, Obama, Obama, Obama, Obama!
I say
Hi-de Hi-de Hi (Jazz band waves hand)
What you say?
We say
How-de howdy-de O (audience makes sign of O)
(Choir shuffles in from right, clapping hands)
Obama! Obama! Obama!
Choir sings choice words from Kenny's song.
Choir claps hands and sways.
Street drummers join in.
Native America dancers enter stage right.
African dancers enter stage left.
Bagpipers and drummers enter center stage.
Natives sing.
Merry Jester cartwheels across the stage
And takes baton from Conductor and leads
The Crescendo!
Samba Ja comes down center isle and on stage
Aloha. Amego, Obama
Ola Obama Ola
Obama! Obama! Obama!
Kenny Reed;
"I say
Hi-de Hi-de Hi (Jazz band waves hand)
What you say?
We say
How-de how-de O (audience makes sign of O)
Obama! Obama! Obama!
Black Man in White Town on JSTOR
ORDER OF EVICTION59 Perhaps the most telling record to emerge from a public records search through county and city archives was the county order that brought the Ferry Street Bridge community to its end. In July of 1949, while housing shortages were the topic oflocal and national news, the Lane County commissioners passed an order demanding the evacuation ofthe Ferry Street Bridge community and the demolition ofthe homes within it,60 According to the order, the community was given ten days to vacate the property. The order, which was part ofthe county's microfilmed archive of commissioners' orders in the Land Surveyor's office ofthe county's public administration building, was so faded it was nearly umeadable. A copy archived in the county commissioners' original ledgers was more readable. The best reproduction was provide by local historian Mark Harris. It is reproduced below (See Figure 3.3).
ORDER OF EVICTION59 Perhaps the most telling record to emerge from a public records search through county and city archives was the county order that brought the Ferry Street Bridge community to its end. In July of 1949, while housing shortages were the topic oflocal and national news, the Lane County commissioners passed an order demanding the evacuation ofthe Ferry Street Bridge community and the demolition of the homes within it,60 According to the order, the community was given ten days to vacate the property. The order, which was part ofthe county's microfilmed archive of commissioners' orders in the Land Surveyor's office ofthe county's public administration building, was so faded it was nearly umeadable. A copy archived in the county commissioners' original ledgers was more readable. The best reproduction was provide by local historian Mark Harris. It is reproduced below (See Figure 3.3).