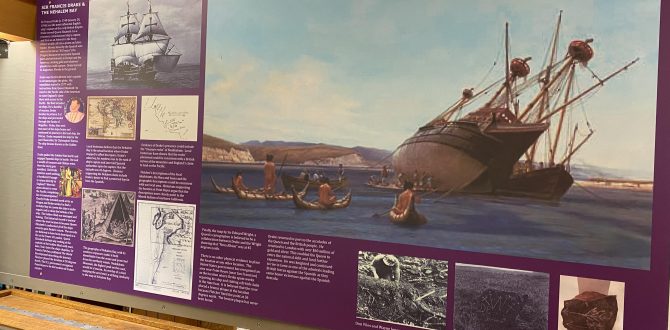 New Sir Francis Drake Exhibit Now on Display at Nehalem Valley Historical Society
Posted on February 5, 2019 by Royal Rosamond Press
Last night, when I started walking towards the podium at the Springfield City Hall meeting, I felt faint, and almost stumbled. It was like I had been at sea for a year, and when I stepped on to solid ground, I still had my sea legs. My voice faltered when I spoke. I realized the gravity of the moment. There was the Mayor of Springfield before me with her ears at ready. She wanted to hear what I have to say. I was, shocked! I have had some fierce rejection.
Around 5:00 A.M. this morning on Yom Kippur, I found THE PROOF I have been searching for for over fifteen years! John Fremont, the first candidate for the newly formed REPUBLICAN PARTY, played a paramount role in….THE CONQUEST OF CALIFORNIA! Eureka!
For a month I was in contact with five Mormon Sisters about enrolling my ancestors in their Genealogical Bank, so they would be redeemed. No problem – they guaranteed me.
"But, my family is huge and includes most of the folks who made American History! "
When I discovered a statue of Fremont at the 'This Is The Place' monument, and, a Mormon militia escorted John to Washington when he was court-martialed, I told my friends I'm going to author a history book about all this. How about a lawsuit against those who have – DESTROYED THE REPUBLICAN BRAND – including the Republican Judges on the Supreme Court?
On this Day of Atonement, I forgive all members of my family – living and dead!
So be it! It is done!
To prove I own the right stuff, allow me to show you my solution for the mystery of what Jesus wrote in the dust!
Have a blessed day!
John 'The End Time Elijah'
Posted on August 12, 2019 by Royal Rosamond Press
Jesus said;
"Judge not, lest thee be judged!"
This has everything to do with the judging of the woman accused of adultery that I ALONE solved the riddle of. I announced that I know the answer surrounded by men and women carrying guns. One said;
"No one knows the answer!"
"I do!" says I.
Former President Donald Trump filed a defamation lawsuit against CNN on Monday that accused the network of deploying "ever-more scandalous" labels to describe him, including "racist," "Russian lackey," and "insurrectionist."
The lawsuit also complained that a CNN guest compared Trump to Nazi leader Adolf Hitler.
Comparing Trump to "arguably the most heinous figure in modern history" shows that CNN had "actual malice" toward him, the lawsuit claims.
Last month, Trump's case was thrown out of court as he tried to sue Hillary Clinton and dozens of others whom he said conspired against him with what he said were false Russia accusations.
'Constant lying': Pro-Kremlin figures lament the loss of Lyman (msn.com)
Putin Admits 'Mistakes' As Russian Troops Are Driven Out Of Another Ukrainian City (msn.com)
Legal experts trash Trump's 'garbage' lawsuit against CNN: 'Not worth the paper it's printed on' (msn.com)
In "Origin," Jessie began the article by remembering her youth and the ways in which her
father stirred her imagination with descriptions of "India and Oriental life, and of European
power." Recalling the days of meeting men like William Clark, the explorer "who had first
explored the Columbia to the Pacific," Jessie stressed the role Thomas Hart Benton played in
western expansion. Jessie informed her readers that she herself practiced that "self-renunciation"
that allowed her to be useful to her father while her husband ventured across the Rockies during
784 Josiah Royce, "Frémont," The Atlantic Monthly, October 1890: 584-557
785 Jessie Benton Frémont to Robert Underwood Johnson, August 28, 1890, John Charles Frémont and Jessie Benton
Frémont Papers, Library of Congress, Washington, D.C.
318
his first two expeditions. She recounted the story of the mountain howitzer, and her role in
preventing John being recalled to Washington at the start of the second expedition. She included
part of a letter written in July 1886 from George Bancroft, a historian, politician, and President
Polk's Secretary of the Navy.786 Bancroft, a longstanding friend of the Frémonts, wrote his
recollection that Thomas Benton had sought U.S. western expansion, that Polk had stated his
desire to take California in 1846, and that he, Bancroft, saw the "acquisition of California by
ourselves as the decisive point in the perfect establishment of the Union on a foundation that
cannot be moved."787
Jessie concluded the article with words that reflected her firm belief in the importance of
her husband and her father in the historical narrative of western expansion:
Rarely does life offer such opportunities; more seldom still do
men, each specially fitted to his part, combine to carry out such
noble, enduring work—work which time has proved good. And . .
. people feel the truth, "Though the pathfinders die, the paths
remain open."788
Even as she praised both men, it was to the memory of John, the Pathfinder, that she
attributed the true opening of the west.
In "Conquest of California," John had written the first section, consisting of a basic
overview of the west as it was understood prior to his first expedition. He wrote of meeting early
mentors Joel Poinsett and Joseph Nicollet and of becoming "a member of Senator Benton's
family."789 Coming to 1842 and the first two expeditions, John had written an outline that Jessie
786 No relation to Hubert Howe Bancroft, the California historian.
787 Jessie Benton Frémont, "Origin of the Frémont Explorations," Century Magazine, March 1891: 766-771.
788 Jessie Benton Frémont, "Origin of the Frémont Explorations," 771.
789 John C. Frémont, "The Conquest of California," Century Magazine, April 1891, 917-919.
319
then followed.790 Addressing the issue of the instructions received from Gillespie, the gist of the
argument between the professional historians and the Frémonts, John (or Jessie) reiterated what
John had included in his Memoirs: namely, that he received instructions to "watch the interests of
the United States in California." Of the letter from Thomas Benton also delivered by Gillespie,
John wrote that he "learned nothing but it was intelligibly explained to me by my previous
knowledge, by the letter from Senator Benton, and by communications from Lieutenant
Gillespie." John (or Jessie) went further, noting that Benton's letter "was a trumpet giving no
uncertain note." The coded family language gave John the authority necessary to stir up
aggressions in California. To this restating of his original justification, John (or Jessie) added a
new twist—following the instructions that were given to U.S. Consul Thomas Larkin was "no
longer practicable, as actual war was inevitable and immediate; moreover, it was in conflict with
our own instructions."791 No longer did the Frémonts argue that Larkin had not received his own
instructions from Washington; rather, those instructions did not apply.
The views of George Bancroft were also captured in this article, including the
understanding that Polk wanted to take California. In a copy of a letter of September 2, 1886,
and included in the article, Bancroft cleared John of any wrongdoing, writing that John had been
"absolved from any orders as an explorer, and became an officer of the American army, warned
790 Jessie Benton Frémont to Robert Underwood Johnson, August 28, 1890, John Charles Frémont and Jessie Benton
Frémont Papers, Library of Congress, Washington, D.C.
791 John C. Frémont, "The Conquest of California," Century Magazine, April 1891: 917-928. The end of the article
contains the notation "The foregoing article has been edited by Mrs. Jessie Benton Frémont from the manuscript and
notes of John Charles Frémont." It is unclear just which parts were written by just which Frémont. As Frémont
biographer Tom Chaffin write: "[W]hen using John Frémont's published writings, I developed an axiom: Trust him
on the details, take his conclusions concerning controversies with a grain of salt…, [b]ut when he addresses matters
of controversy involving him, John tended to write with one eye on the defense of some already enunciated public
position, the other on his reputation for posterity." Tom Chaffin, Pathfinder, 504-505. To this can be added that
Jessie also focused on John's reputation and how he would be remembered. Because of this, it is difficult to
ascertain which words and ideas were John's and which were Jessie's in this co-written article.
320
by your government of your new danger, against which you were bound to defend yourself . . .
[i]f I had been in your place, I should have considered myself bound to do what I saw I could to
promote the purpose of the President."792
The article closed with an attack on the work of Hubert Howe Bancroft—or rather on a
review of Bancroft's work in the New York Sun from August 29, 1886. That review had
included a summary of H.H. Bancroft's interpretation of the Conquest, including the notation
that "Mr. Bancroft thinks there is conclusive evidence that Frémont did not act in pursuance of
instructions, secret or inferential, from the United States Government, and the Pathfinder is
accordingly set down as a mere filibuster."793 In response, John (or Jessie) included a statement
from George Bancroft, also from 1886, in which that historian wondered how "can a man
commit such blunders as are found in the New York 'Sun' of Sunday, August 29?"794 The fact
that John and Jessie felt that a response was needed to a review of H.H. Bancroft's work, four
years after it appeared, spoke to just how determined the Frémonts were to maintain John's
heroic status.
Josiah Royce was still not finished with the Frémonts. Beginning in March 1891, Royce
published more articles on the Conquest and Frémont's role in it. These included "Montgomery
and Frémont: New Documents on the Bear Flag Affair" in Century magazine in March 1891, and
"The Frémont Legend," published in The Nation in May 1891. Each article, both those before
and after John's "Conquest of California" in Century in April 1891, shared a familiar theme:
John was not the hero he was supposed to be but rather a self-aggrandizing filibuster.
792 John C. Frémont, "The Conquest of California," 923-924.
793 "Some New Books," The Sun, August 29, 1886.
794 John C. Frémont, "The Conquest of California," 924.
321
Eventually, however, Robert Underwood Johnson, editor of Century magazine, refused to accept
any further manuscripts on the topic. According to Royce, Johnson, while acknowledging that
another article from Royce was warranted "for the sake of the truth of history," said that
Century's readership was "restive," and Johnson could not countenance yet another column inch
dedicated to California.795
After the publication of "Conquest of California," Jessie returned to writing under her
own name. In 1890, she had collected her "Far West Sketches" for Wide Awake magazine into a
book.796 Another collection of Wide Awake stories was published as The Will and the Way
Stories in late summer 1891.797 Over the next few years, her work appeared in national
publications such as the Ladies Home Journal and Youth's Companion as well as in the
California magazine Overland Monthly.
798
Perhaps her greatest writing endeavor involved an unpublished second volume to John's
Memoirs, entitled "Great Events During the Lives of Major General John C. Frémont, United
States Army, F.R.G.S. Chevalier de l'Ordre Pour Le Merite; et., and of Jessie Benton Frémont."
Jessie, along with her son Frank, began work on this volume in 1891.
Posted on June 24, 2022 by Royal Rosamond Press
Eureka!
John
This 1850 German map of the United States recognizes the State of Deseret's claim to the Southern California coast. Note, however, that Deseret's official boundaries included the pueblo of Los Angeles, which this map excludes. | Map of Vereinigte Staaten von Nord-America und Mexico by Carl Christian Franz Radefeld and Joseph Meyer. Courtesy of the Internet Archive.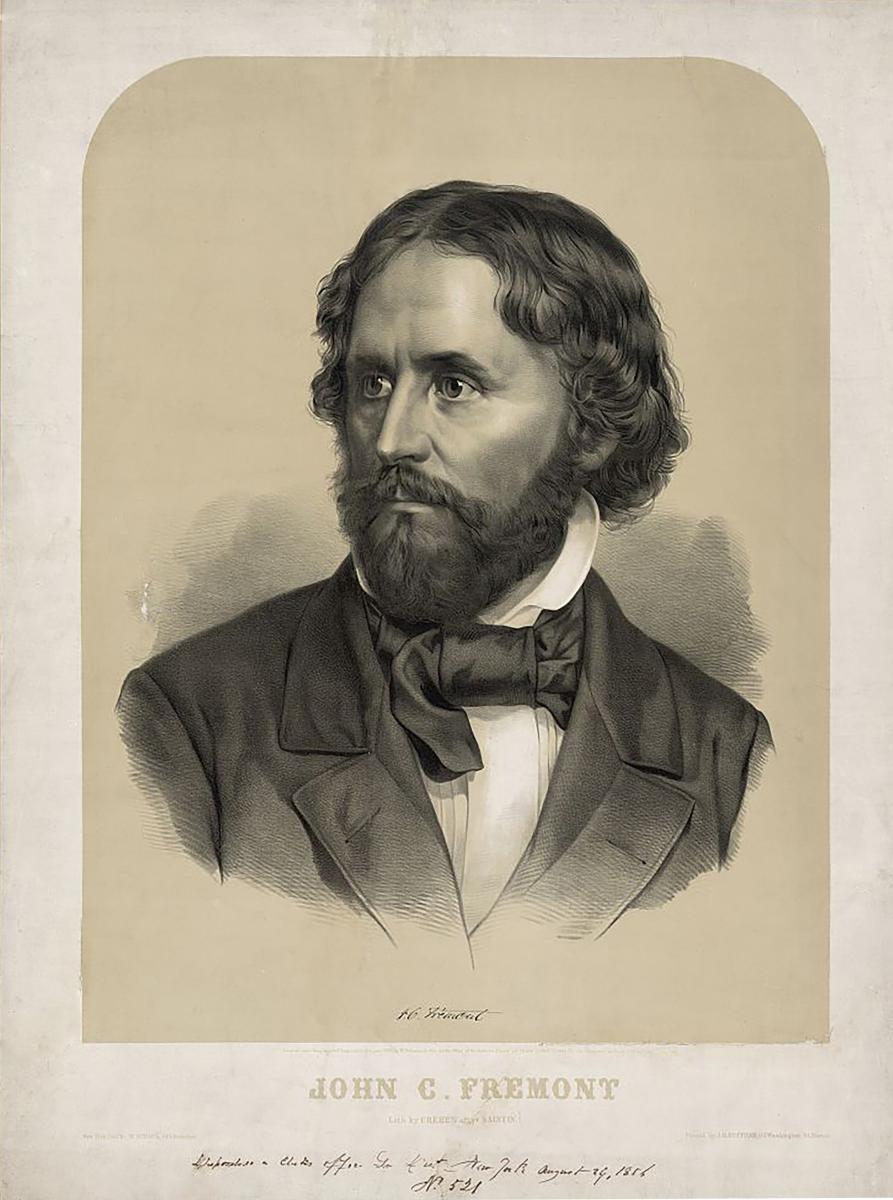 Lithograph by John Henry Bufford, Boston, Massachusetts, 1856. This image was made at the time Frémont was the Republican nominee for the U.S. presidency.
During the break in the Jan 6th. Hearing I google John Fremont and the Mormons and found this amazing article that says Brigham Young read the account of Fremont exploring Utah, and this inspired him to make his historic move.
"The people are so eager for it here that they have stole it out of the Library. The author is Mr. [Thomas Hart] Benton's son-in-law. Judge D. [Douglas] borrowed it of Mr. B. [Benton]. I was not to tell any one in this city where I got it."
EXTRA! June 23, 2020 5:45 P.M. I just found the Nation of Deseret that was proposed by the Mormons! Consider Fromond!
John Presco
The State of Deseret (/ˌdɛzəˈrɛt/ (listen))[1] was a provisional state of the United States, proposed in 1849 by settlers from The Church of Jesus Christ of Latter-day Saints (LDS Church) in Salt Lake City. The provisional state existed for slightly over two years and was never recognized by the United States government. The name derives from the word for "honeybee" in the Book of Mormon.[2]
John C. Frémont's 1843–44 Western Expedition and Its Influence on Mormon Settlement in Utah | Religious Studies Center (byu.edu)
The Benton DNA Test | Rosamond Press
Armstrong and Radio Free London | Rosamond Press
Posted on August 21, 2018 by Royal Rosamond Press
Victoria Bond had many dreams of a Ghost Fleet. I mentioned John Dee in July. Now it is clear…….Here comes the Royal Navy John Dee founded!
I have been working on a transition from my Bond book, to my Tolkien book. Now I see a movie about John Dee. I was born to write the screenplay and be the Art Director. I will title this move 'Sea Lord'. My kindred, William and Peter Rosenberg, will be in this movie, and so will be Krumlov castle. My Bohemian Royalty is coming to California! Will, Dee and the Rosebergs sail on Drake's the Golden Hind? Here we have Merlin in Oregon where a film maker claims the British Empire began! Everything is coming up roses for me – and my tales! I am in the catbird seat! I fought wiccans for a another magicians memorial – and won!
This will be the first Second Cold War movie aimed and pushing Putin back – way back! Ian Fleming employed females in a magical way. I founded the Country of Fromond. Now do you sea?
Victorious Starfish!
Fleming said he was a follower of the teaching of Mani, which is very similar to te teaching of Meher Baba, who I followed for over twenty years. My street theatre is inspired by Baba. I see a New England in the West.
John Presco
Copyrght 2018
Imperial vision
In 1577, Dee published a new vision for England, General & Rare Memorials pertayning to the Perfect Arte of Navigation, and proposed the rise of the British Empire using historical precedents, including prior claims to the New World.
Dee argued that this vision could become reality through maritime supremacy, and that England should reap the rewards offered by colonising new lands and exploiting new resources. The text was dedicated to Christopher Hatton, indicating his influence at court during this time, plus his ability to get the Queen's ear.
https://atlantisrisingmagazine.com/article/the-john-dee007-connection/
Posted on June 24, 2022 by Royal Rosamond Press
I have found a Hidden Kingdom founded by Brigham Young. Here is my prophetic post made in 2015. I did not know about Deseret.
The State of Fremont | Rosamond Press
Here is my Facebook group that I began in 2015.
https://www.facebook.com/groups/1611276952445153
Here is a group who want to put parts of Oregon under the reign of Satan-Trump.
https://ktla.com/news/nationworld/more-oregon-counties-vote-to-secede-and-become-part-of-greater-idaho/
I see a New Migration along the Oregon Trail.
https://www.politico.com/news/2020/09/13/trump-biden-mormons-church-412234
I told the Five Sisters that were in my home on June 23, 2022, that I kept seeing newsfeed about the Salt Lake drying up and creating a health crisis. I read an article about Lake Mead drying up, and the idea to divert water from the Mississippi. What I see is a New Exodus.
Above is the Deseret Stone showing a beehive with Masonic eye. My kin, Thomas H. Benton, saved Albert Pike's Library.
John Presco
"When the Union Army attacked Little Rock, the commanding general, Thomas H. Benton, Grand Master of Masons in Iowa, posted a guard to protect the home of Pike and his Masonic library."
https://www.facebook.com/groups/1611276952445153
Bill introduced in Utah Legislature to save the Great Salt Lake (ksltv.com)
Mormonism and Freemasonry – Wikipedia
Posted on November 1, 2018 by Royal Rosamond Press
I suggested to my neighbor I might be a candidate for the Antichrist. I have no desire to be the antichrist, but, I do oppose the Evil Van Gelical Christ of the Fake Revelation. I have to be, before their Jesus, can be. They should protect me, make sure nothing bad befalls me.
Virginia's mother was not happy with my incredible study of the De Bourmont-Landry linage. But with the Wilson-Rosenberg-Schwarzenberg line, this is a dream union. Especially if the Seinsheim linage is alive thru the Rosamond line. Here is Sleeping Beauty!
God restored my life – for a reason!
These filmed attacks by peasants and nobodies is proof I am of high noble birth. I believe the branch that emigrated to the Netherlands, is the Rosemondt family a form of Rosenberg. Then there is the Rougemonts. God bid me to rediscover the Rose Root that He did splice together.
John
https://en.wikipedia.org/wiki/House_of_Schwarzenberg
https://en.wikipedia.org/wiki/Order_of_Saint_John_(Bailiwick_of_Brandenburg)
Schwarzenberg (in the Czech vernacular Schwarzenbergové (pl.), Formerly also Švarcenberkové ) is the name of a native of Seinsheim in Franconia noble family , which named after the 1405 Schwarzenberg Castle in the Steigerwald , which is still in the family estate.
Since the 15th century, the family also acquired goods in Bohemia , where she was one of the largest landowners until 1946, also inherited lands in Austria and in southern and western Germany. The Frankish-Bohemian house Schwarzenberg placed many influential statesmen at the imperial court of the Habsburgs in Vienna, rose in 1599 to imperial counts and in 1670 to imperial princes and counts to the high nobility . The former royal house is still located in Bohemia and Austria.
A barbarian branch emigrated in the 16th century from Franconia to the Netherlands, where he was admitted to the local nobility and also exists today.
Schwarzenberg was born in Gimborn in the County of Mark. He was the son of Adolf, Count of Schwarzenberg, and a member of the House of Schwarzenberg from Franconian Seinsheim. The family was first documented in 1172 and elevated to the status of Reichsgraf in 1599. His mother was Margaretha Freiin Wolff von Metternich.
In 1600 Schwarzenberg inherited the title and lordship of his father, who died fighting the Ottoman Empire. In 1609, he supported Elector John Sigismund's claims to Jülich and Cleves.
Schwarzenberg married Margaretha Freiin Hartard von Pallant in 1613, but his wife died two years later while giving birth to his second son, Johann Adolf. Rather than remarrying, Schwarzenberg entered the Johanniterorden, becoming its Herrenmeister ("Lord of the Knights", or Grand Master) in 1625. He retained that office until his death, sixteen years later.
Posted on August 25, 2018by Royal Rosamond Press
My rosy kindred owned the Renaissance! Surely James Bond would want to spark a New Renaissance after defeating the enemy. What is missing in the latest Bond movie, is MOTIVE! Who owns the best motive.

John Presco 007

I beseech the Czech Republic to get behind the Shembe Zulu Nazarites. God's true prophets are here! I will bring the sword!

Above are my people. I descend from Peter wok von Rosenberg who were good friends of John Dee. I have claimed Krumlov Castle.

John 007
Posted on August 2, 2018by Royal Rosamond Press
If Virginia and I could have had children! Did James Bond sire a child? I am, the real James Bond. The enemy is at the gate. I have been keeping them at bay. Time for me to receive some credit.

John Presco

President: Royal Rosamond Press

Posted on September 17, 2013by Royal Rosamond Press

Posted on September 16, 2013by Royal Rosamond Press

"The father of our author was Geoffroy de la Tour, spoken of at the beginning of the fourteenth century as lord of La Tour-Landry, Bourmont, La Galonière Loroux-Bottereau, and Cornouaille, and who, under the banner of the Count of Anjou in 1336, distinguished himself by his courage in the war with the English."

Below is Albrecht Dürer's painting of a Knight coming home from the Crusades. Did he find the Holy Grail? Is it only when we find our way home again, do we find what was lost?

Albrecht Dürer did the illustrations for Landry's work. I am this Knight Le Rouge. I did not forsake my Quest even though most of my friends and all my family, forsake me. I had a vision. I stuck to it. I am the Author of this Red Opera.

When Virginia Hambley de Bourmont got down on her wounded knee, took my hand, and proposed to me, was my long search for the Grail, at an end. Virginia descends from Geoffrey IV de la Tour Landry who compiled Livre pour l'enseignement de ses filles for the instruction of his daughters. This book is also titled 'The Book of the Knight of the Tower'. Geoffrey may have authored Pontus and Sidonia a medieval prose roman that was put to song, thus, here is alas The Phantom of this Opera!

Geoffroy de la Tour-Landry married Jeanne Le Rouge.

(1320-1391)
1) ép. 1353 Jeanne Le Rougé

"Sophie" Juliette Louise Marie-Joseph de Bourmont married Le Rouge de Guerdavid, Joseph vicomte de Guerdavid.

Above is a painting of the Royal Entry of Virginia's kindred.

Jon Preso

Copyright 2013

Masquerade balls were a feature of the Carnival season in the 15th century, and involved increasingly celebrate allegorical Royal Entries, pageants and triumphal processions celebrating marriages and other dynastic events of late medieval court life.

Above: Reception of the Grand Condé at Versailles following his victory at Seneffe. The Grand Condé advances towards Louis XIV in a respectful manner with laurel wreaths on his path, while captured enemy flags are displayed on both sides of the stairs. It marked the end of Condé's exile, following his participation to the Fronde.

https://rosamondpress.wordpress.com/2013/09/10/my-fiance-princesse-du-sang/

Le Rouge de Guerdavid, Joseph vicomte de Guerdavid Sexe: Masculin
Naissance : 1886
Décès : 1961
Parents:
Père: Le Rouge de Guerdavid, "Gaston",Georges,Amaury,Marie comte de Guerdavid
Mère: Robien (de), Marguerite

Famille:
Mariage: 01 mars 1916 à Freigné (49)
Conjoint:
Ghaisne de Bourmont (de), "Sophie" Juliette Louise Marie-Joseph Sexe: Féminin
Naissance : 19 février 1890 à Nantes (44)
Décès : 21 décembre 1970 à Carantec (29)
Parents:
Père: Ghaisne de Bourmont (de), Louis seigneur de Bourmont 20
Mère: Say, Baptistine

Geoffrey IV de la Tour Landry (c. 1320 – 1391) was a nobleman of Anjou who compiled Livre pour l'enseignement de ses filles for the instruction of his daughters, in 1371–1372. A similar book he had previously written for his sons, according to his opening text, has disappeared. The work became the most popular educational treatise of the Late Middle Ages. It was translated into German, as Der Ritter vom Turn, and at least twice into English, once by William Caxton, who printed it as The Book of the Knight of the Tower in 1483.[1]

La Tour Landry stands (a ruin today) between Chollet and Vezins. Geoffroy fought in the Hundred Years War; he was at the siege of Aguillon in 1346 and was in the war as late as 1383. His name again appears in a military muster in 1363. He married Jeanne de Rougé, younger daughter of Bonabes de Rougé, sieur of Erval, vicomte de La Guerche, and chamberlain to the king. In 1378, as a "knight banneret", he sent a contingent of men to join the siege of Cherbourg, but he did not serve in person. In 1380 Geoffroy was fighting in Brittany, and was last mentioned in 1383. He made a second marriage with Marguerite des Roches, dame de La Mothe de Pendu, the widow of Jean de Clerembault, knight.[2]

Pontus and Sidonia is a medieval prose roman, originally composed in French in ca. 1400, known as Ponthus et la belle Sidonie, possibly by Geoffroy IV de la Tour Landry (d. 1391) or by another member of the La Tour family. It is about Pontus, the son of the king of Galicia, who falls in love with Sidonia, daughter of the king of Brittany. The text is associated with lords of La Tour because it derives the ancestors of that family, whose ancestral possessions were in Brittany, from members of the train of prince Pontus. The story is based on an earlier work, the Anglo-Norman chanson de geste Horn et Rimenhild (ca. 1180).

The chansons de geste, Old French for "songs of heroic deeds" (from gesta: Latin: "deeds, actions accomplished"[1]), are the epic poems that appear at the dawn of French literature. The earliest known examples date from the late eleventh and early twelfth centuries, before the emergence of the lyric poetry of the trouvères (troubadours) and the earliest verse romances. They reached their apogee in the period 1150-1250.[2] Composed in verse, these narrative poems of moderate length (averaging 4000 lines[3]) were originally sung, or (later) recited, by minstrels or jongleurs. More than one hundred chansons de geste have survived in around three hundred manuscripts[4] that date from the 12th to the 15th century.

http://en.wikipedia.org/wiki/Chanson_de_geste

In the novel The Once and Future King, by T.H. White, a reference is made that states that "before King Arthur had made his chivalry, the Knight of the Tower Landry had been compelled to warn his daughter against entering her own dining hall in the evening unaccompanied – for fear of what might happen in the dark corners."[3]

The Book of the Knight of the Tower (full French title: Livre pour l'enseignement de ses filles du Chevalier de La Tour Landry) is a book commenced by Geoffroy IV de la Tour Landry in 1371, and which he continued writing at least until 1372.[1] It was translated into English (as The Book of the Knight of the Tower) by William Caxton and completed, according to his colophon, on 1 June 1483, during the reign of Edward V.[2] It was further translated into German as Der Ritter vom Turn in 1495. The Livre pour l'enseignement de ses filles served as a tutorial for De la Tour Landry's daughters on proper behavior when visiting the royal court, which, the knight warns, is filled with smooth-talking courtiers who could potentially disgrace them and embarrass the family. The author was a widower, and concerned for his daughters' welfare. He takes a strong moral stance against the behavior of his peers and warns his daughters about the dangers of vanity.

The demon of Vanity and the coquette. From the Ritter vom Turn, 1493

http://quod.lib.umich.edu/c/cme/KntTour-L/1:2?rgn=div1;view=fulltext

THE feudal castle of La Tour-Landry, from which the author of the following book received his name, stood between Chollet and Vezins, in the part of the old province of Anjou which lay between Poitou and Brittany, where its ruins are still visible, consisting of a great donjon, or keep, said to date from the twelfth century. The family of our Knight appears to have been established there at least as early as that date. In the year 1200, a Landry de la Tour, lord of this place, is found engaged in a lawsuit relating to lands; and the names of different members of the family are met with not unfrequently during the thirteenth century. M. de Montaiglon, the editor of the original text of the Knight's "Book," who has investigated this question with laborious care, considers that the father of our author was Geoffroy de la Tour, spoken of at the beginning of the fourteenth century as lord of La Tour-Landry, Bourmont, La Galonière Loroux-Bottereau, and Cornouaille, and who, under the banner of the Count of Anjou in 1336, distinguished himself by his courage in the war with the English.

This Geoffroy de la Tour had two sons, our Geoffroy, who was the eldest, and another named Arquade, who is supposed to have been much younger than his brother. The latter, our Geoffroy de la Tour-Landry, appears from his own account to have been present at the seige of Aguillon in 1346. His name again appears in a military muster in 1363. We know that he married Jeanne de Rougé, younger daughter of Bonabes de Rougé, lord of Erval, vicomte of La Guerche, and chamberlain to the king, but we are unacquainted with the date of this marriage, though in 1371 and 1372, when he composed the following book, he must have been married a sufficient length of time to have sons and daughters of an age to require instruction of this kind.

http://quod.lib.umich.edu/c/cme/KntTour-L/1:2?rgn=div1;view=fulltext

https://rosamondpress.wordpress.com/2013/09/11/virginia-with-crescent-moon-and-star/

Le Rouge de Guerdavid, Joseph vicomte de Guerdavid Sexe: Masculin
Naissance : 1886
Décès : 1961
Parents:
Père: Le Rouge de Guerdavid, "Gaston",Georges,Amaury,Marie comte de Guerdavid
Mère: Robien (de), Marguerite

Famille:
Mariage: 01 mars 1916 à Freigné (49)
Conjoint:
Ghaisne de Bourmont (de), "Sophie" Juliette Louise Marie-Joseph Sexe: Féminin
Naissance : 19 février 1890 à Nantes (44)
Décès : 21 décembre 1970 à Carantec (29)
Parents:
Père: Ghaisne de Bourmont (de), Louis seigneur de Bourmont 20
Mère: Say, Baptistine

Enfant(s):
Le Rouge de Guerdavid, Marie-Josèphe Sexe: Féminin
Naissance : EST 1917
Le Rouge de Guerdavid, Antoinette Sexe: Féminin
Naissance : 1918
Le Rouge de Guerdavid, Louis
Le Rouge de Guerdavid, Marguerite Sexe: Féminin
Naissance : vers 1921
Le Rouge de Guerdavid, Henri
Le Rouge de Guerdavid, Pierre comte de Guerdavid
Le Rouge de Guerdavid, Jeanne Sexe: Féminin
Naissance : 1925
Le Rouge de Guerdavid, Yvonne Sexe: Féminin
Naissance : –contemporain–
Le Rouge de Guerdavid, Jean
Le Rouge de Guerdavid, Paul
Le Rouge de Guerdavid, Anne
Le Rouge de Guerdavid, "René"-Gabriel
Le Rouge de Guerdavid, Thérèse Sexe: Féminin
Naissance : –contemporain–

Retour à la page principale
Le Rouge de Guerdavid, Louis Sexe: Masculin
Naissance : vers 1920
Parents:
Père: Le Rouge de Guerdavid, Joseph vicomte de Guerdavid
Mère: Ghaisne de Bourmont (de), "Sophie" Juliette Louise Marie-Joseph

Famille:
Mariage: 1955
Conjoint:
Guillet de La Brosse, Maryvonne Sexe: Féminin
Naissance : 10 août 1925

Enfant(s):
Le Rouge de Guerdavid, Xavier Sexe: Masculin
Naissance : –contemporain–
Le Rouge de Guerdavid, Cécile Sexe: Féminin
Naissance : –contemporain–
Le Rouge de Guerdavid, Isabelle Sexe: Féminin
Naissance : –contemporain–
Le Rouge de Guerdavid, Catherine Sexe: Féminin
Naissance : –contemporain–
Le Rouge de Guerdavid, Anne-France Sexe: Féminin
Naissance : –contemporain–

Retour à la page principale
Le Rouge de Guerdavid, Henri Sexe: Masculin
Naissance : 1923
Décès : 06 novembre 2007
Inhumation : 12 novembre 2007 à Tours (37)
Parents:
Père: Le Rouge de Guerdavid, Joseph vicomte de Guerdavid
Mère: Ghaisne de Bourmont (de), "Sophie" Juliette Louise Marie-Joseph

Famille:
Conjoint:
Frémond de La Merveillère (de), Rosane Sexe: Féminin
Naissance : 1922
Parents:
Père: Frémond de La Merveillère (de), Antoine
Mère: Walsh de Serrant, Mathilde

Enfant(s):
Le Rouge de Guerdavid, Hugues-Antoine Sexe: Masculin
Naissance : –contemporain–
Le Rouge de Guerdavid, "Tugdual"-Yffic Sexe: Masculin
Naissance : –contemporain–
Le Rouge de Guerdavid, Maud-Sophie Sexe: Féminin
Naissance : –contemporain–
Le Rouge de Guerdavid, Marie-Assunta Sexe: Féminin
Naissance : –contemporain–
Le Rouge de Guerdavid, Albéric Sexe: Masculin
Naissance : –contemporain–

Retour à la page principale
Le Rouge de Guerdavid, Jean Sexe: Masculin
Naissance : –contemporain–
Parents:
Père: Le Rouge de Guerdavid, Joseph vicomte de Guerdavid
Mère: Ghaisne de Bourmont (de), "Sophie" Juliette Louise Marie-Joseph

Famille:
Conjoint:
O'Rorke, Mary Sexe: Féminin

Enfant(s):
Le Rouge de Guerdavid, Bruno Sexe: Masculin
Naissance : –contemporain–
Le Rouge de Guerdavid, Edith Sexe: Féminin
Naissance : –contemporain–
Le Rouge de Guerdavid, Thierry

Retour à la page principale
Le Rouge de Guerdavid, Paul Sexe: Masculin
Naissance : –contemporain–
Parents:
Père: Le Rouge de Guerdavid, Joseph vicomte de Guerdavid
Mère: Ghaisne de Bourmont (de), "Sophie" Juliette Louise Marie-Joseph

Famille:
Mariage: –contemporain–
Conjoint:
Léon de Tréverret, Marie Sexe: Féminin
Naissance : –contemporain–
Parents:
Père: Léon de Tréverret, "Charles" Marie Joseph
Mère: Penguern (de), "Elvire" Eugénie

Enfant(s):
Le Rouge de Guerdavid, Chantal Sexe: Féminin
Naissance : –contemporain–
Le Rouge de Guerdavid, Béatrice Sexe: Féminin
Naissance : –contemporain–
Le Rouge de Guerdavid, Nicole Sexe: Féminin
Naissance : –contemporain–
Le Rouge de Guerdavid, Dominique Sexe: Masculin
Naissance : –contemporain–
Le Rouge de Guerdavid, Agnès Sexe: Féminin
Naissance : –contemporain–

Retour à la page principale
Kersauson (de), Tugdual Sexe: Masculin
Parents:
Père: Kersauson (de), Alain
Mère: Denesvre de Domecy (de), Cécile

Famille:
Conjoint:
Le Rouge de Guerdavid, Anne Sexe: Féminin
Naissance : –contemporain–
Parents:
Père: Le Rouge de Guerdavid, Joseph vicomte de Guerdavid
Mère: Ghaisne de Bourmont (de), "Sophie" Juliette Louise Marie-Joseph

Enfant(s):
Kersauson (de), Alain Sexe: Masculin
Naissance : –contemporain–

Retour à la page principale
Le Rouge de Guerdavid, "René"-Gabriel Sexe: Masculin
Naissance : –contemporain–
Parents:
Père: Le Rouge de Guerdavid, Joseph vicomte de Guerdavid
Mère: Ghaisne de Bourmont (de), "Sophie" Juliette Louise Marie-Joseph

Famille:
Conjoint:
Kersauson (de), Guyonne Sexe: Féminin
Naissance : –contemporain–
Parents:
Père: Kersauson (de), Alain
Mère: Denesvre de Domecy (de), Cécile

Enfant(s):
Le Rouge de Guerdavid, Guy
Le Rouge de Guerdavid, Michel Sexe: Masculin
Naissance : –contemporain–
Le Rouge de Guerdavid, Lionel Sexe: Masculin
Naissance : –contemporain–
Le Rouge de Guerdavid, Gaëtan Sexe: Masculin
Naissance : –contemporain–

http://www.de-bric-et-de-broc.com/France/maille.html
http://www.de-bric-et-de-broc.com/France/tourlandry.html#francoisdemaille

Geoffroy de la Tour-Landry
(1320-1391)
1) ép. 1353 Jeanne de Rougé
(?-ap. 1383)
soeur de Mahaut de Rougé
et fille de Bonnabes de Rougé
seigneur d'Erval
vicomte de la Guerche
chambellan du roi
et de Jeanne de Maillé
fille de Jean de Maillé
seigneur de Clervaux
et de Thomasse de Doué
2) ép. 1380 Marguerite des Roches
veuve de Jean Clérambault
Dame de la Motte-de-Pendu

Ponthus de la Tour-Landry
(1381-1447)
chevalier
seigneur de la Tour landry
de Bourmont
du Loroux-Bottereau
baron de Bouloir en Vendomois
ép. N, Sidoine (v.1380-?)

http://www.de-bric-et-de-broc.com/France/tourlandry.html#francoisdemaille

Urbain de Maillé-Brézé (French pronunciation: ​[yʁbɛ̃ də maje bʁeze]) (1597 – February 13, 1650), was a Marshal of France during the Thirty Years' War and Franco-Spanish War (1635).
He was married to Nicole du Plessis-Richelieu, sister of cardinal Richelieu.
Urbain de Maillé-Brézé had a brilliant career. He was ambassador in Sweden in 1631, Marshal of France in 1632 and viceroy of Catalonia in 1641.
Urbain de Maillé-Brézé fought in many battles. He participated in the Siege of La Rochelle (1627–1628). In 1635 he conquered Heidelberg and Speyer, together with Jacques-Nompar de Caumont, duc de la Force, at the head of the Army of Germany.
In 1635 he was put, together with Gaspard III de Coligny, at the head of the French army that invaded Flanders. They victorious at the Battle of Les Avins against the Spanish, but the Siege of Leuven was a complete failure.

In 1641, together with duc de la Meilleraye, he conquered Lens in 3 days, Aire-sur-la-Lys (august) and Bapaume (September).
After these successes Maillé-Brézé was made Viceroy of newly conquered Catalonia. He attempted to drive the Spanish from Collioure, Perpignan and Sainte-Marie, but failed. In May 1642 he was replaced and retired from active duty to spend the rest of his life in his castle in Milly-le-Meugon.

Marriage and children[edit source | editbeta]
He married on November 25, 1617 Nicole du Plessis-Richelieu (1587–1635), sister of cardinal Richelieu. They had two children :
Jean Armand de Maillé-Brézé, (1619-1646), French admiral.
Claire-Clémence de Maillé-Brézé, (1628–1694), married Louis II de Bourbon, prince de Condé

Claire Clémence de Maillé-Brézé (25 February 1628 – 16 April 1694) was a French noblewoman from the Brézé family and a niece of Cardinal Richelieu. She married Louis de Bourbon, Prince of Condé, known as Le Grand Condé (The Great Condé), and became the mother of Henri Jules. She was Princess of Condé and Duchess of Fronsac.

http://geneanjou.blog.lemonde.fr/2013/02/17/exposition-le-marechal-de-bourmont-itineraire-dun-grand-angevin/

8 Marie-Henri, comte de Ghaisne (1er), seigneur du Gesnetay, de Saint Michel du Bois, de Freigné et de La Cornouaille, né le 10 octobre 1662, décédé le 10 décembre 1710, Paris (à l'âge de 48 ans), chevalier, enseigne d'une compagnie d'hommes d'armes des Ordonnances du Roi, lieutenant des maréchaux de France en Bretagne, mousquetaire du roi.
… marié le 19 novembre 1697, Vernantes (Maine-et-Loire), avec…
9 Marie-Hélène de Maillé de La Tour-Landry, dame de Bourmont, née en 1666, décédée le 22 février 1752, château de Bourmont, Freigné (Maine-et-Loire) (à l'âge de 86 ans).

Geoffrey IV de la Tour Landry

Jean de Maillé de La Tour-Landry, seigneur de Bourmont, baron de La Tour-Landry, de Guillebourg et de Saint-Chartier, comte de Châteauroux, décédé le 30 novembre 1635.
… marié le 9 janvier 1602 avec…
73
François-René, vicomte de Chateaubriand (4 September 1768 – 4 July 1848) was a French writer, politician and diplomat, considered the founder of Romanticism in French literature.
http://en.wikipedia.org/wiki/Fran%C3%A7ois-Ren%C3%A9_de_Chateaubriand

http://gw.geneanet.org/garric?lang=fr;p=louis+henri;n=de+ghaisne+de+bourmont

Louis Henri DE GHAISNE DE BOURMONT

Né le 26 décembre 1705 (samedi)
Décédé le 1er novembre 1782 (vendredi) , à l'âge de 76 ans
Parents

M Henri DE GHAISNE DE BOURMONT 1662-1710

M Hélène DE MAILLÉ DE LA TOUR-LANDRY , Dame DE BOURMONT 1666-1752

Jean DE MAILLÉ

Décédé en 1563
Parents

Hardouin X DE MAILLÉ 1462-1525

Françoise DE LA TOUR LANDRY ca 1470-