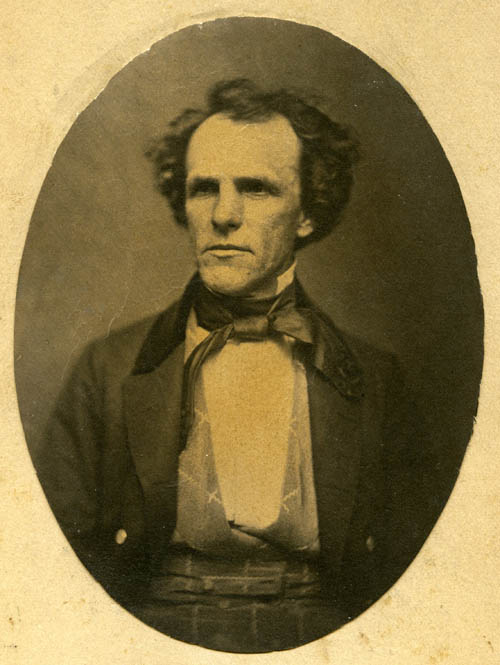 James H. Lane
Image courtesy of Wilson's Creek National Battlefield; WICR 30806
On my local news, tonight, I watched Senator Tom Weyden give an obligatory fist pump that celebrated Jackson being seated on the Supreme Court. There were mostly white folk there who were spread out to make the crowd look larger. Two black people spoke. For over a decade I have been trying to get my black friends to look at the Radical Republicans and Forty-Eighters. Today I found…
JAMES HENRY LANE
James will be one of the people with the surname LANE in the book, movie, and series titled 'Lane'. He was a Radical Republican who my kin, John Fremont, bid to conduct raids along the Kansas-Missouri border that inspired the movie 'The Outlaw Josie Wales' that is a pro-Confederate movie starring Clint Eastwood. This was not an official military order, or was Fremont's emancipation of the slaves of Missouri that angered Lincoln. James Lane formed a all Negro Military Unit a year before the unit they made a movie about. These black soldiers were promised free land in Texas. How about California – and Oregon – that almost became a Slave State thanks to Joseph Lane, who married Polly, who married Nathanial Hart, the son of my kin Thomas Hart. She will be a star in my book and movie that has to be made, because White Americans are wondering what became of their history that Neo-Confederates are pushing their version of with the help of the Trumpites and Republican party – that they took over!
I found James Lane when I looked up the Lawrence Kansas Massacre, it coming to mind when I saw the massacres the Russians are conducting in Ukraine. I compared Zelensky's appeal to many nations to fight to be free, to Lane's appeal to come to his aid in the battle over free States in order to Emancipate of Slaves. Two days ago I sent a e-mail to Mark Gall suggesting a New Israel be formed from the Domass region. The next day I read Zelensky made a comment about the Ukraine being like Israel, published on the 5th. Today Boris Johnson visited the President in Kyiv. This is prophetic. My novel 'The Royal Janitor' is coming true, is now writing itself.
I'm going to have my Rosamond kin migrate from Bates County Missouri to Oregon, and live in the County they helped name after Francis Marion, whom they fought under. The movie 'The Patriot' was based on Francis. There is a Marion Francis Rosamond. When Joaquin Miller comes to town, he encourages them to move to Eugene Oregon where he edits the Democratic Register that is owned by his friend, Joseph Lane, who wants Eugene to be a pro-slavery city. Later, when Springfield becomes a separate town, members of the Rosamond family start feuding because they are now in two cities, with a famous difference of opinion.
John Presco
Copyright 2022
https://en.wikipedia.org/wiki/Francis_Marion
John Ambrose <braskewitz@yahoo.com>
To: Mark Gall
Thu, Apr 7 at 9:13 AM
I always have a plan!
God
Czech Tanks To Ukraine | Rosamond Press
Marion Francis Rosamond (1848 – 1935)
Marion Francis (Frank) "Franklin" Rosamond
Born in Carroll County, Mississippi, USA
ANCESTORS
Son of Benjamin Rosamond and Jane (Rogers) Rosamond
[sibling(s) unknown]
husband of Sarah Jane (Hodges) Rosamond — married [date unknown] [location unknown]
husband of Frances Adaline (Lewis) Rosamond — married 26 Feb 1893 in Houston County, Texas
DESCENDANTS
Father of Joseph Franklin Rosamond
Died in Lovelady, Houston County, Texas, USA
Patience (Lane) Hart (1765-1840) | WikiTree FREE Family Tree
Russian speakers in Estonia live in a tug-of-war between Russia and the West (msn.com)
'They have retreated': US says Russia regrouping after taking beating from Ukraine. Live updates. (msn.com)
"Russia has changed its behavior in this war," Sullivan said on CBS News' Face The Nation. "They have retreated. They have pulled back from substantial territory in northern and northeastern Ukraine. Chiefly the reason they made those adjustments is because they were beaten by the Ukrainians."
Sullivan said the Ukrainian military has been using equipment that the United States and its allies have been sending the besieged country. Last week, he said Slovakia was able to send an S-300 air defense system because the U.S. was willing to provide a Patriot battery to replace the system Slovakia was giving away.
NARVA, Estonia — This town of about 55,000 on the border with Russia could be at the edge of a new Iron Curtain created by Russia's invasion of Ukraine. It's a place between two worlds, where Russia and Russian identity meets Estonia and the West.
Miller earned an estimated $3,000 working as a Pony Express rider, and used the money to move to Oregon. With the help of his friend, Senator Joseph Lane, he became editor of the Democratic Register in Eugene,[21] a role he held from March 15 to September 20, 1862.[22] Though no copies survive, it was known as sympathetic to the Confederacy until it was forced to shut down[23] because of its treasonable character.
During the subsequent Siege of Lexington, General John Charles Fremont ordered General Henry Lane to make a "demonstration along the Kansas Missouri border with his Jayhawkers". Lane acted gladly on Fremont's official authorization for a raid into Missouri. He raided the village of Morristown near the state line, burned it and swept a wide path of pillage, arson and murder of private citizens through the Missouri territory six miles wide and fifteen miles long.
Senator Wyden, Oregon justice system celebrates Ketanji Brown Jackson appointment | KVAL
Journalist Katie Halper said it is unclear what Ukrainian president Volodymyr Zelensky means by declaring that Ukraine will be the new Israel.
"What's interesting about it is that you can understand why he would say we would have to have military but it's weird that he's creating this kind of uber weaponized culture or that's what he's forecasting that he's going to create," Halper said while appearing on Hill.TV's "Rising."
In an April 5 address, Zelensky declared that Ukraine plans to model itself after Israel, a heavily militarized state, rather than Switzerland, after the Russian invasion, according to the Jerusalem Post.
Israel has repeatedly denied providing aid to Ukraine following the Russian invasion of the country, refusing to sell the country its Iron Dome missile defense system and blocking the United States from sending Iron Dome batteries to Kyiv, according to the Intercept.
"We will not be surprised that we will have representatives of the Armed Forces or the National Guard in all institutions, supermarkets, cinemas, there will be people with weapons. I am sure that our security issue will be number one in the next ten years," Zelensky said.
Halper: Zelensky might be sending a signal by declaring Ukraine to be the next Israel (msn.com)
In a speech given in 1863, while the 38th United States Congress was debating a bill that would confiscate land from rebelling southerners, Lane said, "I would like to live long enough to see every white man in South Carolina in hell, and the Negroes inheriting their territory. It would not wound my feelings any day to find the dead bodies of rebel sympathizers pierced with bullet holes in every street and alley of Washington. Yes, I would regret this, for I would not like to witness all this waste of powder and lead. I would rather have them hung, and the ropes saved! Let them dangle until their stinking bodies rot and fall to the ground piece by piece.
1st Kansas Colored Infantry Regiment – Wikipedia
Community and Conflict » Archive » James Henry Lane Papers (ozarkscivilwar.org)
An Oregon First Lady (rootsweb.com)
The 1st Kansas Infantry (Colored) was organized by the work of Senator James Henry Lane at Fort Scott, Kansas and mustered in as a battalion of six companies on January 13, 1863 for three years.[2] Four additional companies were recruited and mustered in between January 13 and May 2, 1863. It mustered in under the command of Colonel James Monroe Williams.
ane is perhaps best remembered for leading these troops against the western Missouri town of Osceola in September 1861. General John C. Fremont had ordered Lane to move north from Fort Scott, Kansas and intercept Sterling Price's Missouri State Guard after the Battle of Wilson's Creek. Instead of engaging Price, Lane led his men into Missouri on a jayhawking raid. Declaring that "everything disloyal from a Shanghai rooster to a Durham cow must be cleaned out," Lane and his men entered Osceola on September 22.5
An officer in the Missouri State Guard described the havoc Lane's men caused:
General Jim Lane with about 2000 men from Kansas came to Osceola. I had there two companies of about two hundred men. All raw recruits. With the few men I could keep together we fired three times on them at short range with shot guns and rifles. It was about midnight but the moon shown brightly. We retreated to Warsaw. I lost one man, and one was severely wounded. They looted and burned the town. – The fear of the Kansas men was so great that nearly all the people left Osceola and went to the country. The next day after the burning of Osceola I returned with my company to find the town still burning and the Jayhawkers all gone.

John M. Weidemeyer – Memoirs of a Confederate Soldier [1860-1865]
The raid guaranteed Lane's repudiation as one of the most infamous "jayhawkers." Lingering resentment regarding the Osceola Massacre stirred hatred in many Missouri citizens and made Lane a target of William Quantrill's raid on Lawrence, Kansas on August 21, 1863. Lane barely escaped from the guerrillas by running through a cornfield in his nightshirt.6
In 1862, Lane actively recruited troops for the 1st Kansas Colored Infantry, even though the enlistment of African-Americans was strictly prohibited by the War Department at that time. Regardless, the regiment was formed and saw its first combat in October 1862 at the Battle of Island Mound, Missouri. This battle marked the first time African-Americans engaged Confederate forces during the Civil War.7
Lane's support for African-Americans did not end with enlisting them into the Union army. In Congress, Lane was an active "Radical Republican," who called for an end to slavery and civil rights for the freedmen. On February 16, 1864, Lane addressed Congress and called on the government to enact three measures to help African-Americans, These included, arming males for military service, securing freedom for African-Americans in the Constitution, and providing them with a section of land after the war.8 Lane proposed using a portion of Texas for this purpose because of its warm climate and rich agricultural potential.
Experience further teaches that the man of color is safe from the cupidity of the white man when the tropical climate becomes his ally and protection. When he has reached the point of the tropical or semi-tropical lands, the vigor of his constitution makes him lord of the soil, so that the destiny of the whole tropical belt, in our opinion, is to pass under the future empire of the educated and civilization children of our freedmen.

We devote immense tracts of land and millions of money to a few thousand savages, who are not producers in any sense, but consumers of the nation's wealth. It is true they have a claim on us as the original owners of the country; but have the Negroes no claim? Have not they and their fathers for centuries toiled to build up our country and our country's wealth without pay or reward? I trust the Senate will now admit this claim, and permit us to pay, by this poor boon, a debt which has accumulated through generations past.

James H. Lane, To Set Apart A Portion Of The State of Texas For The Persons of African Descent – Feb. 16, 1864
James Monroe Williams, Colonel of 1st Kansas Colored Infantry
The regiment was recruited without federal authorization and against the wishes of Secretary of War Edwin M. Stanton. James H. Lane, recruiting commissioner for Kansas territory north of the Kansas River, on August 4, 1862, authorized raising the regiment. Recruiting officials enlisted black men across eastern Kansas, most of whom were former, or runaway, slaves from Missouri. It was the first African-American regiment to see combat during the Civil War, in the skirmish at Island Mound, in Bates County, Missouri, in October 1862. The regiment's Company D had three black officers, William D. Matthews and his two lieutenants, Henry Copeland and Patrick Minor, who were not allowed commissions as officers when the regiment was formally mustered into the Union army.
James Henry Lane (Union general) – Wikipedia
James Henry Lane (June 22, 1814 – July 11, 1866) was a partisan militia leader during the Bleeding Kansas period that immediately preceded the American Civil War. During the war itself, Lane served as a United States Senator and as a general for the Union. Although reelected as a Senator in 1865, Lane committed suicide the next year.
Contents
Early life[edit]
The son of Amos Lane, Lane was born in Lawrenceburg, Indiana,[1] where he practiced law when he was admitted to the state bar during 1840. During the Mexican–American War, he successively commanded the 3rd and 5th Indiana Regiments. He was a U.S. congressman from Indiana (1853–1855) where he voted for the Kansas–Nebraska Act.
He relocated to the Kansas Territory during 1855. He immediately became involved with abolitionism in Kansas and was often termed the commander of the Free State Army ("The Red Legs" or Jayhawkers), a major Free Soil militant group. In 1855 he was the president of the convention that drafted the anti-slavery Topeka Constitution.
On June 3, 1858, Lane shot and killed Gaius Jenkins in a land dispute in Lawrence. According to reports Jenkins was coming to get water from a well on the disputed property.[2] Jenkins was reported to have been displaying a revolver. Lane met him with a shotgun. One of the men with Jenkins shot Lane in the leg and Lane returned fire killing Jenkins.[3] Lane was acquitted in the trial, which kept him from participating in the convention drafting of the Wyandotte Constitution, later the official constitution for Kansas.[4]
After the Free Soilers succeeded in getting Kansas admitted to the Union during 1861 as a free state, Lane was elected as one of the new state's first U.S. Senators, and reelected during 1865
Civil War[edit]
During the American Civil War, in addition to his Senate service, Lane formed a brigade of "Jayhawkers" known as the "Kansas Brigade", or "Lane's Brigade", composed of the Third, Fourth, and Fifth Kansas Volunteers. He commanded the force into action against pro-Southern General Sterling Price of Missouri in the Battle of Dry Wood Creek, as Price began an offensive early in the War to retake Missouri for the pro-Confederate state government that had been deposed by pro-Union forces around St. Louis. Lane lost the battle but stayed behind and attacked pro-South areas in Missouri behind Price. During the subsequent Siege of Lexington, General John Charles Fremont ordered General Henry Lane to make a "demonstration along the Kansas Missouri border with his Jayhawkers". Lane acted gladly on Fremont's official authorization for a raid into Missouri. He raided the village of Morristown near the state line, burned it and swept a wide path of pillage, arson and murder of private citizens through the Missouri territory six miles wide and fifteen miles long. However as it turns out it had little to no effect on Mulligan.[5] "His raids culminated in the Sacking of Osceola, in which Lane's forces killed at least nine men, then pillaged, looted, and then burned the town; these events inspired the novel Gone to Texas by Forrest Carter, which was the basis for the 1976 Clint Eastwood movie The Outlaw Josey Wales. Lane was criticized for his violence in Osceola, most severely by General Henry Halleck, then Commander of the Department of Missouri. Of their actions, he would state: "The course pursued by those under Lane and Jennison has turned against us many thousands who were formerly Union men. A few more such raids will make this State unanimous against us." Thus, Lane's Brigade was ended.[6]
On December 18, 1861, Lane was appointed brigadier general of volunteers. On March 21, 1862, his commission was canceled in culmination of an argument over whether a sitting U.S. Senator could concurrently have the rank of General.[7] However, on April 11, 1862, he was reinstated as brigadier general of volunteers with the confirmation of the U.S. Senate. During 1862–1863, he served as recruiting commissioner for the State of Kansas.
On October 27–29, 1862, U.S. Senator Jim Lane recruited the 1st Regiment Kansas Volunteer Infantry (Colored) who debuted at the Skirmish at Island Mound. They are the first African-American troops to fight in the war, a year before the 54th Massachusetts. In their first action, 30 of their members defeated 130 mounted Confederate guerrillas.[8]
Lane was the target of the event that became the Lawrence Massacre (or Quantrill's Raid) on August 21, 1863. Confederate guerrillas could be heard shouting, "Remember Osceola!" Though Lane was in residence in Lawrence at the time, he was able to escape the attack by racing through a nearby ravine.
In a speech given in 1863, while the 38th United States Congress was debating a bill that would confiscate land from rebelling southerners, Lane said, "I would like to live long enough to see every white man in South Carolina in hell, and the Negroes inheriting their territory. It would not wound my feelings any day to find the dead bodies of rebel sympathizers pierced with bullet holes in every street and alley of Washington. Yes, I would regret this, for I would not like to witness all this waste of powder and lead. I would rather have them hung, and the ropes saved! Let them dangle until their stinking bodies rot and fall to the ground piece by piece."[9][10]
During 1864 when Sterling Price invaded Missouri, Lane served as a volunteer aide-de-camp to Samuel R. Curtis, commander of the Army of the Border. Lane was with the victorious Union forces at the battle of Westport.
Death and legacy[edit]
On July 1, 1866, Lane shot himself[11] in the head as he jumped from his carriage in Leavenworth, Kansas. He was allegedly deranged, depressed, had been charged with abandoning his fellow Radical Republicans and had been accused of financial irregularities. He died ten days later near Leavenworth, Kansas, a result of the self-inflicted gunshot. Edmund G. Ross was appointed to succeed him in the Senate.
The following places were named in honor of the late senator:
Bleeding Kansas, Bloody Kansas, or the Border War was a series of violent civil confrontations in Kansas Territory, and to a lesser extent in western Missouri, between 1854 and 1859. It emerged from a political and ideological debate over the legality of slavery in the proposed state of Kansas.
The conflict was characterized by years of electoral fraud, raids, assaults, and murders carried out in the Kansas Territory and neighboring Missouri by pro-slavery "Border Ruffians" and anti-slavery "Free-Staters". According to Kansapedia of the Kansas Historical Society, there were 56 documented political killings during the period,[2] and the total may be as high as 200.[3] It has been called a Tragic Prelude, an overture, to the American Civil War which immediately followed it.
At the heart of the conflict was the question of whether Kansas, upon gaining statehood, would allow slavery, like neighboring Missouri, or prohibit it—that is, whether it would join the Union as a slave state or a free state. The question was of national importance because Kansas' two new senators would affect the balance of power in the U.S. Senate, which was bitterly divided over the issue of slavery. The Kansas–Nebraska Act of 1854 called for popular sovereignty: the decision about slavery would be made by popular vote of the territory's settlers rather than by legislators in Washington. Existing sectional tensions surrounding slavery quickly found focus in Kansas.
Those in favor of slavery argued that every settler had the right to bring his own property, slaves in particular, into the Territory. In contrast, some anti-slavery "Free Soil" proponents opposed slavery on religious, ethical, or humanitarian grounds. However, at the time, the most persuasive argument against introducing slavery in Kansas was that it would allow rich slave owners to control the land to the exclusion of poor non-slaveholders who, regardless of their moral inclinations, did not have the means to acquire either slaves or sizable land holdings for themselves.[citation needed]
Missouri, a slave state since 1821, was populated by many settlers with Southern sympathies and pro-slavery views, some of whom tried to influence the Kansas decision by entering Kansas and claiming to be residents. The conflict was fought politically as well as between civilians, where it eventually degenerated into brutal gang violence and paramilitary guerrilla warfare. The term "Bleeding Kansas" was popularized by Horace Greeley's New York Tribune.[4][a]
https://www.wikitree.com/wiki/Lane-222
Patience (Lane) Hart (1765-1840) | WikiTree FREE Family Tree
Posted on May 2, 2017 by Royal Rosamond Press
John Fremont, and his wife, Jessie Benton-Fremont, were the first to emancipate black slaves in America. If Andrew Jackson was alive when the Fremonts and the Forty-Eighters were calling for the Freedom of all Peoples, then, he would have to deal with Senator Thomas Benton's daughter – then her husband! Freedom is a family affair. These brave souls became my kindred, when Christine Rosamond Presco, married Garth Benton, two well known artists. Jessie and her sister held famous Salons.
Jon Presco
Frémont Emancipation
From Wikipedia, the free encyclopedia
Jump to: navigation, search
Major General John C. Frémont
The Frémont Emancipation was part of a military proclamation issued by Major General John C. Frémont (1813–1890) on August 30, 1861 in St. Louis, Missouri during the early months of the American Civil War. The proclamation placed the state of Missouri under martial law and decreed that all property of those bearing arms in rebellion would be confiscated, including slaves, and that confiscated slaves would subsequently be declared free. It also imposed capital punishment for those in rebellion against the federal government.
Posted on February 5, 2019 by Royal Rosamond Press
Posted on February 7, 2017by Royal Rosamond Press
This morning I discovered the wife of Joseph Lane, and grandmother of Harry Lane, married Nathanial Hart who is kin to Thomas Hart who is kin to Senator Thomas Hart Benton, the father of Jessie Benton, who married, John Fremont 'The Pathfinder' who was the first Presidential candidate for the Republican Party. These folks are in my Family Tree via my niece, Drew Benton. The Hart and Lane families are related. This is why John Breckenridge chose Joseph Lane as his running mate. The Hart family of Kentucky were partners of Daniel Boone. They owned over a million acres. If the Confederacy had won the Civil War, the Oregon Territory would belong to this family. Now I understand why Senator Benton played both sides of the street. His genetics couldn't lose. This is America's foremost family. Slavery was trying to take hold in Oregon.
John Presco
13. Nathaniel HART. Died About 1820 in Henderson, Henderson Co. KY. He married Mary "Polly" PIERCE. Died 10 Aug 1870 in Douglas, Oregon. Buried in OR. They had the following children:
Nathaniel HART
Saturday, August 20, 1870 Oregon State Journal (Eugene, OR) Volume: 7 Issue: 27 Page: 3
We hear that Mrs. Gen. Lane died at her home in Douglas county, near Roseburg this week. She has been in feeble health for a number of years. Contributed by Jeanie Sawyer* ———————
When Polly was young she witnessed her family killed in an Indian Massacre, this was about 1810-1812 along the Ohio River most likely in Kentucky. She jumped into a canoe and floated down the river to John Hart and Patience Lanes cabin. She was about 10-12 years of age. The Harts raised her, after they found Polly's family had been killed. Which included her mother, step father by the name of Pierre, two younger siblings. Her older brother was never found.
Polly fist married Nathaniel Hart in 1820 in Henderson Co, KY. He died in 1820 along with his father John Hart. John is buried at the Book Cemetery in Henderson Co, KY. Polly and Nathaniel had one child named Nathaniel Hart JR. The Hart's raised him.
In 1821 Polly married Joseph Lane, son of John Lane and Elizabeth Street. Polly and Joseph went on to have 8 children. They lived in Vanderburgh Co, Indiana and then later moved to Douglas Co, Or where they both died and our buried.
Bio by Heather W Bowers
http://www.oocities.org/heartland/meadows/6651/hart.html
John B. HART. Born About 1763/1764 in NC. Died After Oct 1821 in Henderson, KY. Buried in Book Cemetery, Henderson Co., Henderson, KY. He married Patience LANE, 1785 in Johnson, NC. Born 28 Mar 1765 in Wake, NC. Died in Henderson, KY. Buried in Book Cemetery Henderson KY. They had the following children:
Nathaniel HART
Thomas HART
John Jackson HART
Ann or Nancy Morgan HART
Kezia HART
Rebecca HART
Susannah or Susan HART
Rhoda HART
Mary HART
Benjamin Franklin HART
Amelia HART
http://freepages.rootsweb.com/~jeffbott/family/LANE/WC41/WC41_167.HTML
The following is from a Newspaper Article in the Oregon Statesman of Salem, OR, dated Wed. July 12, 1976, pg. 7A.An Oregon First Lady: Stalwart, Resourceful Pioneer
By Kay Apley
Staff Writer, The Statesman.
Polly Pierre never knew her exact age, nor did she ever learn to read or write. But, as a stalwart and resourceful pioneer woman, she had few peers. She also was the wife of Joseph Lane who became Oregon's first territorial governor in 1849.
When she was a very young girl, she was the sole survivor of an Indian massacre. Dazed, frightened and alone, she had released a boat from its mooring and floated down the Ohio River, coming to rest, barely conscious, against a small landing. A family named Hart took her in and raised her.
From all accounts, Polly could card wool, knit socks, make bread and soap and take care of babies. She must have been all of 15 when she married a son of her foster family. Her young husband died a year after their child was born, and Polly then married Joseph Lane, whose family had lived in the next cabin. She gave her baby to her foster sister.
"Polly felt a deep debt to the Hart family," says one account, "kissed the baby and put him in Jennie's arms while she with Joe as man and wife, set off up the river" to live in the new Indiana territory. Joe's family had moved there, and the young couple's cabin was next to them.
As Polly's family started growing – she and Joseph eventually had nine children- it became evident her young husband was getting a taste for public life. When he was elected to the Indiana State Legislature before his 21st birthday, her mother-in-law warned her, "Don't clip his wings."
The years passed as their children duly arrived between visits by her husband, and Polly managed through it all, dutifully keeping in mind her mother-in-laws admonition.
Joseph inlisted in the war with Mexico, was made a brigadier general and came out three years later with no pay for his services in the army. He thus accepted President Polk's appointment of him as territorial governor of Oregon and departed again, this time to the west.
One account states that Joe assigned his pay to his wife and "for the first time in her life, Polly had money. Joe Meek, who had come to notify Joe of his appointment, also left a pile of gold pieces for her as advance payment. Polly removed the large buttons from her red wool dress, covered the gold pieces with the cloth to resemble buttons and sewed them firmly on her bodice, resolving never to cut them off until every other resource had been exhausted."
In time, Joseph sent for her. She and her family made the lengthy journey via the Panama route, finally arriving in Oregon City where "a great ball was given in her honor… one of the few occasions on which she shared honors with him."
Polly is said to have found Oregon a marked contrast to Indiana in its attitude toward women. She was surprised to find that half the claim (300 acres) on which her husband had filed was hers – she was a land owner.
The land was near Winchester (a few miles from Roseburg) and once again, Polly and her family settled in with garden and a new cabin home. Joe, however, had resigned as governor and was off taking care of Indian outbreaks and eventually became so invloved in politics that he spent most of the time in Washington, even running with Breckenridge for President against Lincoln.
Meanwhile, back at the land claim, Polly put her gold piece bottons and a few more her husband had given her in a pottery jar, dug a hole in the woodshed, covered the secret cache and put a flat stone over it.
Miners passing her cabin home on their way to and from mines paid a pinch of gold dust for her pies and home-cooking, she cared for "weary travelers, worn from the long trip across plains," and she developed a business of sorts with the local land office to which she directed these travelers.
When her husband returned to Oregon in much polittical disfavor and without funds, it must have given Polly great pleasure to present him with her secret cache of gold pieces.
For her last 10 years, Polly had her husband by her side. She died in 1870, 11 years before him, and they are buried in the Masonic Cemetery in Roseburg.
---
Polly was my Great Great Great Grandmother, and I have done extensive research on her. Some of the information that is in this News Paper Article was gathered from a book called: "Quit Life of Mrs. General Lane" by Victoria Case. For more information on Polly's Descendants email: Lanehunts@aol.com
Polly was first buried on Strawberry Hill in Roseburg, Douglas Co., on the property that Joseph and Polly lived. After Gen. Joseph Lane was buried her body was moved to be buried next to him. They are now at the Memorial Garden Cemetery in Roseburg, Or. Many of the graves that were at the Masonc Cemetery were moved to Memorial Garden Cemetery. Photo of Polly and Joseph's Tomb
Posted on September 7, 2016 by Royal Rosamond Press
Joseph Lane was the Democratic Vice Presidential candidate, he on the ticket with John Breckenridge, who is my kin via the Benton family. My ex-girlfriend, Dottie Witherspoon, is also related to John. I saved her.
I bet you I could find many groups on the internet that would want to defend this history. How many Rednecks and Neo-Confederates are aware of Good Ol Joe Lane?
Jon Presco
When Oregon achieved statehood on February 14, 1859, Lane was elected to the U.S. Senate. Although his political influence remained strong, he alienated an increasing number of Oregonians as he continued to defend territorial slavery. When the national Democratic Party divided into northern and southern wings in 1860, the southern wing chose Lane to run as vice president with presidential nominee John Breckenridge, a Kentucky slaveholder.
During the campaign, the North received Lane coolly, while the South embraced him as one of its own. With Abraham Lincoln and the Republican Party the winners, the Breckenridge-Lane ticket placed second in Oregon behind Lincoln and ahead of the northern Democrats and their candidate, Stephen A. Douglas.
A Kentucky native, Breckinridge believed that slavery should be constitutionally protected and that Southern states had the right to secede. His running mate, Joseph Lane, represented the Oregon Territory in the United States House of Representatives and also approved of the expansion of slavery into the territories. Breckinridge and Lane won most of the slave states, but finished a close second in Virginia, where the presidential election was the closest in its history. The vote totals published in theDaily Richmond Enquirer on December 24, 1860, show that John C. Breckinridge received 74,379 votes (44.46 percent) in Virginia.
Breckenridge Family Patriots and Traitors
Posted on February 28, 2012by Royal Rosamond Press
Posted on April 15, 2013 by Royal Rosamond Press
My adopted son, Hollis Lee Williams, was born in Louisville Kentucky, and is kin to Thomas Hart from whom the famous artist, Thomas Hart Benton, descends. My brother-in-law, Garth Benton, was a cousin of Thomas
Jon
Colonel Thomas Hart
Colonel Thomas Hart was the son of Thomas Hart and Susanna Rice Hart and the brother to John, Benjamin, David, Nathaniel and Ann.
"The mother of Lucretia Hart was Susanna, daughter of John Gray, Colonel in the Royal Army. Tradition says he opposed his daughter's marriage on the grounds that Thomas Hart, her intended, was a rebel. He was, indeed, a bold and active rebel, a member of two Provincial Congresses of North America, a Colonel in the Revolutionary Army, and one of the principals of that daring and romantic enterprise, the Transylvania Land Company. In spite of her father's disapproval the wedding of Susanna Gray and Thomas Hart, parents of Lucretia Hart, went off as planned." (Simpson, Letters to)
In 1780 Thomas Hart moved from North Carolina to Hagerstown, Maryland, where his two older daughters, Eliza and Susan, were married and where Lucretia was born.
"In the spring of 1794 Thomas Hart wrote to Governor Blount of Tennessee, who had married his wife's niece, 'You will be surprised to hear I am going to Kentucky. Mrs. Hart, who for eighteen years has opposed this measure, has now given her consent and so we go, an old fellow of 63 years of age seeking a new country to make a fortune in…
Another letter, written by Thomas Hart, dated Lexington, Kentucky 1795 says, 'Oh, if my old friend Uncle Jacob Blount were here! What a pleasure we would have in raking up money and spending it with our friends -This is really one of the finest countries in the world -The society is equal to that of any interior town in the United States'. He did, indeed prosper." (Simpson, Letters to)
"The fact that at a time when sailing vessels and clipper ships ruled the seas, Colonel Hart supplied all the rope used by the navy, proving that his cordage business was both extensive and successful. He rapidly laid the foundation of an immense fortune, comparable to the Vanderbilt wealth in New York". (Schwartz)
"From his land sales Boone had raised about $20,000, and had been given additional money to purchase warrants by the Harts. Boone had between forty and fifty thousand dollars in cash in his saddlebags when he began his journey." (Loforo)
There are conflicting stories as to exactly what happened with this great some of money. Here's one version: "At the inn in James City, Virginia, described as Painter's Fork, Boone while asleep was robbed of the entire amount. The incident caused much criticism and injured his reputation".(Henderson)
Posted on February 29, 2020 by Royal Rosamond Press
ALERT! I just heard Washington woman has died in – Oregon? She is the first American death. The President of half the people is going to speak soon.
BREAKING! My first alarm was concern for seniors. This is an update.
(Bloomberg) — Washington State officials are investigating a potential outbreak of coronavirus at a health facility that cares for elderly, vulnerable patients, after two people at the facility were infected.
Two people at a LifeCare nursing facility in Kirkland, Washington, were diagnosed with the virus, health officials there said Saturday. One is a health-care worker in her 40s, and is in satisfactory condition at a local hospital. The other is an female resident of the facility in her 70s, and is in serious condition at the same hospital, local health authorities said.
In addition, more than 50 residents and staff at the facility have shown symptoms of a respiratory illness, according to Jeff Duchin, health officer for public health in Seattle and King County. Tests of the residents are ongoing.
https://www.msn.com/en-us/news/us/washington-state-is-investigating-potential-outbreak-at-facility/ar-BB10zl2s?ocid=spartandhp
Marion County was named Francis Marion, a'k.a. The Swamp Fox. My great grandfather and his brother fought with Marion against the British in our War of Independence. The Rosamonds were very concerned about their health, and the health of their related families who lived in South Carolina where folks are voting this day. Let us vote for a healing prayer for all Americans! If you were a general leading an army against your enemy, you would grow concerned if your troops got sick.
John Fremont and his father-in-law encouraged the Scot-Irish of Missouri to come to Oregon. These Appalachian People also dwelt in South Carolina where Marion was their hero. These folks are the real deal!
John Presco
I just discovered a ancestor of the famous artist, Andrew Wyeth, made much of Oregon's History. I will use his images I our 'No One Left Behind' campaign where our Health Patriots hold live pod-casts in schools, hospitals, and senior homes and answer the many questions.
"You will not be neglected and left behind!"
https://en.wikipedia.org/wiki/Nathaniel_Jarvis_Wyeth
The county was originally named the Champooick District, after Champoeg (earlier Champooick[3]), a meeting place on the Willamette River. On September 3, 1849, the territorial legislature renamed it in honor of Francis Marion,[4] a Continental Army general from South Carolina who served in the American Revolutionary War.
https://en.wikipedia.org/wiki/Marion_County,_Oregon
Posted on July 4, 2011by Royal Rosamond Press
Samuel Roseman was a member of the South Carolina Militia and a Scout for Francis Marion the "Swamp Fox" who Mel Gibson's character was based on in the movie `The Patriot'. Samuel was the brother of my great, great, great grandfather, James Rosamond, who was also in the South Carolina Militia, and more then likely fought alongside his brother and Francis Marion. There may be a chance my grandfather, Frank Wesley Rosamond was named after Francis, as were other Rosamonds"Marion Francis "Frank" ROSAMOND"
Because of this new uncovered history, I find my grandfather's claim, that his mother, Ida Rose, is the offspring of Sir Issac Hull, a Captain of the U.S.S. Constitution to be very credible. It is alleged
Captain Hull had no children, but, he was a sailor and visited many ports.
"Samuel enlisted in the militia around 1776-77 and served as a Lieutenant under Captain Adam Crain Jones and Colonel Robert Anderson (for whom Anderson County, SC was named.) In 1782 he was appointed Captain and served at the Siege of Ninety-Six and the Battle of Kettle Creek in Wilkes County, GA on Feb. 14, 1779 during the Revolutionary War. This battle enabled the revolutionists to halt the British advance in Georgia after the capture of Savannah. According
to Samuel's great-grandson James Oliver Rosamond, Samuel served as a scout and spy under the direction of Colonel Francis Mariion, the "Swamp Fox".
"Samuel and James ROSAMOND both served in the SC militia during the Revolution. Samuel was a lieutenant under Adam Crain Jones and as a captain under Colonel Anderson."
James Rosamond M. Born ca 1754 in Augusta County, Virginia. James died in Abbeville District, SC bef 10 Jul 1806, he was 52. Occupation: Farmer.
[11]James served in the Revolutionary War in the Ninety-Six District before and after the fall of Charleston. The Siege of Charleston occurrend in 1790 by the British Army led by Sir Henry Clinton. James furnished 150 lbs. of pork to the militia in 1782. He obtained land grants as a result of his service in the war. An abstract of his service in the Revolutionary War is on file at the Historical Commission in South Carolina.
James may have been married to a Dorothy/Norah Hodges (daughter or John Hodges and Elizabeth ?) prior to marrying Mary Daugherty. No one has been able to fine any record of this. Barbara Morgan lists a Lettice Jones as a possibility for James' first wife. Much depends on when his first wife died, and the date he married Mary.
In the first national census in 1790, James, his brother Samuel, and his mother Sarah were the only Rosamond Heads of Household listed in South Carolina.
Southern Campaign American Revolution Pension Statements
Pension application of John McAdams
Posted on November 27, 2019 by Royal Rosamond Press
Posted on February 13, 2019by Royal Rosamond Press
---
Happy Birthday Oregon!
Thomas Jefferson hoped Astoria could one day be the seed of a separate West Coast democracy. He and industrialist Jacob Astor set forth an ambitious plan to make it a global trading hub.
https://www.opb.org/news/article/happy-birthday-oregon-learn-18-facts-in-59-seconds/
I talked to my ex-fiancé two hours ago about my idea for the Harry Lane Peace Center in the Potato Chip Building. We have not conversed since I got my DNA results. I told her my Bohemian Royalty owned bigger castles than her family did.
"If we would have had a child, then that child would be the Star of Hope Child for the restoration of the monarchy of France and Czechoslovakia"
I told Vieginia about Harry Lane's campaign to keep the United States out of Europe and World War One.
"That war was a Royal Family Feud between all our kinfolk! Harry got it right! Stay out of it – and mind your own business. He needs to be honored, his Peace Protest preserved – along with the Peace Sign of the Hippies! We need a Hippie Museum like the one they have in Vancouver Canada.
History is being made today, as it is, everyday. The Prime minister is stuck on how to exit the European Union that was formed to make sure there was not another World War. The Treaty of Versailles was signed to make sure there was not another World War One. Our President says it was a mistake to have launched the second Iraqi War, and is pulling our troops out = as a monument to his declaration. Is Trump moved by the Anti-War Movement that began in the sixties? Joe Romania had his futuristic building built in 1960. He wanted to create a monument, a better design going future.
Meanwhile, Ed Ray and his crack team of historians, are bent on De-naming historic figures, and, De-Histortorizing events that he and his A-Team deem un-worty. If Ed has his way, then, Columbus would have never discovered America. No black people would have been brought here. There would have been no Motown, or Black Gospel Music. No Chubby Checker, and The Twist, either. Black musicians had a huge influence on Rock and Roll. Native Americans took part in the Sixties Revolution. There would have been no Vietnam War – if we had our way! All there would be, is Tribal People living the lifestyle we hippies dreamed of living – in peace!
I see Old Hippies being lifted up in a cherry-picker so they can sign their names with a big brush, the brush of many colors. There will be giant heads of Joe and Harry on either side of the rainbow – giving the Peace Sign! Here are our modern business pioneers. End the De-naming Game – NOW! Stop wiping out the Hippies!
I see George Melvin Miller's flying machine suspended from the ceiling. In this building, comes together the cities of Eugene, Fairmont, Springfield, and Glenwood. There will be peace in the valley! We can be united in a common cause!
Now, get up. Get up out of your easy chairs. Put down you smartphones – and do the twist, like we did last summer!
What I see is a permanent home for Ken's bus 'Further'. We have no guarantee Kesey's offspring will – carry on! I would like to see the mural that graced the wall of the Springfield Creamery, replicated on that empty wall under the classic Coca-Cola sign that needs to be persevered – as is! There is an arch that awaits a rainbow, that will represent The Gateway to Peace.
Wait a minute! Wait a sec! I feel another vision coming on!
I see a Twist Dance Party held on the last Friday of every month. Super Twisters from colleges all over Laneland will come to show off their best moves! Who knows, The Twist might be an Olympic Sport. There will be guest bands – from Asia! Millions will come to the Peace Center to learn how to live, and dance……….in peace! I see the annual Riverside Twist-off, where citizens who live East of the River, meet those who live West of the river, and a Twist-off held in Knight Arena. I see happy smiling people sharing the universal language of Dance. Do you think my idea will fly?
I honor Chubby Checker for Black History Month. I grew up in Oakland California where the school dances had black students on one side of the gym, and white students on the other. This was not required. Many Oakland blacks came from the South where segregation was enforced. No one went to a dance looking for trouble.
I loved to dance. I would go over and watch the black dancers, and copy some of their movies. Dancing The Pony, I would leave my partner, and make wide arcs. My classmates began to surround me, and I got applause. This is 1962. Chubby brought folks of all color together. The rich class, imitated the poor people. It was a milestone in race relations. I got to add The Pony to these dances. Band will be allowed to play their own versions.
Joe Romania was just not selling cars. He was selling radios. And from these radios, came music, and, music sold cars. Joe donated land to build Lane Community College. There's that name again! Lane has a new meaning, today. Who has not found freedom driving down a highway, or, along a levy, in your brand new Chevrolet? Music, has sold more products, than all the salesman – combined! Car radios, made America – great – and kept it that…………..way for a long time! We – can fly away! In our Chevrolet!
I lived in Boston in 1971 and got to see and talked to Jonathan Richman after he made his debut in a bar in Beverley. I got to ass his 'Roadrunner' to the jukebox. I submitted a plan to honor George Melvin Miller whose dream was a road from Winnemucca to the Sea. I believe Franklin Street should be changed to Harry Lane Way. This is not de-naming because no one has it out for Benjamin Franklin – yet!
Wait! One more thing. I see a Jukebox. You point your phone at it, and buy a tune. On the ceiling is a dazzling light show, with spot, ready to beam down on you. Here is your fifteen minutes of fame. Everyone gets to be a Star! The lights. dim.
Here's to you, Joe! Here's looking at you, Harry!
John Presco
President: Royal Rosamond Press
P.S. I just heard on the news, tomorrow is the day Oregon was admitted into the Union.
Cassius Clay, better known as Mohammed Ali, may have gotten his name from U.S. diplomat Cassius M. Clay who is in the Breckenridge family tree. Mohammed was the most famous black man in America, and the world, until Barak Obama was elected President. Mohammed was famous for his religious convictions that gave him the courage to resist the draft. He knew he would lose everything if he did. They took his titles away.
Below you will find famous leaders of the Confederacy who committed Treason when they took up arms and fired upon Federal Troops, killing them. These kinsfolk started the Civil War that resulted in the death of hundreds of thousands of Americans – at a cost of millions!
False ministers of Jesus are taking us down that divisive road again. They utter seditious words just to get votes from their stupid religious voting slaves they hoard and nurture, they fattening them up with gobs of hatred – and stupidity!
I am kin to the Breckenride-Preston family via my niece Drew Benton, via the McDowells who married a Benton.
"Desha Breckinridge (1867–1935), editor and publisher of the Lexington Herald. Married Madeline McDowell Breckinridge, great-granddaughter of Henry Clay in 1898. Son of W.C.P. Breckinridge. Brother of Sophonisba Breckinridge.
Last week I met Drew Benton and her aunt, Vicki Presco on Everquest, I just beggining to live the fantasy as Wolferose. This is the Real Deal, the Real Quest!
Jon Presco
Posted on February 4, 2019 by Royal Rosamond Press
The City of Springfield has the opportunity right a great wrong. I suggest Franklin Street be renamed Harry Lane Way, because Harry's grandfather was one of the world's greatest racist and pro-slavery candidates. Joseph Lane led wars against Native Americans. This renaming can get national attention. This is much more that bringing down a Confederate statue. If the change is not possible, perhaps there is going to be a new street by the river, that can bare the name, Harry Lane. A plaque can explain why. Erasing the name Lane from all public records, would be impossible. Harry is a symbol of progress, that trumps Joseph's history. Harry Lane was a Pacifist, and perhaps the first Democratic Progressive.
"Lane was one of a tiny handful of federal legislators who, for reasons of principle or partisanship, fought as hard as they could to prevent President Woodrow Wilson from taking the country into the fight."
http://offbeatoregon.com/1307b-harry-lane-war-hero.html
Pro-Southern delegates, who had walked out of the Charleston convention in protest of its failure to adopt a federal slave code plank in its platform, did not participate in the Baltimore convention.[98][100] The delegates from Alabama and Louisiana – all of whom had walked out at Charleston – had been replaced with Douglas supporters from those states, leading to the nomination of Douglas and Herschel Vespasian Johnson for president and vice-president, respectively.[101] The protesting delegates convened five days later in Baltimore.[100] On the first ballot, Breckinridge received 81 votes, with 24 going to former Senator Daniel S. Dickinson of New York. Dickinson supporters gradually changed their support to Breckinridge in order to make his nomination unanimous, and Joseph Lane of Oregon was chosen by acclamation as his running mate
https://en.wikipedia.org/wiki/John_C._Breckinridge
Posted on June 25, 2015by Royal Rosamond Press
On this day, June 24, 2015, as historian to the Abolitionist Families of Benton and Fremont, I declare the name of our County should be named after Harry Lane, the son of the Confederate, Joseph Lane. For the reason Joseph engaged in terrorism and slavery, and for the reason we are at war with ISIS who takes people as slaves, and for the reason the Confederate flag in South Carolina – must come down – let it be known, the sins of the father did not come down to Harry, who is a hidden treasure of liberalism and fair play for all. There not be any need for a name-change that would be very costly. Harry was a frugal politician who worked for the right for women to vote – and the Rose Festival of Portland.
For the last hour I searched google for a famous Lane in Oregon history, and had almost given up, when by divine providence, there before me is 'The Man that Time Forgot'
Harry! This is your day! I will be petitioning all the elected officials of Oregon, to have your political history, be the outstanding history. So help me God!
Lane challenged white supremacist Senator Hoke Smith of Georgia on the floor of the Senate to acknowledge the successes of black farmers in the American South and protested instances of racial discrimination inserted into appropriations legislation.
It is obvious Harry was the opposite of his father, whom Lane County was named after. Let us carry on Harrry's opposition to what is hateful and destructive.
Jon Presco
President: Royal Rosamond Press
Copyright 2015
As mayor, Lane was an enthusiastic host for a 1905 national convention in support of woman suffrage in 1905, and he was thereafter recognized as a friend of the movement for equality between the sexes.[8] He took a further step for the advance of women's rights when he swore in Lola Baldwin to the Portland Police Bureau as one of the first female police officers in the United States on April 1, 1908.[9]
While mayor, at the end of the Lewis and Clark Centennial Exposition, he advocated for a "permanent rose carnival", leading him to be called the "Father of the Portland Rose Festival", which continues today.[10]
Lane was an advocate of direct democracy and led an unsuccessful voter referendum to establish municipal ownership of the Portland electric system.[6] A flurry of measures were taken before the voters — 32 proposals in 1909 alone.[6] Among his successes at the polls in these direct votes, Lane was instrumental in winning approval of a new mandate that future utility franchises granted by the city should be subject to popular vote rather than back-room dealmaking between interested parties and elected politicians.[6]
Throughout his life Lane was committed to exposing and correcting the wrongs suffered by Native Americans at the hands of European immigrants to America.[11] At a 1905 unveiling of a statue of Sacajawea Mayor Lane declared that violence between native and white populations had always been the result of "white people ill-treating the Indians who had befriended them."[12]
Intent on proving himself a man of the people, Harry Lane set what might be a record for campaign frugality in his victorious effort, with his entire race run for the princely sum of $75 plus travel expenses.[11]
He was also known for frugality as a congressman, and did not conform to the modern stereotype of the free-spending liberal. He was reported as being "the most inquisitive man in Congress" when it came to federal appropriations, and was known as "the human question mark" by his colleagues in the Senate. He was opposed to deficits and the "pure waste of public funds."[7]
Lane's daughter was herself a member of the Socialist Party of America, as was her husband, the journalist Isaac McBride.[11] Upon his election the increasingly radical Harry Lane wasted no time in hiring his son-in-law as his personal secretary and administrative assistant.[11] McBride remained active in the anti-militarism activities of the Socialist Party even while working for Lane and was the intermediary between "Big Bill" Haywood of the Industrial Workers of the World and Lane, gaining the Senator's help in an unsuccessful effort to spare the life of IWW cause célèbre Joe Hill.[11]
While in Congress he served on the Committee on Forest Reservations and Game Protection, the Committee on Fisheries,[1] and the Committee on Indian Affairs.[14] Lane regarded the last of these as his most important work, criticizing longstanding government policy aimed at "civilizing" the Native American population.[14]
Lane pulled no punches:
"I think the whole scheme of our management of the affairs of the Indian is a mistake. It is wrong; it is expensive to the Government; it is fatal to the Indians."[15]
The poverty of the Indian population was through no fault of their own, Lane declared, with the Native American people prostrate while "the white man is astride them and is at work taking everything they have."[15]
In addition to his distinctly radical views on Indian Affairs, Lane championed a number of other controversial views as a member of the Senate. He was a leading advocate for the woman suffrage movement, introducing resolutions in its behalf.[8] Lane also supported government ownership of the national telephone and telegraph networks, the merchant marine, and certain mining corporations.[8] He was critical of the Clayton Antitrust Act for its toothless inability to restrain the avarice of "big business and crooks."[16]
Lane challenged white supremacist Senator Hoke Smith of Georgia on the floor of the Senate to acknowledge the successes of black farmers in the American South and protested instances of racial discrimination inserted into appropriations legislation.[8] He was skeptical about American claims of violation of property rights by the government and insurgent movements in Mexico and was an outspoken opponent of imperialism and for the national independence of the Philippines.[17]
In was with respect to American involvement in World War I that Lane was his most outspoken. Late in 1915 Lane joined Socialist Meyer London in co-sponsoring a resolution criticizing the deepening sense of war-related fear and calling upon Woodrow Wilson to convene a conference of neutral nations with a view to ending the European conflict.[16] Even after the resumption of unlimited German submarine warfare in their effort to blockade their enemies, Lane refused to support an end to diplomatic relations with the German empire.[16] Lane was an outspoken opponent of Wilson's plan to arm merchant ships, arguing that the conservative Democratic President was thereby attempting to usurp the Congressional prerogative to declare war and to replace it with Executive authority.[18]