President Obama said he could not get Europe to respond to Putin. I responded with my fictional characters in my James Bond book 'The Royal Janitor'. I come in as two characters The Wizard, and Professor John von Bond. Las night I read the Czech Republican sent tanks to the Ukraine, the first nation to do so. This morning I awoke as…..The Sleeping King Under The Mountain.
All the news is – WAR NEWS! I will be conducting World War Three as a Merlin-Gandalf persona, but also as a New Moses.
Will there be a new Jewish State established in the Donbass? Will a temple be built? There are a million Russian Jews in Israel that is 8,500 square miles. The Donbass is 6,500 square miles. The Palestinian People are being pushed out of their ancient lands. World Peace can be assured, if you found New Israel. The Haredim are destroying Israel. Secular Jews are under siege. Israel suggested a pipe be laid to Europe in order to bring natural gas to NATO Nations. Go for it! Stop the war – now! Begin a mutual project that will begin to solve many of the world's problems. The world is prepared to spend a trillion dollars on the New Cold War – in the first year! Putin should confess he was misled by Kirill, and sue for peace. He would have to step down. He can go down in history as a co-founder of New Israel. Destiny! God had a master plan!
John 'Awoken Wizard-King'
Ukrainian Foreign Minister Dmytro Kuleba said Thursday that fighting in the Donbas region of eastern Ukraine was ramping up but that it "has not reached its maximum scale."
"The battle for Donbas will remind you of the Second World War, with large operations, maneuvers, involvement of thousands of tanks, armored vehicles, planes, artillery. This will not be a local operation based on what we see in Russia's preparations," Kuleba said at a news conference in Brussels.
"Russia has its plan, we have ours, and the battlefield will decide the outcome," he added.
Over the next few weeks, officials expect Russian forces to resupply and reposition with the aim of launching a brutal new offensive in Donbas, which encompasses the Luhansk and Donetsk regions, NATO Secretary General Jens Stoltenberg said on Tuesday.
Donbas: What is Putin's plan for eastern Ukraine? (msn.com)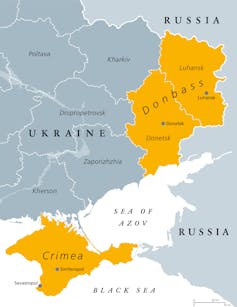 Potential hotspots between Russia and Ukraine, 2021. Panther Media GmbH / Alamy Stock Vector
Why is the U.S. Pulling the Plug on the EastMed Pipeline? (greekreporter.com)
World's longest underwater gas pipeline could run from Israel by 2025 – The Jerusalem Post (jpost.com)
The United Nations General Assembly on Thursday voted to pass a resolution to suspend Russia from the U.N. Human Rights Council Thursday, in response to Russian forces' alleged killings of civilians in Ukraine.
Israel Wants to Replace Europe's Dependence on Russian Gas With a New Pipeline (businessinsider.com)
Israel has proposed that EU countries invest in a multi-billion euro pipeline to carry its natural gas to the continent, noting that the supply from Israel would reduce Europe's current dependence on natural gas from Russia.
The real threat to modern Israel – Atlantic Council
Israel is one of the few countries whose fundamental character is imperiled. But the main threat is no longer external: it is the internal schism between the Haredi minority—the Ultra-Orthodox—and the rest of society that has the greatest potential to change the country at its the core.
The March 23 election could emerge as an inflection point because Haredi behavior during the coronavirus pandemic has underscored divisions, deepened mutual disdain, and convinced many Israelis things cannot continue as they are. There is a clamor for change.
King asleep in mountain – Wikipedia
History of the Jews in Ukraine – Wikipedia
King in the mountain stories involve legendary heroes, often accompanied by armed retainers, sleeping in remote dwellings including caves on high mountaintops, remote islands, or supernatural worlds. The hero is frequently a historical figure of some military consequence in the history of the nation where the mountain is located.
The stories gathered by the Brothers Grimm concerning Frederick Barbarossa and Charlemagne are typical of the stories told, and have been influential on many variants and subsequent adaptations. The presence of the hero is unsuspected; until some herdsman wanders into the cave, typically looking for a lost animal, and sees the hero. The stories almost always mention the detail that the hero has grown a long beard, indicative of the long time he has slept beneath the mountain.
In the Brothers Grimm version, the hero speaks with the herdsman. Their conversation typically involves the hero asking, "Do the eagles (or ravens) still circle the mountaintop?" The herdsman, or a mysterious voice, replies, "Yes, they still circle the mountaintop." "Then begone! My time has not yet come."
PRAGUE, April 5 (Reuters) – The Czech Republic has sent T-72 tanks and BVP-1 infantry fighting vehicles to Ukraine, a Czech defence source told Reuters on Tuesday, confirming a local media report.
Public broadcaster Czech Television initially reported the shipment, showing footage on Twitter of a train loaded with five tanks and five fighting vehicles. It said the shipment was a gift agreed with NATO allies.
The broadcaster said the information was confirmed by the head of the Czech lower house's European Affairs Committee Ondrej Benesik, who told Reuters he received the information from his Christian Democrat Party's expert on defence.
The source, from the Czech defence community, also confirmed that the tanks and fighting vehicles had been sent but declined to give any further details, citing security concerns.
Defence Minister Jana Cernochova told parliament she would not confirm or deny details of Czech aid to Ukraine.
"I will only assure you that the Czech Republic … is helping Ukraine as much as it can and will continue to help by (supplying) military equipment, both light and heavy," Cernochova said.
Ukraine issued urgent pleas for "weapons, weapons, weapons" Thursday as the U.S. prepared to resurrect a World War II-era program making it easier for the president to provide the embattled nation with desperately needed firepower to repel the Russian invasion. Pause
Will Russia be convicted of committing war crimes in Ukraine? Here's what we know.
Ukrainian President Volodymyr Zelenskyy told the Greek Parliament his country needs anti-aircraft defense systems, artillery systems, munitions and armored vehicles to fend off the Russian military.
"The sooner Ukraine receives this help, the more lives we can save in Ukraine," Zelenskyy said Thursday.
Start the day smarter. Get all the news you need in your inbox each morning.
In Brussels, Ukrainian Foreign Minister Dmytro Kuleba lobbied NATO for help: "I came here today to discuss three most important things: weapons, weapons, and weapons."
In Washington, Congress was busy resurrecting a World War II-era program to make it easier to funnel weapons to Ukraine. A bill unanimously approved by the Senate and awaiting House action would temporarily waive requirements related to President Joe Biden's authority to lend or lease weapons or other supplies to Ukraine's government.
© Alexey Furman, Getty ImagesA damaged car is seen next to a heavily damaged apartment building in Hostomel, Ukraine. Hostomel was occupied for more than a month by Russian forces as they pushed toward the Ukrainian capital, before ultimately retreating to Belarus last week.
The bill includes requirements that stop loan periods from exceeding five years, allow the U.S. to take back weapons at any time, dictate the receiving party must pay the U.S. back in full and let Congress prohibit some weapon or supplies transfers via the enactment of a joint resolution.
Kuleba tweeted Thursday he is "grateful" for the Senate's passage of the act and urged the House and president to turn the bill into law swiftly.
Obama said that as president he had to force European countries to challenge Putin's Russia.
Russia annexed Crimea from Ukraine in 2014, prompting some sanctions from the US.
Obama has been widely criticized for not standing up to Russia during his time in office.
Looking to stay up to date on the news? Get our daily newsletter delivered to your inbox.Email address
By clicking 'Sign up', you agree to receive marketing emails from Insider as well as other partner offers and accept our Terms of Service and Privacy Policy.
https://2ead7a6347e58616054f806eba92a861.safeframe.googlesyndication.com/safeframe/1-0-38/html/container.html
Former President Barack Obama said he had to drag Europe "kicking and screaming" to confront Russian President Vladimir Putin while in office.
Obama dealt with several instances of Russian aggression while president, notably the fallout from President Vladimir Putin's 2008 invasion of Georgia and the 2014 annexation of the Ukrainian peninsula of Crimea.
Speaking Wednesday at an event hosted by The University of Chicago's Institute of Politics, Obama said he was happy with Europe's response to the current Ukraine invasion, which has taken the form of harsh sanctions and military aid.
Obama said that it was a change from when he was president.

"As somebody who grappled with the incursion into Crimea and the eastern portions of Ukraine, I have been encouraged by the European reaction," Obama said.
https://2ead7a6347e58616054f806eba92a861.safeframe.googlesyndication.com/safeframe/1-0-38/html/container.html
"Because, in 2014, I often had to drag them kicking and screaming to respond in ways we would have wanted to see from those of us who describe ourselves as western democracies."
Like the US, the EU and UK imposed harsh sanctions on Russia following the February 24 invasion of Ukraine, targeting banks, seizing assets, and severing many trade ties.
In 2014, after Russia annexed Crimea and expressed support for pro-Kremlin rebels in the Donbas region of Ukraine, Obama moved to punish Putin with sanctions on Russian entities, also banning US exports to and imports from Crimea.
The EU also imposed economic sanctions on Crimea.
plus exam at the conclusion of his Burnt Ash Junior education, Bowie went to Bromley Technical High School.[14]
Greece, Norway order expulsion of Russian diplomats (msn.com)
Greece and Norway have announced the expulsion of a total of 15 Russian diplomats, becoming the latest European Union countries to order such expulsions amid increasing outrage over Russia's war in Ukraine.
Senators warn Russia using food as a 'quiet weapon' in bloody war against Ukraine (msn.com)
Republican senators are warning that Russia is using food manipulation as a weapon in its deadly invasion of Ukraine, and are working with Ukrainian leaders to turn attention to the deteriorating global food security crisis.
Marines Turn USS Tripoli into Powerful 'Lightning Carrier' with 20 F-35B Jets (msn.com)
The Marine Corps is flying up to 20 F-35B Lightning II stealth jets from a San Diego-based amphibious assault ship in a test of the "Lightning Carrier" concept to increase firepower in the Pacific.
Germany intercepts Russian conversations on killing civilians in Bucha (msn.com)
BERLIN — Germany's foreign intelligence service claims to have intercepted radio communications in which Russian soldiers discuss carrying out indiscriminate killings of civilians in Bucha.
Why the U.S. is sanctioning Putin's daughters over his war in Ukraine (msn.com)
Russian President Vladimir Putin's two adult daughters are among the targets of new sanctions the Biden administration rolled out Wednesday, with the U.S. response to potential war crimes in Ukraine casting a rare spotlight on the Kremlin leader's family.
As investigators in Bucha, Ukraine, uncovered evidence of torture, beheading and dismemberment, as well as the intentional burning of corpses, Washington said it will work with allies to hold Moscow accountable for its wartime actions and further isolate Russia from the global economy.
WWII-era lend-lease program in US could be lifeline to Ukraine: Live Ukraine updates (msn.com)
Russian Soldiers Refuse To Fight as Morale Deteriorating, Ukraine Says (msn.com)
The claim by the General Staff of the Ukrainian Armed Forces comes amid numerous reports of low morale among Russian troops over the six weeks since the start of the conflict.
Ukraine's military said on Thursday that some Russian units had been placed in tent towns on Russian territory bordering Ukraine and that "soldiers are refusing to participate in further combat in Ukraine."
"The moral and psychological condition of the said personnel is low and tends to deteriorate," its daily update on Facebook said, according to a translation.
It added that Russian forces were continuing to try to replenish their units. They were looking to enlist those who had been discharged from military service after 2012, with a focus on those with certain skills such as drivers, mechanics, and junior commanders.
Obama Says Dragged EU 'Kicking and Screaming' to Confront Putin (businessinsider.com)