In the video above Putin tries to elude the question about Russia taking back Alaska by saying Russia is a "Northern country" – and Alaska is not? The Monster is avoiding saying he wants to take away much land from the United States, but, had no problem with taking the Ukraine. Notice the Smirking Man, a Trump supporter. Is he agreeing the invading Russian soldiers would be happier in a warmer clime?
My Jewish friend, Mark Gall, called me a "Nazi" after I emailed him my posts on the rebirth of Germany in California – that included a video of the marching Chilean army – that the President would like to see – goosestepping into Ukraine – and history! I made a post about the Black Army of Oakland, marching down Broadway to Jack London Square that my black friend removed from his facebook, as did a Black Panther group I belonged to.
Millions of Black People are into their genealogy, and notice their trees are not like White Folk's trees. This is because white people made allot of history – that hangs in those trees! I am going to write Governor Newsom. Mayor Libby, and Vice President Kamala Harris, and bid them to send the Royal Black Fusilers of Oakland to Fort Ross – and prepare to repel a invasion from Killer Putin who promised to "cleanse" Russia of "scum and traitors".
For the first time in American History, the black People can have a major affect on State, National, and World History! Get your dog in – the hunt! I gave Fort Ross to Meghan and her mixed race chilldren, who have been snubbed by the Royals of Windsor. I don't see Charles, William, Kate, and the Queen pledging their support for Zelensky, who appears to be like King David.
God makes history! HIS STORY! You want Alaska? Come and get it you slimy bastards – killers of women and children!
To – Fort Ross!
John 'The Prophet'
https://www.aljazeera.com/news/2022/3/1/what-berlins-u-turn-on-defence-energy-policy-means-for-germany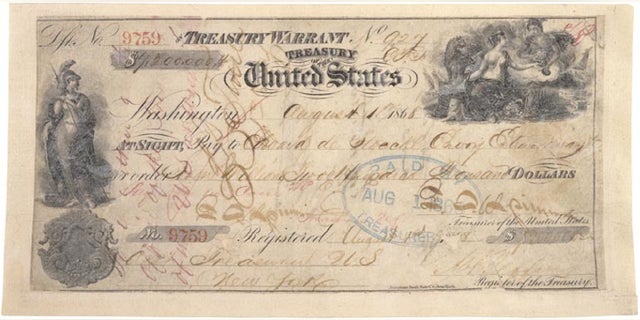 A canceled check in the amount of $7.2 million, for the purchase of Alaska, issued on August 1, 1868. (National Archives)
The label failed to stick after 1896 when hundreds of thousands of people migrated to the territory in search of gold.
A Russian colony was established Fort Ross on California's Sonoma coast in 1812. After several years of struggling to grow crops and tensions with Americans in the area, the property was sold in 1841 after it became clear the area was a financial liability, according to the Fort Ross Conservancy.
The demands made by Matveychev are likely to be ignored as the U.S. ratchets up sanctions on Moscow over its invasion of Ukraine. On Monday, the State Department announced fresh sanctions on President Alexander Lukashenko, the Kremlin's ally in Belarus, and 11 other Russian officials.
On Tuesday, Moscow imposed retaliatory sanctions against President Biden and administration officials. White House press secretary Jen Psaki brushed off the potential impact the measures could have.
"I would say, is that won't surprise any of you, that none of us are planning tourist trips to Russia," she said. "None of us have bank accounts that we won't be able to access. So we will forge ahead."
(21) National Anthem: Russia – Госуда́рственный гимн Росси́йской Федера́ции – YouTube
Posted on May 7, 2021 by Royal Rosamond Press
Here is the e-mail I sent Gavin Newson, the Governor of California.
Dear Governor; I am kin to all members of the Getty family via Elizabeth Rosemond Taylor, and thus all the Gettys are kin to Ian Fleming the author of James Bond novels. I began my own Bond novel 'The Royal Janitor' three years ago. The newest Bond movie has been delayed for over a year due to the Coronavirus. There many not be any profits from this movie. Hollywood must be hurting.
Today, I founded the European Union Kingdom of Helgoland, and made Harry and Meghan Windsor the titular King and Queen of this amazing island. I have suggested this royal couple read the names of the Knights of the Garter whose cote of arms are found in the stalls of Saint George Chapel where both Princess Diana's sons got married. In researching Queen Califia, a African pagan, it occurred to me that Megan could play her in a movie, a propaganda movie aimed at weakening the threat of China. My 9th. grandfather is buried in Saint Georges and has a stall. His son was the Puritan leader, John Wilson.
I just had a vison: As Meghan and Harry take turns reading the list outside their home in Montecito, one by one – they appear – the Knights of the Garter of Saint George. Suddenly, Meghan is transformed into the ancient pagan queen who ruled California. Her court of beautiful Amazons are startled to see these English Knights, and a battle looks eminent. Just then, three ancient Chinese Knights appear – from the past. They are the Dragons of Buddha. They plead for peace, and ask for the Queen and King of Helgoland to help defeat the oppressive rulers of China, and restore the beautiful rituals that made China famous.
My kin, Carl Janke, was a Pioneer of Belmont. His sons wore the flag of the California Fusiliers that were a legitimate militia. Today is Archie Mountbatten-Windsor's birthday. He lives in California. He will soon have a sibling – that will be born in California. His mother has been in great distress due to royal protection not provided her child – and his parents.
What I suggest, is, you reform the California Fusiliers, and have them be bodyguards to all the Windsors who have migrated to our beloved State. They will be financed by The Movie Lottery you will establish, where many citizens of all nations, can purchase stock in all movies made in Hollywood – before they are made! The common people who love Movie Goddesses, can read a synopsis of a script, and purchase a ticket in advance. When the movie comes out, they are given a free ticket to another movie. I see three sequels to California and Her Knights. Contact Meg Whitman to see if she could help make all this possible.
Sincerely
John Presco:
President: Belmont Soda Works
(32) St. George's Chapel – YouTube
Sir Winston Churchill's Garter stall plates – College of St George (stgeorges-windsor.org)
You probably didn't know that California is named after a black queen – (face2faceafrica.com)
Posted on November 28, 2020 by Royal Rosamond Press
A week ago I talked with my friend, Ed Howard, about doing something in Marin City in regards of funding the history of Oakland and empowering black people. There was a protest against racism, and a call to support Black Lives Matter in Marin City where the majority of people were white. I suggested a New Black Panther Party form a all black Navy stationed in Marin. It looks like there would be much support for this. This would bring Black Pride to a city built on the lines of Southern Slavery. Black workers helped defeat Japan and keep a God-man Emperor from putting his legions on our shore. These workers were – thrown away after VICTORY! Families never came back together. To see white men flying a flag my Rosamond ancestors fought under in South Carolina – will not do! History is on the side of Black Patriots!
John Presco
Ed HowardGreg we thank you for your donation so much. You have been a supporter from the beginning. Bless you.
"Midshipman 1st Class Sydney Barber will become the first Black woman to serve as brigade commander at the U.S. Naval Academy in Annapolis, Md."
West Point Graduates Most Black Female Cadets Ever | PEOPLE.com
Sydney Barber Will Be Naval Academy's 1st Black Female Brigade Commander : NPR
BLM Allies protest racism, police brutality in Marine City (thetimesherald.com)
The Marin Shipmates | Rosamond Press
Black Panther Party Gallery and Museum | Rosamond Press
Posted on July 17, 2020 by Royal Rosamond Press
Yesterday, I admitted I have gotten out of shape due to COVID-19. Today I founded the Black Turnverein Channel that hopefully will be broadcast across America. Many black athletes will not be taking the field in our Nation's colleges. I moved to Springfield fourteen years ago and bonded with some of the black Oregon Ducks. For awhile there was a group of blacks who met near the playground to do exercise. I joined them. I was seventy years – young!
With the coming of Black Live's Matter, the whole world is looking at major issues that can, and will change the course of world history. It was traditional for Turnverein Clubs to hold debates of all kinds. These German immigrants go involved in our Democracy and served in the Union Army and helped defeat the Confederate Conspiracy – which is still alive! With my discovery my kin, John Fremont, formed the Radical Democracy Party in order to get Abraham Lincoln to drop out of the rice, opens up a huge field of topics in regards to how thoroughly black slaves were oppressed in the United States.
I would like to see the Black Panthers found a Black Turnverein in Oakland California. There is talk about armed Black Militias. My kin, Carl Janke, founded a Turnverein in Belmont and San Francisco where a armed Vigilante Committee may have been preparing to fight the Confederacy – as well as maintaining Law and Order. These issue are up! This history has returned.
https://www.newsweek.com/armed-black-demonstrators-challenge-white-supremacist-militia-georgias-stone-mountain-park-1515494
I am for seeing armed black groups – if they take advantage of the Turnverein history. I would love to see the Black Panthers marching down Broadway and parading at Merritt College – after the coronavirus is no longer a threat. Being of sound body and mind was the motive of the Turnverein that admitted Jews who went on of the create Muscular Judaism, and, founded the New Israel. Are we to see Jews doing the goosestep in Los Angeles where live the largest Jewish population outside Israel? I have roots in Reformed Judaism.
I highly suggest BLM contact Ursula Von Der Leyen who went to Stanford. Tell her you want to set up a cultural exchange with Germany. Blacks should learn German. English is the language of the slave masters. I would start classical music clubs and learn the goose step that many nations south of the Trump Wall have adopted. I would recognize Cuba, who were taught to goose step by the Russians – who learned it from my Prussian kin. The Germans were for the cultural advancement of the black slaves – they were determined to set free! Germany did take part in the slave trade and there is reparation conversation about the genocide of Africans. Perhaps Germans will donate violins and other instrument to black students – who may not go back to school. The Black Turnverein channel can teach children to play and speak German. Why Trump and the Republicans snub Germany, is to say:
"The enemy of my enemy – is my friend!"
https://www.independent.co.uk/news/world/americas/us-politics/trump-germany-coronavirus-ww2-enemy-allies-russia-putin-a9435906.html
"Donald Trump is suggesting the United States should treat Germany more like an enemy because the two countries were adversaries in World War II as the president again lobbied for closer US-Russian relations."
Huey Newton came up with a plan he titles 'Internationalism'. I know Black Lives Matter has stepped into the Limelight of History – that is on their side! There are around forty-two million black people in America and the same amount for Americans with German roots. I have a vision of black men and women speaking in German in a public place. They are discussing the German and Black Composers. I see a black man standing on stage at Carnegie Hall singing the BLM anthem, a blues number sang to Beethoven's Sonata Claro de Luna. This is the first victory song. as a historian, I testify BLM won it's first victory. We have a major contender on the World Stage.
John Presco
President: Royal Rosamond Press
Sonata Claro de Luna
https://www.ohio.edu/chastain/rz/turnvere.htm
https://www.vqronline.org/essay/what-became-prussian-army
https://en.wikipedia.org/wiki/Goose_step
https://en.wikipedia.org/wiki/Swing_Kids_(1993_film)
Of all the delusions of the pre-Blitzkrieg era none seems stranger today than the firm belief of the democracies that the Prussian Army would stop Hitler. And few have done more damage. As late as last May—after the invasion of Norway and a few days before the invasion of the Low Countries—high English and French government officials were still convinced that the Prussian Army would never allow Hitler to attack in the West, And while the earlier hopes in an open revolt of the Army had faded by then, it was still widely believed that sooner or later the old-line Prussian Junkers would assert themselves and would establish a government in Germany with which a peace could be negotiated.
Yesterday I discovered one of my great grandfathers founded a Turnverein Hall on Bush Street in San Francisco. This hall was a place one could go hear music and practice gymnastics. The Seamens Friendly Union met here, and the Vigilance Committee. Plays were performed, and debates held. This is the radical root of San Francisco that I have traced to the Longshoreman's Hall and the first Acid Tests. The Turner hall offered music and other entertainment as an alternative to gambling and prostitution. My father was a Merchant Marine and would be pleased to know the first institution for furthering sailor rights met in the Bush hall.
Posted on September 14, 2021 by Royal Rosamond Press
Nearly a year ago I founded the Marin Shipmates and Sea Cadets. I'm sure some folks thought I was insane. I founded the New Army of the Potomac. These are The People's Navy and Army, radical forces like the one that humiliated us in Afghanistan. The Chinese People's Navy is now more powerful than ours. I even invented my own Spy Company BAD 'Boilermaker Amalgamated Distilleries' began by an ancient fraternity of Romans who became addicted to Irish Whisky made by Monks at the Fraternal Order of Druids.
Because I have Victoria Rosemond Bond fall in love with her bodyguard, no James Bond fan took me seriously. I had a huge problem taking them seriously as they argued and split fine hairs, declaring one Bond movie after another – A FAKE! I was not about to parade MY MALE BOND before this rude fashion show, like a whore. I was not about to let them see my male Bond's love-making technique in order to get a blue ribbon.
Seer Jon
"The series' look and feel was updated, too. Critics, Verheul points out, drew comparisons between Casino Royale and "the Christopher Nolan Batman movies and The Bourne Identity, which had been huge hits and had a much more realistic style." Bond, however, is such a huge cultural entity that it "can absorb whatever the culture is doing at the time and still be a Bond movie," as Ellard puts it. "Brosnan's first movie, Goldeneye, was full of henchmen getting machine-gunned, which was very much a response to Die Hard and the action boom of the late '80s, [while] over the years, we've had elements of Blaxploitation and [1970s martial arts genre] Chopsocky in Bond. Things even got a bit Thunderbirds-y in the middle of the Roger Moore films."
What the future of Bond movies could look like – BBC Culture
The New Army of the Potomac | Rosamond Press
US Secretary of State Antony Blinken on Monday insisted the Biden administration had prepared for worst-case scenarios in Afghanistan, as irate lawmakers accused the White House of presiding over a historic disaster.
Blinken tells irate lawmakers the US was ready on Afghanistan (msn.com)
Spicer to Biden: Shove it, demand to quit Navy board is illegal (msn.com)
"I have not resigned and will not do so," he said in his response to last week's surprise demand to Trump appointees on various boards.
In digging in for a fight with the highly-political Biden White House, Spicer cited congressional law that keeps presidents from politicizing the military boards such as the one he is on, the Naval Academy Board of Visitors.
Spicer, a commander in the U.S. Naval Reserve, wrote, "termination of membership on an academy board of visitors would be illegal."
He also asked the White House to "identify to me any legal authority" that would OK his firing.
Last week, Catherine M. Russell, the director of White House personnel, in no uncertain terms demanded that former Trump aides, notably Spicer, Kellyanne Conway and budget director Russ Vought, resign in a day or be fired.
The United States has had the largest and most powerful navy in the world since World War II. According to several reports, that is no longer true. China has a large fleet, based on the total number of ships. However, a number of them are extremely small compared to the size of the world's largest warships. Two classes of American aircraft carriers are approximately the same size. The first of these entered service in 1975. The second entered service in 2017.
The older of the two classes is the Nimitz-class carrier, named after World War II Pacific fleet admiral Chester Nimitz. Starting in 1975, the Navy commissioned ten carriers in this class. They are 1,092 feet long and displace 100,000 long tons. These have a maximum speed of 30 knots, and their engines can produce 260,000 shaft horsepower. Each has a crew of about 6,000. The cost for each carrier was approximately $9 billion.
The U.S. Coast Guard recently released a set of pictures of the Legend class cutter USCGC Bertholf shadowing a group of four Chinese warships sailing in America's Exclusive Economic Zone near Alaska's Aleutian Islands back in August. The emergence of these pictures follows the editor-in-chief of Global Times, a newspaper under the direct control of the Chinese Communist Party, taking to Twitter to criticize U.S. Navy operations in the Pacific that routinely challenge many of Beijing's widely disputed maritime territorial claims, especially in the South China Sea and the Taiwan Strait, and warn of tit-for-tat activities on the part of the People's Liberation Army Navy.
This Is the World's Largest Warship (msn.com)
Air Force tests out guided bomb to take out ships (msn.com)
Chinese Warships Sailing Near Alaska's Aleutian Islands Shadowed By U.S. Coast Guard (msn.com)
On Aug. 26, the Air Force Research Laboratory demonstrated the GBU-31 Joint Direct Attack Munition, a guided bomb that could in practice sink an opposing ship. Three F-15E Strike Eagle fighters were armed with dummy versions of the weapon and tried out various ways to deploy it over the Gulf of Mexico.
Posted on January 8, 2021 by Royal Rosamond Press
This morning I awoke at 5:A.M. determined to BORN AGAIN the Army of the Potomac so that never again will our elected leaders cower on their knees in the Sacred Chamber of The United States Senate. I turn on my T.V, to see the news about the death of a Capitol policeman. I am then hearing about the special jurisdiction of the District of Columbia has, that prevented the calling of the National Guard to come to the rescue of The People's Choice – that most Republican's claim were not legally elected to office. Their President LIED AGAIN saying he called the National Guard – right away – at the first sign of trouble! Why should the majority of Real American Voters have to SWALLOW ONE MORE LIE from a mortal being, who thinks he is a god. Trump – IS INSANE!
Mr. Insane wanted to send OUR Army into Portland to restore law and order. Donald Trump watched the mob violence – very carefully – looking for a good excuse to be a BIG MAN to his rabid base. He wanted them to see real troops battling rioters in the street. He wanted to hear their praise and read their CONGRADULATIONS on twitter and facebook. Trump gave the VIOLENT INSTECTIONISTS a guarantee that he would back them with the Army, the Navy, and the Marines! In hours, this MANIAC will be – IMPEACHED! This is – TREASON!
After President Joe Biden, and Vice President, Kamala Harris, are sworn in, I would like to see them give birth to THE NEW ARMY OF THE POTOMIC that was created when Republican President Abrahm Lincoln passed the Thriteenth Ammendment, and FREED me and women who were taken hostage and made slaves. The Abolitionist Repubican Party RIGHTED THE WRONG our founding Father's made, when they did not free the slaves – NOR GIVE WOMEN – the right to vote. Our FLAWED Constitution was signed by men who debated about freeing the slaves. Did they consider giving the vote to half of our young Nation?
I declare the republican Party – DEAD! Let the remnants of this party co-founded by my kindred, John Fremont be born this day in the District of Columbia. Let the citizen who live in this district be allowed TO VOTE so that they can own the power to come to the aid of ALL citizens who come under attack. Donald Trump invited people to the DC to commit acts of violent insurrection. If the citizens of DC knew the sacred building in their district would be left UNGUARDED, they might have marched to this Symbol of Freedom – and surrounded it!
The Marin Shipmates | Rosamond Press
I see the New Army of the Pontomac holding an anuel parade down Pennsylvania. I presented the video of the Native Americans in Chile doing the goosetep to Prussian band music. I told the startled members of this Black Panther group, that no black American should be denied access to any empowerment any white man enjoys anywhere in this world. To quote President Biden…
"Enough is enough!"
Let's have the parade that King Donald wanted – only for himself! Let us hold a annual parade of the People's Army – FOR ALL THE PEOPLE!
Freedom!
John Presco
Chile Military Parade, with Chilean Commentator – YouTube
Prussian Colony In California | Rosamond Press
District of Columbia home rule is District of Columbia residents' ability to govern their local affairs. As the federal capital, the Constitution grants the United States Congress exclusive jurisdiction over the District in "all cases whatsoever".
At certain times, and presently since 1973, Congress has allowed certain powers of government to be carried out by locally elected officials. However, Congress maintains the power to overturn local laws and exercises greater oversight of the city than exists for any U.S. state. Furthermore, the District's elected government exists at the pleasure of Congress and could theoretically be revoked at any time.
A separate yet related controversy is the District's lack of voting representation in Congress. The city's unique status creates a situation where D.C. residents do not have full control over their local government nor do they have voting representation in the body that has full control.
In 2015, D.C. became a member of the Unrepresented Nations and Peoples Organization.[1]
Commanders of the Army of the Potomac at Culpeper, Virginia, 1863. From the left: Gouverneur K. Warren, William H. French, George G. Meade, Henry J. Hunt, Andrew A. Humphreys, George Sykes
Black Panther Party Gallery and Museum | Rosamond Press
This morning I discovered Frank Coakley prosecuted the Black Mutineers at Port Chicago when he was Judge Advocate Commander for the Navy. He would later prosecute Black Panthers – and Mario Savio! I and my family were very good friends with his daughter, Kay Coakley. Kay wanted to adopt my youngest sister. This goes with my discovery that Richard Rosenberg was a founder of Naval societies and interests. I am going to contact him about The Marin Shipmates. I would like him and the Marin-Buck Foundation to fund this museum and gallery.
I discovered this museum after posting.
https://www.oaklandlibrary.org/locations/african-american-museum-library-oakland
The radical dynamics created back in the seventies is back for an encore, and is having a great affect on our American society and culture – and thus the World's. I am sure more black radical art is being rendered as I type. I would like to see a college dedicated to this art. The Oakland Museum had a show on Black Power. This history can no longer be marginalized. It can be shown that Coakley launched a crusade against black people. The paranoia the Newton's experienced was very deserved.
Kamala Harris was a District Attorney of Oakland before she went to San Francisco. If she is elected Vice President, then there will be a great interest n Oakland Culture and political history. Trump is going – The Law and Order approach to being elected. Black Lives Matter, and rioting in several cities, may bring about the defeat of Biden and Harris. This too will deserve a study. Art and Literature has always played a huge role in how we record history. The BPMG will gather all pertinent images so they can be viewed on-line, or at the BP Gallery that will have a home in Marin County.
I am investigating who owns the Black Panther trademark. Any information will be appreciated. It looks like Fredricka Newton does.
Whenever Kay Coakley needed to go to the store, she called her father and he sent a squad car. Kay was the old crone up the street who had a bad car accident when she was young. Her father was the District Attorney. We were impressed.
John Presco
'We see this as a starting point': BLM Allies protest racism, police brutality in Marine City
Laura FitzgeraldPort Huron Times Herald
They gathered in the Marine City High School parking lot Saturday carrying signs that said "Black Lives Matter" and called for an end to racism.
"I just feel we need to spread love and kindness, and not hate," said Kelly Champion, a 21-year-old Marine City resident.
Saturday's protest was organized by the St. Clair County Black Lives Matter Allies group. Champion said when she was in middle school in Marine City, she said she witnessed Black students experience bullying and racism, and she wanted to do something to challenge hate in Marine City.
Gabby Familant, a college senior and one of the organizers of the protest, said the BLM Ally Facebook group was formed on June 12 after St. Clair County residents attended protests in Detroit and Port Huron and decided to create a local group to support and bring awareness to the Black Lives Matter movement.
Midshipman 1st Class Sydney Barber will become the first Black woman to serve as brigade commander at the U.S. Naval Academy in Annapolis, Md.
It's the top leadership post for midshipmen — in civilian terms, the equivalent of a student body president — and she is the 16th woman to serve in the position in the 44 years women have been allowed to attend the Naval Academy.
Poised to take over the role as leader of 4,400 midshipmen next semester, Barber told NPR's All Things Considered that there was a time when she had no desire to attend the Naval Academy.
"I never wanted to join the Navy growing up," she said, laughing.
Her father is a graduate of the Naval Academy, and Barber said, "Everything, everywhere, any time, was all about Navy this, Navy that."
She wanted to "write her own path" but kept returning to her "drive for wanting to pursue a career of service, no matter what I did. I wanted to give back to the world."
As she breaks barriers in pursuit of her goals, Barber is aware of what her achievements mean, not just in the context of history writ large but also for her personal, family history. Just a few generations ago, her great-grandparents were sharecroppers on a plantation in Mississippi, she said.
CREDIT: HALLIE H POUND/AP/REX/SHUTTERSTOCK
West Point celebrated a record-breaking milestone Saturday, graduating its largest-ever class of black women.
The U.S. Military Academy saw its most diverse class ever get their diplomas in 2019, with 34 black women graduating together, and 223 women in total.
The number is the largest since the first female cadets graduated in 1980, according to the Associated Press.
The AP reports that of the class of about 1,000, with 88 Latinos and 110 African-Americans – double the number that graduated just six years ago.
The history-making women posed together for a photo ahead of their ceremony in their uniforms with ceremonial sabers that has since gone viral.
"I just showed myself and those who thought I could do it initially that yes, I can," senior cadet Stephanie Riley told the AP. "And not just, 'yes, I can.' I can show other little girls that, yes, you can come to West Point. Yes, you can do something that maybe the rest of your peers aren't actually doing. And yes, you can be different from the rest of the group."
RELATED VIDEO: West Point Announces Its First Female Commandant Of Cadets
She added that the milestone was extremely important to her considering she previously felt that she had to prove herself more than her West Point classmates.
"Even a classmate told me, I think our freshman year, that I only got in because I was a black female," Riley recalled.
West Point cadets | CREDIT: JULIUS MOTAL/AP/REX/SHUTTERSTOCK
Fellow senior cadet Nikiay Comer, meanwhile, told CNN that the feeling of finally accomplishing her goals was "absolutely unbelievable."
"Personally, I think [the photo] represents where the academy has come from and where they're going," she said. "I think that's a testament to West Point as a whole and also the African-American women who have put themselves in a situation to succeed at West Point. I think that's a good sign."
According to the AP, the military academy was told to diversify by then-Army Chief of Staff Gen. Raymond Odierno in 2013.
RELATED: Morehouse College Will Admit Transgender Men Starting in 2020: This Was a 'Genuine' Process
The school's Office of Diversity, Inclusion and Equal Opportunity was established in May 2014.
The graduation ceremony's commencement address was delivered by Vice President Mike Pence, who noted the day's historical significance.
"I couldn't be more proud to stand before the graduating class of 2019 that includes the highest number of African-American women cadets in the history of the United States Military Academy," he said.
Last year's graduating class had 27 black women, U.S. Military Academy spokesman Francis DeMaro told NBC News.
Posted on August 29, 2020by Royal Rosamond Press
Yesterday I am sitting on the bus bench looking at these two good ol boys come out of a black Japanese-built beater – with a Confederate flag on top. They had big guts and grey hair. They were letting it all hang out after Franklin Graham gave our President ABSOLUTION in the White House Rose Garden. They then went inside a phone store. I debated about crossing the street and yanking that flag from atop the car. These seniors were about my age. Were they looking to go down in a blaze of glory? I then thought about going over and talking to them, inform them I am about to form a branch of the Black Panther Party called…
MARIN SHIPMATES
I bought MARINSHIPMATES.COM before I went to see my doctor. The night before, I watched a old movie about MARINSHIP. It was about the Government BUYING land in Marin County, and city named MARIN CITY to build Liberty Ships – and oil tankers. Then I see King Faidal and his bodyguards coming aboard the flag ship
THE TAMALPIAS
These oil tankers are going to be carrying oil to Japan to help in the war effort – after Japan surrendered! WTF!? Where is this oil coming from? Did the United States just SUPPLY the King with a OIL FLEET built by black workers who were lured from the deep South to work in the shipyards scattered around the San Francisco Bay? I asked myself how many black men have made over a million dollars in the Oil Trade?
Here are aspects of the Buck Foundation that was legally established by the law firm of Robert Brevoort Buck. Robert mishandled the estate of my late sister, the world famous artist, Christine Rosamond Benton. I am going to leave the amazing family history I have compiled in my newspaper-blog, to David Hunt, my daughter's half brother. David father was a Black Panther. I see a all black San Francisco Bay Coast Guard stationed in a United States Reservation for Descendants of Native Africans. I believe the land the U.S. government purchased for Marinship – still belongs to the People of the United States – who were deceived into believing the Marinship ships would benefit the American Taxpayer. I will be applying for several grants from the Buck Institute.
In these historic photographs we are seeing the birth of ISIS and 911. Osama Bin Laden waged war against the corrupt Marriage Contract with Islam and Cooperate Christianity which was pushed by Franklin Graham, and the Red State Neo-Confederate President of One Party that was co-founded by my Abolitionist kinfolk, John Fremont.
As for enlightening Springfield's branch of the Racist Red Right, they surely would have used weapons on me at the end of my short history lesson, they hearing enough in the first twenty seconds.
There is much controversy about the intentions of Beryl Buck when she willed her fortune to the poor people of Marin – which would be the poor backs living in Marin City who came to work on King Faisal oil tankers. Her kin, Frank Buck was a oil and lumber tycoon. He raped the woods around Springfield. She wanted a "religious" foundation of a unspecified nature. Alcohol Justice comes close because AA is a spiritual program. This is why I see Briarcliff College moving into the Buck Institute. Below are images of Ghana's Navy after the display of what looks like a Black Muslin party in Marin.
John Presco
President: Royal Rosamond Press
EXTRA! On August 30, 2020 while rereading this post, I found Richard Rosenberg. He was on the bard of directors of the Buck Institute and Commander of the Naval Reserves. I will be contacting him. In this video we see a Liberty Ship that Richard may have served on. In this video he talks about being poor during the Depression and not being esteemed like the boy in the photo above. Richard head the Naval War College.
https://www.linkedin.com/company/naval-war-college-foundation-inc
The Foundation enriches and further enhances Naval War College programs as defense dollars diminish and the need for officers educated in international security affairs grows. The following are among the many important activities supported by the Foundation: Increasing public awareness of the Naval War College mission, capabilities and accomplishments. Providing financial support to many academic programs and activities at the College for which public funds are not available. These projects range from faculty research, curriculum development and endowed academic chairs to nationally recognized speakers for guest lectures, academic awards for student achievement, and historical document and artifact acquisition for the library and Naval War College Museum.
https://www.jweekly.com/2019/10/04/philanthropist-dick-rosenberg-is-cutting-back-but-hes-not-resting-on-his-laurels/embed/#?secret=jLu1lXFZKp
https://www.usni.org/people/richard-rosenberg
https://www.usni.org/about-us/mission-and-vision
https://www.foundsf.org/index.php?title=Marinship_to_Marin_City:_How_a_Shipyard_Built_a_City
https://en.wikipedia.org/wiki/Marinship#:~:text=Marinship%20Corporation%20was%20a%20shipbuilding,tankers%2C%20before%20ending%20operations%201945.
Posted on August 9, 2013 by Royal Rosamond Press
Clive de Rougemont was head of the Sea Cadets. He is of a Huguenot banker ancestry that fled with much of France's wealth after the repeal of the Edict of Nantes. This family founded Lloyd's of London. I may be kin to this family.
Jon Presco
Marine Society to merge with Sea Cadets
By David Osler
June 03 2004 Lloyds List
THE Marine Society is to lose its independence and merge with the Royal
Navy-controlled Sea Cadets, after being forced to discontinue its training
ship activities for financial reasons.
Both decisions – announced at the organisation's annual meeting in London
yesterday, which was addressed by the Princess Royal – appear to reflect
financial realities determined by the continuing decline in UK seafarer
numbers.
The accounts given to attendees showed that subscription and donation
income totalled just ?43,700 ($80,320) last year.
Expenditure of training activities alone – most notably on the vessel TS
Earl of Romney – was over 10 times that figure.
But although Earl of Romney offered basic sea experience to more than 560
adults and young people last year, the 1957-built vessel is to be paid off
this year, and not replaced.
There is no immediate financial crisis, given that the organisation has
built up fixed assets of around ?8.8m in the centuries since its foundation
in 1756.
However, chairman Clive de Rougemont admitted: "Over the past year, the
council has been doing much soul-searching over the future of the society."
It would be "problematical to say the least" to find the cash for a new
training ship, and a radical solution was needed.
Thus it had been decided to pool resources with another complimentary
charity and to merge with the Sea Cadet Association.
The new organisation will be called The Marine Society and Sea Cadets, he
said.
Practical and legal issues meant that a final timetable had yet to be drawn
up, but fusion was likely by the end of this year.
The merger will take the form of the transfer of Sea Cadet assets and
undertakings to the Marine Society.
The Queen, the society's existing patron, will also act as patron of the
new organisation.
At yesterday's meeting, the Princess Royal paid tribute to the work of both
the Marine Society and the Sea Vision campaign.
To the delight of trade union observers present, her speech noted that
while the government's tonnage tax policy had strengthened the Red Ensign,
it had not boosted seafarer numbers.The Marine Society
From Wikipedia, the free encyclopedia
Jump to: navigation, search
The Marine Society was the world's first seafarers' charity. In 1756, at the beginning of the Seven Years' War against France, Austria, Russia, Sweden and Saxony (and subsequently Spain and Portugal) Britain urgently needed to recruit men for the navy. Jonas Hanway (1712-1786), who had already made his mark as a traveller, Russia Company merchant, writer and philanthropist, must take the chief credit for founding the society which both contributed to the solution of that particular problem, and has continued for the next two and a half centuries to assist many thousands of young people in preparing for a career at sea.
Contents
[hide] 1 Formation
2 Incorporated by Act of Parliament
3 Hostilities cease, Education starts
4 After the Second World War
5 Notes
6 External links
Formation[edit source]
Plaque marking site of the foundation of The Marine Society
The Marine Society, the world's oldest public maritime charity, was the brainchild of a group of London merchants and gentlemen, who first met at the King's Arms Tavern, Cornhill, London on June 25, 1756 to discuss a plan to supply two or three thousand seafarers for the navy.[citation needed] Recruitment began immediately. Sponsors were sought and advertisements for volunteers appeared in newspapers and on the street: