I think Lara, and her father, Cees Roozemond, like my Dutch history I shared, but not the poor leftist Bohemian, attached to it. As a rule, Horse People in America are right-wing Republicans.
The evolution of Victoria Rosemond Bond.
History will tell, the reason Putin invaded Ukraine (for starters) is that he – the richest and most powerful man in the world – ended up with a woman that is right out of Van Gough's 'The Patatoe Eaters'. You could title her 'The Potato Peeler' because she has calves like tree stumps, because, she stands at the sink peeling potatoes all day!
Mystery solved!
I spent twelve hours on the internet looking for a replacement for Rena Easton, who made Ian's Day – he finding and marrying a High Beauty of Class – a ballerina who danced for the Royal Ballet. I found her in the Poet, Lara Roozemond, who like Rena, sent me a poem she wrote. I responded, and she could not believe this old grey-haired nobody was doing a Grand Bonding Job on her. This is why I have Starfish calling John von Bond on his Royal Bullshit – all thru my un-finished Bond Book, A Bullshitter's work – is never done! We see this in the BS of Donald Bond.
I'm going to have Victoria Bond be a Dylan Freak. Owning a extremely high I.Q. and knowing she has arrested development due to her sequestered childhood, she becomes a modern sculptress who flips out to her complete collection of Dylan albums.
"When the staff heard 'Visions of Johanna' echoing thru the halls of Osborne, they knew they were going to hear it a dozen times before she moved on……to the next song."
John von Bond
Lyrics
Ain't it just like the night to play tricks when you're tryin' to be so quiet?
We sit here stranded, though we're all doin' our best to deny it
And Louise holds a handful of rain, temptin' you to defy it
Lights flicker from the opposite loft
In this room the heat pipes just cough
The country music station plays soft
But there's nothing, really nothing to turn off
Just Louise and her lover so entwined
And these visions of Johanna that conquer my mind
Posted on March 19, 2018 by Royal Rosamond Press
I am going to have my Bond Women do walk-ons in my movies made from my books 'The Royal Janitor'. Thank my Lucky Stars for discovering Candida Bond in my blog on Howard Waldon! The women of the rich and royal will play the roles of waitress, maid, flower girl, janitor ect. all those who Serve Man. It will be really chic to spotted in my Bondish flics.
With the marriage of Meghan Markle to Prince Harry, a bond will be made between America and Britain. Royal and rich males will do walk-ons in my second movie. I will be the conduit, an Atlantic Chunnel.
Candida's kin, Lord Howard de Walden, had his portrait sculpted by Rodin. Does Candida know? I will be the Western Cultural Merlin. Howard was a great genealogist and expert on heraldry. When I looked at his genealogy and cote of arms, I saw one of the most complex and detailed family trees I have come across. I wonder if I am Howard reborn. He died in 1946.
I posted this Bond blog yesterday morning. Around three I went shopping and did some composing. I tend to walk around stores in a trance. About nine last night I found Candida. I am blown away. The opening of my book finds Serena on a couch in the basement of Osborne House, fast asleep with a chisel and hammer in her hand. She is covered in marble dust. She is having her dream……………….
"I just found The Muse for my Bond, who will be a woman, who believes she is the embodiment of Camille Claudel, who like Gwen John, was Rodin's lover. She refused to be his loyal disciple, and for being true to oneself, was shut away in a asylum. When I went to visit Rena in 1970, she took me to the art studios and unraveled a life-size clay statue her new lover was doing of – himself!
"Why isn't he using you as a model?"
What I am doing is shuffling in the Getty Family Tree with the Waldon Tree. Dame Elizabeth Rosemond Taylor was born in Britain and was knighted in a feminine manner that Howard understands like no other. Did he meet Camille in Rodin's studio? Did he ever consider he was playing God. SometimesI wonder if I descend from Scribes.
When I told my sixteen year old daughter I was a genealogist of some renown, she looked at me with utter disgust.
"And how much does that pay!"
When we first met, she expected me to hand her the keys to the Bentley parked in back of the Rosamond gallery, with the trunk stuffed with $20 dollar bills!
"Did you look in the glove compartment and find your new credit cards and cellphones? You will call me now and then?"
Royal genealogies are the first Facebook. Making connections is what these people are all about. The fear fathers have of Gold Diggers, is the stuff books are made of. The want of a Honest Matchmaker is so very vital. And then, there are the Nine Muses. Have they made a comeback?
Jon Presco
http://time.com/5197255/facebook-cambridge-analytica-donald-trump-ads-data/
Lord Howard de Walden (1880-1946) was a wealthy British landowner and patron of the arts. He greatly admired Rodin's work, and commissioned this portrait in 1905, when the artist was at the height of his renown. De Walden travelled to Rodin's studio at Meudon, on the outskirts of Paris, to sit for the sculpture. The pose is frontal and, unusually for Rodin, the sitter's expression is passive and calm. According to a story told by his wife, the medal-like marks on the chest of the bust were made during an interval between sittings when de Walden and Rodin discussed heraldry.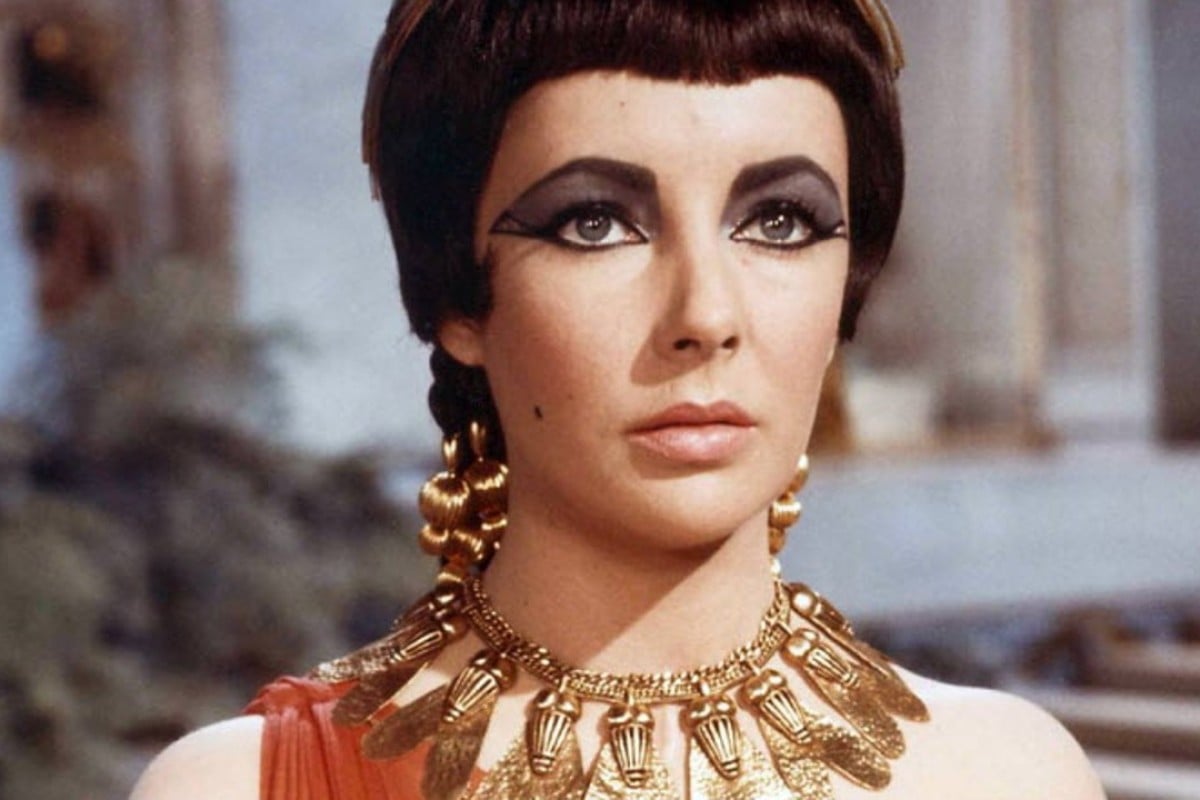 Elizabeth Taylor pictured in a scene from one of her most famous films, 'Cleopatra'.
The catwalk has met the auctioneer's gavel and gone online – offering Chanel-labelled fashion and accessories and one of the late Hollywood actress Elizabeth Taylor's diamond rings.
In a streaming fashion show last Saturday, a California auction house aimed to modernise the auction format with what it called the "first ever runway fashion show auction".
http://www.scmp.com/magazines/style/people-events/article/2122842/elizabeth-taylors-ring-chanel-fashions-first-catwalk
'I wanted to go into the big, bad world'
Candida Bond is the face of Chanel's Allure perfume. She talks to Christa D'Souza about her sculpture, modelling and her high society wedding
By Christa D'Souza
12:00AM BST 30 Apr 2001
CANDIDA BOND is full of apologies. She is nine and a half minutes late for our appointment. "Gosh, I do hope I haven't kept you waiting," she says, as she flies into the room, a vision in tight black Chanel trousers and stilettos. "It's just that I've been in fittings all morning for my wedding dress."
Feat of clay: sculptor Candida Bond suddenly found herself as the exhibit after fashion house Chanel persuaded her to model for its worldwide advertising campaign
That wedding took place on Saturday in Chipping Camden, Gloucestershire, when she married William Stanhope, the handsome, eccentric 33-year-old heir to Viscount Petersham's £100 million London estate. But, when we meet, the ceremony is still a few days off, and it is clear from her frantic air that there are last-minute arrangements to make. The wedding, she admits, is the only thing on her mind. The guest list will include aristocrats and celebrities. But the one person that Bond really wants to be there is the man who made her wedding dress, Karl Lagerfeld.
We are in an oriental-styled room at the glossy London headquarters of Chanel. It's an appropriate venue, considering that 29-year-old Bond has been the face of Allure, Chanel's newest fragrance, for just over 18 months.
"He says he's coming," she says, brightly, her borzoi frame curled up neatly on the sofa, "but we shall see." As her mind wanders to contemplate Lagerfeld's creation, she twiddles her large diamond engagement ring (a family heirloom that Stanhope redesigned) and her cool features break out into a wide smile. "I first saw the dress at the last couture show and I thought: 'Hmm, I wonder if that can be made into a wedding dress?' I saw Karl backstage afterwards and he said: 'Absolutely'. Honestly, it's the most beautiful thing I've ever seen. After the wedding I want to get a dummy and put it in a glass case. It's like sculpture."
This is an apt comparison, considering that Bond is a sculptor. Indeed, it was after a photograph of her, posing next to one of her sculptures, had appeared in Vogue in 1998 that a representative from Chanel called her at her Gloucestershire studio. "At first, I assumed it was a friend playing a practical joke." But a month or so later, she was whisked away to Paris to be photographed by Patrick de Marchelier for a worldwide television campaign, having beaten 600 other hopefuls to land the assignment.
"It was an extraordinary experience," Bond recalls. "I was so nervous – I didn't know what I had let myself into. Until then, I'd only ever been photographed by my mother. Suddenly, here I was, in this enormous studio with 70 crew members. I took one look at it all and felt like saying: 'Can I go home, please?' "
The daughter of Ian Bond, a wealthy landowner, and his wife, Caroline, a former actress, Candida was the eldest of four children and a maddening all-rounder. She swam for England, did well at tennis, plays the piano and the flute ("I played it a friend's wedding recently"), and, from the age of 14, had a great passion for sculpture. But the idea of being a model didn't cross her mind. "Never, never, never!" she insists.
After passing her A-levels, Bond went to Paris, ostensibly to learn French. Instead, she became an apprentice to a French sculptor whose studio she happened upon while walking through the Marais district. When she returned home, her father was not best pleased with her. "I wanted to go out into the big bad world, but my old man wanted me to train my mind. I mean, my brother went to Oxford"
Bond was given an ultimatum; either go to university, or get a proper job. She went for the latter option, and began working for the designer Sir Hardy Amies. But her career quickly changed course when, at 19, she met the artist David Wynne under a painting at the Victoria and Albert Museum. "He asked me if I liked the painting – I can't even remember what it was – and then told me to go home and make him something. Very sheepishly, I turned up at his studio the next day with an appalling piece of sculpture, and he immediately took me on as a pupil."
For five years, Bond was Wynne's muse – posing for him, travelling with him to India, and working with him on various high-profile projects. In 1996, she decided to go solo and, the following year, held her first exhibition at the Air Gallery in London. But then, along came the Chanel contract (which her employer denies is worth £1 million a year, as has been reported) and her creative projects have had to take a back seat.
She misses all of that drilling and chiselling – "the messy, masculine side of my life" – but modelling has definite advantages, even though she winces every time she sees herself on a billboard or gets recognised on the Eurostar (an increasingly common occurrence). For a start, her cupboards are full of Chanel suits and she has made new friends – among them, Carole Bouquet (another, former, face of Chanel) and her boyfriend, Gerard Depardieu, one of Bond's favourite actors.
But what does her new husband make of it? Will, a venture capitalist and mountaineer who used to drive around London in a leopardskin-upholstered hearse, has found the modelling world an eye-opener. As Bond recalls, after taking him backstage following the last Chanel couture show in Paris: "I'm not sure he quite knew where to look."
When the couple return from their honeymoon ("I have no idea where he is taking me, but I hope it's South America because I've never been there") Bond is keen to get back to her sculpture. She is dying to pull on her filthy dungarees, plunge her hands into some clay and forget all about catwalks and visible panty lines.
For now, the maddening all-rounder is happy with the way her two careers are progressing, even though she finds it difficult to juggle them both. "To do two things well is impossible," she says, looking down at flawless French-manicured nails, "but sculpture is something I can do until I'm 90. Modelling has a time limit. And I really couldn't turn down the offer when it came. Imagine all those girls out there who would love to be in my position."
Posted on April 30, 2018 by Royal Rosamond Press
I got another poem by Roozemond in my e-mail. I sent her about five messages. She never responds. I gave her several feedbacks, but, they are not approved. The only response was to those three posts on her facebook, that she asked me to remove.
I think I got a great short story, where an old man is dying, and he chooses this beautiful woman to leave everything to. He knows all the producers in Hollywood, and they want her to come there and do several screen tests. But, she is in such a rush, so busy with her career, she never responds to anything.
The man dies, and leaves everything to an animal shelter. Before he kicks the bucket, he authors the most beautiful farewell poem ever written. It goes into her SPAM pile, where all his e-mails…….go!
She had read only half his first e-mail, and was going to read the rest, when she was not in such a rush. She meant to put it in her save file, but hit the SPAM button instead. From then on her computer recognized the miscreant, and – SPAMMED HIS ASS – but good!
Jon
P.S. Did I just write Lara a poem – she will never read?
Lararoozemond
Leave a Comment
on Hurry
Rush
Rush
I am in a hurry because the day is short
I am in a hurry because the pressure is high
I'm in a hurry because it has to be finished
I am in a hurry because I do not know what to do
I am in a hurry because I have to result
I am in a hurry because everybody is in a hurry
I am in a hurry because I am stuck in a current
I am in a hurry because I have to meet expectations
I am in a hurry because I am wasting my time
I am in a hurry because it is almost tomorrow
I am in a hurry because I do not know what to do tomorrow
I am in a hurry because I have to do so much
I'm in a hurry because I do nothing
I am in a hurry because time is in a hurry
I am in a hurry because it is evening
I am in a hurry because I am not satisfied yet
I am in a hurry because I am in a hurry
I am in a hurry because I am tired
I'm in a hurry
I tired
Posted on April 30, 2018 by Royal Rosamond Press
This is a poem from Lara sent to my e-mail on April 17th. I just found it. Are you getting a message, a cry for "HELP!" ?
No one responds to her poetry, but me. I first sent her a url to this blog when I did. I think she thought it was spam, thought that was all she deserves. It is said life imitates art. The top pic came with the poem. It has occurred to me that if I died, I might be….an angel.
Jon
Lararoozemond
1 Comment
on Flight
Flight
I swim
I swim in a sea of rules
I get stuck in a safety net of fear
Words are shooting through space
Tears are building up
Fires will go flames
Bomb explodes
Hard noise, limited visibility
No oxygen
Run in danger
I run
I run without a final destination
I am hunting but without protection
I get out of breath but I do not stop
I am tired but I ignore that
I'm going on
I'm going on
I do not have to stand still
I need a new adventure
I need confirmation
I have to keep hunting
I have to adrenaline
I have to continue
I flee
and I know why
I'm going to keep the secret
I'm not telling you
You do not know
It does not do anything to you
I'm not hurting you
You do not feel any pain
I hurt myself
I feel pain
I am in pain
I am in pain
au
Stop at au
I stop
I stop for now
I return
I feel small
I want to be myself
I do not want to be myself
I'm stuck
I'm stuck
I'm stuck
I'm stuck
Back to the sea
I'm going to swim again
https://en.wikipedia.org/wiki/Victoria_Bond
Posted on April 30, 2018 by Royal Rosamond Press
Victoria Bond was born on April 17th. This is like a movie within a movie. When I called Lara 'My Wing' I wondered if I had called her my angel…..who is reborn.
Jon
Tragically She killed herself on 3rd July 1965 aged only 35, overdosing on sleeping pills. When someone dies young it is always a sad event, what is most sad about Dyer is how she seems to have been forgotten. Sources for this entry are very few and far between. Maybe she will be rediscovered and more light can be shed on this sad lady who had everything given to her, yet could not find peace and happiness.
Since the dawn of human history, there have been beautiful, rich women who seem to 'have it all'. Some have created enduring ripples (Daisy Fellowes), some have chosen to look beyond their comfortable existence (Millicent Rogers). Even with the current batch of socialites, it can feel like they will linger forever (hardly a thought that fills me with joy….). Having said that, you can seem blessed but you can still be written out of history. Just look at the life, death and blackout of Nina Dyer.
Born Nina Sheila Dyer on 15 February 1930 in Sri Lanka. Her family were wealthy thanks to their tea plantation. Seeking more stimulation, Dyer moved first to London and then Paris for her modelling career.
Posted on November 7, 2017 by Royal Rosamond Press
When I saw the beautiful young woman emerge from the water in the Omega watch commercial, I gasped. Here was the shape of Rena Easton's head. She is a Mermaid. Like me, she is a Time Traveler. Her late husband, and their daughter, were Time Travelers. I told Marilyn I have no dreams of the future, and suggested – there is no future! I have gone into The Past – my past – and then some! I have been trying to steer the ship away from the rocks, and save the world. Have I failed? Have we failed? How many Time Travelers are there? We are………..The Alpha and Omega! I have been chosen to speak to you directly. There have been signs.
"Where are you?"
"Here I am!"
The first question God asked the Man and Woman He created, was…………
"Where art thou?"
He made Adam and Eve in His image. God is a Time Traveler. He is The Time Master. He is………….Eternal!
Rena has long known the world is ending. This is why she came West, to find me. We recognized one another from a Eternal Place and Space that is clear, but, can not completely be made manifest for the reason our bodies are about the business of – living! And, loving. Our flesh recoils at the idea it is limited. This is why World Saviors are rejected. However, there is an eternal element in us all that is attracted to us, and will get in our way – deliberately – in order to prolong life. There is a choice, to give up life, and cross over, to where ones heart, beats to a better time. Sometimes, you have to laugh!
I hereby copyright – TIME! A watch can not be the product. I NOW own all watches, in theory!
Love is The Vehicle. This is why I can not give up the love I have for my muses. I became a sexual being when I was twenty. I was on my way to India. My work with women, is out of this world. Rena and I have met, and loved before. Ian has been with us, we are a triangle. He is the brother – I deserved! Our mission, is, and was, the same.
"Save the world!"
"Save the world!"
Commodore…………Sir Ian Easton, put 'The White Crusader' in the race……………..for time!
We are, the Alpha and Omega. This is our story. We are…………The Chosen! We were at Tyre, with Jesus. I know why he healed those who were born with their afflictions in Mark 7. I have revealed most of the secret of this, as to why Jesus does not want his disciples to tell others what he has done. Why?
The Truth has been covered up – buried! I am chosen to uncover…………The Truth! In 1948, in Boston, Christians censored Jean Cocteau's movie. Cocteau was an alleged member of the Priory De Sion.
"I cannot say how stunned and revolted I was to see the local censors had cut the last half-minute from the film. In the final scene Iseult rushes to her lover's deathbed and arrives too late. She, too, is dying and quietly lies down beside him, yielding up her life in one final embrace. At this point the surroundings melt from sight and by a king of cinematic magic the real eternity of the lovers' story is brought before the eyes.
In Boston, Iseult is never allowed to reach the dead body of her lover. This type of vulgar censorship does not ruin the film but it does ruin the appetite."
Rena is my Iseult. We spent fifty days camping together. Her beauty was utterly overwhelming. It was mind altering. Did she know? She lied about her age. She was not eighteen. I was twenty four. I was in the presence of my elder who gave me a thousand and one looks, like the one give in the Omega ad, and my heart stopped beating a hundred times………..in gratitude! I gave my life up for her, before, and will joyfully do so again.
We have seized the Buck Institute. Prepare to synchronize your watches!
Jon Presco
Copyright 2017
THE SEAMASTER AQUA TERRA GENTS' COLLECTION
OMEGA's Seamaster Aqua Terra has always provided the perfect balance between sophistication and ocean spirit. In the new collection some of the most popular features have been enhanced or subtly transformed to give the timepieces a refreshing new look. Changes have taken place inside too. The collection's new Master Chronometer movements offer extraordinary levels of magnetic resistance.
FREMANTLE, Australia — Officials with Britain's White Crusader syndicate vying for the America's Cup said Thursday they will seek a ruling from the New York Supreme Court on the legality of a new keel cast in Australia.
Ian Easton, a director of the syndicate, said a specially-designed keel was cast in Perth for its yacht.
The British say they may fit it to the 12-Meter before the third round-robin of the challenger series starts Dec. 2.
Both the Royal Perth Yacht Club and the Yacht Club Costa Smeralda – the governing bodies of the America's Cup — have rejected the syndicate's request to use the keel, noting it violates the Deed of Gift stipulation that yachts must be designed and built in the club's native country.
The British maintain any replacement of the original keel should be considered a modification and therefore permissable.
Easton noted the cost of molding a complete new keel in the country of origin plus flying it to Australia would be prohibitive and 'greatly favor the defenders over the challengers.'
The Eternal Return
The Moviegoer
NO WRITER ATTRIBUTED October 9, 1948
In a foreword to his film, "The Eternal Return," the French writer Jean Cocteau explains that the title is borrowed from Nietzsche, and that it means great legends of the past may re-occur without their participants being aware of it. with this interesting idea in mind, M. Cocteau has chosen to present the Tristan-Iseult legend in contemporary settings and in something of the same grand-manner that was to be so successful in his later film "Beauty and the Beast." But, unlike its successor, "The Eternal Return" asks the audience to accept its fairy tale as readily as if it were in today's headlines: "IRATE MATE SPRINGS LOVE TRAP–Wife and Lover Found Souped-up on Love Potion."
If you will allow yourself the indulgence of some of Jean Cocteau's particular brand of photographic sensualness, which is the primary commodity of "The Eternal Return," you will probably have a big time. Otherwise, you may wish that Cocteau had never put the love potion in the medicine cabinet.
The popular conception of the legend doesn't seem to have been tampered with except for the introduction of a dwarf into the ill-fated household. He is about the most repulsive creature imaginable, addicted to listening at keyholes and cutting up flies. It seems a weakness on Cocteau's part to have chosen a freak to personify the evil in the world. But perhaps the choice does not spring so much from Cocteau's philosophy as from a mere theatrical whim. It is just such flaws, and not his experimental miscarriages, which keep Cocteau from getting one of out Genuine Genius Awards which are passed out so frequently these days.
Though the film is directed by Jean Delannoy, it is generally agreed that the quality is Cocteau's. It is a beautifully composed picture; the photography and lighting is not tricky and weird, as might be expected, but soft and strangely caressing; the music is once again by Georges Auric and is most appropriate, the best than can be said of any film score.
In the role of Patrice (Tristan), Cocteau has placed his favorite actor, Jean Marais. Though probably not a very good actor, he serves Cocteau's requirements well enough: he is beautiful, dashing and ethereal. Nathalie (Iseult), is played by a new actress, Madeleine Sologne. The role calls for her to be a little fey, but Mlle. Sologne behaves as if she hadn't read her Master's foreward. She seems, from the beginning, to be "aware" that she is Iseult. She is also too heavily made up for so pretty a young lady and actually is more attractive when the lipstick is gone, and she nears her death.
* * * * *
I cannot say how stunned and revolted I was to see the local censors had cut the last half-minute from the film. In the final scene Iseult rushes to her lover's deathbed and arrives too late. She, too, is dying and quietly lies down beside him, yielding up her life in one final embrace. At this point the surroundings melt from sight and by a king of cinematic magic the real eternity of the lovers' story is brought before the eyes.
In Boston, Iseult is never allowed to reach the dead body of her lover. This type of vulgar censorship does not ruin the film but it does ruin the appetite.
The End Time has arrived for Scientology and other false prophets and prophecies.
Posted on April 30, 2018 by Royal Rosamond Press
I think Lara, and her father, Cees Roozemond, like my Dutch history I shared, but not the poor leftist Bohemian, attached to it. As a rule, Horse People in America are right-wing Republicans.
Jon Presco
https://www.dehoefslag.nl/tag/cees-roozemond
https://en.wikipedia.org/wiki/The_Fountainhead
https://www.youtube.com/embed/dFRR0a0ONLI?version=3&rel=1&showsearch=0&showinfo=1&iv_load_policy=1&fs=1&hl=en&autohide=2&wmode=transparentees Roozemond, here in 2013 with Bert Wassenaar.
It was already in the air, but now it is official. The KNHS reports that Cees Roozemond has been appointed as new chairman at the Members Council meeting today. In this position, he succeeds Theo Ploegmakers, who was KNHS chairman for nine years.
Former chairman KFPS
Cees Roozemond (1959) was chairman of the royal association 'Het Friesch Paarden-Stamboek' (KFPS) from 2005 to 2014. He was also a member of the Board of the Sector Council Horses from 2008 to 2010. In his hometown Bergen NH he was, until recently, owner of Stal Groeneweg. In addition, Cees fulfills numerous other activities: chairman Stichting het Paard van Friesland, chairman of the board of directors of SC Heerenveen, chairman of the supervisory board of Thialf and advisor Logistics Beequip. Cees is married and is the father of three adult children.
'Roozemond dares to renew'
The Confidential Advisory Committee of the Council of Members argued the choice for Cees as follows: 'Mr. Roozemond is a very experienced director and has a large international network. He is well able to connect, is a team player and knows how to present himself well. Because of his management experience at the KFPS, among other things, he has more than enough experience to be a chairman who dares to innovate and is expected to have sufficient experience to guide and support the developments of the KNHS. He has a clear vision. The multi-year policy plan 'Changing hand' will be able to guide and propagate Cees very well. '
'Am looking forward to it!'
Cees Roozemond himself responds positively to his appointment: 'I am ready and I am really looking forward to it. I am confident that we will work together on a beautiful equestrian future with respect for each other and with the look ahead.
Posted on April 30, 2018 by Royal Rosamond Press
This is why Lara has refused to respond to my messages, the first one suggesting we are OF THE HORSE BLOOD! Rosamond means "Horse protection". Hrosmund. Did Cees see my posts, and is furious? What have I stumbled upon – The Priory de Sion – who want to build a GIANT HORSE in the wilderness? Does Cees see his daughter mounting that horse? My God, I have been insulting the shit out of Cees' pet project!
What a story! Lara is destined for Hollywood – and Cees knows it! Watch this video! I am going to write the Dutch Government and suggest they honor our kin Elizabeth Rosemond Taylor at this monument! The truth needs to be told! It needs to get out! Lara has been buried alive! In the scene where she is anointed the Eel Queen, the Pope who is watching on T.V. pushes a button with these letters on it OD. And, out he comes from his room. You see his shiny shoes, then the back of a huge man, heading for his mater. Lara has inadvertently stirred up some real holy shit!
Jon Presco
Lara! She calls to you!
"Come away Lara…..with me!"
https://translate.google.com/translate?hl=en&sl=nl&u=https://hetpaardvanfriesland.nl/&prev=search
A proud and elegant Frysk Hynder in a beautiful location at the gate of the province. A special image that fits in the environment as if it had been there from a long time ago. A familiar landmark for the people passing by, inextricably linked to the province of Fryslân.
The dream location is a place in the area around the head of the Afsluitdijk on the Frisian side. The Afsluitdijk as a symbol of the Dutch battle against water, combined with the image of the Horse, as an icon of Fryslân, will undoubtedly become an attraction of international allure.
On this website you will find all information about this artwork of steel, over 25 meters high which has to be built with Frisian craftsmanship. You can download the newsletter and you can read the latest messages that have appeared in the media. And not unimportant, you can become a friend of Het Paard van Fryslân via our website.
If you would like to know more about this project, please view the detailed project description .
Share this: