There is no Beat-Bohemian leadership in America. Christine's parents and Boston house is in my book 'The Gideon Computer' – that is coming true! I am….The Last Bohemian Standing! It looks like I was chosen to do Revelations that many deluded evangelicals assign to EX-president, Donald Trump who made a fake cote of arms.
John of Bohemia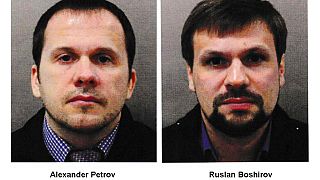 "Alexander Petrov" and "Ruslan Boshirov", since identified as GRU agents Anatoly Chepiga and Alexander Mishkin, are wanted in connection with a blast in the Czech Republic – Copyright AP
SHARE THIS ARTICLE
Czech police are hunting the two Russians wanted over the 2018 Salisbury poisonings in the UK in connection with a massive explosion at a Czech arms depot in 2014.
The country expelled 18 Russian embassy staffers on Saturday, who were accused of being intelligence operatives.
Detectives said they had ascertained Russia's military intelligence agency, the GRU, had been involved in the deadly blast in October 2014 in the eastern town of Vrbetice, in which two workers were killed.
The Czech Republic's coalition government is on a collision course with the country's populist president after it vowed to end controversial security arrangements at Prague's historic castle, established supposedly to prevent terror attacks.
Vít Rakušan, the interior minister, said he would ask police and security services to review measures in place at the 70,000 sq metre complex, which is the country's most visited tourist attraction and also the official residence of the Czech president, Miloš Zeman.
Writing on Twitter, Rakušan, a member of the liberal Mayors and Independents party (Stan), decried the metal detectors and armed officers guarding the castle's four entrances as a "war fortification" that marred its status as a revered emblem of national identity.Advertisement
"Prague castle is a symbol of Czech statehood," he tweeted. "It belongs to all of us. And we are not really all terrorists, as we may now feel when we visit it. I have asked the relevant institutions to review all the security measures that have created a war fortification around the castle."
Rakušan told Czech journalists the police would seek the opinions of all relevant bodies. "They will assess and comment on the necessity of the existing measures and possibly work on a new security regime," he added. "I believe an assessment of the current massive measures is in order."
The stringent regime – requiring visitors to empty their pockets and put their possessions on a conveyor belt – was fiercely criticised when it was introduced in 2016 after Islamist attacks in Paris and Brussels. The checks caused long queues at the castle gates, with guides complaining that they increased the time and cost of organised tours.
Critics insisted the castle's status as public property rendered such measures inappropriate, while doubting the credibility of an Islamist threat in a country with a small Muslim population.
Some claimed the steps were prompted less by fear of terrorism than anger over a stunt carried out in 2015 by anti-Zeman activists, who managed to access the castle roof and fly a pair of large red boxer shorts in protest at the president's vocal support for authoritarian regimes in Russia and China.
Zeman's office said the security measures had been implemented on police advice.
While there was no immediate response on Rakušan's comments, Zeman is likely to resist any change to the arrangements. His office accused two MPs from the interior minister's party of "spreading misinformation" last month when they wrote an open letter to him calling for the security regimen to be lifted.
Zeman, whose term ends in 2023, has spent little time at the castle recently. He was admitted to Prague's central military hospital with an undisclosed illness the day after a parliamentary election last October and spent 46 days there before being taken to the official presidential countryside retreat in central Bohemia, where he has been recuperating.
The last official occupant of the castle to be attacked was Reinhard Heydrich, who was head of the Nazi occupation administration running Bohemia and Moravia during the second world war. He was ambushed by British-trained Czechoslovak resistance fighters in 1942 and later died of his injuries. Heydrich did not live in the castle because he feared it was an easy target but was travelling there in an open-topped car when he was attacked.
The castle is thought to date back to 870 when its first walled building was constructed. It was later the seat of ancient Bohemian kings and the Holy Roman emperor. Adolf Hitler spent a night there after Nazi Germany invaded Czechoslovakia in March 1939.
Posted on July 23, 2018 by Royal Rosamond Press
For several years I have been trying to bring to the attention of the Austrian Government the existence of the large canvas at the University of Oregon Museum titled 'The Last Audience of the Habsburgs' that was smuggled out of Austria. Alas, I have found just the right person. He is my kindred, Karl Schwarzenberg, who himself had to flee a oppressive regime. Karl opposes Putin, and backs Britain. I will contact him and see if he would like to come give a talk on this painting. His relative, Prince Felix Schwarzenberg, restored the Habsburg Empire.
John Presco
President: Royal Rosamond Press
https://www.huffingtonpost.com/lan-anh-vu/how-i-got-there-karel-sch_b_9043274.html
Prince Felix of Schwarzenberg (German: Felix Prinz zu Schwarzenberg; 2 October 1800 – 5 April 1852) was a Bohemian nobleman and an Austrian statesman who restored the Habsburg Empire as a European great power following the Revolutions of 1848. He served as Minister-President of the Austrian Empire and Foreign Minister of the Austrian Empire from 1848 to 1852.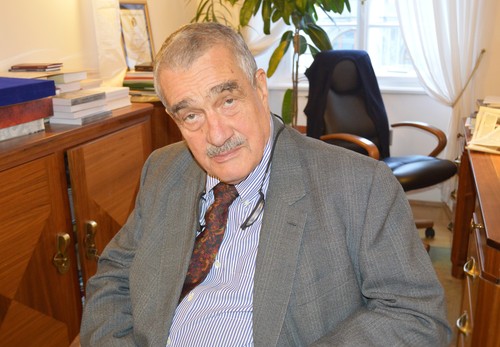 Karel Schwarzenberg is the Prince of Schwarzenberg, Duke of Krumlov, former first Deputy Prime Minister and Minister of Foreign Affairs of the Czech Republic and honorary Chairman of Top 09 party. Schwarzenberg was also a Member of the Senate of the Czech Parliament and a candidate for the President of the Czech Republic in the 2013 presidential election. He is noted as a pro-European member of the center-right governing coalition.
Schwarzenberg's family, who once ranked among the oldest and wealthiest aristocrats in Central Europe, had to leave the Czechoslovakia after the Communist coup of 1948. He spent most of his adult life in Austria to plot against communism. He is a great proponent of human rights and has been for his entire life. In 1989, he was awarded, together with Lech Wałesa, the Council of Europe's Human Rights Award. Lan Anh Vu sat down with Schwarzenberg to learn more about his political life, the challenges he faced and his advice for young people across the world when it comes to pursuing a career in politics.
As told to Lan Anh Vu
My Career in Politics
In my early childhood, I was an observer of politics. In 1948, when the Communists took over, I was ten years old when I had to leave the Czechoslovakia and move to Austria. When I went to the school in Vienna to study law, I engaged in some political activities and became active in promoting human rights. At Munich university where I studied Graz and forestry, I was elected to student government. Due to the early death of my adoptive father, Jindrich Schwarzenberg, I had to cut my studies short and start managing the family properties.
From 1984 to 1991, I became president of the International Helsinki Federation for Human Rights. I pushed for human rights in Europe and was negotiating the question of human rights in the former USSR, Bulgaria, Kosovo and the Czech Republic.
When the Communist regime fell in 1989 , I returned to live in the Czechoslovakia and work for the late President Vaclav Havel. In 1990, I was appointed as the Chancellor of the Office of the President.
Some people told me I should become a senator. I first ran in the senate elections in 2002 and was unsuccessful, and in 2004 I ran again, succeeded and was elected a senator. Three years later, I became the foreign minister of the Czech Republic. Politics has been a constant part of my life ever since childhood.
My whole life I fought for liberty and democracy. I always thought that if you had opportunities ahead, you have responsibilities and should do something for your country.
http://daughternumberthree.blogspot.com/2013/12/the-girl-in-last-audience-of-hapsburgs.html
When this unfinished canvas was first exhibited in Eugene fifty years ago, it was described as a "painting with a history as romantic as old Vienna." Given that it was smuggled into the United States in a carpet roll by a political refugee, this claim is not unfounded.
The artist began the work in October of 1918 at Schönbrunn Palace, where the young Empress Zita (1892 – 1989) received an audience of war orphans and a group of wealthy noblewomen, the Organization of War Godmothers, who had "adopted" them. Within hours, Empress Zita (shown seated on her throne), her husband, and their own eight children were forced to flee across the Swiss border because of the contentious political climate. Despite several attempts, they were never able to reestablish themselves on their thrones; both the Emperor and Empress died in exile.
Posted on July 26, 2021 by Royal Rosamond Press
Capturing Beauty
Capturing Beauty
by
John Presco
This morning I looked at homes for sale in Lincoln Nebraska. I found one on Rose St. that flamed my imagination. In 1970 I got off the train in Lincoln Nebraska to see Rena. I told her my idea to come live in Lincoln and find a studio where I would paint her. This was my destiny. It is not too late to…..come home to my Bohemian People. I bought a vintage camera that uses film. I could find models and do Bohemian fashion shots – and paintings! I googled models and beauty pageants in Nebraska….and here she comes, my vision again.
The first book of Capturing Beauty is coming to a close. When you save a beautiful young maiden, you must never let her go. You must follow her to the ends of the earth. You must have her, like King David had to have Bathsheba. Since I last say Rena Easton in Lincoln Nebraska, I solved the riddle of the ages. I know the relationship between Jesus and David.
Journalism in Czech Blood: The Rosický's of Omaha | Everything Czech | by Tres Bohemes
My first blog, The Bohemian Democratic Register, crashed, or was sabotaged. It was named after the Eugene Democratic Register that Joaquin Miller was the editor for. He was a member of the Bohemian Club that was made up of Writers, Artists, and Journalists.
My famous sister was there on the pier when I met Rena Easton Christensen who lived with her grandmother in Grand Island Nebraska. She knew I found my new muse. When Christine saw the second painting of Rena I did in 1971, she took up art and was hard pressed to tell people why she was painting beautiful women. I have the antidote that will end – my published book!
1347 Rose St, Lincoln, NE, 68502 | realtor.com®
I have followed The White Bohemian Roses seen in this painting of the Habsburgs. I traced my Rosamond kin to royal Bohemians. I found the Rose Sword and Grail. I own the greatest Art Story – of all time! I will go and live in Nebraska, on Rose Street. I will be with – my people! I will promote my people, here, and abroad! I will search for beautiful young women, there, so I can capture their beauty with a brush – and a lens! I will be famous! Art Justice – will prevail! I have persevered!
John Presco
President: Royal Rosamond Press
Czech Bohemian Austrian Art | Rosamond Press
Some people are meant for each other. They are meant to be! They own a destiny together. On the phone Rena said;
"I love you more afar – then near!"
(38) Czech Moravian Folk Music – YouTube
The Wilson-Leigh Line To Bohemia | Rosamond Press
My New Blog – Bohemian World Design | Rosamond Press
The Bohemian Rose of the World | Rosamond Press
John Wilson Risen From The Dead | Rosamond Press
In the 1860s, many Czechs primarily from Bohemia and Moravia immigrated to Nebraska. Edward Rosewater and John Rosický, early Omaha newspaper editors originally from Bohemia, encouraged countrymen to come by extolling promises of free land in frontier Nebraska. By 1880 Czechs were the most concentrated ethnic group in Omaha. …
Komenský Clubs were founded in Nebraska, including in Omaha, Lincoln and other cities where there were numerous Czech immigrants. When the Bohemian National Alliance was formed in 1914, its midwestern district was headquartered in Omaha. Czechs in the city helped promote Bohemian independence after World War I. The nation of Czechoslovakia was created in the break-up of the Austro-Hungarian Empire. By 1920 an estimated 3,500 immigrants lived in Omaha's Bohemian Town.


Czech Nebraskan – Wikipedia


Bohemians of Nebraska (geni.com)
Omaha, Nebraska, October 9th, 1912, having come to this country when thirteen years of age. The women in her family were noted for their fine cooking, so that she acquired her art through a natural inheritance. However, while good cooking is in the main an inborn art, it can be learned by perseverance, patience and diligence. – ROSE ROSICKÝ.
Omaha, Nebraska, March 25th, 1915.
Robert Oscar Presco, born 1899 – Ancestry®
Victor William Presco 1923-1994 – Ancestry®
Wenzel Preskowitz was born in month 1858, at birth place , to Anton Preskowitz and Maria Preskowitz (born Studcika) .Anton was born in Bohemia. Maria was born in Bohemia. Wenzel married Christine Preskowitz (born Roth) .Christine was born in Germany.They had 3 children: Oscar Presco and 2 other children .Wenzel passed away in 1941, at age 82 at death place , Connecticut.
Wenzel Preskowitz – Historical records and family trees – MyHeritage
Posted on June 15, 2021 by Royal Rosamond Press
John & John
Idea For Netflix
by
John Presco
Ms. Jean Katrina Easton liked to meet strange men who wanted to see her, out in her potato field. She could tell a man's character by how he made his way through the uneven ground, there always a stray spud to trip you up. When she saw John-John coming her way, she took the straw out between her teeth, because from here….she wanted to give him – such a kiss. She was told he was a big spud grower, but, she took him for another wanna-be Spud King. Now, by the way his narrow hips kept an even-keel while his long legs instinctively found good ground – like a horse in a creek full of boulders – this tuber dude made her stomach flinch. Was he the breeder she had been looking for – aching to get her long legs around – for all these years?
James Bond warned John-John about not getting into any esoteric conversations with this very volitile woman. Her mother tried to kill Richard Wagner. She blamed him for the death of her sister, Natalia Wood. Ekatirina did not follow in her sister's footsteps, she claiming Hollywood had ruined and destroyed everything she loved. She ran away with a leftist radical from Berkeley and lived in Cuba where they hung with Che Guevera. From there they went to Mother Russia. It was while in London she ran into Admiral Ian Easton of the British Defence Staff. And, she had to have him, and give him – such a kiss! In three days, they got married.
When Jean came to town (Bozeman) she liked to wear a cape. She had a collection. In the photograph above she is wearing her satin summer cape with sheer see-trough body-suit perfect for the hot Montana evenings. Jean loved Boho Fashion. She got goosebumps when fake cowgirls insulted her – told her she had no family values, and, was a traitor to her country. She grinned ear to ear as she swore at them in perfect Russian.
"What did you just call me you friggen vampire?"
Jean knew ancient Russian kick-boxing that the Verangian Guards developed when they guarded the Caesars. Like her mother, she kept to herself. When Jean and Ekaterina came to town together, folks cowered, and slunk away. There was some superior genetics at play. As John-John got closer. Jean whispered under her breath…
"I'm going to marry that man!"
-In three days they were honeymooning at the Saint Francis Hotel. While in bed drinking champagne, John-John made a confession.
"I'm bored silly growing patatos. I want to open a Private Detective firm. I love Sam Spade."
"Me too! I got a whole collection of Pulp Detective magazines and dime novels. Let's get a office in the old downtown!"
And, that's how John&John Private Eye got started.
Posted on August 27, 2013 by Royal Rosamond Press
Rena Easton now led me from the art department to Morrill Hall where once was housed the artwork belonging to the University of Nebraska. Rena pulled me upstairs to the second floor, then like a couple dancing – she released me with a flair onto the wood floor!
My beloved muse now began her dance. With her long cape flowing after her she came to stand before a painting on the wall that she appeared to be holding up with two hands for me to behold.
"This is one of my favorite works!" Rena declared, and then gave me the title of the painting, and the name of the artist! Then, with a skip and a twirl across the dance floor, she stood before another work.
"This is__ ___I like this work because of the ______!"
Rena now ran to the opposite wall, did a turn and framed her next choice. I am blown away! I am looking at the most beautiful woman in the world in a green velvet cape give me a tour of the artwork in her town. She has prepared this private showing, for me. There is no one in the gallery – but us! On Saturday morning in Lincoln, all good Cornhuskers are worhipping their beloved football team. The Artist and Muse have the whole place – to ourselves!
I can not begin to describe how honored I felt. This young seventeen year old, got it! Rena – got me, and now understood what I was about, what we were about since we made eye contact on Venice Beach.
"Who are you?"
"I am your beloved Muse."
"Why have we come together?"
"We seek the Holy Grail.'
As I beheld this miraculous art lesson given by my Muse, I recalled the last picture we made together. I was glaring at Rena in the Greyhound bus depot in Winnemucca as she sat next to James, who told me Rena did not want to talk to me, because she was afraid of me.
"Yeah! Right! Like I was not afraid she would leave me for another man – from the day we met!"
I dared anyone to prevent me from looking at this beautiful young woman, now, like most men have – with lust in their heart. Now that we were not a team, and now that I did not have to fight off a legion of males – icluding my friends – who lusted after her, I now wanted to enjoy Beatuy as they enjoyed her. I took in her sexiness. I undressed her. I did naughty things to her body. I raped her with my eyes – as any complete stranger would! I had me a good ol time, now that I don't have to be a knight in shining army anymore. I, felt normal for the first time since we met. Gone was the gaze into the waves, and the weird-ass question from some kind of nut;
"Where are you?"
Alas, I was a member of…..the audience!
Meanwhile, in the background, Robert Delano is running all over the station trying to catch a bat with his coat to the amusement of this obese bag lady with swollen legs.
"Would you look at that man! He's gone crazy!"
Her whole body shook like a bowl of jello. She laughed like the Laughing Lady at Playland at the Beach. She now let go a huge bellow as Bob climbed on a wooden bench, then made a mighty leap into the air – like a super hero! If Robert held a rapier, he would look like one of the Three Musketeers.
I had to chuckle, because if he managed to catch that bat, he would present it to Maiden Rena, the girl of his dreams – down on one knee.
"Let Bob be the Phantom of the Opera, my understudy who spiked my lover with No-Doz so he could get the lead.
From my position as total stranger, my eyes relayed this message to Maiden Rena;
"I'm done getting down on one knee for you."
Men are such liars!
The last look I gave Rena as she prepared to board, said this;
"C'mon Rena! Is this our Swan Song? Is this the best you can do! How….uninspiring! Look at Robert, he's doing a ballet for you! The Ballet of the Black Bat!"
Jon Presco
Copyright 2013
Raymond and Ian In Nebraska | Rosamond Press
The Queen Is Admiral of Nebraska | Rosamond Press
Journalism in Czech Blood: The Rosický's of Omaha
BY KYTKAMAY 28, 2019SHAREFACEBOOKTWITTERPINTEREST
If you are a lover of Everything Czech and are especially fascinated with Czechs in America, then surely you have heard of the Rosický's of Omaha or come across A History of Czechs (Bohemians) in Nebraska. Compiled by Rose Rosicky (Růžena Rosicka) in Omaha, Nebraska in 1929. This special historical book (documents all important Czech organizations, publications, schools, artists, religion, settlement of counties and other important things, in which Czechs in Nebraska have participated.
Rose Rosicky (Růžena Rosicka) was born July 22, 1875, in Crete, Nebraska to Marie and John Rosicky. She came to Omaha in 1876 as a baby when her parents moved there and she lived there until her death in 1954.
For many years she was her father's secretary. After her father died, she became the Associate Editor of the Osveta Americka, Hospodar and Kvety Americke III. She translated Ramona by Helen Hunt Jackson and The Price of the Prairie by Margaret Hill McCarter in addition to many other stories and articles. She is responsible for editing five volumes of the Pioneer Almanac, for which she also prepared the translations. She also translated History of the United States by also S. E. Forman. All the foregoing were translations from English into Czech.
From Czech into English she translated her mother's cook book Bohemian-American Cook Book, Tested and Practical Recipes for American and Bohemian Dishes (below) and other books and stories by the following leading Czech writers: Karel V. Rais, Gabriela Preissova, Ruzena Svobodova and Bozena Vikova-Kuneticka. She has compiled several handbooks for farmers and the home, as shown in the list of publications.
The Czechs did not leave their native land to establish a utopian society in America. They came to make a better life for themselves and their children.

Nebraska History, Fall/Winter 1993
You have also surely seen Bohemian-American Cook Book, Tested and Practical Recipes for American and Bohemian Dishes (An English Translation of the Cook Book Published in the Bohemian Language and Compiled by Mary Rosicky. Printed and Published by the National Printing Co., Omaha Nebraska 1915.
This book was written by Rose's mother, Marie Rosicky. In the cookbook Rose writes some interesting things about the immigrants of the Czechs at that time…
I have translated the cook book compiled by my mother for two reasons: First, because we continually receive inquiries for a Bohemian cook book written in the English language, from the daughters of our Bohemian immigrants, who were born and raised here and do not read Bohemian as well as their parents. Second, to serve those American housewives who wish to try foreign dishes.
The Bohemian fathers and mothers deplore the fact that their children have Americanized so quickly, that in the second generation their mother tongue is half obliterated. We can see their side of it, those immigrants who left their fertile and beautiful land because long years of despotism, class prejudice, heavy taxation and other unjust vexations have made it well-nigh impossible for a poor peasant or laborer to better himself there. The average American can have no conception of what it means to tear one's self up by the very roots, leave one's native land and dearest relatives forever, start life anew in a strange country, and learn a new language.
On the other hand, we can see clearly the childrens' side of the situation. They have been born, raised and educated in America, and this country will always be their home. Their parents' land is to them but a picture or a story. Among our people in the country settlements the children talk and even read and write Bohemian to a greater extent than in the cities, but in any event it is safe to say that with the third generation the large majority cease to be Bohemians, except in name.
Each country has its special style of cookery, and I think that is one way of preserving the nationality to a certain extent and for a time at least, for we all like those dishes which our mothers prepared for us. If the daughters cook like the mothers did, and teach their daughters to do likewise, it will at least be a reminder of our parents' native land.
As far as the demand of American housewives for foreign cookery books is concerned, that is no doubt brought about by the ever increasing custom of traveling abroad, which of course makes cosmopolitans of us. The average American, who travels only in his own country and does not live near settlements of industrious and progressive foreigners, generally has about three names for all Europeans, namely: Dago, Dutchman or Swede. Of the Slavs he usually knows nothing at all. It is different with the American who has been abroad. If he is at all intellectual and observing, he knows that there is culture and crudeness in all nationalities, and that aside from certain racial characteristics, we are all the same human beings, with the same struggles, sorrows, hopes, aspirations and problems.
Perhaps the present war has done more to open the minds of Americans to the status of the various nationalities composing Europe, and the relation they bear to each other, than anything else. And when it comes down to cooking itself, the real cook, no matter what her nationality, is always eager to try something new. I know that the American housewife will find many new and tasty dishes in this book.
My mother, Mary Rosický, was born in Klatovy, Bohemia, December 8th, 1854, and died in Omaha, Nebraska, October 9th, 1912, having come to this country when thirteen years of age. The women in her family were noted for their fine cooking, so that she acquired her art through a natural inheritance. However, while good cooking is in the main an inborn art, it can be learned by perseverance, patience and diligence. – ROSE ROSICKÝ.
Omaha, Nebraska, March 25th, 1915.
I'm personally fascinated with the Rosický's of Omaha because mother, father and daughter were all involved in some sort of writing and publishing as am I with my daughters. Like the frustrated newpapermen and journalists of days gone by, oftentimes we feel like our leadership is also unappreciated. Sadly, we've also come close to closing this website down for lack of funds. This is why we can relate to this quote from Nebraska History, Fall/Winter 1993.
Newspapers were the most important medium keeping American Czechs aware both of happenings in the many Czech settlements in the United States and of developments in their native land. Between January 1860 and the spring of 1911, a total of 326 Czech newspapers and journals (predominantly weeklies) were published. Most were short lived, lasting less than a year. Their publishers and editors were for the most part self-educated men dedicated to helping and advising the new immigrants. Their leadership was not always appreciated. Readers often failed to pay subscriptions, causing the financial failure of many sincere and useful journalistic efforts. One editor, in announcing the demise of his weekly, wrote bitterly in 1874: "It is hard to make a living in America with a pick and shovel, yet it is even harder for a journalist. I am throwing away the pen which made three prime years of my life so miserable … I will not even say whose fault it is. I mention only that I could not publish the farewell issue of the paper because I lacked money to buy newsprint, even though the Czechs owed me $800." On the other hand, religious, political, and ideological animosities among some competing newspapers ran high and, in many instances, contributed to bitter relationships among their readers.
Thomas Capek in his book, The Cechs in America says: "The roster of pioneers would be incomplete without the name of John Rosicky of Omaha. A self-made man, Rosicky came to be recognized as one of the forceful members of the journalistic profession. In 1877 he took over from Edward Rosewater the weekly Pokrok Zapadu (Progress of the West), then a small sheet, without influence and without readers. In time Rosicky raised the Pokrok Zapadu to the front of Cech weeklies. That his tastes were higher than mere commercial journalism he proved in 1884, when he set up the Kvety Americke, the first genuine attempt at a Cech literary periodical. Bravely the Kvety Americke strove to live up to the programme outlined in the prospectus of the publisher. But the most ambitious plans of a publisher are doomed to miscarry, if the reading community fails adequately to support him. Tiring of recurring deficits, Rosicky was forced to modify his original plan with the Kvety Americke. Out of the compromise emerged in 1903 a publication called Osveta Americka (American Enlightenment), half commercial, half literary. By far the most profitable of Rosicky's ventures proved to be an agricultural paper, the Hospodar (The Farmer).
This publication now claims a larger circulation than any other agricultural paper printed in the Cech language. Rosicky was a newspaper man and not an author, although he published his translation of the Nebraska School Laws and a brief booklet, businesslike and to the point 'Jak je v Americe' (Conditions in America) for the guidance of newly-arrived compatriots in America. A man of compelling individuality, he rendered helpful service to the settlers west of the Missouri river."
So what do we know about Rose's father, Jan Rosicky?
Jan Rosický was born on 17 December 1845 in the town of Humpolec, Czech Republic, to averagely wealthy parents. Since elementary school, which he attended in Humpolec, he showed keen abilities, his father allowed him to go and study in Prague, where he stayed for two years. Unfortunately, his father's financial circumstances had changed so much that they did not allow the promising young man to continue his studies so he returned home to his parents.
When he was 16-years-old, he and his uncle (his father's brother) went to America, arriving in the spring of 1861. Soon his parents came to visit him, too, and they were able to purchase a small farm in Grant County, Wisconsin. Jan spent nearly four years working hard with his parents at the farm. After that, he went to Milwaukee for 6 months and thereafter to Chicago because he wanted to experience a wider field in which to find work. When he first arrived in Chicago, he got a job in a flour and forage shop, and shortly afterwards he set up a separate grocery shop, from which he also ran a canal and insurance business.
In Chicago and as a member of Sokol of Slavonic Lipa and Glagolitic, Rosicky participated diligently in all the Czech and national movements of that time. He was also a gifted and tireless amateur writer. From this period we can see the first beginnings of his journalistic activity date; he was a regular correspondent to the Racine paper, Slavia and to the Národné noviny in St. Louis, and when these latter were later moved to Chicago, he became their co-editor.
In a terrible fire in 1871, which destroyed much of Chicago, Jan Rosicky, like a hundred other compatriots, lost all of his possessions. It upset him to the extent that he fled and went all the way to the Pacific coast. He spent some time in California and Oregon and after two years he settled in Crete, Nebraska in the spring of 1873, where he set up a grocery store.
From his travels to the West and Northwest, Rosicky diligently wrote letters to the weekly Pokrok Západu, which was founded in 1871 by the late Ed. Rosewater. These letters were of great interest to both the publisher and all the readers, as they seemed to reveal the writer's keen observational talent.
When, in 1876, the current editor of Pokrok Západu resigned his seat, Jan Rosický became his successor. In 1900, Pokrok Západu became a part of the Pokrok Publishing Company. However, Rosicky was not satisfied with the publication of only one magazine. His efforts carried on further. In 1884 he founded the magazine Květy Americké, but their publishing stopped after three years, because it was not financially successful. Later he founded Knihovnu Americkou, but it also did not last long. It was the same sad fate also met by Květy Americké. In 1900, Rosicky became associated with Osvěta, which Rosicky bought from S. L. Kostohryze and he gave it a new name, Osvěta Americká.
Certainly, Jan Rosický's most important and largest journalistic enterprise is and will remain Hospodář, a fortnightly devoted to the interests of Czech-American farmers. This magazine was founded by Rosicky in March of 1890 and it is believed that he never dreamed of how much success he would achieve with that publication. Rosicky had another warm desire in his heart which he wanted to see realized. He intended to build his own building for the purpose of the printing and publishing of his papers where he would be chairman and director. He accomplished this goal. John G. Rosicky, president of the National Printing Company and president of the National Building Company, had as the basis of his business advancement thorough educational training, supplemented by laudable ambition and unfaltering determination.
The building was built on a valuable piece of land in the commercial center of Omaha, on the S.S. corner of 12th and Harney Streets.
Jan Rosický also took part in civic and community activities. He was one of the oldest members of Gymnasium Jednota Sokol in Omaha. He was a co-founder of the Mystery Czech-Brethren Union, whose body he managed since its foundation. He was an ardent member of the Free Community of which he was a speaker, and he also belonged to the Association for Cremation (the Burning of the Dead). As a citizen he was counted among the foremost men of the city of Omaha, and indeed the entire State of Nebraska, in whose installation he did a tremendous job. Ústřední Matice Školská (The Central School) in Prague, česká Útulna and the Chicago Orphanage lost a warm friend and enthusiastic supporter when Jan Rosický passed away.
But the greatest credit given to Jan Rosický must surely be for establishing and implementing the Czech-American Press Office, for if it hadn't been for him, it would never have been a national (and very important) undertaking. In recognition of the merits of those elected, Rosicky was also its first chairman. As you can see, the Rosický's of Omaha are among our most notable Czechs.
As for his private life and family circumstances, it should be noted that the family of Jan Rosický was one of the happiest and most coziest Czech families in Omaha. Rosicky proved himself to be a careful father and exemplary husband. Rosicky met his wife Mary (born Marie Bayerova in Klatovy in 1954) during his first stay in Chicago. Their we wed in Omaha in 1874.
Mrs. Rosická described her first experience in America in an issue of Hospodář. She wrote, "After my father's death, I came to this country in 1869, namely to my uncle who lived in Louisiana, Mo. And my uncle acknowledged the first thing I needed to learn was English, which he said was best learned through labor. I went to work on a farm that had slaves, not far from Louisiana. The workers on the farm were mostly blacks, the cooks too, and I got to know southern life. My uncle negotiated my salary for 50 cents a month. I cried and was so excited at that time! I was there for a whole year and I saved $5." Mary continued, "For two years I served in a cafeteria in the Machov area in St. Louis, and I arrived in Chicago in 1871 where I met my future husband."
The Rosicky couple had a total of eight children, of which four survived to adulthood. They were: John, who was married and occupied a favorable position with the Nebraska Telephone Company in Omaha; Ladislav, employed in the work of his father, Rose, active as her father's secretary and then taking over much of his work after he died, and Emma, a teacher at the public schools in Omaha.

John Rosický attended work for the last time on Saturday, December 4, 1909. At that time, he still seemed to be completely healthy and at full strength. However, when he arrived at his home residence at 1015 William Street, he fell ill with symptoms so severe that members of his family considered it appropriate to call the doctor immediately, who noted the patient had developed brain inflammation. From this horrible diagnosis, however, John soon woke up, and it appeared that there was a chance of permanent recovery. He also appeared to have a complete clarification of the mind, and everyone believed he the terrible illness would pass. But this was not to happen. A tumor began to form and John Rosicky died prematurely.
The news of his death caused widespread commotion everywhere because everyone had hoped for his full recovery. Mr. Rosicky remained an active factor in the publication of these papers until his death, which occurred April 2, 1910. The funeral of Jan Rosický took place on Tuesday, April 5, 1910, from the "Sokol Omaha" building on 13th Street with a huge participation of friends and acquaintances of the deceased at the Czech National Cemetery in Omaha. After the relevant ceremonies in the Sokol Hall, which had been mournfully decorated, the coffin and the deceased were lifted and inserted into the hearse so that all the flowers and wreaths would be deposited in the womb of the earth at the aforementioned cemetery.
His widow survived until August 15, 1912, when she, too, passed away in Omaha.
Rose's parents, no doubt, had a profound influence on her life and her life's work.
The Rosický's I've written about today have died and were buried, but the memory of their merits will not disappear. Among those deserving Czechs whose names grew with the history of the Czechs in America, the names of Jan Rosický, Marie Rosický and Rose Rosický will always be found in some of the leading places.
As you drive into the Bohemian Cemetery in Omaha, Nebraska, the first monument that you see is the John G. "Jan" Rosicky memorial.
The Bohemian Cemetery is located at 5201 Center St, Omaha, NE 68106 .
Ending Notes
Beginning on August 1, 1871, Pokrok Západu, or "Progress of the West" was published as a weekly Czech-language newspaper in Omaha, Nebraska, by the well-known publisher and editor of the Omaha Daily Bee, Edward Rosewater (1841-1906). Born in Bohemia, Rosewater immigrated to the United States in 1854. Known for his feisty temper, Rosewater aggressively espoused in his papers Republican Party views on issues such as slavery and immigration. The success of Pokrok Západu was immediate, in part because one in five immigrants of Czech descent lived in Omaha and other Nebraska communities. Sold at $1.00 per week, the paper often included works of fiction and poetry, articles on farming, reminiscences of the Old Country, as well as news of the day. Pokrok Západu was a large format paper at 15″ x 22″ and had a circulation of 20,000 by 1880.
In March 1876, Jan Rosický (1845-1910), also originally from Bohemia, became the editor of the paper, purchasing it from Rosewater in 1877. Previously, Rosická had edited the Hospodář ("Farmer"), an important agricultural magazine that encouraged Czechs to immigrate to the United States. Under his leadership, the Pokrok Publishing Company was formed, and gradually Pokrok Západu became an important regional newspaper for Czech communities in Nebraska, Kansas, Minnesota, Iowa, and the Dakotas. In the years that followed, the Pokrok Publishing Company produced various local editions of the newspaper. They included: Creteský Pokrok (Omaha & Crete, Nebraska), or "Progress of Crete," 1905-19??; Pokrok (Clarkson, Schuyler & Omaha, Nebraska), or "Progress," 1903-20; Kansaský Pokrok (Wilson, Kansas), or "Progress of Kansas," ;19??- 20; Iowský Pokrok (Cedar Rapids, Iowa), or "Progress of Iowa," 1906-19??; Minnesotský Pokrok (Minneapolis, St. Paul & Omaha), or "Progress of Minnesota," 1908-20 (formerly St. Paul's Minnesotský Noviny, or "Minnesota Newspaper," 1904-19??); and, finally, Dakotský Pokrok (Tindall, South Dakota), or "Progress of the Dakotas," 19??-19?? Source: Library of Congress.
Willa Cather, celebrated author of the book My Antonia wrote to Rose Rosicky in 1933. We're the noted source of that letter and you can read it in our post entitled, Willa Cather and Her Love of Czechs.
Following Jan Rosický's death in 1910, the publishing enterprise continued under the direction of his daughter, Rose Rosický (1875-1954). Pokrok Západu and its extant local editions were finally absorbed into Chicago's Hlasatel, or "Newsreader," in 1920. Rose Rosický later published A History of Czechs in Nebraska in which she praised her father as a pioneer and leading newspaperman of his day.
We know that you could spend hours, days, weeks and months finding some of this information yourselves – but at this website, we curate the best of what we find for you and place it easily and conveniently into one place. Please take a moment today to recognize our efforts and make a donation towards the operational costs of this site – your support keeps the site alive and keeps us searching for the best of our heritage to bring to you.
A History of Czechs (Bohemians) in Nebraska
Book documents all important Czech oragnizations, publications, schools, artists, religion, settlement of counties and other important things, in which Czechs in Nebraska have participated.
Compiled by Rose Rosicky, Omaha 1929
Find the table of contents with all original text under the following link.
History of Nebraska Czechs – Incorporated
After the success of and in Omaha, Milligan, Dwight and Wilber Czech Festivals a request came for a state organization of Nebraska Czechs wherein other Czech communities could work together in the preservation of Czech heritage and culture.

On May 11, 1963, at a public business meeting in Wilber the state organization was formed. The local Wilber group became the "Nebraska Czechs of Wilber" and superimposed over that a state organization called the "Nebraska Czechs Incorporated."

The first officers and directors of the Nebraska Czechs Inc., were: Eugene Zajicek, Wilber, president; George Barnas, Wilber, vice-president; Helene Novak Baer, Wilber, secretary; and Frank Kohel, Wilber, treasurer; and directors were Alfred Novacek, Dwight; Lloyd Ourecky, Wilber; Vladimir Kucera, Lincoln; Will Janecek, Wilber; Ann Libor, Omaha; Ray Houska, Wilber; Elsa Skocpol, Crete; and Hugo Srb, Lincoln.

The general nature of the Corporation is to develop and encourage interest, research, and inquiry into the culture, traditions, and history of the Czechs immigrants to the United States and to Nebraska only as they and their descendants brought them to America . . . not as they might have existed in Czechoslovakia or as they might exist today. The "Nebraska Czechs Incorporated" has no connection with any individual, organization, or policy in Czechoslovakia. The "Nebraska Czechs Incorporated" attracts public attention to the customs, culture and heritage of Czechoslovakian by advertising, sponsoring of exhibitions, celebrations, and other events. The state organization also acts as a clearing house for communications pertaining to all chapters, coordinates Festivals and entertainment dates, furnishes coordinated publicity to all chapters, and sponsors the Nebraska Czech Queen Contest.

Dwight was the first Czech community to be granted a charter under the Nebraska Czechs Inc., and it became "The Nebraska Czechs of Dwight." Each added chapter retains the name "Nebraska Czechs" and adds the name of its own town or community. Dwight became Chapter One in 1963 with Alfred Novacek as president. Wilber became a chapter member in: 1963 with Eugene Zajicek, president. Thethird charter was granted to President Edward Varejcka for the Czech Club in Schuyler. The Omaha Czech Club, one of the oldest Czech organizations in Nebraska, affiliated with the Nebraska Czechs Inc., in 1964 with Dr. Richard Svehla as president. The Komensky Club, a Czech Club in the University of Nebraska under the advisorship of Dr. Vladimir Kucera, became the fifth chapter of the state organization. Larry Jiskra of Crete was president. This is a flexible group since students remain in the University for a period of four years.

The Nebraska Czechs Inc., meets eight times a year at a central place or is hosted by a chapter member in its own community.

One of the requirements of the Organization is that each chapter sponsors some Czech entertainment at least once a year. Sponsoring annual Czech Festivals are The Nebraska Czechs of Dwight and The Nebraska Czechs of Wilber. The Nebraska Czechs of Schuyler conduct an annual Czech Music Festival each June. The Nebraska Czechs of Omaha and The Nebraska Czechs of Lincoln present annual spectaculars each spring and winter. Additional events may be featured by each chapter.

The wearing of the Nebraska Czech costume is encouraged by each chapter at its event. Although the Nebraska Czechs, Inc., uses the general idea of the Czech national costume, it discourages the imported costume and encourages individually designed and locally made costumes. In the competitive contests where the costume might carry weight with the judges, all imported costumes are disqualified.

A Nebraska Czech Seal was adopted by the state organization for its use by all chapters as a guarantee to the buyer that all Czech handcraft is of high standard, is bona-fide, and is made by local Czech handcrafters, that it is not imported or made by other non-Nebraska Czech groups. The Seal in its various media is controlled by the State Organization and is sold to each chapter for a small fee. In addition to annual chapter dues of $10.00, the sale of these seals is the only source of income for the Nebraska Czechs Inc.

The Nebraska Czech Seal was designed by Walter A. Baer as an emblem for the Czechs of Nebraska. It is a seal depicting a prairie scene with a plow and a sheaf of wheat with the slogan "Pioneer of the Prairie" across the front of it. The Prairie is the land where the Czechs settled and which they conquered The plow depicts the soil which they broke to make productive, and the sheaf of golden wheat indicates the wealth which they helped to produce in our great state. The seal is reproduced in various media and it is used as a trademark on all souvenirs. Because of the Czechoslovakian political situation we do not sanction or permit the sale of any imported Czech articles and we discourage any other import as a Czech souvenir.

Each chapter holds a local Czech Queen contest annually. The winner of these local contests then compete for the Miss Nebraska Czech Queen title at Wilber during its annual festival. The Nebraska Czechs. Inc., organize and conduct the queen contest on the state level. The state queen then represents the Nebraska Czechs Inc., at all events including the Miss Nebraska Pageant held annually each June. Nebraska Czech Queens chosen were: Jane Pospisil Buckner, Wilber, 1962; Susan Sasek, Wilber, 1963; Bonita Krula, Schuyler, 1964; Susan Kunc, Wilber, 1965; and Janis Kovar, Wilber, 1966. The Nebraska Czechs Inc., has justified its existence in its four years of organization by promoting the aims and desires of the Czech people of Nebraska to be recognized and respected. Its future influence to promote the culture and heritage in the minds of other generations will depend on the organiza