For several years I have been trying to bring to the attention of the Austrian Government the existence of the large canvas at the University of Oregon Museum titled 'The Last Audience of the Habsburgs' that was smuggled out of Austria. Alas, I have found just the right person. He is my kindred, Karl Schwarzenberg, who himself had to flee a oppressive regime. Karl opposes Putin, and backs Britain. I will contact him and see if he would like to come give a talk on this painting. His relative, Prince Felix Schwarzenberg, restored the Habsburg Empire.
John Presco
President: Royal Rosamond Press
https://www.huffingtonpost.com/lan-anh-vu/how-i-got-there-karel-sch_b_9043274.html
Prince Felix of Schwarzenberg (German: Felix Prinz zu Schwarzenberg; 2 October 1800 – 5 April 1852) was a Bohemian nobleman and an Austrian statesman who restored the Habsburg Empire as a European great power following the Revolutions of 1848. He served as Minister-President of the Austrian Empire and Foreign Minister of the Austrian Empire from 1848 to 1852.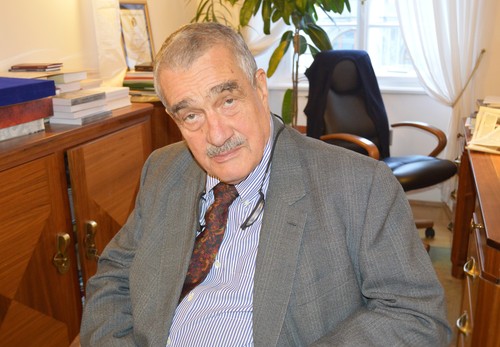 Karel Schwarzenberg is the Prince of Schwarzenberg, Duke of Krumlov, former first Deputy Prime Minister and Minister of Foreign Affairs of the Czech Republic and honorary Chairman of Top 09 party. Schwarzenberg was also a Member of the Senate of the Czech Parliament and a candidate for the President of the Czech Republic in the 2013 presidential election. He is noted as a pro-European member of the center-right governing coalition.
Schwarzenberg's family, who once ranked among the oldest and wealthiest aristocrats in Central Europe, had to leave the Czechoslovakia after the Communist coup of 1948. He spent most of his adult life in Austria to plot against communism. He is a great proponent of human rights and has been for his entire life. In 1989, he was awarded, together with Lech Wałesa, the Council of Europe's Human Rights Award. Lan Anh Vu sat down with Schwarzenberg to learn more about his political life, the challenges he faced and his advice for young people across the world when it comes to pursuing a career in politics.
As told to Lan Anh Vu
My Career in Politics
In my early childhood, I was an observer of politics. In 1948, when the Communists took over, I was ten years old when I had to leave the Czechoslovakia and move to Austria. When I went to the school in Vienna to study law, I engaged in some political activities and became active in promoting human rights. At Munich university where I studied Graz and forestry, I was elected to student government. Due to the early death of my adoptive father, Jindrich Schwarzenberg, I had to cut my studies short and start managing the family properties.
From 1984 to 1991, I became president of the International Helsinki Federation for Human Rights. I pushed for human rights in Europe and was negotiating the question of human rights in the former USSR, Bulgaria, Kosovo and the Czech Republic.
When the Communist regime fell in 1989 , I returned to live in the Czechoslovakia and work for the late President Vaclav Havel. In 1990, I was appointed as the Chancellor of the Office of the President.
Some people told me I should become a senator. I first ran in the senate elections in 2002 and was unsuccessful, and in 2004 I ran again, succeeded and was elected a senator. Three years later, I became the foreign minister of the Czech Republic. Politics has been a constant part of my life ever since childhood.
My whole life I fought for liberty and democracy. I always thought that if you had opportunities ahead, you have responsibilities and should do something for your country.
http://daughternumberthree.blogspot.com/2013/12/the-girl-in-last-audience-of-hapsburgs.html
When this unfinished canvas was first exhibited in Eugene fifty years ago, it was described as a "painting with a history as romantic as old Vienna." Given that it was smuggled into the United States in a carpet roll by a political refugee, this claim is not unfounded.
The artist began the work in October of 1918 at Schönbrunn Palace, where the young Empress Zita (1892 – 1989) received an audience of war orphans and a group of wealthy noblewomen, the Organization of War Godmothers, who had "adopted" them. Within hours, Empress Zita (shown seated on her throne), her husband, and their own eight children were forced to flee across the Swiss border because of the contentious political climate. Despite several attempts, they were never able to reestablish themselves on their thrones; both the Emperor and Empress died in exile.
The unsettlingly incomplete canvas mirrors the frustrated desires of both the artist, who spent the rest of his life wandering the globe, and the people pictured in it, many of whom were displaced in the aftermath of the First World War. Yet the audience members wear placid, even bored expressions as the children present their flowers, betraying no portent that one of the oldest dynasties in Europe would crumble within a matter of days.
Die akademische Malerin Susanne Renate Granitsch wurde am 21. Mai 1869 in Wien geboren und verstarb am 2. Dezember 1946 in Wien. Ihre Großeltern waren Georg Ignaz Granitsch und Susanne Granitsch, geb. Schmidutz. Ihr Vater, Dr. Georg Granitsch (1833 – 1903), verheiratet mit Augusta Antonia Granitsch, geb. Panstingel, war in Wien als Advokat tätig. Neben Susanne Renate Granitsch, ihrer ältesten Tochter, hatte das Ehepaar Dr. Georg und Augusta Granitsch noch zwei weitere Kinder, Edith Granitsch, verh. von Schickh und Dr. Robert Granitsch, der bereits 1937 verstorben ist. Da Dr. Robert Granitsch nach der NS-Gesetzgebung mit einer "Halbjüdin" verheiratet war, wurden seine drei Kinder, Susanne, geb. 1899, Dora, geb. 1904 und Lorle, geb. 1912, nach der Machtergreifung der Nationalsozialisten in Österreich verfolgt, wobei Dr. Susanne(!) Konirsch, geb. Granitsch, und Lorle Kornfeld, geb. Granitsch, in die USA flüchten mussten. Dora Granitsch heiratete den Rechtsanwalt Dr. Franz Hiller und überlebte in Wien. Bei Susanne Renate Granitsch deutet hingegen aktenmäßig nichts darauf hin, dass sie während der NS-Zeit aus rassistischen oder politischen Gründen verfolgt worden wäre. Sämtliche Anfragen, sowohl beim Matrikenamt der Israelitischen Kultusgemeinde, beim Bundesdenkmalamt, als auch im Österreichischen Staatsarchiv (Bestände der Vermögensverkehrsstelle, der Finanzlandesdirektion Wien, des "Hilfsfonds", des "Abgeltungsfonds" und der "Sammelstellen") verliefen negativ. Auch wurden von den Erben von Susanne Granitsch nach 1945 keine Rückstellungsverfahren angestrengt. Auch ihre 81jährige Großnichte, die einzige Verwandte, die Susanne Renate Granitsch noch zu Lebzeiten gekannt hatte, bestätigte, dass Susanne Renate Granitsch während der NS-Zeit weder als Jüdin noch aus politischen Gründen verfolgt worden ist. Im Februar 1938, knapp vor der Machtübernahme der Nationalsozialisten in Österreich, erwarben die Städtischen Sammlungen, die zu diesem Zeitpunkt schon einige Werke der renommierten Künstlerin Susanne Renate Granitsch besaßen, von dieser das Porträt eines Universitätsprofessors: Susanne Renate Granitsch verstarb am 2. Dezember 1946 in Wien. Mit Einantwortungsurkunde des Bezirksgerichtes Innere Stadt-Wien vom 27. März 1947 wurde Edith von Schickh aufgrund des Testamentes der ledigen und kinderlosen Susanne Renate Granitsch vom 30. August 1937, in dem diese ihre Schwester zu ihrer Universalerbin bestimmt hatte, in ihren Nachlass eingeantwortet Edith von Schickh hatte die Jahre 1938 bis 1945 in Wien verbracht.
An den Gemeinderatsausschuss für Kultur und Wissenschaft Stadtsenat Gemeinderat Vierter Bericht des amtsführenden Stadtrates für Kultur und Wissenschaft über die gemäß dem Gemeinderatsbeschluss vom 29. April 1999 erfolgte Übereignung von Kunst- und Kulturgegenständen aus den Sammlungen der Museen der Stadt 3.2.6. Zusammenfassende Darstellung betreffend den Erwerb von Kunstobjekten aus der Sammlung der akad. Malerin Susanne Renate Granitsch durch die Städtischen Sammlungen, 14 8 2003