Here is the vision of my Nebraska Muse coming true! Irene (Rena) Victoria Christensen was living with her grandmother in Grand Island Nebraska when we met. She married Commodore Sir Ian Easton of the British Defense Staff Washington, and they had two children. They lived on the Isle of Wight where my story begins. 'The Royal Janitor' is a propaganda novel (and movie?) began to counter Russian hackers. I depict Rena and as Helen and Britania of Nebraska. Her beauty – inspires me! She is the American Beauty with duo-citizenship. Does Russia and China have such beauty that could compare to our American Masterpiece? I doubt it. Hers is the face that launched a thousand ships.
Inspiration is where you find it! We will prevail! Hail Britania!
John Presco
The Muses, still with freedom found,
Shall to thy happy coast repair;
Blest Isle! With matchless beauty crown'd,
And manly hearts to guard the fair.
"Rule, Britannia! rule the waves:
"Britons never will be slaves."
(38) Rule Britannia – Last Night of the Proms 2009 – YouTube
Where Rena And I Met | Rosamond Press
Secret Intelligence Service – Wikipedia
Nebraska Admiral (formally, Admiral in the Great Navy of the State of Nebraska) is Nebraska's highest honor, and an honorary title bestowed upon individuals by approval of the Governor of Nebraska, the only triply landlocked U.S. state. It is not a military rank, requires no duties, and carries with it no pay or other compensation. Admirals have the option of joining the Nebraska Admirals Association, a non-profit organization that promotes "The Good Life" of Nebraska.
The Warlock of Windsor Castle | Rosamond Press
U.S. says China is resisting nuclear arms talks (msn.com)
US Navy denies warship was 'expelled' from South China Sea (msn.com)
The Royal Janitor | Rosamond Press
Posted on March 17, 2018 by Royal Rosamond Press
'The Royal Janitor'
by
Jon Presco
Copyright 2018
Sabrina Victoria Eastman could not get to Osborne House fast enough. When she got behind the wheel of her 1961 Jaguar she named 'Grey Cloud' the young women who picked her up at the airport tried not to show that she had been warned. She was two shades a pale grey when they arrived at the palace built for Victoria and Albert. She tried to keep up on unsteady legs. The blood was returning to her hands now that she unloosened her grip. As they made their way into the basement she realized she had an experience better than sex. She was a virgin. All her blood veins were alive with an energy she did not know existed. She felt adventurous, and nauseous. She knew she would never be the same.
At the stainless steel door, Sabrina stopped, pointed up, and asked;
"What does that say?"
It says………."I can tell that you are quite left-leaning."
"Why is it there?" Sabrina asked.
"To remind us to never underestimate anyone. And, never think for a second a whacked-out poet-artist and Bohemian type, is not a true patriot."
A Russian Government hacking operation aimed at the US power grid did not compromise operations at any of the nation's commercial nuclear power plants, federal regulators and the nuclear industry say.
Key points:
Trump administration accuses Russia of a plot to penetrate America's electricity grid, factories, water supply and air travel
US national security officials determined Russian intelligence was behind a broad range of cyberattacks starting a year ago
Corporate networks at some of the 99 plants licensed by the Nuclear Regulatory Commission were affected by the 2017 hack
Posted on March 16, 2018 by Royal Rosamond Press
With Great Britain leading a united force against Putin. I can come to the end of our amazing story, that Rena did not know about. She is the Muse of the Ages.
Caspar John is in my rosy family tree. He was a Sea Lord, and half-brother of Poppet Pol (John) There is no doubt that Rena's late husband, Commander Sir Ian Easton, and John, knew each other. Tabitha Getty is Caspar's second-niece. She was a Bohemian fashion model, and step-mother of John Paul, who was abducted. John is the subject of a movie and television series titled 'Trust'. Why are these knighted men marrying beautiful American women? May I dare wonder?
Rena was the muse of my late, Christine Rosamond, and I. This is the love story of our time. The children born at the end of the World War were given a special mission. Rena and I were destined to meet – and part – so our spirits can rescue Britain from her enemies. Britannia rules the waves! Like Phoenix Birds…………..We will rise from the ashes?
"We now come to the History of Jon.
Jon, Jôn, Jhon, Jan, are all the same name, though the pronunciation varies, as the seamen like to shorten everything to be able to make it easier to call. Jon—that is, "Given"—was a sea-king, born at Alberga."
King Henry the second claims he descends from Trojans. I have compared Rena to Helen of Troy – and the goddess, Britannia! I began a painting of her as Fair Rosamond, who captured Henry's heart. This King of England placed her in a Labyrinth. I can not yet reveal what the movie 'The Shape of Water' revealed to me. It has much to do with Pharamond, the King of Franks.
I am going to contact Boyle and send him a movie script 'Capturing Beauty'. If he won't produce it, I will send it to de Toro.
Everyone wants to overlook the truth that I rescued Rena in the City of Venice, by the sea. At the premiure of OUR MOVIE, we will unite. When she comes down the isle, the audience will stand as one, and sing: for the world is saved by many means, but, it is the love the artist has for his muse, that forever gets our special attention. This is what we come back for, again, and again.
The Muses, still with freedom found,
Shall to thy happy coasts repair.
Blest isle! with matchless beauty crowned,
And manly hearts to guard the fair.
Jon Presco
President: Royal Rosamond Press
Copyright 2017
Posted on July 20, 2019 by Royal Rosamond Press
Irene Victoria Easton-Christensen……The Face that launched a thousand ships.
John
https://www.cnn.com/2019/07/20/middleeast/iran-tanker-seizure-intl-hnk/index.html
Posted on September 11, 2018by Royal Rosamond Press
My psychic visions are coming true. Russia's navy is back. Is America and NATO ready?
by Task and Purpose
The Navy says tackling this threat requires a shift in mentality across the force.
The Russian and Chinese navies have become increasingly active in the North Atlantic over the last five years, necessitating a return to a "competitive mindset" among U.S. Navy commanders, Chief of Naval Operations Adm. John Richardson said Monday.

"We're talking about more [activity] than we've seen in 25 years," Richardson said of Russian naval movements in the North Atlantic in an interview with Voice of America, adding that the Chinese Navy "is certainly a pacing competition for us in terms of the naval threat."

Vice Adm. Charles A. Richard, the new head of U.S. Submarine Forces and Allied Submarine Command, put it more bluntly when he assumed command on August 3: "Prepare for battle!"
Rosamond Press
Victoria Bond had many dreams of a Ghost Fleet. I mentioned John Dee in July. Now it is clear…….Here comes the Royal Navy John Dee founded!
I have been working on a transition from my Bond book, to my Tolkien book. Now I see a movie about John Dee. I was born to write the screenplay and be the Art Director. I will title this move 'Sea Lord'. My kindred, William and Peter Rosenberg, will be in this movie, and so will be Krumlov castle. My Bohemian Royalty is coming to California! Will, Dee and the Rosebergs sail on Drake's the Golden Hind? Here we have Merlin in Oregon where a film maker claims the British Empire began! Everything is coming up roses for me – and my tales! I am in the catbird seat! I fought wiccans for a another magicians memorial – and won!
The award certificate describes the honor in a tongue-in-cheek fashion:
And I [the Governor of Nebraska] do strictly charge and require all officers, seamen, tadpoles and goldfish under your command to be obedient to your orders as Admiral—and you are to observe and follow, from time to time, such directions you shall receive, according to the rules and discipline of the Great Navy of the State of Nebraska.
The use of the title of admiral, instead of some other high-ranking military title, is a humorously ironic reference to the fact that Nebraska has no navy, both because it is landlocked and has no oceans, seas or major lakes to defend, and because it relies on the United States Armed Forces for defense and has had no active state defense force since 1972.
Contents
History[edit]
The Great Navy of the State of Nebraska was created in 1931. The Lieutenant Governor of Nebraska at that time, Theodore W. Metcalfe, was serving as Acting Governor of Nebraska while Governor Charles W. Bryan was outside the state. At the urging of some of his friends, he appointed "20 to 25 prominent Nebraskans" as Nebraska Admirals.[1]
Commissions in the Nebraska Navy have always been given to prominent citizens both inside and outside of Nebraska. However, anyone can request or be nominated for an admiralship as long as he or she has "contributed in some way to the state, promote the Good Life in Nebraska, and warrant recognition as determined by the Governor".
Charitable activities[edit]
The Nebraska Admirals Association was established in 1986. It is a 501(c)(3) non-profit organization that is devoted to a number of causes, including promoting Nebraska products, educational activities, awarding scholarships, promoting tourism, and providing support for ships and sailors in the United States Navy named after Nebraska-related entities.
Current guidelines for Admiralships[edit]
As of January 2015, Governor Pete Ricketts requires the following criteria for awarding an Admiralship:
The nominator or nominee must be a resident of Nebraska.
Self-nominations will not be honored.
Those who are nominating persons for Admiralships will need to send the request by U.S. postal mail or present it to the Governor's Office. E-mail requests will not be accepted. All requests must be in writing.
If the date for the Admiralship is not specifically requested, the received date will be used on the certificate.
The Governor retains full discretion for any Admiralship requests.
The Governor's Office requests notice of two to three weeks to process Admiralships.
Notable admirals[edit]
According to the Nebraska Admiral Association,[2] notable admirals include:
Controversial admiralships[edit]
Equatorial Guinea President Teodoro Obiang Nguema Mbasogo[8] and former Gambian President Yahya Jammeh[9] were both reportedly granted a Nebraska Admiralship. Both Nguema[10] and Jammeh[11] have been criticized for their dictatorial rule over their respective countries, and the reported granting of the admiralship to Jammeh by Governor Dave Heineman drew the criticism of the state's Democratic Party leader.[12]
Governor Pete Ricketts revoked admiralship from two women, Amanda Gailey and Courtney Lawton, in January 2018, less than a month after the award. The honor was revoked, according to the governor's spokesman, because the two had protested the appearance of Turning Point USA, a conservative group that maintains a Professor Watchlist, on the campus of the University of Nebraska–Lincoln.[13] The governor's office had no enforcement power to retrieve the certificates presented to Gailey and Lawton.[14]
Posted on March 8, 2020 by Royal Rosamond Press
Britain's King Edward VIII as Prince of Wales, wearing the headdress of a Native American chief during a visit to the UnitedContributor: Everett Collection Historical / Alamy Stock Photo
The Central Plains is the portion of the Great Plains which lies south of the South Dakota-Nebraska border and north of the Arkansas River. It includes Nebraska, Iowa, Kansas, Missouri, southeastern Wyoming, and western Colorado. After migrating from the Ohio River valley, the Siouan-speaking Omaha settled in what is now Nebraska. The name Omaha is generally said to mean "upstream, against the flow."
Bond of Nebraska
by
John Presco
James sat down on a wooden bench in front of the train station in Lincoln Nebraska and watched The Old Red Ones waddle by, they sticking close because this may be their last Corn Huskers game. This was the last game of the season, and the Huskers were playing The Sooners of Oklahoma. It was all coming back to Mr. Bond, the wild frenzy of it all, the smell of battle and another coming victory. Looking down the tracks he could see where the city ends and the vast flat nothingness continues. After his mental break-down he thought about moving to Lincoln so he could be near her. But she insisted;
"There's nothing here, here. You will get bored!"
"But, you're here!"
"I'm late for my class."
And off she flew in her long green cape, the love of his life. He had to have her, his nineteen year old Lolita, his Prairie Temptress who stole his heart, and knew it. She was completely irresistible.
Bond stopped off at the library to get some books to take back to his Love Dive, his Sick Oasis of Culture where they slicked it up between classes. She would not let him know where she lived with her lover, a sculptor majoring in art.
"There's no art – here!" James insisted. Then she took him to the art building and unveiled the lifesize statue he was rendering of – himself!
"Why isn't he capturing your perfection?"
"You don't understand. This is America, the Mecca of the Self-made Man!"
Bond was grateful for this clue. Up in his room her put his books on the bedside table. He looked at the cover of 'Bound In This Clay' by Royal Rosamond, then got into 'West Of The Water Tower' by Homer Croy. The theme of this book reminded Jim of the relationship the King of England had with Miss Wallace. They would meet at the old water tower and seduce each other in that strange forbidden American Way. Bond had been fascinated with The Affair of the Century that had King Edward dressing like an Indian Chief and twirling a lasso, he taught how to do this by Will Rogers. When Irene did not stop by for another session, James, full of the Middle America Malaise, jumped off his hotel bed;
"Fuck this shit! I got to live!"
He had just watched a news item about a gorgeous hitchhiker who got arrested for having a joint behind her ear. Handcuffed from behind, her lovely breasts were thrust out as if they were a sacrificial offering. Her top was made from a red cowboy scarf. Her long legs began at the frayed blue-jean cut-offs she wore as an Art Form. This was the New Lady Liberty.
Bond could not get to the Chevrolet dealership fast enough and buy himself a brand new Corvette Stingray (what else?) and, a suede jacket with tassels. He burned rubber as he left the showroom. At thirty-eitht years of age….007 was reborn! Having read Al Capp's cartoons each morning, James got it. The young beauty on the news was arrested on a red-bricked road called the Lincoln Highway. James could not get there fast enough. When Irene showed up at the desk the next the clerk told gave her a note.
"Gone on a road trip! Don't wait up for me!
James Bond 'King of America'"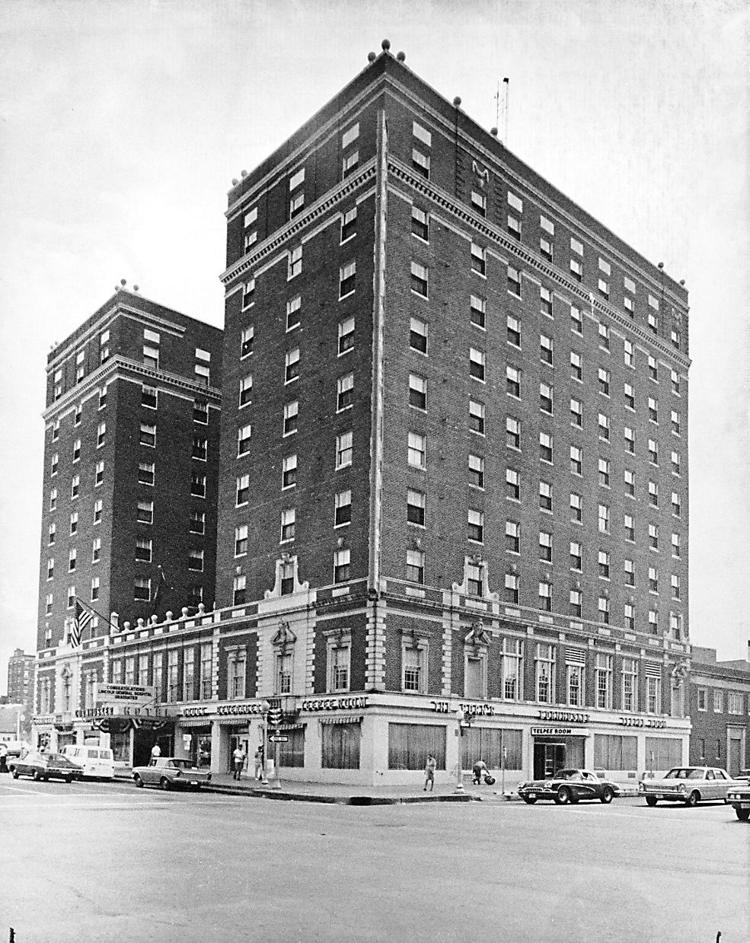 The corner of 13th and L has been home to The Cornhusker hotel for almost a century. In 1978 the original Cornhusker hotel closed, and four years later it had been demolished and replaced by a 10-story, 304-room Cornhusker hotel.
https://nypost.com/2018/11/03/before-edward-viii-abdicated-the-throne-he-fell-in-love-with-america/
https://www.countryliving.com/life/entertainment/a44357/humphrey-bogart-lauren-bacall-marriage/
By Ammodramus – Own work, CC0However, there is a short stretch of brick-paved road between Omaha and Elkhorn that has somehow survived nearly 100 years, and you can still drive on it today. These bricks were laid in 1920 on a bed of concrete, a technique which has no doubt contributed to the road's staying power.
https://en.wikipedia.org/wiki/Omaha_people
https://en.wikipedia.org/wiki/Lolita
If you ever plan to motor west, Travel my way, take the highway, that's the best. Get your kicks on Route 66. It winds from Chicago to L.
A. More than 2000 miles all the way, Get your kicks on Route 66. Now you go through Saint Louie, Joplin, Missouri, And Oklahoma City looks mighty pretty, you'll see… Amarillo… Gallup, New Mexico, Flagstaff, Arizona, Don't forget Winona, Kingman, Barstow, San Bernadino. Won't you get hip to this timely tip When you make that California trip? Get your kicks on Route 66. Won't you get hip to this timely tip When you make that California trip? Get your kicks on Route 66… Get your kicks on Route 66… Get your kicks on Route 66!
Posted on May 21, 2019 by Royal Rosamond Press
I put Rena's portrait up for viewing. It catches my attention – big time! This is how she looked when she approached me and asked;
"Can I walk with you?"
Posted on December 4, 2014by Royal Rosamond Press
Above is a photo of the last block on Washington Street that ends where the Venice Pier begins. In the 70s, every Friday and Saturday night young men whose girlfriends were knockouts, came here for a impromptu beauty contest. I do not know if this was going on when I met Rena in July of 10970. She was hiding in the dark doorway of one of these establishments at 3:00 A.M. in the morning. Her boyfriend had driven from Grand Island Nebraska to Los Angeles. I suspect he wanted to get his lover in the movies, or, perhaps, Playboy? Rena was waiting fore someone to come along – that she could trust.
After calling the Venice Muscle Men "fags" they chased him down the boardwalk, caught up with this Cornhusker, a mile away, and put him in the hospital. Rena saw the muscle guys return, and waited, and waited for her boyfriend. She spent all her money buying cokes until the bar closed at 2:00 A.M. She saw Michael and I walk by, and, the soon to be most highest paid artist in the world, the famous……'Rosamond'.
Rena watched me stop, while my sister continued to the end of the pier with her lover. Feeling left out, I looked down on the crashing waves, and asked;
"Where are you? The love of my life?"
I was calling to my new Muse because two days earlier I met with Marilyn for an hour, and she said we were through. She was my Twin Flame, a term I only learned about six months ago. Marilyn and I are dear friends today.
Rena watched the world famous artist to be, and future sister-in-law of the ex-wife of Thomas Pynchon, coming back her way. I walked twenty feet ahead. I was Christine's teacher. She would give me credit for her amazing success. When she came at me from the dark doorway, I gasped. I looked, and could not catch my breath. Not but an arm's length away, is the most beautiful face I have ever seen. I had to look away, if just to compose myself.
"Can I walk with you?" this apparition asked. I wanted to speak of the obvious, tell her there and then she was the most beautiful woman I had ever seen. This was the TRUTH! Who could believe it? Why me?!!!
"Of course! I was expecting you?" This is what came out of me.
"What do you mean by that?" This sea creature inquired, she scouring the interior of my soul in search of any foul hidden agendas.
"I was looking down on the waves, asking where she was, the love of my life! Don't be afraid, I am a hopeless romantic."
"Oh! Rena said. When Christine saw the painting I did of Rena two years later, she took up art.
When Christine Rosamond Benton came up to us, I introduced her to my family.
"Christine. This is…….?"
"Rena."
This fateful meeting took place at three in the morning. Michael would buy Christine her first art supplies. His brother was married to my younger sister. This is a creative family – event!
In six days, the first movie made from a Pynchon book, will premiere on the silver screen. 'Inerent Vice' takes place in Venice. It is about a PI who is visited by his beautiful ex. Consider the Playboy Beauty who drove West to get a contract with Ken Kesey to author her screenplay she had in mind. She was raised in the same town Rena was, Grand Island Nebraska. Consider the dangerous Alley Gang and Belle Burch, whom I asked to marry me so she could have these famous folks in her family tree, because, I am in need of a Bohemian Heir. This is the REAL Inherent Vice.
Last night I heard the Moody Blues perform this song on T.V. I heard it many time before, but, after learning about the Twin Flames, it was like hearing it for the first time. From what I gather from our recent communications, Rena has no appreciation for the incredible scene she starred in for 48 hours. Very wealthy men come from all over the world – for just a taste! I know Rena thinks no one noticed her, but, when you win the contest, it is gauche to look at Beauty directly. I had trouble – after she chose me.
In the contest held on this block, you saw the hottest women in L.A. There were blonde Aryan Couples with matching pure blue eyes. But, here come the Chicano dudes with the most stunning women you have ever seen.
I have to laugh! The palm trees, the tan surfer, the perfect sunsets, and the most Beautiful Woman in the world – who is you! And, somehow, this is what you came here for, and its all…… icky-pooh! Then, I happen along!
In hind sight, the Strong Men of Venice helped me become a legendary hero. Didn't Hercules judge a beauty contest? We know Paris did. For years I have said this about Rena:
"Her beautiful face launched a thousand Rosamond prints.
It is coming back to me. Wings and the t-shirt store were once a bar. The door Rena came out of says "t-shirts" in red print.
Jon Presco
Copyright 2014
http://en.wikipedia.org/wiki/Twin_flame
http://en.wikipedia.org/wiki/Judgement_of_Paris
Below is the photograph my sister took of me in 1973 in her studio. Rosamond's images of beautiful women were found all over the world. I was going to be her first male subject. She wanted to make me famous, too. When I saw this photograph for the first time several years ago, I understood who Rena saw that night, a beautiful young man with pale blue eyes that she chose to save her. Rena has gold eyes. By the energy in our first kiss, I now know that she struggled to catch her breath.
Share this: