Taking something for myself – has a deadline! On July 6th. I will be talking to my therapist, face to face, via our computer screens. We set a goal two weeks ago where I take steps to realize a reward for my creative efforts, and all my hard work. Around ten last night I set out to write a resume' in order to sell my literary efforts. I found an interview between Raymond Chandler, and Ian Fleming. I knew little about Chandler so googled him. I was struck by a thunderbolt to learn he lived in Plattsmouth Nebraska. The cultural showdown and shootout I saw taking place in Bozeman Montana, now goes back to Nebraska, where in Lincoln, Rena Easton took me to see the movie 'Yellow Submarine'.
Paul McCartney felt 'BETRAYED' after Elvis Presley's Beatles comments to Richard Nixon – Flipboard
Rena wanted to be in my "muse hall of fame" but became alarmed when I told her I owned a urge to come to Bozeman in Big Blue and rescue her. Her plan was for her to be my Faraway Muse. We would write each other…..long away letters. That I began 'Bond of Nebraska' tells me the Thriller Detective Authors have anointed me to – carry on!
Chandler went to Victoria to enlist as a British subject. He fought over there for the King and Queen of Britain. Like my friend, Nancy, he was an accountant for a creamery. Nancy encouraged me to author the history of the hippies. Fleming admits Raymond and Hammett, prepared his way. Raymond's father had to have traveled on Route 66. They are all here. Caspar John the Sea Lord, looks on, as does his father, the Bohemian Artist.
"Nebraska! We come from Nebraska. With a banjo and a bagpipe – on our knee!"
John Presco
Raymond Chandler (nytimes.com)
"For seven years, Maurice worked the prairie lines as a bachelor engineer. At the age of twenty-eight, he was working in Omaha, Nebraska, when he met and married an Irish girl called Florence Thornton. Small, dark-haired and extremely pretty, Florence was in America staying with her elder married sister at a nearby town called Plattsmouth. She and her elder sister Grace were two of five daughters from a prosperous family in southern Ireland, all but one of whom had `escaped' from what had been a claustrophobic home. Like Maurice Chandler, Florence was a lapsed Quaker — her parents lived in the very same Waterford Quaker community from which Maurice's own family had originated. She and Maurice were married that summer at an Episcopalian church in Laramie, Wyoming. Twelve months later Florence had a child. Raymond Thornton Chandler was born in Chicago, on 23 July 1888."
The community was renamed Plattsmouth for its location at the mouth of the Platte River,[10] and was incorporated on March 15, 1855.[11]
Plattsmouth, Nebraska – Wikipedia
Columbia Along The Platte – The Prophet | Rosamond Press
What exactly is a thriller?
(5:45 – 6:15)
Fleming: Well, the first thing, really, is to define what we're supposed to be talking about. I think the title of what we're supposed to be talking about is English and American thrillers. What is a thriller? To my mind of course, you don't write thrillers and I do.
Chandler: I do too.
Fleming: I don't call yours thrillers. Yours are novels.
Chandler: A lot of people call them thrillers.
Fleming: I know. I think it's wrong.
Plattsmouth Chamber History, Mission and Commitment
The Plattsmouth Chamber of Commerce was established in 1952. Since then, we've grown to Plattsmouth's largest member-based business advocacy organization. Thanks to our long history, we've seen countless changes and the continued growth of Plattsmouth. As the hometown of notable people like Hazel Abel, Raymond Chandler and Oscar Graham, we're committed to strengthening the community and sharing everything Plattsmouth has to offer with an even wider audience.
Raymond Chandler (nytimes.com)
The long controversy over John Lennon's political affiliations took an extraordinary new twist last night when it was revealed that the British intelligence services believe the late Beatle secretly helped to fund the IRA.
The suggestion that MI5 documents contained references to Lennon giving money to the terrorists was made by former intelligence officer David Shayler.
The disclosure was greeted with dismay by some people who knew Lennon. They believe that, as a pacifist, he would not have contributed.
The documents are believed to refer to Lennon's involvement with the radical Left in Britain.
Professor Jon Wiener of the University of California has been demanding the release of the FBI's dossier on the former Beatle since the musician's death in 1980.
Correspondence between the FBI and the British Government about Lennon's political activities in the late Sixties and early Seventies, is are among documents now set to be made public following a lengthy US court battle.
John Lennon and the Politics of the New Left (jacobinmag.com)
Posted on March 8, 2020 by Royal Rosamond Press
Britain's King Edward VIII as Prince of Wales, wearing the headdress of a Native American chief during a visit to the UnitedContributor: Everett Collection Historical / Alamy Stock Photo
The Central Plains is the portion of the Great Plains which lies south of the South Dakota-Nebraska border and north of the Arkansas River. It includes Nebraska, Iowa, Kansas, Missouri, southeastern Wyoming, and western Colorado. After migrating from the Ohio River valley, the Siouan-speaking Omaha settled in what is now Nebraska. The name Omaha is generally said to mean "upstream, against the flow."
Bond of Nebraska
by
John Presco
James sat down on a wooden bench in front of the train station in Lincoln Nebraska and watched The Old Red Ones waddle by, they sticking close because this may be their last Corn Huskers game. This was the last game of the season, and the Huskers were playing The Sooners of Oklahoma. It was all coming back to Mr. Bond, the wild frenzy of it all, the smell of battle and another coming victory. Looking down the tracks he could see where the city ends and the vast flat nothingness continues. After his mental break-down he thought about moving to Lincoln so he could be near her. But she insisted;
"There's nothing here, here. You will get bored!"
"But, you're here!"
"I'm late for my class."
And off she flew in her long green cape, the love of his life. He had to have her, his nineteen year old Lolita, his Prairie Temptress who stole his heart, and knew it. She was completely irresistible.
Bond stopped off at the library to get some books to take back to his Love Dive, his Sick Oasis of Culture where they slicked it up between classes. She would not let him know where she lived with her lover, a sculptor majoring in art.
"There's no art – here!" James insisted. Then she took him to the art building and unveiled the lifesize statue he was rendering of – himself!
"Why isn't he capturing your perfection?"
"You don't understand. This is America, the Mecca of the Self-made Man!"
Bond was grateful for this clue. Up in his room her put his books on the bedside table. He looked at the cover of 'Bound In This Clay' by Royal Rosamond, then got into 'West Of The Water Tower' by Homer Croy. The theme of this book reminded Jim of the relationship the King of England had with Miss Wallace. They would meet at the old water tower and seduce each other in that strange forbidden American Way. Bond had been fascinated with The Affair of the Century that had King Edward dressing like an Indian Chief and twirling a lasso, he taught how to do this by Will Rogers. When Irene did not stop by for another session, James, full of the Middle America Malaise, jumped off his hotel bed;
"Fuck this shit! I got to live!"
He had just watched a news item about a gorgeous hitchhiker who got arrested for having a joint behind her ear. Handcuffed from behind, her lovely breasts were thrust out as if they were a sacrificial offering. Her top was made from a red cowboy scarf. Her long legs began at the frayed blue-jean cut-offs she wore as an Art Form. This was the New Lady Liberty.
Bond could not get to the Chevrolet dealership fast enough and buy himself a brand new Corvette Stingray (what else?) and, a suede jacket with tassels. He burned rubber as he left the showroom. At thirty-eitht years of age….007 was reborn! Having read Al Capp's cartoons each morning, James got it. The young beauty on the news was arrested on a red-bricked road called the Lincoln Highway. James could not get there fast enough. When Irene showed up at the desk the next the clerk told gave her a note.
"Gone on a road trip! Don't wait up for me!
James Bond 'King of America'"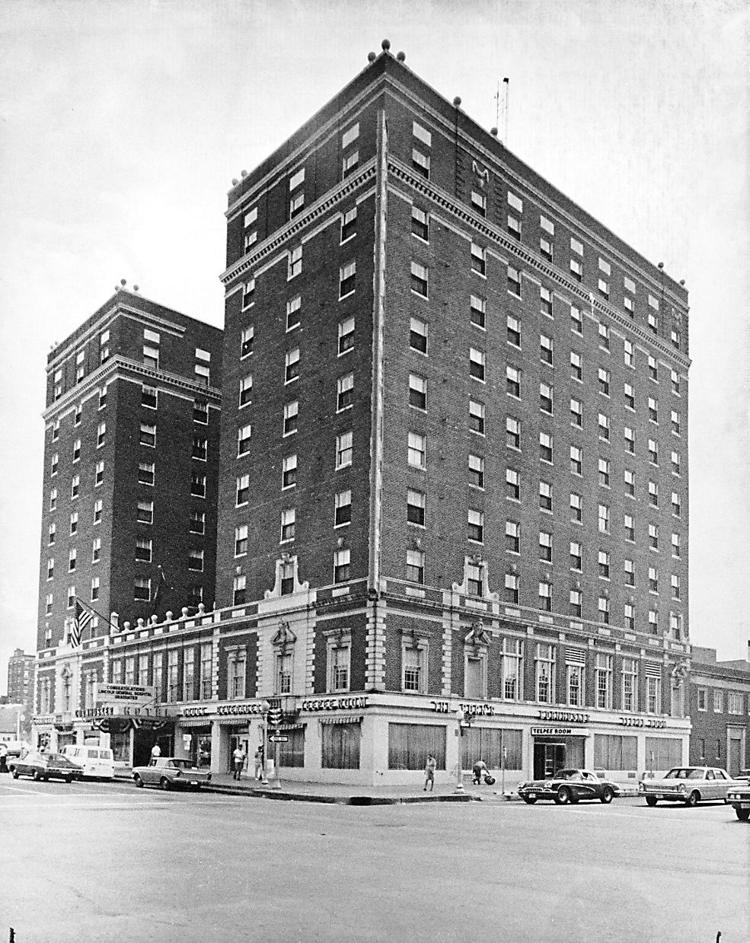 The corner of 13th and L has been home to The Cornhusker hotel for almost a century. In 1978 the original Cornhusker hotel closed, and four years later it had been demolished and replaced by a 10-story, 304-room Cornhusker hotel.
https://nypost.com/2018/11/03/before-edward-viii-abdicated-the-throne-he-fell-in-love-with-america/
https://www.countryliving.com/life/entertainment/a44357/humphrey-bogart-lauren-bacall-marriage/
By Ammodramus – Own work, CC0However, there is a short stretch of brick-paved road between Omaha and Elkhorn that has somehow survived nearly 100 years, and you can still drive on it today. These bricks were laid in 1920 on a bed of concrete, a technique which has no doubt contributed to the road's staying power.
https://en.wikipedia.org/wiki/Omaha_people
https://en.wikipedia.org/wiki/Lolita
If you ever plan to motor west, Travel my way, take the highway, that's the best. Get your kicks on Route 66. It winds from Chicago to L.
A. More than 2000 miles all the way, Get your kicks on Route 66. Now you go through Saint Louie, Joplin, Missouri, And Oklahoma City looks mighty pretty, you'll see… Amarillo… Gallup, New Mexico, Flagstaff, Arizona, Don't forget Winona, Kingman, Barstow, San Bernadino. Won't you get hip to this timely tip When you make that California trip? Get your kicks on Route 66. Won't you get hip to this timely tip When you make that California trip? Get your kicks on Route 66… Get your kicks on Route 66… Get your kicks on Route 66!
Posted on January 24, 2018 by Royal Rosamond Press
Columbia Along The Platte
by
Jon Presco
Copyright 2018
Ten hours after I wrote this, I found Rena Christensen and her People, camping along the Platte.
"As the Chosen Prophet of The Church of Art, I have the ability to summon, reborn, and channel the Great Artists of our Past, in order to arrive at Lost Truths. I cast off my disguise to expose a younger version of myself, for We Artists – ARE ONE!
We made America – even greater! Freedom is a work in progress! As the artist Bartholdi, I bring a message from The Eternally Creative Afterlife………"
https://www.myheritage.com/names/ernest_christensen
I had looked at the name of Rena's father again……Thomas Ernest Christensen. You will find a lineage of Danish men named Ernest due to the naming of the eldest son after his grandfather. The Christensens converted to Mormonism in Denmark, and came to America on the ship 'Obetrit'. They came along the Platte thru Nebraska. Some Scandinavian families remained in the State Rena was born in. Some came here from Utah after being disillusioned. Rena's kin, is Halfdan Christensen. Halfdan is the son of Frodi, also Frodo. J.R. Tolkien was inspired by Rena's people. Rena did not know much about her family tree. This is a great genealogical search, a psychic search, verses a psycho search. The Mormon cosmology is based upon gathering the souls of their dear departed in a Tree of Eternal Life. Rena was searching for something, someone, when she came to California. We found each other in order to fulfill a Endeavor. Will there be a new Nation?
https://en.wikipedia.org/wiki/Muses
"Last night I watched several episodes of 'The West' while I worked on a floor plan of a house I placed on this farm I googled. I had just finished a Cape Cod that I put in the Back Bay of Boston where in Fantasy World I lived with Rena Easton after I convinced her we were meant to spend the rest of our lives together. It was her eyes. I missed her look, her view of the world. Then there was her gate. She walked the earth like a great stalking cat. She had animal magnatism up the Yin Yang. I assumed this was because there is nothing there – there! When I took the train across America I stopped to see her in Lincoln. I brought up the idea that I could move here, rent an old farm and have a studio.
"There's nothing here. You wouldn't be happy here! She carefully informed me.
"You're here." was my pitiful retort, that her silence dismissed. She had a new lover."
Alas, I found her – all of her! With the Planatir I searched for her. I am her lost husband that she married in Denmark before she boarded that awful ship, and set sail – straight into the largest storms sailors had not seen in a century. Rena was terrified. Lutherans gathered on the docks to curse her and her family. She converted when her parents did. She did not have a choice. A Lutheran minister married us so she would not be swallowed up by heathens in a heathen land.
Rena cowered below deck in a rope locker. She recited a thousands poems to keep herself from being frightened to death. In sight of New Orleans, he mother went below to tell her the good news. They were about to land. Miss Christensen…….was dead. She was buried on a little island. She never set foot on the mainland. Rena was terrified of the sea when we were together in 1970.
Everything now makes sense, why Rena did not like the girls her aged, that said wicked things behind her back. In her letter, she says I would be proud to know she alas has friends. She is such a lost soul. She does not seem to love the three men she married. Rena is contentious, a real fighter. She is the epitome of the Mormon History in the New World – where they did not find friends, only enemies. Rena's roots have been ripped out of her being. She is not grounded in the reality she once knew.
As the Christensen family leaves Saint Louis in a covered wagon, Rena rises from her lonely tomb, and follows. She is not a Lutheran, not a Christian, nor a Mormon. She is the Goddess Freya. Here core being has returned to the ancient religion. She was the Muse of Mormon Exodus to America. Other people's saw her spirit, and called her Columbia.
Alas, my epic tale has been freed from the snags and mud. The argument over ownership of America is no longer Rena's and my concern – our concern! The Last Question remaining, is……….Does God Dwell in America? Where is God?
Jon 'The Prophet'
"By late 1852, those who had joined the Mormon Church in Denmark were feeling like outcasts in the predominantly Lutheran Danish society. When John Forsgren was preparing for his return to Utah, he put together a company of 297 converts to join him. The people in this company sold their property for only a fraction of its value before they left. They were known as the "Scandinavian Mormon Migration," the first large group of Mormons to travel from Denmark to the Great Salt Lake. Christian and Margrethe Christensen and their two sons were a part of this migration.
Alas I have traced my grandfather's mother, IDA LOUISIANA ROSE, to WILLIAM ROSE, who sailed for Cowes Isle of Wight, with William Penn. William and his wife, Jane Sarah Ridgway, landed in Philadelphia in December 3, 1699. They sailed on the Canterbury, perhaps the most important ship that sailed the waters of the Isle of Wight.
Alas, the TWO ROSES are joined in my ROSY FAMILY TREE. This makes my family one of the foremost PATRIOTIC AMERICAN FAMILIES in history. We fought off pirates to arrive here, so we could practice RELIGIOUS FREEDOM.
https://user.xmission.com/~nelsonb/nebraska.htm
By 1850 about 400 Danes, Norwegians, and Swedes resided on the west coast. Another thirty- five Scandinavians who had crossed Nebraska included one Swedish-born person, thirty-two Norwegian-born people, and two Danish-born people who were living in the Utah Territory. Peter O. Hansen had been part of the very first company of about 150 Mormons, "three Negro 'servants'," and between two and six non-Mormons to leave eastern Nebraska for Utah in 1847. By 1850, however, Hansen had crossed the plains a second time and was back in his native Denmark. Twenty years later the Scandinavian population in Utah had grown to more than 7,000, that on the west coast was above 5,000, and the districts along the Platte River road (the state of Nebraska and the territory of Wyoming) had about 4,200 (about 4,000 of them resided in Nebraska). Some of the Scandinavians who settled in Nebraska came there directly, but others originally had different destinations in mind. Years of research on Danes in America led P.S. Vig to conclude that many of the earliest Danish settlers in western Iowa, particularly Council Bluffs and Pottawattamie County, had been connected with Mormonism in one way or another before they left Denmark. Vig believed that the same was true for Danes in the eastern Nebraska areas of Omaha and Fremont as well as surrounding Douglas, Dodge, and Washington counties.2
Their ship was in sight of Jamaica from February 23rd to the 25th. They all seemed happiest when there was a good wind because they could sail so much faster. After passing the West Indies their voyage was quite uneventful until the morning of March the 7th. This was a glorious morning for them as their eyes beheld the first glimpse of America. Later in the day they reached the Mississippi River and sailed up it until about four o'clock in the afternoon, when they dropped anchor. Shortly after dropping anchor John E. Forsgren went ashore to put in order the necessary preparations for the rest of the journey. That same evening a sister Jorgensen died. The following morning a casket was made and in the afternoon she was taken ashore and buried on a little island where there were many tree stumps and a little light house. Many of the company went ashore, this being their first chance to set foot on American soil. The ship remained at anchor here for several days, during which time several deaths occurred. On March 11th a Petersen child died, on the 12th a sister Christensen died, and on the 13th Brother Ipsen died. At about 1 A. M. March 14th, Jens Christian, the little son of Mads and Maren Jensen died. The Journal says, "and the body was buried. " Family tradition has it that Jens Christian was buried in the Gulf of Mexico, but the Forsgren Company Journal places it on an island in the mouth of the Mississippi River.
As a result of his preaching against Lutheranism, Forsgren was charged with disruprion of the peace and ordered to be deported to the United States. The captain of the ship Forsgren was placed on allowed Forsgren to leave the ship when it docked temporarily in Denmark, and Forsgren traveled to Copenhagen and was reunited with Snow and Hansen. In February 1852, Snow appointed Forsgren as his successor as president of the church's Scandinavian Mission, and Forsgren held this position until December, when he was replaced by Willard Snow.
Leader of pioneer company[edit]
Upon completion of his mission, Forsgren became the leader of an emigrating company of approximately 300 Latter Day Saints from Scandinavia and northern Europe. The company departed from Liverpool on 1 January 1854 and arrived in Salt Lake City on 30 September.
Later life and excommunication[edit]
In Utah, Forsgren initially settled in Brigham City, and later lived in Moroni, Santaquin, and Dover. He also lived in Carson City, Nevada for several years.
In 1879, Forsgren was excommunicated from the LDS Church for proclaiming himself to be a prophet and for denouncing Church President Brigham Young. Forsgren began to refer to himself as "John J. Branch". He became regarded as an eccentric and was occasionally ridiculed in the Deseret News as the "Bench Prophet" because he lived in a tent near a bench in Salt Lake City, Utah. After his tent burnt down, he moved to Blaine County, Idaho to live with a daughter. He died in Salt Lake City at a friend's house and was buried at Brigham City, Utah.
Two stories preserved by the Danish historian Saxo Grammaticus (died circa 1205 AD), who is widely recognized as having drawn his inspiration for the first nine books of his history of Denmark from the mythic material available to him, shed light on these otherwise obscure poetic references. They are the story of Frodi and his beautiful sister Gunvara, who weds the peasant Erik in Book V of Saxo's Historica Danica, and the tale of Otharus and Syritha, whose very names reflect the Old Norse Odr and Syr, in Book VII. Together these two stories preserve the memory of Freyr and Freyja's captivity among the giants, and how Freyja in particular was rescued by the mortal Odr, also called Erik, and how she became his bride. To some Saxo Grammaticus may seem like an unlikely source of Germanic Mythology, thus let us first examine the nature of Saxo's histories, so that his value as a source is clear.
Although the Christianization of Scandinavia beheld a new institution in Scandinavia, the church, that sought to demonize the native gods, belief and reverence in the gods, including Freyja, remained into the modern period and melded into Scandinavian folklore. Britt-Mari Näsström (sv) comments that Freyja became a particular target under Christianization:Freyja's erotic qualities became an easy target for the new religion, in which an asexual virgin was the ideal woman […] Freyja is called "a whore" and "a harlot" by the holy men and missionaries, whereas many of her functions in the everyday lives of men and women, such as protecting the vegetation and supplying assistance in childbirth were transferred to the Virgin Mary.[38]
http://gersey.tripod.com/religion/mythology/freya_odr.html
Finn and Hengest is a study by J. R. R. Tolkien, edited by Alan Bliss and published posthumously in book form in 1982.
Finn and Hengest are two Anglo-Saxon heroes appearing in the Old English epic poem Beowulf and in the fragment of "The Fight at Finnsburg". Hengest has sometimes been identified with the Jutish king of Kent. He and his brother Horsa (the names meaning "stallion" and "horse") were the legendary leaders of the first Anglo-Saxon immigrants to Britain as mercenaries in the 5th century.
The book is based on an edited series of lectures Tolkien made before and after World War II. In his lectures, Tolkien argued that the Hengest of "The Fight at Finnsburg" and Beowulf was a historical rather than a legendary figure and that these works record episodes from an orally composed and transmitted history of the Hengest named in the Anglo-Saxon Chronicle.[1] This view has gained acceptance from a number of medieval historians and Anglo-Saxon scholars both since Tolkien's initial lectures and since the publication of this posthumous collection.
Tolkien's lectures describe what he called the "Jutes-on-both-sides theory", which was his explanation for the puzzling occurrence of the word ēotenas in the episode in Beowulf. Tolkien read the word as Jutes, and theorised that the fight was a purely Jutish feud, and Finn and Hnæf were simply caught up by circumstance. Tolkien explained both their presence and their ambiguous loyalty with his interpretation of the story.
Synopsis and interpretation by Tolkien[edit]
Hnæf, son of Hoc Half-Dane, is the lord of a Danish people who have conquered part of Jutland (probably the northern part of the Cimbrian Peninsula) and exiled its former Jutish rulers. Finn, king of Frys-Land (modern-day Friesland in the Netherlands) has allowed dispossessed Jutes to settle in his lands and enter his service. Finn marries Hnæf's older sister Hildeburh, and sends their son (whose name was probably Friðuwulf) to be fostered in Hnæf's household.
https://en.wikipedia.org/wiki/Finn_and_Hengest
In the recent translation of Saxo's Histories, titled Saxo Grammaticus, The History of the Danes Books I-IX" translated by Peter Fisher (1996), the renowned Old Norse scholar Hilda Ellis Davidson comments:
"The first nine books, presented here in the translation of Peter Fisher, are regarded by many as no more than a hotch-potch of ancient legends, speeches from heroic poems, selections from Icelandic sagas, rationalized myths, bits of Danish folklore, references to genealogies, echoes from Latin chroniclers and snippets of ….approved authors who featured in university syllabuses of the early Middle Ages."
"As a token of her confidence, she told him he need no longer call
her, "Auntie." The previous year, Bilbo had suggested that Frodo no
longer address him as, "Uncle," if he wished. Plain, "Bilbo," would
do. Frodo still called Bilbo, "Uncle," now and then; it had become
too ingrained a habit. But, following suit, Rosamunda suggested Frodo
might call her, "Rosa," or, "Rosamunda." Frodo forgot, and called
her, "Auntie," many times, but, within the space of an afternoon
tea, "Rosa," she became."
Rosamunda Bolger (née Took) was the mother of Fredegar "Fatty" Bolger
and Estella Brandybuck. She was married to Odovacar Bolger and was
known as Rosamunda Took prior to the marriage. They lived in
Budgeford in Bridgefields in the Eastfarthing of the Shire. Rosamunda
and Odovacar both attended the Bilbo's Farewell Party in 3001 along
with their children.
https://rosamondpress.com/2014/01/14/i-dont-know-where-you-are/ https://rosamondpress.com/2017/12/25/a-english-rose-born-to-america/
https://www.myheritage.com/names/ernest_christensen
https://en.wikipedia.org/wiki/Wood_River,_Nebraska
When the Mormon missionary Johan Erik "John" Forsgren was banished from Sweden in 1850, he and his partner Erastus Snow continued their missionary work in København. There they converted Christian and Margrethe Christensen, who named their second son Johan "Jon" Erastus Christensen (born June 11, 1852) in honor of those two missionaries.7
By late 1852, those who had joined the Mormon Church in Denmark were feeling like outcasts in the predominantly Lutheran Danish society. When John Forsgren was preparing for his return to Utah, he put together a company of 297 converts to join him. The people in this company sold their property for only a fraction of its value before they left. They were known as the "Scandinavian Mormon Migration," the first large group of Mormons to travel from Denmark to the Great Salt Lake. Christian and Margrethe Christensen and their two sons were a part of this migration.