With the naming of, and inclusion of King Charles in the contract made with the State of Florida, and Disney World, I declare a relgious action took place, that renders Disneyworld a World Religion.
Consider the pricking of the finger of Princess Rosamond that caused her and her kingdom to fall into a deep sleep. I connect Beauty to the Shekinah and Reformed Judaism that took root in Charleston South Carolina. That attorney enjoined Blood Royal to the Shekinah and Rosamond, awakens a kingdom I associate with the Jewish Diaspora, amd the New Exodus of the People of The Way.
I suspect a Right-wing Christian group is directing Governor DeSantis in his cultural war against secular peoples – that are not one of them! Many religions past and present – are not of them – and not visible! I am making Rosemond's Kingdom visible in my novel 'The Royal Janitor' is being transformed into a real history book. The DeSantis Gang have trod on the back of a Sleeping Dragon. I will be contacting interested attorneys.
John 'The Returned King of Britain'
How Palace Responded to King Charles Being Dragged Into Disney World Battle
Story by Jack Royston • 9h ago
Britain's monarchy has declined to comment after unexpected references to King Charles III in a contract at the center of a dispute between Governor Ron DeSantis and Disney World.
King Charles III gives a speech during a State Banquet at Schloss Bellevue, Berlin, Germany, on March 29, 2023. The king was dragged into a conflict between Disney World [inset] and Ron DeSantis.© Samir Hussein/WireImage
Loaded: 74.72%Play
Current Time 0:06
/
Duration 1:04Quality SettingsCaptionsFullscreen

Newsweek
Disney World Defies Ron DeSantis by Hosting Gay Rights Summit in FloridaUnmute
0
More videos
However, that changed in February when DeSantis moved to take control of appointments to a new oversight board.
This comes after Disney criticized the Republican governor's laws on sex education, which critics have nicknamed the "Don't Say Gay bill."
Now Disney has attempted to swerve the move using a legal contract that members of the new board say bypasses them entirely, giving total control to Disney.
The legal document in question states that it will stand until "21 years after the death of the last survivor of the descendants of King Charles III, king of England."
Buckingham Palace declined to comment when approached by Newsweek, in a move that may not surprise keen followers of the royal family.
The royals are known for their "never complain, never explain" policy even on matters that directly concern them, for example, giving no official public response to the bombshell allegations in Prince Harry's book Spare.
They are also required to maintain impartiality on party political issues, particularly when they relate to the politics of other nations where there is the risk of a diplomatic incident if they were to become involved.
A culture war between DeSantis and Disney over LGBTQ+ rights and sex education in schools would therefore always be a no-go area for the palace, no matter the context.
Charles' involvement is, however, purely a legal mechanism for creating a timeline to state how long the contract lasts.
The issue is therefore a long way from meeting the threshold for a Buckingham Palace comment.
For Disney it sounds like the story is far from over as Taryn Fenske, DeSantis' communications director, told Newsweek in a statement: "The Executive Office of the Governor is aware of Disney's last-ditch efforts to execute contracts just before ratifying the new law that transfers rights and authorities from the former Reedy Creek Improvement District to Disney.
"An initial review suggests these agreements may have significant legal infirmities that would render the contracts void as a matter of law.
"We are pleased the new governor-appointed board retained multiple financial and legal firms to conduct audits and investigate Disney's past behavior."
Walt Disney World told Newsweek in a statement: "All agreements signed between Disney and the District were appropriate, and were discussed and approved in open, noticed public forums in compliance with Florida's Government in the Sunshine law."
The dispute came after Disney said in March 2022 that DeSantis' bill, which bans discussion of sexual orientation or gender identity in schools, "should never have passed and should never have been signed into law."
In February, DeSantis announced the new oversight board and said: "The corporate kingdom finally comes to an end. There's a new sheriff in town, and accountability will be the order of the day."
Update 03/30/23, 9:41 a.m. ET: This article was updated to add a statement from Walt Disney World.
Update 03/30/23, 12:05 p.m. ET: This article was updated to add a statement from Taryn Fenske, communications director for Governor Ron De Santis.
Jack Royston is chief royal correspondent for Newsweek, based in London. You can find him on Twitter at @jack_royston and read his stories on Newsweek's The Royals Facebook page.
Do you have a question about King Charles III, William and Kate, Meghan and Harry, or their family that you would like our experienced royal correspondents to answer? Email royals@newsweek.com. We'd love to hear from you.
Related Articles
Start your unlimited Newsweek trial
In my recent conversations with some two dozen evangelical leaders — many of whom asked not to be named, all of whom backed Trump in 2016, throughout his presidency, and again in 2020 — not a single one would commit to supporting him in the 2024 Republican primary. And this was all before the speculation of his potential arrest on charges related to paying hush money to his porn-star paramour back in 2016.
Former Vice-President Mike Pence — who for four years served as sort of the Evangelical commissar of the White House, vouching for Trump's reliability — would dearly love to scoop up those leaders that Trump has scorned. But Pence is suffering from a combination of fears that he can't possibly win the nomination and quiet disdain over his too-Christian-to-a-fault demeanor. After a Pence speech at conservative Christian Hillsdale College, some Pence friends told Alberta the veep "was not tough enough":
They all admired him. They all thought he was an honorable man and a model Christian. But a Sunday School teacher couldn't lead them into the battles over gender identity, school curriculum, abortion, and the like. They needed a warrior.
This is just the opening Ron DeSantis needs, as he seems to understand. Right before his smashing midterm reelection, his campaign ran a very peculiar ad modeled very closely on broadcasting legend Paul Harvey's famous 1978 speech to an agricultural group explaining that "God created a farmer" on the eighth day of creation to take care of his handiwork. In the DeSantis campaign's account, "God created a fighter," referring to none other than the governor of Florida:
Posted on May 8, 2019 by Royal Rosamond Press
On this day I calim the land that was promised me where I will establish the headquarters for 'The Judges of the Fig Tree'. God warned the Jews about wanting a king to rule over them. He had founded the Order of Nazarite Judges to guide the people in many legal and religious matters. They were also the genrals of God's army.
""For his first birthday I promised my Grandson, Tyler Hunt, a kingdom. American
Democracy has awoken from the demonic spell put upon it. Let the celebration
begin!"
On June 8, 2010, I got a call from a stranger, Samuel Josefa de Mattos, a
descendant of a famous Sephardic Jewish family. He said he had come across my
study on Rougeknights and said; "You appear to know more about my family then I
do."
We talked about his ancestor, Francis Salvador who was killed by Indians. Samuel
said his kinfolk left the "Jews land" around the small town of Hodges due to the
hostile natives. The Rosamond family may have done the same, they moving to
Mississippi leaving their plantations behind. Did the de Mattos and the Rosmonds
know one another?
Rosamond Press
The Women's March ground to a halt over issues I presented in this blog that made me enemies. As a true Prophet of God, this is the price you pay.
Seer Jon
They say they disagree with anti-Semitic and homophobic statements, but will not condemn them specifically.When asked about the controversies on media outlets, they frequently refuse to even say the words Jewish or LGBTQ.They post dog whistles about dual loyaltiesand that their critics are the same as Jesus's.They explain eloquently that they choose to condemn bigotry (but not bigots), yet condemn Anti-Defamation League.
Read more: https://forward.com/opinion/417820/take-note-womens-march-jewish-existence-is-resistance/
Posted on December 8, 2021 by Royal Rosamond Press
The work of Disney Artist, Eyvind Earle, hung in the Rosamond Gallery in Carmel. Eyvind illustrated 'Sleeping Beauty'. Instead of this being the major theme in continuing the artistic legacy of Rosamond, everything became about Vicki Presco, and what she did not get. She got the Rosamond partnership prints from Christine's house – the very day she drowned! Her and Shamus Dundon – stuffed Grandma's American Rambler with them! The Grimm Brothers named Sleeping Beauty ROSAMUND-ROSAMUND.

http://www.waltdisney.org/exhibitions/awaking-beauty-art-eyvind-earle

'Sleeping Beauty' is, depending on which version of the story you read, called Sleeping Beauty, Talia, Little Briar Rose, Rosamond, or Aurora. This is because, like many other classic fairy tales, the tale of Sleeping Beauty exists in numerous versions, each of which is subtly – or, in some cases, quite strikingly – different from the others.

In the Italian version published in the Pentamerone, an Italian collection of fairy tales published in 1634, the heroine is named Talia. Charles Perrault, in his version published later in the century, calls her the Sleeping Beauty. The Brothers Grimm call her Dornröschen or 'Little Briar Rose', which is sometimes adapted as 'Rosamond'. In the Disney film, the adult heroine is named Aurora. For the purposes of clarity here, we're going to call her 'Sleeping Beauty' or 'the princess'.

A Summary and Analysis of the Sleeping Beauty Fairy Tale – Interesting Literature

Grimm Brothers' version[edit]

Sleeping Beauty and the palace dwellers under a century-long sleep enchantment (The Sleeping Beauty by Sir Edward Burne-Jones).

The Brothers Grimm included a variant of Sleeping Beauty, Little Briar Rose, in their collection (1812).[13] Their version ends when the prince arrives to wake Sleeping Beauty (named Rosamund) and does not include the part two as found in Basile's and Perrault's versions.[14] The brothers considered rejecting the story on the grounds that it was derived from Perrault's version, but the presence of the Brynhild tale convinced them to include it as an authentically German tale. Their decision was notable because in none of the Teutonic myths, meaning the Poetic and Prose Eddas or Volsunga Saga, are their sleepers awakened with a kiss, a fact Jacob Grimm would have known since he wrote an encyclopedic volume on German mythology. His version is the only known German variant of the tale, and Perrault's influence is almost certain.[15] In the original Brothers Grimm's version, the fairies are instead wise women.[16]

Christine Rosamond – Wikipedia
Rosamond Press
Tonight, is Halloween. Grimm named the Sleeping Beauty Princess 'Rosamond'. What are the odds that I find a women named 'Rosamond Clifford Dew' after Fair Rosamond?
I have been attacked by real witches for five years – and longer! The curse has been lifted. A Royal Child, a 'Rose of the World' will be born. I am the Wizened Grandfather who saw into the future!
Here is my Rose Line to Rosamond Clifford:
Here is my Rose Line to Bohemian Royalty that are trying to get their castles back. A DNA test inked me this the Schwarzenbergs.
Dare I invoke the other name of Linda Comstock, who eagerly awaits the birth of Rosamond Clifford Dew?
Maleficent!
John Presco
Copyright 2019
Posted onApril 17, 2012byRoyal Rosamond Press
Today my grandson, Tyler Hunt, turns seven years of age. Happy birthday grandson!In June of 2010 I was offered an acre of land in South Carolina by a descendant of King David…
View original post 7,939 more words
Posted on January 21, 2019 by Royal Rosamond Press
I have seen the future!
Seer Jon
https://www.huffingtonpost.com/entry/israel-strikes-iranian-military-targets-in-syria_us_5c45c4d8e4b0bfa693c59518
Mediterranean slave trade
Further information: Jewish pirates and Barbary slave trade
The Jews of Algiers were frequent purchasers of Christian slaves from Barbary corsairs.[108] Meanwhile, Jewish brokers in Livorno, Italy, were instrumental in arranging the ransom of Christian slaves from Algiers to their home countries and freedom. Although one slave accused Livorno's Jewish brokers of holding the ransom until the captives died, this allegation is uncorroborated, and other reports indicate Jews as being very active in assisting the release of English Christian captives.[109] In 1637, an exceptionally poor year for ransoming captives, the few slaves freed were ransomed largely by Jewish factors in Algiers working with Henry Draper.[110]
Atlantic slave trade
Triangular slave trade.
The Atlantic slave trade transferred African slaves from Africa to colonies in the New World. Much of the slave trade followed a triangular route: slaves were transported from Africa to the Caribbean, sugar from there to North America or Europe, and manufactured goods from there to Africa. Jews and descendants of Jews participated in the slave trade on both sides of the Atlantic, in the Netherlands, Spain, and Portugal on the eastern side, and in Brazil, Caribbean, and North America on the west side.[111]
After Spain and Portugal expelled many of their Jewish residents in the 1490s, many Jews from Spain and Portugal migrated to the Americas and to the Netherlands.[112] Jewish participation in the Atlantic slave trade increased through the 17th century because Spain and Portugal maintained a dominant role in the Atlantic trade and peaked in the early 18th century, but started to decline after the Peace of Utrecht in 1713 when Britain obtained the right to sell slaves in Spanish colonies, and Britain and France started to compete with Spain and Portugal.[113] By the time the worldwide slave trade and European sugar-growing reached its peak in the 18th century, Jewish participation was dwarfed by the enterprise of British and French planters who did not allow Jews among their number. During the 19th century, some Jews owned some cotton plantations in the southern United States.[112]
https://en.wikipedia.org/wiki/Jewish_views_on_slavery
Posted on June 20, 2015by Royal Rosamond Press
Five blocks from the Emanuel African Methodist Episcopal Church in Charleston, South Carolina, is the Beth Elohim synagogue where Reform Judaism was born. RF took an oath that put the Return to Zion, in their past. The quest of their ancestors, was not their quest. These Sephardic Jews declared America their new 'Land of Milk and Honey' that God led them to. They wanted to resemble fellow Americans, thus they altered the orthodox way of worship. However, when organ music was introduced there was a schism and the formation of another Reform synagogue. What now united these two groups, was, they went down to the docks to look over the new arrival of kidnapped slaves. Perhaps they can get a deal.
There is a debate about how involved the Sephardic Jews were in the Slave Trade. They had cornered the indigo market. These slaves and their grandchildren filled the pews of Emanuel African Methodist Episcopal Church. These Africans also wanted to be like their fellow Americans, thus, they changed their ways.
Was it a year ago that worshippers were attacked and killed in a synagogue in Jerusalem?
"Republican Rep. Louie Gohmert went on a rambling tangent Thursday in Congress that started with his disagreement with the Trans-Pacific Partnership and spiraled into what was almost a sermon denouncing gay marriage.
Gohmert believes the United States was founded as and meant to be a Christian nation and that the laws of Moses and Jesus trump the Supreme Court. The Court is set to issue a ruling on gay marriage later this month."
Gohmert does not know his Torah. There are no "laws of Jesus" and, Paul told his followers the laws of Moses are no longer applicable to his church. I have asked many times if Jesus founded a democracy – anywhere? If Jesus founded the United States, why then didn't he bid his co-founders to give women the right to vote – and free white and black slaves alike?
To years ago I was not invited to the memorial of my good friend, Jon Gall. His mother had become a Christian, and, Jon had friends in Israel who conducted a dual-citizenship ceremony where Jon's Jewish spirit was returned to Zion. Jonny was an atheist. His parents and I are no longer friends. Dual-citizenship ideas, must die! Ancestor and Antique Worship will not defeat ISIS, the new Slave Masters that are destroying many antigue, and driving very ancient peoples from their very ancient homes. It is time we unite under ONE BANNER. What does that banner look like?
Jon 'The Nazarite'
http://www.nytimes.com/2014/11/19/world/middleeast/killings-in-jerusalem-synagogue-complex.html?_r=0
JERUSALEM — The gruesome slaying of five Israelis at a synagogue early Tuesday left many residents of this city fearing that the worst is still to come, as Jerusalem descends deeper into a cycle of terror attacks and violent protest over its religious sites.
Many Israelis were especially stunned by the sense of violation created by the attack, in which two Palestinians armed with cleavers and a gun stormed a synagogue in an Orthodox Jewish neighborhood of West Jerusalem and killed four rabbis: a Briton and three Americans, including a member of two of Orthodox Judaism's most prominent families.
There are Crusader graves at the Golden Gate of the Temple in Jerusalem. I suspect my Rougemont ancestors are here – awaiting the Messiah?
King Solomon used this gate after allowing the Shekinah 'The Light of God' to enter and dwell wihtin. Where is that Light this day?
It is high noon. It is time to put away the dark dream of Slavery, and bury all its evil symbols – all over the world! It is time to forgive debts, and honor the poor, the widow, and the disenfranchised!
I posted the following four years ago.
Jon 'The Highwayman'
The Promised Land
"For his first birthday I promised my Grandson, Tyler Hunt, a kingdom. American
Democracy has awoken from the demonic spell put upon it. Let the celebration
begin!"
On June 8, 2012, I got a call from a stranger, Samuel Josefa de Mattos, a
descendant of a famous Sephardic Jewish family. He said he had come across my
study on Rougeknights and said; "You appear to know more about my family then I
do."
We talked about his ancestor, Francis Salvador who was killed by Indians. Samuel
said his kinfolk left the "Jews land" around the small town of Hodges due to the
hostile natives. The Rosamond family may have done the same, they moving to
Mississippi leaving their plantations behind. Did the de Mattos and the Rosmonds
know one another?
Samuel then informed me he had purchased sixty one acres near Plantation Point
that runs to the shore of Greenwood Lake. He had read about the "Jews land" the
Hodge family has once owned. He deliberately bought this land so it can be owned
by descendants of King David once again. I told Samuel about Samuel and James
Rosamond who fought under Francis Marion in the Revolutionary War. I asked for
permission to take my daughter and grandson to this land against owned by a
family whose genealogy is found in the Bible. Samuel replied;
"Jon, not only do you have my permission, but I am going to give you an acre of
this land!"
I felt faint. I could not believe what Samuel offered me, for it is the end of
my prophetic book, where I promise my grandson a kingdom, where I compare my
rosy story to the Sleeping Beauty Princess, named Rosamond. Here is the Return
of The King, in the Red Branch Knight prophecy to the Promised Land.
Here is what my great, great grandfather, James Rosamond says in his will;
To my three sons, Thomas, Benjamin, and Samuel, I leave the rest of my land; to
be divided equally amongst them and to be given to them as they come of age. I
allow my wife to have use of it while she lives, the tract of land that I now
live on. On her death, this land will be equally divided between Thomas,
Benjamin and Samuel.
That my acre will be next door to a descendant of King David whose kingdom the
Zionist Christians and Jews are trying to restore in Israel, is profound! In the
Peerage we read; Esther Montefiore is the daughter of Samuel Montefiore and
Grace de Mattos Mocatta.1 She married Judah Guedalla. This is the family of
Moses Montefiore whom Joaquin Miller built a pyramid monument to, suggesting he
was a moder day Moses! The new address of the New Promised Land is 339 Middleton
Road on the land known as Plantation Point. Was the Rosamond plantation located
here?
I blessed Samuel and his family and when we said goodbye he called me "Brother".
I then -emailed my good friend Mark Gall, whose Jewish mother always had a
reserved seat for me at her table at the resthome, and she only asked for me to
take her to the Synagogue. She saw something in my eyes when we first met.
"
"It is a matter of a constitutional crisis when the Highest Court in the land not merely strikes down and says that their opinion is more important than Moses', depicted up there in the center point of this room, more important than Moses', depicted in the marble wall over the Supreme Court, holding the Ten Commandments," the congressman said on the House floor.
"The Supreme Court says theirs is more important than the opinions established and stated by Jesus Christ when he said–and he was quoting Moses–that a man shall leave his mother and father, a woman leave her home, and the two will come together and be one flesh, and what God has joined together, let no man put asunder."
He expressed paranoia that non-Christians were going to "take over the country."
"The great thing is that, if a nation is established on Judeo-Christian beliefs, it allows anybody to live here and to function here and to do so without impediment to one's beliefs because one can be an atheist, an agnostic, a Buddhist, a Muslim, Gohmert said, according to a transcript of his speech. "You can be any of those things, as long as you are not trying to take over the country like some would like to do."
He said he isn't "prejudiced," citing his grief at the news of the terrorist attack in Charleston that took the lives of nine Emanuel African Methodist Episcopal church members Wednesday.
"We are brothers and sisters in Christ. Skin color does not matter one bit. He killed my brothers and sisters," he said.
He rambled that "nature makes it very clear" that even though children can be adopted and some great Americans came from orphanages or single parent homes, "the optimum is a mother and a father in a home."
While calling supporters of marriage equality intolerant of differing views, Gohmert later said justices that vote against his own should be impeached.
"I know there are some who are involved in same-sex marriage. They are not able to love as I do. They hate anybody that disagrees with them," he said.
A little later he stated, "It is probably sufficient grounds for impeachment for a Supreme Court Justice to violate the law so that they can force their will upon the American people to push through their legislative agenda even though they are not legislators. Probably impeachment would be in order. If they break the law in order to change dramatically the law, they shouldn't be on the Supreme Court."
Earlier this month, Gohmert took to the House floor to accuse President Obama of aiding and abetting terrorists."
Francis Salvador (1747 – August 1, 1776) was a young English plantation owner in the colony of South Carolina from the Sephardic Jewish community of London; in 1774 he was the first Jew to be elected to public office in the colonies when chosen for the Provincial Congress. He had joined the independence cause and in 1776 was the first Jew killed in the American Revolutionary War, fighting with the militia on the South Carolina frontier against Loyalists and their Cherokee allies.[1]
Francis Salvador was born to Jacob Salvador and his wife in London ,[2] where a Spanish and Portuguese Jewish (Sephardic) community had developed since the 17th century. His uncle, Joseph Salvador, was a prominent businessman, the only Jewish director of the British East India Company. His grandfather Francis Salvador was the boy's namesake. Francis' father died when he was two, and his younger brother Moses was born soon after.[2]
The boys were tutored privately and raised in wealth. When the sons came of age, they each inherited ₤60,000.[2] Salvador became active with his uncle Joseph and the wealthy DaCosta family of London in plans to settle poor Jews and their family members in the New World.
Francis Salvador married Sarah Salvador, his first cousin and Joseph's second daughter. Her father gave her a ₤13,000 dowry.[2] They had a son, John Lovel Salvador, and three daughters before the senior Salvador emigrated in late 1773 to South Carolina.[2]
Emigration to North America[edit]
In 1733 the London Sephardic community sent 42 Jews to Savannah with the first English settlers in present-day Georgia. When Spain attacked Georgia in 1740, most of the Jewish families fled north to Charleston, fearing the Spanish Inquisition might be imposed in Georgia. In the 1730s Sephardic Jews from London began emigrating to Charleston as a preferred destination. They were later joined by Jews from Germany, the Netherlands and the West Indies.
The Salvador and DaCosta families in London bought 200,000 acres (810 km2) in the new district of Ninety-Six (known as "Jews Land") in the western frontier of the Carolina colony. They began to settle it.[3] The Salvador family was financially ruined by the Lisbon earthquake of 1755, as they still held properties there, and subsequent failure of the East India Company, in which they had interests. They retained their land in South Carolina and little other wealth.[4]
Representative to the Provincial Congress[edit]
Francis Salvador acquired 7,000 acres (28 km2) in Ninety Six District, Carolina Colony, and emigrated intending to send for his wife, Sarah, and their four children as soon as he was able. Arriving in Charleston in December 1773, Salvador quickly joined the American cause. He became close friends with the rising leaders of the Revolution in the South, including Charles Cotesworth Pinckney, John Rutledge, William Henry Drayton, Henry Laurens, and Samuel Hammond.[5]
Buying African slaves to work his land, In 1774 Salvador settled at Coroneka (commonly called Cornacre), joined for a while by his friend Richard A. Rapley, as neither wanted to live alone.[2] They were both elected as delegates to South Carolina's Provincial Congress; Salvador was the first Jew elected to public office in the Thirteen Colonies in North America.[1] He was re-elected to the second Provincial Congress in 1775, holding the post until his death.[4] At the time, Jews legally could neither hold office nor vote, but no colonists objected when Salvador and his friend Richard A. Rapley were elected as two among the several frontier representatives from Ninety-Six District to the Provincial Congress.[6] They were joined by Andrew Williamson, then a major in the militia.
When the Provincial Congress first met in Charleston in January 1775, Salvador was chosen for important committee assignments: drawing up the declaration of the purpose of the congress to the people; obtaining ammunition; assessing the safety of the frontier, and working on the new state constitution.[7] The group also framed a bill of rights and composed an address to South Carolina's royal governor, setting forth the colonists' complaints against the Crown. Salvador was appointed to a commission that tried to convince the Tories in the northern and western parts of the colony to join the American cause.
The second Provincial Congress assembled in November 1775. Salvador was one of the champions for independence; he urged his fellow delegates to instruct the colony's delegation to the Continental Congress to cast their vote for independence. Salvador chaired the Ways and Means Committee of this second Provincial Congress, at the same time serving on a select committee authorized to issue bills of credit as payment to members of the militia. He was also selected for a commission to preserve the peace in the interior parts of South Carolina.[8]
Fighting in the American Revolution[edit]
Early in 1776 the British had induced Indian allies to attack the South Carolina frontier to create a diversion in favor of British operations on the sea-coast. On July 1, 1776, the Indians began attacking frontier families in Ninety Six District. Salvador rode from his lands to the White Hall plantation of Major Andrew Williamson, 28 miles (45 km) away, to raise the alarm. Salvador took part in the engagements that followed. On July 31, Major Williamson captured two white Loyalists. They led his 330-men militia into an ambush by their fellow Tories and Cherokee allies at the Keowee River.[9] Alexander Cameron, deputy to Captain John Stuart, led the Tory forces.[10] Salvador was shot and fell into the bushes, but was discovered and scalped by the Cherokee that night. He died from his wounds at age 29.
Concerning his death, Colonel William Thomson wrote to William Henry Drayton, in a letter dated "Camp, two miles below Keowee[a Cherokee town], August 4th, 1776, as follows:
"Here, Mr. Salvador received three wounds; and, fell by my side. . . . I desired [Lieutenant Farar], to take care of Mr. Salvador; but, before he could find him in the dark, the enemy unfortunately got his scalp: which, was the only one taken. . . . He died, about half after two o'clock in the morning: forty-five minutes after he received the wounds, sensible to the last. When I came up to him, after dislodging the enemy, and speaking to him, he asked, whether I had beat the enemy? I told him yes. He said he was glad of it, and shook me by the hand – and bade me farewell – and said, he would die in a few minutes."[11]
A patriot journal, The Rememerance, wrote of Salvador: "he was universally loved and esteemed."[5][12]
Salvador became caught up in the Revolution before he could bring his family to the colony. His wife and children stayed in London, aided by his estate and their families.[2]
Interestingly, a handful of these businesses were run by women who had been given "sole trader" status by their husbands. Under coverture laws, married women were the legal property of their husband, although they could be granted independent economic status by their husband through a legal document. The historian James Hagy found 48 Jewish women who were classified as "sole traders" between 1766 and 1827. Many helped run their husband's business when he was away. Other times, women took over the family business from her husband when it was not doing well. Rebecca De Mendes Benjamin, the mother of future Confederate leader Judah P. Benjamin, was given sole trader status by her husband when his dry goods store was in dire financial straits. Rebecca took over the business. Later, she owned a store in Beaufort while her husband remained in Charleston. In a few instances, these women were able to pass their businesses down to their children. Hannah Hyams owned a dry goods store on King Street in the first decade of the 19th century; she later transferred the business to Judith Hyams, who was either her daughter or daughter-in-law.
Indeed, South Carolina's 1790 constitution guaranteed religious liberty in the state and gave Jewish men the right to vote and hold office. Abraham Mendes Seixas served as a city magistrate after the Revolution. Charleston Jews reveled in their freedoms. In 1806, they wrote to London's Sephardic synagogue looking for a new hazzan to lead services. In the letter, the congregation described life in the early republic for Jews, "in a free and independent country like America…, where in short we enjoy all the blessings of freedom in common with our fellow citizens, you may readily conceive we pride ourselves under the happy situation which makes us feel we are men."
Although Charleston Jews were bitterly divided over how best to worship God, they were unified on the issue of the country's growing sectional conflict. Charleston Jews had become well integrated in the city's economic, political, and social life. Jacob De La Motta, an active leader of Beth Elohim, was a physician who was elected as secretary of the local medical society in 1824. Abraham Moise was a lawyer who served as a local magistrate from 1842 to 1859. Lyon Levy was state treasurer. A number of Charleston Jews served in the state legislature and as city aldermen. Jews were involved in local benevolent societies and did not seem to suffer any social exclusion.
Jews acted much like other white Charlestonians, including owning slaves. Jewish auctioneers like Abraham Mendes Seixas sold slaves along with other commodities. According to one study, 83% of Jewish households in Charleston owned at least one slave; this figure was slightly lower than the 87% of all white households in the city that owned slaves. Most of the slaves owned by Jews in Charleston were house servants. A handful of successful Jewish merchants in Charleston bought relatively small slave plantations in the western part of the state, but most lived in the port city as was the general practice for South Carolina's planter elite. Mordecai Cohen owned 27 slaves who worked on his rice plantation. Becoming a slave-owning planter was a way to ascend the social ladder in Charleston, although it often became a significant financial drain for Jews. Although there is little evidence that Jewish slave owners tried to convert their slaves to Judaism, Beth Elohim's constitution had a provision that banned black converts from membership. Charleston Jews thoroughly accepted the South's defense of slavery. Jacob Nunez Cardozo was a local newspaper editor who was a staunch supporter of the South's cause and slavery.
On June 7th. I ran into my Jewish friend Ron Freedman. It turned out we knew
Alix whose father is Russian Jews and a neighbor of Mark. These are math
wizards. Mark was the head of the Department of Education at the University of
Oregon.
Here is the proof that God is speaking through me as I have alleged. This is not
my will, but His will. That God has sent another Prophet, is more important then
The Land, for without God, The Land is worthless. This is God's Message to you!
"These graves are right along a paved road in the woods (I mean, the stones are
right along the road). This cemetery is in bad shape. No one is taking care of
it. It is over grown in weeds, trees and with poison oak and ivy everywhere.
David, Mark and I ventured out into the cemetery a little ways. Couldn't go to
each stone because the poison oak & ivy is soooo thick. There aren't many
stones. Some graves are marked with field stones and doesn't have any writing on
them, and some of the field stones looked as those they had been chiseled on but
you couldn't read it. "
Jon
The Resurrected Nazarite
My Dear Friend, Mark; Tuesday, June 8, 2010 4:52 PM
You may never recieve a more inporant e-mail, or letter, then this one. This is
historic and Biblical. Two hours a gentleman called me from South Carilona. He
was looking at the genealogy of his ancient family on my Rougeknight blog. He
told me I am a real scholar, that appears to know more about his family then he
does. His name is Samuel de Mattos. He descends from Sephardic Jews who are kin
to King David. His ancestor, Francis Salvadore found in the Revolutionary War,
and founded Reform Judaism where the return to Zion is abandoned. Francis
declared South Carolina the "land of milk and honey" that God has led His Chosen
People to. His kin taught Vincent Van Gough.
http://rougeknights.blogspot.com/2008/04/jews-land-images-francis-salvador-dying\
.html
Yesterday, Samuel bought sixty acres of land that my Rosamond and Hodges kin
called the "Jews land". It was sold to the Hodge family by his kinfolk. This
acreage is near the town of Hodge. Samuel PROMISED me an acre of thos LAND so my
offspring will forever have a place to go. Mark, this is the Grail and the end
of my Quest, and the end of my Story, that will be a best seller. This is the
REAL DEAL. You will be in my story.
This RETURN of the Jews to their ancestral homes in Europe – and America – will
not happen over night, or by force! The Zionist Experiment with a Secular Nation
– is at an end! The True Zion is in South Carolina as I have stated many time in
my blog, and in e-mails to you. Being a Jew will consist of being a Child of God
without borders – once again. However, you can go on Pilgrimage to the "Jew's
land" that Samuel said he will keep pristine. Just the deer and other wildlife
will dwell here by Greenwood Lake. I made the same promise.
I will foreward my e-mail to Samuel.
Your friend
Jon
Mark;
I ran into an old freind down by the river, Ron Freeman. He dated Marilyn. We
talked aobut seeing more of each other, and I questioned him about a mutual
activity. I asked him if he fished. He said no, but mentioned a young man who
needs to go fishing. I asked Ron what his name was, getting a clue.
"Alix," Ron answered.
Ron is friend with your neighbors. Let us get together for Bar-B-Q at your house
where we can discuss some porjects for Alix during the summer. I mentioned model
boat making and sailing them in Alton Baker Park.
Jon
Who sees the future
http://www.growthingod.org.uk/jubilee.htm
http://www.cynet.com/jesus/PROPHECY/jubilee.htm
It looks like Jesus restored the Jubilee, but, Jesus did not come to liberate
and save Jews, he came for the Pagans. It must have been John the Baptist, a
devout Jew, who restored the Jubilee Law after is was done away with by the
Sanhedrin a hundred years before he was born. John freed indentured slaves and
returned their ancestral land to them. The War with Rome began when the Jews
began to burn the debt archives.
I wondered if the Rosamond family will be restored to their lands?
One week ago I awoke and heard my Angel. She told me I had found the Shekinah. I
wondered if she was saying I was very close to finding the Light of God. This
was not the case. I had arrived.
"You have found me."
My heart beating, I went to my computer and picked up the thread of my study
where I had left off. I was looking at the "Jews Land" and the coat of arms of
Doctor Mendes de Costa whose family lived on St. Eustatius. Regrettably they
were heavily involved in the slave trade. I suspect they made the blue glass
beads that Ponce de Leon used to entice Native Americans into making bad deals,
as well as enslaving them. Noble Jews expelled from Granada accompanied de Leon
in his voyage. I believe the Lion in de Costa's coat of arms represents the
kingdom of Leon. The fleur de leaves I suspect represents Burgundy as you will
later see.
"What is hateful to you, do not do to your neighbor."
David da Costa owned seven white servants. He bought three of them who were
felons. They were Christians. My ancestor John `The Highwayman' Rosamond was a
felon sent from England to America and purchased by an un-known person in
Delaware. That the Rosamond family later bought land owned by the da Costa
family suggests the term of the indentured servitude had exspired, and having
served alongside the Jewish hero, Francis Salvador, perhaps the Rosamond family
was being honored and rewarded. Were they given a good deal on this land?
http://rougeknights.blogspot.com/2008/04/rose-and-rock-of-zion-by-jon-presco.htm\
l
http://rougeknights.blogspot.com/2008/04/let-there-be-light-here-are-my-post-on.\
html
http://rougeknights.blogspot.com/2008/04/visionary-masterpiece-st.html
http://rougeknights.blogspot.com/2008/04/van-gough-and-promised-land-images.html
http://rougeknights.blogspot.com/2008/04/abbeville-ancestral-home-of-rosamond.ht\
ml
http://rougeknights.blogspot.com/2008/04/sephardic-jews-owned-european-slaves.ht\
ml
http://rougeknights.blogspot.com/2008/04/jews-land-images-francis-salvador-dying\
.html
http://rougeknights.blogspot.com/2008/04/taken-by-indians-one-of-leading.html
Jewish genomes published in the prestigious Journal of Genetics. Your Sephardic
friend would be interested. It was in Newsweek June 3.
http://www.newsweek.com/2010/06/03/the-dna-of-abraham-s-children.html
Abbeville – Ancestral Home of the Rosamond FamilyHere is a live-cam of downtown
Abbeville where my Rosamond ancestors used to walk.http://68.115.199.210/The
Walnut Grove Baptist Church is found at the center of the map above. The
Rosamonds were nextdoor neighbors of Francis Salvador who led a Sephardic Exodus
to a city founded by a Huguenot who made an Exodus from France.In the last two
days I found what I have been searching for for twenty years. I found a Jewish
Mayflower and a bloodline that descends from King David. This land was a
Promised Land. It was also the birth and death place of the Confederacy. I have
a book to write, and a kingdom to awaken.
I say, no Jew will go the World to Come until they publicly disown the
Evangelicals and their politicians, then apologize and make amends for their
part in promoting slavery in the New World. The Jews of the World are caught in
a evil duality. It is my hope to free them from this duality, this un-holy
ADVISARY, which is the meaning of the name, Satan.On the Nunez family crest you
find three fleurs-de-lis that are also found on the crest of Doctor Mendes da
Costa. I have traced his lineage to Narbonne France where for a little while a
Judaic Kingdom existed. That my ancestors purchased land from a relative of King
David, is profound, for I have compared my genealogical quest to the awakening
of Sleeping Beauties Kingdom.Van Gough has long been my favorite artist – and
religious person. His failed quest to be a Man of God, is a immortal tale. After
my death, I tried to paint again, but, I had a transcendence. I had overcome
Illusions and Duality and sought to translate the Beautiful Majesty of the
Heavenly Creation, as a Man of God. In 1989 I immersed myself in a river and
declared in writing I was a Nazarite. This is to say, I had converted to
Judaism.I endrose Obama for President of the United States.Jon
http://www.houseofnames.com/xq/asp.fc/qx/nunez-family-crest.htm
http://rougeknights.blogspot.com/2008/04/happy-birthday-tyler-my-grandson-is.htm\
l
The Sephardic Jews Owned European SlavesThe Sephardic Jews of South Carolina
bought European convicts and put them to work alongside the black slaves they
owned. There is a good chance that John 'The Highwayman' Rosamond was owned by a
descendant of King David.The ancestor of the da Costa family, whom the Hodges
family bought their land from, was a victim of the Inquistion. Manuel da Costa
was accused of saying Jesus was not the true Messiah, and the real Messiah had
not come. I have proven this was not the case. However the anti-slavery mission
of Jesus the Messiah – was buried alive with the help of Jewish quisling like
Joseph Flavius, who took the name of his Roman slaver-master, Emperor Vespasian
Flavius. Did wealthy Jews like Joseph sell fellow Jews to Romans?One Sephardic
Plantation owner made his home his Synagogue. Was this the inspiration for other
plantation houses built in a Romanesque style?Jon Presco"Lisbon awoke one
sixteenth century morning to find many church doors plastered with placards
blaring out a blasphemous message:"The Messiah has not yet come. Jesus is not
the true Messiah."A Maranno, Manuel da Costa, was accused of the heinous act. He
was arrested, tortured cruelly until he confessed his guilt. Then, with the
sophisticated methods developed over a century of producing excruciating
torture, Manuel was slowly and methodically agonized to death1.
The da Costas were among the Jews who fled from Spain into Portugal, and from
both Spain and Portugal into the Diaspora. The provenance of the da Costa family
is evident from the addition of "de León" to the surname of Abram da Costa de
León. Abram was instrumental in lifting the ban against Jewish residence in
Genoa in 1659, and for arranging for a group of Jews from Tuscany to settle in
Genoa.2
The Emcancipation of Indentured Alien Slaves
byJon Presco
Copyright 2006
Deuteronomy 24:20 "When you beat the olives from your trees, do not go over the
branches a second time. Leave what remains for the alien, the fatherless and the
widow.Deuteronomy 24:19 "When you are harvesting in your field and you over look
a sheaf, do not go back to get it. Leave it for the alien, the fatherless and
the widow, so that the LORD your God may bless you in all the work of your
hands."Strangers shall stand and feed your flocks, and foreigners shall be your
plowmen and your vinedressers.""The Spirit of the Lord GOD is upon me, Because
the LORD has anointed me To preach good tidings to the poor; He has sent Me to
heal the broken hearted, To proclaim liberty to the captives, And the opening of
the prison to those who are bound; To proclaim the acceptable year of the LORD,
And the day of vengeance of our God; To comfort all who mourn." (Isaiah 61:1-2)
Joseph D'Acosta came to New Amsterdam in 1655. He was a leading merchant in
Amsterdam and was a principal shareholder of the slave-dealing Dutch West India
Company.On April 9th. I posted on the Sinclair Sleeping Beauty who I have longed
compared to the Shekinah.
On April 5th. I reposted my post on moving the Axis Mundi and the Shekinah to
Santa Rosa island. When I made these posts I said I was following the
instructions of my angel who speaks to me with a female voice. Is she the Queen
of Heaven, the Shekinah? Then there are my posts calling for a Exodus from
Israel to Texas to form a New Zion. Of course I wondered if I was mad when I
made these posts.
What has risen from the ground where my Rosamond ancestors are buried in South
Carolina was the Lost Truth, being, the Sephardic Jews had founded a New Zion in
America. And after doing this they founded Reformed Judaism. The Sephardic
rabbis of Charleston taught that the Jews had ceased to be in exile, and there
was no cause to feel they were in a strange land. The Reform Jews in South
Carolina taught their children that to prey for a return to a Jewish homeland,
was incompatible with the desire to be a citizen of a nation outside Zion, and
this would create a dual loyalty. They were Anti-Zionists until 1947, when the
secular nation of Israel were founded by the Jewish Freethinkers of Europe.
Today, in America, many Jews struggle with the notion they own dual citizenship,
and thus, divided loyalties.The Reformed Jews taught their children that the
dispersion was a necessary experience, and the temple in Jerusalem should never
be rebuilt. Instead the Jews would spread all over the world a Messianic truth
and morality. This is contrary to the teaching of the evangelical leaders who
prey the Jews go to war with their old enemies and rebuild the temple. Only when
they do this, will God take this temple from the Jews and give it to the
evangelical Christians so it can be used like a lifeboat, taking them up to
heaven to escaped the Great Tribulation. To this end the evangelicals claim they
are doing the will of God. They have ran for, and hold many offices in our
Government claiming they are upholding traditional American moral and religious
values. But, this is far from the truth.
http://rougeknights.blogspot.com/2008/04/let-there-be-light-here-are-my-post-on.\
html
Let there be light
(Images: Devil's Tower. Devil's Tower. Jews gathering at base of Mt. Sinai.
Scene from Close Encounter. Meher Baba.)
http://rougeknights.blogspot.com/search?q=nassau
Here are my post on the House of Orange and Nassau and Margarita de Castro de
Souza kin to the Sephardic Jews and Exilarchs. Scroll down to see older posts.
Here is evidence of True Prophecy. 'The New Magi, Reformation, and the
Restoration of the House of Baux' was posted June 6 2007. In this light it
appears God did bless America. Did He make it His new home? Meher Baba claimed
he was God and came to live in South Carolina.
Jon
The Visionary
https://www.youtube.com/embed/-PF9rS7oAuI?version=3&rel=1&showsearch=0&showinfo=1&iv_load_policy=1&fs=1&hl=en&autohide=2&wmode=transparent
https://www.youtube.com/embed/tUcOaG?version=3&rel=1&showsearch=0&showinfo=1&iv_load_policy=1&fs=1&hl=en&autohide=2&wmode=transparent
awIW0&NR=1
http://en.wikipedia.org/wiki/Margarita_de_Castro_e_SouzaExodus 33:20-23
Thou canst not see my face: for there shall no man see me, and live. And the
LORD said, Behold, there is a place by me, and thou shalt stand upon a rock: And
it shall come to pass, while my glory passeth by, that I will put theein a clift
of the rock, and will cover thee with my hand while I pass by: And I will take
away mine hand, and thou shalt see my back parts: but my face shall not be seen.
http://rougeknights.blogspot.com/2007/11/goel-redeemer-by-jon-presco-copyright.h\
tml
http://rougeknights.blogspot.com/2008/01/let-new-exodus-to-texas-redoubt-begin.h\
tml
http://rougeknights.blogspot.com/2008/01/mounted-rouge-knight-comes-home-www.htm\
l
http://www.clansinclairsc.org/scgvill.htm
http://rougeknights.blogspot.com/2008/03/john-highwayman-rosamond-and-delta.html
http://rougeknights.blogspot.com/2008/03/i-condemn-and-cast-out-john-hagee.html
http://rougeknights.blogspot.com/2008/01/oil-pirates-dancing-in-motherland-of.ht\
ml
Juda Guedilha DE MATTOS
ABT 1794 – 1 Feb 1857
BIRTH: ABT 1794, Amsterdam
DEATH: 1 Feb 1857, Amsterdam
Family 1 : Gracia BELINFANTE
MARRIAGE: Amsterdam
http://hzrabbie.home.comcast.net/~hzrabbie/g0000065.html
And still he went farther, and all was so quiet that he could hear his own
breathing, and at last he came to the tower, and went up the winding stair, and
opened the door of the little room where Rosamond lay. "
For twenty years I had been studying the Bible, and took note what the wrong
people did to the Suffering of Jesus, the Scapegoat and Redeemer. I saw right
through the cloaks of invisibility worn by the Pretenders and Predators that
came to feed off Christine's suffering, and her Death, they about the business
of Transferring my family history over to themselves, and then using our
misfortune and abuse as their eternal money-making slave!
I have come to take my dear sister Christine down from their evil cross!Here are
the main goals of the Go'el, the Redeemer1. Repurchase a filed which was sold in
a time of need. Buy back tht which had fallen into debt. Lev.25:482. Free an
Israelite slave who sold him/herself in time of poverty Lev. 25:483. Avenge the
blood for the murder of a close relative
Around 5:15 this morning I awoke to hear my Angel bidding me to rise, go to my
computer, and publicly condemn John Hagee as a False Teacher, Traitor, and
Terrorist, then Excommunicate him from the Protestant church.I tried to go back
to sleep, but it was too late, for `The Argument' had began, which begins
with;"Who am I to do such a thing? What authority and power do I have? I am one
man, they are many"
I rolled over and tried to go back to sleep, but I started thinking about Pope
Adrien, the good friend of my ancestor, Godschalk Rosemondt. Why were Adrien's
papal papers disappeared? Was he leaning towards the Reformation after
conculting with Rosemondt who was corresponding with Erasmus? What became of
Rosemondt's papers? Surely he must have pondered over the reason Adrien was
anointed Pope. Was it because of the very large membership in the Swan Brethren,
as high as hundred thousands members all over Europe. Were many Swan Brethren
being trained as theolgins at Louvain college?
I looked forlornly at my clock and got out of bed. I rose as a Nazarite Judge of
Israel. I had taken the vow of the Nazarite in 1990. I immersed myself in the
McKenzie river in Oregon. There was not a soul around. But on my way back to my
campsite in the forest wilderness, here came my kin Michael and his three sons.
They had spotted my car in the campground. Michael gave me the Bible that
changed the course of my life. The timing of this is inexplicable.
http://rougeknights.blogspot.com/2008/03/i-condemn-and-cast-out-john-hagee.html
http://rougeknights.blogspot.com/2008/03/swamp-fox-witherspoons-orange-quater.ht\
ml
Dan Brown, Margaret Starbird, Laurence Gardner and others, claim the 'Sleeping
Beauty' legend is a Grail Quest for a Holy and Rosy Bloodline. Princess Rosamond
is associated with the Priory de Sion, Rennes Chateau, the Serepent Rouge, the
Sacred Feminine, and Fair Rosamond who dwelt in a Labyrinth and was discovered
by the clue of a rouge thead, and thus is associated with Ariadne.Is it just a
coincidence that my sister, Christine Rosamond Presco, her mother, Rosemary
Rosamond, and her mother Mary Magdalene Rosamond, loved to sew? After I located
the unmarked grave of my grandfather, Royal Rosamond, and placed a marker there
of two roses, did the existance of my sixteen year old daughter become known to
me – for sure. Have I cut through the roses and thorns and awakened a sleeping
kingdom of rosy weavers, or, has a troupe of Grail Writers found their way into
my Rosy Family Labyrinth and found the kingdom protected by roses – and the
needles of the rose?
For his first birthday I promised my Grandson, Tyler Hunt, a kingdom. American
Democracy has awoken from the demonic spell put upon it. Let the celebration
begin!
Posted on March 15, 2022 by Royal Rosamond Press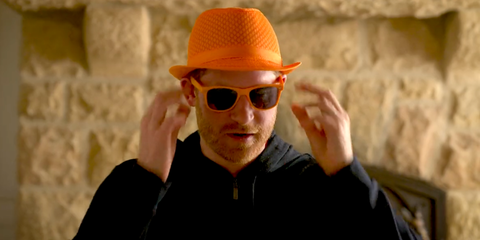 And then he reached up to unzip his plain black hoodie: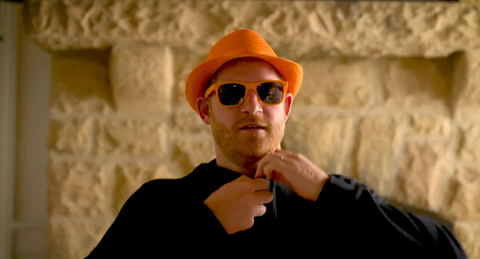 And then things got REAL (as in he REALLY went all in on this head-to-toe human Cheeto look because he cares about his good cause more than whether or not he looks like a Cheeto/traffic cone/love child of Ed Sheeran and a pumpkin: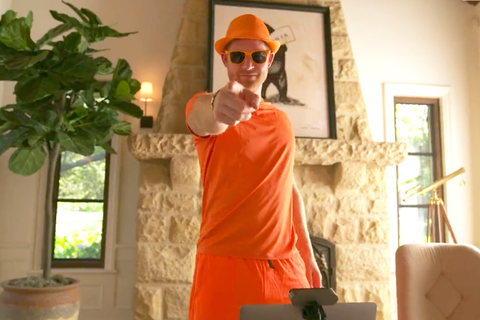 Never change, Harry.
Prince Harry of Orange – went ORANGE! As his PHO Advisore I suggest Harry do the following:
Contact Willhem-Alexander and ask to be admitted to The Swan Brethren.
Ask to become an honorary citizen of Holland and Ambassador to the U.S.
Review German troops standing next to Ursula Von Der Leyen and acknowledge a Sleeping Dragon has awoke.
My call to all nations to disarm was followed by a new cold war, and threat of nuclear holocaust.
I suggest Disney Pacifica be built as the Holland of the West where Prince and Princess Harry and Meghan will live – along with their children.
Reality has taken over another of my novels in regards to the challenge – to fight!
John Presco
Chechen leader Ramzan Kadyrov responded to Elon Musk's surreal offer to fight President Vladimir Putin in single combat over the fate of Ukraine, arguing that Musk would face swift defeat.
https://en.wikipedia.org/wiki/Willem-Alexander_of_the_Netherlands
Ukraine first lady's plea to the world (msn.com)
Eric Trump's insistence that, somehow, Putin made a psychological assessment of his father and that's why he didn't invade Ukraine is also ripe for mockery.
(Meanwhile, John Bolton, who served as Donald Trump's national security adviser, suggested recently on a podcast that Putin may have waited to invade Ukraine because he thought Trump would pull the United States out of NATO if he won reelection.)
Plus, consider what we already know about Russia and Trump — namely that Russia actively worked to interfere in the 2016 election to help Trump.
Europe's Sleeping Giant Awakens – The Atlantic
'I suggest all nations disarm and develop Psychic Warfare – that will be much cheaper! Instead of naval ships and jets buzzing each other, psychic hits can be described and bragged about. John Von John's legion of Beautiful and Psychic Redheads – may be the top of the psychic line – and indeed, we have already psyched out the enemy. We will be called The Psychic House of Orange. The PHO.
Posted on June 12, 2018 by Royal Rosamond Press
Posted on December 26, 2014by Royal Rosamond Press
When I went to Santa Rosa the second time in 2000, I tried to explain Rosamond's biography is not important as the book I was authoring on the Grail Bloodline. I told Heather and Patrice there is a good chance we are related to Denis de Rougemont 'The Prince of European Culture' as well as Dutch Royalty. A look of disgust came over Patrice's face. She had been working on their biography. They were just one step away from the Rose of the World throne. I had to be crazy! Their divine intervention was being dictated by Patrices's mother, who became an angel after she jumped off a cliff and killed herself. She was severely mentally ill due to the abuse from her husband. Patrice had to take over the duties of a mother when she was twelve. She and her siblings had been severely scarred, but, Heather and their guiding angel was going to make everyone perfect, the way they were meant to be. No need to get into recovery and therapy. 'The Child Savior' was on the job. Two years later Dan Brown publishes the Da Vinci Code. Instead of finishing my book on this subject, I am in therapy dealing with the disappearance of my daughter, and the possibility Vicki Presco has lured her away from me with the promise of making her a movie star.
Now in the camp of the Destructive Un-Creative Ones, Heather and her mother got with their program, which was to destroy me an my novel. In doing this, the movie will be made, and, perhaps Heather will be in it, she playing the role of the Teen Rosamond. Seeing her niece might get famous, she had her sister try to convince me to take a blood test, to prove I was not an imposter. Linda Comstock claims a relative molester her as a child, and she does not want to happen to a precious sixteen year old. At thirty-five Linda married a wealthy retired attorney, who was seventy-five. He is the one that wanted my DNA because he knows about paternity suits. He wanted to make sure that when I discovered the covert agenda, I wouldn't get rid of this gang of frauds by simply denying Heather was my child. Heather heard all this PLOTTING, where I am 'The Enemy of The Plan'. How could she love me?
Above is my kindred Bennett Rosamond who was a Grand Master of the Orange Lodge that springs from the House of Orange that Prince Bernard and his wife, Beatrix, were the head of. Bernard is knighting is wife into the Military Order of William – of Orange – whose image is on the banner that Rosamond carried in the Orange parades.
There is a great split between the Protestants and the Catholics in my family, in my DNA, that I was born to repair.
Jon Presco
Copyright 2014
The oath to be taken by the accolade to the Military Order of William states: " I swear that I shall conduct myself as a faithful and valiant Knight, to stand ever ready to defend King and Country with my Life, and with all my Powers to always strive to be worthy of this Distinction, which the King has bestowed upon me. So help me God almighty."