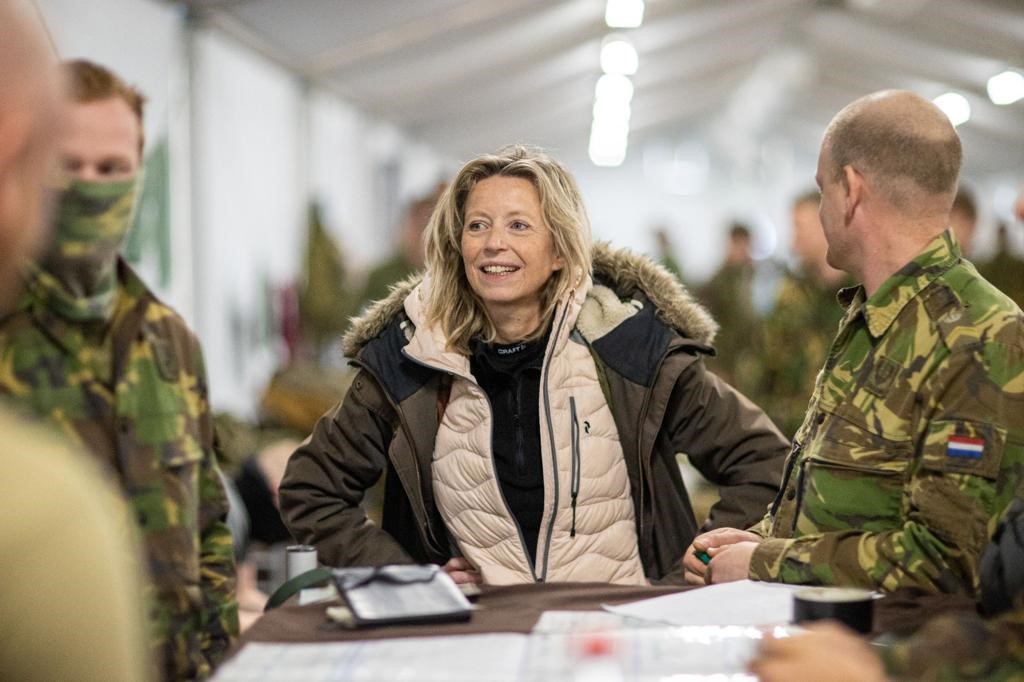 Last night I discovered defence minister Kajsa Ollongren who was appointed by Dutch Royals. Why? This morning I see Zelensky shaking hands with King Charles and speaking before Parliament – giving the sign of Churchill. Why?
As a author, I have had much trouble with Miriam Starfish Christling – stealing the show! She becomes the dominant character – too dominant! I have her make love in the microfish room at the Knight Library. In order to make her – more human – she becomes pregnant. Last night I discovered – she gave birth to her real self. And now I have my storyline. Victoria Rosemond Bond grows up at the College of Arms, and is an expert with cotes of arms. She has lived like a church mouse most of her life. She falls in love with a Cote of Arms belonging to a Woman Warrior who gathers forces to fight the Putin and Killer Kirill – in the war to end all wars.
The Royal Janitor
The Ride of the Valkyries
With the discovery of who Starfish, is, Victoria retreated into the background. She drove to the stables in Greyhaven and saddled up her horse. Alone, she zig-zagged about the course, fighting back her tears. Fate is a fickle thing, she said to herself…..and then she felt powerful eyes falling upon her.
"I need a General!"
John Presco
Ollongren, also Ållongren is a noble family of Finnish origin.
The progenitor of the family, Olof, owned an estate of Pepot (Peippola) in Porvoon maalaiskunta. His son Nils Olofsson was a nimismies 1480.
The family was immatriculated into Swedish House of Nobility 1625 under number 115, and it got surname Ållongren i Finland from its coat of arms, displaying two raspberry branches (modern swedish: hallon).
The family became extinct in Finland 1806, but continued in Russia.[1] The surname has been made known in Netherlands by astronomer Alexander Ollongren and politician Kajsa Ollongren.
https://en.wikipedia.org/wiki/Alexander_Ollongren
The Royal Netherlands Army was raised on 9 January 1814, but its origins date back to the founding of the Staatse Leger (the Army of the Dutch States) in 1572: the creation of one of the first modern standing armies. Under the command of famous commanders such as Maurice of Orange and William Louis of Nassau-Dillenburg, the army developed into one of the best-organised and best-trained armies of the 17th and early 18th centuries.[13][4] The innovative army underwent a thorough process of professionalisation under their command including revolutionary foot drill and siege tactics, proven effective during sieges such as the Battle of Nieuwpoort.[14][15]
The Dutch States Army of the Dutch Republic saw action in the Eighty Years' War, the Dano-Swedish War, the Franco-Dutch War, the Nine Years' War, the War of Spanish Succession, the War of Austrian Succession, and the French Revolutionary Wars.[13]
https://en.wikipedia.org/wiki/Royal_Netherlands_Army#:~:text=The%20Royal%20Netherlands%20Army%20%28Dutch%3A%20Koninklijke%20Landmacht%29%20is,army%20one%20of%20the%20oldest%20in%20the%20world.
Patriot missiles in Romania in September 2020. Photo: Mircea Moira/Depositphotos The Netherlands will supply Ukraine with two Patriot missile launchers and ammunition, but not a complete system, defence minister Kajsa Ollongren has confirmed. The minister gave more details of the agreement after prime minister Mark Rutte said during his visit to US president Joe Biden last week that there was an 'intention' to send Patriots. The Netherlands owns four Patriot defence systems, one of which serves as a back-up for the other three. Ollongren said the decision would have a significant but 'acceptable' impact on the country's defence capability. 'Patriot systems are scarce, even within Nato. And we must support Ukraine,' she said. The minister was speaking at the Ramstein air base in Germany on Friday, where officials from 50 countries met to discuss the delivery of more weapons to Ukraine. She also confirmed that the Netherlands would provide 100 air defence vehicles procured in the Czech Republic. 'The message from the Ukraine Defense Contact Group is clear,' she said on Twitter. 'More military aid is needed to enable Ukraine to defend and protect its freedoms. They can expect new weapons, munitions, maintenance and training.'
Volodymyr ZelenskyPresident of Ukraine since 2019
Charles, Prince of WalesKing of the United Kingdom since 2022
King Charles welcomed Ukrainian President Volodymyr Zelensky to Buckingham Palace today, in a meeting Zelensky called "truly special."
In a speech to Westminster Hall ahead of the meeting, Zelensky said, "Today I will have the honour to be received by His Majesty the King. It will be a truly special moment for me, for our country."
He continued, "In particular because I will convey to him from all the Ukrainians the words of gratitude for the support His Majesty showed to them when he was still the Prince of Wales. I also intend to tell him something I think that is very, very, very important, not only for the future of Ukraine but for the future of Europe. In Britain, the King is an air force pilot and in Ukraine today, every air force pilot is a king."
Zelensky concluded, "God bless Great Britain and long live the King."
Volodymyr Zelensky makes history with speech to UK Parliament
Share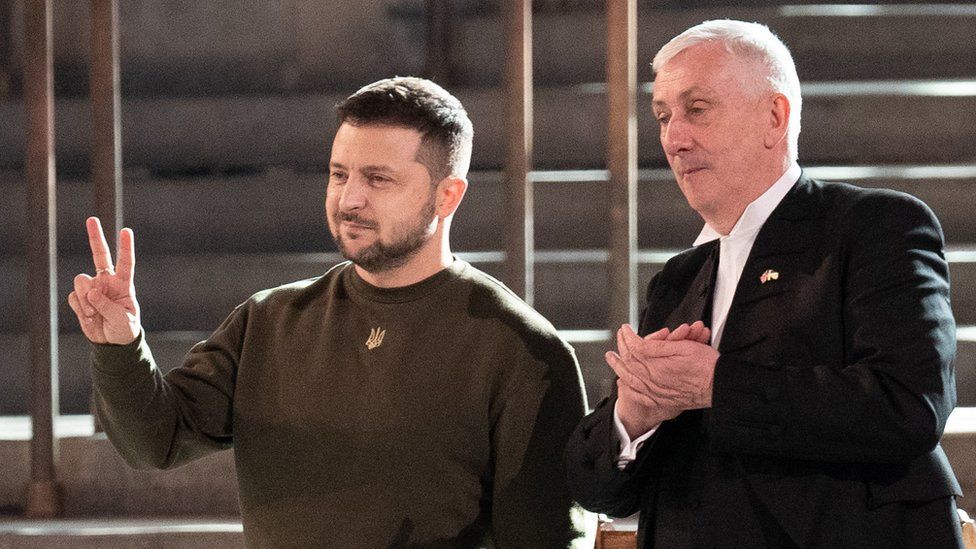 By Brian Wheeler
BBC News, in Westminster Hall
Wednesday lunchtime normally sees British MPs shouting at each other across the Commons chamber, at Prime Minister's Questions.
But normal hostilities were suspended this week for the surprise visit of Ukrainian President Volodymyr Zelensky and what turned out to be a remarkable Parliamentary occasion.
After a sober and subdued PMQs, which saw Labour leader Sir Keir Starmer and Prime Minister Rishi Sunak presenting a united front in their determination to help Ukraine defeat Vladimir Putin, MPs headed to Westminster Hall for Mr Zelensky's big speech.
The 900-year-old medieval hall was bathed in sunlight from its vast stained glass windows, as MPs, peers, members of the clergy, reporters and assorted dignitaries assembled in an atmosphere of hushed anticipation.
The Ukrainian president was greeted with warm applause, as he walked through the crowd dressed in his trademark khaki shirt and combat trousers, to take seat on the platform, as the more formally attired Commons Speaker Sir Lindsay Hoyle made the introductions.
It was not the first time President Zelensky has delivered a speech to British MPs. In March last year, 13 days after the invasion of Ukraine, he addressed a packed Commons chamber via a screen.
'Defeating evil'
On that occasion his words were translated. This time he spoke in English, which made his 20 minute address all the more powerful and direct. One or two in the crowd could be seen wiping away a tear.
His speech was full of praise and gratitude for Britain's support, with special mentions for "Boris", the former PM who was watching intently, and "Rishi", who had earlier played host to him in Downing Street. It also had much to say about defeating "evil" and building a world free from war.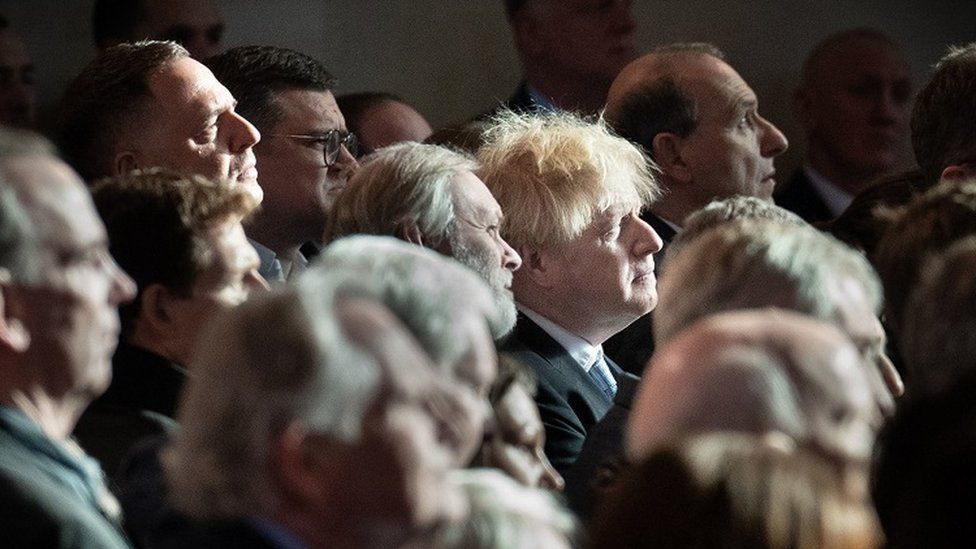 But the Ukrainian president was there to deliver one simple message – his country needs modern fighter jets.
He chose to do this with a piece of political theatre and a reference to the visit to Buckingham Palace that was next on his itinerary.
"The King is an air force pilot and in Ukraine today, every air force pilot is a king," he said, before asking an aide to hand him a helmet that belonged to a "real Ukrainian pilot".
As he presented the helmet to Sir Lindsay, he read out the inscription on it: "We have freedom, give us wings to protect it".
The gesture was greeted with loud applause.
'Combat fatigue'
Sir Lindsay had earlier introduced Mr Zelensky with an anecdote about their first meeting, in October 2020, during the Covid-19 pandemic, when they had shared "much laughter over an English afternoon tea".
As he concluded his speech, Mr Zelensky said: "Two years ago, I thanked you for delicious English tea… I will be leaving the Parliament today thanking all of you in advance for powerful English planes."
https://emp.bbc.com/emp/SMPj/2.47.2/iframe.htmlMedia caption,
In full: President Zelensky addresses UK Parliament in person
On his way out, the Ukrainian president shared a handshake with Mr Sunak and Labour leader Sir Keir Starmer and a few other MPs, including Mr Johnson.
If his aim had been to stiffen the resolve of his allies in Britain, then it succeeded, judging by the reaction of MPs afterwards.
"He sent a very important message to the world that we cannot allow combat fatigue to set in," said Conservative MP Alex Shelbrooke, leader of the UK delegation to the Nato Parliamentary assembly.
Labour's Stephen Doughty, a member of the all-party Ukraine group, who has recently visited the country, was among those left with a sense of awe.
"He's the real deal. You don't get many leaders quite like that in the world."
'Incalculable symbolism'
It was Mr Zelensky's Churchillian "V for victory" sign at the end of his speech – as the Ukrainian national anthem played in the background – that was the most powerful moment for the Labour MP.
Particularly, the MP said, as the stained glass windows that bathed the whole occasion in light are a memorial to the staff and members of both houses of Parliament who died in the Second World War.
"The symbolism of that is incalculable."
Foreign leaders have addressed both Houses in Westminster Hall before.
Charles De Gaulle, the wartime leader of the free French, was the first in 1960. Since then the historic venue has played host to Nelson Mandela and Barack Obama, among others.
Volodymyr Zelensky was the first leader of a country at war to be given the honour – and his speech will live long in the memory of those that were there.
Posted on February 2, 2023 by Royal Rosamond Press
"TALLINN, Estonia — The United States will deploy additional infantry troops to the Baltic country of Estonia "in the coming weeks" to strengthen defenses on NATO's eastern flank, Estonian defense officials said Thursday.".
Posted on July 31, 2022 by Royal Rosamond Press
The Royal Janitor
Chapter New Cold War Heros
by
John Presco
Putin' s men took Starfish and Victoria to a special prison, where a hologram of the Russian leader introduced our BAD agents to foreign prisoners. One was a giant of a woman that played basketball. Miriam told this forlorn woman that she was an athlete, an amazing hurdler – who has never competed!
"We ran in a grove of trees felled in a windstorm. Ivan competed at Hayward field in Eugene Oregon."
One of the men behind the mirror got on Google and brought up Victoria Thachuk, a Ukrainian hurdler that will compete at Hayward field, while Russia is banned. Putin's hologram was fed this information, and his image pointed to a screen. When a video of Viktoriya in a race was played, both our spies gasped.
"They are like sisters – twins! "
"I want a pair of sunglasses – just like that! I must have! I can beat her! She is so beautiful! I must have her! She is my double!"
"The Men Behind The Mirror – and Putin's Hologram-Double – were shocked. All eyes fell on 'Her Original Victoria'. to see her reaction. Having concluded a week earlier that Starfish was a Toxic Narcissist, she took it on the chin, with much aplomb. Smiling. our agent said;
"I must have her too. She reminds me of someone!"
Starfish gave her wife the most heart melting smile, and she came and put her arm around her waist. Putin's hologram already confronted the happy couple with the videos taken in their hotel room.
"It is true. We are Lesbians!"
"But, we are married!"
"Don't worry. Most of our spies are LGBTQ people. It comes with the territory. We can not be good family folks for the reason we travel allot, and, we have to keep many secrets from our Loved One. We have watched you two closely to see how you lie to one another. So far, one of you told a little white lie, while the other -TOLD A GIANT LIE!
Victoria had to do allot of quick assessing. She was grateful for the Wizard's Crazy Test, that asks if she and Miriam peed on the stuffed Unicorn, and, wiped their ass on Babe Ruth's baseball? She understood life was full of Guilt and Shame hurdles. She was not going to take her husband's inventory – just because she was prompted to. Coming down on the right side of, things, was the international game. Everything else – was pretty obvious. The rules were very pedestrian. Analyzing The Guilt Trip people were on – was the real Job. The Bible has proven this is how – we really are!
"I can take her!"
Team Putin worked the deal where Starfish was the only entry from an Island off Siberia in the Pacific. On the plane for Oregon, Starfish blurted out.
"I'm going to smoke allot of pot at the Country Fair. Will you buy me a new set of drums?"
Victoria was studying the Russian community in Eugene. Her wife wondered if this was the community her parents established on Mount Shasta.
"I want to take some shrooms. I want to try Psilocybin!"
Starfishes wish list took up the whole flight. Viktoriya Tkachuk had activated her mates parallel universe, jag. The movie PI came up mid-Atlantic. Bored with the recitation of her wish-list for the other life, Victoria called her bluff. She was bored.
'Enough! Let's hear it. Recite the movie PI backwards!
The plane was full of spies and mikes that listened, in, to what sounded like a Christian talking in tongues.
"I have no way of telling if you are….doing a great and fantastic job! Stop, I want to nap!"
When they went to Hayward Field, our heroes looked down on the practice field. Looking up, our twins beheld each other for the first time.
to be continued
https://en.wikipedia.org/wiki/Psilocybin#:~:text=Psilocybin%20is%20a%20tryptamine%20compound,similar%20to%20the%20neurotransmitter%20serotonin.
Viktoriya Tkachuk of Team Ukraine competes in the Women's 400m… News Photo – Getty Images
Ukrainian athletes savor track and field world championships – The Washington Post
Posted on August 22, 2022 by Royal Rosamond Press
Actor Steven Seagal receiving his Russian passport from Vladimir Putin in 2017.
An hour after I posted the introduction to 'In London's Wake' I quickly read an article that – may have suggested the U.S. intercepted messages Putin was going to attack Ukraine. From whom? Was there a spy? And now I can't find the damn article! Was it pulled?
This is what I'm talking about! If I take time off to go back in London's time – then I miss the greatest story – off all time! The Ukraine – is beating Russia – and Putin's Brain! How about – TRUMP'S BRAIN and those who still prop it up! I decided to post my series for free after watching 60 Minutes. I have been Belling the Cat for four years as part of my contribution to the War Effort. I still have not listened to my Youtube – again.
Bellingcat: The online investigators tracking alleged Russian war crimes in Ukraine – 60 Minutes – CBS News
In April I posted on Dugin whose daughter was just killed – murdered? Some newspapermen are suggesting Putin did it in order to implement a new strategy, such as…..using that nuclear plant as a THREAT-WEAPON? I FORSAW this in the Royal Janitor. Victoria and Starfish – are already at Osborne House on the Isle of Wight where Admiral Swineburne had an estate. Cue the Friesian Horse….
AND THE TROJAN HORSE!
The Royal Janitor
by
John Presco
Chapter Putin's Brain
After answering Steven Seagal's cellphone after this Brute was subdued by Starfish, The Wizard was surprised to hear he was talking with "Putin's Brain".
'Hello, Dugin. It is not so good to hear your voice."
"Who is this?"
"This is your old nemesis who you accused of stealing the core teaching of Evola. We almost fought a dual, remember?"
"How can I forget. Do you still have it? And how did you get Steven's phone?"
"Mr. Seagal had an accident. He ran into a bouquet of sunflowers. Arnold Schwarzenegger is giving him CPR. It looks like he may live! I want you to quit Putin and come work for me at BAD."
"You can go to hell! I want what belongs to me! I will send a Psychic Bill Collector for you. You owe me!"
"When can I expect him – or her! Do some meditating and see what kind of force protects me – now!"
After five minutes….
"How did you find her? Where is she! Tell me – you rotten son of a bitch?"
"She's right here, sleeping next to Steven. I had to dart her."
https://www.cnn.com/2022/08/21/europe/alexander-dugin-russia-profile-intl/index.html
The war crimes in Ukraine are among the worst of the 21st century, but they are just the latest in a history of assassinations and mass murder at the hands of Russian President Vladimir Putin. We know this, in large part, thanks to a team of online data detectives that calls itself Bellingcat. Since 2014, Bellingcat investigations have exposed Russia's undercover hit squads and tied Russian troops to atrocities. Suffice to say the Russian government denies everything you are about to see in this story. But that's exactly where Bellingcat comes in. As we first reported in May, Bellingcat's founder, Eliot Higgins, has created a method of mining online data and social media to put the lie to disinformation and unmask Vladimir Putin.
Eliot Higgins: I feel it's almost my duty that when we're faced with all this information showing terrible things that are happening, it's to put it out there. It does involve risk. But then defending liberty, human rights, democracy involves taking risks. It's when we stop taking risks and we let the fear take hold that we see democracy die.
We met Eliot Higgins, in April, in London as Bellingcat was building a database of social media exposing apparent war crimes in Ukraine. Eyewitness accounts of attacks on neighborhoods, assaults on hospitals, and murders of civilians are being collected and published on Bellingcat's website for all to see.
Japan is considering the deployment of more than 1,000 long-range cruise missiles to increase its ability to counter growing regional threats from China, according to the local newspaper Yomiuri Shimbun.
Here.
The daughter of Alexander Dugin, a far-right Russian nationalist who helped shape the Kremlin's narrative about Ukraine, was killed Saturday when the car she was driving exploded near Moscow, according to Russia's main investigative authority.
Russia's Investigative Committee said it was looking into the incident and had opened a criminal murder case.
A Toyota Land Cruiser "went off at full speed on a public highway" and caught fire, it said, after an "explosive device planted under the bottom of the car on the driver's side" blew up. The driver, identified by the committee as "journalist and political scientist Daria Dugina," died at the scene. It said early evidence pointed to "a murder for hire."
https://www.cnn.com/2022/08/21/europe/alexander-dugin-russia-profile-intl/index.html
Donald Trump launched a furious attack on 'broken down hack' Mitch McConnell and his 'crazy wife' in bust-up over GOP Senate candidates (msn.com)
Former President Donald Trump has launched a furious attack on Senate Minority Leader Mitch McConnell in a dispute over the GOP Senate mid-term campaign.
Trump said the senior senator from Kentucky should spend more time and money helping Republican Senate candidates get elected and "less time helping his crazy wife and family get rich on China."
"Why do Republicans Senators allow a broken down hack politician, Mitch McConnell, to openly disparage hard working Republican candidates for the United States Senate," Trump wrote on Truth Social.
McConnell has drawn ire from Trump after he said that Republicans will face a tough task in flipping the Senate majority, citing "candidate quality."
Japan considers deploying over 1,000 missiles amid China tensions (msn.com)
Trump hired cronies to search top-secret docs he believed would erase 'stain' of his impeachment: former NYT reporter (msn.com)
Appearing on CNN's "New Day" on Monday morning, former New York Times national security expert Tim Weiner claimed that former President Donald Trump rounded up the boxes of sensitive government documents to take to Mar-a-Lago in the belief that he would find a "smoking gun" in them proving members of the "deep state" were plotting against him.
Some Kremlin loyalists immediately pinned the blame on Ukraine, which has recently started striking into Russian-controlled territory, and maybe even Russia itself. Denis Pushilin, head of the breakaway Donetsk People's Republic, quickly blamed the explosion on "terrorists of the Ukrainian regime, trying to kill Alexander Dugin."
Russia-Ukraine war updates for August 19, 2022 (cnbc.com)
Britain's Spy Chief Claims Intelligence Scoop on Putin's Invasion of Ukraine (usnews.com)
LONDON (Reuters) -Spies in the United States and Britain scored an intelligence scoop by uncovering Russian President Vladimir Putin's decision to order the biggest attack on a European state since World War Two, Britain's foreign spy chief said.
"U.S. and UK intelligence communities uncovered Putin's plans for Ukraine," Richard Moore, the chief of Britain's Secret Intelligence Service, known as MI6, said on Twitter.
"We exposed his attempts to engineer 'false flag', fake attacks to justify his invasion," Moore said. "This attack was long planned, unprovoked, cruel aggression."
Moore, though, did not give any sense of where the intelligence had come from.
Such was the concern over Putin's intentions in recent weeks that snippets of U.S. and British intelligence were released into the public domain as part of an attempt to deter an invasion and caution allies about a possible war.
Trump treated my family like disposable pawns and tore us apart, says daughter of convicted Jan. 6 rioter (msn.com)
Vladimir Putin's health is 'sharply deteriorating' (msn.com)
Intercepted radio transmissions reveal Russians ordering troops to 'cover' residential areas with artillery, New York Times reports (yahoo.com)
Intercepted radio transmissions reveal Russians ordering troops to target residential areas.
In one clip, a Russian is telling a soldier to "cover the residential area with artillery," according to the New York Times.
He was also ordered to first remove "property" from the area — likely referring to Russian personnel or equipment.
Intercepted radio transmissions reveal Russians ordered troops in Ukraine to target residential areas, the New York Times reported.
Audio from the unsecured radio networks obtained by The Times show Russian troops discussing targets while advancing on the Ukrainian town of Makariv on February 27.
In one bit of radio chatter, a Russian is heard ordering a military member to "cover" residential areas "with artillery" once the "property" is removed, according to The Times' translation.
New York Times journalist Christiaan Triebert reported that "property" was likely code for "Russian personnel or equipment."
A Russian who identifies himself in the recording as "Yug-95" told soldier "Buran-30" that a "decision has been made to remove the first 'property' from the residential area," according to a translation by the New York Times.
He then instructed the soldier to "cover the residential area with artillery," The Times reported.
He repeated the orders twice, The Times reported.
—Christiaan Triebert (@trbrtc)
Another clip reveals Russian soldiers appearing to yell at each other after they came under fire in Makariv.
"My situation is very tense, tanks are approaching," Buran-30 said in an intercepted radio conversation, according to The Times' translation. "I don't know whose tanks they are, cannot identify them. There is a drone over the area and the area is under fire from all directions."
Intercepted Russian Radio Traffic Said to Discuss Killings of Ukranian Civilians – The New York Times (nytimes.com)
Bellingcat: The online investigators tracking alleged Russian war crimes in Ukraine – 60 Minutes – CBS News
Posted on April 14, 2022 by Royal Rosamond Press
Evola in the early 1940s
The Royal Janitor
by
John Presco
Chapter Putin's Brain
After answering Steven Seagal's cellphone after this Brute was subdued by Starfish, The Wizard was surprised to hear he was talking with "Putin's Brain".
'Hello, Dugin. It is not so good to hear your voice."
"Who is this?"
"This is your old nemesis who you accused of stealing the core teaching of Evola. We almost fought a dual, remember?"
"How can I forget. Do you still have it? And how did you get Steven's phone?"
"Mr. Seagal had an accident. He ran into a bouquet of sunflowers. Arnold Schwarzenegger is giving him CPR. It looks like he may live! I want you to quit Putin and come work for me at BAD."
"You can go to hell! I want what belongs to me! I will send a Psychic Bill Collector for you. You owe me!"
"When can I expect him – or her! Do some meditating and see what kind of force protects me – now!"
After five minutes….
"How did you find her? Where is she! Tell me – you rotten son of a bitch?"
"She's right here, sleeping next to Steven. I had to dart her."
https://www.cnn.com/2022/08/21/europe/alexander-dugin-russia-profile-intl/index.html
In 1980, Dugin joined the "Yuzhinsky group", an avant-garde dissident group which dabbled in Satanism and other forms of the occult.[25][26] In the group, he was known for his embrace of Nazism which he attributes to a rebellion against his Soviet raising, as opposed to genuine sympathy for Hitler.[27] He adopted an alter ego with the name of "Hans Siever", a reference to Wolfram Sievers, a Nazi researcher of the paranormal.[28] Studying by himself, he learnt to speak Italian, German, French, English[29] and Spanish.[30] He also discovered the writings of Julius Evola in the V. I. Lenin State Library, and adopted the beliefs of the Traditionalist School. In 1987 he was convicted of molesting a 12-year-old boy.[31]
Arnold Schwarzenegger
DAVID VON DREHLE: Thank you for having me, Ayesha.
RASCOE: You wrote that Dugin is commonly referred to as, quote, "Putin's brain." Can you give us a sense of Dugin's ideology?
VON DREHLE: Dugin is a good old-fashioned mystical fascist of the sort that kind of flourished after World War I, when many people in Europe felt lost, felt like the Old World had failed, and were searching around for explanations. And a certain set of them decided the problem was all of modern thinking, the idea of freedom, the idea of individual rights. And in Dugin's case, he felt that the Russian Orthodox Church was destined to rule as an empire over all of Europe and Asia. And eventually, in a big book in 1997, he laid out the road map for accomplishing that. He's continued to be intimately involved in the Russian military, Russian intelligence services and Putin's inner circle.
RASCOE: And so you talk about how this ideology has manifested in Putin's actions, this idea that Russia should basically, as you said, rule over all of Europe and Asia.
VON DREHLE: Well, he felt that this was the great land-based empire and that it was in competition with a great sea-based empire that was led by the United States and Great Britain. So step one was to weaken the U.S., weaken Great Britain and disconnect us from our ties to Europe. And if you look at the way Putin has manipulated the internet over the past 20 years, the rise of social media to drive division and heat up the culture wars in the United States, to influence the Brexit movement in Great Britain. All of these things are steps to weaken the West because it's Russia's destiny to draw Europe toward Russia.
RASCOE: And how does Ukraine fit into this line of thinking?
VON DREHLE: Yeah, well, Dugin and then Putin has given voice to this, as well. They say that Ukraine is not a separate country, that it's another Russian Orthodox-dominated country. But from a strategic standpoint, it is the nation on the north shore of the Black Sea. And Dugin says that Eurasia, as he calls the future Russian empire – Eurasia has to have complete control of the Black Sea.
RASCOE: And what would happen in Asia in that point? Because Russia and China have fairly good relations, or they're pretty close.
VON DREHLE: Yeah, Dugin does not believe that Eurasia, you know, the great Russian empire, will be complete until China has been basically destroyed, that if only Hitler had never invaded Russia, then together, Russia and Germany and Japan could have formed a fascist alliance that would have dominated the world with Russia as the strongest partner from – as he puts it, from Dublin to Vladivostok.
Philosopher known as 'Putin's brain' says Russia needs to escalate Ukraine war (msn.com)
Aleksandr Dugin: The far-right theorist behind Putin's plan – 60 Minutes – CBS News
Aleksandr Dugin: The far-right theorist behind Putin's plan – 60 Minutes – CBS News
Russian intellectual Aleksandr Dugin is also commonly known as 'Putin's brain' : NPR
Philosopher known as 'Putin's brain' says Russia needs to escalate Ukraine war
Alexander Nazaryan – 8h agoFollow
React|126
WASHINGTON — The ultranationalist Russian philosopher Alexander Dugin, commonly referred to as "Putin's brain" for his influence within the Kremlin, said earlier this week that the Russian military retreat from Kyiv was a "temporary situation" and predicted that after a regrouping, a broader campaign across Ukraine could commence again.
Dugin made his comments to a Turkish newspaper; the interview was reported on by RIA Novosti, a Kremlin-controlled wire news service that has consistently amplified anti-Ukrainian rhetoric.
"The Russian army is currently fighting the sovereign powers that impose a unipolar world," Dugin said, in reference to the alliance of pro-Ukraine allies led by the United States. "We cannot lose this war. Otherwise, the whole world will turn into a large fire."
An eclectic thinker with a fondness for the occult, Dugin has published several books calling for a broader Slavic empire that would include Ukraine, as well as Moldova and Belarus.
Posted on April 22, 2022 by Royal Rosamond Press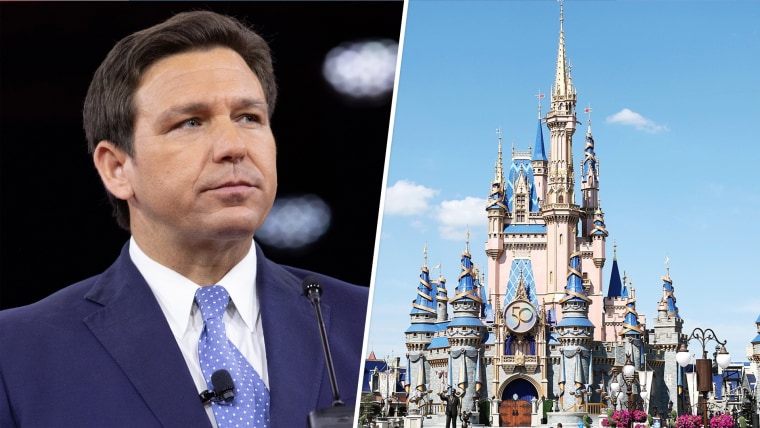 The scenes of Marioupal are right out of Lords of The Ring. Millions of alleged Christian men in America and Russia have long thirsted for a Day of Hell so they can be on the side of Jesus and Righteousness. They are on the side of Evil and Brutal Darkness. Followers of Orc De Santos helped Putin and his Evil Brain fill mass graves with civilians that have been targetted. What God will hang around their neck will foul the air around the Ugliness of Christian Nationalism. Those who signed up for that are Real Orcs and Monsters!
As a candidate for Governor of Oregon, I will show the Nation and the World the demons that were born of the rectum of Christian Nationalism. I will TAKE JESUS AWAY from Half-Men Full-Demon Ugly White Men like the Confederate Demons who fought battles in Florida so they could keep black women and their child – slaves! De Santos gives birth to the Second Roman Empire in America, the Confederacy being the first. Plantations look like Roman villas.
Pope Francis has canceled his meeting with Killer Kirill in Jerusalem. He can not be in support of Ugly Christian Nationalism. Here is one of the Ugly Dark Men who make up 'Putin's Brain'. Jesus was never a candidate for God, or, the real Son of God. That is a blasphemous claim. If God is real, he would not approve of the Governor of Florida PLAYING GOG by claiming LGBTQ people – are not on God's side – and placing them on the side of Satan. I suspect we are on the Eve of the Battle of Armageddon and predicted by Herbert Armstrong. They opening move on this Cosmic Chessboard does not begin by declaring a Holy Crusade against Ukraine in order to STOP Gay Pride Parades. For all those millions of Armed Ugly Racists of White Family Values – GO SIT ON THE BENCH! You're out of the war! You were defeated when…..TRUMP LOST THE ELECTION!
The Anti-Christ dies in 1974, and his minion now prepare to move across Europe. So far, a Jewish Leader – stands in his way.
John Presco 'End Time Elijah'
Ukraine now has more tanks on the ground than Russia does, US defense official says (msn.com)
Western allies are sending heavier weaponry to Ukraine as Russia launches a new offensive.
A US defense official told The Washington Post that Ukraine now has more tanks than Russia does.
Russia is still feeling the losses it sustained earlier in the conflict, UK intelligence said.
Pope says June meeting with Russian Orthodox Patriarch is off (msn.com)
Plans for Pope Francis to meet in Jerusalem in June with Russian Orthodox Patriarch Kirill, who has backed Russia's war in Ukraine, have been suspended, the pope has told an Argentine newspaper.
The Nazified Jesus Hates Disney | Rosamond Press
Russian President Vladimir Putin shares these expansionist views. In a lengthy 2021 article, "On the Historical Unity of Russians and Ukrainians," he deployed remarkable historical revisionism to argue that Ukrainian nationhood was an aberration resulting from the collapse of the Soviet Union in 1991.
Since then, Ukraine has tried to orient itself away from its much larger neighbor and toward the West. Putin has seen that move as an affront, first trying to bring Ukraine back into the fold in 2014, when Russian forces and pro-Russian paramilitaries took over the Crimean Peninsula as well as two eastern border regions, Luhansk and Donetsk, with large Russian-speaking populations.
Related video: How Putin's war in Ukraine is hurting the U.S. economy (MSNBC)
Loaded: 20.30%LQCaptionsFullscreenUnmute
How Putin's war in Ukraine is hurting the U.S. economy
When the second invasion of Ukraine began in February, Russian forces moved toward Kyiv and other large cities, only to see their gains quickly reversed by a spirited Ukrainian resistance equipped with Western arms. Facing the unthinkable prospect of defeat, Russian units retreated into Belarus, while the Kremlin sought to revise its war aims downward. Despite having once aimed for regime change, Moscow appeared to indicate that it would settle for the territorial gains it made in Crimea and Ukraine's eastern borderlands in 2014.
© Provided by Yahoo News USDugin addresses a 2014 rally in Moscow in support of the people of Donbas. ((Zurab Dzhavakhadze/Itar-Tass/Zumapress.com)
In his interview with Turkiye Gazetesi, the Turkish newspaper, Dugin raised expectations once more, predicting a new countrywide offensive.
He described retreat as a "purely tactical move" that would allow the army to execute "revisions," a seeming reference to organizational changes like the appointment of Gen. Alexander Dvornikov, a veteran of Russia's brutal campaign in Syria, to head an offensive in the east.
But, Dugin warned, gains in the east alone are "not a victory for Russia. Our soldiers will not return home until targets across the country have been destroyed and security has been established, or until Zelensky surrenders."
© Provided by Yahoo News USPhilosopher known as 'Putin's brain' says Russia needs to escalate Ukraine war
_____
How are Ukrainian forces taking out so many Russian tanks? Use this embed to learn about some of the weapons systems the U.S. is sending to the Ukrainian army.
US says three Russians offered congressman a free trip as part of a propaganda and disinformation campaign
By Kara Scannell – 2h agoFollow
React|178
Federal prosecutors in New York on Thursday unsealed an indictment charging a member of Russia's legislature and two of his staffers with orchestrating a propaganda and disinformation campaign targeting US lawmakers.
© Mikhail Svetlov/Getty ImagesRussian businessman and politician Alexander Babakov attends an unifying congress, on February, 22, 2021, in Moscow, Russia.
Aleksandr Babakov, deputy chairman of the Russian State Duma, and his staffers Aleksandr Vorobev and Mikhail Plisyuk, were charged with conspiring to act in the US as an unregistered foreign agent, conspiring to violate US sanctions and conspiring to commit visa fraud.
As part of the alleged scheme, in 2017, prosecutors said the men allegedly violated US sanctions laws by seeking to recruit at least one US businessman and at least one congressman with an all-expenses paid trip to attend a conference in Yalta, an area in Russian-controlled Crimea, for the benefit of Sergey Aksyonov, a Russian placed on the US sanctions list following Russia's annexation of Crimea.
The congressman, who was not identified, did not accept the invitation, the indictment said.
Related video: Russians now rallying behind Putin's invasion (CNN)