https://news.yahoo.com/dutch-army-merge-land-combat-165700681.html
"Cicilline spoke out against insurrection supporters during a chaotic debate that lasted nearly an hour Wednesday, beginning with Gaetz's proposal of an amendment that would require meetings to start with a recitation of the pledge."
Who saw this coming? Didn't Herbert Armstrong, who lived in Eugene Oregon, say the United States would be fighting the War of Armageddon against Russia? Why then are Confederate Evangelicals and Israel backing the Terrorist Nation of Satan, and – Satan Himself! I declare Putin – Satan! Any Red State Christian Nationalist Racist Minister, who wants to argue with me, has to take the Ironclad Oath, and GET OUT of John Fremont's Party. Return to the roots of the Real Radical Repuboicans –
OR SHUT UP!
The World is at War! I am a prophet. I saw the Dutch coming – leading the way! Victoria Rosemond Bond – is Dutch! I have prepared her War Horse! I chose my model-muse – well! This morning, the Roozemond family awoke to the strange news that Holland is a military ally of Germany against the Satan of Russia. Only I can, and have, developed the reconciliation of the German People – that surrounded my kin, John Fremont, and Abraham Lincoln. How about Israel? Who can do – the right thing? Who – dare? I may be kin to Denis De Rougemont, the Father of the European Union. I ran for Governor of Oregon. It appears I am the Religious-Spiritual Leader in The West. Who else? Brig him/her out of – YOUR CLEVER DARKNESS! God's Debate Podium – has been prepared!
Is he….Donald David of Jerusalem?
Ginni Thomas was very tight with the false prophet, Tim LaHaye. Every dog – has their day! I will show that the LaHayes have led a secret war against the Black Church of America in order to reverse Civil Rights. Bob Jones and Paul Weyrich invented the anti-abortion tactic because the Federal Government took away the tax exemption of Bob Jones University for banning mixed race couples. DeSantis is part of this un-holy culture war against Loyal American Citizens. This Governor of Florida is conducting Religious Propaganda not seen since the start of the Civil War, when Traitor State Ministers quoted the Bible in order to fight the North for their slaves. You better believe Dutch and German Intelligence are studying these Election Deniers and Traitors – who still back Putin! Are foreigners studying our Civil War? Did you know I am kin to Robert E. Lee?
I got you coming and going! I come – prepared! Bring out my War Horse!
John The Nazarite Seer
I, John Presco, President of Royal Rosamond Press, and Republican Candidate for President of the United States, back my President, Joseph Biden, in all his endeavors to meet the crisis Putin created when he illegally invaded the Sovereign Nation of Ukraine.
https://en.wikipedia.org/wiki/Radical_Republicans
https://www.msn.com/en-us/news/world/in-visit-to-wartime-kyiv-eu-sells-european-dream-that-remains-distant/ar-AA171gvw
BRUSSELS — Ukrainian officials have a long list of requests for their European allies this week: fighter jets and other heavy weaponry to fend off a looming Russian offensive, E.U. membership within a few years, legal mechanisms to hold Russians to account, and a plan to use seized Russian assets for reconstruction.
https://www.msn.com/en-us/news/politics/how-medicare-and-social-security-benefits-factor-into-the-kevin-mccarthy-debt-ceiling-fight/ar-AA170ngJ
https://www.koin.com/weather/rare-optical-phenomenon-over-portland-wednesday-afternoon/
https://news.yahoo.com/dutch-army-merge-land-combat-165700681.html
https://news.yahoo.com/russian-ambassador-german-tanks-being-155523576.html
Russia's ambassador to Germany on Wednesday condemned the country's decision to send tanks to support Ukrainian defenses, saying it is "extremely dangerous" and will push the war to a "new level of confrontation."
Ambassador Sergey Nechaev argued Germany's action shows it is not interested in a diplomatic resolution to the conflict and wants to have "permanent escalation" and "unlimited flooding" of Ukraine with weapons, according to a statement posted on the website of Russia's embassy in Berlin and reported by the Russian state-run media outlet TASS.
https://www.msn.com/en-us/news/politics/matt-gaetzs-pledge-of-allegiance-proposal-gets-a-reality-check-from-house-democrats/ar-AA1717Mf
Rep. David Cicilline (D-R.I.) called on Rep. Matt Gaetz (R-Fla.) to stay away from leading the Pledge of Allegiance during a House Judiciary Committee meeting as he feared some Republicans could make a "mockery" of it (You can hear Cicilline's comments in the clip below).
Cicilline spoke out against insurrection supporters during a chaotic debate that lasted nearly an hour Wednesday, beginning with Gaetz's proposal of an amendment that would require meetings to start with a recitation of the pledge.
Rep. Jerry Nadler (D-N.Y.), the highest-ranking Democrat on the panel, opposed the Gaetz amendment and remarked that members "pledge allegiance every day on the floor."
"I don't know why we should pledge allegiance twice in the same day to show how patriotic we are," Nadler said.
Nadler later sidestepped accusations from Rep. Mike Johnson (R-La.) over how often he attended the recitation of the Pledge of Allegiance on the House floor.
Cicilline later found a way to sneak shots at Gaetz and several other Republican committee members who voted to overturn the 2020 presidential election with "an amendment to the amendment," which said that the pledge "shall not be led by an individual who supported an insurrection against the government of the U.S. in any way."
"If we adopt this amendment, then we will be truthful in representing that stating this pledge is an affirmation of your defense of democracy and the Constitution," Cicilline said.
Cicilline then confronted Gaetz, wanting to make sure he'd support his pledge proposal so someone doesn't make a "mockery" of the pledge.
Ironclad Oath
The Ironclad Oath was an oath promoted by Radical Republicans and opposed by President Abraham Lincoln during the American Civil War. The Republicans intended to prevent political activity of ex-Confederate soldiers and supporters by requiring all voters and officials to swear they had never supported the Confederacy. Given the temporary disenfranchisement of the numerous Confederate veterans and local civic leaders, a new Republican biracial coalition came to power in the eleven Southern states during Reconstruction. Southern conservative Democrats were angered to have been disenfranchised.
I, A. B., do solemnly swear (or affirm) that I have never voluntarily borne arms against the United States since I have been a citizen thereof; that I have voluntarily given no aid, countenance, counsel, or encouragement to persons engaged in armed hostility thereto; that I have neither sought nor accepted nor attempted to exercise the functions of any office whatever, under any authority or pretended authority in hostility to the United States; that I have not yielded a voluntary support to any pretended government, authority, power or constitution within the United States, hostile or inimical thereto. And I do further swear (or affirm) that, to the best of my knowledge and ability, I will support and defend the Constitution of the United States, against all enemies, foreign and domestic; that I will bear true faith and allegiance to the same; that I take this obligation freely, without any mental reservation or purpose of evasion, and that I will well and faithfully discharge the duties of the office on which I am about to enter, so help me God.

— Statutes at Large, Thirty Seventh Congress, Second Session[1]
Civil War[edit]
Congress originally devised the Oath in July 1862 for all federal employees, lawyers and federal elected officials. It was applied to Southern voters in the Wade–Davis Bill of 1864, which President Abraham Lincoln pocket vetoed. After the assassination of President Lincoln, new President Andrew Johnson also opposed it. Both Lincoln and Johnson wanted Southerners instead to swear to an oath that "in the future" that they would support the Union. Lincoln's amnesty oath was integral to his ten percent plan for reconstruction. In 1864, Congress extended the provisions of the Ironclad Oath to its own members but overlooked perjury when it came to seating southern Republicans.
https://en.wikipedia.org/wiki/Ironclad_Oath
Dutch Army to Merge Land Combat Units With Germany This Year
Story by Cagan Koc • Yesterday 8:57 AM
3152958 Comments
(Bloomberg) — The Netherlands is getting ready to integrate the rest of its combat brigades into the German Army as the two allies join military forces amid increased security threats in the region after Russia's invasion of Ukraine.
Dutch soldiers take part in the Zebra Sword exercises of the Dutch army in the Netherlands.© Photographer: SEM VAN DER WAL/AFP
The two allies are now working on integrating the Netherlands's 13th Light Brigade into the German Army's 10th Panzer Division, Major Mark van de Beek, a spokesperson for the Royal Netherlands Army, told Bloomberg via phone on Wednesday. The Dutch land force has three combat brigades and two of them are already integrated into the German military.
The merger of the last remaining 3,000-soldier brigade may come as early as April but the Dutch government has yet to make its final decision, said Van de Beek. The Dutch cabinet is "investigating" the possible integration, Defense Minister Kajsa Ollongren said in a September letter to the parliament.
The plan will result in a joint force of around 50,000 military personnel, with roughly 8,000 soldiers coming from the Netherlands, according to Dutch newspaper NRC. The integration plans don't include the Korps Commandotroepen, the special forces unit of the Dutch Army.
Related video: Estonia calls up reservists to participate in military drills (Dailymotion)
The Netherlands also operates the Leopard tanks it leased from Berlin under Germany's 1st Panzer Division. The country is open to paying for Leopard tanks to be sent to Ukraine as part of a coalition of European and NATO allies, Ollongren told Bloomberg in an interview last month.
The Netherlands and Germany are also looking into joint purchases military equipment and alignment of military regulations, Van de Beek said.
A spokesman for the German Defense Ministry didn't have an immediate comment.
–With assistance from Michael Nienaber.
(Updates with Dutch minister's comments on Leopard tanks in the fifth paragraph. An earlier version of this story corrected the number of soldiers in Dutch brigades)
ttps://www.youtube.com/watch?v=xL0cdYqxelo&t=25s
Posted on November 30, 2022 by Royal Rosamond Press
Two days ago I was going to post on Rena Easton and her husband. Yesterday I found the title of today's major post……ENTERING THE THEATRE OF WAR.
I have concluded that the Free World is up against the same Terrorist Nation that went to war with the world, and conducted the Holocaust of the Jewish People. Others went to the death camps. Putin has turned Ukraine – INTO A DEATH CAMP – with the guidance of Killer Kirill, who has declaed war on the LGBTQ People – as has Moaz, of Israel.
"Long suspected of having once been an agent of the KGB — the Soviet era security service that frequently singled out religious dissidents — Kirill is a symbol of the resurgence of the Orthodox Church under Putin, who has used religion to bolster his nationalistic, anti-Western vision. In 2013, Kirill decried same-sex marriage as "a very dangerous sign of the apocalypse." Four years later, he criticized Western Europe for the "grave mistake" of straying from Christianity.
https://www.timesofisrael.com/insanity-unreal-netanyahu-castigated-over-deal-with-anti-pluralistic-extremist/
Today, I am going to found…The Nazarite Order of Saint Francis….that will be located on forty acres in the Rose Valley, that is about twenty miles from Ojai where my kin had a farm.
I'm going to suggest to Governor Tina Kotek that she found The Hatfield-Armstrong commission in order to study how Propaganda, and Religious Teachings, have been used to get us into wars. Mark Hatfield was against the war in Vietnam, and Herbert Armstrong prophesized the coming War of Armageddon. Herbert was a proponent of British Israelism. Did these two men know each other? Now, throw in Ken Kesey – the Father of the Hippie Anti-war Movement (perhaps)- and you have a very interesting Historic Oregon Forum. Where do the churches stand on the New Cold War? Some Republicans' are threatening to cut off funding for Ukraine's War Defense, after being attacked by the Terrorist States of Russia. Is Russia a Terrorist State? This would be a good topic for the City Club of Eugene – and our elected leaders – because our taxes will pay for – The War to End all Wars. Regardless whether Jesus appears in the sky on a white horse, waving a sword, the IRS wants its cut.
John Presco
"Ian Fleming, who personally knew Bernhard from their war efforts and from luncheons in the Lincoln's Inn Hotel in London, based some features of his fictional character James Bond on Bernhard."
http://archive.boston.com/news/politics/articles/2011/08/08/mark_hatfield_89_antiwar_lawmaker_was_oregons_governor_longest_serving_senator/
One of the first American servicemen to enter Hiroshima following the atomic bombing, he once said one of his major accomplishments was helping usher through Congress a ban on nuclear weapons testing in 1987.
"Every president other than Eisenhower has been seduced by the military concept that that is our sole measurement of our national security and the more bombs we build, the more secure we are,'' Mr. Hatfield said a decade later.
"That's just not true. We are vulnerable in our national security today and we are vulnerable in many ways we are not addressing – the needs of education, the needs of housing, the needs of nutrition, the needs of health, the needs of infrastructure.''
As chairman and later ranking Republican on the Senate Appropriations Committee, Mr. Hatfield steered millions of dollars to public works projects in his home state. They ranged from national scenic areas and hydropower dams to the state university system and the Marine Science Center that bears his name in Newport, Ore.
"You can't travel anywhere in Oregon without seeing the difference Mark Hatfield has made,'' former Oregon secretary of state Norma Paulus once said.
Dutch Foreign Minister calls for more military aid for Ukraine – from bomb shelter in Kyiv
November 15, 2022·1 min read
Dmytro KulebaUkrainian diplomat and politician
Read also: Pentagon to hold another Ramstein meeting next week to discuss military aid to Ukraine
Hoekstr, who was visiting Kyiv and had earlier met with Ukrainian Foreign Minister Dmytro Kuleba, was forced to take cover in a bomb shelter when the air raid sirens began to wail in Kyiv at 2.21 p.m.
Read also: US announces $400 military aid package for Ukraine
Over the next four hours, Russia fired around 100 cruise missiles at civilian energy infrastructure around the country, causing widespread blackouts. Half of the Ukrainian capital Kyiv was left without power in the wake of the strike.
Three residential buildings in the capital's government quarter, Pechersk District, were impacted during the missile attack.
Read also: UK to increase military aid to Ukraine this winter
Hoekstr called on the world to pay attention to Russia's deeds, not Russia's words, CNN reported.
He said the latest Russian attack demonstrated Russian dictator Vladimir "Putin's willingness to resort to criminal methods."
"There can only be one answer to that," he said.
Read also: US announces $400 million Ukraine aid package to include T-72 tanks
"And that is to continue – continue to support Ukraine, continue to deliver weapons, continue to work on justice, continue to work on the provision of humanitarian aid."
He added the Russia missile strike would motivate other countries even more "to stay standing shoulder to shoulder" with Ukraine.
Read the original article on The New Voice of Ukraine
https://www.irishtimes.com/world/europe/2022/10/30/russia-blames-ukraine-and-british-specialists-for-aerial-and-marine-strikes-on-navy-in-crimea/
https://www.dailymail.co.uk/news/article-9485589/UK-warships-set-sail-Black-Sea-month-tensions-Russia-Ukraine-soar.html
https://www.dailymail.co.uk/news/article-11427705/Prime-Minister-unveils-4bn-deal-five-new-warships-defend-Britain-lambasts-Russia.html
https://www.navyrecognition.com/index.php/news/defence-news/2020/september/8982-ukrainian-navy-may-receive-eight-british-large-missile-boats.html#:~:text=According%20to%20the%20Ukrainian%20newspaper%20%22Evropeyskaya%20Pravda%22%2C%20the,Britain%2C%20the%20remaining%20six%20-%20at%20Ukrainian%20shipyards.
https://news.yahoo.com/russia-says-british-navy-personnel-112154191.html
Posted on September 12, 2018 by Royal Rosamond Press
Here is another person connecting Ian Fleming to Prince Bernhard. Add to this Armstrong's British Israelism, and you get William Morris and J.R. Tolkien.
I have been comparing neo-Confederate Evangelicals to Orcs. I have two models for Neo-Orcs of the Dark Tribulation who breed alien Face Suckers of Total Terror in order to make reluctant converts one of their Legion.
I suspect Ian Fleming believed he descended from Zarah Line of the Tribe of Judah, and is why there is a Red Hand in the Bond cote of arms. My Bond Epic is a real attempt to save Planet Earth the Dark Sisters who don't believe in global warming. But, that is a lie. They want Earth to die. They must be stopped.
Out of the Steppes come the lost legend of the Amazon Women riding great black steeds. These are the Nightmares worshipped at Troy. Only Women Seers could ride them. They used The Sight to find other herds.
John Presco 007
Copyright 2018
Jon Presco
Copyright 2013
http://en.wikipedia.org/wiki/Orange_Order
http://hebrewnations.com/articles/tribes/netherlands/zebnether.html
https://en.wikipedia.org/wiki/Red_Hand_Defenders
Above is a photograph of Bennett Rosamond the Grand Master of the Orange Order in Canada. Bennett is with members of Lodge 389 in Lanark, or, Almonte. The image on the banner is that of William of Orange who is carried in Orange Parades. That is Bennett on the far right, looking like Gandalf, or, a Levite Prophet.
According to the History of the Rosemond Family by Leland Rosemond, the Rosamond family were members of the Orange Order in Leitrim Ireland, and fled to Canada after a Rosamond son killed a Catholic lad who was invading the Rosamond home with a gang bent on doing my kindred harm.
Bennett may have been a Freemason as well – and an Oddfellow. There is a long history of the Rosamonds belonging to Guilds. They were members of the Swan Brethren.
My grandparents, Royal and Mary Magdalene Rosamond, begat my mother, Rosemary Rosamond, and her sisters, Lilian, Bonnie, and June Rice.
Jon Presco
British Israel students among my readers will know that the Red Hand
is the symbol of the Zarah line from Judah, reunited in the purpose
of God with the Pharez line of the Davidic monarchy through the
marriage of Milesius the Heremon, of the Zarah line, with David's
descendant Tea Tephi, of the Pharez line, in Ireland. This Heremon
was a king of the Scarlet-thread branch of Judah and his genealogy
can easily be proved through study. The symbol of this branch of
Judah is the Red Hand, symbolising the scarlet thread placed round
the wrist of Zarah by the midwife (see Genesis 38).
The largely unknown 'Ian Fleming – Prince Bernhard of The Netherlands'-connection
edited January 2013 in Bond Movies Posts: 11,119
The largely unknown 'Ian Fleming – Prince Bernhard of The Netherlands'-connection
He was considered one of the most flamboyant, charming and funny members of the Dutch Royal Family: Prince Bernhard of Lippe-Biesterfeld, Prince of The Netherlands and prince-consort of Dutch Queen Juliana of Orange-Nassau, Queen of The Netherlands. By: Gert Waterink (Gustav_Graves)
Together with Queen Juliana they had four children (and two other illegitimate daughters from a certain Ms. Bielefeld and from French model Hélène Grinda), including the current Dutch Queen Beatrix.

Prince Bernhard in 1942, made in London
What many people, and especially Bond fans, do not know, was the fact that Prince Bernhard worked for the British Intelligence Services during World War II. The Second World War forced the Dutch royal family to live in exile in London. For Prince Bernhard it was hard to find an honourable job in the United Kingdom, as he was of German origin. The War Admiralty, and later General Eisenhower's Allied Command offices, could not fully trust him, thus a full screening of Bernhard's past life was required.
Prince 'Lippe' in British naval uniform, next to US President Harry Truman
That screening was actually executed by the creator of James Bond, Ian Fleming, on behalf of Winston Churchill. After Fleming's screening was positive and no convincing relation of Bernhard with the NAZI's and the Hitlerjugend could be found, he was permitted to work in the Allied war planning councils.
Ian Fleming, who personally knew Bernhard from their war efforts and from luncheons in the Lincoln's Inn Hotel in London, based some features of his fictional character James Bond on Bernhard.

One of their luncheons is explained in Andrew Lacett's biography of Ian Fleming. It actually resulted in a life-threathening event, as the entrance and a 200-year-old staircase was destroyed during the bombardment of London by the Nazi's. No one was injured. Prince Bernhard then lowered himself 20 feet to the lowest bit of staircase standing, and then said staunchly and with a mixture of Dutch/British flair, as nothing happened: "Most enjoyable evening!"
During the luncheons, also the famous vodka martini shaken and not stirred was ordered. Especially Berhard liked this rather 'weird' concoction of martini with wodka.
Next to his reputation as a womanizer Prince Bernhard was also well known for his love for fast planes, fast cars and speeding. Prince Bernhard was an avid collector of Ferrari's. His collection included the ones pictured below:
Ferrari 365 GT 2+2:

Prince 'Lippe' together with Enzo Ferrari in 1964 for his brandnew Ferrari 330:

Bernhard's favourite, the Ferrari 500 Superfast Speziale:

And his 'normal' Ferrari, the 356:

One last thing. As you all know, one of the villain's henchmen in the novel and films "Thunderball" and "Never Say Never Again" is named Count Lippe. Ian Fleming knew only one person who was having a great time during World War II, and that was off course Prince Bernhard of 'Lippe'. Hence the inspiration for the name
Most importantly, during interviews on Dutch television, Prince Bernhard admitted he indeed 'liked the James Bond films a lot'. We will can never fully proof if the character of James Bond, besides being based on Fleming's own work as naval intelligence officer, was also partially based on Prince Bernhard of Lippe's life. But the flamboyant and luxury lifestyle of Holland's most beloved Prince, does indeed have a striking resemblance to Bond's lifestyle .
Posted on May 3, 2018by Royal Rosamond Press
I did not know this until five minutes ago. It is 3:58 May 5, 2018. I am blown friggen away!
However, on the recommendation of Bernhard's friend and admirer King George VI, who was also of German aristocratic descent through his mother Mary of Teck and his great-grandfather Prince Albert, and after being personally screened by intelligence officer Ian Fleming at the behest of Churchill, he was later given work to do in the Allied War Planning Councils.
My newspaper, Royal Rosamond Press, and this reporter, has unveiled Ian Flemings most important work that he performed as an officer in Royal Navy Intelligence. It looks like he helped salvage a Royal Kingdom that is full of coats of arms. How did he screen Prince Bernhard? What kind of background check did he employ? Did he look at his coat of arms and genealogy? Did the Rouge Dragon help him? Here we are, at the very core theme of Flemings book, On Her Majesties Secret Service. I wanted to create a new character for Tracy Bond, and Bond – herself! I saw Lara Roozemond as a modern woman. I pulled it off! I discover Lara (Victoria Bond) is The Queen of the Royal Horses! BAM! Nailed it!
Follow your passion! Woman love horses, men like fast cars – and guns! I left out Fast Women, verses James deflowering virgins. Trump and Putin are said to have "stables" of women. I am the only one who suggested Trump was doing Bond – on purpose! Stormy Daniels, and Pussy Galore, are not, waiting in towers for their prince come, kind of women. Would Victoria Bond be sexually aggressive>
https://en.wikipedia.org/wiki/On_Her_Majesty%27s_Secret_Service_(film)
https://en.wikipedia.org/wiki/Pussy_Galore
I am sick and tired of working in total isolation by people who are jealous of me and my study, or, want to thwart it, anyway they can. I am now going to seek GREATER EXPOSURE! I need a magazine article to be written about me. I know what magazine.
I believe someone connected to the Royal Dutch family read my post I put on Lara Roozemond's facebook, where I inform her I am doing a Ian Fleming revival. The House of Orange became alarmed, because it looks like Ian Fleming did something extremely important in SAVING Dutch Royalty, that perhaps President Truman wanted saved. That I am kin to Fleming via Elizabeth Rosemond Taylor, is extremely profound, for her grandmother was Elizabeth Mary Rosemond. That Cees was a Knight in the Lion, tells me the Roozemonds knew secrets, that they could see I was onto, better than I. Of course they want to publish their book, and bury mine. They got great lawyers on their side, I have none! The Prince and the Pauper.
I would not have arrived at this buried truth, if it were not for the love I have for my beloved Muse, Lara Roozemond! How this love works, and why this love works, is yet to be un-buried, for surely it was a threat to the Christians. To have nine Angelic Women – with wings – transmitting almost divine messages of creation, is a real threat to Mean Old Mr. God, who has been a strict and punishing instructor. I look at the crossed eyes, of Lara, and know, she understands.
Jon Presco
Copyright 2018
President: Royal Rosamond Press and The Rose Wing Branch of Intelligence that I formed to replace what Trump is destroying.
Posted on December 30, 2022 by Royal Rosamond Press
https://www.cbsnews.com/news/title-42-homeland-security-bulletin-domestic-extremist-fueled-violence/
A supporter of President Donald Trump carries a Conferderate battle flag on the second floor of the U.S. Capitol near the entrance to the Senate after breaching security defenses, in Washington, January 6, 2021.
"
"Thomas regularly checked in with Meadows to encourage him to push claims of voter fraud and work to prevent the election from being certified. Meadows often responded. On that same day as the previous text, he wrote: "I will stand firm. We will fight until there is no fight left. Our country is too precious to give up on. Thanks for all you do."
Meadows quotes scripture to Ginni Thomas – who responds as if she understood! This is part of the Congressional Record. I demand the Jan.6th. Committee admit the whole text, because in my opinion, this is the birth of Anti-Semitism. Paul is fighting with the Jewish followers of Jesus – over circumcisions – in order to create a schism, like the one the Christian Nationalists created in this Democracy.
"Do not be deceived, God is not mocked; for whatever a man sows, that he will also reap. 8 For he who sows to his flesh will of the flesh reap corruption, but he who sows to the Spirit will of the Spirit reap everlasting life. 9 And let us not grow weary while doing good, for in due season we shall reap if we do not lose heart. 10 Therefore, as we have opportunity, let us do good to all, especially to those who are of the household of faith.
That same day, Mr Meadows texted her back: "This is a fight of good versus evil. Evil always looks like the victor until the King of Kings triumphs. Do not grow weary in well doing. The fight continues. I have staked my career on it. Well at least my time in DC on it.
I just learned Mark Meadows was the Chair of the Freedom Caucus that was founded by THE TEA PARTY that was founded by Dick Armey to harass President Obama. Why didn't the Jan.6th Committee highlight this – and Ginni Thomas's plea to the FC – to stop the count. Here are IS A NETWORK OF HIGHER-UPS – that believed Obama should not have won. They pretend they are following GOD'S ORDERS – who wants them to win! They are – INSANE! This is why they are not concerned about HURTING OUR DEMOCRACY! They are trying to install a Kingdom for the King of Kings!
https://en.wikipedia.org/wiki/Tea_Party_movement
https://teapartyexpress.org/9035/tea-party-express-endorses-jim-banks-for-u-s-congress/embed#?secret=gCoy1NsDs9#?secret=K56VcKlmk2
"Days after the 2020 election, Thomas reportedly emailed an aide to then-incoming Republican Study Committee chair Jim Banks (R-IN), according to NBC News. Thomas reportedly wrote to Banks' aide that she was more aligned with the far-right House Freedom Caucus, whose leaders spearheaded GOP efforts to overturn Joe Biden's electoral victory in Congress.
Thomas reportedly wrote to Banks' aide that she views Freedom Caucus members to be tougher than RSC members in terms of pushing the Big Lie. Additionally, Thomas threatened that she would not help the RSC, the largest caucus of conservatives in Congress, if she did not see its members "out in the streets" and in the fight, according to NBC News.
Despite the RSC representing the majority of conservative House members, the tea party-driven Freedom Caucus has increasingly gained more traction in recent years with its embrace of Trump and his election fraud falsehoods as Republicans look to take back Congress in the midterm elections later this year.
Thomas' email to Banks in Nov. 2020 reportedly followed a request from the RSC to offer policy recommendations ahead of Banks' term as chair of the caucus.
According to NBC News, Banks' aide thanked Thomas for her suggestions and moved on. The email exchange reportedly made no specific references to GOP efforts to overturn the election results on the day of the joint session of Congress certifying Joe Biden's electoral victory.
Homeland Security warns Domestic Terrorists are on the rise – and here to stay! I lost my daughter to a racist whose father was big in the Tea Party – who carried guns to our Capitol ten years ago. This guy was an ex-drill sergeant and Vallejo cop, who didn't like brown skin people, and saw illegal immigrants taking over white America. Those who supported immigration – were traitors to their race – and America. They were worse than brown people – who just wanted a better life. In their racist mind, support of LGBTQ turned normal people into perverted traitors – who hate Jesus! Policing our sexual preferences helped shore up our moral – and real boundaries. And, so it goes. I used the real moral Taliban as a model. Is this photo of the same guy taken seven years apart? Note the "Impeach Obama" sign. Racist Traitors who live in the Red States – hate the choices Democratic People make! Is Donald Trump sending message to Putin.
Do you own the feeling WE are not told the whole truth -lest there be another Civil War. The Jan.6th. Committee had very little to say about Domestic Terrorism – and Ginni Thomas who was in front of the White House with John Easton -but says she left before the crowd headed to OUR Capitol. Did Ginni Thomas ever meet Kevin Seifried? Democrats have been calmly waiting for Justice to – do the Job.
The Democrats – DID NOTHING WRONG! The Lawmakers Democrats elected – DID NOTHING WRONG! Since President Obama got elected, organized white men, have worked together to make it look like the Democrats – ARE HISTORICALLY WRONG. This comes mainly from mentally ill Neo-Confederate historians who choose to believe their great grandfathers – WERE VICTIMIZED!
Here is Alec Walen in 2013 blaming the Tea Party for government shutdowns – a tactic some Republican' Candidates are promising to use when they are sworn in. Kevin McCarthy promises to GO AFTER the Jan.6 Committee – and other Democrats – WHO DID NOTHING WRONG!
'With a government shutdown upon us, and an even worse default on U.S. loan payments looming, it's time for moderate Republicans in the House to consider breaking with the extremist tea party wing of their party and forming a third party that, at least for now, can govern with the Democrats in a unity government."
I call upon President Biden to make a Government film on the History of Sedition in America and air it extensively for a long period of time. Write all the Democrat lawmakers, and our President, and bid them/him to IGNORE the bitter Neo-Confederates in office- who are here to stay! When Election Deniers vote to close our Government, have President Biden invoke….The National Ignore Law – and restore our Democracy – TO SANITY!
JUST IGNORE THEM! Then – NEGATE THEM! HUMOR THEM!
Because we and our NATO allies are at war with Putin – who threatened to nuke all Americans – if any Bitter Confederate Taliban lawmaker – preach anything that resembles SEDITION – they will be removed from office and replaced by the Democrat on the ticket. If the Confederate Liars create real fear, they will be arrested for SEDITION – and tried as Traitors!. My kin, John Fremont, will be used as a model on how to REMOVE Traitors from our Government.
As I type, Sane Lawmakers are looking at Trump's taxes. Write our REAL President and have him form a new branch of the IRS to look at the returns of the Neo-Confederate Traitors – who hate to pay taxes – because they believe their great grandfathers – GOT CHEATED! The belief that those who live in the Southern Red States – GOT CHEATED – is not going away! We The Sane – must make a stand – now! Sure there will be consequences. This is what Homeland Security – IS TELLING US!
We need President Biden to act like a Judge – THE SUPERME Judge!
"Overruled! This is too whacked-out and scary! This is more Neo-Confederate – REVENGE! Dismissed. We will not have Chromic Losers running the show!"
Say! Hold on, here! Do you suspect Trump and his Republicans were going to install The National Ignore Act – IF Trump won? Surely the INSERECTIONISTS would want this act in place – IF their coup was successful. Right? Hmmm! Thank God Biden is our real President! What's good for the goose, is good for the gander. Go ahead….just try to shut the Loyalist Government down!
John Presco
EXTRA! I just read an article about Ginni Thomas's interview where she talks about "teams".
"Ms Thomas was further pressed to explain the thinking behind some of her texts to Mr Meadows. One of those texts, dated 10 January, 2021, read: "Most of us are disgusted with the VP and are in listening mode to see where to fight with our teams."
"Most of us"….fight with our teams". Is she talking about CHRISTIAN NATIONALIST TEAMS? Ginni was close with the Late Tim LaHaye. I suspect her "best friend" is her version of a Radical God. Why wouldn't she see herself as a spokesperson – for God?
"In their interview, the committee asked Ms Thomas about an exchange with Mr Meadows in which she appears to suggest that she spoke with her husband, Justice Thomas, about the election.
"The exchange began with a text from Ms Thomas to Mr Meadows on 24 November, 2021, that read: "I can't see Americans swallowing the obvious fraud. Just going with one more thing with no frickin' consequences… the whole coup and now this … we just cave to people wanting Biden to be anointed? Many of us can't continue the GOP charade."
That same day, Mr Meadows texted her back: "This is a fight of good versus evil. Evil always looks like the victor until the King of Kings triumphs. Do not grow weary in well doing. The fight continues. I have staked my career on it. Well at least my time in DC on it."
UNTIL THE KING OF KINGS TRIUMPHS
"Thank you. Needed that, this plus a conversation with my best friend just now. I will try to keep holding on," she replied.
There needs to be a investigation into why the Jan.6th. Committee did not press those they interviewed to talk about their religious beliefs. I suspect they were AFRAID to go down this road – before they held their first meeting – because I AM AFRAID OF RELIGIOUS FANATICS AND TERRORISTS! That million of Evangelicals back Putin – tells me – they TOO BELIEVE the Democrats are evil, and..
NOT OF GOD!
This is The Terrorist American Taliban. President Biden should not let them control the House. All Republican Lawmakers who plead the 5th. should not be allowed to serve. Demand they take The Iron Clad Oath.
How come none of the Insurectionists grabbed the Confederate flag from that Traitor – and stomp on it! Instead, Ginni's Helpers – stomped on the Capitol Police. Why didn't the Committee talk about Ginni – in their first presentation? Why was her one e-mail testimony offered – LAST? They knew it was volatile considering Clarence Thomas helped repeal Roe vs. Wade – which was a RELIGIOUS RULING, something the real Taliban would do to demonize women and render them powerless. What does the Thomas's know about……..
"This is a fight of good versus evil. Evil always looks like the victor until the King of Kings triumphs.
the King of Kings triumphs.
the King of Kings triumphs.
the King of Kings triumphs.
How does he triumph – Ginni Thomas?
https://www.independent.co.uk/news/world/americas/us-politics/ginni-thomas-january-6-election-b2253662.html
https://en.wikipedia.org/wiki/Ironclad_Oath#:~:text=The%20Ironclad%20Oath%20was%20an%20oath%20promoted%20by,to%20swear%20they%20had%20never%20supported%20the%20Confederacy.
Thomas added that she was saddened to see the scenes of protesters clashing with police and storming the Capitol.
"I was disappointed and frustrated that there was violence that happened following a peaceful gathering of Trump supporters on the Ellipse on Jan. 6," Thomas said in the interview. "There are important and legitimate substantive questions about achieving goals like electoral integrity, racial equality, and political accountability that a democratic system like ours needs to be able to discuss and debate rationally in the political square. I fear we are losing that ability."
Thomas, a conservative activist, is in charge of a political lobbying company named Liberty Consulting, according to The New Yorker. Thomas told the Free Beacon that the goal of her organization is to connect conservatives, and she said she is not involved in lobbying or legal work.
Thomas joined the board of CNP Action, part of the Council for National Policy, in 2019. Shortly after the 2020 election, CNP Action urged its members to reach out to Republican lawmakers in Arizona, Georgia and Pennsylvania and pressure them to challenge the election results in their states, according to a New York Times report. The Council for National Policy, which has more than 400 members, also circulated a memo in which it urged members to understate the extent of the violence on Jan. 6 and to "drive the narrative that it was mostly peaceful protests."
Thomas regularly checked in with Meadows to encourage him to push claims of voter fraud and work to prevent the election from being certified. Meadows often responded. On that same day as the previous text, he wrote: "I will stand firm. We will fight until there is no fight left. Our country is too precious to give up on. Thanks for all you do."
https://www.cnbc.com/2021/01/14/kevin-seefried-who-carried-confederate-flag-into-the-capitol-arrested.html
https://www.politico.com/news/2020/11/09/aoc-cancel-worked-for-trump-435293
https://www.trumpaccountability.net/
A dramatic photo captured 50-year-old Kevin Seefried with the flag outside the Senate chamber, in front of a portrait of the late abolitionist senator from Massachusetts Charles Sumner.
"Donald Trump's former chief strategist Steve Bannon has described the Trump Tower meeting between the president's son and a group of Russians during the 2016 election campaign as "treasonous" and "unpatriotic", according to an explosive new book seen by the Guardian
President Trump unleashed on his former chief strategist and campaign manager Wednesday, issuing a long and unusual statement questioning Stephen K. Bannon's mental stability, honesty and political influence.
"Steve Bannon has nothing to do with me or my Presidency. When he was fired, he not only lost his job, he lost his mind. Steve was a staffer who worked for me after I had already won the nomination by defeating seventeen candidates, often described as the most talented field ever assembled in the Republican party."
Posted on January 26, 2021 by Royal Rosamond Press
The Tea Party acquired the permit for the gathering in front of the White House. It was Mad King Trump who launched The Drunken Tea Mob at Congress and the Senate. These insurrectionists were DRUNK ON POWER that no Democracy gives any of its citizens. But, after a decade of walking around with guns, claiming Democrats are not legitimate, they got full permission – even from Jesus.
https://www.cbsnews.com/news/title-42-homeland-security-bulletin-domestic-extremist-fueled-violence/
Homeland Security warns of potential domestic extremist-fueled violence related to Title 42
BY NICOLE SGANGA, CAMILO MONTOYA-GALVEZ
DECEMBER 28, 2022 / 7:02 PM / CBS NEWS
The Department of Homeland Security warned last week of potential extremist-fueled violence connected to the long-anticipated lifting of Title 42, just days before enforcement of the Trump-era policy was slated to end before the U.S. Supreme Court intervened, CBS News confirmed with multiple law enforcement sources.
Intelligence officials "have observed calls for attacks targeting primarily migrants and critical infrastructure," according to a bulletin issued on Dec. 23 by the Department of Homeland Security's Office of Intelligence & Analysis, which cites social media discussion of "firearms attacks, the placement of land mines along migration routes, and luring migrants into trailers to poison them with gas."
The memo notes that planning by domestic violent extremists is often shielded by online security measures, limiting exposure by law enforcement.
CNN was the first to report on the law enforcement bulletin.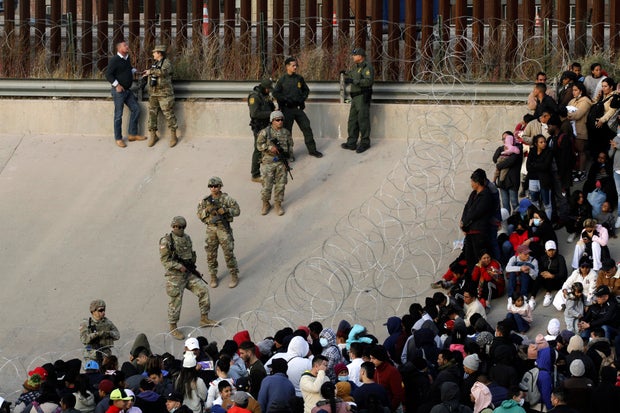 The Supreme Court on Tuesday allowed U.S. border officials to continue expelling migrants under the pandemic-related measure indefinitely, granting a petition from Republican-led states.
https://12d0c0f64191dd8ab36e874c04f5cdd4.safeframe.googlesyndication.com/safeframe/1-0-40/html/container.html
First invoked at the outset of the COVID-19 pandemic, Title 42 is a public health authority originating in the 19th century. Since March 2020, federal border officials have cited the law to expel migrants 2.5 million times to their home countries, without allowing them to request asylum, a right protected by U.S. and international refugee law. For nearly three years, the U.S. has used the policy to turn back a majority of adult migrants from Mexico and Central America's Northern Triangle who have been stopped along the southern border.
The Supreme Court will hear arguments on whether it should allow the Republican-controlled states to defend Title 42's legality during its upcoming session in Feb. 2023. In the interim, the court agreed to suspend a lower court order invalidating the expulsion policy, keeping Title 42 in place pending the high court's review.
Law enforcement sources said chatter by domestic violent extremists on social media forums also included the shooting of electrical substations near immigration facilities at the U.S.-Mexico border, which intelligence analysts noted they "have not previously observed."
"These recent discussions may stem from widespread media coverage of recent attacks against other substations across the United States, particularly in Moore County, North Carolina," the bulletin added.
https://12d0c0f64191dd8ab36e874c04f5cdd4.safeframe.googlesyndication.com/safeframe/1-0-40/html/container.html
The deliberate attack on two North Carolina substations cut off power for more than 45,000 people, earlier this month, shifting public attention to vulnerabilities present in the United States' power grid. Days later, an individual opened fire near a Duke Energy facility at Wateree Hydro Station in Ridgeway, South Carolina. Law enforcement has voiced concern that the attacks could be followed by copycat incidents in other parts of the nation.
According to the bulletin, "Grievances over immigration policy and animosity toward immigrants have previously fueled extremist acts, including the 2019 Walmart shooting in El Paso, Texas, that killed 23 people and left another 23 wounded. Authorities said at the time the accused shooter drove to the West Texas border city with the sole intent of killing immigrants and Mexicans."
Earlier this year, a public advisory issued by DHS warned that, "Potential changes in border security enforcement policy, an increase in noncitizens attempting to enter the U.S., or other immigration-related developments may heighten these calls for violence."
Immigration ranks among a consortium of "hot button" political issues, along with abortion, that continue to motivate extremists, according to senior homeland security officials.
https://www.facebook.com/v2.3/plugins/video.php?allowfullscreen=true&app_id=249643311490&channel=https%3A%2F%2Fstaticxx.facebook.com%2Fx%2Fconnect%2Fxd_arbiter%2F%3Fversion%3D46%23cb%3Df313934b03de67c%26domain%3Drosamondpress.com%26is_canvas%3Dfalse%26origin%3Dhttps%253A%252F%252Frosamondpress.com%252Ff1afee61f1e741c%26relation%3Dparent.parent&container_width=640&href=https%3A%2F%2Fwww.facebook.com%2Fempowermentwithheather%2Fvideos%2F523221079564481&locale=en_US&sdk=joey
Posted on November 4, 2013 by Royal Rosamond Press
http://blog.nj.com/njv_guest_blog/2013/10/is_it_time_for_moderate_republ.html
Without a doubt, my kindred, Jessie Benton Fremont, and John Fremont, want their history to be championed – by anyone – due to the take-over the Republican party they co-founded! No two people would be happier, than to see the election of a black president. To see their old enemies go after this president with such guile and deceit, causes them to roll over in their grave. The Tea Party Traitors HATE the history of the Republican Party – more than they do President Obama! They pretend they love American History, too, but what they love is the evangelical army they bring to the polling place in order to force their religious agenda on us all.
For this reason I have been dedicated to destroying their religious cult with Religious History. I have pointed out their cult is based upon the heretic teaching of John Darby who ripped-off the Plymouth Brethren who my good friends the Corbins descend from. Their ancestors are also rolling over in their grave. But the people who have been rolling over the longest, and the hardest, are the Jews, for Jesus did come to save them as THEIR Messiah. That we see the core political message of the founders being completely altered and used to undo the intentions of John and Jessie Fremont, IS PROOF this can happen to other folks history!
One way Sane and Moderate Voters of America might do, is have Democrats in red States register as Republicans so they can vote in Republican primaries and make sure Tea Party Traitors do not run, only moderates. These Democrats are free to vote for anyone in the general election. Because the Traitor-Haters have become highly specialized, they are easily identified and targetted. This may be the only way to destroy their gerrymandering.
Twelve years ago I ran into my Congressman, Peter DeFazio, jogging by the river. I suggested I form a group of Liberal Christians to come to aid of Democratic lawmakers who are not as well-versed in the Bible as the Republicans. We now know why.
"I know you don't have time to study your Bible. We need our own religious think tank that will address these issues."
"Good idea. Contact my office when your ready to go."
Regrettably, I did not follow up. The biggest problem I face, is Democrats do not have a base of thirty million evangelicals who know their Bible, thus, many Leftist-Liberals do not have a clue what I am talking about, nor do they care to be educated. This is a very frustrating dilemma. Anyone who is not one of them, will appear to be anti-Christian. We Sane People have to attack them with the truth they hate to ideas put forth by John Fremont, the first presidential candidate of the Republican Party, thus, their claim they own America in the name of Jesus, is not credible
Jon Presco
By Alec Walen
With a government shutdown upon us, and an even worse default on U.S. loan payments looming, it's time for moderate Republicans in the House to consider breaking with the extremist tea party wing of their party and forming a third party that, at least for now, can govern with the Democrats in a unity government."
"http://en.wikipedia.org/wiki/History_of_the_United_States_Republican_Party
http://en.wikipedia.org/wiki/Gerrymandering
Even if Congress and the president can somehow agree on a temporary solution before we reach the debt ceiling, governing by crisis has become the new, dysfunctional normal. But it does not have to be that way.
If a leader of the traditional pro-business, pragmatic wing negotiated with the more moderate 100 or so of his party and the most conservative Democrats, he or she could form a substantial and viable new party and therefore change the dynamic in Washington. Here's a suggestion for this party's new name: the Conservative Party.
It's obvious what the civic advantages to such a move would be, but some would object that it's politically impossible. Consider the five main objections.
Objection 1: Third parties never succeed in American politics.
Reply: Normally, third parties are swallowed up by one of the big parties, but in a time of political turmoil, party loyalties can splinter and a new party can take over, forcing an old party out. The Republican Party itself grew out of and displaced the American Whig Party. This could be the time for the Conservative Party to emerge from and displace the now-dysfunctional Republican Party.
Objection 2: There is no middle anymore. Most red districts are very red, and most blue districts are very blue. Seeking to hold the middle is, therefore, a losing proposition.
Reply: This objection presupposes a two-party division. Cut the pie up differently, into tea party Republicans, center-right Conservatives and center-left Democrats, and many of the districts would likely become Conservative.
Consider how Sen. Lisa Murkowski of Alaska won in the 2010 general election. She had lost to a tea party opponent in the Republican primary, but she was the strongest candidate when the general election came around.
Objection 3: There is no reason for a Repub­lican in a safe seat to take such a drastic step.
Reply: There are actually three reasons to do so. First, many Republican members of Congress want to be able to contribute to governing, and think the tea party is too extreme.
Second, many of these Republicans are not in safe seats. They are in danger of losing their seats to tea party challengers if they try to compromise in Congress.
Third, the Republican Party has bet the farm on the failure of the Affordable Care Act. If it turns out that Obamacare works well enough, they will want a way to distance themselves from the die-hard Republican opposition.
Objection 4: Working with the Democrats would put Nancy Pelosi, their party's House leader, in the speakership, which would be anathema to almost all current Republicans.
Reply: A new unity government could form only if the Democrats and Conservatives agreed in advance on reasonable power-sharing. Conservatives could insist that one part of that deal be that one of their members, or someone other than Pelosi, become the new speaker.
Objection 5: The Democrats would never play along with this idea, so it's a nonstarter.
Reply: For the Democrats, this would, indeed, be only a second-best solution. But wishing for total domination is probably a pipe dream. If Democrats want to keep the government functioning, they have good reason to work with the Conservatives to make this break happen.
This break may well be too hard to swallow for too many Republicans in Congress. But it is time at least to consider this step. Otherwise, the Republicans' tea party wing may wreak real damage, both on the economy and on our political system, rather than relent.
This need not come to pass. Centrist Republicans have the option of breaking free. It would behoove them and the country as a whole if they did so.
Alec Walen is an associate professor of law and philosophy at Rutgers University.