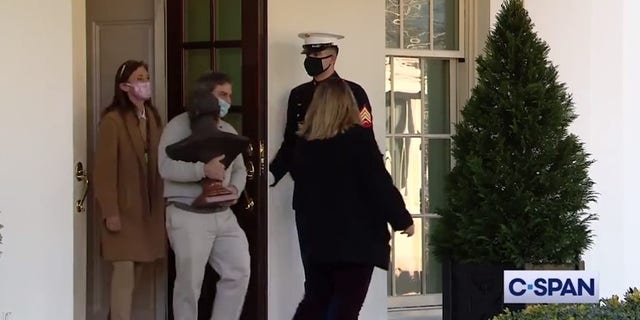 A bust of Abe Lincoln is carried out of the White House grounds. (C-SPAN)
The Royal Janitor
by
John Presco
Chapter: The Locked Art Buddy Box
After enjoying the fine spaghetti dinner the Kraut made our intrepid spies, Victory and Miriam now involved The Bundster in one of their Clue Sessions.
"How Top Secret documents got out of the offices of the President and Vice President is a typical Locked Box exercise for Spies." said Victoria.
"The Four Ws apply!" Offered Starfish.
"WHO had access to these files and – WHEN?" Victoria said. "If you are Putin, you WANT WHAT is being secured"
"WHERE are the documents kept? WHY are they not kept there -all the time? WHEN are these documents -moved?" Starfish offered.
WHEN is the door/lid to the Locked Box – opened?" asked Professor von Bundhorst.
To be continued
Hours after the news broke on Tuesday, Trump urged people to leave Pence alone in a Truth Social post.
"Mike Pence is an innocent man. He never did anything knowingly dishonest in his life. Leave him alone!!!" the former president wrote.
CNN first reported that one of Pence's lawyers discovered roughly a dozen documents with classified markings at the former vice president's home in Carmel, Indiana, after Pence himself had said he had no such records in his possession.
Posted on March 29, 2022 by Royal Rosamond Press
Posted on January 23, 2017 by Royal Rosamond Press
To: President Trump
Dear Art Buddy
I used to hate George W's guts until I saw his artwork, that is not that good. However, George is very happy. George and I can talk. Painting makes him happy. The easiest way to make a lot of friends, is take up art. His bathtub with toes, is a great piece. He took a risk. He has Art Buddies all over the world, now! He has real power! Everyone loves W. This is not the case, if you submerge a image of Jesus in your own urine. This piece caused Jessie Helms to go after the NEA which your gang is doing. All Artists are going to made to suffer because of one female artist. This is……..Nazi-ish.
I can't do this! I can't remain positive! To hear Spicer go into another tirade about how cruel the Press is, while at the same time your business freaks prepare to end funding for the Arts, and Alternative Radio and Television, is my ongoing fight that has consumed my whole life. The art of Jacob Epstein has been attacked, along with 'Piss Christ'. The bust of Winston Churchill was done by an artist who is accused of being obscene! This will not do! First you attack a 'Golf Buddy' fight over the work of a 'Art Buddy' and now you launch a propaganda campaign against the 'Press Buddy'. A writer writes about you, and your goons throw him off your golf course.
Get rid of that Pipsqueak, Spicer. He can't hang with us Bohemians. He's not Moulin Rouge material. He reminds me of Joe Friday's sidekick. Not cool! Talk to W. He had a thing for Putin, too. Treat him to a round. Ask him in the locker room if those are Putin's legs. Get back to your tolerant self. I don't want to scold you again!
P.S. I hear Putin has really taken a liking to Sean. Is this true?
P.S.S. Just found out the bust of King thingy-wingy was a fraud. This Art Thing can be your downfall. You're in the middle of a landmine, and don't know it. I am a Patriot. I am for hire. You're becoming sensitive in a bad way. You and Spicer are too thin-skinned. We artists hear "no" all the time. Vincent got a big "NO" – and sliced off his ear. He had guts, while Spicer hides, you, and himself behind that bust of Churchill as you both lash out at the press for what amounts to an optical illusion. We artists are master of illusion. So, quit your whining! It is obvious to me you are a frustrated artist. You need an empty canvas, and twenty pounds of clay!
Posted on January 9, 2023 by Royal Rosamond Press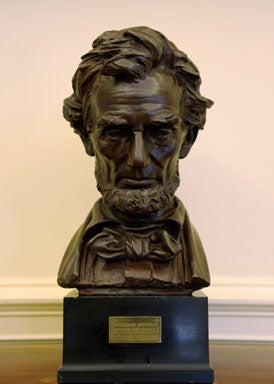 A bust of President Abraham Lincoln in seen in President Barack Obama's Oval Office at the White House in Washington, Tuesday, Dec. 29, 2009.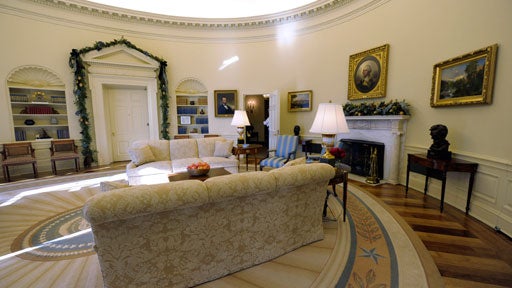 HULTON ARCHIVE/GETTY IMAGES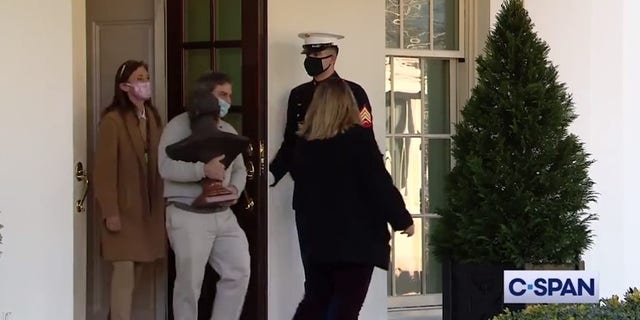 A bust of Abe Lincoln is carried out of the White House grounds. (C-SPAN)
https://www.washingtonexaminer.com/news/politics/white-house-missing-lincoln-bust
I am about to make a report to Interpol about the missing bust of Abraham Lincoln done by Augustus Saint-Gaudens. There is a photograph of it being taken from the White House – along with Top Secret documents! I would value this famous work at around $100,000 dollars, thus this is – GRAND THEFT!
I beseech the Senate to launch an investigation. My kin, Howard Young – the uncle of Liz Taylor – was a good friend of Eisenhower, and dealt in his art, as well as the art of Augustus John – who is kin to Ian Fleming! I am asking Rep. Adam Schiff to assist me in this investigation.
John Presco
President: Royal Rosamond Press
https://www.cbsnews.com/pictures/obamas-oval-office/
https://www.foxnews.com/politics/photos-show-white-house-being-cleared-out
https://www.dailymail.co.uk/news/article-9149991/Flying-coop-White-House-staff-haul-away-reams-documents-art-stuffed-BIRD.html
https://www.interpol.int/Crimes/Cultural-heritage-crime/Stolen-Works-of-Art-Database
The fact that an item is not included in this database does not mean that it is not stolen.
An object may have been stolen, but is not included in the database for one of the following reasons:
It has not yet been reported as stolen to the police;
The theft report has not yet been received at INTERPOL through official channels;
The object has not yet been entered into the database;
Searches for the object are being carried out at national level only;
The object has been looted from an archaeological site and is not known to the police.
Augustus Saint-Gaudens (/ˌseɪntˈɡɔːdənz/; March 1, 1848 – August 3, 1907) was an American sculptor of the Beaux-Arts generation who embodied the ideals of the American Renaissance.[2] From a French-Irish family, Saint-Gaudens was raised in New York City, he traveled to Europe for further training and artistic study. After he returned to New York, he achieved major critical success for his monuments commemorating heroes of the American Civil War, many of which still stand. Saint-Gaudens created works such as the Robert Gould Shaw Memorial on Boston Common, Abraham Lincoln: The Man, and grand equestrian monuments to Civil War generals: General John Logan Memorial in Chicago's Grant Park[3] and William Tecumseh Sherman at the corner of New York's Central Park. In addition, he created the popular historicist representation of The Puritan.
https://en.wikipedia.org/wiki/Augustus_Saint-Gaudens
Posted on July 11, 2020 by Royal Rosamond Press