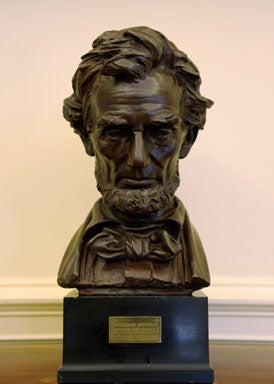 At eight yesterday morning I discovered Deacon Samuel Chapin who is kin to John Brown. Deacon Chapin was close with Reverend Pynchon and had to know my 9th. grandfather, John Wilson. Saint-Gaudens did a life-size statue of Chapin – The Puritan – and did the bust of Lincoln that was in the Oval office when Obama was President. When Barack was elected, the soul of John Brown – leapt from his grave! How about the soul of Lincoln? These two Abolitionists have to be looking down from heaven – with rage, seeing the Red State Neo-Confederates – are at THE HEAD of their party! There is no greater American Injustice!
With the disappearance of LINCOLN'S HEAD, and the decapitation of John's dream, there is born this day (1-10-23) The birth of the Headless Horseman of Springfield!
So be it!
John 'Of The Severed Head of The Baptist'
https://en.wikipedia.org/wiki/The_Puritan_(Springfield,_Massachusetts)
In 1881, Chester W. Chapin, a railroad tycoon and congressman from Springfield, Massachusetts, commissioned[2] the renowned sculptor Augustus Saint-Gaudens to create a bronze likeness of his ancestor, Deacon Samuel Chapin (1595–1675), one of the early settlers of the City of Springfield.[3] By 1881, Springfield had become one of America's most innovative industrial and manufacturing centers, and was one of the wealthiest cities in the United States.
The sculpture, cast at the Bureau Brothers Foundry in Philadelphia,[4] was unveiled on Thanksgiving Day, November 24, 1887 in Stearns Square, between Bridge Street and Worthington Street — a collaboration between the artistic "dream team" of Stanford White (of the renowned architecture firm McKim, Mead, and White) and Saint-Gaudens — and featured numerous sculptural and landscape architectural details to enhance the sculpture. However, in 1899 the statue was moved to Merrick Park, on the corner of Chestnut and State Streets next to the old city library, which would later become part of Springfield's Quadrangle cultural center. The statue has remained there ever since,[2] and contrary to the efforts that went into design of Stearns Square, even before its unveiling Saint-Gaudens had expressed interest in that particular site, with one writer for The Republican agreeing in 1886 that "a position on the city library grounds, on the contrary would exhibit the artist's intent to the best advantage."[5]
In 1983, the statue's location was briefly reconsidered as City Councilor Mary Hurley sought to restore it to its original location in the Stearns Square landscape. This move was initiated in part due to the restoration of the Turtle Fountain and other fixtures at that location, though the proposal lacked popular and political support. Then-mayoral candidate Richard Neal was among those public figures who opposed the move and the descendants of Deacon Chapin also actively opposed it, citing that the statue had become a fixture of the Quadrangle's museums and that the original move to its current location was an effort to protect it from vandalism which had occurred in its short stay there prior to 1899.[6][7]
This sculpture can today be found next to the Springfield City Library, which was constructed adjacent to the site in 1912. The base is inscribed:
"1595 Anno Domini 1675,
Deacon Samuel Chapin,
One Of The Founders Of Springfield"
Likeness[edit]
From left to right: portraits of Chester W. Chapin, The Puritan, and John Brown
By the time of the statue's design, no authentic portraits of Deacon Samuel Chapin were known to exist; officially the Saint-Gaudens National Historic Site has maintained that the model for the statue's face was Deacon Chapin's descendant Chester W. Chapin,[8] and indeed when producing copies of his work, Saint-Gaudens would say he used Mr. Chapin's facial features as his original model.[9] However, contemporary accounts also describe the original as "no portrait of any Chapin, but a composite in the sculptor's mind of the family type."[10][11] In 2014, Chicopee city historian Stephen Jendrysik submitted the theory that the figure's face was not a copy of the facial features of Chester Chapin, but rather a subtle tribute to abolitionist John Brown, a devout Calvinist and also a direct descendant of Deacon Chapin.[12][13] Indeed Chester Chapin was a War Democrat himself, paying for the uniforms of 10th Regiment at the start of the Civil War.[14] The immediate Chapin family also played a pivotal role in Springfield's Underground Railroad movement, including abolitionist Ethan S. Chapin, a business associate of Chester Chapin's,[15] and proprietor of the Massasoit Hotel, a safe house believed to have housed escaped slaves beneath its staircase, which hosted Brown prior to his move to the city in the 1840s.[16]
A controversial figure whose actions escalated tensions between North and South before the start of the American Civil War, Frederick Douglass later eulogized Brown, saying if he "did not end the war that ended slavery, he at least began the war that ended slavery."[13] In the 19th and early 20th centuries he remained an exceedingly infamous figure, regarded by the public both as martyr and terrorist for his raid on Harpers Ferry in an attempt to start a slave revolt. Brown was also an historic figure in Springfield as it was there that he first organized the militant underground railroad movement, the Subterranean Pass Way, and met with Douglass and Harriet Tubman among other influential abolitionist figures.[17][18]
The plaster bust of Chester W. Chapin, reportedly used as the model for the face of the statue.[8]
Indeed in his 2005 work, John Brown, Abolitionist, historian David S. Reynolds repeatedly describes Brown as "The Puritan," as in his own writing Brown repeatedly cited figures such as Jonathan Edwards and Oliver Cromwell as inspiration for his own actions.[19][20] During the Civil War, Puritan beliefs were held as an influence of the abolitionist movement, met with admiration by Northerners, and resentment by defenders of the South for their adherence to antinomianism, regarded as a philosophy of militant individualism to carry out warfare against institutions.[19] Congressman Samuel S. Cox, who opposed the war, went on to say that "[a]bolition is the offspring of Puritanism. Until Abolition arose, the Union was never seriously menaced; the Constitution was never endangered. Puritanism introduced the moral elements involved in slavery into politics."[21]
Saint-Gaudens, a known admirer of Brown, remains best known for his Civil War memorial works, including the Robert Gould Shaw Memorial on Boston Common honoring the 54th Massachusetts Infantry, the first African-American regiment organized in the northern states during the Civil War. Upon the unveiling of that statue, he would write that the singing of John Brown's Body, a popular Union ballad, by those at the ceremony, reminded him of an emotional moment 30 years prior, when a corps of New England infantry marched past his office at that time singing the same tune.[22] While he never remarked that the statue was a tribute to a second historical figure of the city's history, the facial features that appear on the original Springfield statue have been noted to bear a strong resemblance to Brown's, and in that regard it may doubly serve as a memorial to Puritanism's influence in 17th-century New England, as well as in the Springfield abolitionist movement during the Antebellum Period.[12][20]
Popularity[edit]
Clockwise from top to bottom, the likeness of the statue used to advertise a Boston hotel, rail service of the New York Central Railroad, a line of fine writing paper, and a stained glass rendition of the statue in The Student Prince and Fort Restaurant, in downtown Springfield.
The statue was so popular with the public that Saint-Gaudens decided to produce smaller scale versions of this work under the title The Puritan. He correctly surmised that this would be an excellent source of additional income. Today more than 25 slightly altered copies of this work can be found in museums, art galleries, universities, and private collections around the world.[23] Prominent examples include copies displayed in Boston's Museum of Fine Arts,[24] New York City's Metropolitan Museum of Art,[25] and the Smithsonian Museum of American Art.[26] The statue was also widely used as a symbol by third-party groups, particularly in advertising, as well as a symbol for the New England Society of New York in some of its literature.[27]
Posted on September 18, 2018 by Royal Rosamond Press
I own the Four Literary Spirits of the New World. My story is about the literary battle I have fought over, The Bible, The Hobbits, James Bond, and American Art, History and Letters. Then there are the Bohemians. At any given time these sprits will haunt Skipton Castle, Sleepy Hollow, or, the King's Chapel in Boston. Here is my treatment for a movie – and book!
The Spirit of Saint Paul is awoken from a deep sleep. Yes, I dare mess with Paul! About time someone did! He is the greatest sacred down in history! His old conscience was bothering him again. He had been a savage mass-murderer of the first Church, a real Charlie Manson doing Helter-Skelter! He says he was saved by blinding light on the road to Damascus. Paul lied when he said it was Jesus who blinded him, and, later had conversations with him. He tried to tell the Church the truth before he died, but, Timothy intercepted his last letter to the Church in Paris.
It is from Paris that he feels the darkest energy he ever felt. He understands there was a child born of Cain, the murderer of his brother. From this lineage 'The Beast' of Revelations is now in the earth, and bringing all that is light into the Eternal Darkness. Employing darkness to fight darkness, Paul raises from the dead, John Wilson, who is Solomon Kane. The Headless Hussian who I will name von Stuttmeister. The unmerciful John Clifford, and, Rip van Winkle. The Terrible Neglecter of Wives.
Thinking the Son of the Beast will soon be dispatched to hell, and about to fall back into a Eternal Rest, Paul's eyes are suddenly wide open!
"Uh-oh! I fucked up again. I just launched the Four Horseman of the Apocalypse. Oh well. Not my problem! It's in God's hands now!"
John Presco 007
Copyright 2018
http://www.shakespeareandhistory.com/young-clifford.php
"For this very reason, I (Paul) truly thought in myself that I ought to do many things contrary to the name of Jesus the Nazarean, Which I also did in Jerusalem; and many of the saints I shut up in prisons, having received authority from the chief priests; and when they were put to death, I gave my full consent against them" (Acts 26:9 – 10, HBFV)
https://en.wikipedia.org/wiki/The_Legend_of_Sleepy_Hollow
"Rip Van Winkle" is set in the years before and after the American Revolutionary War in a village at the foot of New York's Catskill Mountains where Rip Van Winkle lives, a Dutch-American villager. One autumn day, Van Winkle wanders into the mountains with his dog Wolf to escape his wife's nagging. He hears his name called out and sees a man wearing antiquated Dutch clothing; he is carrying a keg up the mountain and requires help. Together, the men and Wolf proceed to a hollow in which Rip discovers the source of thunderous noises: a group of ornately dressed, silent, bearded men who are playing nine-pins.
"The Legend of Sleepy Hollow" is a horror story by American author Washington Irving, contained in his collection of 34 essays and short stories entitled The Sketch Book of Geoffrey Crayon, Gent.. Written while Irving was living abroad in Birmingham, England, "The Legend of Sleepy Hollow" was first published in 1820. Along with Irving's companion piece "Rip Van Winkle", "The Legend of Sleepy Hollow" is among the earliest examples of American fiction with enduring popularity, especially during Halloween because of a character known as the Headless Horseman believed to be a Hessian soldier who lost his head to a cannonball in battle.[1]
https://en.wikipedia.org/wiki/The_Legend_of_Sleepy_Hollow
Posted on October 4, 2017by Royal Rosamond Press
On this day, October 4, 2017, I declare myself Official Caretaker and Honorary Member of the Brevoort Family – attached to fellow artist – James Renwick Brevoort! God speed!
For the reason the law firm of Robert Brevoort Buck sold the Rosamond name and artistic legacy to outsiders, then trashed our family reputation with alleged accounts of incest in order to make money, then it only fitting that James be employed to lift me up from the gutter, and exalt me as I exalt all Brevoorts – save one!
For the reason Sydney, Buck&Snyder rejoined Christine and Garth in a posthumous un-holy matrimony, so non-family folks can make money, I believe a legal precedent has been set, and a trendy tradition established that involves Grave Robbing and Womb Raiding. No family tree is sacred – and safe!
Let us title this Time Transfer 'The Famous Rip Van Winkle Rip'. I am also assuming the name Van Trump who was born in Paris, just incase he is kin to our President whose middle name is John. I will contest his Will.
I am also carrying the school of Found, and Ready Made Art – that Duchamp made famous – to the next level. Ready Made Artists – is all the rave! These Creative Transfers are approved by the Nine Muses who are The Source of All Creativity. Help yourself! Why be yourself? The Hudson River School has been utterly abandoned. All their landscaped are mine to roam around in, now, and long after I am dead! Cyber Land Deeds are coming!
Note the cheap trick James employs in reflecting stuff off a body of water. He was a One Trick Pony. This is why he was doomed to obscurity – until I became him!
Posted on September 17, 2018 by Royal Rosamond Press
I am ordained to carry on the cosmology of Solomon Kane!
At the first snowfall of winter, I put on my boots, my Bobby cape, my black hat, and took a walk up to Fort Hill that was in the center of the Mel Lyman commune. As I walked across the open square, enjoying the sound of the fresh snow cracking under my boots, I saw a man shadowing me as I made my way to the tower.
Solomon Kane
Posted on March 19, 2012by Royal Rosamond Press
The man who was stalking me, got to the tower as I did."What are you doing here?" he asked.
"What are you doing here? I asked.
"I'm guarding this place? he answered.
"Are you packing a gun?
"Yes!" he answered.
We now had an ecorteric conversation on freedom of speech, and the idea of folks carrying guns to protect their point of view. There is no doubt what-so-ever that I was talking to Paul Williams, an armed guard for Mel Lyman and his wife, Jessie Benton, who are found in my family tree, after Christine married Garth Benton.
Paul would later flee for his life from the Lyman Family, he convinced they were a dangerous cult who would kill anyone who threatened them.
Posted on February 12, 2014by Royal Rosamond Press
Posted on February 12, 2014by Royal Rosamond Press
I posted the following on August 11 of last year. Rena was a Damsel in Distress. I save her. She can not take that away from me. Why would she want to?
Greg
I have gone into my posts at Christine Rosamond yahoogroup where I talk about playing chess for two peoples lives. Talk about Nerdish. How action-packed! Goes with the Road Trip by the Book.
In this post I am pining away for Rena back in 2010. I think I have an obsession. If I promise to go see a shrink, and stay away from a chessboard, will she come out of hiding – and have a cup of tea with me!
But, then there is how I came back to life and fully in my body after reading the books James Taylor put next to my bed. Those posts are a thriller!
Jon
Playing Chess for People's Lives
Last night after composing today's blog, I realized I knew the answer to a great
riddle. This led me to accept the truth I discovered the answer to an even
greater riddle thanks to my near-death experience that went all the way. Twice
in my life I have played chess with an armed man in order to save the person
these men wanted to kill. Where one would acquire the credibility in order to
have anyone believe a word I say, is an even greater mystery – that may be
answered when we all die. But, until then, we all are in varying degrees
interested in Death. Perhaps this is why these dangerous men put down their guns
in order to play chess with me, they percieving, somehow, I have been where they
are destined to go – once again?
The Dragon Knight of a Thousand Kisses
Posted By: •braskewitz braskewitz Send Email Send Email Remove Author Ban Author
Sat Jan 16, 2010 3:13 pm |
•Options View Source
Use Fixed Width Font
Unwrap Lines
The Dragon Knight of a Thousand Kisses
I must let you know who you are, to me.
I had a very rough night. My search for Rena Christiansen took me through many
barriers of time. My search for her would take me beyond the pale of death as I
send forth the Knight of Death carrying the White Rose of Rosamond. Only this
morning did I allow the truth to come home, that Rena was a Damsel in Distress,
and I was her Knight in Shining Armor.
Why am I so stupid? Most any woman would agree men can be so stupid at times.
The truth began to sonk in early this morning when I lay in my bed thinking
about my first girlfriend after Rena. She was sixteen. She came into my abode
wearing a long blue cape. She was trying to get away from her boyfriend who was
a member of 'The Process' in Boston. These were pseudo-Christians who wore long
black capes, and, folks wondered if they were into Witchcraft. I did.
Being a follower of Meher Baba, I tried to move this beautiful Damsel – whose
name escapes me – from her man who had taken her soul hostage. When we stayed at
her mother's home in Marshfield on Christmas Day, her mother let me know she
wanted me to help free her daughter.
After we broke up, this Damsel's girlfriend moved in, and pointed out a man
sitting in a car in front of our house in Roxbury. She told me he was a Mafia
Chief who offered her money to help him hunt down a childhood friend who took
something valuable for him. They had been lovers She was thinking of taking the
money, and running with it. I told her that would be a death sentence. I went
down and arranged a meeting in a black bar I frequented. I told this woman;
"He is going to pull out a gun, point it at your head, and ask you if you were
going to help him.
Do not be afraid. Look him straight in the eye, and say No. He is fishing. Do
not take the bait."
This is exactly what happened. After eight seconds, that lasted an eternity, he
uncocked his 38, and put it back in his pocket.
Twice I played a game of chess for someone's life. I forgot about this incident
where agin I was utterly unafraid. I looked to Rena as the source of my
fearlessness. Then I saw it – saw him – Rena's Knight in Shining Armor! That
Knight, is I.
"I must let you know who you are, to me."
Before I became this Knight, allowed myself be her Knight after forty years, I
looked at the truth that I am Rena's Guardian Angel, for the reason I died at
the "most beautiful place in the world" and God restore my life to me.
For a week I struggled with the dragon of people's jealousy, how people I loved
turned on me after Rena came into my life. Yesterday, I promised my story would
maketh a shiled and sword. This morning it alas dawned on me, that their
jealousy was a double edged sword, for then knew what they were beholding forty
years before I did. Many Men have dreamt of coming to a Damsel in Distress, and
many Women, have dreamt of being rescued by such a fearless Knight.
And, what is my reward I ask in return? A Kiss, just a Kiss given to a Just Man.
In 1973 I called Rena at her grandmother's house. It was Summer, and I hoped she
would be there during the college break. This was the only number I had for her.
I was doing my painting of her in her Thalo robe with stars. It was a profile,
because she is looking to where the sun had set. I wanted her to send me a photo
of her profile.
Rena's grandmother told me her beautiful child was just coming in the door, and
told her who was calling.
"Greg! I was just out in this empty field in the tall grass. The sun had set,
leaving a rainbow of color on the Western horizon. Suddenly, a huge flock of
birds rose up and flew all around me. If you were here right now, I would give
you a kiss!"
"Rena! You just discribed the painting I am doing of you, minus the birds!"
Rena sent me a photo of her profile, a profile that I have long claimed
"launched a thousand Rosamond prints" for the reason this painting inspired the
famous artist called 'Rosamond' to take up art and paint her beautiful women –
as a Damsel in Distress! Until Rena walked into my life, I was Christine's
Guardian and Knight in Shining Armor. I was always there for her, always coming
to her rescue. Of course she was jealous, she was walking fifty feet in back of
me when God granted me the rare of honor of rescuing a Fair Maiden. God only
knows what evil would have befallen her if I was not there for her. Not once did
I ever suggest she owed me – big time! Quite the contrary, for the six weeks we
were together, I struggled not to take her hostage. If I did this, then my
gallant gesture would not have been in vaim, but I would be another villian.
When I went to Nebraska, it was not to say goodbye, but to release Rena with
diginity and grace. I just had to see she got home safely, and her life would
move foreward, with my blessing.
For a week now, I came through the barrier of time to own a very beautiful
vision, that a lovely couple with new born child show unto me. This is the last
scene of my tale. I was homeless because I gave up my apartment to this couple
with child, because my landlord asked me to, because this father was his best
freind, and they were homeless in Florida.
I did the right thing. I went with Brian to L.A. to visit my mother and sister,
and spoke a prayer, lay a beautiful wish upon the surface of the sea, and she
was there.
For the last forty years, when I grow full of dispair for the want of Rena to be
by my side, I summon her beautiful voice, that is the sound of a thousand bells,
and a thousand birds taking wing. And I have my reward, for letting her go her
way, in peace, the Damsel I rescued.
It was not easy giving up the home I loved, but if I had not, I would not have
met Rena, the Girld of my dreams. If I had not done the right thing, then there
would no home for Rena and I, in the Cathedral of the Soul.
Above is Rosamond Clifford's cote of arms depicting dragons. King Henry took
Fair Rosamond hostage and kept her in a maze. Sleeping Beauty was named
Rosamond. I am free of the thorns, and own a laurel of Roses.
When the father of my grandson was not there when Tyler was born, and instead
turned his back on my daughter and grandson for nearly two years, I came forth.
Heather has met her Knight in Shining Armor, and is deeply in love.
My Quest is complete!
Jon
The Dragon Knight of Roses
"A knight in shining armour
Meaning
A person, usually a man, who comes to the aid of another, usually a woman, in a
gallant and courteous manner.
Origin
The present-day use of this phrase is, of course, figurative and refers back to
the notion of gallant knights saving fair maidens in distress.
http://rougeknights.blogspot.com/search?q=playing+chess
I must let you know who you are, to me
In 1946 the Earth passed through the orbit of comet Giacobini-Zinner just 15
days after the comet. The result was a remarkable meteor shower with hourly
rates exceeding 3000 in many locations.
http://www.rougeknights.blogspot.com/
Rosamond Clifford descends from Dru (Drogo) Walter FitzPontz, the son of William
the Conqueror, and thus, Rollo. The Normans adopted the Rouge Dragon as their
standard after the battle of Hastings, and thus the name Drago, who was
dragon-born. Is he the young dragon we see in the Clifford family coat of arms?
My astrologer confirmed what three psychics had told me that I had died, and
come back after a my fall on dramatic rocks by the sea. They also told me I have
a child, which was news to me. I concluded years ago that my death and rebirth
reset my astrological clock as to free my information.
http://www.urbanlyrics.com/lyrics/rodmichael/knightinshiningarmor.html
http://www.urbanlyrics.com/lyrics/rodmichael/knightinshiningarmor.html
http://www.daz3d.com/i/shop/itemdetails/?item=4301
http://en.wikipedia.org/wiki/Damsel_in_distress
Classic examples of the damsel in distress theme feature in the stories of the
ancient Greeks. Greek mythology, while featuring a large retinue of competent
goddesses, also contains helpless maidens who are sacrificed or threatened with
sacrifice. One famous example is Andromeda, whose mother offended Poseidon.
Poseidon sent a beast to ravage the land, and Andromeda's parents fastened her
to a rock in the sea to appease him. The hero Perseus slew the beast, saving
Andromeda. Andromeda's plight, chained naked to a rock, became a favorite theme
of later painters. This theme of the Princess and dragon is also pursued in the
myth of St George.