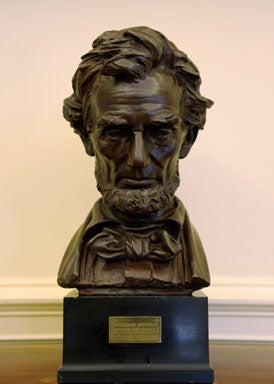 A bust of President Abraham Lincoln in seen in President Barack Obama's Oval Office at the White House in Washington, Tuesday, Dec. 29, 2009.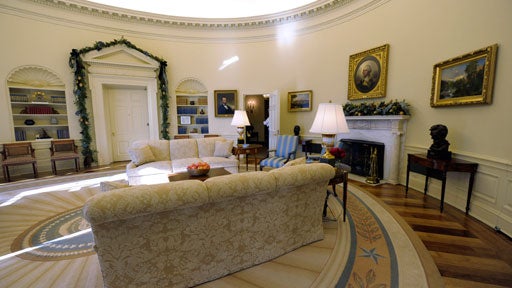 HULTON ARCHIVE/GETTY IMAGES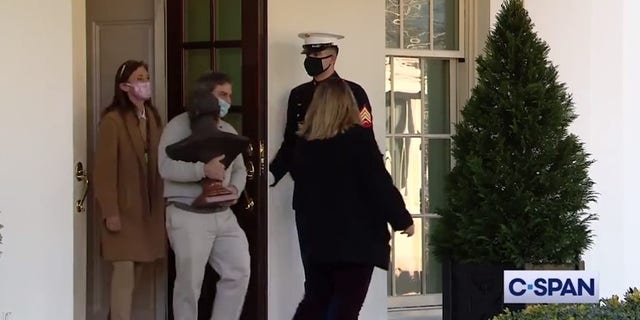 A bust of Abe Lincoln is carried out of the White House grounds. (C-SPAN)
https://www.washingtonexaminer.com/news/politics/white-house-missing-lincoln-bust
I am about to make a report to Interpol about the missing bust of Abraham Lincoln done by Augustus Saint-Gaudens. There is a photograph of it being taken from the White House – along with Top Secret documents! I would value this famous work at around $100,000 dollars, thus this is – GRAND THEFT!
I beseech the Senate to launch an investigation. My kin, Howard Young – the uncle of Liz Taylor – was a good friend of Eisenhower, and dealt in his art, as well as the art of Augustus John – who is kin to Ian Fleming! I am asking Rep. Adam Schiff to assist me in this investigation.
John Presco
President: Royal Rosamond Press
https://www.cbsnews.com/pictures/obamas-oval-office/
https://www.foxnews.com/politics/photos-show-white-house-being-cleared-out
https://www.dailymail.co.uk/news/article-9149991/Flying-coop-White-House-staff-haul-away-reams-documents-art-stuffed-BIRD.html
https://www.interpol.int/Crimes/Cultural-heritage-crime/Stolen-Works-of-Art-Database
The fact that an item is not included in this database does not mean that it is not stolen.
An object may have been stolen, but is not included in the database for one of the following reasons:
It has not yet been reported as stolen to the police;
The theft report has not yet been received at INTERPOL through official channels;
The object has not yet been entered into the database;
Searches for the object are being carried out at national level only;
The object has been looted from an archaeological site and is not known to the police.
Augustus Saint-Gaudens (/ˌseɪntˈɡɔːdənz/; March 1, 1848 – August 3, 1907) was an American sculptor of the Beaux-Arts generation who embodied the ideals of the American Renaissance.[2] From a French-Irish family, Saint-Gaudens was raised in New York City, he traveled to Europe for further training and artistic study. After he returned to New York, he achieved major critical success for his monuments commemorating heroes of the American Civil War, many of which still stand. Saint-Gaudens created works such as the Robert Gould Shaw Memorial on Boston Common, Abraham Lincoln: The Man, and grand equestrian monuments to Civil War generals: General John Logan Memorial in Chicago's Grant Park[3] and William Tecumseh Sherman at the corner of New York's Central Park. In addition, he created the popular historicist representation of The Puritan.
https://en.wikipedia.org/wiki/Augustus_Saint-Gaudens
Posted on July 11, 2020 by Royal Rosamond Press
At 7:33 on July 11, 2020, I sent the following e-mail to the President of the United States.
"Dear Mr. President: May I suggest a statue of President Eisenhower be included in your proposed garden. Ike was an artist who rendered a hundred or more paintings while living in your home. He helped defeat the Nazis. He bid the Monument Men to return stolen art to rightful owners. He was a good friend of art dealer, Howard Young, who is the uncle of my kin, Elizabeth Rosemond Taylor."
For two days I have had enlightened conversations with my friends, Keith, Ray, and Merna, who live in Springfield. We talked about how polarized our Nation has become. We have always sought the middle ground and looked for what we have in common. Yesterday we talked about Howard Young's friendship with Ike. They hunted, fished, and swam together. They also played poker with rich and powerful men. Three hours later I discover President Eisenhower was a prolific artist who may have seen my kin Liz Taylor on several occasions. They could have fished together. My years of research have struck the motherload in regards of establishing the Artistic Dynasty that is made up of family members – the rival biographers did not find!
I believe Eisenhower is above the fray that has toppled monuments and works of art, because he destroyed the Master Race the destroyers of Caucasian culture and many minorities that were seen as inferior.
After the war President Eisenhower sought the company of men who come from humble roots. How much of an influence Howard had on Ike's art is to be discovered. I have been puzzled as to why Michael Jackson did a drawing of George Washington and the front door to the White House. Liz encouraged Michael to take up art. Did she tell him about her connection to President Eisenhower – the artist?
Liz's son married Aileen Getty whose family has amassed one of the largest collections of art in the world. I am going write the Getty Art Museum and suggest they have a show of Ike's work. My late brother-in-law did the mural at the Getty Villa. My late sister, Christine Rosamond Benton was a famous artist. I was her teacher.
John Presco
President: Royal Rosamond Press
Posted on January 19, 2021 by Royal Rosamond Press
In the last ten years I tried to make several people my Art Buddy, but, they betrayed me, stabbed me in the back – and became my Judas.

Trump's staff have apparently looted the White House. If these objects of art are not returned by sundown tomorrow, I will send an e-mail to Interpol.

John Presco

President: Royal Rosamond Press

A Newspaper For The Arts

A pheasant took flight from the White House Thursday afternoon.

Toted by Debbie Meadows, wife of White House chief of staff Mark Meadows, the taxidermy bird was moved out of Meadows' West Wing office, among other boxes and souvenirs from his time in the administration, and placed into the trunk of a waiting SUV.

With just days left in the Trump administration, the White House complex is abuzz with signs of the end of one presidency and the beginning of another, staffers pushing carts with empty and full boxes, aides bidding farewell to their departing colleagues, and some walking out with large framed photograph mementos — a jolting air of normalcy in the wake of last week's deadly insurrection at the US Capitol and the anticipation of more violence around Wednesday's inauguration.

Questions abounded Thursday after a trio of unidentified masked officials walked a bronze bust of President Abraham Lincoln outside the front door of the West Wing. To whom did it belong? And where, precisely, was it off to?

Items such as the Lincoln sculpture were on loan from the official White House collection and part of a documented process wherein thousands of pieces of art, decorative art, sculpture, china, silver and other items are historically

preserved.

Workers move boxes onto a truck on West Executive Avenue between the White House and the Eisenhower Executive Office Building on Thursday, Jan. 14, 2021.

These items are available for the incoming president and first lady to select at the start of a new term, as the Trumps did in 2017.

Melania Needs an Art Buddy
Posted on November 29, 2018 by Royal Rosamond Press

I rescind the offer to be President Trump's 'Art Buddy'. I transfer this offer to the First Lady. I suspect Donald uses the image of his foes in prison as his computer wallpaper.
Jon
https://www.msn.com/en-us/video/popculture/melania-trump-defends-white-house-red-christmas-trees/vi-BBQdLIu?ocid=spartandhp
The President's Art Buddy?

Posted on January 22, 2017by Royal Rosamond Press


President Barack Obama shows Prime Minister David Cameron of the United Kingdom a bust of Sir Winston Churchill in the private residence of the White House, July 20, 2010. (Official White House Photo by Pete Souza)

To: The President of the United States of America
From: Jon Presco
President: Royal Rosamond Press
Dear Mr. President
Last night I began to compose a sarcastic letter to you in regards to the bust of Winston Churchill by the Bohemian Sculptor, Jacob Epstein. This morning I awoke with a change of heart when I finally heard the First Ladies plea to the world;
"For God's sake, will someone be my husband's best friend. I can't be his best friend. I am a mother with a son to raise!"
I had an epiphany! You never had a best friend. I asked myself – Why? I deduced your inner mirror is on the blink. You may be incapable of introspection. This may be the result of being the richest kid on the block – and New York. However, it is coming out you do not like to read. How about contemplate a work of art? The world is now very curious as to where you gather your opinions. A best friend is often the source for most people. Best friends go off to a special place where they are beautiful and honest mirrors to one another. A best friend has permission to be critical with care, and tell you the truth, with love. To allow another human being to make up who you are, is the greatest experience one can own, especially when you are both artists. Did you know Winston Church is an artist. He loves the time he takes – to create! His empty canvases are telling! They are mirrors on the wall that bid us to look deeper, and behold the truth.
Here's your letter I was composing in my mind before I went to bed….
Dear Mr. President;
Like millions of Americans, I hate your guts because you are so stupid! You know nothing about art, and, are unteachable. For this reason I highly suggest I be your Artist In Residence so I can protect the valuable works of art that belong to the American People, who with dignity and respect for the Office, let you borrow these works, for your edification and contemplation so that you will know what a Great Nation We are!
If you can put up an old army cot down in the basement next to the boiler, with kerosene lantern, I would know bliss. For when I heard you and your Generals yakking it up in the Oval Office, I would strap on my hunchback, go upstairs, and as your Brass mocks me, I will cover our works of art in plastic, so you pussy-grabbing freaks wont spill your booze all over our National Treasures – along with your precious Bodily Fluids."
When I awoke, I was in a conciliatory mood, and a patriotic one. I owe it to my President, and my Fellow Americans to be serious – and try to make a difference in your life. I was going to bid you to contemplate this bust of Churchill, for it is a window into the soul of the British Endeavor, that was swayed by the rule of the most amazing Kings and Queens that ever walked the earth. Winston is closely related to Princess Diana Spencer, whose son will sit on the throne of England. King Henry Fitzempress Plantagenet is said to have built a labyrinth at Woodstock where he kept his paramour, Fair Rosamond, safe from his wife, Queen Eleanore. Henry was the most educated man in the world. He claimed he descends from the Kings of Troy, where Helen was taken after she was captured by Paris. Consider the beautiful women you have captured.
Henry's grandfather had a zoo, and came close to ruling all of the western world, when his heir went down in the White Ship disaster. His daughter, Empress Matilda, made powerful moves on the Chessboard of the World, and thus the Plantagenet Dynasty was born. The War of the Roses stems from these Unions, the blood ties, that born real stories, including 'The Game of Thrones'. Study Matilda and know that you are poised to replicate her vision. It is blatantly obvious you do not have a clue of how much power you own – that would instantly humble most leaders. Humility – is wasted on you! You are consuming all the humility of the world. You need to stop – and THINK!
https://en.wikipedia.org/wiki/Empress_Matilda
I owned a vision Mr. President, of you tugging on a string that leads to my humble Bohemian abode down in your basement, and, I arise. A hot cup of coffee awaits us as we sit before the bust of Churchill and contemplate the meaning of – it all! I would be your Art Buddy, and not your teacher. Then, I beheld the sad, and dangerous truth.
On further investigation, I discovered you have rekindled the Iconoclastic Wars that my Rosemondt ancestors found themselves in the middle of. To my horror, I discovered you use a work of art to bludgeon President Obama with. You use Art to go to War. You use the word "enemy" on U.S. Citizens. If Churchill was alive, he would come across 'The Pond' and kick your ass: for Britain never had a better friend then the U.S.A when it came to defeating the Real Enemy. You sully the word! You grab the pussy of beautiful women, but, it is clear you don't know what to do with it. You grab all the power one can own, and you don't know what to do with it. I suspect Beauty itself is your mortal enemy. Mr. President, you are a very ugly man!
I must now declare you 'The Enemy of Art'. You are in the company of Evil Men. Not since the defeat of Hitler, by the friends, Winston Churchill, and F.D.R, has there been one who dare take that Dictator's place. You mock these great men. They hated the SS Gestapo, who stole some of the greatest art made in the west. You need to look in the mirror I hold up to you, and behold the Monster. You need to look at the artist who rendered that bust – and repent! Consider Henry and Beckett.
As it is now, you are irredeemable. You are damaged goods. You and Spicer made it very clear that you see 'The American People' as OBJECTS – your objects! Human beings are not objects. They can be called SUBJECTS if our land was a Kingdom. Most Presidents use the title 'My Fellow Americans'. Since you took office, you have not addressed US with the respect WE ARE ALL DUE!
As things are now, there is no hope for you. To say this is to say there is no hope for US. You have no right to remove Hope from this Freedom Land, or, play devious games with works of art, as it they were your chess pieces. I will blog on our special relationship once a week. Whether you like it or not, I am your 'Art Buddy'.
Because you are so stupid, and know very little, I suspect you already have a 'Art Buddy'. Care to tell the American People who, he, or she – is? Hitler was an artist. When he tried to get into the Berlin Academy, a instructor noticed something disturbing in his cityscapes. They were devoid of people. Did Hitler find all the German People – unworthy?
Sincerely
Jon Presco
Photos are emerging of Trump administration staffers moving items out of the White House complex — including a bust of Abe Lincoln and a stuffed bird — ahead of President-elect Joe Biden's inauguration next week.
Biden will be sworn in as America's 46th president on Wednesday, Jan. 20.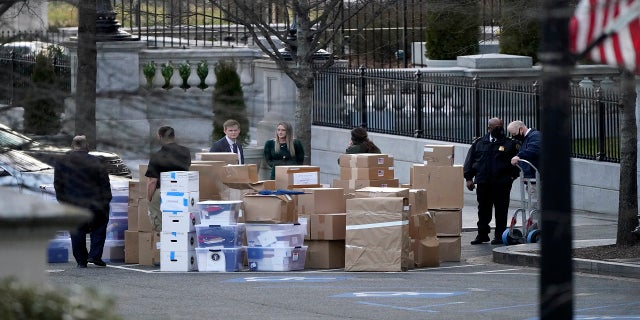 People wait for a moving van after boxes were moved out of the Eisenhower Executive Office building inside the White House complex on Thursday. (AP)
Footage captured by C-SPAN this week showed a bust of Abe Lincoln being carried out of the White House.
https://da3dafc22ae77de180e24917f9d54f60.safeframe.googlesyndication.com/safeframe/1-0-40/html/container.html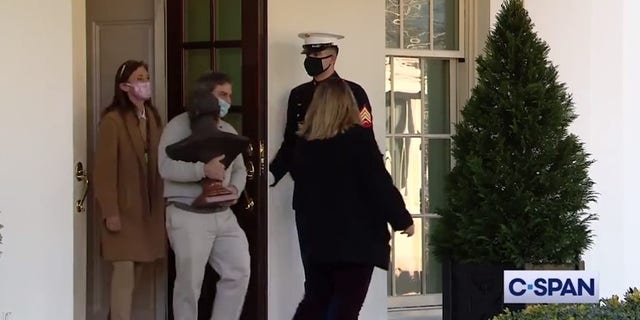 A bust of Abe Lincoln is carried out of the White House grounds. (C-SPAN)
DAN SCAVINO TELLS TRUMP OFFICIALS TO BE PROUD OF ACCOMPLISHMENTS
That item is reported to be returning to a museum from which it was loaned.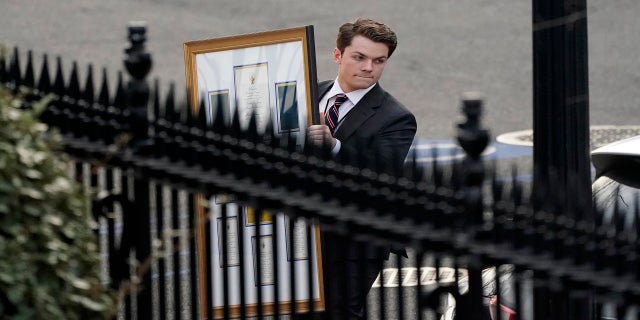 A man carries framed items to a car as he leave the Eisenhower Executive Office building on Thursday. (AP)
Another photo circulating on Twitter purportedly shows Debbie Meadows, the wife of Chief of Staff Mark Meadows, as she carried a stuffed bird away.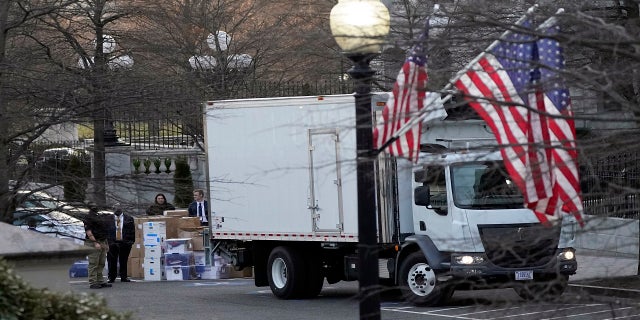 A van arrives to pick up boxes that were moved out of the Eisenhower Executive Office building. (AP)
CLICK HERE TO GET THE FOX NEWS APP
Other images showed aides moving boxes out of the Eisenhower Executive Office Building on the White House grounds.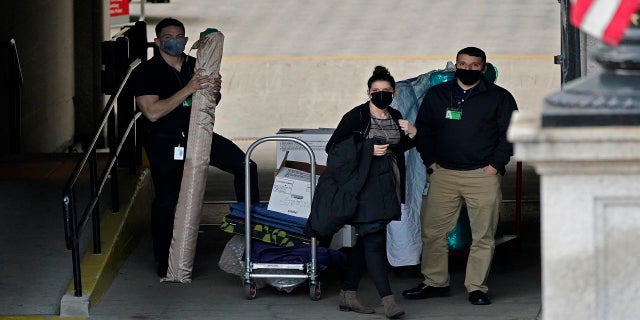 People wait for a moving van inside the White House complex on Thursday. (AP)
That building houses most of the offices for White House staff.