When Big Bones Remmer and his wife came to our home on San Sebastian, that was in the Glenview district of Oakland, he got 'The Look' from Rosemary's two sons that you see in the photo above. No one fucked with the Presco Brothers. Mark and I had famous fist-fights. My brother played tackle on the Oakland High football team – that won the championship. I believe Remmer was going to make us an offer – we couldn't refuse!
I am a newspaperman – who has been tagged to author the most Bad Ass Story – off all time! I suspect when Trump was elected President, he was introduced to The Meesites. He and Cohen thought they were the Baddest Asses in the Big Apple, and they would move their gang into the White House! But, this was Ed Messes' turf, the home of The Meesites who had whooped the Black Panthers, and Hippies of People's Park. When I read they were titled 'The Alameda County Mafia' alas I got the BIG PICTURE. It is suggested the ACM looked the other way, as organized crime moved into the Bay Area and Cal-Nevada. It is said The Meesites defeated the Soviet Union by playing Oakland Hardball with the Red Menace.
Above is a photo of the Catholic Church the Presco Children went to. Attached to it the Catholic School my sister Victoria went to. About four hundred yards up Park Blvd is the Zion Lutheran Church that all the Meeses attended. It looks like a German Monestary built into the side of a hill and rocks. The Meese and Presco German Heritage – is almost identical! President Trump made remarks about Ed's good genetics that he had compared to his German genetics, when he put the Medal of Freedom around Ed's neck. These two white men never dreamed a Black Woman was about to become the Vice President of eh Unites States – replacing the Whitest White Man – of all time! Kamala and I were born in Oakland. Ed might have been my close neighbor.
What did Ed think about Trump throwing Cohen and Pence under the bus? Was Meese shocked to learn Kamala had ties to the Black Panthers. and worked in County District Attorney's Office, the homebase of 'The Alameda County Mafia'. Did the Meesites wonder…..What the fuck is going on? Does Sleepy Ol Appeaser Joe – know the score – in the Greatest Cops and Robbers Game – of all time! And, now Kamala is taking on the Emperor Putin – accusing him of War Crimes?
For two days I was looking for a way to Weaponize our VP, strengthen her hand at the Oakland Card Room. Thank God for The Supreme Seventeen – for the Oakland Cat is out of the bag! Ed Meese, is officially….REPLACED!
Around the time our family photo was taken, I danced The Bolero for my first girlfriend, Marilyn. I was a poet, artist, and philosopher. Marylyn's sister knew Eldridge Cleaver and other Black Panthers. I dance with my shirt off. I choregraphed my dance, my version. I did what I damned well pleased! I ran for Governor of Oregon.
EXTRA! Trump is still trying to REMOVE Oakland Kamala from the office of Vice President of the United States of America!
John Presco
President: Royal Rosamond Press.
Wisconsin State Assembly Speaker Robin Vos (R) told WISN in Milwaukee that he received a call from Trump after the state Supreme Court ruled on July 8 that most absentee ballot drop boxes in Wisconsin are illegal. The ruling addresses future elections, not the one Trump lost in 2020 by more than 20,000 votes in Wisconsin.
John Eastman, Kamala Harris, Fremont | Rosamond Press
Stop the Steal organizer tried to stop the certification of Barack Obama in 2009 too: report (msn.com)
When White House counselor Edwin Meese III moves to the Justice Department to become attorney general, he will not be surrounded by strangers.
He will join a network–nicknamed the "Alameda County Mafia"–made up of people who were once involved in law enforcement in Alameda County, Calif.
From 1959 until 1967, Meese was a deputy district attorney in Alameda County. He left that job to become legal affairs secretary to Ronald Reagan when he assumed the governor's seat.
Many, like the Meeses, eventually settled in the sun-drenched, hilly Oakland neighborhoods with picturesque names such as Piedmont and Glenview. The very name Piedmont came to symbolize the white bastion from which most of Oakland's political establishment came. In contrast was the west Oakland flatland where the Meeses' church, Zion Lutheran, was located. The church underwent a radical transformation with the influx of Southern blacks who began arriving en masse during World War II. They came as sailors to nearby Alameda Naval Station, and they came to work in the shipyards as part of the war effort. Black Lutherans eventually started to attend the Zion church.
"What we know about Johnny is that he is a 1973 graduate of U.C. Berkeley's Boalt Hall School of Law. We also know that in 1979 he was working with elements of the Oakland's infamous notorious Beastly Germanic Clan, D. Lowell Jenson and Edwin Meese III. In 1979, he worked in collaboration with the BEAST and the Alameda County Mafia to cover-up a 1979 police murder of another Oakland Black youth, 15 year-old Melvin Black. [6]"
Posted on February 4, 2021 by Royal Rosamond Press
Kamala was born in Kaiser Hospital that was located two blocks from where I lived with Gloria and our female lab, Deva, which I just discovered in the middle name of Kamala Devi Harris. Devi/Deva means 'divine godlike shiny being'. Kamala is the goddess Lakshmi. Being a follower of Meher Baba while I lived on Yosemite, I can conjure up a divine image of Kamala's birth and life from the perspective of her mother who took her famous daughter to India. I know Kamala is concerned with the Christian Identity of America. Let us remove this block by saying I came back to Oakland with Dottie Witherspoon whose great grandfather was Signer John Witherspoon, a Presbyterian Leader from South Carolina where we visited Baba's retreat. I clear a path for the ever-dwelling presence of The Divine Light. Kaiser was torn down and is now a empty lot. I suggest the U.S. Government purchase this property and build a college and shrine for students who want to know the culture of India.
I can not find the address for the Oakland residence that I believe the photo of Kamala and her father was taken. I am well versed in the blend of Black Politics and the existence of a Divine Transcendence that was very prevalent in the Bay Area. This energy filled the air and hovered on the borderline of Oakland and Berkeley. I am going to retrieve this light and history. Deva lived with my wife, Mary Ann Tharaldsen, and my stepdaughter, Britt, on Miles Street, which is a half-mile away from Kaiser. Deva lived there too.
"On this day I found the Cal-Oregon Rainbow Coalition."
On September 7, 2020, a month before Kamala was elected Vice President, I posted about the Rainbow Coalition. This morning I find the 'Rainbow Sign'. Founding the Marin Sea Cadets is part of 'The Kamala Prophecy'.
John Presco
Kennedy Brothers at Defremery Park | Rosamond Press
Inside Rainbow Sign, a vibrant hub for black cultural arts | Berkeley News
Posted on July 20, 2022 by Royal Rosamond Press
Vice President Harris and Ukrainian President Volodymyr Zelenskyy met Saturday at the Munich Security Conference in Germany Saturday morning to discuss aggression from Russia and how the U.S. and its allies would respond.
Kamala D. Harris, 32nd Attorney General | State of California – Department of Justice – Office of the Attorney General
About Us: History — Alameda County District Attorney's Office (alcoda.org)
Harris has spent her entire professional life in the trenches as a courtroom prosecutor. After graduating from U.C. Hastings College of the Law, she took a position in the Alameda County District Attorney's Office, where she specialized in prosecuting child sexual assault cases. As a Deputy District Attorney she also prosecuted cases for homicide and robbery. She worked at that office from 1990 to 1998 before going on to serve in the San Francisco District Attorney's Office.
The Alameda County District Attorney's Office was formed in 1853 with the appointment of its first District Attorney, William H. Combs. For many years, most of Alameda County's District Attorneys came to the position from private practice and, after relatively short periods in the office, became judges or returned to private practice.
In the modern era, the best-known DA was Earl Warren who joined the office in 1920 as a deputy district attorney and was appointed DA in 1925. In 1939, he was elected Attorney General of California, and in 1946 he was elected Governor. Warren served as governor until 1953 when President Dwight Eisenhower appointed him Chief Justice of the United States Supreme Court. As Chief Justice, Earl Warren is probably best remembered as the author of the landmark case of Miranda v. Arizona.
Warren's successor as DA was his Chief Assistant, Ralph E. Hoyt. Hoyt was DA until 1947 when he was appointed to the Superior Court by Governor Warren. Hoyt was succeeded as DA by J. Frank Coakley who served as District Attorney until 1969.
The Port Chicago Mutiny became the largest mass mutiny trial in U.S. Naval History. The prosecution was headed by U.S. Navy Commander J. (James) Frank Coakley, who convicted and imprisoned the surviving Black ammunition loaders as "depraved" men who declined to do their duty. [8]
During the reign of D.A. J. Frank Coakley, he was wittingly deaf, dumb and blind to organized crime in Alameda County. He was a silent partner to an unholy alliance with the La Costa Nosta, the Mafia.
Alameda and San Francisco County's resident Lucky Luciano's La Costa Nosta crime boss was a man called Elmer "Big Bones" Remmer of Emeryville. Bones Remmer controlled all the after-hours joints, brothels, gambling houses, extortion, loan-sharking, bookies and Murder, Inc. in Emeryville, Oakland and San Francisco. Along with witting politicians, cops, and various shady lawyers and bagmen, Big Bone's mob operations remained unmolested by local law enforcement agencies in Alameda and San Francisco County.
Posted on July 12, 2022 by Royal Rosamond Press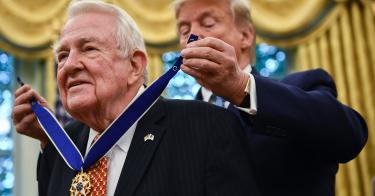 President Donald Trump awards former Attorney General Edwin Meese with the Medal of Freedom during a ceremony in the Oval Office at the White House on October 8, 2019.
Ed Meese had to be watching when Donald Trump invited his followers to go to the Capitol – for a wild time, Ed held out hope, that his incredible legacy would survive and have eternal brilliance. He let out a moan and whimper when he beheld the man carrying the confederate flag. His wife came over to comfort him, but when they beheld Jacob behind the pulpit of the Speaker of House – letting out a victorious war whoop – his wife's hand slipped off his shoulder, and she slipped quiet into the kitchen to finish her Jell-O Mold.
Posted on June 7, 2012 by Royal Rosamond Press
I met Elmer 'Big Bones' Remmer when I was fifteen. He and his wife (or girlfriend) looked like Mr. and Mrs. Santa Claus, they both having white hair. They walked into our home on San Sebastian Avenue, our benefactor wanting to meet the children of their employee. Rosemary ( a made woman?) was working for Rucker hydraulics in Emmeryville and met Remmer in the Oaks or Menlo Club located in mob-owned town. She started editing porno movies for Remmer, then starred in them. Many nights Rosemary did not get home till after her four children were asleep. We would find a doggy bag from a restaurant in the fridge. Vicki sees her three older siblings as her real parents.
Remmer was bigger then I thought. He is named along with Mickey Cohen and Frank Sinatra. He ran the Cal-Neva Lodge and took his case to the highest court in regards to his card rooms in Emmeryville and San Francisco. It looks like Remmer was trying to make gambling legal in all of California which would put the Mob out of business in Nevada. However, Remmer was the Mob.
There was a brawl and arrest in LA involving the actress, Vicki Raaf. Here, Hollywood make-believe, meets real reality!
Jon Presco
Copyright 2012
Posted on November 27, 2014 by Royal Rosamond Press
William Broderick married Alice Stuttmeister, the daughter of William Stuttmeister and Augusta Janke, and lived on 13th. Avenue and 31st. St. in the large Victorian seen above. The Prescos moved there in 1953 and lived in the top half of this beautiful house. I am going to take you on a tour of the Oakland the four Presco children had come to dearly love. Leaving here was a tragedy we never recovered from. These is a light, a bubble around our neighborhoods.
William Oltman Stuttmeister, born 1862. He married Augusta Janke June 1888. Alice L. Stuttmeister, born October 13, 1868 in San Francisco, CA; died February 13, 1953 in Roseville Community Hospital in Oakland, CA. She married William Broderick October 02, 1897. He was born Abt. 1871 in Ohio.
Children of Alice Stuttmeister and William Broderick are:
Frederick William Broderick. Melba Charlotte Broderick.
Melba married Victor Hugo Presco and born one child, Victor William Presco who married Rosemary Rosamond who born:
Mark Presco. John Presco. Christine Presco. Victoria Presco
Two houses down on 13th. is the Beatnik house Bill Arnold and used to visit after school when we were thirteen. There were crutches hanging in the large tree, and a grave marker under the branches. There was a Beat living in a shed in the backyard were used to talk to. Someone needs to do the history of this house whose owners owned the small gas station across from us. I will be sending our family photos to the Oakland Library.
Mark, John, and Christine went to McCheznie Junior High six block up the street on 13th.
Going up Park Boulevard you arrive at the Glenview shopping area. We used to get food on credit at the Savemore Market. The hungry Presco children were sent there to get hamburger meat and milk after our limit was reached. This is why Christine overloaded her refrigerator after she became rich and famous.
Share this:
Infamous Oakland Attorney John Burris has proven himself to be Johnny Come Lately in uncovering the facts and circumstances surrounding Johannes Mehserle extermination of Oscar Grant on the morning of January 1, 2009. Just moments before Grant was slain, BART Officer Tony Pirone like a thug off the street savagely attacked and slugged Grant knocking him helplessly to the ground. These facts didn't come from Attorney Burris that is solely representing the young men that witnessed and suffered from Mehserle and Pirone's onslaught and rampage that evening on the BART platform, it came from an explosive cell phone video aired publicly by KTVU, Channel 2.
Why wasn't Pirone identified as a racialist terrorist, an instigator and primary provocateur of violence that evening prior to that explosive video being aired publicly. Why is there little or no background information on this public servant with a license to kill or any of the other BART officers that were on the platform when Grant was murdered? Where is Pirone's offical BART picture? Why the secrecy surrounding these public servants on the public payroll? What little we know so far that didn't come from Johnny is that Tony Pirone is a 36 year old former marine. He has been on the BART Police force for approximately 4 years. He is a former security officer from Lawrence National Livermore Laboratory. Is it Lawrence Livermore National Security, LLC that includes partner U.C. Berkeley another handmaiden of the medical-industrial-military complex, and again Bechtel International, born of the BEAST, which is also a limited liability partner to that corporation.
Recently, Johnny directed a letter to BART Police Chief Gary Gee to look into and investigate the existence of an "unprofessional relationship" between BART Officers Tony Pirone and Johannes Mehserle that he had gathered from some confidential source. This information is important and involves public safety. Why, Johnny? Why go to Gee? Chief Gee has been on the cover-up from the very beginning. Gee covered-up the fact that none of the seven officers at Fruitvale radioed that an officer-involved shooting had taken place. Supervisors sent to the Fruitvale Station initially were in the dark, while officers at stations down the line did not know to expect a train full of witnesses. [1] Johnny admitted that the delay, he said, "creates more of an opportunity for a cover-up." [2] As of this date, none of the officers have been reprimanded for that gross departure from established police procedures. It was Gee that waited until Jan. 7 to attempt to force Mehserle to speak to internal affairs, a delay that police experts called unusual. [3] Gary Gee acknowledged that he and BART investigators had seen the footage earlier of Pirone viciously attacking Grant without provocation but said indifferently that it wasn't conclusive on its own, and continued to suppress it. [4]
What is the association that Johnny is referring to, and why is Johnny Come Lately continuing to direct anything at all to Gary Gee? Who is Gary Gee? What is his background? Again, what little we know about public servant Gee is that he has been with BART Police since 1975.
Is Johnny forewarning Chief Gee to tie-up loose ends that may expose a racialist clandestine clan in the ranks of BART Police that led to the beating and extermination of Oscar Grant III. Has Johnny compromised that source? Recently, it was revealed that Illinois Congressman Jesse Jackson, Jr. was a covert FBI informant. [5] Basically that means that whenever one of his constituents confided to him in confidentiality about governmental abuse, fraud and corruption, the source was secretly automatically compromised by Congressman Jackson's association with medical-industrial-military complex. Why would Johnny ask Gary Gee to investigate anything unless he expected Gee to suppress the source before the information became public?
What we know about Johnny is that he is a 1973 graduate of U.C. Berkeley's Boalt Hall School of Law. We also know that in 1979 he was working with elements of the Oakland's infamous notorious Beastly Germanic Clan, D. Lowell Jenson and Edwin Meese III. In 1979, he worked in collaboration with the BEAST and the Alameda County Mafia to cover-up a 1979 police murder of another Oakland Black youth, 15 year-old Melvin Black. [6]
Alameda County Mafia was a phrase that I believed was coined by the Late Great Mae Brussell to describe the unvarying and never-ending, conspiratorially and unlawful activities involving assassinations, frame-ups, fraud and corruption of certain offices and public officials of Alameda County, particularly the District Attorney.
The Alameda County D.A.'s most evident and notorious unholy alliance with the Mafia (La Costa Nosta) began under Irish Catholic J. Frank Coakley of Oakland. Coakley had become D.A. sometime after World War II in 1947, but he had formed a problematic and racialist reputation as early as 1944.
On July 17, 1944, an infamous blast at the Port Chicago Munitions Naval Base in Concord, CA destroyed ships, base and damaged the small town of Port Chicago, over a mile away. The explosive power of the blast was equal to five kilotons of TNT, the same magnitude as the atomic bomb that would be dropped on Hiroshima over one year later. The blast killed 320 men, 202 were black ammunition loaders. [7]
After the blast, the Navy ordered 328 of the surviving ammunition loaders to work on another ship under the same unsafe conditions that caused the blast. The men refused, citing the recent disaster and that the unsafe conditions that caused the first explosion. Two hundred and fifty eight men were marched off to a barge and held under guard for several days. They were ordered by their division officers to fall into two groups – those willing to return to the dangerous work and those who refused. Fifty men refused, and were taken to the brig at Camp Shoemaker. Joe Small, considered the ringleader, was placed in solitary confinement. The fifty were charged with mutiny.
The Port Chicago Mutiny became the largest mass mutiny trial in U.S. Naval History. The prosecution was headed by U.S. Navy Commander J. (James) Frank Coakley, who convicted and imprisoned the surviving Black ammunition loaders as "depraved" men who declined to do their duty. [8]
During the reign of D.A. J. Frank Coakley, he was wittingly deaf, dumb and blind to organized crime in Alameda County. He was a silent partner to an unholy alliance with the La Costa Nosta, the Mafia.
Alameda and San Francisco County's resident Lucky Luciano's La Costa Nosta crime boss was a man called Elmer "Big Bones" Remmer of Emeryville. Bones Remmer controlled all the after-hours joints, brothels, gambling houses, extortion, loan-sharking, bookies and Murder, Inc. in Emeryville, Oakland and San Francisco. Along with witting politicians, cops, and various shady lawyers and bagmen, Big Bone's mob operations remained unmolested by local law enforcement agencies in Alameda and San Francisco County.
In San Francisco, Bones was the proprietor of a gambling and bookie joint called the Menlo Club. [9] San Francisco Attorney Edmund Pat Brown, former D.A. of San Francisco County, former California Governor and father of former governor and Oakland Mayor Jerry Brown, helped incorporate Bone's La Costa Nosta operation.
Big Bones also ran the notorious Cal-Nevada Lodge in Lake Tahoe with Frank Sinatra, and in association with the legendary New York Mobster Sam Giancana. [10] Big Bones had close ties to infamous criminal figures like "Baby Face" Nelson and "Pretty Boy" Floyd, both of whom reportedly stayed in the cottages below the Lodge when they "needed to get away." [11] Bones was also a friend of Jack (Rubinstein) Ruby, the infamous assassin of Lee Harvey Oswald, the patsy in the Assassination of President John F. Kennedy.
During Jack Ruby's six year stay in California, he was employed by a gambler named Eugene Shriber, who worked under Big Bones. Shriber came to California from the Chicago mob in 1933 and managed a San Francisco card room for Bones and employed Ruby and Eva Rubenstein, Jack's sister, as dealers. [12]
Fed up with crime, corruption and Murder, Inc. in Alameda County during the 1940-50's, the California State Attorney General had to come to Oakland to try to shut down the mob's operations. The Attorney General's office indicted and proceeded to prosecute some of Oakland's mob figures. Under D.A. Coakley, the La Costa Nosta just didn't exist in the county. Just imagine of all people that could have showed up in Oakland to defend the mob, it was the who's who of Mafia Boss Meyer Lansky's crime syndicate, another infamous underworld character by the name of Murray Chotiner. The noted Author Dan Moldea reported that Murray Chotiner, and his brother Jack, handled 249 cases of mob figures arrested or indicted between 1949 and 1952. [13]
Chotiner was also the campaign manager of Richard Milhouse Nixon and Former Alameda County D.A. Earl Warren. [14] Warren also attended UC-Berkeley graduating in 1912. He then also attended Boalt Hall School of Law School graduating in 1914. Earl Warren was Alameda County District Attorney from 1926 to 1938, Attorney General of California from 1939 to 1943, and Governor from 1943 to 1953. In September 1953, Earl Warren was appointed Chief Justice of the United States Supreme Court by President Eisenhower. Murray Chotiner was the political public relations man for Earl Warren during his gubernatorial campaign in California.
Murray Chotiner had been associated with Nixon since 1946. When Nixon became the Vice Presidential nominee of the Republican Party in 1952, Murray Chotiner served as his campaign manager. In 1966, Murray Chotiner was called before Senator John McClellan's committee investigating organized crime. Congressional investigator Robert F. Kennedy questioned Chotiner about his client, New Jersey mobster and Philadelphia crime syndicate leader Marco "Small Man" Reginelli, and demanded a list of Murray Chotiner's other mob clients. [15]
In 1968, Los Angeles mob syndicate member Mickey Cohen while serving Federal prison time said that Murray Chotiner had solicited campaign contributions from him on behalf of Nixon. Mobster Cohen grew up in Cleveland, Ohio, where he started in the rackets. In 1940, Mickey Cohen moved to Los Angeles and worked with Jack Dragna and Meyer Lansky's partner, Hollywood Pretty Boy, Benjamin "Bugsy" Siegel. When Siegel was murdered by Meyer Lansky's hit men in 1947, Mickey Cohen took over for him in Los Angeles, and Bones Remmer took over for Bugsy in Northern California.
Nixon's political career, in particular, was also infused with funds and significantly influenced by Lucifer's Servants' Reichsfuhrer Heinrich Himmler's SS (Schutzstaffel), the mystic Knights of the Black Sun. [16]
In the early 1950's, Romanian industrialist Nicolae Malaxa, a Nazi war criminal, was Nixon's wealthy business partner and benefactor. After he became a Congressman, Nixon underhandedly introduced a special bill to make Malaxa a U.S. citizen. Malaxa had belonged to California's in-house CIA agent consultant (The Butcher of Budapest) Sturmhauptfuhrer SS Otto von Bolschwing's Gestapo network, as did his associate, Viorel Trifia, who was living in Detroit. They were members of the SS Iron Guard in Romania. Malaxa had escaped from Europe with over $200 million in U.S. dollars. Upon arrival in New York he picked up another $200 million from Chase Manhattan Bank. [17]
Richard Nixon was also most likely a mind controlled programmed goon of the SS. According to Dr. Arnold Hutschnecker someone had sent Nixon to him in 1951 for consultation as an "internist" when he became the number two most powerful man in America, Vice President of the United States. [18] It was a well-kept secret that Dr. Hutschnecker was not just a friend of Richard Nixon, but Nixon's psychoanalyst for the next twenty or more years. Dr. Hutschnecker was born, raised, and trained in Nazi Germany as a SS doctor. He was secretly one of Lucifer's Servants. Dr. Hutschnecker was a fifth column SS ("Totenkopf" Death Head) mind control expert implanted in America by Reichsfuhrer Heinrich Himmler. [19]
In 1970, Murray Chotiner became Nixon's Special Counsel; and in 1971, as a private attorney, he helped Teamster Union boss James Hoffa secure a Presidential pardon. [20]
Being paid to look the other way was one thing, but to become an active participant in an unholy alliance in unconstitutional illegal activity and Murder, Inc. was too much for the Irishman. Coakley had learned from the Fall of John Houlihan, former Mayor of Oakland, that he wasn't big enough to tango with the medical-industrial-military complex, and Oakland's Germanic Clan.
On January 20, 1969, Republican President Richard Milhouse Nixon was inaugurated as President of the United States. In early 1969, the cat was let out of the bag; U.S. Attorney General John Mitchell bragged that the Justice Department would "wipe out the Black Panther Party by the end of 1969." [21] It was the Huston Plan, Nixon's campaign of terror to ruthlessly annihilate dissent in America by any scientific and whatever means necessary through the coordinated and combined resources of U.S. Justice Department, FBI, CIA, Defense Intelligence Agency, Sturmbannführer SS Wernher Von Braun's NASA, the entire U.S. Government, and Lucifer's servants, the SS.
In 1969, after Nixon became president Coakley checked out. His assistant, D. Lowell Jensen, replaced him and began an unprecedented new era in unholy alliances with Nixon's Gestapo, U.S. medical-industrial-military complex, the Mafia, and Lucifer's Servants and may have cemented the Alameda County Mafia in American History.
Jensen started his career in the Army Signal Corps, the predecessor of the National Security Administration, and then joined the Alameda District Attorney's office. In June 1969, D. Lowell Jensen with his protégé Edwin Meese III replaced J. Frank Coakley and began a new era in unholy alliances and clandestine operations in Alameda County to wipe out the panthers and the left, and decimate Oakland's thriving Black Nationalist community by any scientific and whatever means necessary.
It was D. Lowell Jensen and Edwin Meese that sent former Mayor John Houlihan and Huey P. Newton to Prison. Jensen also directed the CIA cover indictment of Eldridge Cleaver to send him on clandestine military intelligence worldwide trek to disrupt and discredit America's Black Nationalist Movement. Jensen engineered the conspiracy theory (conspiracy prosecutions) under which targeted Blacks, Leftist and Anti-Vietnam War activists could be convicted of felonies and given long prison sentences if it can be proved they conspired to commit even a minor conspiracy. [22] Jensen also had links to the medical-industrial-military complex handmaiden U.C. Berkeley. Jensen had graduated from U.C. Berkeley in 1949 and Boalt Hall School of Law in 1952. Meese also obtained his law degree from the University of California Boalt Hall School of Law at Berkeley in 1958.
As early as 1969, Jensen had also joined ranks with one of the most sinister and powerful group of fascist California state officials that Reichsfuhrer SS Heinrich Himmler would have been proud to command. This group was closely linked with spine chilling projects from Nixon's Whitehouse that was straight out of Nazi Germany. Jensen was a member of the state task force on riots and disorders for the California Council on Criminal Justice (CCCJ).
The CCCJ was comprised of infamous state officials which included FBI-OSS agent and Former California Attorney General Evelle Younger, and the notorious former head of the Department of Corrections Raymond Procunier. Younger and Procunier were witting and essential state official arms of Nixon's Huston Plan.
As California's Attorney General, Younger was the leader of CCCJ. According to the Great Mae Brussell, Younger a U.S. General was part of the CIA, DIA (Defense Intelligence Agency), the CIA's "Operation Chaos," mastermind of California violence campaigns (Zodiac, Manson Family, Zebra Killings, Mind Controlled Mass Murders), cover-ups, including the murder of Rep. Robert Kennedy in LA. when he was District Attorney at the time. [23]
As the Director of California Department of Corrections, Procunier turned the prison system over to Nazi and Nazi collaborating scientists to create little Auschwitzes to experiment on Black and Brown prisoners on every imaginable scientific experimental mind altering and bending drug, psychosurgery and lobomoties procedures, and electroconvulsive treatments to create a horde of behavior modified mind controlled zombies and assassins. [24]
It was CCCJ, California Governor Ronald Reagan and President Nixon that tried unsuccessfully to open a million dollar Center for the Study of Violent Behavior at UCLA. The director of the center was CIA/MK Ultra mind control expert, Dr. Louis Joylon West, Chief of the UCLA Neuropsychiatric Institute. The center was a California version of Nazi Germany's Auschwitz. It was to be a medical-industrial-military complex experimental drug and mind control/behavior/modification center performing castigations, psychosurgery, lobotomies, experiment drug testing, direct and remote controlled electrical traumatic shock management targeting Black and Brown people including school children. [25] In fact, Oakland's Black and Brown students were to be fed into the system and concentration camps developed by Nixon's SS doctor, Dr. Arnold Hutschnecker [26], in collaboration with Oakland Unified School District before Superintendent Dr. Marcus Foster was assassinated. [27]
Alameda County had their own local of group of local programmed zombies and assassins controlled by Jensen and Meese, Al Constran (William Edward Mapp [28], Ronnie Flenaugh [29]).
In 1967, 20 year-old body builder Ronnie Flenaugh was taken from the streets of Berkeley. While in the local jail, Ronnie believed that he was first drugged with a hallucinogenic. In September of that year, Ronnie was declared insane while at Alameda County Santa Rita Jail awaiting charges for auto theft. From Santa Rita Jail, Ronnie was committed and shipped to Agnews Mental Hospital in San Jose, CA for intensive involuntary programming.
An unwitting doctor noted that Ronnie told him that they were trying to force him into some type of "psychological warfare" program. Later, a doctor recalled Ronnie saying that he didn't want to commit "treason", and told him, "I wouldn't die. I wouldn't join their religious group." Ronnie was probably originally a CIA/MK Ultra Mind Control [30]victim designated to join Jim Jones' Peoples Temple as an enforcer. After his programming and release from Agnews, Ronnie became "Al Rashid" an enforcer and heavy in Al Constran. Ronnie went on to provoke a physical confrontation with recently released Huey P. Newton at a Merritt Jr. College on Grove Street rally.
On November 14, 1971, Ronnie was murdered in Oakland by another suspect group of Muslim related brothers. [31] In Ronnie's briefcase, police found a large machete sword. In Oakland and Berkeley, there were several murders and random and senseless attacks on white people (strategy of tension) by two young Black men wielding machetes. It was referred to as the "Slasher" attacks. After Ronnie's death, the slasher attacks ended. As of this date, the slasher attack cases remain unsolved. D. Lowell Jensen was in charge of Flenaugh's murder prosecution case where he first coined and described the group as "Al Constran". The Bay Area slasher attack cases were suppressed.
In May 1969, 26 year-old William Edward (Billy) Mapp was taken from the streets by the Oakland Police Department. He was beaten, drugged at Santa Rita County Jail and forcible programmed with mind altering drugs and by whatever other scientific means to become the leader of Al Constran.
In December of 1973, Mapp was convicted of executing two Al Constran members in Pasadena, CA. It is still unknown how many people Mapp had actually killed in California, Nevada, and Mexico. In 1979, Mapp was declared criminally insane. [32]
Al Contran was a faction of the infamous 1970's "Zebra" killers that may have killed up to a hundred people randomly in California. [33]
Al Contran was a virtual reality military intelligence created programmed zombie Black Muslim group of believers. For all practical purposes, Al Contran was created as part of the Huston scientific plan to by any means necessary construct a reign of terror in California as part of the insane counterintelligence measure called "strategy of tension" [34] to discredit the legitimate goals and aspirations of Black and Brown people, frame-up, and assassinate Bay Area Black Muslim and Black Nationalist and Chicano leaders. It is another chapter in the high crimes, conspiracies, and treason of the Alameda County Mafia.
The untouchable patriots Jensen and Meese went on to higher conspiracies, high treason espionage, and assassinations. They were operatives in the Inslaw Software Scandal, and Iran-Contra Cocaine Trafficking Affair, which is another story in itself for another day. [35] Meese with his sidekick Jensen as his assistant became the seventy-fifth U.S. Attorney General of the United States, 1985-1988, under President Ronald Reagan.
We just don't seem to get to the bottom of anything Johnny is at the helm of whether it is by design or indifference. We didn't get to the bottom of Melvin Black's murder case. We didn't get to the bottom of the Oakland Police Department Rider's Case. The alleged ring leader, Francisco Leopoldo Vazquez, is a fugitive from justice. He escaped to parts unknown in Mexico. According to the FBI, one of the places that Vazquez has ties to is Merida, in the state of Yucatan where a drug war is raging over a multimillion drug traffic operation. [36] Was Vazquez connected to Mexican drug trafficking rings in Oakland and that is why he bounced? The question is how in the world did this man get on the Oakland Police Department in the first place.
Who are Johannes Mehserle and Tony Pirone? What outside association is they connected to that Johnny, Gee and Orloff won't reveal to the public? How did racialist thugs like Mehserle and Pirone get on the BART Police Force? Where did Chief Gary Gee come from?
We just don't seem to get to the bottom of anything either with D.A. Thomas Jensen Orloff at the helm of any investigation either, whether it is also by design or utter indifference. Along with John Burris, Earl Warren, D. Lowell Jensen, and Edwin Meese; Thomas Jensen Orloff (Noble White Russian Surname[37]) is a 1970 graduate of U.C. Berkeley's Boalt Hall's "Good Ole Boys Club" forever loyal to the medical-industrial-military complex, organized crime, and Lucifer's servants. Orloff jumped straight out of Boalt Hall in 1970 [38] to join Jensen and Meese as essential state arms of Nixon's racialist Huston Plan, and that is another one of OAKLAND'S SECRET FAMILY JEWELS.
The killing of unarmed Black and Brown people continue and continues to continue in Oakland. For the first in Oakland's history that I know of there must be an Oscar Grant III People's Tribunal gathered to judge all those concerned in this culture of state official sponsored murder, violence, conspiracies and lawlessness running amok across the nation.
---
[1] http://sfgate.com/cgi-bin/article.cgi?f=/c/a/2009/01/30/MNOP15JI6F.DTL
[2] Id.
[3] Id.
[4] Id.
[5] http://www.zimbio.com/Congressman+Jesse+Jackson+Jr./articles?Sort=date
[6] http://www.sfgate.com/cgi-bin/article.cgi?file=/chronicle/archive/2005/06/05/CMGL7CDMJT1.DTL
[7] http://www.lighthousedepot.com/lite_digest.asp?action=get_article&sk=1964&bhcd2=1234256736
[8] id.
[9] Remmer v. U.S.(1953), 205 F.2d 277
[10] http://www.ajweberman.com/nodules2/nodulec29.htm
[11] http://www.angelfire.com/ca2/TahoeHouse/brockway.html
[12] http://www.ajweberman.com/nodules2/nodulec25.htm;
FBI DL-44-1639-4094, 4110; WCD CD360 p115 interview with George T. Davis
[13] Moldea, Dan, Hoffa Wars, Padington Press, 1978
[14] http://www.historycommons.org/entity.jsp?entity=murray_chotiner_1
[15] http://www.ajweberman.com/nodules2/nodulec25.htm
[16] Levenda, Peter, Unholy Alliance, A history of Nazi Involvement with the Occult, continuum, New York, 2006
[17] http://karws.gso.uri.edu/JFK/the_critics/brussell/Nazi_connection_to_JFK_ass.html
[18] Supra, footnote 15
[19] Los Angeles Times, November 25, 1974, sec. VII, pages 6-8
[20] Id., and FBI FOIA Req. #72,182 approx. 500 pp.; HSCA OCR 11.2.78 Brady
[21] A Report on the Huston Plan," reported in U.S. Congress, Senate, Book III, Final Report of the Select Committee to Study Governmental Operations with Respect to Intelligence Activities, 94th Cong., 2d sess., 1976, pp. 5.
[22] Oakland Tribune, Sunday, June 29, 1969
[23] http://www.maebrussell.com/Bibliography%20Sheets/474s1.html
[24] http://negroartist.com/writings/BLACK%20PANTHER%20NEWSPAPERS/10%20no%208.htm
[25] http://www.raven1.net/mind-mk.htm
[26] http://www.hiddenmysteries.org/mind/research/re110699e.html
[27] http://presslord.com/rampart.htm
[28] People v. Mapp (1983) 150 Cal App3d 346; 198 Cal Rptr 177(No. A019321. First Dist., Div. Three. Dec. 30, 1983)
[29] http://racismeantiblanc.bizland.com/noi/ch05.htm
[30] http://en.wikipedia.org/wiki/Project_MKULTRA
[31] Id. at Footnote 29
[32] Id. at footnote 27
[33] http://www.negroartist.com/writings/BLACK%20PANTHER%20NEWSPAPERS/11%20no%2019.htm
[34] http://www.constitution.org/ocbpt/ocbpt_14.htm
[35] http://www.newsmakingnews.com/kdjensen3,27,01.htm
[36] http://www.latimes.com/news/printedition/front/la-fg-mexdrugs30-2008aug30,0,4013974.story
[37] http://en.wikipedia.org/wiki/Gregory_Orloff