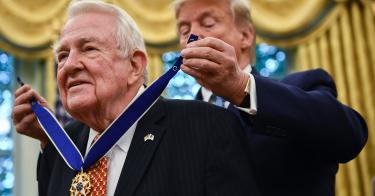 President Donald Trump awards former Attorney General Edwin Meese with the Medal of Freedom during a ceremony in the Oval Office at the White House on October 8, 2019.
Ed Meese had to be watching when Donald Trump invited his followers to go to the Capitol – for a wild time, Ed held out hope, that his incredible legacy would survive and have eternal brilliance. He let out a moan and whimper when he beheld the man carrying the confederate flag. His wife came over to comfort him, but when they beheld Jacob behind the pulpit of the Speaker of House – letting out a victorious war whoop – his wife's hand slipped off his shoulder, and she slipped quiet into the kitchen to finish her Jell-O Mold.
Alone, Ed glanced over at his Medal of Freedom that that Bullshit Artist put around his neck like an albatross. The only hope left, was to stave off the big story, and destroy the credibility of the Congressional Hearing he knew was coming. When Ed saw Liz Cheney was – The Leader of The Pack – he signed his name to a letter he, and others who attached their star to Donald, hoped would keep the whole sorry mess under wraps! The cover-up…..begins! The jig was up. A groups of law men had made names for themselves going after Beatniks, Bohemians, Negro Jazz Artists, and Lesbians.
My name is John Presco, and I was destined to write The Story of Ed Meese – who is still alive! I want him to know The Last Hippie Bohemian Standing….has exposed the truth Ed got in bed with a Grifter, a Con Artist, Swindler, a New York Gangster. Sure the truth will come out once Ed is Dead, but, why wait? Meese tried to destroy me and my friends – my reason for living!
Did Ramparts Magazine suggest Meese was a CIA agent. I am looking for a co-author. This letter is of paramount importance. Ed Meese testified about his involvement with the Iran Arms Sale. These Law and Order Guys are the American Flag Mafia. They are addicted to wearing the Cloak of Invisibility – and Policing The World in the name of Jesus and the Stars and Stripes! Is Ed helping create a firewall abound Ginni and Clarence Thomas? Ed and Clarence need to be called to testify. Why would these Law and Order Dudes – refuse? In an article found on Ed's Heritage Foundation site, he calls for Justice to be done to BLM demonstrators. Did Clarence read this? Does Clarence see himself as the No.1 Cop of the Black Race, the Black Hoover?
Well! Well! Look what I just found. Below is a video of Meese and the Thomas' at the Heritage Foundation – in the same room! Clarence has been asked to speak on Constitutional matters. Ed introduces Ginni as "a member of think tanks". The question that begs to be asked, is, why didn't the men and women wearing the biggest and shiniest star in the land stop Trump, then – and now? Does he have the goods on them? Did Putin fill Trump in on Ed's Arm Deal with Iran – THE REAL STORY? Trump makes a grand gaffe when he awards the Medal of Freedom. Putin and Meese……are alike. Did they have a common enemy? YES!……The Beatles!
John Presco
https://www.heritage.org/civil-society/commentary/mob-violence-must-not-be-tolerated-hold-accountable-and-punish-the
Edwin Meese III | The Heritage Foundation
Conservative Leaders: Remove Cheney and Kinzinger from House Republican Conference
Ginni Thomas letter on Jan. 6 committee reignites conflict of interest complaints about Justice Clarence Thomas – The Washington Post
John Presco
braskewitz@yahoo.com
Capitol Rioter Lied About Urinating in Pelosi's Bathroom for 'Cool Points' (newsweek.com)
Aformer Virginia police officer who pleaded guilty to participating in the January 6, 2021, Capitol riot said during testimony on Thursday that he lied on social media about urinating in House Speaker Nancy Pelosi's bathroom.
Jacob Fracker, a former police officer in Rocky Mount, Virginia, said that he spread the lie "for cool points," the Associated Press reported.
Fracker also testified that he had hopes that the mob that stormed the Capitol would be able to overturn the 2020 presidential election results.
Walsh Iran / Contra Report – Chapter 31 Edwin Meese III: November 1986 (fas.org)
Chapter 31
Edwin Meese III: November 1986
Attorney General Edwin Meese III became directly involved in the Reagan Administration's secret plan to sell weapons to Iran in January 1986, when he was asked for a legal opinion to support the plan.1 When the secret arms sales became exposed in November 1986, raising questions of legality and prompting congressional and public scrutiny, Meese became the point man for the Reagan Administration's effort, in Meese's words, "to limit the damage." 2
1 Meese, Select Committees Testimony, 7/28/87, pp. 2-9; 21-36. Meese also supported the plan. (Ibid., pp. 5-7.)
2 Meese, North Trial Testimony, 3/28/89, pp. 5747-48.
Meese began with an attempt to justify legally President Reagan's failure to notify Congress of the arms sales for more than a year. His efforts led to a November 21-24 fact-finding investigation focused on the President's involvement in the November 1985 HAWK missile shipment to Iran.
The Select Iran/contra Committees criticized Meese for departing from "standard investigative techniques" in his fact-finding mission because he failed to protect National Security Council documents, many of which were altered or destroyed as he conducted one-on-one interviews with senior Administration officials without taking notes.3 The Select Committees also faulted Meese for "incorrectly" stating in his November 25, 1986, press conference, at which he disclosed the Iran/contra diversion, that President Reagan did not learn of the 1985 shipment until February 1986. The Select Committees viewed this as an isolated error. It was not.
Why is Donald Trump pushing to overturn the 2020 presidential election results in Wisconsin again? (msn.com)
The Joseph Story Distinguished Lecture with Justice Clarence Thomas | The Heritage Foundation
Distinguished Lecture with Justice Clarence Thomas
The Heritage Foundation's Edwin Meese III Center for Legal and Judicial Studies is honored to announce that Supreme Court Justice Clarence Thomas will deliver the 9th Joseph Story Distinguished Lecture.

The namesake of the lecture – the eminent jurist Joseph Story – became the youngest Associate Justice ever to serve on the United States Supreme Court when he was appointed by President Madison in 1812. Story made a significant mark on American law in his thirty-three years on the bench, but his greatest contribution to jurisprudence is his renowned Commentaries on the Constitution, in which he set forth a philosophy of judicial restraint. This lecture series celebrates his legacy.
Posted on August 12, 2015 by Royal Rosamond Press
Last night I discovered the opening shot of the trillion dollar war against members of a Pagan Cult that led to the imprisoning of mullions, many of them white hippies, beats, and Bohemians. This war began when Alemeda District Attroney, Earl Warrne instructed Oakland Cops to raid a house on Forest Street. As fate would have it, this house is around the corner from a duplex on Claremont where I saw members of the Brotherhood of Eternal prepare a suitcase of LSD for tripsters in England. I heard a rumor the Beatles were customers. Earl Warren, Ed Meese, Frank Coakley, and Ronald Reagan, conducted a modern day Witch Hunt against Paganism. This was not a war against drugs. This is a Conservative Christian Crusade that the Religious-right has been conducting since 1927. And who is King Ben of the House of David? Is this what Dan Brown was eluding to?
Click to access 1927-Nov-27.pdf
https://en.wikipedia.org/wiki/House_of_David_(commune)
With the demonstration of 'Black Lives Matter' against the radical socialists, Bernie Sanders, this history is now very pertinent, because in the 60s 'White Bohemian Lives Matter" in the fight against racism and oppression. These articles establish a historic culture that is not confined to the Flower Children, and thus deserves all the respect other cultures enjoy. There were no drugs involved. Moral Cops and Prigs were riding around in cop cars armed to the teeth. ISIS are Moral Cops who will cut off your hand if you are caught smoking a cigarette. Do the they gouge out the eyes of the people they oppress for reading a Western Poem? The goal was to destroys these young people's lives as an example to other young people. One youth appears to have been sent to a orphanage.
http://www.1947project.com/a-most-quotpernicious-revolting-nefarious-and-immoralquot-love-cult#.VcuhapDJA5s
I believe all spiritual events leave a ghost behind. What is the Holy Ghost, anyway? Christine and Vicki saw a blue angel standing at the foot of their bed. Kay saw a bright blue light fill her bedroom and showed me the circle of burn holes it left in her lace curtain. When Kay needed to go shopping or see a doctor, her father would send a squad car. A Oakland cop would drive Kay around town. Kay had Parkinson's disease. Her father worked with Earl Warren to oppress Mario Savio, the Black Panthers. and perhaps Thelma Reid, a college student that was having a Pagan Party in Rockridge?
"Warren sent OPD officers to 468 Forest Street and what they found there sent a shockwave through the sleepy Rockridge community for months to come."
Frank Coakley went after the Black Panthers, orginizers of People's Park, and Mario Savo and the Free Speech Movement. Those arrested at the Forest Street house were charged with sharing lewd poetry. Thirty years later Ferlinghetti was arrested for pubishing the poem, Howl. Lenny Bruce was arrested for using lewd language.
On June 3 Shig Murao, the bookstore manager, was arrested and jailed for selling Howl and Other Poems to an undercover San Francisco police officer. City Lights Publisher Lawrence Ferlinghetti was subsequently arrested for publishing the book. At the obscenity trial, nine literary experts testified on the poem's behalf. Supported by the American Civil Liberties Union, Ferlinghetti won the case when California State Superior Court Judge Clayton Horn decided that the poem was of "redeeming social importance
http://articles.latimes.com/1986-05-04/magazine/tm-3972_1_ed-meese/5
https://en.wikipedia.org/wiki/Howl
On the upper left is the house on Forest Street. Two hundred yards away in the duplex I lived in on Claremont. In the bay window I sat with my friend who was behind Stanley Owsley, and Tim Scully. They went to school together and worked at the Lawrence Lab when sixteen. They were child geniuses that the military wanted to draft into their Nuclear Cold War. Bob came with members of the Brotherhood of Eternal Love to see me. Bob asked me what I wanted. I was twenty years of age. We were employing LSD, that was legal in 1966, to change World Conciousness, and end all wars. This is why the FBI and CIA came after us.
"I would like to be an artist again. I would like some art supplies."
http://www.nybooks.com/articles/archives/1969/jul/10/notes-from-a-political-trial/
https://en.wikipedia.org/wiki/Tim_Scully
"Scully grew up in Pleasant Hill, which was across the Bay from San Francisco. In eighth grade he won honorable mention in the 1958 Bay Area Science Fair for designing and building a small computer. During high school he spent summers working at the Lawrence Berkeley Laboratory on physics."
https://en.wikipedia.org/wiki/Great_White_Brotherhood
In the two lying biographies of my famous sister, there is no mention that she was a hippie, and went on a double date with Nancy Hamren, Owsley, and Nick Sands. This, no joke, no sexy pot party. We changed the world.
Jon Presco
Caroline Merwin was eventually released into her stepmother's custody. Lloyd Alley was remanded into the custody of the Juvenile Detention Home and was later made a ward of the court. In May 1927, a jury deliberated for ten minutes before it found Russell Alley guilty of contributing to the delinquency of minors. Gertrude Wright and Irma Gibbs flew the coop before they could be tried; they remain at large.
http://www.ascension-research.org/gwb.html
In 1927, 17-year-old Thelma Reid had just begun her first year of college at UC Berkeley. She was living on 45th street in Oakland's Rockridge district with her family and did many of the typical things a college coed did—went to class, helped around the house and did her homework. She never expected her studies would spawn one of the biggest scandals in Rockridge history. But then again, it wasn't ordinary homework.
The collection of poems that would eventually set into motion police raids, arrests and a full-blown media circus was assigned to Reid not by any of her UC Berkeley professors, but by a neighbor, Gertrude Wright. Wright's home, a few blocks away from Reid's at 468 Forest Street, served as the international headquarters for a mystical society—called the "Great White Brotherhood"—that blended aspects of Eastern religion with notions of Christian love, racial harmony and communing with God through sexual acts. Reid had been attending one of Wright's "Sacred Schools"—classes where Wright delivered her unconventional teachings and handed out writings advocating "sacred phallic laws" and "mystical marriages" in which both parties had absolute freedom to explore love in all its exotic forms. Reid's mother discovered the poems in the family's home, and referred them to the Oakland Police Department.
But it wasn't until another mother, Margaret Merwin, concerned about her 18-year-old daughter Caroline, who was also attending brotherhood classes, went to the police that then-District Attorney Earl Warren decided to take action. Warren sent OPD officers to 468 Forest Street and what they found there sent a shockwave through the sleepy Rockridge community for months to come.
In Wright's home, a full-fledged, old-fashioned pagan society had taken root. According to police records, the raid found an "effigy of a woman with a sword piercing her heart, incoherent messages, cards bearing linked names of males and females and other equally weird evidence." The Rockridge bungalow had become headquarters for the brotherhood that also had branches in San Francisco, San Jose, Portland and Chicago. Members of the Rockridge society included city council members, schoolteachers and businessmen. Cult founder and high priestess Wright was taken into police custody, along with her disciple Irma Gibbs and three others, on charges of encouraging delinquency.
The media went to town. The brotherhood was dubbed a "love cult" by newspapers around the Bay Area, which painted Rockridge as the epicenter of sexual perversion. Articles spawned sensational tales of paganism and decadence. LA Times columnist Harry Carr had this to say about Reid and Merwin:
"The attempt to paint these girls—and their beef-fed sheiks—as innocent, wide-eyed victims of a freak religion is enough to make anybody laugh. Girls of this day and age are wise guys. And any one of them knows that a so-called religious cult that involves being 'initiated' in the presence of men with most of their clothes off is merely an excuse for a debauch."
The only sympathetic voice at the time belonged to Oakland Tribune reporter Nancy Barr Mavity. "Whether the web in which [Wright] is intangled is one of wheels within wheels of enmity on the part of deserters from the order," wrote Mavity, "Or whether she is the priestess of views not favored in Western society, she remains the romantic lady in a world where a white stucco bungalow easily becomes a temple."
In May of 1927, one of the arrested society members, Russel Alley, was tried before a jury, and found guilty of contributing to the delinquency of minors. Unconvinced they could receive a fair trial, Wright and Gibbs jumped bail and disappeared across the border to Mexico. For two years there was no sign of either of them, until Wright sent an emissary back to Alameda County to negotiate her return to Oakland in 1929. Local authorities refused her permission to return, and Wright was never heard from again. Whether she was a pagan cult priestess or just a "romantic lady," in the end she went down in history as a fugitive from justice.
March 11, 1927
Los Angeles
Fifteen-year-old Lloyd Alley, arrested today in Los Angeles, is said to have made statements "tantamount to a confession" of his involvement with the "Sacred School of the Great White Brotherhood," an Oakland-based "love cult" with branches in San Francisco, San Jose, Portland, Chicago, and Texas. At the same time the teenager was spilling the beans in L.A., San Francisco police raided the cult's Bay Area headquarters, where they found an "effigy of a woman with a sword piercing her heart, incoherent messages, cards bearing linked names of males and females and other equally weird evidence." Cultists are said to have "encouraged free love in its most exotic forms" in its attempts to breed a "superman" and "superwoman." "Mystical marriages" were arranged and "the sacred phallic laws" studied. Also in custody in Los Angeles is Russell Alley (Lloyd's father, cult name "Omar"). Cult founder and high priestess, Mrs. Gertrude Wright ("Zareda" to her followers), is being held in Oakland, along with her disciple, Irma Gibbs ("Ermengarde," a domestic in the Wright home). All were charged with contributing to the delinquency of minors: Lloyd Alley, plus two young women, Thelma Reid, 17, and Caroline Merwin, 18.
Lloyd Alley and Irma Gibbs both made confessions said to "be reeking with unprintable details," though the paper managed to squeeze in a mention of two "new Messiah" ceremonials Lloyd performed with Caroline Merwin. Caroline (whose stepmother's complaint set the raid in motion) was quite the little minx: when she appeared in juvenile court later in the week she relished telling the judge that she wore only "filmy underthings" during her initiation ceremony, and that her "vibration robes" were scanty as well. When she "admitted intimacies with Lloyd Alley," the two of them laughed until the judge admonished them to be quiet.
Times columnist Harry Carr thought the juicy case was nothing but "Bunk":
The attempt to paint these girls—and their beef-fed sheiks—as innocent, wide-eyed victims of a freak religion is enough to make anybody laugh.

Girls of this day and age are wise guys.

And any one of them knows that a so-called religious cult that involves being "initiated" in the presence of men with most of clothes off is merely an excuse for a debauch.

There is at least some hope for a girl who is frank enough to laugh.
Caroline Merwin was eventually released into her stepmother's custody. Lloyd Alley was remanded into the custody of the Juvenile Detention Home and was later made a ward of the court. In May 1927, a jury deliberated for ten minutes before it found Russell Alley guilty of contributing to the delinquency of minors. Gertrude Wright and Irma Gibbs flew the coop before they could be tried; they remain at large.
The Oakland Seven are young, white, and full-time politicians. The night they were acquitted, two of the Seven were in jail. Jeff Segal, who used to be anti-draft co-ordinator for national SDS, was serving a four-year sentence for refusing induction into the army. Mike Smith was in jail for sixty days for committing trespass and being a public nuisance during a demonstration in 1966. In 1968 Mike Smith starred in a movie about himself called The Activist. He worked in the Free Speech Movement, and spent six months with SNCC in the South. Five of the Oakland Seven had been Berkeley students. Four, including Mike Smith, were suspended for political activities.
The highest compliment that can be paid to you, Frank, is that you kept this county clean.
According to Frank Coakley's successor, Lowell Jensen (who later became head of the Criminal Division of the U.S. Attorney General's Office and then Deputy U.S. Attorney General under another Coakley-trained prosecutor, Edwin Meese III:
After much uproar and delay, the bringing to justice of the whole eight hundred some-odd who were arrested in Sproul Hall had finally gotten off the ground in early March, 1965. The main disagreements revolved around whether we were to be tried collectively or as individuals. The opening statement was made by the district attorney, J. Frank Coakley, who wanted blood.195
Mario instantly got himself into hot water by making a comment to Judge Crittenden about "shameless hypocrisy" that netted him two days in stony-lonesome for contempt.
In 1967 while taking a bus from L.A. to Oakland I was detained for being a professional Demonstarer and held in a cop room inside the greyhound Station. I was aksed if I was going to the demonstration in Oakland. I told the plain-clothes officer I knew nothing about a demonstration, I live there. This cop took out his truncheon and was going to work me over, when his superior walked in and told him to "Knock it off!"
Coakley was close with Ed Meese and Erl Warren, thus this appears to be a conspiracy headed by the U.S. Government. It is my intent to put all radical and liberal agendas under the umbrella of organized religion due to the holy Jihad being directed from Israel at our Freedoms – and backed by Republican Senators and Congressman who are guilty of Treason!
The Universal Great White Brotherhood—
with an Introduction to Earth's Ancient Hero
Loving Overseers
The Universal Great White Brotherhood is a heavenly association of saints and sages from all paths and religions. Also included in this Brotherhood are angels and cosmic beings. The saints, teachers and holy ones who once walked among us and now serve through this body are called ascended masters.1 According to the Master Maha Chohan2 in a HeartStream from June 1, 2008, the Universal Great White Brotherhood "is the authority and governing body which represents the Godhead in this system of worlds." White in the title doesn't refer to race but to the light of purity that emanates from each member.
As explained, the ascended masters have walked the earth and other systems of worlds and have earned their ascension3 through lifetimes of striving. While in embodiment, the ascended masters learned to walk with God intimately day by day, facing each challenge and test with grace and faith until their souls rose in victory beyond any necessity to reincarnate. It could be said that they had evolved to such a level of compassion and understanding that the Earth could no longer hold them. The victory of the ascended masters is meant to be our own. Each of us is a candidate for membership in the Brotherhood.
Other Members of the Universal Great White Brotherhood
Some members of the Universal Great White Brotherhood are in embodiment, having earned the right to membership because of lives of selfless service. Other members of this association are of the angelic realm and cosmic beings of various descriptions who have never entered the rounds of rebirth but hold a great balance for earth, sponsoring certain individuals and lending assistance when invited through prayer into our lives.
Upliftment of Mankind
The Universal Great White Brotherhood exists to uplift mankind, to help us know the same mastery over human suffering that they have achieved. They exist to help us experience the ultimate joy of attaining divine reunion.
As long as mankind has populated the earth and other planets, the Brotherhood has existed. Among the Brotherhood's august ranks in more recent millennia are well-known ascended masters such as Confucius, Gautama Buddha, Kuan Yin, Lord Maitreya, Mother Mary and Jesus. Each of them came to assist a body of believers along the way, to raise our eyes and hearts upward even in challenging and dark times. They came with messages of hope and keys to successful, joyful living. They came to bring transformation and liberation from a limited understanding our true nature.
Intervention of the Brotherhood on Behalf of Earth
The teachers and masters who have come to us under the auspices of the Brotherhood over thousands of years were part of a complex and glorious plan to help planet Earth in its darkest hour. Out of profound love for the children of God on Earth but also undying affection for their Guru, a master of great attainment, these teachers came…on a rescue mission to save a planet doomed to destruction.
In the numberless interventions of the Universal Great White Brotherhood on behalf of mankind, this chapter in Earth's ancient history exemplifies the reason-for-being of the Brotherhood. It is the story of Sanat Kumara.
Savior of Saviors—Sanat Kumara
In the Buddhist tradition, Sanat Kumara is referred to as Dipamkara.4 Called the "Ancient of Days"5 in the book of Daniel, Sanat Kumara was the first Savior of planet Earth. Many millennia ago from his home on Venus, Sanat Kumara observed in profound sorrow the darkness that had enveloped this planet. It was a time when man had descended into a dense, animalistic consciousness, even bearing in outer form an apelike appearance.
Posted on February 24, 2019 by Royal Rosamond Press
After we hear Cohen testify, the Republicans will not be able to employ their Law&Order Trick.
The Coakleys and the Angels
Posted on October 28, 2011
by Royal Rosamond Press

My Godfather, Sargeant Skip Sutter, led fifty Oakland Cops against the Hell's Angels, raided their clubhouse with gloves on, and ended up in the hospital for a week. Skip and Vic went to Oakland High School, and were pals of Tom McKinny the ex-president of TransAmerica Title, who was dismissed for Loan Scams in the late seventies – along with Skip – who wanted my fahter to come sit atop the pryamid building in SF, too.
Above is a photo of me with my siblings, Mark and Christine taken in 1950. According to Stacey Pierrot, and Julie Lynch, I am looking at Christine in a suspicious manner, because I suspect she is hiding in a closet with a flashlight, competing with me to become a world famous artist! I mean, look at her. How old is she, and where is she? Can Julie tell us? How about, Showtime?
While real villians are bringing down the world, the Gallery Gargoyles go after a four year old boy – and demonize him! Are you kidding me!
Above is a photo of Andrew Cuomo of HUD who went after Lawrence Chazen, the No.1 creditor in Rosamond's probate for Loan Sharking. He hauled off Christine's antique furniture. Show time is not interested in Larry, a partner of the Getty and Pelosi family- just that evil little boy trying to get his share of the milk for his cereal. No wonder my nieces have mental problems, don't have a very good grasp of reality! Guess who is to blame for that!!!!!!
Jon Presco
Copyright 2011
Coakley the Cailleach and the Oakland Cops
Having read all the Grimm¡¯s Fairytales when I was eleven, I can say
the best stories begin with the appearance of an Old Hag. Most
children of my generation expected to be approached, or beckoned by
an Old Hag, or Witch, at some time in their life, thanks to Walt
Disney, the darling of Rightwing Conservatives who had the hots for
Davey Crockett, who would give the Republicans 'Frontier America'
Posted on August 12, 2012 by Royal Rosamond Press
The Sedgwick family married into the Samuel Merritt family a mayor of Oakland who made Lake Merritt where Bill Arnold and I spent most of our time, he living a block away on Athol. Kay Coakley befriended the Presco children, she the daughter of J. Francis Coakley, Oakland's famous DA who went after Mario Savio and the Free Speech Movement, Huey Newton and the Black Panthers, as well as bootleggers and prostitutes in Emeryville. I believe Coakley kept Rosemary out of jail after she was busted for making porno movies for Big Bones Remmer. The Coakleys claim they descend from Fair Rosamond.
Kay had a huge landscap of Lake Merritt in her dining room that should have been in a museum. Rosemary told her children the Coakley family owned allot of property around this lake.
J. Frank Coakley
James Francis Coakley was born and raised in Oakland, California, and educated at St. Mary's College, Stanford University, and Boalt Hall law school of the University of California at Berkeley. In later years he taught law at both Boalt Hall and St. Mary's.
Frank joined the Alameda County prosecutor's staff on February 21, 1923, as a deputy district attorney, following his graduation from Boalt Hall. He served under three predecessors: Ezra Decoto, Earl Warren and Ralph Hoyt. Under Warren, Frank served as assistant head of the Criminal Division. Later, under Hoyt, he served as chief assistant.
Having served in the U.S. Navy during World War I, participating in the expedition to Vladivostok, Frank was recalled to active duty during World War II as a Commander in the U.S. Navy's Judge Advocate General service, serving as chief prosecutor for court martial cases in the 12th Naval District. Following the war, Frank briefly entered private practice with his brother, Thomas, who later became a Superior Court judge in Mariposa County. That interlude was short-lived, as Ralph Hoyt soon decided to move on to the bench himself. Frank was called to take over for Hoyt immediately. Although Frank had discovered private practice to be more lucrative, he knew his heart was with the Alameda County District Attorney's Office, and that was where he belonged.
During his tenure as district attorney, he maintained his record as a great trial lawyer, conducted the civil business of the county with efficiency and imagination, contributed significantly to the legal growth of the state of California as chairman of the Law and Legislative Committees of both the District Attorneys Association and the Peace Officers Association, and built his office into one recognized publicly by the American Bar Association as the nation's finest.
Active in civic as well as public life, Frank served as chairman of the St. Mary's College Board of Regents and was an active member of the local council of the Boy Scouts of America. He was awarded the International Civic Award of the Fraternal Order of Eagles in 1958 and in 1965 was honored as "Outstanding Prosecutor in the United States" by the National District Attorneys Association, a group he was instrumental in founding in 1950, and which he served as its first president. Following his retirement, the NDAA presented him with its "Furtherance of Justice Award". In giving him that award, the NDAA said, "To this man the words, `Furtherance of Justice' became the foundation on which he built his life." In the years that followed, he served as then-Governor Ronald Reagan's appointee to the California Commission on Interstate Cooperation, and the Commission on Uniform State Laws, and as the director of curriculum and president of the Board of Regents of the National College of District Attorneys, which he also helped found.
In 1952, on his way to the Republican National Convention as a candidate for President of the United States, then-Governor Earl Warren detoured to the annual convention of the California District Attorneys Association at Santa Cruz. In addressing this convention, Governor Warren said:
Frank came to the District Attorney's Office in Alameda County in 1923. I was a deputy myself at that time in the office and for fifteen years he and I had a deep association that was most pleasant to me throughout. I want to say to you that I believe in the last quarter of a century there is no man in this state who has contributed more to good law enforcement than has Frank Coakley.
Upon his retirement in 1969, the Oakland Tribune said:
Coakley, who has served longer in his post than any other man–an unprecedented six terms–is regarded nation-wide as the dean of American district attorneys.
Alameda County Supervisor Emanuel Razeto summed up the sentiments of his fellow supervisors:
The highest compliment that can be paid to you, Frank, is that you kept this county clean.
According to Frank Coakley's successor, Lowell Jensen (who later became head of the Criminal Division of the U.S. Attorney General's Office and then Deputy U.S. Attorney General under another Coakley-trained prosecutor, Edwin Meese III:
The District Attorney's Office is really the pivotal office in the whole criminal justice process. . . . The district attorney is a discretionary executive officer who makes the decision as to what offenses are prosecuted and how they are disposed of. The standard of law enforcement in the county is to a great extent dependent upon what the district attorney does. Under Frank Coakley . . . there was a standard of law enforcement which was as tough as you could get. As far as Coakley was concerned, you don't have consumer fraud rings, you don't have organized crime and you don't have corruption in governmental functions. He viewed the role of district attorney as one that was absolutely incorruptible and fearless.
Frank Coakley embodied integrity, dedication, and determination in public service. He stood personally for the highest degree of respect for law and the pursuit of justice. Office policy was that no one should be charged in a case unless the evidence supported a guilty verdict. If, during a trial, Frank came to believe the defendant innocent, he would seek his vindication just as earnestly as he would have sought his conviction had he believed him guilty. The objective was not a conviction, but rather justice. Throughout his life, J. Frank Coakley stood as a tough and aggressive advocate for justice. . . For the People.
Jan. 13, 1907
Alameda County
California, USA
Death:
Apr. 23, 1996
Alameda (Alameda County)
Alameda County
California, USA
Kathleen Coakley – wife of James; mother of Thomas and Clare Coakley-Klinge. Kathleen was preceded in death by her mother, Minnie Wrinkle.
Coakley
I was born in Oakland, California, just a few blocks from here at Seventeenth and Grove.
Although my name is James Francis, it was abbreviated to Frank Coakley because of the fact that my father's name was James and my mother, I guess, rather than be calling two James around the house, decided to call me Francis. She had a brother whose name was Thomas Francis.
When I got to grammar school, St. Francis de Sales Grammar School, Hobart and Grove, Twenty-first and Grove, Oakland, I just simply had the name Francis Coakley. This is how I was known, on my report cards and so on. That just kind of stuck with me, and after I went to high school out at St. Mary's High School on Broadway in Oakland, I was Francis Coakley. I continued that way through St. Mary's College. It was abbreviated to Frank. People, instead of calling me Francis, called me Frank. I guess I'm better known as Frank Coakley, or J. Frank Coakley.
Father
Feingold
Your father, you said, had the same name as you?
Coakley
Yes. My father's name was James Coakley. He was born in Ireland, County Cork near Bantry Bay, in a small
― 2 ―
village called Skibreen, a short distance from Bantry Bay, in the southwest corner of Ireland.
Feingold
How did he come to the United States?
Coakley
He came to the United States by ship. In those days people from Europe, particularly from Ireland, coming to the United States — those who were unable to pay, and most of the young folks from Ireland were unable to pay — would sign an agreement withe steamship companies, a promissory note which obligated them to pay back to the company the cost of their transportation as soon as they could after getting a job in the United States.
My father was born in 1868. Of course Ireland was very poor at that time, and had been very poor for centuries. The Irish, particularly the Irish in the southern part of Ireland, that is to say, south of what is now North Ireland, were ground down and persecuted and discriminated against by the British in a very, very flagrant manner. They were murdered and massacred just for going to church. It's one of the blackest and most sordid things in the history of civilization, particularly of the British Empire.
So anyway, the average young Irish boy was poor. My father had two brothers and two sisters. He had an uncle who had come to this country earlier, and who, by the way, I'm infomred, and I think reliably informed, crossed the United States to California on horseback in the very early days. The uncle settled around here, around Oakland. He liked the climate and so forth, and he wrote back, and my father's oldest sister, who was a schoolteacher in Ireland, came out here. Then my father came out. He was seventeen years old. Imagine leaving Ireland and coming to California in 1883 at seventeen. He had no idea what he was getting into.
http://content.cdlib.org/view?docId=kt900006nw&brand=calisphere&doc.view=entire_text
I didn't have an automobile. I lived on the other side of Lake Merritt, and I would take a streetcar in the morning. I would have to take a streetcar about 6:30 or a quarter to seven, come down, get off on Broadway, and take a streetcar on Broadway then out College to the University, which would take about an hour.
I had 8:00 classes, from 8:00 to about eleven. Occasionally I might have a class from 11:00 to 12:00. Then I'd study from 11:00 until 3:00. At noontime I'd run down to Barney's Beanery, which was about where Sproul Hall is now, and get a bowl of soup or a dish of beans, and then dash back and start studying again. I couldn't fool around.
At 3:00 I'd take a streetcar. The streetcar would go down to Oakland and I'd transfer over to Eighth Street, get off at Eight and Adeline and walk from Eighth Street down to the estuary to the shipyards, punch a time clock and go to work. Work from four in the afternoon on til midnight, eight hours, an eight hour shift. Then at midnight I'd walk up to Eighth and Adeline, get another streetcar, come up to town,
― 22 ―
transfer to another streetcar, and go home. I worked six days a week. On Saturdays our shift started at noon time. I worked from noon to 8:00 on Saturdays.
I found I was riding streetcars three hours a day, and I was working in Moore's Shipyard eight hours a day. That's eleven hours. Six times eleven is sixty-six hours a week. And going through law school.
Feingold
I don't know when you got any sleep.
Coakley
Well, I didn't get too much sleep. I did a lot of concentrated studying. Then I did another thing, which I'm rather proud of. I crammed over the holidays of 1921 — I was in my third year at Boalt — December 1921, over those holidays. I crammed, and I took the California bar exam the second of January, the day after New Years. It was a three day examination. In due course I got word that I had passed it. I was still going to Boalt.
When my father came to this country — in those days and for a long time afterwards, throughout the United States, and particularly in this county, there was a lot of bigotry against Catholics, against Irish. There was a lot of discrimination against Catholics,
― 32 ―
against Irish. There was a lot of discrimination against Catholics, against particularly Irish Catholics. Factories used to have signs up, "Let no Irish apply." "Let no Irish apply." This was just the Protestant tradition. There was a big lot of it in this county, quite an undercurrent. I don't know that it's all dissipated even yet, but it's certainly not anything like it used to be. I think maybe, as far as bigotry is concerned, these people may have transferred their affections to certain other ethnic groups.
Feingold
Yes. It sort of moves down the line.
Coakley
It's sort of phased out as far as the Irish, and as far as the Catholics are concerned.
But as I said one time, I was making a talk two years ago, while I was still district attorney, to a group of young Negro professional men, to an organization known as the "Men of Tomorrow." They used to meet once a month down on Jack London Square. I was invited to talk to them one month. I was telling them, I said, "Well, there's always been a certain amount of discrimination and bigotry in this country, and I guess maybe in other countries too, but I know it was here because I witnessed it. I was on the receiving end of it on occasions." I said, "I can sympathize. I have an understanding of these things. I didn't like it then, and I don't like it now." It's an unhealthy thing, and unfortunately, every once in a while it comes out. This polarization that you see in the country, I think, is the same sort of thing, you know. It's too bad.
Well, to get back now to after Warren became district attorney. He increased the personnel. It didn't take very long to discover that Becker was taking money from gamblers. The rumors were pretty strong. There was a still operation down in south county.
The board of supervisors gave Warren investigator help, undercover help, and he was beginning to find out what was going on. The office prosecuted the Santuccis, an Italian family who were running a pig ranch, and on the pig ranch they had a still. I suppose Oscar Jahnsen told you about that, the Santucci case. The pig ranch caught on fire while the raid was going on.
Feingold
I didn't hear about that.
― 33 ―
Coakley
Oh yes. Earl Warren's men, the investigators were out there making the raid on the pig ranch, and the still blew up. It started a fire and a lot of the bigs were burned. It's quite a story.
Well, Warren was a very aggressive district attorney, what you could call a crusading district attorney. He was pretty well entrenched, he was very strongly entrenched politically, because he had the Knowland people behind him and he had the strong support of the legal profession, judges, and the better elements of the county. He fought this corruption in the sheriff's office. He had his men raiding bootlegging places, places where they were selling liquor. He also raided the Chinese lotterires out in Emeryville, and the houses of prostitution in Emeryville.
The Sheriff Becker Case
Feingold
Were you involved in these cases?
Coakley
I prosecuted some of these cases. The sheriff's office, I prosecuted. First, the sheriff's office case was presented to the grand jury in 1930. The first time around the grand jury refused to indict Becker, the sheriff. They indicted the under sheriff, a man named Shurtleff, and two of his deputies, Davis and Collier. So, I went in and prosecuted the under sheriff, Shurtleff, and Collier, and Davis. They were convicted.
No connection as far as I know. Louise Browne Sedgwick Merritt who d. in Santa Rosa was only there at end of life because her daughter had settled there. She had married, and divorced, Frederick Augustus Merritt of Oakland – he was of the same pioneer family there for whom Lake Merritt and Merritt College are named. While he's easy to find on Ancestry, he's not my relative (she is) and I have done nothing on his forebears or collateral relations…..He was born in Maine.
A Sedgwick Genealogy: Descendants of Deacon Benjamin Sedgwick
page 60
Description
First Page
Previous Page
Next Page
Last Page
60

purple heart, Philippine Liberation ribbon, two battle stars, one arrowhead, and an Asiatic Pacific ribbon with two battle stars.
B21,123.
Louise Browne Sedgwick, 3d child of John Sedgwick (B21,12) and Malvina (Davis) Sedgwick, was born December 25, 1871, at Stockton, Cal., and married April 15, 1891, at Oakland, Cal., Frederick Augustus Merritt, born January 11, 1855, at Bath, Me., son of Hannah Ann and Captain Isaac Merritt. He was connected with western railroads and died May 19, 1925, at Berkeley, California. She lives at 838 Hyde Street, San Francisco. Children, all born at Oakland (Merritt):
1. Marguerite, b. August 3, 1983. (B21,123,1)
2. Mary Burd, b. August 20, 1896. (B21,123,2)
3. John Sedgwick, b. January 8, 1900; d. July 11, 1903, at San Francisco.
B21,123,1.
Marguerite Merritt, 1st child of Louise B. (Sedgwick) Merritt (B21,123) and Frederick Augustus Merritt, was born August 3, 1893, at Oakland, Cal., and graduated, B.A., at the University of California at Oakland in 1917. She majored in bacteriology. She married April 8, 1936, at Reno, Nevada, Clarence Conrad Austin, son of Dr. Malcolm Osgood Austin and Lillian Hotaling Austin. He is business manager of the Southern Pacific Hospital. In the first World War he was Sergeant in a motor transport unit. They reside at 45 Loyola Terrace, San Francisco. Child (Austin):
1. David Hampton, b. February 18, 1938, at San Francisco. (B21,123,11)
B21,123,2.
Mary Burd Merritt, 2d child of Louise B. (Sedgwick) Merritt (B21,123) and Frederick A. Merritt, was born August 20, 1896, at Oakland, Cal., and graduated at Lux School of Domestic Science at San Francisco. She married George Herbert Dunlap of Berkeley, Cal., son of Dr. John Barr Dunlap and Mary (Stoaks) Dunlap. George is a builder and contractor. They live at 1400 Oakland Avenue, Piedmont, Cal. Children, both born at San Francisco (Dunlap):
1. George Herbert, Jr., b. April 17, 1919. (B21,123,21)
2. John Merritt, b. August 9, 1920. (B21,123,22)
– I see you mentioned a Merritt associated with Santa Rosa. As I have a Merritt side who settled in Petaluma, I just thought I'd check to see if there's a connection. John Merritt came here with his father Charles Merritt, and his wife Sarah Elizabeth Wilfley, and his mother, Jemima Lehman, by wagon in the 1850s. Charles and wife settled in Analy Township (now called Sebastopol) and John and his wife settled in Petaluma in a house that's still there at the corner of Stony Point Road and Pepper Road. John and Sarah had John Thomas Merritt (my great great grandfather, whom my mother knew), Edwin B Merritt & Ida Jane Merritt, born in 1856, 1862, and 1869 approximately. The original John (my great great great grandfather) had at least one sibling who came also. John T Merritt settled in Petaluma, traded livestock to San Francisco (by boat down the Petaluma River) and lived until the late 1930s. His children were George Merritt, Lyle Merritt (whom I remember – principal of Petaluma Intermediate School, I believe), Ruby Merritt, and my great grandmother Ethel Merritt.
John N. Merritt (1820 – 1895)
John N. Merritt was born on August 03, 1820 in Newburgh, New York, USA, The Son of Josiah Merritt and Elizabeth Demott.
John N. Merritt married Cornelia Sedgwick.
John N. Merritt married Hannah Weddle.
John N. Merritt had 12 children. Their names are Phebe A Merritt, Harriet Sedgwick Merritt, Flora Merritt, Edward S Merritt, Caroline Merritt, Flora Merritt, Edward S Merritt, Caroline Merritt, William H. Merritt, Francis Maria Merritt, Mary E. Merritt, and George N. Merritt.
William Sedgwick (1804 – 1877)
William Sedgwick was born on August 08, 1804 in Bristol, Hartford, Connecticut, USA.
William Sedgwick married Laura Ann Case.
William Sedgwick had 1 child. Her name is Cornelia Sedgwick.
William Sedgwick passed away on February 26, 1877 in Poughkeepsie, Dutchess, New York, USA.
Sedgwick was born in the Litchfield Hills town of Cornwall, Connecticut. He was named after his grandfather, John Sedgwick (brother of Theodore Sedgwick), an American Revolutionary War general who served with George Washington. After teaching for two years, he attended the United States Military Academy, graduated in 1837 ranked 24th of 50, and was commissioned a second lieutenant in the U.S. Army's artillery branch. He fought in the Seminole Wars and received two brevet promotions in the Mexican-American War, to captain for Contreras and Churubusco, and to major for Chapultepec. After returning from Mexico he transferred to the cavalry and served in Kansas, in the Utah War, and in the Indian Wars, participating in 1857 in a punitive expedition against the Cheyenne.[1]
In the summer and fall of 1860 Sedgwick commanded an expedition to establish a new fort on the Platte River in what is now Colorado. He was greatly handicapped with the non-delivery of expected supplies which were to be forwarded by wagon-train from the nearest fort in Kansas, but managed to erect comfortable quarters for his men before cold weather set in. These buildings were constructed largely of stone with timber for roofs and doors. It is difficult to realize the remoteness of this post but there were no railroads west of the Mississippi River and communication with St. Louis and Kansas City was by river boat and west of that by wagon train or horseback.[2]
Dr. Samuel Merritt, a mayor of Oakland who owned property at the shore's edge, was keen to get the body of water cleaned up so that it could become a source of civic pride. In 1868, he proposed and funded a dam between the estuary and the bay by which the flow of water could be controlled, allowing the water level inland to rise higher and become less saline, turning the tidal lagoon into a lake. Sewage was to be redirected elsewhere by two new city projects, though these weren't completed until 1875. The resulting body of water was called variously "Lake Peralta", "Merritt's Lake" and later Lake Merritt.[5][7]
Home
Academic Programs
Basic Sciences
Nursing
Occupational Therapy
Physical Therapy
Physician Assistant
Podiatric Medicine
Campus Services
Academic & Instructional Innovation
Academic Affairs
Facilities
Financial Services
John A. Graziano Memorial Library
Health Sciences Simulation Center
Health Education Center
Human Resources
Information Technology
Institutional Research
Media Services
Enrollment & Student Services
Academic & Disability Support
Admission
Business Office
Campus Service Center
Career Services
Health and Counseling
Financial Aid
Registrar
Student Body Association
Media & Publications
Media Relations & Newsroom
Publications & Communications
Alumni
Giving to SMU
Biography
Biography of Dr. Samuel Merritt
Samuel Merritt, M.D. was born in 1822 in Harpswell, Maine, and graduated from the Medical School of Maine at Bowdoin College. After practicing medicine in Plymouth, Massachusetts for three years, Dr. Merritt joined the great migration of 1849 to California. Here he made his fortune as a businessman and his reputation as one of the leading founders of the Bay Area.
When Dr. Merritt died 40 years later in 1890, the Oakland Tribune called him "the man most prominent in the establishment and building of the City of Oakland." He had touched every aspect of public life here, serving as the 13th Mayor of Oakland, and one of the original Regents of the University of California. Dr. Merritt played a significant role in the creation of Lake Merritt and the construction of the Oakland Public Library and City Hall. As the first president of the Mountain View Cemetary, he continued to influence the architectural landscape of the city. Importantly, in his will he provided for the establishment of Samuel Merritt Hospital and the training school for nurses that have now evolved into Samuel Merritt University.
Dr. Merritt died before Samuel Merritt Hospital and its School were built, but his fortune and far thinking made the founding of the institution possible. Today the women and men who carry on his mission-as students, faculty, and staff-are looking ahead to the next 100 years. The transformation of Samuel Merritt University in the 21st century continues in the tradition started long ago by this extraordinary individual who had a great vision for the quality and well being of the East Bay community.
Universalis Centralis
Universalis centralis is the kinetic sculpture found at the entrance of the Health Education Center on the Oakland campus of Samuel Merritt University. The sculpture is the central icon for the institution, designed to reflect the ever-changing world of health care in which we and our graduates serve. The universalis centralis symbolizes change, growth, and learning. Importantly, the sculpture captures the need to stay abreast of innovations in health care. The symbol is used as the University's logo.
The universalis centralis is a polished stainless steel outdoor sculpture created by Jerome Kirk in 1986. Signed by the artist at its base, it is approximately 14 feet by 9 feet.
As a young physician in Plymouth, Massachusetts, Merritt attracted the attention of Daniel Webster when he successfully performed a difficult operation on Webster's neighbor. Webster encouraged him to come to California, saying, "Go out there, young man. Go out there and behave yourself, and free as you are from family cares, you will never regret it." Webster gave him letters of introduction to friends in California, Merritt bought a ship of 140 tons, loaded it with general cargo, and set sail from New York for California at the end of November in 1849.
His arrival on May 5, 1850, was at an auspicious time, as one of San Francisco's frequent "great fires" had occurred the previous day, allowing him to make a considerable profit on the goods he had in his hold. With these funds he chartered a brig for $800 a month and put it in the profitable Humboldt Bay – San Francisco lumber trade run.
While practicing medicine in San Francisco he increased his involvement in the lumber trade by expanding to Puget Sound. In 1852 he started buying and selling real estate in San Francisco and Oakland with great success. The first year he made $100,000 in San Francisco real estate alone. That same year he bought large acreage along the shores of what is now Lake Merritt for the total price of $6,000. He subdivided this land and built and sold several "elegant" homes in the area of Jackson, Lake, Oak, and Madison Streets. In 1853 he traveled east to order the building of the first two barks to be built expressly for the coast lumber trade — in this case, San Francisco to Portland.
Merritt served as a member of the Vigilance Committee of 1856, was a San Francisco supervisor, and although he declined to serve as San Francisco's mayor in 1858, did fill that position in Oakland in 1868. That same year he was named a Regent of U.C. by Gov. Henry Huntly Haight. Merritt was a founder of the Oakland Bank of Savings and the California Insurance Company. In 1888 Robert Louis Stevenson chartered Merritt's yacht Casco for his famous trip to the South Seas.
Merritt became embroiled in a scandal when the Board of Regents, instead of hiring a supervising architect, put him in charge of overseeing the construction of the campus's second building, North Hall, which they were anxious to have completed in record time. The State Assembly investigated charges that Merritt and some friends in the building industry had taken advantage of his unusual authority, that Merritt had profited financially in the venture, and that the University had acquired a building of inferior quality at an exorbitant cost. The Committee determined that the building cost $24,000 more than it was worth. Merritt immediately resigned from the Board of Regents and refunded the University his lumber yard's profits of $867.
One contemporary account describes Merritt as "6'3" and weighing 340 pounds when at his best." It is small wonder that this admired specimen of Victorian manhood (great girth was considered manly) developed diabetes which complicated a case of uremic poisoning, causing his death.
The plaque on the huge granite tomb reads: "Physician, shipmaster, philanthropist, Regent of the University of California, mayor of Oakland, founder of Samuel Merritt Hospital."
Elizabeth Josephine Clifford (1874 – 1950)
Found 10 Records , 10 Photos and 997,006 Family Trees
Born in Kerry, Ireland on 7 May 1874 to Jeremiah Clifford and Hannah Reidy. Elizabeth Josephine married Michael Coakley and had 8 children. She passed away on 28 May 1950 in Oakland, California, USA.What was going on with Edie sedgwick in Warhol's loft, was small patatoes compared to the Revolution taking place in Oakland and Berekely – that the wrold famous artist, Christine Rosamond Benton, was very much a part of. Too bad her fake biographers were so intent on rubbing me out of the picture, or, the world would have gotten this information. Now, the world will get a full picture of how real creative people are supplanted with imposters. That my daughter signs legal papers in order to get me out of her screwed up picture, will be a famous document one day because the history of the oppression of the Bohemian Free Speech Movement – is real – and not a fake deal like the Mormons and Evangelcial cosmologies.
Jon Presco
"Fair Rosamond" Clifford had two sons by Henry II and to protect these from
kidnapping or murder by the minions of Queen Eleanor they were brought up in
concealment in the forest. Writers in later centuries have identified them with
Sir William Longsword and Geoffrey, Archbishop of York, but the Dictionary of
National Biography points out that both these were born before their supposed
mother. Fair Rosamond died in 1177 but the Colclough family was firmly
established in Suffolk long before she or Henry II was born and there is no
record of any unaccounted additions to its numbers at the end of the 12th
century. However American genealogical researchers have determinedly traced the
Colclough origins to her."
And so, around towards midnight, we did get word through the walkie-talkie that the police were coming. Now in the building, when I learned that things were becoming tense, I was told that the students would be sitting-in on the two upper floors of the building. None would be on the main floor. They expected the police to come in on the main floor and I would be stationed down there to meet with them. They would send certain people down from upstairs for me to persuade to leave the building — people who were under eighteen, who didn't have constitutional rights like other people, and who, if there was a trial, wouldn't have a right to a jury trial, that sort of thing. Mario Savio wanted all those people out. Also, anybody who had dope on them they wanted out. So people would straggle down, and I would arrange for them to leave the building with the campus police there.
There were two other people on the main floor — one of them was Ed Meese and another one was Lowell Jensen. Lowell Jensen is now a federal judge; Ed Meese and he were deputy district attorneys, deputies of Frank [J. Francis] Coakley, who was the extremely reactionary right-wing District Attorney who had held that office for about sixteen years. I knew Jensen fairly well, having tried a murder case against him, in which he was prose- cutor. I didn't know Meese at all because Meese wasn't in court very much. Meese spent most of his time in Sacramento as a lobbyist for the Police Officers' Association, and the D.A.'s Association, trying to get tougher legislation. The joke used to be that he was trying to get the Legislature to prescribe the death penalty for possession of marijuana.
Alameda and San Francisco County's resident Lucky Luciano's La Costa Nosta crime
boss was a man called Elmer "Big Bones" Remmer of Emeryville. Bones Remmer
controlled all the after-hours joints, brothels, gambling houses, extortion,
loan-sharking, bookies and Murder, Inc. in Emeryville, Oakland and San
Francisco. Along with witting politicians, cops, and various shady lawyers and
bagmen, Big Bone's mob operations remained unmolested by local law enforcement
agencies in Alameda and San Francisco County.
Fed up with crime, corruption and Murder, Inc. in Alameda County during the
1940-50's, the California State Attorney General had to come to Oakland to try
to shut down the mob's operations. The Attorney General's office indicted and
proceeded to prosecute some of Oakland's mob figures. Under D.A. Coakley, the La
Costa Nosta just didn't exist in the county. Just imagine of all people that
could have showed up in Oakland to defend the mob, it was the who's who of Mafia
Boss Meyer Lansky's crime syndicate, another infamous underworld character by
the name of Murray Chotiner. The noted Author Dan Moldea reported that Murray
Chotiner, and his brother Jack, handled 249 cases of mob figures arrested or
indicted between 1949 and 1952. [13]
It was D. Lowell Jensen and Edwin Meese that sent former Mayor John Houlihan and
Huey P. Newton to Prison. Jensen also directed the CIA cover indictment of
Eldridge Cleaver to send him on clandestine military intelligence worldwide trek
to disrupt and discredit America's Black Nationalist Movement. Jensen engineered
the conspiracy theory (conspiracy prosecutions) under which targeted Blacks,
Leftist and Anti-Vietnam War activists could be convicted of felonies and given
long prison sentences if it can be proved they conspired to commit even a minor
conspiracy. [22] Jensen also had links to the medical-industrial-military
complex handmaiden U.C. Berkeley. Jensen had graduated from U.C. Berkeley in
1949 and Boalt Hall School of Law in 1952. Meese also obtained his law degree
from the University of California Boalt Hall School of Law at Berkeley in 1958.