https://www.geni.com/people/Ludwig-Friedrich-Graf-von-Zinzendorf/6000000016305753974?through=6000000006023555004
John Heil is my 5th. grandfather according to the DNA test I took at Ancestry.com who wants $19 dollars a month from me to look at my FULL family tree and converse with my kin, in our family tree. Executor, Sydney Morris of Buck, Morris & Heisinger sold my families creative – and spiritual legacy – to a outsider, who had no interest in OUR family tree, or, what church we attended, if any. What did Stacey Pierrot want? How about, money? I do not have $19 dollars. I am poor. My letters to Morris about MY spiritual program, were not only ignored, my surviving sister said Sydney combed through my letters looking for a "death threat" because it was all mumble-jumble to him – and preposterous! Here is a letter from his partner to the Mayor of Carmel. Heisinger wants to be City Attorney. The head of his law firm own Del Monte Aviation.
https://www.scribd.com/document/354400718/Heisinger-Buck-Morris-Proposal-Redacted
There is a good chance that my kindred, John Heil, met Nikolaus Ludwig, Reichsgraf von Zinzendorf und Pottendorf who came to Pennsylvania. Among the Zinzendorf ancestors was the Emperor Maximillian I. Zinzendorf's great grandfather was made an Imperial count.
Above is a photograph of me standing before a large painting of the Habsburg family, many who descend from Maximillian. It was smuggled out of Austria to keep it out of the hands of Hitler and his Nazis. Empress Zita fled to America because Hitler put a bounty on her. I tried to return this painting to the Austrian people.
Five months ago my DNA test revealed I am related to Karl Schwarzenberg, who IS kin to Nikolaus – who spent his vast wealth on bringing the message of Jesus to Native Americans, Eskimos, and Black Slaves. His wealthy and powerful kindred thought him mad, and some ruled he was a danger to everyone in their family tree. Nikolaus had Gypsies camping on his estate that was a refuge for human beings that marched to a different drummer, and were – rejected by normal society! Nikolaus gave a title to his motely band of Merry Men, who gathered for a 'Love Feast'.
'The Bohemian Brethren'
Carmel by the Sea became the home for American Bohemians. My newspaper is a sanctuary for Bohemian History. I get $750 dollars to live on. Being poor is part of being a Bohemian, and, being a Religious Missionary. I am going to promote a movie about the 'Bohemian Brethren'. Did Nikolas see the seeds of a Democratic Revolution being planted?
I just discovered I am kin to Nikolaus via Maria Schwarzenberg. I have found 'The Hidden Seed' that is related to my kin, John Wilson, a Puritan Minister. We are looking at one of the most religious family trees in the history of the world, and America.
I have brought honor and prestige to all members of my family who were ignorant of their roots. The tree that springs from the Rosenberg family of Bohemia, has taken root in the United States of America. A unselfish noble in this tree, came to America to plant the Tree of Religious Liberty, and, the Hidden Seed of the Moravian Church in Pennsylvania. I am a genetic heir to this tree.
Astounding!
https://rosamondpress.com/2019/02/08/royal-stewart-family-tree-and-princess-erasmus/
I am going to write a letter to the Austrian Government, Elizabeth von Pezod, and Karl Schwarzenberg informing them of our kinship, and the fact Nikolaus von Zinzendorf, came to America to introduce Jesus to Native Americans, and Black Slaves in the Caribbean. The Bohemian Brethren married couples of all colors, and were Ambassadors from Bohemia. I am going to recommend the return of all castles to this generous family tree. May our restored assets and legacy be used to rekindle the Moravian Church, and it's miraculous work.
John Presco
President: Royal Rosamond Press
Copyright 2019
EXTRA! Nikolaus is kin to Queen Victoria!
Elisabeth von Pezold wants the return of property expropriated by the Czechoslovak state in 1947.
However, her adopted brother, Karel Schwarzenberg, the Czech Republic's foreign minister, apparently does not.
https://en.wikipedia.org/wiki/Sophie_Theodora_of_Castell-Remlingen
John Wilson (c.1588–1667), was a Puritan clergyman in Boston in the Massachusetts Bay Colony, and the minister of the First Church of Boston from its beginnings in Charlestown in 1630 until his death in 1667. He is most noted for being a minister at odds with Anne Hutchinson during the Antinomian Controversy from 1636 to 1638, and for being an attending minister during the execution of Mary Dyer in 1660.
https://en.wikipedia.org/wiki/John_Wilson_(Puritan_minister)
https://rosamondpress.com/2018/07/23/karl-schwarzenberg-and-the-habsburg-audience/
https://www.poetryfoundation.org/articles/146051/bohemian-tragedy
In 1905, the poet George Sterling moved to Carmel-by-the-Sea, a coastal hamlet two hours south of San Francisco, to start an artist colony. The 36-year-old Sterling, nicknamed the "King of Bohemia," was already prominent in literary San Francisco. He was Jack London's best friend, a student of Ambrose Bierce, and the author of a single volume of poetry, The Testimony of the Suns, and Other Poems, published two years earlier.
John Heil
Birth

Upper Mount Bethel Township, Northampton County, Pennsylvania, USA

Death

6 Jul 1828 (aged 82)

Mount Bethel, Northampton County, Pennsylvania, USA

Burial

Stone Church, Northampton County, Pennsylvania, USA

Memorial ID

88273109

· View Source
https://www.wikitree.com/wiki/Heil-393 
http://familypedia.wikia.com/wiki/Descendants_of_Maximilian_I,_Holy_Roman_Emperor_(1459-1519)
Maria Anna Josepha von Schwarzenberg, D5
Gender:
Female
Birth:
January 06, 1744
Vienna, Vienna, Austria
Death:
August 08, 1803 (59)
Penzing, Grieskirchen, Upper Austria, Austria
Immediate Family:
Daughter of Joseph I, IV. Fürst zu Schwarzenberg and Maria Theresia Schwarzenberg
Wife of Ludwig Friedrich, Graf von Zinzendorf
Mother of Marie Therese von Zinzendorf
Sister of Johann I Nepomuk, V. Fürst zu Schwarzenberg; Josef Wenzel von Schwarzenberg; Anton von Padua Johann Nepomuk Franz Xaver Felix von Schwarzenberg, D3; Franz Joseph Friedrich Johan Nepomuk Kajetan Johan Felix von Schwarzenberg; Maria Theresia Katharina Walburgis Apollonia von Schwarzenberg and 3 others
Added by:
Severinfaxe on April 19, 2012
Managed by:
Severinfaxe and George J. Homs
https://gw.geneanet.org/cvpolier?lang=en&n=von+zinzendorf+und+pottendorf&oc=0&p=maximilian+erasmus
https://gw.geneanet.org/cvpolier?lang=en&iz=0&p=maria+judith&n=von+und+zu+liechtenstein
https://www.geni.com/people/Maria-Anna-Josepha-von-Schwarzenberg-D5/6000000016305698762?through=6000000016305753974
Zinzendorf's interest in missionary work was sparked by meeting two Inuit children converted by Hans Egede's mission in Greenland and a freed slave, Anthony Ulrich, who told of terrible oppression among the slaves in the West Indies.
In 1732, the community began sending out missionaries among slaves in the Danish-governed West Indies and the Inuit of Greenland. Zinzendorf's personal and familial relation to the court of Denmark and to King Christian VI facilitated such endeavors. He saw with delight the spread of this Protestant family order in Germany, Denmark, Russia and England.[7]
In 1736, accusations from neighboring nobles and questions of theological inorthodoxy caused Zinzendorf to be exiled from his home in Saxony. He and a number of his followers moved to Marienborn (near Büdingen) and began a period of exile and travel, during which he became known as the "Pilgrim Count."[8]
The missionary work in the West Indies had been hugely controversial in Europe, with many accusing Zinzendorf of simply sending young missionaries off to die. He decided to place himself on the line, and in 1739 left Europe to visit the mission work on St. Thomas. Convinced that he himself might not come back, he preached his "last sermon" and left his will with his wife.[9]
In 1741, Zinzendorf visited Pennsylvania, thus becoming one of the few 18th century European nobles to have actually set foot in the Americas. In addition to visiting leaders in Philadelphia such as Benjamin Franklin, he met with the leaders of the Iroquois and, with the assistance of Conrad Weiser reached agreements for the free movement of Moravian missionaries in the area.[10]
In 1749, Zinzendorf leased Lindsey House, a large manor on Cheyne Walk in Chelsea built on the estate of Sir Thomas More to be a headquarters for work in England. He lived there until 1755.
Missionary colonies had by this time been settled in the West Indies (1732), in Greenland (1733), among the North American Indians (1735); and before Zinzendorf's death the Brethren had sent from Herrnhut missionary colonies to Livonia and the northern shores of the Baltic Sea, to the slaves of South Carolina, to Suriname, to the Negro slaves in several parts of South America, to Tranquebar and the Nicobar Islands in the East Indies, to the Copts in Egypt, to the Inuit of Labrador, and to the west coast of South Africa.
Berthelsdorf lies close to the borders of the Czech Republic and Poland. Nicolaus Ludwig Count von Zinzendorf, bought the Berthelsdorf estates (Middle and Lower Berthelsdorf) from his grandmother, Henriette Catharina von Gersdorff, in 1722, and Upper Berthelsdorf from his Uncle in 1724. He built his manor house "Bethel" – "House of God" in Middle Berthelsdorf. Soon after buying the estates and calling Johann Andreas Rothe as pastor of the Lutheran parish in Berthelsdorf, he agreed to receive Protestant exiles from the Kuhländchen (de, cs) in Moravia upon his new estate.
The first group arrived in December, 1721, under the leadership of carpenter Christian David. They founded the nearby city of Herrnhut on the estate. They were later joined by several hundred other refugees from Habsburg oppression in Bohemia/ Moravia, now the Czech Republic. Under the guidance of Zinzendorf they united to renew the ancient Unitas Fratrum. 13 August 1727, is the date usually considered as the renewal date, which took place in the parish church in Berthelsdorf. From Berthelsdorf and Herrnhut then the "Brüdergemeine", in English, the Moravian Church, spread out across the world, beginning in 1732 with the sending of the first Moravian missionaries.
Zinzendorf also provided sanctuary in Berthelsdorf to persecuted followers of mystic Caspar Schwenckfeld from nearby Silesia. They were forced by the Electoral Saxon government to emigrate to Pennsylvania, and Zinzendorf sent 2 Moravians to accompany them in 1734–35, in order to scout out the mission possibilities in America.
The former municipality had two subdivisions: Rennersdorf and Berthelsdorf.
Descendants of Maximilian I, Holy Roman Emperor (1459-1519)
---
of Maximilian I von Habsburg, Holy Roman Emperor
Edit
of Maximilian I von Habsburg, Holy Roman Emperor and Mary of Burgundy
Edit
Maximilain I von Habsburg, Holy Roman Emperor

m. Mary of Burgundy (1457-1482)

Prince Philip "the Handsom" von Habsburg (1478-1506)

m. ​Infanta Joanna of Castile (1479-1555)

Princess Margaret von Habsburg of Austria (1480-1533)

m. Prince John de Trastamara of Asturias (1478-1497)

Prince Francis von Habsburg of Austria (1481-1481)
of Maximilain I von Habsburg, Holy Roman Emperor and Margaret von Edelsheim
Edit
Barbara von Rottal  (1500-1550)

m. Sigismund von Dietrichstein-Hollenburg (c1480-1533)

Siegmund Georg von Dietrichstein (1526-1593)

m. Anna Maria von Starhemberg (1537-1597)
of Siegmund Georg von Dietrichstein and Anna Maria von Starhemberg
Edit
Bartholomaus von Dietrchistein-Hollenburg (1579-1653)

m. Elisabeth JOKL von Franking (-c1635)

Christian von Dietrichstein-Hollenburg (1610-1681)

m. Maria Eisabeth von Khevenhuller zu Aichelberg (c1608-1676)
of Christian von Dietrichstein-Hollenburg and Maria Eisabeth von Khevenhuller zu Aichelberg
Edit
Anna Amalie Dietrichstein (1638-1696)

m. Maximilian Erasmus, Herr von Zinzendorf und Pottendorf (1633-1672)

​Dorothea Renata, Countess von Zinzendorf-Pottendorf (1669-1743)

​m. Woflgang Dietrich, Count von Castell-Castell (1641-1709)
of Dorothea Renata, Countess von Zinzendorf-Pottendorf and Woflgang Dietrich, Count von Castell-Castell
Edit
Sophie Theodora von Castell-Castell (1703-1777)

m. Heinrich XXIX, Count von Reuss-Ebersdorff (1699-1747)

Johanna Dorothea, Countess von Reuss-Ebersdorff (1743-1801)

m. Christof Friederich Levon von Trotta-Treyden (1743-1772)
of Johanna Dorothea, Countess von Reuss-Ebersdorff and Christof Friederich Levon von Trotta-Treyden
Edit
Friedericka Theodora Elizabeth von Trotah-Treyden (1772-1806)

m. Friederich Ludwig von Tschirschky und Bogendorff (1769-1829)

Augusta Theodora von Tschirschky (1797-1883)

m. Heinrich August Freiherr von Gersdorff (1793-1874)
of Augusta Theodora von Tschirschky and Heinrich August Freiherr von Gersdorff
Edit
of Carl August de Gersdorff and Helen Suzette Crowninshield
Edit
Chevaliere Josephine de Gersdorff (1896-1975)

m. Frederick Josiah Bradlee, Jr. (1892-1970)

Frederick Josiah Bradlee III (1919-2003)
Chevalier Benjamin Crowninshield Bradlee (b.1921)

m. 1st, Jean Saltonstall
m. 2nd, Marie Antoinette "Tony" Pinchot
m. 3rd, Sally Sterling Quinn (b.1941)

Constants Bradlee (1924-1993)
of Chevalier Benjamin Crowninshield Bradlee and Sally Sterling Quinn
Edit
Chevalier Josiah Quinn Crowninshield Bradlee (b1982)
Nikolaus Ludwig, Reichsgraf von Zinzendorf und Pottendorf (26 May 1700 – 9 May 1760) was a German religious and social reformer, bishop of the Moravian Church, founder of the Herrnhuter Brüdergemeine, Christian mission pioneer and a major figure of 18th century Protestantism.
He played a role in starting the Protestant mission movement by supporting two determined Moravian missionaries Johann Leonhard Dober and David Nitschmann to go to the Danish colony of Saint Thomas via Copenhagen to minister to the enslaved population (see Moravian slaves). Zinzendorf was critical of slavery and supported the first Moravian missionaries who in spite of Danish royal support from Charlotte Amalie of Denmark faced discouragement from some Moravians at Herrnhut (including Christian David), the Danish West India Company, Saint Thomas planters, the risk of getting malaria and the slaves themselves.
Born at Dresden, Zinzendorf was often influenced by strong and vehement feelings, and he was easily moved both by sorrow and joy. He was a natural orator, and though his dress was simple his personal appearance gave an impression of distinction and force. His projects were often misunderstood. In 1736, he was banished from Saxony, but in 1749 the government rescinded its decree and begged him to establish within its jurisdiction more settlements like that at Herrnhut.
He was notable for providing shelter for the German-speaking Moravian exiles at Herrnhut. This settlement was influenced by his Pietist ideas from the Lutheran faith he was brought up in. Nowadays, the Moravian Church remains heavily shaped by Zinzendorf, in addition to its Hussite origin. He was called Ludwig or Brother Ludwig by his intimates. He is commemorated as a hymnwriter and a renewer of the church by the Evangelical Lutheran Church in America on their Calendar of Saints and on the liturgical calendar of the Episcopal Church (USA) on 10 May.
Formative years
[
edit
]
The Zinzendorfs belonged to one of the most ancient of noble families in Lower Austria.[1] They were feudal lords over many places in the Wachau area of the Danube Valley. Their seat was in Karlstetten, Lower Austria. Family members occupied many important positions in the imperial household, at the Reformation they became Lutherans. Among the Zinzendorf ancestors was the Emperor Maximillian I. Zinzendorf's great grandfather was made an Imperial count.
His son Erasmus Maximillian von Zinzendorf chose to sell his Austrian possessions and emigrate to Franconia rather than accept forced conversion to Catholicism. His children entered the service of the Electors of Brandenburg and of Saxony, while Zinzendorf's father was in the service of the Saxon Elector at Dresden at the time of his youngest son's birth. He died six weeks later and the child was sent to live with his maternal grandmother and an aunt. His parents were engaged in Pietist circles and had Philipp Jakob Spener appointed as his godfather. His mother married again when he was four years old, and he was educated under the charge of his pietistic Lutheran grandmother, Henriette Catharina von Gersdorff, who did much to shape his character.
His school days were spent at Halle where Pietism was strong, and in 1716, he went to the University of Wittenberg, to study law so as to be ready for a diplomatic career. Three years later, he was sent to travel in the Netherlands, in France, and in various parts of Germany, where he made the personal acquaintance of men distinguished for practical goodness and belonging to a variety of churches. On his return he visited the branches of his family settled at Oberbürg near Nürnberg, and at Castell.
During a prolonged visit at Castell he fell in love with his cousin Theodora (1703–1777), daughter of Count Dietrich Wolfgang of Castell-Remlingen and Countess Dorothea Renata of Zinzendorf (1669-1743). The widowed countess, her mother, objected to the marriage, however, and the lady afterwards became the wife of Count Henry XXIX Reuss, while Zinzendorf married Reuss's sister, Erdmuthe Dorothea. He had previously, in deference to his family who wished him to become a diplomat, rejected the invitation of August Hermann Francke to take Baron von Canstein's place in the Halle Orphanage; and he now resolved to settle down as a landowner, spending his life on behalf of his tenantry. He bought Berthelsdorf from his grandmother, Baroness von Gersdorf.
Wanting to demonstrate practical application of Spener's Pietist ideals. he did not intend to found a religious organization distinct from the area's Lutheran Church, but to create a Christian association, the members of which by preaching, by distributing tracts and books and by demonstrating practical benevolence might awaken torpid Lutheranism. The "band of four brothers" — Johann Andreas Rothe (pastor at Berthelsdorf); Melchior Schäffer (pastor at Görlitz); Friedrich von Watteville (a boyhood friend); and Zinzendorf — set to create a revival of religion as well as to preserve the warmth of their own personal trust in Christ. Their printing-house at Ebersdorf (now in Thuringia) printed large quantities of inexpensive Bibles, catechisms, hymnals and religious tracts. A French translation of Johann Arndt's True Christianity was also published.
Religious Freedom and Discord
[
edit
]
A dislike of the dry Lutheran orthodoxy of the period gave Zinzendorf some sympathy with that side of the growing rationalism which was attacking dogma, while at the same time he felt its lack of earnestness, and of a true and deep understanding of religion and of Christianity, and endeavoured to counteract these defects by pointing men to the historical Christ, and seeking to recapture practices and spirituality of the apostolic church.
In 1722, Zinzendorf offered asylum to a number of persecuted wanderers from Moravia and Bohemia (parts of Czech Republic today), and permitted them to build the village of Herrnhut on a corner of his estate of Berthelsdorf. Most of the initial refugees who came to this asylum were recruited by Christian David and came from areas where the early Protestant groups such as the Unitas Fratrum had been dominant prior to the Thirty Years' War. As the village grew it became known as a place of religious freedom, and attracted individuals from a variety of persecuted groups, including the Schwenkfelders. The concentration of differing beliefs in the village produced intense conflict. Personal and religious differences between the estate manager Heitz and Johann Andreas Rothe, the Lutheran pastor of Berthelsdorf, were made more tense by the apocalyptic preaching of Johann Sigismund Krüger.[2]
The village fell into disarray and severe conflict. Some, including village founder Christian David, got caught up in apocalyptic fanaticism, referring to Zinzendorf as the Beast of the Apocalypse, and Rothe as the False Prophet. Zinzendorf finally took an indefinite leave from his court commission in Dresden and moved back to his estate to devote himself full-time to reconciliation of the conflict.
He began to visit each home for prayer, and finally called the men of the village together for an intense study of the Scriptures. The question they came to focus on was how the Scriptures described Christian life in community. These studies, combined with intense prayer, convinced many of the community that they were called to live together in love, and that the disunity and conflict they had experienced was contrary to the clear calling of Scripture.[3]
Reconciliation and the Brotherly Agreement
[
edit
]
Out of this study and prayer, the community formed a document known as the Brüderlicher Vertrag, the Brotherly Agreement, a voluntary discipline of Christian community. This document, and a set of rules laid down by Zinzendorf known as The Manorial Injunctions, were signed by the members of the community on 12 May 1727. This document, which has been revised over many years, is today known as "The Moravian Covenant for Christian Living." The Moravian Church is one of the few denominations that emphasizes a code of Christian behavior over specific creeds.[1]
Continued study and prayer in small groups known as banden resulted in a sense of reconciliation in the community, leading to a powerful spiritual renewal on 13 August 1727 during a special communion service at the Berthelsdorf Church. This experience, referred to as the "Moravian Pentecost," marked the beginning of a new era of spiritual growth in Herrnhut. It also began a period of radical experimentation with communal Christian living as expressed in Zinzendorf's theology.[4]
Reconnection with early Unitas Fratrum

[

edit

]
As the renewed community of Herrnhut grew, Zinzendorf obtained a copy of Ratio Disciplinae, the church order of the early Bohemian Unity. As he began to study the history of the Bohemians, he was astonished to find powerful similarities between the theology and practice of the early Unitas Fratrum and the newly established order of Herrnhut. Zinzendorf and the Herrnhuters felt a strong identification with the writings of Moravian Bishop John Amos Comenius and incorporated many of the ideas of the early Unity. However, Zinzendorf saw the new group as a spark for renewal of all denominations, not a new and separate denomination. This theological bent was reinforced by the legal structure of the Lutheran State church.[5]
New Protestant family order
[
edit
]
In this renewed community, Zinzendorf was able to organize the people into something like a militia Christi, based not on monastic but on family life. However his ideas of family were centered not on a traditional nuclear family of parents and children. Indeed, he wanted to break traditional family bonds by organizing communal families based on age, marital status and gender. The banden, or small groups, continued but were organized into "choirs" based on age, marital status, and gender. Zinzendorf's theology recognized that at each stage of life, we had different spiritual needs and a different relationship with the Savior.[6]
Moravian communities based on this model, such as Bethlehem, Pennsylvania and Salem, North Carolina, were designed for the sole purpose of serving Christ, who also was considered to be the community leader. In these communities, a radical equality of spiritual life was practiced. In Bethlehem, nobility and converted Native Americans shared common quarters; in Salem, slaves were full members of the Church and could be elected to offices of leadership.
Zinzendorf was consecrated a bishop at Berlin on 20 May 1737 by Bishops David Nitschmann der Bischof and Daniel Ernst Jablonski.
Johann Leonhard Dober (born March 7, 1706, Mönchsroth, Swabia, Germany to Johann Dober and Anna Barbara Link; died April 1, 1766, Herrnhut, Saxony, Germany)[1] was, along with David Nitschmann, one of the two first missionaries of the Moravian Brethren (Herrnhuter Brüdergemeine) in the West Indies in 1732.
Early Years in Germany
[
edit
]
Dober learned the trade of pottery from his father. He was converted at age 17 while visiting the Moravian church at Herrnhut.[2] On July 24, 1731, he heard a talk given by Count Nikolaus Ludwig Zinzendorf about missions to the slaves of the Caribbean. In his talk, Zinzendorf described a former slave from the Danish island of St. Thomas named Anthony Ulrich, who believed that the slaves would be very receptive to Christian missionaries. Dober, along with his friend Tobias Leupold, felt called to go to the Caribbean, and they began to prepare for this work. Although they initially met with opposition from the Moravian Brethren, the doubts were eventually settled by drawing lots. Dober's lot read, "Let the lad go, for the Lord is with him," but Leupold's said that he must wait. Instead, David Nitschmann was chosen to go with Dober to help start the Caribbean mission.[3]
Mission in St. Thomas
[
edit
]
On August 20, 1732, Count Zinzendorf blessed the two young men, and after a prayer meeting sent them on to Copenhagen, where they were to find a ship bound for St. Thomas. In Copenhagen, they again met with opposition to their plans. Even Anthony Ulrich, who had originally proposed the idea, began to have second thoughts.[4][5] Von Plesz, the King's Chamberlain, asked them how they would live.
"We shall work," replied Nitschmann, "as slaves among the slaves."
"But," said Von Plesz, "that is impossible. It will not be allowed. No white man ever works as a slave."
"Very well," replied Nitschmann, "I am a carpenter, and will ply my trade."
"But what will the potter do?"
"He will help me in my work."
"If you go on like that," exclaimed the Chamberlain, "you will stand your ground the wide world over."[6]
Although the Danish West Indian Company refused to grant them passage, the two men eventually found sympathy at the Danish court, and with the help of a court officer they obtained berths on a ship bound for the West Indies. Leaving Copenhagen on Oct 8, 1732, they arrived in St. Thomas two months later on December 13.[7] While in St. Thomas, they lived frugally and preached to the slaves, and they had a certain amount of success.[8] Dober returned to Germany in 1734 (David Nitschmann had only gone to help Dober get settled and had left after only a few weeks), but other Moravian missionaries continued the work for fifty years afterward, establishing churches on St. Thomas, St. Croix, St. John's, Jamaica, Antigua, Barbados, and St. Kitts. Moravian missionaries baptized 13,000 converts before any other missionaries arrived on the scene.[9]
Later Years
[
edit
]
Dober returned to Europe since he had been chosen to serve as Chief Elder of the Moravian Brethren. As the work began to spread across the world, he realized that he could not do the job any more and it was his 1741 offer to resign that occasioned the Moravian Unity's realization that Jesus Christ is the only Head and Chief Elder of the Church. He married Anna Schindler on July 13, 1738, but she died during childbirth on December 12, 1739. In 1743 he remarried, this time to Anna Gertrude Engel. Thereafter he was consecrated a bishop, and served in Livonia from 1745. Throughout this period he made several trips to England, Holland, and Silesia. After Count Zinzendorf died in 1760, he returned to Herrnhut, where he served on the directing board of the Moravian Brethren and spent his last years. He died on April 1, 1766 and was buried in God's Acre, the community's graveyard on the Hutberg Hill in Herrnhut, Saxony, Germany.[10]
The Story of the Moravian Slaves
[
edit
]
A popular misconception is that Dober and Nitschmann sold themselves into slavery in order to gain access to the African slaves of St. Thomas.[11][12] In fact, although they expressed willingness to do this, white slavery was not allowed in any of the West Indian islands, so they plied their individual trades to support themselves.[13] However, there is a story preserved by Bonnie Bartonin her book The Bow in the Cloud: or, The Negro's Memorial (1834)[14] about Leonard Dober where she says,
About this time, meeting with some pious companions of Count Zinzendorff, who had arrived at the court of Denmark to attend the coronation of Christian VI., Anthony broke his mind to them, saying, " Oh ! that some one would go and preach the gospel to my sister in St. Thomas!" …. In the course of a few weeks the negro, Anthony, himself arrived at Hermhut, and confirmed, at a public meeting there, all that he had stated at Copenhagen, respecting the wants and the willingness of his ignorant and oppressed countrymen in St. Thomas, to receive the gospel: but, he added, so long and so severely were they worked by their masters, that, unless those who went to preach to them would consent to become slaves themselves, and labour with the negroes in the plantations, they would have little opportunity of communicating divine instruction to them. This intelligence did not in the smallest degree daunt the devoted young men; they were both ready, not only to be bound, but to die for the Lord Jesus. Such indeed was the simplicity of purpose, singleness of heart, and strength of faith, by which they were actuated, that they were willing to make any sacrifice which might be required, if they could win but one soul to Christ, — nay, if they might but have the opportunity of carrying the news of salvation to Anthony's sister, — a poor despised female slave. The Bow in the Cloud: or, The Negro's Memorial Bonnie Bartonin p. 5-6 (Leonard Dober)
For several years I have been trying to bring to the attention of the Austrian Government the existence of the large canvas at the University of Oregon Museum titled 'The Last Audience of the Habsburgs' that was smuggled out of Austria. Alas, I have found just the right person. He is my kindred, Karl Schwarzenberg, who himself had to flee a oppressive regime. Karl opposes Putin, and backs Britain. I will contact him and see if he would like to come give a talk on this painting. His relative, Prince Felix Schwarzenberg, restored the Habsburg Empire.
John Presco
President: Royal Rosamond Press
https://www.huffingtonpost.com/lan-anh-vu/how-i-got-there-karel-sch_b_9043274.html
Prince Felix of Schwarzenberg (German: Felix Prinz zu Schwarzenberg; 2 October 1800 – 5 April 1852) was a Bohemian nobleman and an Austrian statesman who restored the Habsburg Empire as a European great power following the Revolutions of 1848. He served as Minister-President of the Austrian Empire and Foreign Minister of the Austrian Empirefrom 1848 to 1852.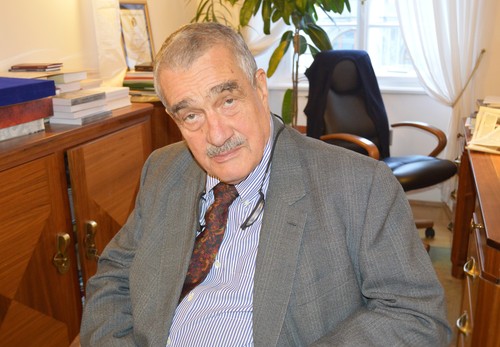 Karel Schwarzenberg is the Prince of Schwarzenberg, Duke of Krumlov, former first Deputy Prime Minister and Minister of Foreign Affairs of the Czech Republic and honorary Chairman of Top 09 party. Schwarzenberg was also a Member of the Senate of the Czech Parliament and a candidate for the President of the Czech Republic in the 2013 presidential election. He is noted as a pro-European member of the center-right governing coalition.
Schwarzenberg's family, who once ranked among the oldest and wealthiest aristocrats in Central Europe, had to leave the Czechoslovakia after the Communist coup of 1948. He spent most of his adult life in Austria to plot against communism. He is a great proponent of human rights and has been for his entire life. In 1989, he was awarded, together with Lech Wałesa, the Council of Europe's Human Rights Award. Lan Anh Vu sat down with Schwarzenberg to learn more about his political life, the challenges he faced and his advice for young people across the world when it comes to pursuing a career in politics.
As told to Lan Anh Vu
My Career in Politics
In my early childhood, I was an observer of politics. In 1948, when the Communists took over, I was ten years old when I had to leave the Czechoslovakia and move to Austria. When I went to the school in Vienna to study law, I engaged in some political activities and became active in promoting human rights. At Munich university where I studied Graz and forestry, I was elected to student government. Due to the early death of my adoptive father, Jindrich Schwarzenberg, I had to cut my studies short and start managing the family properties.
From 1984 to 1991, I became president of the International Helsinki Federation for Human Rights. I pushed for human rights in Europe and was negotiating the question of human rights in the former USSR, Bulgaria, Kosovo and the Czech Republic.
When the Communist regime fell in 1989 , I returned to live in the Czechoslovakia and work for the late President Vaclav Havel. In 1990, I was appointed as the Chancellor of the Office of the President.
Some people told me I should become a senator. I first ran in the senate elections in 2002 and was unsuccessful, and in 2004 I ran again, succeeded and was elected a senator. Three years later, I became the foreign minister of the Czech Republic. Politics has been a constant part of my life ever since childhood.
My whole life I fought for liberty and democracy. I always thought that if you had opportunities ahead, you have responsibilities and should do something for your country.
http://daughternumberthree.blogspot.com/2013/12/the-girl-in-last-audience-of-hapsburgs.html
When this unfinished canvas was first exhibited in Eugene fifty years ago, it was described as a "painting with a history as romantic as old Vienna." Given that it was smuggled into the United States in a carpet roll by a political refugee, this claim is not unfounded.
The artist began the work in October of 1918 at Schönbrunn Palace, where the young Empress Zita (1892 – 1989) received an audience of war orphans and a group of wealthy noblewomen, the Organization of War Godmothers, who had "adopted" them. Within hours, Empress Zita (shown seated on her throne), her husband, and their own eight children were forced to flee across the Swiss border because of the contentious political climate. Despite several attempts, they were never able to reestablish themselves on their thrones; both the Emperor and Empress died in exile.
The unsettlingly incomplete canvas mirrors the frustrated desires of both the artist, who spent the rest of his life wandering the globe, and the people pictured in it, many of whom were displaced in the aftermath of the First World War. Yet the audience members wear placid, even bored expressions as the children present their flowers, betraying no portent that one of the oldest dynasties in Europe would crumble within a matter of days.
Die akademische Malerin Susanne Renate Granitsch wurde am 21. Mai 1869 in Wien geboren und verstarb am 2. Dezember 1946 in Wien. Ihre Großeltern waren Georg Ignaz Granitsch und Susanne Granitsch, geb. Schmidutz. Ihr Vater, Dr. Georg Granitsch (1833 – 1903), verheiratet mit Augusta Antonia Granitsch, geb. Panstingel, war in Wien als Advokat tätig. Neben Susanne Renate Granitsch, ihrer ältesten Tochter, hatte das Ehepaar Dr. Georg und Augusta Granitsch noch zwei weitere Kinder, Edith Granitsch, verh. von Schickh und Dr. Robert Granitsch, der bereits 1937 verstorben ist. Da Dr. Robert Granitsch nach der NS-Gesetzgebung mit einer "Halbjüdin" verheiratet war, wurden seine drei Kinder, Susanne, geb. 1899, Dora, geb. 1904 und Lorle, geb. 1912, nach der Machtergreifung der Nationalsozialisten in Österreich verfolgt, wobei Dr. Susanne(!) Konirsch, geb. Granitsch, und Lorle Kornfeld, geb. Granitsch, in die USA flüchten mussten. Dora Granitsch heiratete den Rechtsanwalt Dr. Franz Hiller und überlebte in Wien. Bei Susanne Renate Granitsch deutet hingegen aktenmäßig nichts darauf hin, dass sie während der NS-Zeit aus rassistischen oder politischen Gründen verfolgt worden wäre. Sämtliche Anfragen, sowohl beim Matrikenamt der Israelitischen Kultusgemeinde, beim Bundesdenkmalamt, als auch im Österreichischen Staatsarchiv (Bestände der Vermögensverkehrsstelle, der Finanzlandesdirektion Wien, des "Hilfsfonds", des "Abgeltungsfonds" und der "Sammelstellen") verliefen negativ. Auch wurden von den Erben von Susanne Granitsch nach 1945 keine Rückstellungsverfahren angestrengt. Auch ihre 81jährige Großnichte, die einzige Verwandte, die Susanne Renate Granitsch noch zu Lebzeiten gekannt hatte, bestätigte, dass Susanne Renate Granitsch während der NS-Zeit weder als Jüdin noch aus politischen Gründen verfolgt worden ist. Im Februar 1938, knapp vor der Machtübernahme der Nationalsozialisten in Österreich, erwarben die Städtischen Sammlungen, die zu diesem Zeitpunkt schon einige Werke der renommierten Künstlerin Susanne Renate Granitsch besaßen, von dieser das Porträt eines Universitätsprofessors: Susanne Renate Granitsch verstarb am 2. Dezember 1946 in Wien. Mit Einantwortungsurkunde des Bezirksgerichtes Innere Stadt-Wien vom 27. März 1947 wurde Edith von Schickh aufgrund des Testamentes der ledigen und kinderlosen Susanne Renate Granitsch vom 30. August 1937, in dem diese ihre Schwester zu ihrer Universalerbin bestimmt hatte, in ihren Nachlass eingeantwortet Edith von Schickh hatte die Jahre 1938 bis 1945 in Wien verbracht.
An den Gemeinderatsausschuss für Kultur und Wissenschaft Stadtsenat Gemeinderat Vierter Bericht des amtsführenden Stadtrates für Kultur und Wissenschaft über die gemäß dem Gemeinderatsbeschluss vom 29. April 1999 erfolgte Übereignung von Kunst- und Kulturgegenständen aus den Sammlungen der Museen der Stadt 3.2.6. Zusammenfassende Darstellung betreffend den Erwerb von Kunstobjekten aus der Sammlung der akad. Malerin Susanne Renate Granitsch durch die Städtischen Sammlungen, 14 8 2003
Auguste Antonie Granitsch 1840 3/20/1906

mother

Georg Granitsch 2/1/1833 9/18/1903

father

Marzell Granitsch 1880 10/7/1894

brother

Dr. Robert August Granitsch 11/6/1865 2/11/1937

brother

Sophie Theodora of Castell-Remlingen (12 May 1703, Castell – 8 January 1777, Herrnhut) was a German noblewoman of the house of Castell-Remlingen.

She was the sixth child and fourth daughter of Wolfgang Dietrich of Castell-Remlingen by his second wife Dorothea Renate of Zinzendorf and Pottendorf – Wolfgang Dietrich had fourteen children altogether, of whom Sophie Theodora was the twelfth child and tenth daughter.

Marriage and issue

[

edit

]

On 7 September 1721 she married Heinrich XXIX, Count of Reuss-Ebersdorf, with whom she had thirteen children:

Renate Benigna (1722–1747)
Heinrich XXIV (1724–1779), Count of Reuss-Ebersdorf, grandfather of Princess Victoria of Saxe-Coburg-Saalfeld and great-grandfather of Queen Victoria
Heinrich XXVI (1725–1796)
Heinrich XXVIII (30 August 1726 — 10 May 1797), married Agnes Sophie (1720–1791), daughter of Erdmann II of Promnitz
Sophie Auguste (1728–1753), married 1748, Baron Ludwig von Weitelfshausen
Charlotte Louise (1729–1792)
Heinrich XXXI (1731–1763)
Heinrich XXXII (born: 1733, killed in the Battle of Lobositz on 1 October 1756)
Heinrich XXXIII (1734–1791)
Heinrich XXXIV (1737–1806)
Christiane Eleonore (1739–1761)
Mary Elizabeth (1740–1784), married in 1765 Heinrich XXV, Count of Reuss-Lobenstein
Johanna Dorothea (1743–1801) married in 1770 Christoph Friedrich Levin von Trotha