Posted on May 1, 2023 by Royal Rosamond Press
This morning I lay in bed INVENTING the solution for the Housing Crisis. Suddenly, the
President Zelenskyy made a surprise visit to Japan. It's time to open a Eastern Front and colonize Eastern Russia. I am composing a message to our Vice President about opening a all black Naval Academy where the new A's home was supposed to be. I will give her my idea for a New SeaBee Station of Alameda, or, a new home for Disney. It's time for the New Army of the Potomac. It's time to take back my families Republican Party. If the debt ceiling is not raised, then Biden should treat the Traitors, like Traitors. Let them form their own party of Haters.
John Presco
Republican Candidate for President
https://www.msn.com/en-us/news/world/ukraines-president-zelenskyy-to-travel-thousands-of-miles-to-japan-to-attend-g-7-meeting/ar-AA1botrx
https://www.msn.com/en-us/news/crime/dc-police-lieutenant-charged-with-obstructing-probe-into-proud-boys-leader/ar-AA1bpmKh
A D.C. police lieutenant was arrested and charged Friday with obstruction of justice and making false statements over allegations that he leaked information to then-Proud Boys leader Enrique Tarrio, who was convicted of seditious conspiracy last month for his role in the Jan. 6 assault on the U.S. Capitol.
The Justice Department announced Friday that Shane Lamond, 47, was indicted by a grand jury in D.C. with one count of obstruction of justice and three counts of making false statements.
Lamond was repeatedly mentioned throughout the course of the nearly four month seditious conspiracy trial over his ties to Tarrio.
https://www.msn.com/en-us/news/world/biden-backs-international-plan-to-train-ukrainian-pilots-on-f-16s/ar-AA1bpQS4
WASHINGTON — President Joe Biden told allied nations that the U.S. would assist with training Ukrainian pilots on modern fighter aircraft, including American-made F-16s, during a closed-door meeting at the Group of Seven Summit in Hiroshima on Friday.
Biden said his administration would support a joint effort to train Ukrainian pilots on modern fighter jets, a senior U.S. official said. Training on the jets will take place over the course of several months outside of Ukraine in Europe and could begin in the next several weeks.
The senior administration official, who spoke on the condition of anonymity, said that countries participating in the effort will decide when to provide the jets, how many Ukraine will get and which nations would supply them.
In recent days, Ukrainian President Volodymyr Zelenskyy has been on whirlwind tour of European capitals to keep the pressure on foreign partners. He is expected to attend the G-7 summit in person on Sunday.
https://www.msn.com/en-us/money/companies/disney-ends-plans-to-relocate-thousands-of-employees-to-new-florida-campus/ar-AA1bn9YE
Walt Disney Co. has ended two major investments in Florida amid a high-profile dispute with state lawmakers and Gov. Ron DeSantis.
The company is reversing course on a nearly $900 million investment in a new corporate campus in Florida that would have relocated more than 2,000 employees, mostly from its theme parks division, to the town of Lake Nona, outside Orlando.
Posted on April 20, 2023 by Royal Rosamond Press
Ron DeSantis claims he owns many State and Religious rights to make all the States over in his image. because HE IS RESTORING TRADITIONS. His rule and edicts are Anti-Fremont and destroy everything the Republican Party – stood for! After Trump destroyed my families party, here comes THE CARPETBAGGER! Ron has planned a trip to Israel to claim the Messiahship that Donald enjoyed. I anticipate Ron will unveil his Christianized plan for America. How will the Jews of Israel respond to his TRADITIONAL BOOK BANNING?
GET OUT! Form own party!
John Presco.
Florida Gov. Ron DeSantis wants to "make America Florida."
https://www.washingtonpost.com/nation/2023/04/16/ron-desantis-florida-proposals/
Posted on May 6, 2022 by Royal Rosamond Press
Russia's Kamchatka Peninsula, called the land of glaciers and volcanoes, is home to two erupting volcanoes: Klyuchevskaya and Shiveluch. Both are on the central eastern side of the peninsula, with Shiveluch to the north, and Klyuchevskaya to the south.

I have been advocating a new Military and Naval presence in the Pacific for over a year. I have written elected officials who must have thought me mad. With the heroic stand of President Zelensky, we now know anything is possible. Our enemies know this too. The predictable outcome they SAW in the future, did not happen.

I suggest President Biden open up federal lands in Alaska to Homesteading by Black Citizens of the United States, and the building of a naval base for The Black Liberation Navy, The BLN can be partially subsidized by the United Kingdom and Japan. Putin has suggested he may take back Alaska. I say….

"Nuts!"

The first cold war was partially paid with the taxes millions of black people paid for.

"To the victor goes the spoils!

"Kamchatka!"

John Presco

Candidate For Governor of Oregon

A Russian lawmaker wants Alaska back. 'Good luck with that!' (adn.com)

"Still, on a Sunday news program in Russia, parliament member Oleg Matveychev included Alaska in a list of demands in response to the war in Ukraine and the economic harm caused to the country by U.S. sanctions.

"Let's think about reparations. The harm these sanctions caused us cost money. Return of possessions, including possessions of the Russian Empire, Soviet Union and even parts of Russia that are now occupied by the United States," Matveychev said in the interview.

"What about the return of Alaska and Fort Ross?" the host asked, a reference to a former Russian outpost on the California coast north of San Francisco.

"This is my next point – recognizing Alaska, Fort Ross and Antarctica," he said. "We actually discovered it, so it rightfully belongs to us."

African American Homesteaders in the Great Plains (U.S. National Park Service) (nps.gov)

The state is also home to nine military bases, and Mountain View butts up to Joint Base Elmendorf-Richardson. Hawaiian businessman William Hoopai recently opened a new restaurant on the main drag called West Berlin.

Yup. Schnitzels and sauerkraut attract a lot of uniformed men and women who have spent time in Germany.

And there has been new immigration to Alaska – including refugees from troubled nations such as the Democratic Republic of Congo, Somalia, Cuba, Iran and Bhutan. Many have resettled here in Mountain View.

Most diverse place in America is not where you think | CNN

A strong international response to the Russian invasion of Ukraine is critical to deterring China from embarking on territorial conquests in Taiwan or the South China Sea, said Japanese Defense Minister Nobuo Kishi.

"China has been carefully observing the current situation of Russia's aggression against Ukraine and they are paying particularly close attention to what kind of reactions the international community has been taking," Kishi told The Post during an interview in Washington on Thursday.

The top Japanese defense official, speaking through an interpreter, said the global response will weigh heavily on Beijing and its "actions in the Asian region going forward."

"If the international community somehow allows or condones Russia's aggression against Ukraine, it might send a wrong message that such actions can be tolerated in other parts of the world, including the Indo-Pacific," Kishi said. "From that perspective, such actions of Russia cannot be tolerated."

Managing the rise of China is a top priority for President Biden, who will be visiting Asia later this month. His administration is poised to unveil a long-awaited China strategy in a speech by Secretary of State Antony Blinken in the coming days. The address, originally scheduled for Thursday, was postponed after Blinken tested positive for the coronavirus on Wednesday.

Posted onJune 19, 2021byRoyal Rosamond Press

On this day, June Ninteenth 2021, I John Presco, a grandson of German Turnverien and Forty-eighters, suggested to the Vice President, and President, the founding of The Black Liberation Navy, that was seeded by my foundation of The Marin Shipmates.

The Marin Shipmates | Rosamond Press

If it were not for humankind being experienced sailors, then the Slave Trade would not have existed. White Captains and Sailors brought kidnapped slaves to all parts of the globe. My Country is prepared to spend a trillion dollars on new Naval vessels, and other military hardware, to meet the threat from China's "People's Liberation Navy". China's leaders have mocked our State Department, and the President of the United States, saying We The People of the United States have no right to negotiate, or give any democratic lessons to anyone – anywhere – because of the way we have treated black people, first as slaves, and then as liberated people. The Civil War was fought by white men, and sometimes, brothers. There is talk or Reparations. I believe this is called for.

What I propose, is The Black Liberation Navy, that will be made up of black men and women, who having served for two years, are given the Deed to Condominiums and homes. This will establish a Generational Equity and Investment in Liberty that will alas break the last bonds of slavery. This resembles the Jubilee that I believe Jesus came to restore. No religious belief is required. China is moving into Africa with their People's Liberation Navy. China's fishing fleet is off the coast of South America competing with nations there. The Black Liberation Navy will Liberate the Oceans of the World!

Captain Isaac Hull is my alleged great grandfather who liberated American and British sailors who were captured and made slaves by the Barbary Coast pirates who were paid by the Caliph.

John Presco

Juneteenth[ (officially Juneteenth National Independence Day and historically known as Jubilee Day,[2] Black Independence Day,[3] and Emancipation Day[4][5]) is a federal holiday in the United States commemorating emancipation of enslaved African Americans. It is also often observed for celebrating African American culture.[6] Originating in Galveston, Texas, it has been celebrated annually on June 19 in various parts of the United States since 1866. The day was recognized as a federal holiday on June 17, 2021, when President Joe Biden signed the Juneteenth National Independence Day Act into law.[7][8][9] Juneteenth's commemoration is on the anniversary date of the June 19, 1865, announcement of General Order No. 3 by Union Army general Gordon Granger, proclaiming and enforcing freedom of enslaved people in Texas,[10] which was then the last state of the former Confederacy in which slavery was still being permitted by the state government.

President Abraham Lincoln's Emancipation Proclamation of 1862 had officially outlawed slavery in Texas and the other states that had rebelled against the Union almost two and a half years earlier. Enforcement of the Proclamation generally relied on the advance of Union troops. Texas, as the most remote of the slave states, had seen an expansion of slavery and had a low presence of Union troops as the American Civil War ended; thus, enforcement there had been slow and inconsistent prior to Granger's announcement.[10] Although the Emancipation Proclamation declared an end to slavery in the Confederate States, slavery was still legal and practiced in two Union border states – Delaware and Kentucky – until December 6, 1865, when ratification of the Thirteenth Amendment to the Constitution abolished chattel slavery nationwide. Additionally, Indian Territories that had sided with the Confederacy, namely the Choctaw, were the last to release those enslaved, in 1866.[11][12][13][c][14]

Celebrations date to 1866, at first involving church-centered community gatherings in Texas. It spread across the South and became more commercialized in the 1920s and 1930s, often centering on a food festival. Participants in the Great Migration out of the South carried their celebrations to other parts of the country. During the Civil Rights Movement of the 1960s, these celebrations were eclipsed by the nonviolent determination to achieve civil rights, but grew in popularity again in the 1970s with a focus on African-American freedom and African-American arts. Beginning with Texas by proclamation in 1938, and by legislation in 1979, 49 U.S. states and the District of Columbia, have formally recognized the holiday in various ways.[d]

Modern observance is primarily in local celebrations. Traditions include public readings of the Emancipation Proclamation, singing traditional songs such as "Swing Low, Sweet Chariot" and "Lift Every Voice and Sing", and reading of works by noted African-American writers, such as Ralph Ellison and Maya Angelou. Celebrations include rodeos, street fairs, cookouts, family reunions, park parties, historical reenactments, and Miss Juneteenth contests. Juneteenth is also celebrated by the Mascogos, descendants of Black Seminoles who escaped from slavery in 1852 and settled in Coahuila, Mexico.[19][20] Juneteenth is the first new federal holiday since Martin Luther King Jr. Day was declared a holiday in 1983.

Posted on April 27, 2021 by Royal Rosamond Press

My grandfather, Royal Rosamond, wrote in one of his books that one of his grandfathers Captained the U.S.S. Constitution. All night long, my Sea Angel bid me to gather around me all the power others have take from me. Yesterday, I edited the wikipedia citation on Christine Rosamond Benton. I challenged the sentence saying – it was not the season for rogue waves! If you have been at sea, or, just stood at the shore, you should know there is no season for rogues waves. They can occur at anytime, and any place. According to a reader at the Berkeley Psychic Institute, I died at the edge of the sea in February of 1967. This morning, when I opened my eyes, a voice bid me to declare myself THE CAPTAIN OF THE USS. ENTERPRISE.

USS Enterprise (1799) – Wikipedia

Here is an article that repeats what I have been saying and seeing in the blog, and in my Bond book 'The Royal Janitor' inspired by the incredible memory of Rena Easton who I rescued by the Venice Pier in 1970.

Spy chiefs look to declassify intel after rare plea from 4-star commanders (msn.com)

""We request this help to better enable the US, and by extension its allies and partners, to win without fighting, to fight now in so-called gray zones, and to supply ammunition in the ongoing war of narratives," the commanders who oversee U.S. military forces in Asia, Europe, Africa, Latin America, as well as special operations troops, wrote to then-acting Director of National Intelligence Joseph Maguire last January.

"Unfortunately, we continue to miss opportunities to clarify truth, counter distortions, puncture false narratives, and influence events in time to make a difference," they added."

President Thomas Jefferson studied the U.S. Constitution before he sent the Enterprise and USS Constitution to the Barbary Coast to wage war on the Caliph and his pirates that were taking US Merchantmen hostage – and selling them into slavery. Britain just announced "Global Britain" will be sending warships to confront the Chinese Navy. My alleged grandfather captained The Enterprise! Am I the Futurian manifestations of Jean-Luc Picard in present time?

Rick Santorum made a statement there was nothing in the Americas when white men came here. My great grandfather, Puritan leader, John Wilson, learned the native language, and with the help of John Elliot printed the first New Bible in the new world, in the language of the natives. Emperor Charles Quint sent a Holy Navy to the Americas in order to bring it into the Holy Spanish Empire, he claiming he had a edict from King Jesus to do this. He was the first to kidnap black slaves in Africa to aide his Conquistador Christian Army – that had waged war against the Protestant Queen of England.

China and its Navy is making a move on the high seas, and in South America. What I suggest is the formation of a Indigenous People Navy, and Marine Guard, stationed in Puerto Quetzal Guatemala. China has criticized the ethnic make-up of the United States in taking away our Right, and our Permission, to employ our Navy where we deem fit.

I see the building of a Atlantis in Guatemala where the Native Navy and North American Marine Guard will be stationed. This force will put an end to the gangs who are the new pirates of the New World who are waging war against women, children, and the traditional family values the Puritans found in New England. I see a United States Navy made up of the Tribal People's of the United States who immigrated from Asia. I see a Earth Navy stationed in the North American Continent that will look to promoting, and protecting, Cosmic Justice and Freedom. I suggest the remains of Commodore Isaac Hull be exhumed so our DNA can be compared. The Barbary Coast Ghost Ships must sail again, and confront the haters of Liberty.

John 'Cosmic Sea Lord'

"In the U.S. Space Force, we are challenged every day to find new heights. Working within the space domain, our people launch rockets, keep satellites safe and operational, and develop technology to defend our way of life on Earth through our interests in space. We protect the hopes and dreams of America and exploration, while preparing for the 22nd century. When humankind asks "What if", the mission of Space Force is to be the answer."

New Page 2 (usshullassociation.org)

The veteran ship next participated in the devastating raid on the great Japanese base at Truk 29-30 April, after which she arrived Majuro 4 May 1944. There she joined Rear Admiral Willis A. Lee's battleships for a thrust into the Marianas and the invasion of Saipan. Hull bombarded Saipan 13 June, covered minesweeping operations with gunfire, and patrolled during the initial landing 15 June.

China's Effort to Become Latin America's Most Important Ally | Time
Yesterday I am sitting on the bus bench looking at these two good ol boys come out of a black Japanese-built beater – with a Confederate flag on top. They had big guts and grey hair. They were letting it all hang out after Franklin Graham gave our President ABSOLUTION in the White House Rose Garden. They then went inside a phone store. I debated about crossing the street and yanking that flag from atop the car. These seniors were about my age. Were they looking to go down in a blaze of glory? I then thought about going over and talking to them, inform them I am about to form a branch of the Black Panther Party called…
MARIN SHIPMATES
I bought MARINSHIPMATES.COM before I went to see my doctor. The night before, I watched a old movie about MARINSHIP. It was about the Government BUYING land in Marin County, and city named MARIN CITY to build Liberty Ships – and oil tankers. Then I see King Faidal and his bodyguards coming aboard the flag ship
THE TAMALPIAS
These oil tankers are going to be carrying oil to Japan to help in the war effort – after Japan surrendered! WTF!? Where is this oil coming from? Did the United States just SUPPLY the King with a OIL FLEET built by black workers who were lured from the deep South to work in the shipyards scattered around the San Francisco Bay? I asked myself how many black men have made over a million dollars in the Oil Trade?
Here are aspects of the Buck Foundation that was legally established by the law firm of Robert Brevoort Buck. Robert mishandled the estate of my late sister, the world famous artist, Christine Rosamond Benton. I am going to leave the amazing family history I have compiled in my newspaper-blog, to David Hunt, my daughter's half brother. David father was a Black Panther. I see a all black San Francisco Bay Coast Guard stationed in a United States Reservation for Descendants of Native Africans. I believe the land the U.S. government purchased for Marinship – still belongs to the People of the United States – who were deceived into believing the Marinship ships would benefit the American Taxpayer. I will be applying for several grants from the Buck Institute.
In these historic photographs we are seeing the birth of ISIS and 911. Osama Bin Laden waged war against the corrupt Marriage Contract with Islam and Cooperate Christianity which was pushed by Franklin Graham, and the Red State Neo-Confederate President of One Party that was co-founded by my Abolitionist kinfolk, John Fremont.
As for enlightening Springfield's branch of the Racist Red Right, they surely would have used weapons on me at the end of my short history lesson, they hearing enough in the first twenty seconds.
There is much controversy about the intentions of Beryl Buck when she willed her fortune to the poor people of Marin – which would be the poor backs living in Marin City who came to work on King Faisal oil tankers. Her kin, Frank Buck was a oil and lumber tycoon. He raped the woods around Springfield. She wanted a "religious" foundation of a unspecified nature. Alcohol Justice comes close because AA is a spiritual program. This is why I see Briarcliff College moving into the Buck Institute. Below are images of Ghana's Navy after the display of what looks like a Black Muslin party in Marin.
John Presco
President: Royal Rosamond Press
EXTRA! On August 30, 2020 while rereading this post, I found Richard Rosenberg. He was on the bard of directors of the Buck Institute and Commander of the Naval Reserves. I will be contacting him. In this video we see a Liberty Ship that Richard may have served on. In this video he talks about being poor during the Depression and not being esteemed like the boy in the photo above. Richard head the Naval War College.
https://www.linkedin.com/company/naval-war-college-foundation-inc
The Foundation enriches and further enhances Naval War College programs as defense dollars diminish and the need for officers educated in international security affairs grows. The following are among the many important activities supported by the Foundation: Increasing public awareness of the Naval War College mission, capabilities and accomplishments. Providing financial support to many academic programs and activities at the College for which public funds are not available. These projects range from faculty research, curriculum development and endowed academic chairs to nationally recognized speakers for guest lectures, academic awards for student achievement, and historical document and artifact acquisition for the library and Naval War College Museum.
https://www.usni.org/people/richard-rosenberg
https://www.usni.org/about-us/mission-and-vision
https://www.foundsf.org/index.php?title=Marinship_to_Marin_City:_How_a_Shipyard_Built_a_City
https://en.wikipedia.org/wiki/Marinship#:~:text=Marinship%20Corporation%20was%20a%20shipbuilding,tankers%2C%20before%20ending%20operations%201945.
https://www.marincf.org/resources/racial-justice
https://www.gsb.stanford.edu/faculty-research/case-studies/san-francisco-foundation-dilemma-buck-trust
The San Francisco Foundation: The Dilemma of The Buck Trust (A)
By
Robert Augsburger, Victoria, Chang, William Meehan III
1998|Case No.SI106A
When Beryl Buck, a Marin County, California widow, died on May 30, 1975 at the age of 75, she left $7.6 million "for exclusively nonprofit charitable, religious or educational purposes in providing care for the needy in Marin County, California, and for other nonprofit charitable, religious or educational purposes in that county." For many years, Buck and her husband, a physician, had lived in Ross, a wealthy town in Marin County, just north of San Francisco.
When Buck died, the money was mostly invested in Belridge Oil stock. The oil company was privately held and owned land that was rich in heavy crude oil reserves in Southern California. By the time the lengthy probate proceedings had ended, Belridge Oil had been sold to Shell Oil Company and the total amount in the Buck Trust skyrocketed from $7.6 million to $260 million.
Posted on December 29, 2022 by Royal Rosamond Press
Seer Jon, saw this coming.
John 'The Prophet'
Putin oversees commissioning of new Russian navy warships
Russian President Vladimir Putin has overseen the commissioning of new warships and vowed to further strengthen his country's navy
ByThe Associated Press
December 29, 2022, 4:33 AM
Share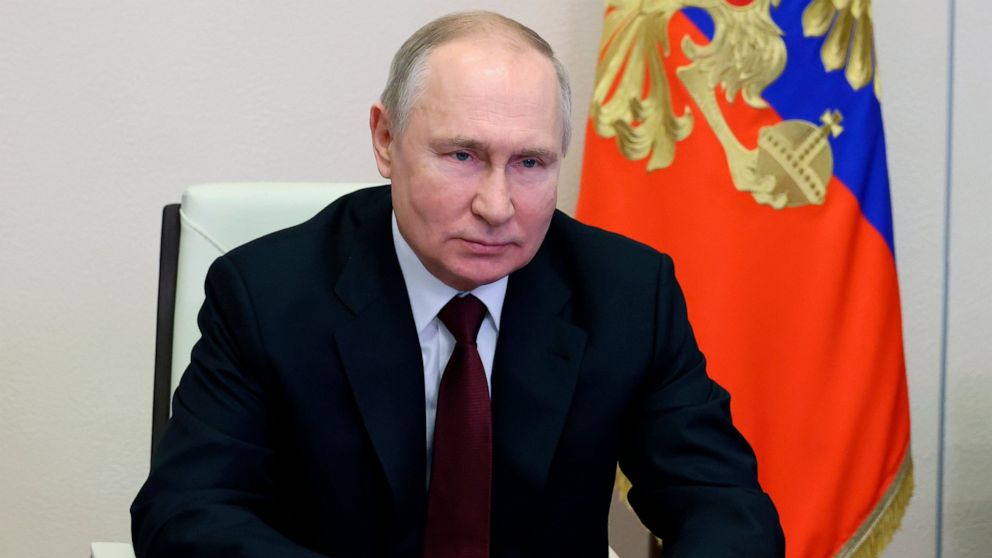 MOSCOW — Russian President Vladimir Putin oversaw the commissioning of new warships and vowed Thursday to further strengthen his country's navy.
"We will speed up and increase the volumes of construction of ships of various projects, equip them with the most modern weapons, and conduct the operational and combat training using the experience received during the special military operation," Putin said, referring to Russia's 10-month-old campaign in Ukraine.
The newly commissioned included a corvette, a minesweeper and the Generalissimus Suvorov nuclear submarine. The submarine armed with Bulava nuclear-tipped intercontinental-ballistic missiles is the sixth submarine of the new Borei-class to join the Russian navy.
"It will ensure Russia's security for decades ahead," Putin said.
Another submarine of the same type, Emperor Alexander III, was launched during Thursday's ceremony. The navy plans to commission it following trials.
Posted on August 29, 2020 by Royal Rosamond Press
Yesterday I suggested on the Black Panther group I am a member of that Huey Newton resembles Saint Francis. I then google the Secular Order of Saint Francis and discovered they came from the Alsace into Germany and dealt with a Cholera Pandemic. My kin are close to this order.
Because this group bid me to get in touch with my feelings in regards to the ragged boy wearing women's shoes with the toe cut back, yesterday I decided to make David Hunt my Heir. He is the son of a Black Panther who died in a fire in Chicago. He is my daughter's half-brother who I rescued in 1983. There were so many signs that said David was Heir to all our family history. Today the March on Washington was remembered. I got on my computer fifteen minutes ago and read the star of the Black Panther movie died.
I suggest the new Black Panthers be called the Black Knight Panthers. They will be in charge of the Post Office. I am turning the Rougemont Knight Templars over to David. I am going to contact the Sister of Saint Francis and see if they want to create a branch of Briarcliff college in Marin, preferably at the Buck Center. This city was built by the Federal Government on land they must have owned, in order to build Liberty Ships to defeat our enemies. I would like to see President Biden and Vice President Harris honor the survivors and their descendants with a Metal of Patriotic Order. I believe the Buck Foundation owes much to the these workers and their poor kindred. More details will be added to this post.
Also, I would life to see the founding of The Marin Shipmates and a Naval College associated with the City of Marin that should be declared a Black Reservation. This land would be owned by descendants of African Natives into perpetuity. I would like to see the Patriotic Brothers and Sisters become a special branch of the Navy and patrol the San Francisco Bay. David and Malcom are kin to my great, great grandfather, Commodore Hull, who was sent to fight the Barbary Coast Pirates that took many American Merchantmen as slaves, and sold them in a market. Isaac sailed the Enterprise to the Lydia and then fired cannon on the Caliph from the U.S.S. Constitution.
John Presco
President: Royal Rosamond Press
David Hunt and his son Malcom.
Democratic vice presidential nominee Sen. Kamala Harris (D-Calif.) made a video appearance at Friday's civil rights event at the National Mall, delivering a call to action to demonstrators on the 57th anniversary of Martin Luther King Jr. delivering his iconic "I Have a Dream" speech.
Harris told protesters in Washington, D.C., that the civil rights activists of the past would not let injustices against Black Americans stop them from striving for justice and equality.
"They would share in our anger and frustration as we continue to see Black men and women slain in our streets and left behind by an economy and justice system that have too often denied Black folks our dignity and rights," she said. "But no doubt, they would turn it into fuel. They would be lacing up their shoes, locking arms and continuing right alongside us to continue in this ongoing fight for justice."
Actor Chadwick Boseman has died at 43 after battling colon cancer for four years, according to a statement posted on his Twitter account.
"It is with immeasurable grief that we confirm the passing of Chadwick Boseman," the statement reads. "It was the honor of his life to bring King T'Challa to life in Black Panther."
Posted on January 8, 2021 by Royal Rosamond Press
This morning I awoke at 5:A.M. determined to BORN AGAIN the Army of the Potomac so that never again will our elected leaders cower on their knees in the Sacred Chamber of The United States Senate. I turn on my T.V, to see the news about the death of a Capitol policeman. I am then hearing about the special jurisdiction of the District of Columbia has, that prevented the calling of the National Guard to come to the rescue of The People's Choice – that most Republican's claim were not legally elected to office. Their President LIED AGAIN saying he called the National Guard – right away – at the first sign of trouble! Why should the majority of Real American Voters have to SWALLOW ONE MORE LIE from a mortal being, who thinks he is a god. Trump – IS INSANE!
Mr. Insane wanted to send OUR Army into Portland to restore law and order. Donald Trump watched the mob violence – very carefully – looking for a good excuse to be a BIG MAN to his rabid base. He wanted them to see real troops battling rioters in the street. He wanted to hear their praise and read their CONGRADULATIONS on twitter and facebook. Trump gave the VIOLENT INSTECTIONISTS a guarantee that he would back them with the Army, the Navy, and the Marines! In hours, this MANIAC will be – IMPEACHED! This is – TREASON!
After President Joe Biden, and Vice President, Kamala Harris, are sworn in, I would like to see them give birth to THE NEW ARMY OF THE POTOMIC that was created when Republican President Abrahm Lincoln passed the Thriteenth Ammendment, and FREED me and women who were taken hostage and made slaves. The Abolitionist Repubican Party RIGHTED THE WRONG our founding Father's made, when they did not free the slaves – NOR GIVE WOMEN – the right to vote. Our FLAWED Constitution was signed by men who debated about freeing the slaves. Did they consider giving the vote to half of our young Nation?
I declare the republican Party – DEAD! Let the remnants of this party co-founded by my kindred, John Fremont be born this day in the District of Columbia. Let the citizen who live in this district be allowed TO VOTE so that they can own the power to come to the aid of ALL citizens who come under attack. Donald Trump invited people to the DC to commit acts of violent insurrection. If the citizens of DC knew the sacred building in their district would be left UNGUARDED, they might have marched to this Symbol of Freedom – and surrounded it!
The Marin Shipmates | Rosamond Press
I see the New Army of the Pontomac holding an anuel parade down Pennsylvania. I presented the video of the Native Americans in Chile doing the goosetep to Prussian band music. I told the startled members of this Black Panther group, that no black American should be denied access to any empowerment any white man enjoys anywhere in this world. To quote President Biden…
"Enough is enough!"
Let's have the parade that King Donald wanted – only for himself! Let us hold a annual parade of the People's Army – FOR ALL THE PEOPLE!
Freedom!
John Presco
Chile Military Parade, with Chilean Commentator – YouTube
Prussian Colony In California | Rosamond Press
District of Columbia home rule is District of Columbia residents' ability to govern their local affairs. As the federal capital, the Constitution grants the United States Congress exclusive jurisdiction over the District in "all cases whatsoever".
At certain times, and presently since 1973, Congress has allowed certain powers of government to be carried out by locally elected officials. However, Congress maintains the power to overturn local laws and exercises greater oversight of the city than exists for any U.S. state. Furthermore, the District's elected government exists at the pleasure of Congress and could theoretically be revoked at any time.
A separate yet related controversy is the District's lack of voting representation in Congress. The city's unique status creates a situation where D.C. residents do not have full control over their local government nor do they have voting representation in the body that has full control.
In 2015, D.C. became a member of the Unrepresented Nations and Peoples Organization.[1]
Commanders of the Army of the Potomac at Culpeper, Virginia, 1863. From the left: Gouverneur K. Warren, William H. French, George G. Meade, Henry J. Hunt, Andrew A. Humphreys, George Sykes
Black Panther Party Gallery and Museum | Rosamond Press
District of Columbia home rule – Wikipedia
Army of the Potomac – Wikipedia
Schumer calls for 25th Amendment to be invoked after Capitol riots | TheHill
Saving Dottie Witherspoon | Rosamond Press
Posted on July 16, 2020by Royal Rosamond Press
I belong to a Black Panther group, and in response to a gentleman who said no white man would put down the KKK, I googled the Radical Republicans who specifically targeted the KKK, as did President Grant. Then I found the missing link I have been looking for for twelve years, or more. My kin, John Fremont, became a second Presidential Candidate when the Radical Democracy Party was formed – with the sole purpose of getting Lincoln to drop out of the race!