This morning I lay in bed INVENTING the solution for the Housing Crisis. Suddenly, the smiling face of Jimmy Carter hovered over me, and said;
"Don't worry! Be happy! What has always made Americans happy – besides going to church?"
"That's easy. Owning a house and the land to build it on – has always made Americans happy!"
"How about serving your country – and helping your neighbor?"
"Sure! That always worked!"
"Try this one on for size….President Biden declares a National Housing Crisis, and reforms the Seabees. If you join the Armed Forces, your serve Uncle Sam, help him keep our enemies at bay, and the third year you serve in the Construction Battalion. You will learn a skill in the building of houses. You will help build a house, that will become yours for one dollar, when you complete your service. You will have a skill such as electrician that will secure you a job in the private sector. Our plan is based on Habitats for Humanity. With a new home and skill, you will be to offer the One You Love, all the assets that made America Great. For those who want the Single Life, you can help make – your own tiny mobile home – that can be parked on designated Government Land – anywhere! You pay $1 a month!
Now, youre going to need a car to get to work and back, and, for $1 you will be the proud own of a new
JIMMY
The Jimmy mobile will be the best electric car – serving your country can buy! You can't drive ribbons and medals. For a year you will get a military pension – and that's it! We don't want to look like a Socialist State. The only regulation is, you can't own a Jimmy and a AR-15. Driving is considered a privileges in all fifty states. You got back-up in fellow Veterans that are BUILDING and New America!"
President Biden will appoint Twelves Regulator of the Golden Eagle to manage the Construction Battalion and its Veteran Affairs. The Twelve will be observing the Supreme Court – from on high – and will intervene if they forsake The American Pursuit of Happiness, and engage in deliberately making – some people happy. There is no reason – WE all can't all be happy. "
Your good buddy…..Happy Jimmy!
I got out of bed, and turned on my T.V. to hear Scarborough saying he never understood what caused the collapse of our banking system in 2008. It has something to do with ."speculation of commercial real-estate! BINGO! What other kind of speculation is there? I call – BULLSHIT! This is a ruse to keep banks from being owned by the Greatest Democracy In The World. Bankers hate Democracy – and paying taxes. They offer each other OFFSHORE TAX LOOP HOLES! I am hearing the Bad News about Liberty Bank being seized BY THE GOVERMENT and sold to JP Morgan! WTF! What about We The People? In the Carter Plan….The CB Bank of Happy Veterans will be able to purchase banks in trouble. Who needs – MORE TROUBLE? Why give banker our money, if they give us trouble?
https://www.msn.com/en-us/money/companies/first-republic-bank-is-seized-and-bulk-sold-to-jpmorgan/ar-AA1azZp1
LOOK! Here they come! The New Seabees have landed! Have a nice day!
Johnny Oregon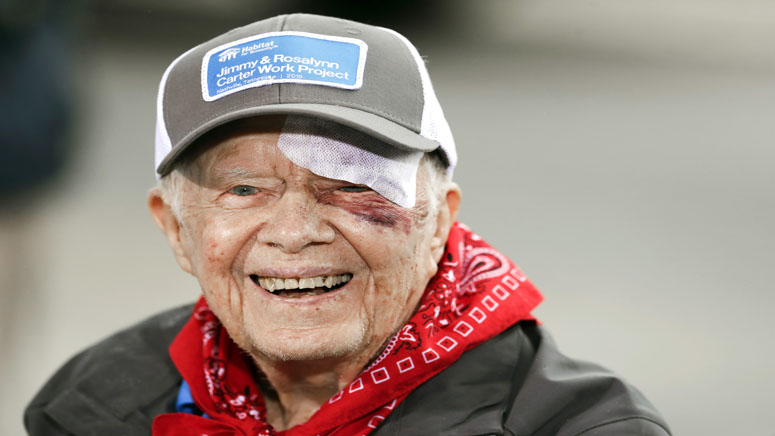 Here
United States Naval Construction Battalions, better known as the Navy Seabees, form the U.S. Naval Construction Force (NCF). The Seabee nickname is a heterograph of the initial letters "CB" from the words "Construction Battalion".[1] Depending upon context, "Seabee" can refer to all enlisted personnel in the USN's occupational field 7 (OF-7), all personnel in the Naval Construction Force (NCF), or Construction Battalion. Seabees serve both in and outside the NCF. During World War II they were plank-holders of both the Naval Combat Demolition Units and the Underwater Demolition Teams (UDTs). The men in the NCF considered these units to be "Seabee".[2] In addition, Seabees served as elements of Cubs, Lions, Acorns and the United States Marine Corps.[3] They also provided the manpower for the top secret CWS Flame Tank Group. Today the Seabees have many special task assignments starting with Camp David and the Naval Support Unit at the Department of State. Seabees serve under both Commanders of the Naval Surface Forces Atlantic/Pacific fleets as well as on many base Public Works and USN diving commands.
https://www.navy.com/careers/builder
First Republic Bank Is Seized and Bulk Sold to JPMorgan© EDUARDO MUNOZ/REUTERS
Regulators seized First Republic Bank and struck a deal to sell the bulk of its operations to JPMorgan Chase & Co., heading off a chaotic collapse that threatened to reignite the recent banking crisis.
JPMorgan said it will assume all of First Republic's $92 billion in deposits—insured and uninsured. It is also buying most of the bank's assets, including about $173 billion in loans and $30 billion in securities.
As part of the agreement, the Federal Deposit Insurance Corp. will share losses with JPMorgan on First Republic's loans. The agency estimated that its insurance fund would take a hit of $13 billion in the deal. JPMorgan also said it would receive $50 billion in financing from the FDIC.
San Francisco-based First Republic, the second-largest bank to fail in U.S. history, lost $100 billion in deposits in a March run following the collapse of fellow Bay Area lender Silicon Valley Bank. It limped along for weeks after a group of America's biggest banks came to its rescue with a $30 billion deposit. Those deposits will be repaid after the deal closes, JPMorgan said.
https://www.jimmycarterlibrary.gov/about_us/naval_service
https://www.habitat.org/volunteer/build-events/carter-work-project
https://en.wikipedia.org/wiki/Habitat_for_Humanity
https://en.wikipedia.org/wiki/Seabee