The question I put forth, is, did Phil Knight know a movie was going to be made about him and a shoe – before he contributed money to the campaigns of Christine Drazan and Betsy Johnson?
I've been posting on Governor Tina Kotek's Facebook, my idea for making Oregon – another Film Capital. Were any scenes in Air – filmed in Oregon? What about this guy Tinker Hatfield – is he going to be in the movie? Is anyone in Oregon – going to get a dime from Air?
In the pic below Ben and Matt are weighing the cheese and counting the coin. They are chortling because Michael Jordon is a cult figure – and Air Jordon's are Legendary Capitalist Icons. What can go wrong? This is a surgical operation. Two white guys move in to my territory, and extract the cash -exploiting a black man. Jordon and his Shoe, will be idolized on the silver screen, until all the Movie Gold and Hollywood Stardust – falls in the pocket of two movie stars. Will Phil and Jordon get a cut?
The movie 'The Accoujntant' inspired me to author 'The Royal Janitor. Ben plays Christian Wolf.
What can go wrong? It's…..A SHOE-IN!
I was telling Downtown Deb about Nancy and I being at the first Human Be-In and Gathering of The Tribes.
John Presco
shoo-in
(sho͞o′ĭn′)
n. Informal
1. A sure winner.
2. One that has a sure chance of being chosen, as for a job or other position.
https://www.grailed.com/drycleanonly/best-tinker-hatfield-sneakers
https://www.kgw.com/article/entertainment/movies/air-film-ben-affleck-matt-damon-nike-phil-knight/283-57c210cb-1299-4a84-93ab-366fb0b8ee6c
https://en.wikipedia.org/wiki/Air_(2023_film)
The script was written by Alex Convery in 2021, appearing on that year's Black List under the title Air Jordan.[2] It was announced in April 2022 that the script was picked up at Amazon Studios, with Ben Affleck and Matt Damon teaming to star in the film, with Affleck to direct.[3] Filming began in Los Angeles in June, with Jason Bateman, Viola Davis, Chris Tucker, Marlon Wayans and Chris Messina amongst several additions to the cast.[4] Robert Richardson will serve as cinematographer, using the Arri Alexa 35 camera to film with.[5] In July, Joel Gretsch, Gustaf Skarsgård and Jessica Green were added to the cast.[6][7]
Filming began on June 6, 2022, in Los Angeles.[8][9]
In 1984, Nike was struggling. It had set record sales the year before of nearly $700 million, but according to a 1992 article in the Washington Post, "by the following spring, its earnings had plunged for the first time, and the business press was rife with speculation about the firm's demise or, perhaps, its impending sale."
The signature shoe endorsement deal with Jordan, for five years and $2.5 million, came at the right time, revitalizing the brand. In its first year, Nike did $130 million in sales of Jordan's signature shoe, millions more than expected. Last year, the Jordan Brand generated more than $5 billion in annual revenue.
Knight and Vaccaro have sparred over the years about who deserves credit for Jordan's signing. Knight fired Vaccaro in 1991.
"The signing of Michael Jordan, yeah, success has a thousand fathers, and failure is an orphan. A lot of people want to take credit for signing Michael Jordan, most obviously Sonny Vaccaro," Knight said in a 2015 USA Today article. "He said he was the key to the thing. Sonny helped, but he wasn't the MVP in that process."
https://www.grailed.com/drycleanonly/best-tinker-hatfield-sneakers
'Air' film about Nike, starring Ben Affleck and Matt Damon, gets release date
Affleck plays Nike co-founder Phil Knight and Damon plays Nike executive Sonny Vaccaro in the star-studded film.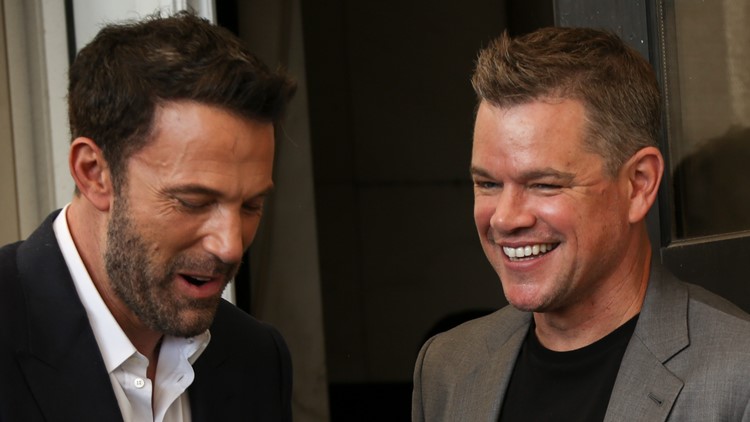 Credit: Joel C Ryan/Invision/AP
Matt Damon, right, and Ben Affleck in Venice, Italy, on Friday, Sept. 10, 2021.
Posted on November 7, 2022 by Royal Rosamond Press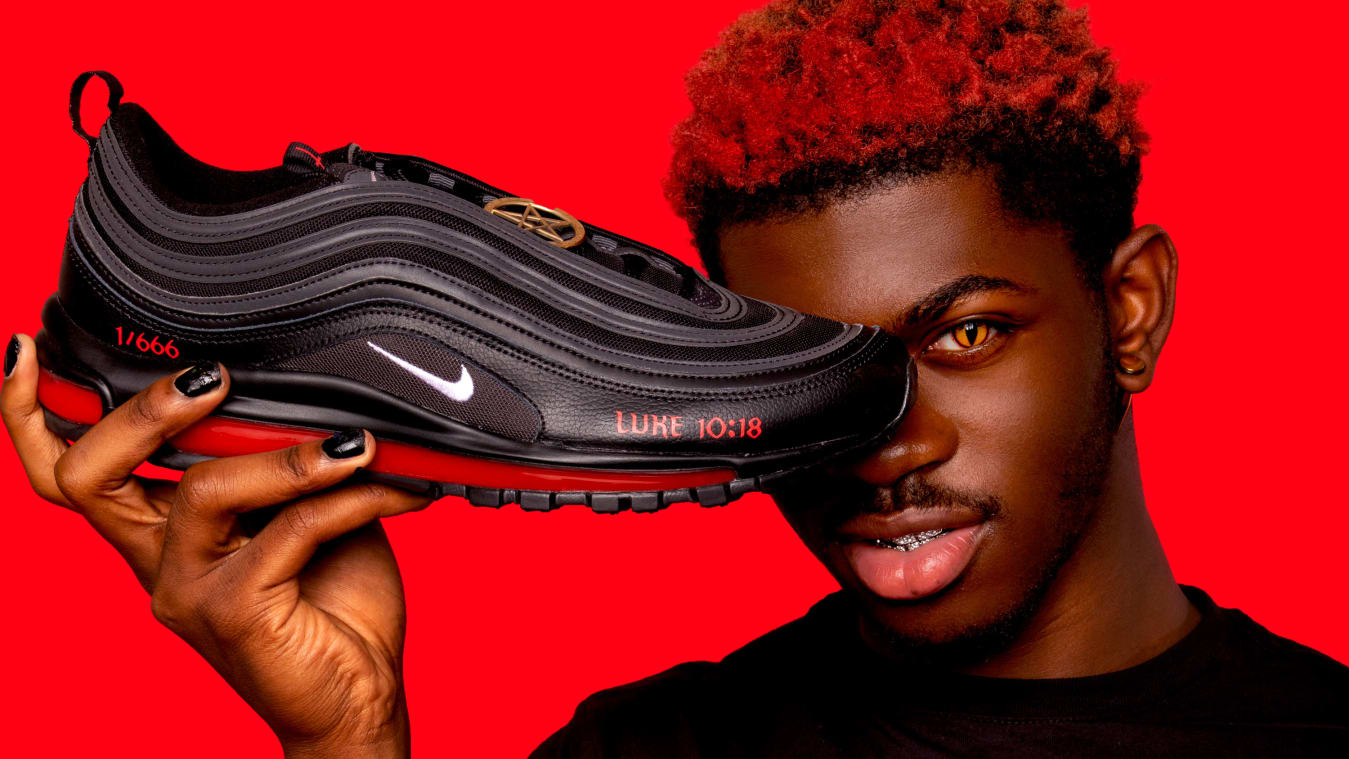 The Royal Janitor
by John Presco
Chapter: The Betsy Ross Affair
With five miles to go until the arrived at the home of the Anglophile, Eugene Getty, Victoria Rosemond Bond is locked into the Nike Sneaker Cosmology. She had found an article on the creation of Lil Nas, and is now into the Betsy Ross shoes Nike yanked from the market after Kapsernick complained. Then right-wing commentaries go involved.
"Did Mark Parker pull these shoes to stop a major controversy from affecting sales?" Victoria asked aloud.
"Both races would boycott the Betsey shoe – and other shoes!" Miriam added.
"There would be a Cultural Race War – over sneakers! This is why Nike dropped Kyrie, the basketball player, who was just looking to empower his roots."
"Kyrie is not an anti-Semitic, because I know who THE REAL Jews are!"
"Of course you do!" Victoria said with – some disgust!
"No! It's true. My parents were followers of Herbert Armstrong who taught British Israelism. My parents studied on their own. They discovered that Herbert has missed the mark, had overlooked something very important."
"And pray tell, what was that?"
"Moses made two sets of tablets, four tablets in all. One set was made for the Canaanites, who of the Negro race, and the other was for – the Minoans – who worshipped the Golden Calf. I can defend Kyrie – and Kaspernick! Do you think I'm crazy?"
"I have a confession to make. I believe I discovered who wrote most of Shakespeare's material. This is why were are going to watch his play. The Real Shakespeare – is a woman!
"Are we going to be able to fly to Oregon – after the play is over? I think there's going to be allot of action in Oregon. I think Phil Knight believes the Commercial Pendelum is going to swing to the far-right"
"Look, Nike got sued for taking the Beatle's song 'Revolution!"
To be continued
There is going to be a total eclipse of the moon just before sunrise in Oregon. I held a brief contest to seeif anyone knows what Jesus meant when he said; "It is done!" Here's what happens – next!
45 Now from the sixth hour there was darkness over all the land unto the ninth hour.
Was there an eclipse of the sun?
Luke 10:18 I beheld Satan – That is, when ye went forth, I saw the kingdom of Satan, which was highly exalted, swiftly and suddenly cast down. Lu 10:18 I beheld Satan as lightning fall from heaven.
The core focus of the documentary, and seemingly what attracted Kyrie Irving to it, is its description stating that it "uncovers the true identity of the Children of Israel". The documentary states "The Jews today are Europeans whose ancestors converted from pagan religions to the Judaism religion". In short, that Jews today aren't the "real Jews". Irving refused to apologize for his antisemitic posts and disavow antisemitism, and has been suspended for five games by the Brooklyn Nets. Nike has also suspended their relationship with him.
When asked about the cancelled release Mark Parker spoke about social consequences, saying "[They're] important, particularly in a world that's become polarized in many ways, amplified by social media. It's a more sensitive environment. So there are occasions when we've decided to pull our product and services from the market."
As for the exact reason Nike pulled the sneaker, Parker explained, "The decision [regarding] that Air Max product was based on concerns that it could unintentionally offend and detract from the Fourth of July holiday. That's the reason we pulled it, not to create a source of polarization. We make those decisions, sometimes. They're rare, but it does happen. We're trying not to offend."
Parker also spoke on Nike's history of supporting inclusivity and athletes that embody the same values as the company, such as Colin Kaepernick, Serena Williams, and Megan Rapinoe."There are values that are important to the brand and the company that we're not going to shy away from," said Parker. "We support the views of our employees, our athletes. And yeah, we will put a stake in the ground and take a stand."
https://www.cnbc.com/2019/07/02/nike-pulls-betsy-ross-flag-sneakers-after-colin-kaepernick-complains.html
https://en.wikipedia.org/wiki/Lil_Nas_X
https://www.cnn.com/style/article/lil-nas-x-mschf-satan-nike-shoes/index.html
Rapper and singer Lil Nas X launched a controversial pair of "Satan Shoes" featuring a bronze pentagram, an inverted cross and a drop of real human blood — and they sold out almost immediately.
The black and red sneakers, part of a collaboration between Lil Nas X and New York-based art collective MSCHF, were made using Nike Air Max 97s, though the sportswear brand has distanced itself from the design.
In an emailed statement to CNN, Nike said it was not involved in creating the modified sneakers. "We do not have a relationship with Lil Nas or MSCHF," the company said. "Nike did not design or release these shoes and we do not endorse them."
MSCHF confirmed via email March 29 that the limited-edition "drop" of 666 pairs sold out in less than a minute (though Lil Nas X will keep the first pair, MSCHF creative director Kevin Wiesner told CNN).
They were priced at $1,018 a pair, a reference to the Bible passage Luke 10:18 that reads: "I saw Satan fall like lightning from heaven." Each shoe's air bubble sole contains 60 cubic centimeters (2.03 fluid ounces) of red ink and "one drop" of human blood, according to MSCHF.
A MSCHF spokesperson said the blood had been provided by members of the art collective, adding: "We love to sacrifice for our art." Later, Wiesner explained on a video call that the creative team collected individual drops over the course of a week using the same type of needle used in at-home glucose tests. The group also confirmed to CNN that Nike was "not involved in this in any capacity."
https://www.insider.com/i-grew-up-in-a-cult-and-i-can-tell-you-why-normal-people-join-them-2018-3
https://en.wikipedia.org/wiki/Armstrongism
Armstrongism is the teachings and doctrines of Herbert W. Armstrong while leader of the Worldwide Church of God (WCG).[1][2] His teachings are professed by him and his followers to be the restored true Gospel of the Bible. Armstrong said they were revealed to him by God during his study of the Bible.[3][4] The term Armstrongite is sometimes used to refer to those that follow Armstrong's teachings. Armstrongism and Armstrongite are generally considered derogatory by those to whom it is applied,[5] who prefer to be known as members of the Church of God (COG). These doctrines were also espoused by his sons Richard David Armstrong (until his death in 1958) and Garner Ted Armstrong (until his death in 2003) with slight variations.
British Israelism[edit]
Armstrong was a proponent of British Israelism (also known as Anglo-Israelism), which is the doctrine that people of Western European descent, especially the British Empire (Ephraim) and the United States (Manasseh), are descended from the "Ten Lost Tribes" of Israel.[8][9] It is also asserted that the German peoples are descended from ancient Assyrians. Armstrong believed that this doctrine provided a "key" to understanding biblical prophecy, and that he was specially called by God to proclaim these prophecies to the "lost tribes" of Israel before the coming of the "end-times".[10] Grace Communion International, the lineal successor to Armstrong's original church, no longer teaches the doctrine,[11] but many offshoot churches continue to teach it even though critics assert that British Israelism is inconsistent with the findings of modern genetics.[12]: 181 
https://en.wikipedia.org/wiki/Armstrongism
Posted on September 28, 2016 by Royal Rosamond Press
I was saving this for my book, but, my tale has burst out upon the world political scene. Many foreign leaders shudder at the vision of Donald Trump being President. These sane men and women may have former Miss Universe to thank if Trump's rise to power comes crashing back to earth!
From the beginning, it was my desire to make Belle Burch famous. This beauty asks about me getting sober. Alas, here is my unedited reply that I am still composing. Mishelle McMindes claimed Ken Kesey took her story and made it his own. Mishelle is from Grand Island Nebraska and posed for Playboy. Rena was from Grand Island. Add them up, the Beautiful Muses who have been captured…….one way or another:
Mishelle McMindes; Alicia Machado; Natriana Shorter, Rena Easton, Belle Burch; Christine Rosamond.
I add Daria Halprin to this list. She starred in movie about radical hippies in revolt, called 'Zabriskie Point'. I am an original hippie, who along with my hippie friends, did not go see this movie because it is a case of Art Imitating Life. Ken Kesey appears to be sexless. He married Faye when he was young, and, it looks like he was loyal to her. However, he did screw that Beauty from Nebraska. Daria was married to Denis Hopper, the star of Easy Rider. I'm just looking for some cool and beautiful chics to be in my movie, books, and paintings, so I can be a Pop Culture Icon – too!
John Warner just endorsed Hillary. John is in my family tree because he was married to Movie Icon, Elizabeth Rosemond Taylor.
http://popcultureaddict.com/movies-2/zabriskiepoint-htm/
The other star of Zabriskie Point was a Mel Lyman devotee, Mark Frechette, who held up a bank with another Lyman Family member after he made his movie. He had real-life interests. Mel Lyman is my kindred who created a network of MUSicians, Actors, and Artists. He is in my family tree. He married Jessie Benton, a cousin of my ex-brother-in-law, Garth Benton who acted in movies, as did his first wife, Alli McBride.
Jon Presco
Copyright 2016
MiSchelle McMindes and Mike Hagen piled into Hagen's Ford Mustang and drove 325 miles west from Eastern Oregon to see Ken Kesey.
Both had high hopes as they set out from Pendleton to Kesey's farm, about 15 minutes southeast of Eugene.
McMindes was a 26-year-old go-getter from Grand Island, Neb., a brunet beauty-pageant scholarship winner recently turned private eye. She had an idea for a movie about the quintessential Oregon sporting event—the Pendleton Round-Up, a famed annual rodeo that began in 1910. McMindes had spent months researching the Round-Up's history and collecting photographs before teaming up with Hagen, a 46-year-old television and commercial sound engineer in Pendleton.
All they needed was a screenwriter, and Hagen knew just the guy—Kesey. Hagen had been Kesey's fraternity brother at the University of Oregon. And in the 1960s, he was one of Kesey's Merry Pranksters as well as a co-pilot on the LSD-fueled cross-country odyssey that Tom Wolfe chronicled in The Electric Kool-Aid Acid Test. Kesey was a natural to tell the Round-Up story. He was an Oregon literary legend and countercultural icon who knew how to spin a yarn. And he had time on his hands.
They came to him with the tall-but-true tale of how a Nez Percé Indian named Jackson Sundown, a popular black cowboy named George Fletcher (known in 1911 by a derogatory nickname), and a white Tennessee bronco-buster named Jonathan E. Lee Spain competed together during the 1911 Round-Up. A tale long familiar to Pendleton natives, it blended racial enlightenment far ahead of its time, Oregon lore and rodeo hijinks. They called the project Last Go Round.
By January 1984, McMindes and Hagen had what they thought was a deal with Kesey. And nine months later, they had a Kesey script.
Then things got messier than a loose bronco.
I grew up in a cult and I can tell you why 'normal' people join them
Contributor
Updated
Apr 8, 2019, 10:21 AM
A woman named Fleur Brown shares what it was like to grow up as a part of the Worldwide Church of God, a cult-like religious organization.
The church projected many catastrophic events which kept church members focused and contributing – emotionally and financially.
The church was funded by taking 30% of its member's gross income and its leader, Herbert W. Armstrong, a self-titled 'Last Apostle' of Jesus Christ, lived a luxurious life in Hollywood.
The woman said everyone was forced to be incredibly nice yet birthdays, makeup, and toys were banned.
Brown believes that by the time people figure out they've actually been brought into a cult, their whole life is already committed to serving the cult community.
https://a7bc21fc85a70d018d07c740c3b2ee87.safeframe.googlesyndication.com/safeframe/1-0-39/html/container.html
When my Mum lost her Dad in her early twenties, she was looking for answers and a soft place to land. A confusing time to be human, the 1970s was the era of the Vietnam War, equal rights and the disruption of all kinds of traditional values.
She found sanctuary in the Worldwide Church of God, an American fundamentalist religion that offered concrete answers for seekers; a road-map for the meaning of life, infused with a little self-help theory and some healthy eating tips.
Aside from a conservative dress code and a ban on makeup, the church was full of fairly normal looking people. There were millions of followers at its peak — families big and small, rich and poor joined from almost every country in the world.
Every cult has its currency – ours was fear.
The first ten years of my life were dominated by apocalyptic biblical predictions. These projected catastrophic events kept church members focused and contributing – emotionally and financially.
As a child, I believed I would never have time to finish high school, marry or have children of my own. We were always just a year or two away from global famine, pestilence and World War III — at which time we "the special ones", would be whisked away to a "place of safety" in the Middle East for three and a half years before the return of Jesus Christ.
We were taught that after most of the world had been slaughtered, a great resurrection would take place — the dead would rise, including humans from ages past. The faithful members of our special religion would be rewarded with leadership positions. Those resurrected mortals that agreed to teachings would be granted eternal life, the others would be thrown into a lake of fire.
Not exactly a chilled out perspective to grow up with. Even so, my main concern as a kid was whether or not I would still be able to plug in a curling iron into a mud wall in our middle eastern hideout.
This god we were so invested in seemed like an off-centre, unkind sort of character with a bleak outlook on life.
My own flawed human heart seemed gentler than this god we prayed to — a rebel thought I didn't allow myself to nurture in case it attracted worldly punishment. In reality, my view of 'god' was shaped in the image of our narcissistic cult leader.
Cashing in on the human need for faith
The Worldwide Church of God was created by Herbert Armstrong, an advertising man who lost his job in the Great Depression and turned his promotional talents towards religion. A few decades on, he was leading a successful multinational religious corporation worth many billions of dollars in today's value. Not a bad turnaround for a broke copywriter from Oregon.
Funded by a 30% tithe on the gross incomes of its members, this self-titled 'Last Apostle' of Jesus Christ lived the life of a celebrity on palatial grounds in the foothills of Hollywood. It was part religion /mostly business. A religious media mogul, he ran an international radio, TV and publishing business and 3 universities and circled the globe in his private jet discussing world peace with presidents and prime ministers.
Both Armstrong and his even more off-center cult leading contemporary Elron Hubbard (the Church of Scientology) had the gift of imagination on their side — Hubbard a science fiction writer, Armstrong an ad writer. Their words and worlds were compelling and persuasive enough to entice millions to give over a huge percentage of their income to the church coffers.
Armstrong led the life of a celebrity, whilst his followers struggled to survive.
This was prophecy pre-Google, and, given few alternatives to focus on, my childish mind reluctantly accepted this environment as reality.
Like most cults, there was an agnostic layer to the sharing of "truth." Our church masters cautioned us against sharing church secrets with school friends, neighbors or other outsiders — they were privileged truths to be revealed when they decided someone had been properly 'converted.' As a consequence, I kept my mouth closed at school and the church theories were rarely challenged. Later, I was often labeled mysterious and secretive. It took me years to realize this was not an intrinsic part of my nature, but something I had developed in an attempt to not draw attention to myself.
Niceness is next to godliness