To: Tina Kotek. Christine Drazan. Betsey Johnson
For the last two days I have endured the obscene images, comments, and fake news reports that said Paul Pelosi was a degenerate having sordid sex with the crazy man who attacked him. Alas, we are hearing a more sane version of events. A trial will give the public what it wants – the truth! However, many Americans – don't want the truth! More violence – looms large! Our Democracy – is at stake!
Three years ago I lent my downstairs neighbor a copy of my late sister's biography. She said she was a fast reader. A month later I asked for my book back that Kim Hafner said she did not read. When I found about twelves pages were dogeared, I confronted her. She began to gaslight me, saying I must have bought the book – damaged. I took some photos of this book, before I lent it to her, and have proof one page was – undamaged! I suspected Hafner was sharing my family secrets with neighbor I do not know, and who do not know me. I asked Hafner not to discuss the accusations of child sex abuse with her family – until WE go over the lies. We discovered Hafner's mother went to the same high school as my late brother-in-law, the actor and artist, Garth Benton, who was a friend of the Getty family, and Lawrence Chazen, who invested in my sister's two Carmel galleries.
Chazen is a business partner of the Pelosi family in PlumpJack. Ia m kin to the Getty family via my second cousin, Elizabeth Rosemond Taylor. A half hour ago I discovered, Vice President, Kamala Harris is friends with the Getty family. I am reluctant to post this due to the many threats – many politicians are getting! I know that if you have ties to famous people – you can be targeted – even if you are not famous.
Here is a video of Hafner, and my neighbors who three years ago gathered in my stairwell. One guy, who I did not know, said I need to be "locked up!" Ties were found in the Pelosi home which suggest Paul – and Nancy – were going to be restrained. Kim Hafner invokes the name of Alley Valkyrie a notorious advocate for the homeless, who got arrested for trespassing in the Eugene City Manager's office, along with Belle Burch, who approached me in Ken Kesey Square during the Art Walk. These women are member of SLEEPS, OCCUPY, and Whoville, who founded a Art Happening for the Homeless in Kesey Square, and gave themselves rights – real artists own! When I accused Burch of possibly mishandling monies given to her to help the homeless, I got my first threat from Valkyrie. Burch was twenty-four at the time she was arrested – along with her boyfriend. She took my number, and called me for a meeting. In that two hour talk she did not comment on my work with a homeless vet – or tell me her work with the homeless. When I found out, I was suspicious.
Facebook message from Alley Valkerie
"I'm going to make this very simple for you. I don't know if you know who I am, but I sure as hell know who you are, and when you fuck with my friends, you fuck with me. Stop writing about Belle or I am going to make your life very difficult. I mean it. If I see one more word about her on your blog, your FB, or anywhere else, I will make sure that you experience all the fear and discomfort that she is experiencing right now. And no, this isn't a physical threat, so don't try to play victim. Frankly, I encourage you to contact EPD, as they already know all about you. I will not do anything illegal, but mark my word you will regret it if you write one more word about her. I will make sure that the entire community knows exactly how much of a sick fuck you are. Your picture, your name, and "samples" of your writing will be posted on every bulletin board in town. There will not be a single person in the Eugene/Springfield area who won't know that you're a sick stalker who won't leave a stalker who won't leave a young girl alone. Cut it out. Now. This is your first, last, and only warning."
https://www.facebook.com/alleyvalkyrie
I watched Morning Joe and it was all laid out, the violence Trump instigated at his rallies – before he was elected. I am in therapy due to my PTSD. I made a police report, and called the FBI. Nothing was done. I was a candidate in the primary for Governor of Oregon. I worked with homeless people. Below is the memorial I put together for my homeless friend. Good people are not volunteering because they do not want to be molested and harassed, their reputations – destroyed! Here is a fake report Valkyrie put on a fake Abuser site – after Mayor Kitty Piercy – removed it from her Facebook. How many voters in Oregon googled my name to learn more about me as a candidate. One guy threatened tie cinder block around my ankles- and drop me in the river.
John Presco
President: Royal Rosamond Press
https://www.newsweek.com/surprising-newsom-pelosi-harris-ties-getty-oil-dynasty-1717810
https://ballotpedia.org/John_Presco
At Billy's 1999 wedding to Vanessa Jarman, held on a ranch in Napa Valley, Judge Newsom officiated, and Gavin served as best man. Among the 165 guests was a new assistant district attorney in town, a 34-year-old up-and-comer named Kamala Harris, Vanessa's new friend. Two years later, Harris threw the shower before the birth of the couple's first son. When their daughter was born, Kamala was asked to be the godmother.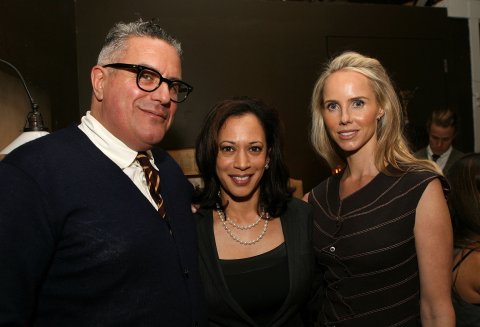 Political siblings, Gavin and Kamala came up together, though his rise, after becoming mayor of San Francisco in 2004, was meteoric. One day he would make a strong run for the White House it was commonly assumed around San Francisco.
https://www.newsweek.com/surprising-newsom-pelosi-harris-ties-getty-oil-dynasty-1717810
As the family has navigated personal and professional successes and failures, it has also become inextricably enmeshed into the California political fabric, with longtime close family friendships developing between the Gettys and current Governor Gavin Newsom, Vice President Kamala Harris and Speaker of the House Nancy Pelosi, as well as their families. William A. Newsom II, Gavin's grandfather, was a surrogate father to Getty sons John Paul Jr. and Gordon. William "Bill" Newsom III, Gavin's father, was even the bearer of the ransom money when John Paul III was kidnapped. Newsoms, Harrises, Pelosis and Gettys are godparents to one another's children and make appearances at important family events. This adapted excerpt from James Reginato's Growing Up Getty (Gallery Books) offers a window into how it all began.
Posted on September 6, 2018 by Royal Rosamond Press
I now understand why Neil Laudati did not respond to purchasing KORE. He was afraid I would open the flood gates to the homeless of Springfield, and a Tent City would gather around the old radio tower where broadcast The Word of God, that was relayed across the Atlantic, to Radio London. Below is my letter to ex-Mayor, Kitty Percy, who was a friend of Hollis.
What I was poised to do, was have The Homeless – OWN A CHURCH! No longer would they be -mere guests! All the tithe of The Homeless Church, would go directly to them. The middle man would be cut out. The Church has long USED THE POOR AND HOMELESS to get monies for the poor – and then they build cathedrals! Here is te first Poor Altar that was erected by God in a building slated to be torn down. The owner demanded it be removed.
"The last will later be first!"
God has given me a message to give unto you………..Heaven is now close to everyone but the homeless. Only they will be taken up when they die – until further notice!
Hollis took me to the home of a Kesey whose name I forgot. He had stayed here for a couple of month. It is a Christian half-way house. It was Halloween night. My homeless friend wanted to give me a gift. He wanted me to talk to the Christians here, and convert to Christianity. No one has offered me a more precious gift.
I told H that Jesus already came into my life, and he and God bid me to be a Nazarite.
"I seperated and consecrated myself – directly to God! I await His instructions. I am forbidden to boast about my seeing and hearing Jesus – directly!"
Hollis was amused, in his cute way. Hollis' father didn't want anything to do with him after he got out of the Army. His mother had died, and he had remarried. H was an orphan in the world who claimed he was kin to Elvis Presley. Born in Kentucky, H loved the South. At the end of his memorial we stood for – The King. When the homeless own churches all over the world, there will never be another Homeless Orphan. The church has been turned upside down! Say hallelujah!
Make it so!
John 'The Prophet'
http://www.kezi.com/content/news/South-Eugene-community-excited-to-welcome-new-neighbors-467778293.html
Hi Aura!
I talked to you earlier about my friend, Hollis Williams.
https://www.facebook.com/#!/HollisLeeWilliams
If Safeway gave the option to donate redeemed can slips to homeless vets, I think many will say "Yes"
Monies could be used to hire homeless vets to work in community gardens and grow porduce for kitchens for the hungry. Vets could be hired, or, volenteer during peek hours to recieve cans and feed them into recycle machines they would know how to maintain. This would help Safeway employees. Vets could wear name tags in form of flag. Customers will love the opportunity to help those who served.
Monies could be used to pay for funerals of unfamilied vets. I tried to do this for Hollis with my trust monies, but, was given the wrong information. I did not want him declared an indigent and thrown away. I adopted Hollis through the Elks Association.
Sincerely
John Presco
Dear Kitty Piercy
My dear friend Hollis passed away on March 8th. He was a homeless Veteran for many years and had been placed in an apartment two months ago by HUD-VASH. He also received funds from The Vet-Vincent De Paul program. Because Hollis has no next of kin, I adopted him through the Elks Society, and am paying for his cremation with monies from a Special Needs Trust. I am on SSI. Mr. Williams is now my son. I did not want him to be treated like a unfamilied pauper – after he is dead!
The people at HUD-VASH have been very helpful, however, they have no funding in order to make sure Veterans like Hollis – have not served in vain! For this reason, I have established the Hollis Williams Memorial Fund at Selco Community Credit Union. At Hollis' memorial, I will present the idea that if we collect $1,005 dollars, then Hollis himself can pay for the burial cost of the next Homeless Vet who dies unfamilied. This is the passing of a baton amongst a Band of Brothers. Here is a hand from heaven lifting up the next Homeless Veteran who passes on.
I am not a Veteran. I was drafted in 1966, but because of grave emotional problems I was classified 4F.
I have always respected those who served, and have considered them my brothers.
The memorial will be at the Campbells Senior Center 155 High St. at 1:30 Sunday the 17th.
Sincerely
John Presco
717 Oakdale #216
Springfield, Or. 97477
541 844-1974
Dear Jerry
I recieved a letter from the Rice Trust saying I will get a check for $13,746.23 within 15 days if everyone signs. I got a call from Maria Cortez at HUD-VASH and we are trying to locate funds to bury my dear friend who died last Friday. I am Hollis William's foster-father and will recieve a document shortly. He is a Vetran, and I do not want my Foster-son to be buried as a pauper. How much money is left in my trust? The cost of the burial is $1,005 dollars. I want to have enough to keep open my Trust with you until check arrives.
Sincerely
John Presco
John Ambrose <braskewitz@yahoo.com>
To
Jul 13 at 1:50 PM
My friend Ben Toney titled me "The Sage of Oregon" this morning. We have Fair Rosamond as a common ancestor. Ben was a head of Radio London, that due to censorship, broadcast from a ship off the coast. He knew all the great music stars in Britain and the US. I showed him this video of Chuck Kesey telling me how proud Springfield was to get the Grateful Dead tossed out of a downtown bar – and there you were! I might have a video of my interview with you. Ben is looking for a home for his history – too. 'Hands across the water"
Radio London – Ben Toney Memoirs P1
Radio London – Ben Toney Memoirs P1I believe the City of Springfield should buy KORE radio and do live broadcast – even to Ken Kesey Square! I was going to do a large blog 'Radio Free Springfield' today, but, thought I should run it thru you – so they don't raise the price.John PrescoBen, I have been looking at your Radio London history and would like to present some of it to city planners. Here is Chuck Kesey, Ken's brother, who told me how the Grateful Dead were oppressed in Springfield. Thats Eil Laudati on stage. I want to splice you into this history,
Share this: