Russian President Vladimir Putin attends a ceremony in Moscow on Sept. 30, 2022, to declare the annexation of four regions of Ukraine. (Grigory Sysoyev/Sputnik/pool via Reuters.)
Here is bad news, that says the world is two or three steps away from NUCLEAR WAR! This might be good news for many Christian Canidates, like Christine Drazen.
For ten years I have been making prophetic posts on The Coming Bozeman Art Festival. When I read about the controversies at The Oregon Shakespeare Festival three days ago, I had a feeling The World Is Going To End, because, Putin has a dream. He wants the whole world to speak Russian, but not the Russian spoken in Ukraine, because Satan has spoiled the Divine language of Killer Kirill, who has a Rasputin hold on the insane owner of nuclear weapons.
So, it's Putin against Shakespeare, the Emperor of the English Language! Welcome to The Nuclear Theatre of The Most High and Dramatic!
Have a nice day!
Seer John
Russia's annexation puts world 'two or three steps away' from nuclear war (msn.com)
Posted on February 25, 2014 by Royal Rosamond Press
When I received a letter from my muse, I was in big-idea-war with the author Charles L. Shields who un-friended me on facebook. Charles wrote 'And So It Goes' the biography of Kurt Vonnegut, my only hero. Charle's friend, Boris Kachka, wrote an article for the New York Magazine about my ex-wife who was married to the author Thomas Pynchon. Mary Ann Tharaldsen was the sister-in-law of Christine Rosamond Benton, whose muse was my muse. To realize my muse, Rena Easton, became jealous of me moments after she first lay eyes on me, and may have helped Christine become a world famous artist in my place, is right out of a Vonnegut novel. If Kurt was alive he would be reading this blog.
Here is a article that Boris wrote about Oscar bloggers:
http://www.vulture.com/2014/02/oscar-bloggers-most-competitive-season-ever.html
Not able to contain myself after Rena challenged me to treat "Red-necks" like human beings, I put Antonin Artaud and Vincent Van Gough on a noon train to Bozeman where they are going to attend a Arts Festival at the Emerson Center for the Arts & Culture. This is right out of 'Breakfast of Champions' one of my favorite books because it comes close to describing my late sister's success which high water mark came with the revelation I and my mommy oppressed the budding career of 'The Rose of the World' after catching her drawing in a closet when she was four years old. The famous producer, Ronald Schwary, purchased an option to produce a lousy biography of Rosamond that will be hawked at the Emerson Center.
The Spirit of Kurt begs me to pick up the long stilled pen of Kilgore Trout, and reveal the truth that Elias Rosewater is the only proven member of the Priory de Sion, thanks to Robert Grave's 'The White Goddess'.
One of the characters in Breakfast of Champions is a gay piano player named 'Bunny'. Could this be my kindred, Bunny Breckenridge?
Yesterday they apprehended an escaped rapist from Bozeman Montana here in Eugene. This rapist will once again escape and head back to Bozeman so he can attend the Art & Culture Festival. Briggs is a film buff.
It is rumored that Thomas Pynchon might attend the festival, in disguise. After all, he is in Mr. Rosewater's family tree.
Elias Rosewater
President: Rosewater Foundation
http://www.vulture.com/2013/08/thomas-pynchon-bleeding-edge.html
Kilgore Trout is a widely published, but otherwise unsung and virtually invisible writer who, by a fluke, is invited to deliver a keynote address at a local arts festival in distant Midland City. Dwayne Hoover is a wealthy businessman who owns much of Midland City, but is mentally unstable and is undergoing a gradual mental collapse. Kilgore arrives in Midland City and, by happenstance, piques the interest of Dwayne. A confused Dwayne demands a message from Kilgore, who hands over a copy of his novel. Dwayne reads the novel, which purports to be a message from the Creator of the Universe explaining that the reader – in this case Dwayne – is the only individual in the universe with free will. Everyone else is a robot. Dwayne believes the novel to be factual and immediately goes on a violent rampage, severely beating his son, his lover, and nine other people before being taken into custody. While Kilgore is walking the streets of Midland after Dwayne's rampage the narrator of the book approaches Kilgore. The narrator tells Kilgore of his existence, and lets Kilgore be free and under his own will.
http://en.wikipedia.org/wiki/Breakfast_of_Champions
Posted on February 19, 2017 by Royal Rosamond Press
Trump and Melania did High Noon in Florida. Alas, Helen of High Noon makes her appearance, as promised. In broken English, she defends her beleaguered man who just wants to defeat the bad guys, and bring a Great Safeness to America. But, the evil press do not want Americans to feel safe. This is why they fill the airwaves with fake news that alarms the Children of God, who don't like to be alarmed, and hate to be afraid. That's not true! They pray for the End of Days and Armageddon, which Tiny Trump is appearing to start with his Muslim Ban. The Trumps are not Christians!
Rena is always afraid. She is………the Beating Heart of America! We Americans are more than happy to spend a million dollars protecting Melania. Beautiful women need to feel safe, more than other women. This goes for Christian Women. Grace Kelly married the Prince of Monaco and wore a real crown. Do women want beauty, money, power?
http://www.msn.com/en-us/news/politics/mccain-defends-free-press-thats-how-dictators-get-started/ar-AAn5wJE?li=BBmkt5R&ocid=spartandhp
Jon Presco
Posted on January 17, 2014by Royal Rosamond Press
The Theatre of Cruelty and Cultural Warfare is coming to Emerson Center For Arts & Culture
https://www.youtube.com/embed/7MooNISe8aM?version=3&rel=1&showsearch=0&showinfo=1&iv_load_policy=1&fs=1&hl=en&autohide=2&wmode=transparent
https://www.youtube.com/embed/XSXHk1LreKQ?version=3&rel=1&showsearch=0&showinfo=1&iv_load_policy=1&fs=1&hl=en&autohide=2&wmode=transparent
https://www.youtube.com/embed/elm_BMJwKJ8?version=3&rel=1&showsearch=0&showinfo=1&iv_load_policy=1&fs=1&hl=en&autohide=2&wmode=transparent
https://www.youtube.com/embed/NMTKCES1vPk?version=3&rel=1&showsearch=0&showinfo=1&iv_load_policy=1&fs=1&hl=en&autohide=2&wmode=transparent
https://www.youtube.com/embed/XX0RakvyZ1I?version=3&rel=1&showsearch=0&showinfo=1&iv_load_policy=1&fs=1&hl=en&autohide=2&wmode=transparent
https://www.youtube.com/embed/n32RO_wnXQc?version=3&rel=1&showsearch=0&showinfo=1&iv_load_policy=1&fs=1&hl=en&autohide=2&wmode=transparent
Advertisements
Posted on March 15, 2020 by Royal Rosamond Press
I have seen into the future….and saw noting there.

Seer John
Rosamond Press
When Rena Easton said I was "Left-leaning" in her letter, I took it to mean, she (and her husband) love America more than I do. This idea is a Theme to many white people who head North, or were born there. My grandfather, Royal Rosamond, says he was born in Helena. He wrote several stories about Montana.
In her Proclamation Right-wing of the Aryan Rancher Flag of America, a hot cultural battle began. In 2014, I sent into battle two creative Frenchmen – foreigners! I wonder how Rena feels about a man accused of rape, suggesting women should apologize to the whole country (and Israel) ? What horrible things have THEY said about Israel? How many of The Squad said horrible things about Israel? Evangelicals have a vested interest in seeing the Temple rebuilt – in Israel! This is why POTUS is titled 'Messiah' – in Israel! Is Trump…
Posted on March 16, 2022 by Royal Rosamond Press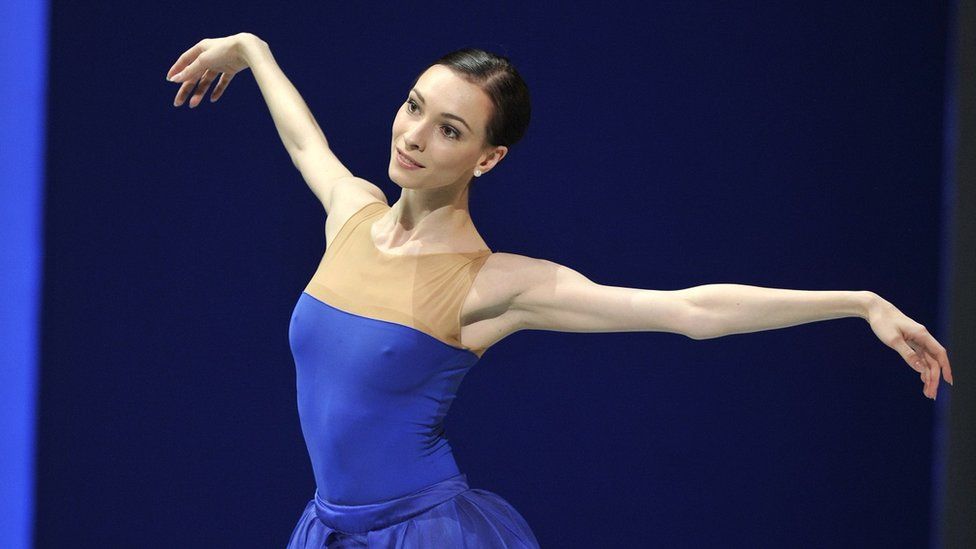 IMAGE SOURCE,GETTY IMAGESImage caption,
Olga Smirnova pictured performing in London in 2016
High Noon High Noon
The First Cowboy Ballet
by
John Presco
Copyright 2022
SYNOPSIS: A famous Russian Ballerina flees for her life to America after the Revolution. The Bolsheviks put a bounty on her head because she was the favorite of the Czar and his family. Nichola's daughter imitated her, wanted to be like her.
She is captured by Indians while on a stagecoach going West. A Handsom young buck wants her for his wife, but, she has to perform the tribal dance ritual. She nails it – and then some! She is the founder of the Peaceful Spirit Dance that brings peace to all the Plaines tribes. She is given a war bonnet which she performs her famous ballet in when she comes to Laramie. The sheriff does not buy a word of her story. She challenges him to a Dance-off at High Noon in the middle of the street. He brings his posse of young dudes, and she brings her Hooped Maidens who throw off their hoop-skirts to expose skin-tight leotards with tutu. The older church ladies -gasp! A Gay Man in pink, scolds them, then does his Happy to be Pink dance. The bare-chested dudes wearing lamb-chaps – thrust out their chest and circle the happy hoop maidens. The Handsom Buck – now a chief – blows into town for the grand finale.
I will author a version for the Kabuki Theatre.
Bolshoi star ballerina quits famed Moscow company: 'I never thought I would be ashamed of Russia' (msn.com)
Bolshoi ballerina Olga Smirnova, an international ballet star who recently publicly denounced the Russian invasion of Ukraine, has quit the famed Moscow ballet company and joined the Dutch National Ballet, the Amsterdam organization announced Wednesday.
Jane Campion challenges Sam Elliott to 'a shootout' over 'Power of the Dog' feud | Fox News
From left: 1883 castmembers Marc Rissmann, Billy Bob Thornton, Tim McGraw, Sam Elliott and LaMonica Garrett. Yellowstone, which the prequel series is based on, saw its season 4 premiere grow to 10.5 million viewers on Paramount Network alone.
Jane Campion challenges Sam Elliott to 'a shootout' over 'Power of the Dog' feud
The actor previously roasted the director's film, which is nominated for 12 Academy Awards
By Stephanie Nolasco | Fox News
Fox News Flash top entertainment and celebrity headlines are here. Check out what clicked this week in entertainment.
NEWYou can now listen to Fox News articles!
Listen to this article
0:00 / 4:141X
Jane Campion offered to settle her feud with Sam Elliott in the ol' fashioned way.
The "Power of the Dog" director recently appeared on the Hollywood Reporter's "Awards Chatter Podcast" and revealed the pair had unfinished business to take care of.
"OK, Sam, let's meet down at the Warner Bros. lot for a shootout!" the 67-year-old joked to the outlet. "I'm bringing Doctor Strange [the Marvel character portrayed by Benedict Cumberbatch, the star of her latest film] with me!"
https://7b0ca1cd8ae9dffedca10d58a188590e.safeframe.googlesyndication.com/safeframe/1-0-38/html/container.html
A spokesperson for the 77-year-old didn't immediately respond to Fox News Digital's request for comment.
SAM ELLIOTT ADMITS HE'S NOT A 'YELLOWSTONE' FAN, SAYS IT'S 'TOO MUCH' LIKE 'DALLAS'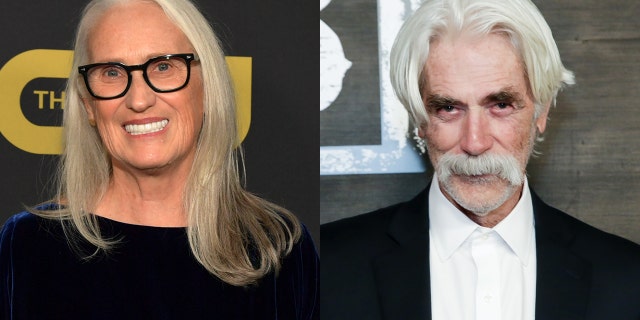 Jan Campion challenged Sam Elliott to a movie 'shootout' amid their feud over 'The Power of the Dog'. (Getty Images)
The real-life drama began when Elliott criticized the 67-year-old's take on the Western genre during his recent appearance of Marc Maron's "WTF" podcast.
When Elliott was asked if he had seen the film, the star replied, "You want to talk about that piece of s—?"
Elliott referenced a full-page ad in the Los Angeles Times that featured a review blurb that described the film as "an evisceration of the American myth." The film is also nominated for 12 Academy Awards.
"I thought, what the f—?" Elliott said of the adaptation from the 1967 novel by Thomas Savage. "This is a guy who has done Westerns his entire life. 'The evisceration of the American myth.' It looked like — what are all those dancers, those guys in New York that wear bow ties and not much else? Remember them from back in the day?"
CLICK HERE TO SIGN UP FOR THE ENTERTAINMENT NEWSLETTER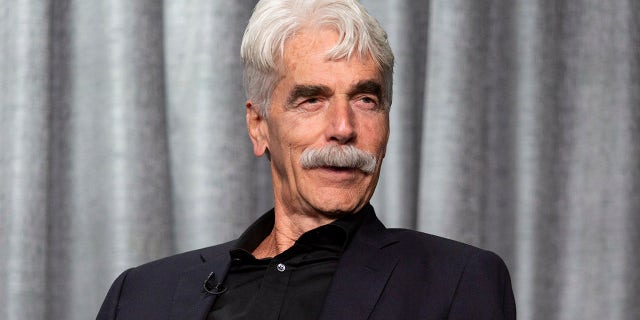 Sam Elliott didn't hold back when it came to criticizing 'The Power of the Dog'. (Photo by Vincent Sandoval/Getty Images)
"Oh, the Chippendales?" Maron asked.
"That's what all these f—ing cowboys in that movie looked like," Elliott replied. "They're all running around in chaps and no shirts. There's all these allusions to homosexuality throughout the f—ing movie."
Maron replied, "Yeah, I think that's what the movie's about," speaking to the fact that Cumberbatch's character, Phil Burbank, is homosexual and has yet to come out of the closet.
It was then that Elliott fixed his crosshair on Campion, who is nominated for three Academy Awards this year.
CLICK HERE TO GET THE FOX NEWS APP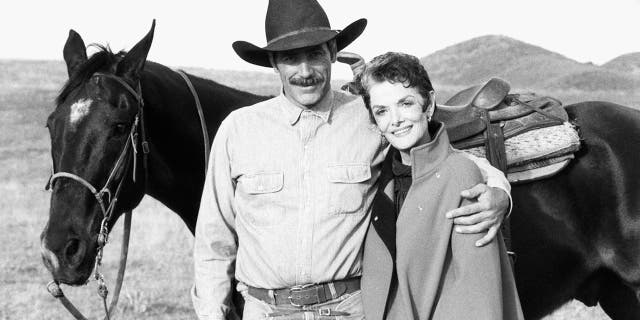 Sam Elliott, seen here with Jane Russell, has made his mark in Westerns during his decades-long career. (Photo by NBCU Photo Bank/NBCUniversal via Getty Images via Getty Images)
"[Jane Campion's] a brilliant director, by the way," Elliott insisted. "I love her work, previous work. But what the f— does this woman from down there, New Zealand, know about the American West? And why in the f— does she shoot this movie in New Zealand and call it Montana and say, 'This is the way it was?' So that f—ing rubbed me the wrong way, pal."
"I mean, Cumberbatch never got out of his f—ing chaps," Elliot maintained of the film. "He had two pairs of chaps — a wooly pair and a leather pair. And every f—ing time he would walk in from somewhere … he never was on a horse, maybe once — he'd walk into the f—ing house, storm up the f—ing stairs, go lay in his bed in his chaps and play his banjo. It's like, what the f—?"
Meanwhile, Netflix appeared to have heard Elliott's remarks, and a day after the interview was sent into the ether, the streaming giant tweeted a scene that showed Kodi Smit-McPhee's character telling his mother, who is played by Kirsten Dunst, "He's just a man. Only another man."
Elliott doubled down on his sentiment by the end of the back and forth, adding, "Where's the Western in this Western?… I took it f—ing personal, pal."
JANE CAMPION USES FIVE LETTERS TO SLAM SAM ELLIOTT FOLLOWING 'POWER OF THE DOG' CRITICISM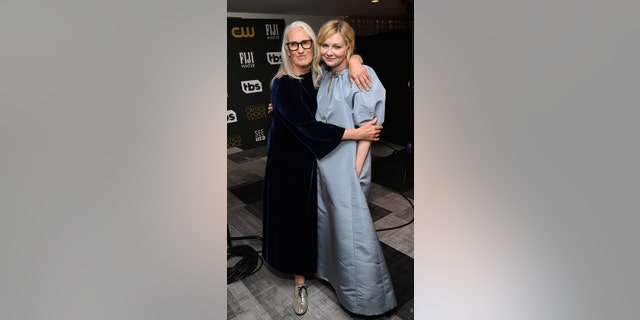 (L-R) Jane Campion and Kirsten Dunst as they celebrate the 27th Annual Critics Choice Awards at Fairmont Century Plaza on March 13, 2022, in Los Angeles, California. (Photo by Michael Kovac/Getty Images for Champagne Collet & OBC Wines)
During the DGA Awards on Saturday night, Campion had a few choice letters in response to Elliott's criticism of her film.
The director, who was asked for her response about the actor's shocking comments, refused to hold back.
"I'm sorry, he was being a little bit of a B-I-T-C-H," she told Variety before the ceremony. "He's not a cowboy; he's an actor. The West is a mythic space and there's a lot of room on the range. I think it's a little bit sexist."
Campion noted that she viewed Elliott's crude criticism as a slight against her as a female filmmaker.
https://7b0ca1cd8ae9dffedca10d58a188590e.safeframe.googlesyndication.com/safeframe/1-0-38/html/container.html
"When you think about the number of amazing Westerns made in Spain by (director) Sergio Leone," she explained to the outlet. "I consider myself a creator. I think he thinks of me as a woman or something lesser first, and I don't appreciate that."
Fox News' Julius Young contributed to this report.