Self destructing passport pages? You can't be serious! Oh but it's true. The nature of "Top Secret" information is that it doesn't appear on blogs such as this one (usually), but that didn't stop the UK from sharing some of the trade secrets they're…..
I can not be Ian Fleming, but, I am in the same family tree as Fleming, who created James Bond, who was killed-off in the last Bond movie. For over three years this convoluted fake news about Bond, has come up on my news feed. I did not have time for it. As the owner and chief writer for my newspaper-blog, Royal Rosamond Press, I have been very busy going after Putin and Russia. How many times did Ian Flaming name the Soviet Union as the No.1 Enemy of the Royal Family? Yes – this is a game – and I get to play!
The real question is, why isn't the Register Guard and the Oregonian newspapers covering my run for Governor of Oregon? They could write this lead…
"A man who is kin to James Bond is running for Governor of Oregon."
This morning I beheld the passport of James Bond that contains his birth date – that would appear on his headstone, and on his birth certificate. Caspar Fleming owned a birth certificate. He took his life after staying at Shane Castle.
Who was Caspar Fleming named after? And if he were alive, he would have a keen interest in the Russian ship, the Moskva?
FLASH! I just went into my archives at 11; 30 am to see if I have Victoria Rosemond Bond, being the daughter of Tracy Bond, or, granddaughter. I discovered MY EASTEREGG, a term I just read about this morning. Victoria went through the name changes, but my novel 'The Royal Janitor' was born on APRIL 16, 2018. James Craig Bond was born on April 13th.
We would not know Ian Fleming EXISTED if he had not authored a story about James Bond. I have his great granddaughter working at the College of Arms since her mother dropped her off there as a child of four. She becomes an expert with Cotes of Arms – that can contain DNA information in regards to showing your BLOODLINE!
In time for Bond's birthday, I have his great granddaughter go to Shane Castle – by herself! Her bodyguard will not go with. Victoria has just been to The Boilermaker Club.
John Presco 'The Real James Bond'
FLASH! FLASH! I just found this FACT again! I did not learn about Shane Castle till this morning when I read an article about my kin, Caspar Fleming. I am kin to the Flemings via my cousin, Elizabeth Rosemond Taylor, and her son, Christopher Wilding, who married Aileen Getty. The ownership of the Bond legacy was sold to Amazon – who may want to make their own glass slipper, and find who it best fits. You can not hold a contest – where millions are at stake – and ignore a REAL CONTENDER!
"McClory was romantically involved with Elizabeth Taylor. Although he and Taylor reportedly had plans to marry, Taylor would eventually leave him for her future husband Mike Todd. Todd and McClory fell out over Taylor yet they managed to complete the final cut of the film side by side. The trio would eventually reconcile and they remained friends until Todd's untimely death in 1958.[8][9]
MGM and Danjaq have acquired all of the rights and interests in James Bond held by the estate of Kevin McClory, ending more than 50 years of litigation between the producers of the franchise and an author who penned Bond scripts with Ian Fleming.
MGM, 'James Bond' Producer End Decades-Long War Over 007
FLASH! FLASH! FLASH! The Moskva has sunk after being struck with rockets ON JAMES BONDS BIRTHDAY!
HE – LIVES!
Russian warship sinks after Ukraine claims it struck ship with missiles (msn.com)
The Russian Defense Ministry announced on Thursday that its Black Sea Fleet flagship vessel, Moskva, sunk after losing its stability when it was towed to a port. Russia said the ship sustained damages during a fire started by the detonation of ammunition.
Apr 13, 2022,04:46pm EDT
Apr 13, 2022,04:46pm EDT
Apr 13, 2022,04:46pm EDT
One Of Russia's Biggest Cruisers Just Sank Near Ukraine (forbes.com)
A Ukrainian navy missile battery reportedly has struck the Russian navy cruiser Moskva off the coast of Odessa, a strategic port city on the Black Sea in southwest Ukraine.
Multiple Ukrainian government officials claimed Wednesday that a Neptune anti-ship battery, apparently hidden in or around Odessa, scored two hits on Moskva, setting the 612-foot vessel ablaze.
Posted on April 16, 2018 by Royal Rosamond Press
James Bond Just Shared A Post About A Daniel Craig 007 Easter Egg That Pays Tribute To Ian Fleming | Cinemablend
Easter egg (media) – Wikipedia
An Easter egg is a message, image, or feature hidden in software, a video game, a film, or another, usually electronic, medium. The term used in this manner was coined around 1979 by Steve Wright, the then-Director of Software Development in the Atari Consumer Division, to describe a hidden message in the Atari video game Adventure, in reference to an Easter egg hunt. The earliest known video game Easter egg is in Moonlander (1973), in which the player tries to land a spaceship on the moon; if the player flies horizontally enough, they encounter a McDonald's restaurant and if they land next to it an astronaut will visit it instead of standing next to the ship. The earliest known Easter egg in software in general is one placed in the "make" command for PDP-6/PDP-10 computers sometime in October 1967–October 1968, wherein if the user attempts to create a file named "love" by typing "make love", the program responds "not war?" before proceeding.[2][3]
One of Caspar Fleming's favourite places in all the world was Shane's Castle, a ruin steeped in legend on the shores of Lough Neagh in County Antrim.
The castle and its 1,800-acre estate is the family seat of the illustrious O'Neill family; Caspar — the only son of James Bond creator Ian Fleming — was, through his mother, Lord O'Neill's half-brother. During a visit in September 1975, Caspar would venture out each day, searching for old arrowheads from battles fought long ago.
To the outside world, he seemed in high spirits. Yet, at that point, he had almost certainly made the decision to kill himself. A week later, he returned to his mother's flat in Chelsea, wrote a short suicide note, took a massive quantity of barbiturates and lay down to die. He passed away on October 2, 1975, aged just 23.
+4
View gallery
Loved son: Caspar, pictured far left, was the only son of Ann and Ian Fleming, pictured right, and it was to him that the Bond author wrote Chitty Chitty Bang BangCaspar Fleming was a young man as brilliantly clever as he was tortured and, until now, the full tale of his tragically short life has never been told.
The story of his father Ian's life is currently the focus of a new four-part TV drama, Fleming. The plot of the Sky Atlantic show follows a familiar path: Fleming's glamorous life in London; the louche parties at GoldenEye, his Jamaican retreat; his womanising and his predilection for being spanked by his lovers.
Posted on June 6, 2021 by Royal Rosamond Press
Posted on September 5, 2018 by Royal Rosamond Press
James Bond Fans have gone over every Bong Thing with a fine-tooth comb, and, can not answer the riddle of the Red Hand of Ulster being in the Bond cote of arms.
John Presco 007
James Bond Just Shared A Post About A Daniel Craig 007 Easter Egg That Pays Tribute To Ian Fleming
By Mike Reyes published about 21 hours ago
Does everyone really cry on their birthday?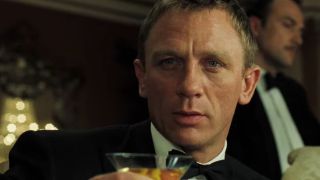 (Image credit: Danjaq, LLC and MGM)
April 13, 1953 will always be an important day for the history of the James Bond movies. It's the day that Ian Fleming's first 007 book, Casino Royale, was published, and it's also commonly accepted as James Bond's birthday. To that effect, and in honor of celebrating that occasion, an easter egg from Daniel Craig's era of Bond films has been shared through the 007 social media presence.
Naturally some liberties were taken with the prop passport that the James Bond Instagram shared from 2006's Casino Royale. While the month and day match between the modern Bond reboot and its literary inspiration, the year is obviously a bit different. Take a look at the photo below and see if you can spot another easter egg of sorts in 007's travel document:
For those of you who noticed Daniel Craig's actual birth year of 1968 being incorporated into the April 13th date, congratulations! You might have the makings of a spy in you yet. Though that leads to the even more intriguing detail of how the sixth actor to play James Bond was born on another important day in franchise history. While it was six years after Sean Connery filmed his first utterance of "Bond, James Bond," Daniel Craig's actual birthday falls on the same exact month and date of March 2nd, when Dr. No came out in 1962.
Video from our partnersBrought to you by Taboola
This New CPAP Can Do What…The Easy Blog by EasyBreathe.com
Easter eggs aren't just for the movies either, as you can venture to a real-life landmark honoring Daniel Craig's final James Bond appearance in No Time To Die. Thanks to a new walking tour offered by the Farroe Islands, you can now visit 007's tombstone, placed in the very spot where he was blown to bits. Even that information has the potential to become outdated, as James Bond's official resting place notes his death in 2021, and the new 007 will more than likely be rebooted into his new incarnation. Loose continuity can only go so far in cases of definitive reboots of continuity, and the resulting casualties.
RECOMMENDED VIDEOS FOR YOU…
CLOSE
https://imasdk.googleapis.com/js/core/bridge3.510.0_debug_en.html#goog_1879887177
0 seconds of 2 minutes, 3 secondsVolume 0%
PLAY SOUND
Knowing that the passport in Casino Royale has this special touch that further combines James Bond and Daniel Craig's personal histories, it also helps this particular 007 era stand out even further. Never before was an actor so personally connected or involved with their fate in the James Bond series, which was readily apparent from the moment Daniel Craig negotiated his No Time To Die exit. All interested parties will probably be on the lookout for whatever the new year on Bond's passport may read. At the very least, we know the month, day and name that will already be present when the time comes.
Posted on April 16, 2018 by Royal Rosamond Press
The Royal Janitor
by
Jon Presco
Copyright 2018
Jean-Baptiste Rougemont rarely worked late, and never at this hour. As the father clock rang midnight in the hall outside his office at the College of Arms, Jean raised his bushy white eyebrows when he saw, and now heard the ornate brass doorknob being turned.
Holding his breath, he saw the profile of the most beautiful young woman he had ever beheld in this stuffy old place, and, he could just make out the words she was muttering.
"All winter long……"
Looking up she let out a yelp, like a young fox caught in a trap in the winter snow. Jean gasped when he saw how pale and blue her eyes were, that tried to dart back into the hall after beholding this old wizard of a man, whose eyes were just as pale, just as blue that they startled the college janitor, who came to dust the book cases, and run a wax over the oaken library table.
"Wait! Come here!" Jean commanded, which he did not mean to do, but, he wanted to make sure she obeyed, because, she might be a mirage, or something of this nature, and once the door is shut, the twine is severed, and she is gone forever.
What is your name? Open your eyes!"
"I have no name. I don't want you to see my eyes!" the creature replied.
"Why won't your tell me? Please. Look at me. I won't hurt you!"
"I was raised by wolves, with pale blue eyes. They taught me to keep my eyes lowered in the presence of the alpha wolf. And you are the alpha wolf of this place. Are you not?"
"I suspose so. I am the head of the College of Arms. My name is……"
"I know your name. I dust your desk six day a week. I know your grandchild is going to La Rosey, and, he is all you have in the world."
"Please. Just your name, and I will leave your to your work. I was just about to leave!"
The wolfen child came to stand next to Jean, and held out her arm. On her forearm was a crest containing a red dragon. Jean's mouth fell open, and before he could speak, she opened her eyes, and her angelic mouth;
"I am the Rouge Dragon!"
"Oh my God! Lift back your hair. I want to see your ears!" Jean commanded once more, he struggling to catch his breath.
"Do you want to see if I have wolf ears?" she asked with a musical quality in her voice. She was being whimsical.
"No! I would……….!" Jean stammered.
"I know who you think I am, but I am not he. My name is Victoria, Theresa, Bond, the granddaughter of Teresa Bond, the wife of James………….Bond. And, now you know!"
"But, how can this be?"
"God loves a story my mother used to say, and………
"If anyone asks, you were raised by wolves!"
"Oh my! You are not supposed to exist. Why are your revealing yourself?
"I want to go to La Rosey. I want to be an artist. I want to be – refined, like my grandmother. She went to La Rosey. She drove a sports car, a Jaguar. I want to own a Jaguar. My dusting days have come to an end.
I have never read a Ian Flemming novel. My God……It's all here! I have been led down the path of the Rouge Dragon for twenty years. I just posted on the coat of arms of the Quinotar and the city of the Franks. I watched parts of this Bond movie, and it is a stinker. How do you do a movie on coats of arms – back in 1969? After Dan Brown, it's a piece of cake!
Bond sees the love of his life trying to drown herself in the sea! What? What! She has a child, but it dies. This child was sired by another man, but, I changed the plot! I resurrected the Bond bloodline!
The name Hilary Bray was that of an old-Etonian with whom Fleming worked at the stock broking firm Rowe & Pitman,[16] whilst Sable Basilisk was based on "Rouge Dragon" in the College of Arms. Rouge Dragon was the title of heraldic researcher Robin de la Lanne-Mirrlees who asked Fleming not to use the title in the book; in a play on words, Fleming used Mirrlees's address, a flat in Basil Street, and combined it with a dragon-like creature, a basilisk, to come up with the name.[17] Mirrlees had Spanish antecedents, generally born without earlobes and Fleming used this physical attribute for Blofeld.[16] Mirrlees also discovered that the line of the Bonds of Peckham bears the family motto "The World is Not Enough", which Fleming appropriated for Bond's own family.[12]
On Her Majesty's Secret Service (novel)
From Wikipedia, the free encyclopedia
Jump to: navigation, search
For the James Bond film, see On Her Majesty's Secret Service (film). For the official franking initialism on which the title is based, see O.H.M.S.
On Her Majesty's Secret Service is the tenth novel in Ian Fleming's James Bond series, first published in the UK by Jonathan Cape on 1 April 1963. The initial and secondary print runs sold out, with over 60,000 books sold in the first month. Fleming wrote the book in Jamaica whilst the first film in the Eon Productions series of films, Dr. No, was being filmed nearby.
Posted on April 14, 2022 by Royal Rosamond Press
The Royal Janitor
Victoria's Austrian Prince, as she now called him, after he danced around his family tree, trying not to drop names (but he failed miserably) …… took his date to a very fancy French restaurant in London. Once seated, Lara was surprised he did not take off his hat.
When Victoria told Starfish her boyfriend was coming to BAD to see her sculptures, her bodyguard made up her mind to try and make Victoria jealous. She aid he was a cold-fish, and did not display his true feelings.
"He plays his cards close to his vest!" Victoria told Starfish.
Maybe so. We'll see, Starfish said to herself. When Victoria came to work wearing an all black leather outfit, walking past Starfish, with a swagger, she was glad she had devised a plan to – steal her boyfriend – which was common in American culture. Our Keiven Beauty wanted to see if she had – the right stuff – and brought a bouquet of sunflowers with her. Natitude had called in sick, and Starfish would be the receptionists.
Just then, Victoria's cellphone rang.
"You on the Isle now? You're bringing a celebrity friend of yours? I wish you had told me. I need to clear him – or her. You want it to be a Suprise. O.K."
"I think he's bringing Arnold Schwarzenegger with him. They are good friends.
Starfish saw him coming – Satan! She had an image since she was a child what he would look like…the Anti-Christ. He was not Arnold. Rising slowly from her chair, she grabbed a sunflower from her vase.
"This is for you Von Hinkleschumer. It is the symbol of the Ukraine, from where my people hail!"
In a swift motion, Steven Seagal stepped forward – and SLAPPED the flower from Starfishe's hand, making full contact – that hurt!
'Don't touch it. It might be poisoned!"
Steven saw, then felt, a great rage rise up in Starfish, and he took a defensive Akido position, which Starfish knew – like the back of her hand! Being five-eight she looked up and the towering Frankenstein Monster, and used the desk to launch what in wrestling is call 'A Flying Scissor'. With her legs wrapped tightly around his neck, Steven felt his center of gravity being pulled backwards. He was in shock! He was going down! He was going to land flat on his back with a – HUGE THUD! He knew his gut, and throat would be exposed! For the first time in his life – he felt utter panic!
To be continued
"You stay here and play with the kitty!"
"All's fair in love and war."
Throughout his long career, Sean Connery was not one to hold back.
The Scottish actor, who has died in his sleep, aged 90, once made the staggering claim in an interview that his wrist was purposefully broken by none other than Steven Seagal.
Seagal was hired as a fight choreographer on Connery's final ever james Bond film, Never Say Never Again, in 1983.
Sean Connery death: James Bond actor claimed Steven Seagal broke his wrist on purpose | The Independent
Steven Seagal is a longtime supporter of Putin and told his allies he loved them at a recent party (Image: GETTY)
Posted on March 16, 2018 by Royal Rosamond Press
With Great Britain leading a united force against Putin. I can come to the end of our amazing story, that Rena did not know about. She is the Muse of the Ages.
Caspar John is in my rosy family tree. He was a Sea Lord, and half-brother of Poppet Pol (John) There is no doubt that Rena's late husband, Commander Sir Ian Easton, and John, knew each other. Tabitha Getty is Caspar's second-niece. She was a Bohemian fashion model, and step-mother of John Paul, who was abducted. John is the subject of a movie and television series titled 'Trust'. Why are these knighted men marrying beautiful American women? May I dare wonder?
Rena was the muse of my late, Christine Rosamond, and I. This is the love story of our time. The children born at the end of the World War were given a special mission. Rena and I were destined to meet – and part – so our spirits can rescue Britain from her enemies. Britannia rules the waves! Like Phoenix Birds…………..We will rise from the ashes?
"We now come to the History of Jon.
Jon, Jôn, Jhon, Jan, are all the same name, though the pronunciation varies, as the seamen like to shorten everything to be able to make it easier to call. Jon—that is, "Given"—was a sea-king, born at Alberga."
King Henry the second claims he descends from Trojans. I have compared Rena to Helen of Troy – and the goddess, Britannia! I began a painting of her as Fair Rosamond, who captured Henry's heart. This King of England placed her in a Labyrinth. I can not yet reveal what the movie 'The Shape of Water' revealed to me. It has much to do with Pharamond, the King of Franks.
I am going to contact Boyle and send him a movie script 'Capturing Beauty'. If he won't produce it, I will send it to de Toro.
Everyone wants to overlook the truth that I rescued Rena in the City of Venice, by the sea. At the premiure of OUR MOVIE, we will unite. When she comes down the isle, the audience will stand as one, and sing: for the world is saved by many means, but, it is the love the artist has for his muse, that forever gets our special attention. This is what we come back for, again, and again.
The Muses, still with freedom found,
Shall to thy happy coasts repair.
Blest isle! with matchless beauty crowned,
And manly hearts to guard the fair.
Jon Presco
President: Royal Rosamond Press
Copyright 2017
Posted on June 26, 2021 by Royal Rosamond Press
On this day I found 'Spy Island Authors' . We are a school for authors of Spy Novels, and New Cold War Thrillers. The spirit of my grandfather, Royal Rosamond, will wage a historic battle against those who have done his family wrong, and intend to erase Democracy from the face of the earth. The American family will be just a memory unless the spirit of these men, arise.
The family of Elizabeth Rosemond Taylor came back to America in 1939. Liz and her brother, Howard, were British subjects who had contact with Victor Cazalet who may have been an operative for The New World Order. Victor has a vision of uniting the the two most powerful navies in the world. Royal Rosamond in camping on the Anacapa Islands with Dashiell Hammet, and other Black Mask authors. I doubt Liz and Royal ever met. This Rose Star knew very little about her roots when she died. If she had met my grandfather, then she would wonder aloud if they were kin. They had…..those eyes!
I invite my students, my trainees, to walk in the footsteps of the anonymous Continental Op who boards the sloop The Southern Cross to sail to Saint Croix Island with his peers for a much needed vacation. However, business is discussed. Members of the Bohemian Club are aware of this gathering. When Christopher Wilding married Aileen Getty, we became kin to Ian Fleming. James Bond is sailing aboard The Southern Cross.
My aunt Lillian told me she saw her father and Erle Stanley Gardener typing in the living room. she claimed Royal taught Earle how to write. There is a HBO series titled 'Perry Mason'. Royal was fifty-six when Liz got off the boat in New York. She was born in 1932. My mother, Rosemary, was born in 1928. My grandfather was publishing in Out West magazine in 1918, where the Taylor family was heading to find their fortune.
Here is my idea for a series 'James Bond In La La Land that I wrote after I began 'The Royal Janitor'. Shades of 'Once Upon A Time In Hollywood'.
My friend Bryan MacLean was invited to dinner at Sharon Tate's the night of the murders. I believe he was a friend of McQueen.
James Bond In La La Land? | Rosamond Press
"James met Steve McQueen at a red light on Mulholland Drive at 10:30 P.M. Steve was driving a Shelby Mustang, and Bond a Ford Torino Cobra. The actor, famous for his driving skills, revved his engine, and James gave the nod. When the light turned green, the race was on. Jame's knew he was disobeying his therapists orders. After McQueen edged Bond out, they stopped in a A&W, where they chatted. Steve invited James to dinner at Sharon Tates's house. 007 said he would consider it after he checked his calendar. In truth his doctor insisted he stay away from the fast LA crowd."
Steve McQueen had every intention of attending Tate's get-together that evening but, thanks to a persistent female companion, did not. The actor later learned that Manson wanted him dead as part of a prepared hit list of celebrity killings.
Steve McQueen Was on Charles Manson's 'Hit List' But His Libido Spared Him From Being Slaughtered (cheatsheet.com)
I am going to author a Straight Bond book.
John Presco
President: Royal Rosamond Press
Author of: The Royal Janitor
Copyright 2021
Ian Fleming – Talitha Getty – Elizabeth Rosemond Taylor | Rosamond Press
Matthew Rhys, John Lithgow and Tatiana Maslany to Star in 'Perry Mason' (hbo.com)
The Fleming Collection and Bond St. Gallery | Rosamond Press
The Continental Op is a fictional character created by Dashiell Hammett. He is a private investigator employed as an operative of the Continental Detective Agency's San Francisco office. The stories are all told in the first person and his name is never given.
The Philosopher Detective | Rosamond Press
Elizabeth Rosemond Taylor was born in London, England, on February 27, 1932, to American parents Francis and Sara Taylor. Her father was a successful art dealer who had his own gallery in London. Her mother was an actress who had been successful before marriage under the stage name Sara Sothern. Taylor has an older brother, Howard, who was born two years earlier. In 1939 the family moved to Los Angeles, California, where Taylor was encouraged and coached by her mother to seek work in the motion picture industry. Taylor was signed by Universal in 1941 for $200 a week.

Read more: https://www.notablebiographies.com/St-Tr/Taylor-Elizabeth.html#ixzz6yuTy1BWK
Posted on July 28, 2013 by Royal Rosamond Press
This extremely rare photo of the first west coast Black Mask get-together on January 11, 1936 captures possibly the only meeting of several of these authors.
Pictured in the back row, from left to right, are Raymond J. Moffatt, Raymond Chandler, Herbert Stinson, Dwight Babcock, Eric Taylor and Dashiell Hammett. In the front row, again from left to right, are Arthur Barnes (?), John K. Butler, W. T. Ballard, Horace McCoy and Norbert Davis.
Rosemary told me her father, Royal Rosamond, used to sail to the Channel Islands and camp with his friend, Dashiell Hammett who is seen standing on the right in the photo above.
Aunt Lillian told me she would fall asleep listening to Royal and Erle Stanley Gardner on the typewriter in the living room. Royal was Gardner's teacher and a member of the Black Mask. I believe I can almost recoginize Black Mask authors under the tree on Santa Cruz Island sitting under a tree with my grandmother, Mary Magdalene Rosamond, who does not look very happy as she embraces a black dog. Who is that woman? Is she a writer? She looks a bit crazed, as does the guy holding a gun. Is Mary hearing some far-out and weird ideas around the campfire?
When I was fifteen Rosemary showed me about six magazines wherein her father's stories appeared. There were several mysteries. I am going to send the camping photo to some experts. That looks like Raymond Chandler in front of the tent. Is he the guy packing heat?
Hammett wrote the Maltese Falcon that begins with a story about the Knight Templars. Was this a tale passed around the campfire on Santa Cruz Island?
Jon Presco
Copyright 2013
Posted on August 1, 2018 by Royal Rosamond Press
I am almost certain Arthur K. Barnes and John K. Butler are in these two photographs with my grandmother. I will tie Barnes and Butler to C.S. Lewis, Tolkien, and Ian Flemming. Add Dashiell Hammet to the mix. He would go camping on Anacapa Island with my grandfather, Royal Rosamond.
Elizabeth Rosemond Taylor is my only Muse. Liz, Christine, and I, are the only family members I want to be associated with. I am going to found a California Cultural Reserve in order to survive The Moron of Dark Tower and his Neo-Confederate Thunder Turds.
John Presco
http://www.thrillingdetective.com/trivia/john_k_butler.html
https://en.wikipedia.org/wiki/The_Space_Trilogy
John K. Butler
(1908–64)
Author JOHN K. BUTLER is best-known, at least in our little neck of the woods, for the numerous stories he pounded out for such pulps as Black Mask, Detective Fiction Weekly, Double Detective and especially Dime Detective.
His best known series character, of course, was Steve Midnight, the trouble-prone hack for the Red Owl Cab Company of Los Angeles, who appeared in nine stories in Dime Detective, but he was also responsible for the adventures of police detective Rex Lonergan and undercover cop Tricky Enright. but his forté seemed to be tough, competent sleuths with unlikely professions, such as Midnight, or hard-boiled phone company inspector Rod Case. Butler even penned at least one story about Sandy Taylor of the Harbor Police.
Butler was also one of the most prolific writers of B-pictures, eventually cranking out over fifty screenplays, mostly for Republic Pictures, more than half of them westerns, and many of them featuring Roy Rogers. Okay, so they were mostly B-flicks, but among his screen credits are such classic — and occasionally alternative classics — as Ambush at Cimarron Pass, Drums Along the River, My Pal Trigger, The Vampire's Ghost and– get this — Post Office Investigator, about a hard-boiled, um, post office inspector. A nitrate print of it survives in the UCLA Film and Television Archives but is not listed for preservation.
In the fifties, Butler moved on to television, again favouring westerns, although he also wrote for shows like The New Adventures of Charlie Chan, The Adventures of Dr. Fu Manchu and 77 Sunset Strip.
Butler was also a bit of a wingnut, dressing up in cowboy drag and galloping through Griffith Park on his horse Prince. You might even say he died in the saddle — he broke his back during a ride in 1964.
SHORT STORIES

"Murder Alley" (April 1, 1935, Dime Detective; Rex Lonergan)
"The Corpse Parade" (June 1, 1935, Dime Detective; Rex Lonergan)
"Fog Over Frisco" (July 1, 1935, Dime Detective; Rex Lonergan)
"The Stairway to Hell" (November 1, 1935, Dime Detective; Rex Lonergan)
"'G' Heat" (November 1935, Black Mask)
"Guns for a Lady" (March 1936, Black Mask)
"Seven Years Dead" (January 1936, Dime Detective; Tricky Enright)
"Dark Return" (May 1936, Black Mask; Mark Dana)
"Blood on the Buddha" (May 1936, Dime Detective; Rex Lonergan)
"Parole for the Dead" (August 1936, Dime Detective; Rex Lonergan)
"You Can't Bribe Bullets" (August 1936, Black Mask)
"The Mad Dogs of Frisco" (October 1936, Dime Detective; Rex Lonergan)
"No Rest for Soldiers" (October 1936, Black Mask)
"The Lady in the Grave" (October 31, 1936, Detective Fiction Weekly)
"Federal Bullets" (November 1936, The Feds)
"Celluloid Doom" (December 1936, Ten Detective Aces)
"The Mirror Maze" (February 1937, Ten Detective Aces)
"The Walking Dead" (February 1937, Dime Detective; Rex Lonergan)
"Reunion on River Street" (March 6, 1937, Argosy)
"The Blood Barrier" (March 1937, Ten Detective Aces)
"Death on the Hook" (March 1937, Headquarters Detective; Sandy Taylor)
"Gallows Ghost" (April 1937, Dime Detective; Tricky Enright)
"I Killed a Guy" (April 1937, Black Mask)
"The Parole Pawn" (May 1937, Ten Detective Aces)
"A Coffin for Two" (July 1937, Dime Detective; Rex Lonergan)
"Death in the Dust" (September 4, 1937, Detective Fiction Weekly)
"A Ticket to Tokyo" (September 18, 1937, Detective Fiction Weekly)
"A Street in Singapore" (September 25, 1937, Argosy)
"The Secret of the Wax Lady" (September 1937, ; Tricky Enright)Dime Detective
"Sierra Gold" (November 20, 1937, Argosy)
"Death Rides the Wires" (November 20, 1937, Detective Fiction Weekly)
"The Pied Piper of Frisco" (November 1937, Dime Detective Magazine; Rex Lonergan)
"Legend of Boulder Gap (1937)
"The Black Widow" (January 1938, Double Detective)
"Defender of the Doomed" (May 7, 1938, Detective Fiction Weekly)
"Why Shoot a Corpse?" (May 1938, Dime Detective; Tricky Enright)
"Over the Wall" (August 1938, Double Detective)
"Hard to Kill" (November 1938, Double Detective)
"Big Mike's Christmas Carol" (December 24, 1938, Detective Fiction Weekly)
"The Last Hideout" (January 1939, Double Detective)
"County Cleanup" (February 1939, Dime Detective; Tricky Enright)
"Murder in Mexico" (April 1939, Double Detective)
"The Headless Man in Hangar 3" (July 1939, Double Detective)
"The Man from San Quentin" (August 1939, Double Detective)
"The Man Who Liked Ice" (October 1939, Double Detective)
"Country Cop" (November 4, 1939, Detective Fiction Weekly)
"The Policeman Writes a Ticket" (December 1939, Double Detective)
"The Doctor Buries His Dead" (December 1939, ; Stan Denhart, M.D.)
"I Died Last April" (January 1940, Double Detective)
"The Lady and the Snakes" (March 1940, Double Detective)
"The Autumn Kill" (May 25 1940, Detective Fiction Weekly)
"The Dead Ride Free" (May 1940, Dime Detective; Steve Midnight)
"The Man from Alcatraz" (July 1940, Dime Detective; Steve Midnight)
"Cop from Yesterday" (September 28, 1940, Detective Fiction Weekly)
"Hacker's Holiday" (October 1940, Dime Detective; Steve Midnight)
"Brass Knuckles" (October 19, 1940, Detective Fiction Weekly)
"The Saint in Silver" (January 1941, Dime Detective; also The Hardboiled Dicks; Steve Midnight)
"Don't Make It Murder" (February 1941, Black Mask)
"The Killer was a Gentleman" (March 1941, Dime Detective; Steve Midnight)
"We Sell Murder" (Summer 1941, Exciting Murder)
"Dead Man's Alibi" "July 1941, Dime Detective; Steve Midnight)
"Death Has My Number" (August 1941, Black Mask; Rod Case)
"Blitz Kill" (September 1941, G-Men Detective)
"The Hearse from Red Owl" (September 1941, Dime Detective; Steve Midnight)
"Murder for Nickels" (December 1941, Black Mask; Rod Case)
"Death and Taxis" (January 1942, Dime Detective; Steve Midnight)
"Cops Have Nine Lives" (February 1942, Street & Smith's Detective Story Magazine)
"Funeral — C.O.D." (February 1942, Detective Tales)
"The Mark of the Monterey Kid" (February 1942, Western Tales)
"The Corpse That Couldn't Keep Cool" (March 1942, Dime Detective; Steve Midnight)
"Never Work at Night" (March 1942, Black Mask; Rod Case)
"Death Goes Dancing" (May 1942, Street & Smith's Detective Story Magazine)
"The Pen is Not for Punks" (Fall 1942, The Masked Detective)
"Dead Letter" (September 1942, Black Mask; Rod Case)
"The Last Man to Hang" (October 1942, Detective Tales)
"Legend of Boulder Gap" (February 1950, Max Brand's Western Magazine)
"The Man Who Knew Cochise" (December 1952, Western Story Magazine)
"So-Long, Tombstone!" (June 1953, Western Story Magazine)
"A Man with a Gun" (June 1955, Best Western)
COLLECTIONS
RELATED LINKS
John K. Butler captured on film, along with a few of his partners in crime!
Respectfully submitted by Kevin Burton Smith.
interplanetary Huntress
the gerry carlyle stories
of arthur k barnes
When you read a great and famous author, delight comes without surprise. But when an obscure writer gives us a book which turns out to be a lot better than expected, the pleasure is laced with the extra tang of astonishment. This is what we get from the tales of roving Gerry "Catch 'em alive" Carlyle, the huntress in the misleadingly titled collection Interplanetary Hunter. Her vocation is to capture exotic alien creatures for the London Interplanetary Zoo, and this theme allows many attractive branchings.
Gerry herself is a likeable, headstrong character, living on her nerves, very capable, yet vulnerable to the threat of what she cannot afford – namely, defeat.
…This day was to be one of many surprises for Tommy Strike and perhaps the greatest shock of all came when he stood beside the sloping runway leading into the brightly lighted belly of the ship. For, awaiting him there, one hand outstretched and a cool little smile on her lips, stood the most beautiful girl he had ever seen.
"Mr Strike," said Barrows, "this is Miss Gerry Carlyle."
The trader stared, thunderstruck. In those days of advanced plastic surgery, feminine beauty wasn't rare but even Strike's unpracticed eye knew that here was the real thing. No synthetic blonde baby-doll here but a natural beauty untouched by the surgeon's knife – spun-gold hair, intelligence lighting dark eyes, a hint of passion and temper in the curve of the mouth and arch of nostrils…
But Miss Carlyle's voice was an ice-water jet to remind the trader of earthside manners.
"You don't seem enthusiastic over meeting your temporary employer, Mr Strike…"
Stid: Old-fashioned stereotype here, eh? Wilful female eventually tamed by male who knows best…
Zendexor: I'd say, as a matter of fact, that the relationship between hero and heroine is particularly well handled. In action-adventure you don't want anything too subtle, but let me summarize the writer's achievement in this regard, by saying that we end up by accepting both Tommy Strike and Gerry Carlyle as real people. The man is quietly competent and content to allow the woman the starring role. The woman lives on her nerves, under great pressure to succeed in a man's world.
Stid: A "man's world" – in the interplanetary age? There you have it.
Zendexor: You mean, it's stereotypical because it's out of date? Don't see why the one implies the other. Even if it did – every period of history generates its own rich crop of stereotypes, and isn't it a relief to take a holiday from ours, once in a while? But this is a digression. Actually, stereotypophobes have nothing to fear from this book. As the two main characters grow to love and respect each other, the reader can share their mutual regard, as well as appreciating with zest the mutual double-crossing of the subsidiary characters, Van Zorn and Quade.
Harlei: It's fiction, Stid, in case you hadn't noticed. Pulp-era fiction. Explain to him what historical context means, Zendexor.
Zendexor: Yes, well, the stories are old-fashioned, no doubt about that. Arthur K Barnes wrote them in the late 1930s and early 1940s. But they still have the power to entertain us with the unexpected originality of their ideas, the fresh vigour of their old-fashioned characters, and above all the inventiveness of their portrayal of alien creatures.
Cross the colour and thought-provoking variety of Weinbaum's interplanetary adventures with the frontier wonderment of Campbell's Penton and Blake saga, and you might get some idea of what awaits you with Barnes' series.
Though I hasten to add that Barnes writes much, much better than Campbell. Only in the realm of ideas, of pure concepts, may Campbell equal him; but I hesitate even to say this. And it is Barnes who is by far the better at world-building.
…She sniffed noting what all newcomers to Venus learn. Although the view is a drab almost colorless one, an incredible multiplicity of odors assails the nostrils – sweet, sharp, musklike, pungent, spicy, with many unfamiliar olfactory sensations to boot.
Strike explained. On Earth flowering plants are fertilized by the passage of insects from one bloom to another, they develop petals of vivid colors to attract bees and butterflies and other insects. But on Venus, where perpetual mist renders impotent any appeal to sight, plants have adapted themselves to appeal to the sense of smell, therefore give off all sorts of enticing odors…
Such passages help promise the reader, that the story will rest upon logical foundations. So, when the heroine faces a mighty challenge, the reader is reassured that the author won't cheat – that it won't all be fixed by some lazy trick.
The challenge, in the Venus story, is provided by the 'Murris'.
…Gerry Carlyle's temper flared.
"What is the mystery about this Murri, anyhow? Everywhere I go, on Venus, back on Earth among members of my own profession, if the word Murri is mentioned everyone scowls and tries to change the subject. Why?"
No one answered. The Carlyle party shifted uneasily, their boots making shucking sounds. Presently Strike offered, "The fact is, you'll never take back a Murri alive. But you wouldn't believe me if I told you the reason, Miss Carlyle. I – "
"Why not? What's the matter with them? Is their presence fatal to a human in some way?"
"Oh, no."
"Are they so rare or shy they can't be found?"
"No, I think I can find you some before you take off."
"Then are they so delicate they can't stand the trip? If so, I can tell you we've done everything to make hold number three an exact duplicate of living conditions here."
"No, it isn't that either," the trader sighed.
"Then what is it?" she cried. "Why all the evasions and secretive looks?…"
I certainly didn't guess the mystery. This author, in my view, really does deliver the goods. The stories – all of them – are unpredictable yet always manage to make their own kind of sense. We're taken to several varied worlds: Venus, Amalthea, Triton, a comet, Saturn and Titan. Each time we're given a starkly different kind of native life, with biological inventiveness to match that of Stanley G Weinbaum.
Harlei: Just a moment, Zendexor – you've said some good things about the book but I want you to praise it some more, in a different way. I'm a bit worried that some prospective readers might get the wrong impression from what you've said so far. I can imagine some of them thinking: well, maybe the stories are colourful and inventive, but still, they're likely to be a bit repetitive, if each and every one of them is mainly concerned with the heroine capturing some difficult beast… I mean to say, if that's the only structure the stories have –
more stuff to come, apparently
Zendexor: I get the point. But – no need to worry: Gerry's plans run into plenty of other problems. It's not just about catching beasts! There are alien intelligences too. Not that she is out to ensnare intelligent species, of course, but, unsuspecting, she meets some nonetheless, on Titan and on Almussen's Comet. Also, the plot can hinge upon hostile action by her human enemies, for she has plenty of trouble from her own species, and these crises mingle with the simultaneous dangers from alien beasts and environments. Think of what happens on Triton and on Jupiter Five.
Stid: So, you're giving it all the thumbs-up.
Zendexor: Look, such tales have the virtues and limitations of frontier adventures. They won't give you what you get from Burroughs, Hamilton, Brackett, or from Clark Ashton Smith in The Immortals of Mercury and Vulthoom, namely the thrill of wandering among the ancient mysteries of exotic civilizations. Nevertheless if you follow Gerry and her "Ark" you will get the thrill of discovery, like in Smith's other interplanetary masterpiece, The Immeasurable Horror. Although one must admit that Barnes is not a match for Smith stylistically, he's still good enough, and his achievement will be appreciated by old-style OSS fans.
To sum up, this book is much, much better than it looks. And the Emshwiller illustrations are a delightful bonus. I have given only the Venus ones on this page; there are many more from the other worlds visited in the stories.
Arthur K Barnes, Interplanetary Hunter (1956).
See the Amalthea page for the visit to that moon, including a reference to the fearsome Cacus.
See the Triton page for the adventure set on that moon.
Extracts: Grounded on Titan – Shape-shifters on Almussen's Comet.
http://en.wikipedia.org/wiki/Raymond_Chandler
Chandler had an immense stylistic influence on American popular literature, and is considered by many to be a founder, along with Dashiell Hammett, James M. Cain and other Black Mask writers, of the hard-boiled school of detective fiction. His protagonist, Philip Marlowe, along with Hammett's Sam Spade, is considered by some to be synonymous with "private detective," both having been played on screen by Humphrey Bogart, whom many considered to be the quintessential Marlowe.
Black Mask was a pulp magazine launched in 1920 by journalist H. L. Mencken and drama critic George Jean Nathan as one of a number of money-making publishing ventures to support the prestigious literary magazine The Smart Set, which Mencken edited, and which operated at a loss. Under their editorial hand, the magazine was not exclusively a publisher of crime fiction, offering, according to the magazine, "the best stories available of adventure, the best mystery and detective stories, the best romances, the best love stories, and the best stories of the occult." The magazine's first editor was Florence Osborne (credited as F. M. Osborne).[1]
Contents
[hide]
1 Editorial control
2 Contributing authors
3 Decline and revival
4 In popular culture
5 Anthologies
6 References
7 External links
Editorial control[edit]
After eight issues, Mencken and Nathan considered their initial $500 investment to have been sufficiently profitable, and they sold the magazine to its publishers, Eltinge Warner and Eugene Crow for $12,500. The magazine was then edited by George W. Sutton (1922–24), followed by Philip C. Cody.[2] In 1926, Joseph Shaw took over the editorship.
Contributing authors[edit]
Early Black Mask contributors of note included J. S. Fletcher, Vincent Starrett, and Herman Petersen.[3] Shaw, following up on a promising lead from one of the early issues, promptly turned the magazine into an outlet for the growing school of naturalistic crime writers led by Carroll John Daly. Daly's private detective Race Williams was a rough and ready character with a sharp tongue, and established the model for many later acerbic private eyes.
Black Mask later published the profoundly influential Dashiell Hammett, creator of Sam Spade and The Continental Op, and other hardboiled writers who came in his wake, such as Raymond Chandler, Erle Stanley Gardner, Paul Cain, Frederick Nebel, Frederick C. Davis, Raoul F. Whitfield,[3] Theodore Tinsley, W.T. Ballard, Dwight V. Babcock, and Roger Torrey.[4] Author George Harmon Coxe created "Casey, Crime Photographer", for the magazine, which became a media franchise with novels, films, radio, comic book tie-ins, television, and legitimate theatre.[5] Black Mask's covers were usually painted by artists Fred Craft or J. W. Schlaikjer,[6] while Shaw gave the artist Arthur Rodman Bowker a monopoly over all Black Mask interior illustrations.[7] Although primarily known for male contributors, Black Mask also published a number of women crime writers, including Marjory Stoneman Douglas, Katherine Brocklebank, Sally Dixon Wright, Florence M. Pettee, Marion O'Hearn, Kay Krausse, Frances Beck, Tiah Devitt and Dorothy Dunn. [8] The magazine was hugely successful, and many of the writers, such as Hugh B. Cave, who appeared in its pages went onto greater commercial and critical success.
Although crime fiction made up most of the magazine's content, Black Mask also published some Western and general adventure fiction.[1]
Decline and revival[edit]
Black Mask reached a sales peak in the early 1930s, but then interest began to wane under increasing pressure from radio, the cinema, and rival pulp magazines. In 1936, refusing to cut writers' already meager pay, Shaw resigned, and many of the high-profile authors abandoned the magazine with him. Shaw's successor Fanny Ellsworth, (1936–40) managed to attract new writers to Black Mask, including Cornell Woolrich, Frank Gruber, Max Brand and Steve Fisher. [9] However, from the 1940s on, Black Mask was in decline, despite the efforts of new editor Kenneth S. White (1940–48). The magazine in this period carried the work of John D. MacDonald.[1] Henry Steeger then edited Black Mask anonymously until it eventually ceased publication in 1951. [2]
In 1985, the magazine was revived as The New Black Mask, and featured noted crime writers James Ellroy, Michael Collins, Sara Paretsky and Bill Pronzini, as well as Chandler and Hammett reprints. Edward D. Hoch praised the revived Black Mask, stating in the book Encyclopedia Mysteriosa that "it came close to reviving the excitement and storytelling pleasure of the great old pulp magazines". Due to a legal dispute over the rights to Black Mask name, the magazine ceased publication in 1987. It was revived as a short-lived magazine titled A Matter of Crime.[10]
Original copies of the Black Mask are highly valued among pulp magazine collectors. Issues with Chandler and Hammett stories are especially rare and command high prices.[1]
In popular culture[edit]
Black Mask magazine was the specific pulp fiction magazine that inspired the 1994 Quentin Tarantino film Pulp Fiction. Originally, the title of the film was Black Mask, before being changed.
An issue of Black Mask magazine features as a (planted) clue in the 1927 murder mystery novel Unnatural Death by Dorothy L. Sayers.
An episode of the 1990s television series Millennium mentions a 'literary journal' known as the 'Dark Mask' which featured detective fiction, an obvious parody of the Black Mask.
Anthologies[edit]
The Hard-Boiled Omnibus: Early Stories from Black Mask edited by Joseph T. Shaw, (1946).
The Hard-Boiled Detective: Stories from Black Mask magazine, 1920-1951 edited by Herbert Ruhm, (1977).
The Black Mask Boys: masters in the hard-boiled school of detective fiction edited by William F. Nolan, (1985).
Includes a short history of the magazine.
The Black Lizard Big Book of Black Mask Stories edited by Otto Penzler, (2007).
This extremely rare photo of the first west coast Black Mask get-together on January 11, 1936 captures possibly the only meeting of several of these authors.
Pictured in the back row, from left to right, are Raymond J. Moffatt, Raymond Chandler, Herbert Stinson, Dwight Babcock, Eric Taylor and Dashiell Hammett. In the front row, again from left to right, are Arthur Barnes (?), John K. Butler, W. T. Ballard, Horace McCoy and Norbert Davis.
Cleve F. Adams (6 stories)
Dwight V. Babcock (21 stories)
W. T. Ballard (43 stories)
Max Brand (9 stories)
Katherine Brocklebank (7 stories)
John K. Butler (11 stories)
Paul Cain (17 stories)
Hugh B. Cave (9 stories)
D.L. Champion (30 stories)
Raymond Chandler (11 stories)
Merle Constiner (12 stories)
George Harmon Coxe (27 stories)
John Carroll Daly (60 stories)
Norbert Davis (13 stories)
Ramon DeColta (24 stories)
Lester Dent (2 stories)
Bruno Fischer (5 stories)
Steve Fisher (9 stories)
Erle Stanley Gardner (103 stories)
William Campbell Gault (7 stories)
Frank Gruber (14 stories)
Brett Haliday (2 stories)
Dashiell Hammett (49 stories)
Baynard H. Kendrick (14 stories)
Louis L'Amour (1 story)
John Lawrence (14 stories)
John D. MacDonald (6 stories)
Horace McCoy (17 stories)
Robert Martin (8 stories)
Frederick Nebel (67 stories)
Robert Reeves (10 stories)
Stewart Sterling (12 stories)
Herbert Stinson (27 stories)
Eric Taylor (7 stories)
Roger Torrey (50 stories)
Donald Wandrei (6 stories)
Raoul Whitfield (66 stories)
Cornell Woolrich (24 stories)
Posted on July 27, 2018 by Royal Rosamond Press
McClory was romantically involved with Elizabeth Taylor. Although he and Taylor reportedly had plans to marry, Taylor would eventually leave him for her future husband Mike Todd. Todd and McClory fell out over Taylor yet they managed to complete the final cut of the film side by side. The trio would eventually reconcile and they remained friends until Todd's untimely death in 1958.[8][9]
MGM and Danjaq have acquired all of the rights and interests in James Bond held by the estate of Kevin McClory, ending more than 50 years of litigation between the producers of the franchise and an author who penned Bond scripts with Ian Fleming.
MGM, 'James Bond' Producer End Decades-Long War Over 007
O.K. This seals the deal. I got to get busy promoting myself. I am going to contact Don King and see if he can get me in a ring with Franklin on pay-per-view! I want five mill.
I am destined to write a great Bond Novel. It is in my family tree! I declare authoring a Bond book – my rosy families Art Form and Religion! Liz almost married Kevin McClory. Would one of their children have married a Getty?
Every day I see a Liz and Bond story on google news – along with our kindred! We are the alternative reality to Putin, Trump & Graham who hate my people – and Hollywood! Why is that? I will unveil our Family Cosmology that hopefully will replace Christianity. Justine Lovesit sounds like Miriam Starfish Christling who grew up in Christian Nudist Colonies.
I have written myself into 'The Royal Janitor'. I am 'The Wizard' who administers the final pseudo-psychological Loyalty Check – I invented – for membership in BAD, employing a Babe Ruth baseball, if you are a male, and a stuffed Unicorn, if you are a female. How candidates handle me is the real test, conducted by the panel behind the one-way mirror.
All my distractors and false accusers have been vanquished. A unseen hand has led me to discover the Love between Kevin and Liz, so I can go on with my story – with my head held high! I am a certified Bond Author, blessed by my ROSE DNA.
The G on my white cap stands for………..GANDALPH! In spirit, Shadowfax will replace my beloved felines, Greyhaven and Brembe.
John Presco
'Family Bond Author'
https://en.wikipedia.org/wiki/Kevin_McClory
Kevin O'Donovan McClory (8 June 1924[1] – 20 November 2006) was an Irish screenwriter, producer, and director. McClory was best known for adapting Ian Fleming's James Bond character for the screen, for producing Thunderball, and for his legal battles with Fleming (later United Artists, Metro-Goldwyn-Mayer and Eon Productions).[2]
Unmade Movies
Will we ever see a Bond girl called Justine Lovesit and robotic sharks delivering nuclear bombs through the sewers of Manhattan? Perhaps not, but those were some of the concepts in the 1976 "Warhead" script that was a collaboration with Sean Connery and Len Deighton. Described as 'Star Wars underwater', Connery got nervous about the legal entanglements, saying "Before I put my nose in to anything, I want to know it is legally bona fide." Then Paramount got nervous too, and walked away with their $22m budget. McClory tried to recycle the script again in 1989, retitling the film "Atomic Warfare", and approached Pierce Brosnan who had missed out on the role to Timothy Dalton due to an NBC contract.

Above: Warhead (1978) concept artwork – interior of the Statue of Liberty depicting a chamber containing a dock within which there is a submarine, and a robot 'Hammerhead' shark hanging.
Bryce was a close friend of Ian Fleming. In 1958 Fleming approached McClory to produce the first Bond film. McClory rejected all of Fleming's books but felt that the character James Bond could be adapted for the screen. McClory, Bryce, Fleming and Jack Whittingham developed the new James Bond character through a number of treatments and screenplays. McClory, Fleming and Bryce settled on the screenplay Longitude 78 West (later renamed Thunderball) and went into pre-production. Fleming had assigned his interest in the film to McClory and Bryce's company Xanadu and would make no more money from the project. He conspired with Bryce to force McClory out of the film, denying that McClory had any legal interest in the screenplays and treatments that had been written during their collaboration. Later and without permission, Fleming novelised the draft screenplay Thunderball, his ninth novel, in 1961, which initially did not credit McClory or Whittingham. The two sued, and the case opened to the High Court in London on 20 November 1963.
After nine days, the case was settled. Fleming paid McClory damages of £35,000 and his court costs of £52,000, and future versions of the novel were credited as "based on a screen treatment by Kevin McClory, Jack Whittingham, and Ian Fleming" – in that order. Fleming and Bryce conveyed to McClory any rights they held in the screenplays and treatments that McClory, Whittingham and Fleming had written during their collaboration. Fleming conveyed to McClory the worldwide film rights in the novel Thunderball. Harry Saltzman's and Albert R. Broccoli's production company Eon Productions later made a deal with McClory for Thunderball to be made into a film in 1965, with McClory producing.[2] Under the deal, Eon licensed McClory's rights for a period of ten years and in return they assigned to McClory any rights they had in the scripts and treatments. McClory made an uncredited cameo in the film.[11]
In 1968 McClory announced plans to make a film about Irish revolutionary leader Michael Collins, to star Richard Harris.[12] The film was to have been shot at Ardmore Studios in 1969 but was never made.[why?][13]
McClory subsequently continued to try to make other adaptations of Thunderball, including Warhead 2000 A.D. which was to be made by Sony.[2] MGM/UA took legal action against Sony and McClory in the United States to prevent the film going into production. MGM/UA abandoned the claim after settling with Sony. His rights were untouched. In 2004 Sony acquired 20% of MGM; however, the production and final say over everything involving the film version of James Bond is controlled by Eon Productions, Albert R. Broccoli's production company and its parent company Danjaq, LLC.[citation needed]
Prior to Sony's settlement with MGM in 1999, they filed a lawsuit against MGM claiming McClory was the co-author of the cinematic 007 and was owed fees from Danjaq and MGM for all past films. This lawsuit was thrown out in 2000 on the ground that McClory had waited too long to bring his claims. The Ninth Circuit Court of Appeals later affirmed this decision in 2001.[2][16]