https://www.foxnews.com/politics/trump-impeachment-pastors-pray-white-house
"We take it very personally because they're going after our values," Graham said, calling the ongoing House impeachment inquiry a "sham of an investigation."
Here is how evangelical leaders treated President Clinton – a Democrat. Why aren't Democrat taking it personally?
https://www.washingtonpost.com/religion/2019/09/27/how-evangelical-leaders-surrounded-clinton-during-last-presidential-impeachment-process/
"Last time around, Bill Clinton, the last president Congress impeached, didn't have the kind of support among conservative evangelicals that Trump enjoys. The Christian right levied a constant barrage of attacks at Clinton, a pro-choice Democratic president who had been accused of sexual misconduct.
Graham, in a 1998 Wall Street Journal op-ed written in response to Clinton's affair with Monica Lewinsky, skewered Americans for succumbing "to the notion that what a person does in private has little bearing on his public actions or job performance, even if he is the president of the United States."
How long has it been since the Haffner family discovered I did not share their "values" and thus something out of the ordinary had to be done? When did Krista and her man decide I needed to be CONFRONTED, even though there is nothing in our lease that says we should attack people who are not like us, not of our faith?
Pastor Graham declared WE are "going after" their values. Really! I suggest the Master Pastor of Paranoia supply real evidence there is a real conspiracy. I would like to find a real good lawyer and sue his church out of existence! Is it any wonder their President is an out of control Paranoid – that has caused the deaths of hundreds. He is just getting started.
Just because you have "values" does not give you the right to terrorize a senior and kick the cat he befriended. I spit on your values that have everything to do with sticking your nose in the sexuality of your neighbor. If they want to get an abortion – it is none of your business! If you want to marry your gay lover, it is none of your business. Screw your FAKE VALUES! Mind your own business – AND OBEY THE LAWS OF THE LAND!
What really drove the Value Voters For Jesus – INSANE – was my declaration I was a non-Christian prophet. I got it right. I saw this day coming! Ralph Reed is Little Satan. Screw his fake "heartland".
The President is a Grown Man! He can take care of himself. He is supposed to to be The Most Powerful Man In The World. Most elected Republicans studied Law. Trump can afford an attorney. Why in God's Name does he need Reed and Graham in his corner – along with Jesus? Jesus, and his Creepy Creepers For Christ – have failed to keep Messiah Trump out of trouble! Does this make Jesus – A TOTAL FAILURE?
Perhaps Jesus knows who is REALLY attacking his values! Nowhere in the Bible does Jesus encourage his followers to form gangs and go after his enemies. Kim Haffner formed a gang consisting of our neighbors who signed a lease agreeing to obey the law.
Here is Putin's motorcycle gang that did help Trump's good buddy take back the Crimea, and harass the people of Ukraine – that Trump terrified and weakened when he withheld anti-tank rockets. Evangelicals know of the Night Wolves who say they are a Christian Club. Not one Christian Leader anywhere said; "I can sympathize with the Ukranian President. But, he misunderstood!"
What we got instead, was these evangelical leaders climbing on Jesus' cross, and crying……."Why is Congress persecuting me and my beloved President!"
This is a HUGE HERESY!
Scew the Night Wolves…too!
What evangelical pastors are telling their flock in my town, and yours, is, Jesus can never get a fair earthly trial, and thus they can't either. The secular courts and the Judicial Branch have been taken over by Satanists. Thank God Jesus died on The Holy Cross of Holy Justice, that the believers can climb on, and die next to God-Jesus, and God-Trump…The Evangelical Messiah of the United States of America! You too can own THE TRIPLE POWER OF HEAVEN! You too can help bring back America's Church – that was all but dead! Bullshit! You too can make America Great again! This is exactly the message Adolph Hitler gave.
Sue Haffner is so very extra special. She believed her daughter and her gang would drive me out of my abode, so she doesn't have to see The Satanic Monster when she comes over to visit her 500 pound daughter. I am sure Sue Haffner went to her pastor, and come Sunday, a prayer-curse is sent my way. Sue needs to be assured she owns The Triple Power! This is why good Germans didn't mind seeing trains full of Jews, heading to the extermination camps. They had become addicted to being empowered by a mere man.
How many pastors understand that the President of the Ukraine – feared for his life – and the lives of the Ukranian People? But, they choose to keep their mouths shut, and – lie their ass office in the name of Jesus? How many Christians in the Ukraine pray to Jesus that Putin won't send his armed monster across their ancient borders?
"Get Biden – or else! Help me destroy the Democrats who "smear" Jesus!"
"Founder and Chairman of the Faith and Freedom Coalition Ralph Reed says Democrats need to figure out how to not talk down to, sneer and smear evangelical voters."
God has already figured out "how". He turned this Democrat into a Republican, and, He made me a – True Prophet! Only I need look down on these devils, and "sneer"!
I truly stand alone! "One man, one vote!"  I would never vote for the Ghost of Jesus. I vote so my fellow Americans can be empowered by the vote, so WE can empower each other with OUR vote! I don't need the President of Ukraine to empower me. I don't need a foreigner to do away with my enemies – in the dark! My God bids me to take my light from under a bushel! What does that mean? When did it mean anything………….more than today!
TRUST GOD! Grow up! Stand on your own two feet. Be a man, for Christ sake.
John 'The Prophet'
https://en.wikipedia.org/wiki/Night_Wolves
https://rosamondpress.com/2019/05/21/i-just-talked-to-fbi/
https://rosamondpress.com/2019/04/13/why-is-krista-discussing-my-section-8/
https://www.msn.com/en-us/news/politics/trump-violates-all-recognized-democratic-norms-federal-judge-says-in-biting-speech-on-judicial-independence/ar-BBWsJBx?ocid=spartandhp
A national security official told House impeachment investigators the transcript of the July 25 call between President Donald Trump and Ukraine's leader at the center of the probe was edited to remove a reference to the energy company with ties to Joe Biden's son.
Lt. Col. Alexander Vindman said President Volodymyr Zelenskiy had been prepped for the call with Trump. He said that Zelenskiy specifically referenced looking into the situation with Burisma, the company linked to Hunter Biden. But Vindman said the rough transcript was edited to read: "the company." Vindman also said the editing process for the rough transcript of the call went through a different, more secure system. And he had a difficult time logging into the system and had to get a hard copy and make edits on paper.
Also, Vindman said a diplomat specifically mentioned that the Ukrainians would have to investigate the Bidens.
Vindman said in testimony that there was "no ambiguity." He said the conversation happened during a White House meeting with Ambassador Gordon Sondland, Ukrainian officials and others. A transcript of Vindman's testimony was released Friday. Vindman is an Army officer assigned to the National Security Council.
In an unusually critical speech that lamented the public's flagging confidence in the independence of the judicial branch, a federal judge slammed President Trump for "feeding right into this destructive narrative" with repeated attacks and personal insults toward judges he dislikes.
U.S. District Judge Paul L. Friedman of the District of Columbia said Trump's rhetoric "violates all recognized democratic norms" during a speech at the annual Judge Thomas A. Flannery Lecture in Washington on Wednesday.
"We are in unchartered territory," said Friedman, 75, an appointee of President Bill Clinton. "We are witnessing a chief executive who criticizes virtually every judicial decision that doesn't go his way and denigrates judges who rule against him, sometimes in very personal terms. He seems to view the courts and the justice system as obstacles to be attacked and undermined, not as a coequal branch to be respected even when he disagrees with its decisions."
The White House did not immediately return a request for comment early Friday on Friedman's speech.
Other judges have raised similar concerns about Trump's rhetoric and the increasingly partisan interpretation of judicial rulings, but as a senior judge and secretary of the American Law Institute, Friedman's criticism carries weight.
Trump has denounced judges who have halted some of his administration's most hotly debated policies, including his threats to withhold federal funds from sanctuary cities and his attempt to end the Deferred Action for Childhood Arrivals (DACA) program, which protects from deportation young undocumented immigrants brought to the United States as children. The president also has attacked judges over rulings that negatively affect him personally.
Evangelical pastors and leaders met and prayed with President Trump amid House Democrats' drive toward impeachment.
Fox News spoke with Pastor Jack Graham, Ralph Reed and the Rev. Johnnie Moore, three of the 25 leaders in attendance on Tuesday morning for an hourlong, wide-ranging meeting in the Roosevelt Room at the White House. There, Trump was greeted with a standing ovation.
TUCKER CARLSON: IMPEACHMENT INSANITY – IT'S NOT CLEAR EXACTLY WHAT 'HIGH CRIME' TRUMP COMMITTED
"We discussed our support," said Graham, the pastor of Prestonwood Baptist Church in Plano, Texas. "We assured him that evangelicals across America support him. …We are unwavering in our support for the president."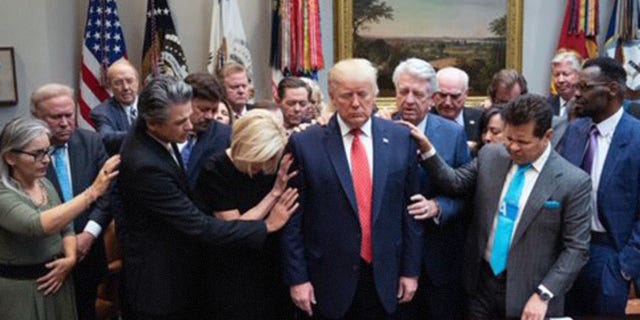 Trump did not appear preoccupied with the impeachment inquiry, the advisers said, adding that the majority of their time was focused on various accomplishments: the nomination of federal judges, criminal justice reform, the defense of religious freedom, abortion reduction, the child tax credit, opportunity zones, the battle against opioid addiction and human trafficking, the Islamic State and the targeted operation leading to the death of ISIS leader Abu Bakr al-Baghdadi.
"We prayed for the president, with thanksgiving, as always, that he would know God's wisdom and strength as the president of the United States," Graham said, noting they offer to pray for Trump frequently. It's a gesture he "always welcomes," ever "appreciative of the people who pray for him across the country."
Trump handily won the evangelical vote in 2016, and the leaders believe he has gained more support for reelection.
PAULA WHITE ON HOW SHE BECAME TRUMP'S SPIRITUAL ADVISER AND WHY HE'LL CARRY EVANGELICAL VOTE IN 2020
Reed, the chairman of the Faith and Freedom Coalition, added, "I have never seen a president more focused, more in command than what we saw with President Trump yesterday."
When it comes to the impeachment push by House Speaker Nancy Pelosi, the pastors said Trump is coping well.
WHY PASTOR JOSEPH PRINCE TAKES COMMUNION DAILY — AND HIS 'SIMPLE' MESSAGE FOR AMERICA
"It was abundantly clear, he's totally unfazed by this," said Moore, president of the Congress of Christian Leaders. "Everybody felt this way. This isn't actually about Donald Trump. … It's about the agenda that he's put forward, the success he's had in advancing the agenda."
"Evangelical leaders see this, not as impeaching Donald Trump, but they're trying to impeach me and my values," Moore said, adding, "Donald Trump is pretty good at fighting alone — but he isn't going to have to on this one."
Evangelical pastors and leaders met and prayed with President Trump amid House Democrats' drive toward impeachment.
Fox News spoke with Pastor Jack Graham, Ralph Reed and the Rev. Johnnie Moore, three of the 25 leaders in attendance on Tuesday morning for an hourlong, wide-ranging meeting in the Roosevelt Room at the White House. There, Trump was greeted with a standing ovation.
TUCKER CARLSON: IMPEACHMENT INSANITY – IT'S NOT CLEAR EXACTLY WHAT 'HIGH CRIME' TRUMP COMMITTED
"We discussed our support," said Graham, the pastor of Prestonwood Baptist Church in Plano, Texas. "We assured him that evangelicals across America support him. …We are unwavering in our support for the president."