(CNN)The House Select Committee investigating the January 6 riot has in its possession more than two dozen text messages, 29 in total, between former Trump White House chief of staff Mark Meadows and Virginia "Ginni" Thomas, a conservative activist and the wife of Supreme Court Justice Clarence Thomas, according to multiple sources familiar with the messages.'
January 6 committee has text messages between Ginni Thomas and Mark Meadows – CNNPolitics
Today, I talked with my therapist about suing Oregon FAMILY Council, then spent two hours on the phone after our session looking for an attorney to represent me. I took a nap, and while I slept, this breaking news. What are the odds!?
IMPEACH THOMAS! DEMAND HE RESIGN! MARCH ON WASGHINGTON! DOWN WITH UNCLE TOM and HIS SINISTER END TIME JESUS FREAK!
Does Gini know, and back Kirill, the hater of Gay Pride Parades? Has Gini had any contact with Putin?
John Presco
Ginni Thomas, Wife Of Clarence Thomas, Says She Attended Jan. 6 'Stop The Steal' Rally (yahoo.com)
The Ginni Thomas Question – The New York Times (nytimes.com)
Ginni Thomas, Wife Of Clarence Thomas, Says She Attended Jan. 6 'Stop The Steal' Rally
Marita Vlachou
March 14, 2022·3 min read
Ginni Thomas, the wife of Supreme Court Justice Clarence Thomas, said she attended the "Stop the Steal" rally that preceded the violent attack on the U.S. Capitol on Jan. 6, 2021, but that she left early and had no role in organizing the event, according to an interview published Monday.
Thomas told The Washington Free Beacon that she attended the rally in the morning but left because she was cold — before Donald Trump addressed the crowd and urged his supporters to march to the Capitol. The "Stop the Steal" movement hinges on the unfounded belief that Trump won the 2020 presidential election and that Democrat Joe Biden stole the election from him.
"I played no role with those who were planning and leading the Jan. 6 events," Thomas told the conservative news outlet. "There are stories in the press suggesting I paid or arranged for buses. I did not. There are other stories saying I mediated feuding factions of leaders for that day. I did not."
Thomas added that she was saddened to see the scenes of protesters clashing with police and storming the Capitol.
"I was disappointed and frustrated that there was violence that happened following a peaceful gathering of Trump supporters on the Ellipse on Jan. 6," Thomas said in the interview. "There are important and legitimate substantive questions about achieving goals like electoral integrity, racial equality, and political accountability that a democratic system like ours needs to be able to discuss and debate rationally in the political square. I fear we are losing that ability."
Thomas, a conservative activist, is in charge of a political lobbying company named Liberty Consulting, according to The New Yorker. Thomas told the Free Beacon that the goal of her organization is to connect conservatives, and she said she is not involved in lobbying or legal work.
Thomas joined the board of CNP Action, part of the Council for National Policy, in 2019. Shortly after the 2020 election, CNP Action urged its members to reach out to Republican lawmakers in Arizona, Georgia and Pennsylvania and pressure them to challenge the election results in their states, according to a New York Times report. The Council for National Policy, which has more than 400 members, also circulated a memo in which it urged members to understate the extent of the violence on Jan. 6 and to "drive the narrative that it was mostly peaceful protests."
In her interview with the Free Beacon, Thomas downplayed her connection to the group and said she hadn't been involved with creating either document.
Thomas' husband is one of the six conservative justices serving on the Supreme Court. Her political activities have previously led critics to worry about potential conflicts of interest for the member of the high court.
"We have our own separate careers, and our own ideas and opinions too," Thomas told the Free Beacon. "Clarence doesn't discuss his work with me, and I don't involve him in my work."
The Long Crusade of Clarence and Ginni Thomas – The New York Times (nytimes.com)
The Thomases have long posed a unique quandary in Washington. Because Supreme Court justices do not want to be perceived as partisan, they tend to avoid political events and entanglements, and their spouses often keep low profiles. But the Thomases have defied such norms. Since the founding of the nation, no spouse of a sitting Supreme Court justice has been as overt a political activist as Ginni Thomas. In addition to her perch at the Council for National Policy, she founded a group called Groundswell with the support of Stephen K. Bannon, the hard-line nationalist and former Trump adviser. It holds a weekly meeting of influential conservatives, many of whom work directly on issues that have come before the court.
Ginni Thomas insists, in her council biography, that she and her husband operate in "separate professional lanes," but those lanes in fact merge with notable frequency. For the three decades he has sat on the Supreme Court, they have worked in tandem from the bench and the political trenches to take aim at targets like Roe v. Wade and affirmative action. Together they believe that "America is in a vicious battle for its founding principles," as Ginni Thomas has put it. Her views, once seen as on the fringe, have come to dominate the Republican Party. And with Trump's three appointments reshaping the Supreme Court, her husband finds himself at the center of a new conservative majority poised to shake the foundations of settled law. In a nation freighted with division and upheaval, the Thomases have found their moment.
This article draws on hours of recordings and internal documents from groups affiliated with the Thomases; dozens of interviews with the Thomases' classmates, friends, colleagues and critics, as well as more than a dozen Trump White House aides and supporters and some of Justice Thomas's former clerks; and an archive of Council for National Policy videos and internal documents provided by an academic researcher in Australia, Brent Allpress.
The reporting uncovered new details on the Thomases' ascent: how Trump courted Justice Thomas; how Ginni Thomas used that courtship to gain access to the Oval Office, where her insistent policy and personnel suggestions so aggravated aides that one called her a "wrecking ball" while others put together an opposition-research-style report on her that was obtained by The Times; and the extent to which Justice Thomas flouted judicial-ethics guidance by participating in events hosted by conservative organizations with matters before the court. Those organizations showered the couple with accolades and, in at least one case, used their appearances to attract event fees, donations and new members.
The Council for National Policy (CNP) is an umbrella organization and networking group for conservative and Republican activists in the United States. It was launched in 1981 during the Reagan administration by Tim LaHaye and other right-wing conservative Christians, to "bring more focus and force to conservative advocacy".[1][2][3] The membership list for September 2020 was later leaked, showing that members included prominent Republicans and conservatives, wealthy entrepreneurs, and media proprietors, together with anti-abortion and anti-Islamic extremists. Members are instructed not to reveal their membership, or even name the group.[4]
CNP – Council for National Policy (cfnp.org)
Council for National Policy – Wikipedia

First on CNN: January 6 committee has text messages between Ginni Thomas and Mark Meadows
By Ryan Nobles, Annie Grayer, Zachary Cohen and Jamie Gangel, CNN
Updated 7:10 PM ET, Thu March 24, 2022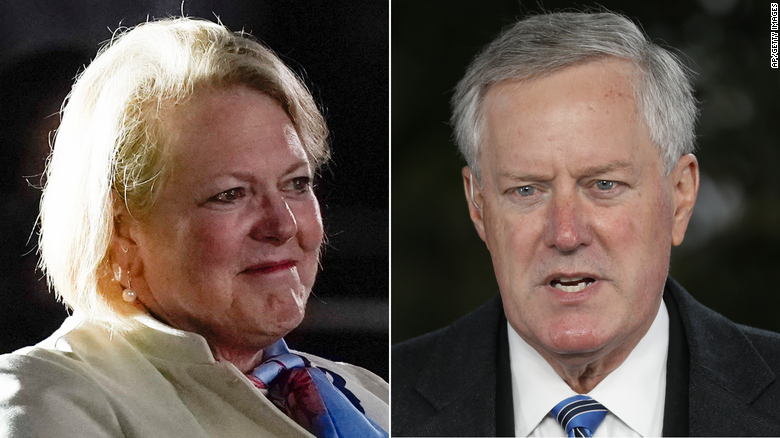 At left, Ginni Thomas, and at right, Mark Meadows.
(CNN)The House Select Committee investigating the January 6 riot has in its possession more than two dozen text messages, 29 in total, between former Trump White House chief of staff Mark Meadows and Virginia "Ginni" Thomas, a conservative activist and the wife of Supreme Court Justice Clarence Thomas, according to multiple sources familiar with the messages.
These text messages, according to sources, took place between early November 2020 and mid-January 2021. Thomas recently revealed that she attended the pro-Trump rally that preceded the US Capitol attack on January 6, 2021, but says she "played no role" in planning the events of that day.
The text messages, reviewed by CNN, show Thomas pleading with Meadows to continue the fight to overturn the election results.
"Help This Great President stand firm, Mark!!! … You are the leader, with him, who is standing for America's constitutional governance at the precipice. The majority knows Biden and the Left is attempting the greatest Heist of our History," Thomas wrote on November 10, 2020.
https://110f680e08a3b31dcec84a301b11eb4e.safeframe.googlesyndication.com/safeframe/1-0-38/html/container.html
Thomas regularly checked in with Meadows to encourage him to push claims of voter fraud and work to prevent the election from being certified. Meadows often responded. On that same day as the previous text, he wrote: "I will stand firm. We will fight until there is no fight left. Our country is too precious to give up on. Thanks for all you do."
On November 24, 2020, Meadows promised he wasn't done battling on Trump's behalf and evoked his faith as a source of strength.
Enter your email to subscribe to the CNN Five Things Newsl
"This is a fight of good versus evil. Evil always looks like the victor until the King of Kings triumphs. Do not grow weary in well doing. The fight continues. I have staked my career on it. Well at least my time in DC on it."
Thomas wrote to Meadows on November 19, 2020, "Sounds like Sidney and her team are getting inundated with evidence of fraud. Make a plan. Release the Kraken and save us from the left taking America down." Attorney Sidney Powell, who worked on Trump-aligned lawsuits seeking to challenge the results of the 2020 election, was also referred to by herself as "The Kraken" in reference to the ancient mythological sea creature.
By the end of November, Thomas was getting increasingly frustrated with the lack of progress of the attempt to find a path to overturn the results.
On November 24, 2020 she wrote: "I can't see Americans swallowing the obvious fraud. Just going with one more thing with no frickin consequences… the whole coup and now this… we just cave to people wanting Biden to be anointed? Many of us can't continue the GOP charade."
The committee is in possession of only one text from the month of January 2021, four days after the riot on Capitol Hill.
Thomas wrote to Meadows that she was angry with Vice President Mike Pence for not taking the steps necessary to block the certification of the election results.
"We are living through what feels like the end of America. Most of us are disgusted with the VP and are in a listening mode to see where to fight with our teams. Those who attacked the Capitol are not representative of our great teams of patriots for DJT!! Amazing times. The end of Liberty," Thomas wrote.
Thomas' messages reflected a belief that the legal challenges presented by a group of conservative lawyers helping the campaign were valid. She attempted to convince Meadows to put his faith in the hands of Powell, who had spent the weeks following the election claiming to have mountains of evidence of fraud that never martialized.
The content of the text messages may be of interest to the committee's investigation, because it asked Meadows in a subpoena to turn over "both documents and your deposition testimony regarding these and other matters that are within the scope of the committee's activity."
The revelation of text messages between Thomas and Meadows, both key allies of former President Donald Trump, comes as progressives and some legal ethics experts see her activism as a potential conflict of interest for Justice Thomas' work on some Supreme Court cases.
Meadows turned over thousands of text messages before he stopped cooperating with the committee. The texts have proven to hold a treasure trove of information about what was going on in the White House in the days leading up to the insurrection, and what people in Trump's orbit were thinking.
The text messages in the committee's possession are only part of the tranche of documents that Meadows provided to the committee during the short period of time he was cooperating with their investigation. They do not necessarily represent the sum total of communication between Thomas and Meadows during that period of time.
There is also the possibility some messages were not turned over due to privilege claims.
Meadows and Thomas are longtime friends, both of whom have been active in conservative causes for decades.
While Thomas has been actively involved in politics, she says she has been careful to distance her activity from her husband.
"But we have our own separate careers, and our own ideas and opinions too. Clarence doesn't discuss his work with me, and I don't involve him in my work," she recently told the Free Beacon.
The work of the January 6 select committee has already come before the Supreme Court. In early January. The court did not stand in the way of the release of thousands of documents from the Trump White House despite the former President suing to keep them secret under executive privilege. The vote on the matter was 8-1, with only Justice Thomas dissenting.
CNN reached out to both Meadows' attorney and Thomas directly for comment and have yet to hear back.
A spokesperson for