EXTRA! Two hours after I posted this, I watched our President give medals to the heroes of Jan. 6th.
Biden awards Presidential Citizens Medal to 'heroes of January 6'
They included police officers who fought the mob that attacked the U.S. Capitol and election workers who refused Trump's pressure to overturn the election.
·Chief Investigative Correspondent
Fri, January 6, 2023 at 3:58 PM PST·5 min read
President Biden on Friday honored "the heroes of January 6" at an emotional White House ceremony in which he awarded presidential medals to 14 people, including police officers who fought the pro-Trump mob that attacked the U.S. Capitol two years ago and election workers who refused former President Donald Trump's pressure to overturn the results of the 2020 election. Three of the medals were awarded posthumously to the families of police officers who died in the day's attack.
"History will remember your names, remember your courage, and remember your bravery," Biden said, as the honorees sat behind him in the White House East Room.
https://news.yahoo.com/biden-awards-presidential-citizens-medal-to-heroes-of-january-6-235820063.html
Frederick Muhlenberg
Portrait of Peter Muhlenberg, attributed to John Trumbull, ca. 1795
Portrait of Henry Muhlenberg Jr., attributed to Jacob Eichholtz, 1811.
.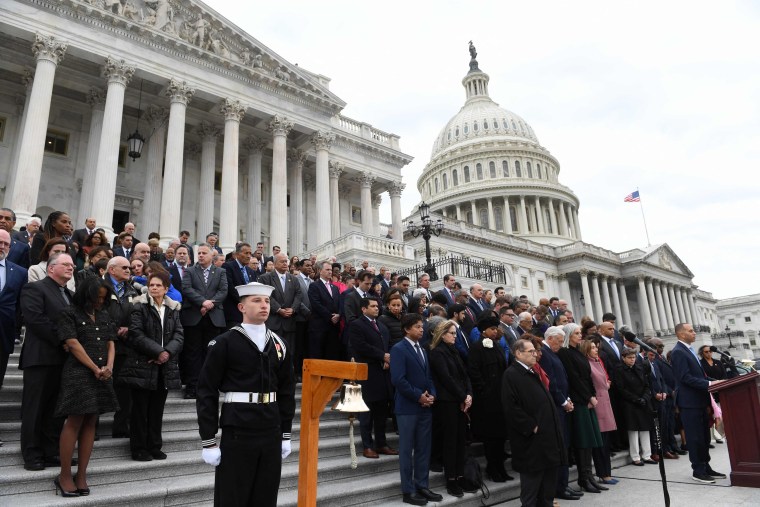 A bipartisan group of lawmakers observe a moment of silence on the steps of Capitol
On September 28, 1789, Speaker of the House Frederick Muhlenberg and Vice President John Adams signed the enrolled copy of the first proposed amendments to the new Constitution—the document later known as the Bill of Rights.
Former Rep. Adam Kinzinger (R-Ill.) slammed Donald Trump Jr. on Monday over his endorsement of a "We the People" Bible, calling on "good" pastors and priests to denounce it.
Today is the anniversary of the January 6th. Insurrection. Nancy Pelosi spoke. How close did she come to being – lynched? Then, Minority Leader Hakeem Jeffries spoke. He is the first black Minority Leader – who could become Majority Speaker. Ten days ago I discovered Frederick August Muhlenberg – The First Speaker of the House. He may have known my Lutheran kin in Berlin. Rudolph Stuttmeister appears to have been a Lutheran Evangelical Missionary who came to live on Liberty Street in New York. He was a immigrant. That is their mausoleum below. They gave up much for Freedom of Religion. John Fremont was surrounded by German expatriates.
The Frederick Muhlenberg Family were Patriots and Preachers who founded our Democracy. They did not wage a holy war against Atheists and Gays. They created Freedom of Religion because many new Brands of Christianity had rose in Europe. I was going to save Frederick Muhlenberg for my theological book, but then I read that Adam Kinzinger admonished Donald Trump Jr. Good for you Adam! You did the really hard work. You stood up for the truth, and members of your family turned their backs on you. Because they did, I put you next to the Muhlenbergs and Signer John Witherspoon.
You should be given the Presidential Medal of Honor, because, if the Democrats did not control the House when Trump's coup was launched, and if there was not a Jan.6thCommittee, then We The People would be in much worse shape than we are. Kevin McCarthy would have launched his Witch Hunt a year ago – and demonized the Democrats in the name of Christianity. But, the story never goes like that. Christian factions have been fighting bloody battles – from the get. And no sooner is the New Orthodoxy established, then here comes the New Rebels with a more Pure Vision. Consider the Rebel Twenty, and my 9th grandfather, John Wilson, putting Ann Hutchinson on trial. This Puritan Leader founded Harvard as a divinity college where future ministers would be taught the orthodoxly. He and the Puritans would laugh at the Evangelical Rapture – and outlaw it. The Puritans did no read the King James Bible, but the Geneva Bible.
https://en.wikipedia.org/wiki/John_Wilson_(Puritan_minister)
In my opinion, no Christian should be a Republicans' – unless they own rudimentary Religious History. To be zealously against something, is destroying us all. I know you know your Bible, Adam, because you recognized the – OUTRAGIOUS THREAT!
It is hard to see evil. It is hard to act against evil. Both books are a guide to those who love the truth.
Thank you for your service.
John Presco
https://en.wikipedia.org/wiki/History_of_the_Puritans_under_King_James_I
https://www.apuritansmind.com/puritan-worship/the-geneva-bible/
The Bible every Puritan family had in their home was not the KJV of 1609 or 1611. The Bible which they carried was the Geneva Bible. The Geneva Bible was the most widely read and influential English Bible of the 16th and 17th centuries, which was printed from 1560 to 1644 in over 200 different printings. As a product of superior translation by the best Protestant scholars of its day, it became the Bible of choice for many of the greatest writers, thinkers and historical figures of its day. Puritans John Bunyan and John Milton used the Geneva Bible, which is reflected in their writings. During the English Civil War, Oliver Cromwell issued a pamphlet containing excerpts from the Geneva Bible to his troops. The Geneva Bible was even brought with the Pilgrims when they set sail on the Mayflower and was the generally accepted text among the Puritans. William Bradford cited it in his book Of Plymouth Plantation.
https://en.wikipedia.org/wiki/Frederick_Muhlenberg
https://news.yahoo.com/kinzinger-rips-trump-jr-over-171651164.html
House Democrats marked the second anniversary of the Jan. 6 riot Friday with a solemn ceremony on the steps of the U.S. Capitol, which Minority Leader Hakeem Jeffries called "a citadel of democracy" that had come under assault that day.
Jeffries, in his first official public act as minority leader, paid special tribute to the officers who died or suffered grievous injuries in defending the Capitol against the "bloodthirsty violence of the insurrectionist mob."
"We stand here today with our democracy intact because of those officers," he said.
https://www.foxnews.com/media/adam-kinzinger-joins-cnn-days-after-leaving-congress-sparking-viral-mockery
https://www.msn.com/en-us/news/politics/could-hakeem-jeffries-become-speaker-if-six-republicans-flip-what-we-know/ar-AA160K5w
Posted on June 28, 2022 by Royal Rosamond Press
Tue, January 3, 2023 at 9:16 AM PST·1 min read
Former Rep. Adam Kinzinger (R-Ill.) slammed Donald Trump Jr. on Monday over his endorsement of a "We the People" Bible, calling on "good" pastors and priests to denounce it.
"Oh the irony. The fact that some Christians dont see the problem here is more affirmation that it's not the GOP that has failed Christians, it's the church," Kinzinger tweeted. "Good Pastors and Priests rise up and call this out."
Kinzinger made the comment in a retweet of a video of Trump promoting the book.
In the video, Trump encouraged people to buy the "We the People" Bible, which he said is made, printed and assembled in the United States.
"With American Judeo-Christian values under attack, there could be no better time than to re-up our commitment to America and to the Christian values that this country was founded on," Trump said.
The website for the Bible also includes a comment from Trump recommending it.
"Faith is being targeted and our country's founding beliefs are being targeted. The 'We The People Bible' is restoring what there is an attempt to remove. Preservation of Faith, preservation of America," he said.
The website states that the King James Version of the Bible also includes copies of the Constitution, Declaration of Independence, Bill of Rights and Pledge of Allegiance.
The Bible is being sold for $69.99.
The "We the People" Bible is the latest example of some in the GOP blurring the lines between church and state.
Rep. Marjorie Taylor Greene (R-Ga.) said in July that the GOP should embrace being "Christian nationalists."
"We need to be the party of nationalism and I'm a Christian, and I say it proudly, we should be Christian nationalists," she said.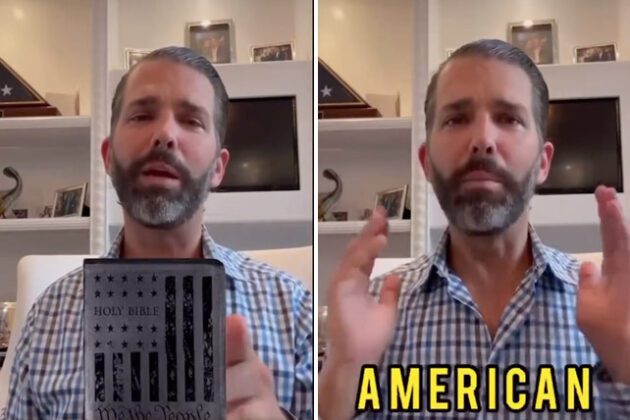 Peter Muhlenberg
Pastor & Patriot
Josh Pittman
It was Sunday morning early in the year 1776. In the church where Pastor Muhlenberg preached, it was a regular service for his congregation but a quite different affair for Muhlenberg himself. Muhlenberg's text for the day was Ecclesiastics 3 where it explains, "To everything there is a season, a time for every purpose under heaven: a time to be born, and a time to die; a time to plant, and a time to pluck what is planted…."1
Coming to the end of his sermon, Peter Muhlenberg turned to his congregation and said, "In the language of the holy writ, there was a time for all things, a time to preach and a time to pray, but those times have passed away."2 As those assembled looked on, Pastor Muhlenberg declared, "There is a time to fight, and that time has now come!"3 Muhlenberg then proceeded to remove his robes revealing, to the shock of his congregation, a military uniform.
Marching to the back of the church he declared, "Who among you is with me?"2 On that day 300 men from his church stood up and joined Peter Muhlenberg. They eventually became the 8th Virginia Brigade fighting for liberty.
Frederick Muhlenberg, Peter's brother, was against Peter's level of involvement in the war. Peter responded to Fredrick writing, "I am a Clergyman it is true, but I am a member of the Society as well as the poorest Layman, and my Liberty is as dear to me as any man, shall I then sit still and enjoy myself at Home when the best Blood of the Continent is spilling?…so far am I from thinking that I act wrong, I am convinced it is my duty to do so and duty I owe to God and my country."2
During the war there were rumors that the British wanted to hang Peter's father, Henry Muhlenberg. Henry wrote, "Toward evening came a report that they were near-by and going to take me. I cannot flee, much less leave my sick wife behind, so I must await whatever God's holy providence and governance…has ordained for me and commit it to him, the Lord of Lords…"2 Miraculously, the British never came for Henry Muhlenberg.
Peter Muhlenberg was a great soldier. He became a Major General under Commander-in-chief George Washington. Baron Steuben, in general orders, requested "General Muhlenberg to accept his very particular thanks for his gallantry and good dispatches."2 Because of his actions, Muhlenberg was given command of one thousand light infantry. Muhlenberg finished the war strong and is portrayed in a painting displayed in the United States Capitol Rotunda of the surrender of the British at Yorktown.
After the war, Muhlenberg continued to serve his country. He was a member of the Pennsylvania Constitutional Convention and was elected to the U.S. House of Representatives not once, but three times. He was also elected to the Senate in 1801.
Peter's brother, Fredrick, had a change of heart to his brother's doings. Fredrick became elected to the House of Representatives and was Speaker of the House twice.
Peter Muhlenberg passed away in 1807 at the age of sixty-one. He was a great patriot as can be seen on his tombstone which reads, "He was Brave in the field, Faithful in the Cabinet, Honorable in all his transactions, a Sincere Friend and an Honest Man."2
Posted on September 13, 2013 by Royal Rosamond Press
My kindred, Samuel Rosamond, Lemuel Benton, and Gavin Witherspoon, fought under the Francis Marion 'The Swamp Fox' in the War of Independence. John Witherspoon is a Signer and is kin to the Preston family, as are the three Patriots above. These four men are kindred to the Stewart family, and thus William and Harry Windsor. Add to this roster, the Hart and Hull family, then here is America's most illustrious and Patriotic Family.
http://www.carolana.com/SC/Revolution/patriot_military_sc_captains.htm
https://rosamondpress.wordpress.com/2011/07/04/patriot-samuel-rosamond/
He sent Lt. Col. Lemuel Benton with sixteen men to seize the pass over Horse Creek. Horry's men stumbled over a sentry who fired a shot, and they quickly rushed Sumter's home with Col. Marion's remaining 134 men closely behind them. In a brief fight, they killed or captured 22 British Regulars and two Loyalists. One of the Continental prisoners, Capt. Perry Benson of the 5th MD Regiment, was wounded as well.
http://www.carolana.com/SC/Revolution/revolution_battle_of_great_savannah.html
Rosamond, Samuel
Ninety-Six District Regiment
1777
1782
A Captain under Col. Robert Anderson at Siege of Ninety-Six (1781) (Upper Ninety-Six District Regiment). A Lieutenant under Capt. Adam Crain Jones during 1782. Also at battle of Kettle Creek (GA). Aka Samuel Roseman.
Benton, Lemuel
Cheraws District Regiment
1775
1777
Promoted to Major in 1777. Promoted to Lt. Col. In 1780, then Colonel in 1781.
Witherspoon, Gavin
Berkeley County Regiment
1780
1782
From Williamsburg District. A Captain under Col. Richard Richardson, Jr. (aka Richardson's Regiment)
Pee Dee Swamp w/4 men, Tearcoat Swamp, Halfway Swamp #1, Georgetown #6, Wiboo Swamp, Witherspoon's Ferry, Fort Motte, Quinby's Bridge, Shubrick's Plantation, Eutaw Springs, Videau's Bridge, Wadboo Swamp
Witherspoon, James
SC Light Dragoons
1779
1782
1779-1780, a Captain under Maj. Hezekiah Maham, Col. Daniel Horry. 1781-1782, a Captain under Lt. Col./Col. Peter Horry (Kingstree Regiment, Horry's Light Dragoons, and SC 4th Regiment of State Dragoons). From Williamsburg District.
Georgetown #6, Eutaw Springs
Witherspoon, John
Lower Craven County Regiment
1777
Rep Adam Kinzinger says he believes Trump is 'guilty of a crime' ahead of Jan 6 criminal referrals
Gustaf Kilander
December 15, 2022·4 min read
In this article:
Donald Trump45th President of the United States
Outgoing Republican Illinois Representative Adam Kinzinger has said that he thinks former President Donald Trump is "guilty of a crime" as the House Select Committee investigating January 6 prepares to reveal its crime referrals and full report.
Appearing on CNN on Wednesday, Mr Kinzinger said that "we have presented … a very compelling story over the summer, which is, it is not just the day of January 6 that mattered. What mattered is what led to it, and frankly, the fact that not much has really changed since".
Regarding the full report, Mr Kinzinger said "we will go into some more detail".
"I think we are going to have a very fulsome story to tell with recommendations, which is our job. And now, really, the torch to an extent is passed to the Justice Department as it appears they're investigating as well," he added.
The case for criminal referrals will be presented on Monday during a panel hearing.
Mr Kinzinger said the work of the committee will "echo through the history books".
"It is going to be something that in 10, 20 years, we look back on the work of this committee," he said. "We know the facts of what happened on January 6, and anybody out there who believes in the conspiracies today, their kids and grandkids will not, and in fact will be embarrassed that anybody ever believed it."
"And I think that's due largely to the work we've been able to do on this committee," he added.
https://www.foxnews.com/media/adam-kinzinger-joins-cnn-days-after-leaving-congress-sparking-viral-mockery
Adam Kinzinger has quickly lined up a new gig after concluding his tenure one of the most outspoken anti-Trump lawmakers on Capitol Hill as a cable news pundit.
CNN announced Wednesday that Kinzinger, who officially left Congress this week after choosing not to seek reelection in the 2022 midterms, has joined the network as a senior political commentator.
Kinzinger made his debut as a CNN contributor on "Erin Burnett Outfront."
https://www.msn.com/en-us/news/politics/cnn-hires-former-rep-adam-kinzinger-as-senior-political-commentator/ar-AA15Z5NP
https://news.yahoo.com/rep-adam-kinzinger-says-believes-143837993.html
Frederick Augustus Conrad Muhlenberg, second son of renowned Lutheran pastor Henry Melchior Muhlenberg, was born in Trappe, Pennsylvania, on January 1, 1750. Sent with his brothers Peter and Henry to the University of Halle, Germany, in 1763, Frederick returned to America in 1770 and was ordained a Lutheran minister. On October 15, 1771, Frederick married Catherine Schaeffer, the daughter of wealthy Philadelphia sugar refiner David Schaeffer.
Frederick served congregations in the area of Schaefferstown, Pennsylvania, before accepting a call to New York City in 1774. With talk of revolution beginning in 1776 and fear that the British might seize New York, Muhlenberg moved with his wife and children to his parents' home in Pennsylvania. After struggling to make ends meet without a regular call as a minister, Muhlenberg decided to enter politics and in 1779 became a member of the Continental Congress.
From 1780 to 1783, he was Speaker of the Pennsylvania General Assembly. When Montgomery County was established in 1784, Muhlenberg was appointed the first Recorder of Deeds and Register of Wills, in addition to serving as a justice of the peace. In 1787, Muhlenberg presided at the state convention to ratify the U.S. Constitution. Elected as a representative to the first U.S. Congress in 1789, Muhlenberg was chosen to be the first Speaker of the House. While Speaker, he also became the first signer of the Bill of Rights. Muhlenberg was elected to the next three congresses, serving again as Speaker during the Third Congress.
In 1796, Muhlenberg cast the tie-breaking vote as chairman of a House committee to ratify the Jay Treaty, in an effort to improve post-war British-American tensions. Muhlenberg's vote ended his rising political career because the treaty was unpopular with many Americans, so much so that Muhlenberg was actually stabbed by his own brother-in-law over his vote. He survived the attack but was not nominated to the next congress. In 1799, he was appointed Receiver General of the Pennsylvania Land Office and moved to Lancaster, then the state capital, and lived there until his death in 1801.
Historic Trappe | P.O. Box 26686 | Trappe, PA 19426 | (610) 489-7560.
Frederick Augustus Conrad Muhlenberg (/ˈmjuːlɪnbɜːrɡ/; January 1, 1750 – June 4, 1801) was an American minister and politician who was the first Speaker of the United States House of Representatives and the first Dean of the United States House of Representatives. A member of the Federalist Party, he was delegate to the Pennsylvania state constitutional convention and a member of the U.S. House of Representatives from Pennsylvania and a Lutheran pastor by profession, Muhlenberg was born in Trappe, Pennsylvania. His home, known as The Speaker's House, is now a museum and is currently undergoing restoration to restore its appearance during Muhlenberg's occupancy.[2]
Contents
Early life and ministerial career[edit]
Frederick Muhlenberg was born in Trappe, Pennsylvania, the son of Anna Maria (Weiser) and Heinrich Melchior Mühlenberg. His father, an immigrant from Germany, was considered the founder of the Lutheran Church in North America. His maternal grandfather was Pennsylvania German colonial leader Conrad Weiser. His brother, Peter, was a general in the Continental Army and his brother Gotthilf Heinrich Ernst was a botanist.[3]
In 1763, together with his brothers John Peter Gabriel and Gotthilf Henry Ernst, he attended the Latina at the Franckesche Stiftungen[4] in Halle, Germany. In 1769, he attended the University of Halle, where he studied theology. He was ordained by the Pennsylvania Ministerium as a minister of the Lutheran Church on October 25, 1770. He preached in Stouchsburg, Pennsylvania, and Lebanon, Pennsylvania, from 1770 to 1774, and in New York City from 1774 to 1776. When the British entered New York at the onset of the American Revolutionary War, he felt obliged to leave and returned to Trappe. He moved to New Hanover Township, Pennsylvania and was pastor there and in Oley and New Goshenhoppen until August 1779.[5]
On October 15, 1771, he married Catherine Schaeffer, the daughter of wealthy Philadelphia sugar refiner David Schaeffer. They had seven children.[citation needed]
Political career[edit]
Continental Congress[edit]
Muhlenberg was a member of the Continental Congress in 1779 and 1780, and served in the Pennsylvania House of Representatives from 1780 to 1783. He was elected its speaker on November 3, 1780.[citation needed] He was a delegate to and chairman of the Pennsylvania state constitutional convention in 1787 called to ratify the Federal Constitution. He was the first signer of the Bill of Rights.[citation needed]
U.S. House of Representatives[edit]
He served as a member of the U.S. House of Representatives from Pennsylvania in the first and the three succeeding United States Congresses (March 4, 1789 – March 4, 1797). Muhlenberg was also the first Speaker of the United States House of Representatives. In August 1789, he cast the deciding vote for the location of the nation's new capital. He did not seek renomination as speaker in 1796. On April 29, 1796, as chairman of the Committee of the Whole, he cast the deciding vote for the laws necessary to carry out the Jay Treaty.[6]
In 1794, during Muhlenberg's second tenure as Speaker, the House voted 42–41 against a proposal to translate some of the laws into German. Muhlenberg, who himself abstained from the vote, commented later that "the faster the Germans become Americans, the better it will be."[7] Despite not having voted against the bill, a legend, the Muhlenberg Legend, developed in which he was responsible for prohibiting German as an official language of the United States.[7]
According to another legend, Muhlenberg also suggested that the title of the President of the United States should be "Mr. President," instead of "His High Mightiness" or "His Elected Majesty," as John Adams had suggested.[citation needed]
Other offices[edit]
Muhlenberg was president of the council of censors of Pennsylvania, and was appointed receiver general of the Pennsylvania Land Office on January 8, 1800, serving until his death in Lancaster, Pennsylvania, on June 4, 1801.[8]
Death and legacy[edit]
He was interred in Woodward Hill Cemetery in Lancaster.[citation needed]
In World War II, the United States liberty ship SS F. A. C. Muhlenberg was named in his honor.
Posted on September 12, 2011 by Royal Rosamond Press
Tonight, The Tea Party Express, will be having a televised debate. For the most part, the Tea Party is the latest cult to come down the turnpike in order to save America. Most tea party members, are Jesus Freaks disguised at capitalistic Patriots, verses, Leftist anti capitalist Hippy Socialist who want America to be a Communal Welfare State modeled after the old fashioned Jesus, before he was remodeled by Dick Armey to be the second coming of Howard Roarke, who rapes his love-object who is playing female sex games in order to own power in Industrial America, the land of Rich He-men. So much for the Woman's Movement. It's back to old fashioned values where women wore Quaker dresses, like the ones worn at the Lighthouse Ranch, where Dottie Witherspoon took our Blue Tick hound dog, when she ran away to find Jesus.
Thanks Dottie! This is how I am treated after – I SAVED YOU?
I met Dottie through my friend, Michelle, who I met a year earlier. She was a member of The Process. She wore a long black robe with a hood. Her younger friend wore a blue cape, because she was a novice. I fell for the novice, and we became lovers. I would later rescue Michelle from a Mafia chief. But, lets save that story for another day.
Dottie was Michelle's naive roommate, who had come to Boston from South Carolina. Michelle was concerned for Dottie because she was going to move back to New Orleans, and she was a babe in the woods. On cue, into Dottie's apartment comes Devil Boy, a weasel like entity that had taken acid and was proud of his witchy powers he had discovered within. To prove to me he had the right stuff, he points his finger at Dottie's cat, and shot it with a jolt of bad energy. The cat thought she was going to be petted, approached, purring, and now winces after being dosed with bad energy. I was not impressed.
"You're a little shit, aren't you? How would you feel if I did that to you?"
I watched Devil Boy wince, he looking in my eyes wondering why I was not afraid of his black magic. We had our Clint Eastwood moment, and he left, never to return. I moved in and became Dotties lover. The cat fell in love with me, and followed me like a little puppy when we went to the park. That's us up in a tree.
Above is a photo of Girmson the head of the Process, and Mel Lyman wearing shades. Mel married Jessie Benton the daughter of the famous artist, Thomas Hart Benton, Garth Benton's cousin. The children in the tree are Mel's children, some born from Benton's womb. Thanks to my genealogical research, these folks are kin to the Royal Stewarts. Mel claimed he is God, an Avatar, thus, God is my kinfolk.
I watched allot of 911 programs yesterday, everyone of them declaring "America will never be the same."
They said the same thing about the Charlie Manson murders, and the Jim Jones Jesus cult suicides. Then there is David Koresh and Waco. What these folks have in common is the hatred of Government. Jone's generals murdered Congressman Ryan, shot him dead with a rifle. Then Reverand Jim brought out the big vats of poisoned Cool-aid. Today, weak willed folks are woofing down that Tea Bag Espresso and carrying guns to rallies. Yeehaw!
Nope! It's the same ol America, full of religious nuts fleeing real civilization because for the most part, they are insane! Osama Bin Laden was a religious fanatic trained by the U.S. Government to bring down the Evil Empire of Socialist Communalism. When the CIA betrayed him, Bin went after Anne Rand's hero high atop the Trade Tower. The rest is common American History!
Jon Presco
Copyright 2011
http://goalumni.homestead.com/
Posted on July 6, 2015 by Royal Rosamond Press
Everything has changed and is now making sense. Above is a photograph of Dorothea Witherspoon and myself taken in 1971. We have just flown from Columbia South Carolina to Los Angeles. I wanted Dottie to meet my mother. We talked about getting married. I had just met about twenty members of the Witherspoon family, down South, a place I swore I would never go. However, Meher Baba's first home in America is in South Carolina, and I wanted to see where the Avatar walked the earth. I praise the vote in this state to remove the Confederate flag. For years I have called for this, followed by "Repent!"
As it turns out Dottie and I are kin to the Stewarts and thus the Windsors. When Christine Rosamond Benton married Garth Benton, and begat Drew Benton, we became kin to the MacDowell family. Uchtred MacDowall of Garthland married Margaret Stewart, Lady Ochiltree.
When we pulled up to the entrance of Baba's home in Myrtle Beach, Kitty Davy came out to greet us. She asked Dottie's name first, and beamed brightly as she said;
"You are related the Signer Witherspoon, and John Knox!"
These men are the Scot-Irish who helped form and promote the Calvinist Presbyterian Church in England and America. The Knox, MacDowell, and Rosamond family took part in the Battle of Boyne. Their New Religion was declared a heresy. These men helped found our Democracy. This is the most religious Family Tree in the history of the United States. The Witherspoons fought under Francis Marion 'The Swamp Fox' as did Samuel Rosamond. Both families named their children after Francis Marion.
Dottie became a Christian and lived on the Lighthouse Ranch. I continued my secret work that was introduced by Baba when he spoke out against the use of LSD. After I saved Rena Easton, I gave her lessons about Baba on our mountain. My spiritual work with women, has been arduous. That is Kitty with her master in Venice, and, she and another woman are carrying Baba, which denotes they are The Pillars of his work. No doubt Dottie was seen as the next generation of teachers.
John Knox Witherspoon (February 15, 1723 – November 15, 1794) was a signatory of the United States Declaration of Independence as a representative of New Jersey. As president of the College of New Jersey (1768-94; now Princeton University), he trained many leaders of the early nation and was the only active clergyman and the only college president to sign the Declaration.
Jessie and John Fremont appear to have named their son, Frank Preston Fremont after Francis "Frank" Preston Blair whose daughter, Elizabeth Blair, was very close to Mary Todd. Elizabeth married a cousin of General Lee. The Todd family were prominent in Kentucky where the Preston family reigned. Mary Todd was a Scarlet. Mary and Sarah McDowell, the mother of Jessie Benton, have grandfathers named Samuel McDowell. Whether they are related, needs to investigated, because Jessie and Mary are mirror images of each other, and were Flowers of the South. How they came to wed two abolitionist candidates for the Republican Party – connected to the Blair family – needs to scrutinized.
"Our cousin, Jessie Benton Fremont, was even more than a Southern Belle. She came from a long line of aristocrats with all the cultural traits that comes with that title. From her mother's side she learned elegance, sophistication. She was idealistic, with great passion and energy. Above all, she was… ambitious.
Her mother was spoiled rotten. Elizabeth McDowell was well bred, delicate with gentile manners. She summered at the White Sulphur Springs Resort and wintered in Richmond. Her relations were the governors, senators, and congressmen. As late as the 1880s the family still counted two senators and six congressmen. These were the uncles, cousins, and brothers. That does not include their other nobles."
As we have seen, the McDowells were a powerful family in American history. Fortunately, there is a living McDowell genealogists who has published a massive masterpiece of research on the McDowell line. Her name is Dorothy Kelly MacDowell, and her 609 page book is titled McDowells in America, a Genealogy. It is almost impossible to read a single page without finding someone listed with a government title, from a lowly sheriff to US Senators and Congressmen. In between are the untold numbers of military officers from Lieutenants to Generals.
I believe this is the missing link in a new consciousness and unity between the Protestant Nations of Britain and the United States. I was destined to found a new church, which I did. Hubert Armstrong subscribed to British Israelism and would be amazed at this Family Tree. https://rosamondpress.com/2015/06/16/genesis-of-the-new-radio-church/
Jon Presco
President: Royal Rosamond Press Co.
Copyright 2015
http://www.meherbabatravels.com/his-close-ones/women/kitty-davy/
Andrew Stewart, 2nd Lord Ochiltree (c.1521-1591) fought for the Scottish Reformation. His daughter married John Knox and he played a part in the defeat of Mary, Queen of Scots at the battle of Langside.
Margaret Stewart, Lady Ochiltree
(Less than 5-minute read)
Congressman Adam Kinzinger's relatives not only have it wrong on his Christian faith but on their own, too.
Adam Kinzinger, the U.S Representative from Illinois who was one of the few Republican Congress members to vote for Donald Trump's impeachment, is a quintessential evangelical Christian. Some may say that's an oxymoron because a significant majority of white American evangelicals are unequivocal Trump supporters. Well, I say that depends on what you mean by "evangelical." Let's look a little closer at Congressman Kinzinger's spiritual formation and religious identity, then go to the term itself.
The 42-year old Kinzinger was born in Kankakee, Illinois. His parents, both born-again Bible-believers, raised him in a Christian home. During the young Kinzinger's years growing up, the family attended Calvary Baptist Church in Normal. His mom, Betty Jo, was a third-grade teacher. His father, Rus, was executive director of Home Sweet Home Ministries, an outreach to the hungry, homeless, and financially stressed. Part of the organization's mission statement reads, "Our goal is to help people find independence, restore their hope and share the love of Jesus Christ with them." Today, the Congressman and his wife, Sofia, a former aid to fellow evangelical Mike Pence while he was Vice President, attend Village Christian church in Minooka, Illinois. The non-denominational congregation's website says, "Our heart breaks for those who do not have a relationship with Jesus. It's at the core of who we are as a church and drives everything we do."
By every measure, Adam Kinzinger stands out as a sincere, committed disciple of Jesus Christ. Believe it or not, he even received an award for saving the life of a woman by restraining an attacker trying to cut her throat! In my estimation, that, plus his military service in Iraq and Afghanistan, passes Jesus' pinnacle "Greater love has no one than this" test, "that he lay down his life for his friends." I defy anyone who assails Kinzinger's consistent Christian testimony in word and deed. If you know a man by his fruit (Matthew 7:15-20), the Congressman's spiritual orchard is in pretty good shape. Not everyone agrees, of course, including, sadly, his family members.
In addition to subsequent pressure from state and national Republican Party leaders for his impeachment vote, Rep. Kinzinger's relatives have denounced him. A cousin sent him a scathing letter saying he "embarrassed the Kinzinger family name" and is a "disappointment . . . to us and to God!" She says he's even gone against his "Christian principals (sic)" and "joined the devil's army." It's painful to read such harsh insults hurled by loved ones, but this line of criticism should be particularly distressing to all evangelicals. Fidelity to Jesus as Lord and Savior has nothing to do with what Congressman Kinzinger's cousin asserts in her angry missive.
Let's review what we evangelicals believe about what makes someone a Christian. We believe the Bible is the ultimate authority for all matters of faith and practice. So, what does the Bible say about being a Christian? According to the New Testament record of the early church, the Book of Acts, Christian seems to have originated as a jibe. Pagans first used it to mock persecuted adherents of the one called Christos, Greek for "the Anointed" (see Acts 11:26). A few scholars translate it as "a mini-Christ." This reflects how Jesus first referred to his followers—as disciples—profoundly and intimately bonded learners who were to pattern themselves after his model of living. "If you hold to my teaching," He explained to them, "you are really my disciples." (John 8:31) The Apostle Paul, who authored more than half the New Testament, added the elements of verbal testimony and personal faith as signs of salvation, "If you confess with your mouth that Jesus is Lord and believe in your heart that God raised him from the dead, you will be saved." (Romans 10:9)
The more particular and modern moniker, evangelical, refers explicitly to the Greek euangelion, meaning "good news." In other words, evangelicals are people associated with and proclaim to others the "good news." What is this good news? Jesus summarized the answer in John 3:16, the verse that is known, loved, and memorized by evangelicals everywhere, "For God so loved the world that he gave his one and only Son, that whoever believes in him shall not perish but have eternal life."
Finally, how do we know if someone is living faithfully as a Christian? Again, we can go straight to Jesus for the answer: "By this, all people will know that you are my disciples, if you have love for one another." (John 13:35) Notice something important about what it means to be a "Christian," as we evangelicals consider ourselves to be: It has nothing to do with politicians, politics, political agendas, parties, or personalities. Being a Christian doesn't even have anything to do with being American. To be Christian means only one thing: To be personally devoted to the mission, model, ministry, and message of Jesus Christ. By every measure, Adam Kinzinger is a faithful, born-again, Bible-believing, fully-saved, and sanctified evangelical Christian.
Like so many other mistakenly devoted followers of Donald Trump and the Republican Party the former president embodies, Kinzinger's family members apply a flawed standard to their relative's faith. For them, it appears being a faithful "Christian" requires dutiful obedience to and unqualified support for Donald Trump, including nearly everything he says and does. It means shielding Trump of all accountability for his words and actions, no matter how harmful, scandalous, and even deadly they may be. Far worse, Kinzinger's beloveds suggest a true Christian must absolve Trump of his moral turpitude, then excuse, and even sacralize it as divine.
The Kinzinger relative's Trumpian Religion is neither Christian nor evangelical. It's most certainly heresy, and it may even be a form of idolatry. The Kinzinger relatives may not like their cousin's politics, but that should have nothing to do with evaluating his faith. On the contrary, I could argue Adam Kinsinger's political actions, in fact, reflect his evangelical Christian faith, while his relatives' behavior does not, but I'll leave that to future installments. For now, it's the Gentleman from Illinois who should continue to stand up and deliver his confident testimony of what's right, while his kin should get on their knees and repent.
If you like what you're reading, find it helpful, and think others can benefit from it, please consider becoming a regular supporter of my writing by making a monthly tax-deductible contribution of $10, $15, or $25 here: https://www.paypal.com/donate?hosted_button_id=EKUAUL6K3VQ78