In 1997 I began a play titled 'Daughter Dead'
When Nancy took me to the University of Oregon to hear her friend, Ken Kesey, read from Caverns, I told myself I would try to talk to Ken – this time – something I failed to do twice before, when Nancy got me On The Bus in the Eugene Celebration Parade, and, a backstage pass to the Dead Dylan concert at Autzen stadium. My childhood friend got me free tickets to the Country Fair, and she was there at my graduation from Serenity Lane. I wondered if Nancy was putting me on a collision course with Ken -and if he wanted what I had. I thought about sitting in on the Caverns class because it would be a leg up – but I was afraid Ken and I would get stoned and drunk together. I also did not want to appear as a Toady Kiss-ass – too!
"I think out of all the messed up things the speaker said and did, the one that crossed the line is when she threatened to ruin my political career, that she's going to make sure I lose my next election. She said this in rage," Hernandez said. He said he suffers from post-traumatic stress disorder.
"I'm still recovering from PTSD and other traumas from my legislative experience with Tina," Hernandez said. "To say her bullying and racism destroyed my soul is an understatement."
"This report is long overdue, but I'm satisfied by the clear conclusion that these were baseless accusations," Kotek said in a statement Friday.
Hernandez's complaint dates back to May 2019, when Kotek was attempting to pass a bill curbing pension benefits. Hernandez and other Democrats were uncomfortable with the measure, Senate Bill 1049, which was opposed by unions. Some in the party, including Hernandez, refused to support it.
In his complaint, Hernandez says that Kotek's attempts to influence him crossed the line. He says that she vowed to end his political career and to kill or hamper priority legislation — including a bill supplying driver cards to undocumented residents — if he would not fall in line.
To support those allegations, Hernandez offered contemporaneous text messages with several Democrats where he spoke of Kotek issuing threats.
For instance, Hernandez texted other lawmakers of color on the day of the vote that he planned to stop attending meetings with Democrats "because of all the threats I got and how I was treated by my leadership."
That prompted a response from state Rep. Tawna Sanchez, D-Portland, who expressed concern that lawmakers of color might face pressure that others do not. "Are we as POC threatened differently than others," she wrote, "or is it just a threatening system?"
Hernandez's complaint also suggested an eyewitness: Republican State Sen. Dallas Heard, who has told OPB that he witnessed Kotek and Hernandez having a heated discussion and that Kotek even threatened to kill one of his bills over Hernandez's vote.
The investigator in the case, private attorney Melissa Healy, appears to have disregarded many people with whom Hernandez shared his account of being threatened. The investigation included just five interviewees — including Heard, Hernandez and Kotek — even though many more lawmakers crop up in Hernandez's complaint.
Drazan visits Bend for discussion on homelessness
Oct 20, 2022 Updated 13 hrs ago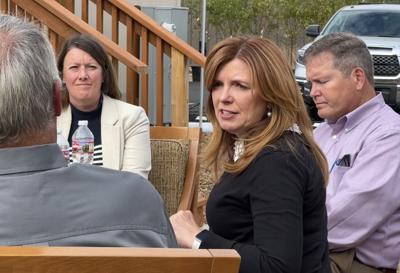 https://trinitymedia.ai/player/trinity-player.php?pageURL=https%3A%2F%2Fwww.bendbulletin.com%2Fhomeless%2Fdrazan-visits-bend-for-discussion-on-homelessness%2Farticle_8e6fc810-50ad-11ed-8a30-9b681102c5f5.html&partner=Flex&fab=1&textSelector=I2FydGljbGUtYm9keQ%3D%3D&unitId=2900003117&userId=4f820f6c-e796-4e69-ab8e-6a77e9e1970f&isLegacyBrowser=false&version=20221021_03088d171d01707f6d55fd21462da5add060d3fb&useCFCDN=0&themeId=140
Republican gubernatorial candidate Christine Drazan said she favors declaring a "state of emergency" to deal with Oregon's growing homelessness crisis during a visit to Bend on Thursday.
Drazan visited Bend's Veterans Village for a discussion about the crisis with local nonprofits and leaders just weeks ahead of the Nov. 8 general election. The governor's race is one of the most contested gubernatorial races in the nation. Drazan is running against Democrat Tina Kotek and nonaffiliated candidate Betsy Johnson.
"Establishing a homelessness state of emergency gives you that authority — frankly, that power — to be able to…innovate and get real serious about finding support services and also ensuring on the other side of that there is accountability," Drazan said.
Subscribe Today – $12 per month
Drazan said Thursday, and previously, that it is not a crime to be homeless, but she said she'd encourage the enforcement of local ordinances for people who live unsheltered.
ADVERTISING
"I don't hand anyone anything on a silver platter," Drazan said Thursday.
Included in the discussion were Cheri Helt, candidate for Commissioner of the Bureau of Labor and Industries, Deschutes County Commissioner Patti Adair and Erik Tobiason, the executive director of the Bend Heroes Foundation, the organization that helped build the Veterans Village. Also in attendance were David Nieradka, a coordinator at Central Oregon Veterans Outreach, Megan Martin of nonprofit Furnish Hope and Randy Fenimore, a landowner near China Hat Road where a substantial portion of Bend's unhoused population live.
Digital subscription only $12/mth
Local leaders talked about the prevalence of fentanyl, inadequate mental health and substance use services and an overall lack of housing as major barriers to moving toward solutions for homelessness.
"It's a sad situation," said Nieradka, who is a veteran. "I don't see an end in sight."
People have been living in Bend's Veterans' Village for almost a year. Twelve of its 15 units are currently occupied, and since it opened its doors last November, seven people have graduated to permanent housing. Those involved in building Veterans Village say it was — and still is — the epitome of community collaboration when little help from state and federal government was available.
"One of the things that makes homelessness so hard to approach is that you need an entire community to fix it," Helt said.
Helt, of Bend, worked with Drazan in the Legislature when she was the Republican representative from the 54th District and Drazan was minority leader from the 39th District. Helt said less rhetoric and more results are needed when it comes to homelessness, and she thinks Drazan can do that.
https://www.washingtonpost.com/politics/oregon-lawmakers-hear-bullying-charge-against-gov-candidate/2022/10/19/3548b21e-5009-11ed-ada8-04e6e6bf8b19_story.html
The hearing, held remotely via video, was emotional, with another former legislator testifying that the complainant, former Rep. Diego Hernandez, tried to kill himself recently.
"He called me," former Rep. Brian Clem said haltingly as he tried to compose himself. "I went to his home. This is about a month ago. He had a broken belt. Luckily, the belt broke or he wouldn't be here."
https://www.bendbulletin.com/homeless/drazan-visits-bend-for-discussion-on-homelessness/article_8e6fc810-50ad-11ed-8a30-9b681102c5f5.html?fbclid=IwAR2rhdRlIi2m1TKbGBxBv23H0zLBXdFb8HFW7GjPn–qKdl4Ax9o5C17LSU
← The Ulster-Scots and the Rosamond Mill
Posted on April 17, 2013 by Royal Rosamond Press
Posted on October 26, 2016 by Royal Rosamond Press
Marilyn is a homeless idiot savant living in the ruins of Playland at the Beach in San Francisco. She would be diagnosed with Aspergers that is known to produce beings of extraordinary mental powers. It's all here! The Archetype of a Masterpiece. This is my farewell to the Generation of Love – and Fun. With the demolition of Playland, and the Fun House, comes the rise of the Righteous Right, the inventors of the new Inquisition bent on attacking the Liberal-Left – where it hurts.
"THERE WILL BE NO MORE MAD PEOPLE HAVING FUN. WE MUST GET SERIOUS AND BALANCE THE BUDGET."
The Prankster Clowns must be rounded up and put in a Loony Bin, or, buried alive in the 'Mad Mine'. All the Fun Ore has been depleted. Time to go to work for Ronny McClown the Out of Work Actor, the Right-wing Con Man.
http://mksgrist.wixsite.com/playlandatthebeach/mad-mine
The reason I abandoned this play was the incredibly sad conclusion that the creative telepathic connection I had with my late sister, was no more. I was able to keep that channel open for two years. I had lost contact with Marilyn Reed. My play was turning into a musical. There is a very prophetic number with Aryan dancers singing like Negros as they go down the isles of Limbo Church – that will blow your mine! What muse, what spirit, is dictating my……stuff!
My protagonist is caught up in a legal battle over the land where Bohemian Playland was built. The Yuppiefiers want to build condos. It's a case of Gentrification. It would not be till the year 2000 that I discovered one of my great grandfathers founded a theme park in Belmont. My sixteen year old daughter came into my life in 2,000. I thought I was fatherless. Instead of having fun together, making up for lost time, she was the point of the compass for unfunny folks waiting in the wings, waiting for me to strike it rich – as a writer! There was not a writer or artist among the lot, but, when they perceived, somehow, their fortune took a turn for the worse, they threw their monkey wrench into my works. Most fun dies like this, with a scowl and a whimper.
"Why?"
Not till this morning did I realize Belle was Marilyn, who "ran with the Psycho-babel Bitches from Hell' in the streets of New York. Two hours after I met Belle, I am on the phone telling Marilyn Reed I had met a younger version of her. Twenty years later I get a letter from Rena informing me of her amazing memory. Pan is present. The broken merry-go-round is Belle's parents Labyrinth walk, that came to an end. Or. did it?
Look, there is a fallen tower with the words "Diving Bell" upon it. I captured Beauty in a play that has held a city hostage, for all these years. She who was asleep, is now awoken.
Mon Muse! My beautiful muse! Alas, we are free! "We are all a chuckle and a kiss away from returning to paradise.
Jon Presco
Copyright 2016
On Fri, Apr 18, 2014 at 6:59 PM, John Ambrose wrote:
Belle, my big project in Love Dance, a Broadway musical based upon the music of LOVE. Bryan was my best friend in HS. He was a roadie for the Byrds when he was 17. We hung out in a coffee shop in LA in 1963.
I about choked when you told me your were a dancer! Belle! You ring all my belles and set off all my whistles. It is just the way it is.
I want to see the hippie dance extravaganza on Broadway! How about you?
Jon
I feel I have emerged from the Labyrinth. I feel, so free to say this without regret, without shame, without remorse….I am in love with Belle Burch!
This is a victory for both of us, for within minutes of beholding her, I knew I was going to immortalize her. I knew she was the one after capturing her in a video. I turned off my camera in order to explain to her why she is the one. I just said the name "Rosamond"
Share this: