Underground radical newspaper Willamette Bridge celebrated the opening of the Fred Hampton People's Free Health Clinic in 1970. The Willamette Bridge had connections with the Black Panthers, draft resistance, and radical groups, and it offered a forum for the Women's Liberation, Gay Rights, and Environmental movements.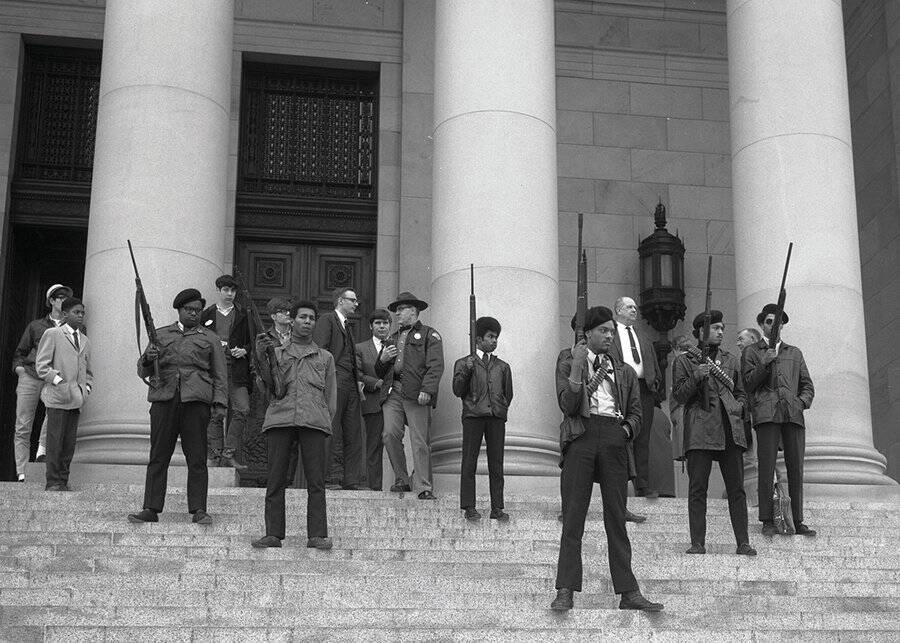 Posted on September 15, 2022 by Royal Rosamond Press
The Eugene Black Panther Party membership was about 20 members with 15 underground members. Howard Anderson was the Captain and Ray Eaglin, the General.
Photo Information From left to right:
Oliver Patterson – from outside California, perhaps one of the southern states
Speaker – Tommy Anderson – Compton, CA
Howard Anderson, Captain – Compton, CA
Bill Green – Washington, D.C.
Jerome Foster – Compton, CA
Julius Hurst – Portland, OR
Dennis White – Compton, CA
Darrell Fields – Compton, CA
Teo DeRuso – Compton, CA
Artie Cox – Mississippi
Eight other members are not in this photo. Five of the eight are from Compton and six of the eight were women and of the six women, three were from Compton or Los Angeles.
Also not in the photo was Underground General Ray Eaglin, ex-marine and U of O student.
Updated September 16, 2022 at 4:04 p.m. EDT|Published September 16, 2022 at 12:40 p.m. EDT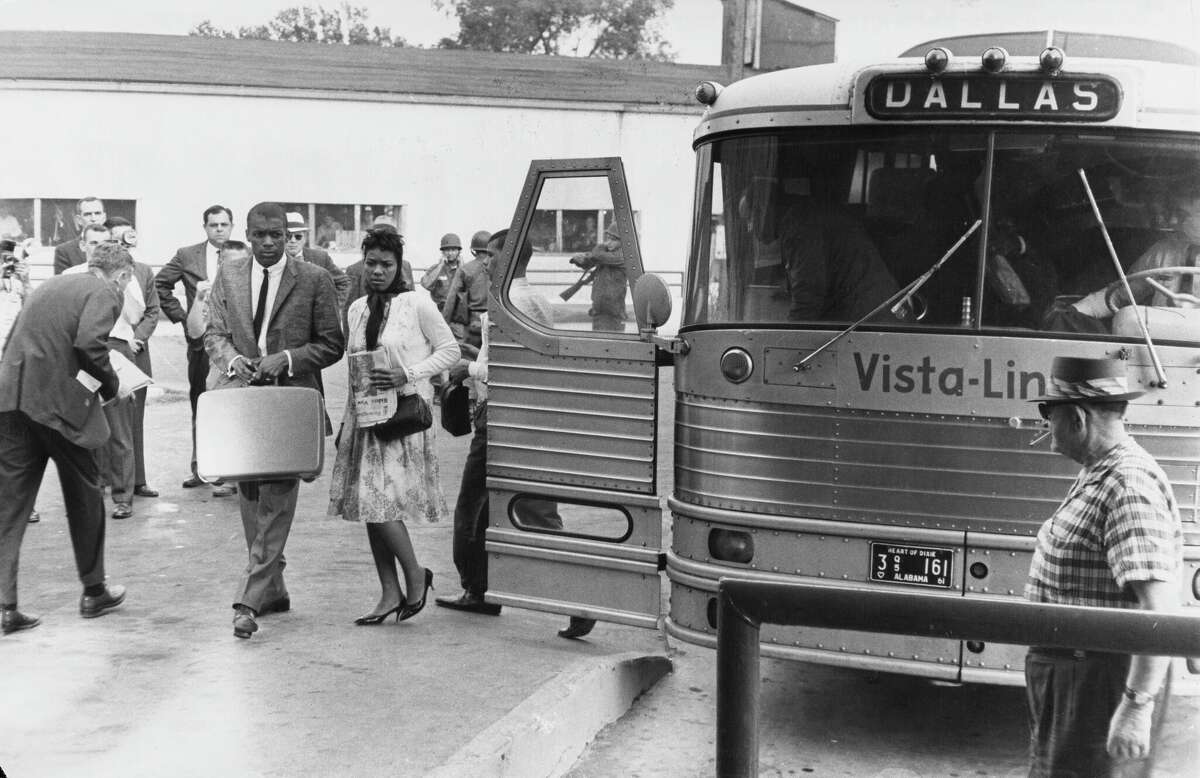 Civil rights activists known as the Freedom Riders disembark from their bus (marked Dallas), en route from Montgomery, Alabama, to Jackson, Mississippi, as they seek to enforce integration by using 'white only' waiting rooms at bus stations, 26th May 1961. (Photo by Daily Express/Archive Photos/Hulton Archive/Getty Images)
Compton On The McKennzie
by
John Presco
Copyright 2022
I was toying with the idea for a Netflix series about Black Panthers being drugged in Oakland, and Shanghaied to Eugene Oregon – when the script unfolded before my eyes – as I predicted! Last night I am watching old newsreel on the Reverse Freedom Rides, and how black families were lured onto buses WITH LIES! Satan is a liar – is he not? The Grand Liar used the same cunning to get migrants on buses and planes headed for Martha's Vineyard and the home of VP Kamala Harris who was born in Oakland and contact with Black Panthers.
My book, and series, begins with members of the Compton Black Panthers being approached by a smooth talker and told about the Top Secret to get Fred Hampton out of Chicago before the cops off him. A Panther allegedly inherited some land near Blue River Oregon – on the McKenzie – and Fred is establishing The Black Panther Farm and Commune. A black man established an old saw mill that can be repaired. Panther Wood would compete with White Wood, and fund the Black Utopian Dream. Darrel Fields hs reservations until he is told about….The Black Mermaid…who appears now and then, nude, and fishing on her rock. A bus is chartered.
To Be Continued
'Reverse Freedom Rides' echo DeSantis Martha's Vineyard migrant flights – The Washington Post
Chris Hayes: Not a week goes by without a story of some election official or civil servant getting in the cross hairs of the most vile faction of the MAGA right and finding themselves besieged with harassment and threats. The most recent victim is Boston Children's Hospital. Sept. 16, 2022
Around 50 more migrants got off a bus outside Vice President Kamala Harris' residence in Washington, D.C., Saturday.
Three more buses also arrived in New York City, as Texas continued to pressure sanctuary cities amid a surge of migrants crossing the southern border.
The D.C. bus carried people mostly from Venezuela, including a one-month-old baby. Aid workers quickly whisked the migrants away to a local shelter.
The transports come as the immigration issue has again rocketed to the forefront of national attention after planes carrying migrants arrived in Martha's Vineyard, Massachusetts.
VICE PRESIDENT KAMALA HARRIS AGAIN IGNORES MIGRANT QUESTION, HUSBAND CALLS BUSSING 'SHAMEFUL'
Lindsey Graham said Trump 'could kill fifty people on our side and it wouldn't matter' to GOP voters: new book (msn.com)
Nice Democracy You've Got Here. Shame If Something Happened to It. (msn.com)
New reporting on the Trump lies leading up to the Mar-a-Lago search | Watch (msn.com)
Paul Butler: Judge Cannon 'partially joining Donald Trump's defense team' | Watch (msn.com)
Boston Children's Hospital becomes latest target of MAGA-right threats (msnbc.com)
Willamette Bridge
From Wikipedia, the free encyclopedia
Jump to navigationJump to search
Willamette Bridge was an underground newspaper published in Portland, Oregon from June 7, 1968 to June 24, 1971. In the spring of 1968, several groups of people in Portland were discussing starting an "underground" newspaper in Portland, similar to the Los Angeles Free Press or the Berkeley Barb.[1] They were partially motivated by a frustration with the reporting in the mainstream press, which was still supporting the Vietnam war, opposing progressive movements like the United Farmworkers Union, and showed no understanding at all of the growing "Counterculture" and its music, dress and mores. On the other hand, they saw many things going on in the city that were positive, but isolated- Antiwar activity at Reed College, "Hippies" gathering around Lair Hill park, the progressive wing of the Democratic Party gathering strength, craft stores and head shops opening around town, local bands like The Great Pumpkin and The Portland Zoo giving concerts. A newspaper could bring these groups together and break the information monopoly of the daily papers.[2]
After a few meetings, three of these groups joined forces and the Willamette Bridge was born. The people who started The Bridge (as it came to be known) didn't think of themselves as just "journalists", per se- but rather, as communicators, community organizers. They saw their role as spreading the word about what was happening in the city and the world, and hoping that just spreading that information would help change the community.[3]
The first issue of The Willamette Bridge carried this statement of purpose:
To provide a means by which Portland's various liberal groups can learn of each other's activities;
To be a bridge between these groups and the city officials, businessmen, parents and general citizenry;
To provide a platform from which controversial issues and topics can be discussed;
To print news that the mainstream press ignores, either by accident or by design;
To give another slant to news that we feel is being distorted.
And, hopefully, to establish more understanding among all of the peoples of the city.[4]
It continued "…We feel that opinions are not and cannot be confined to the editorial page, so we will not attempt to appear objective about material we have definite feelings about."[5]
"The Bridge" was a member of the Underground Press Syndicate and the Liberation News Service. Printed in a tabloid format with 10-15 underpaid general purpose employees (some had specialties, but everybody did everything) operating more or less collectively, The Bridge appeared every other Friday, then every Friday. By the summer of 1969 it was printing and selling 15,000 copies a week, making The Willamette Bridge one of Oregon's largest papers.[6] It was organized by Editors and staffers included Michael Wells, Jimmy Beller and Maurice Isserman.[7]
The Bridge was the forum where Portland's emerging Women's, Gay Rights and Environmental movements found a voice and reached the public. It had connections to the Black Panthers, Draft Resistance groups and other radical organizations. On the other hand, the Bridge advocated for saving The Old Church and converting a downtown parking lot into a park, which was realized in 1984 as Pioneer Courthouse Square
Michael Wells, the paper's founder and main editor, left in 1970, and it was taken over by a collective from members of Reed College SDS and its spinoff, the Portland Revolutionary Youth Movement collective. which put a greater emphasis on what they saw as radical politics. The paper shut down a year later.[8] After the "Bridge" ended its run as Portland's local underground paper in 1971 it was succeeded by the Portland Scribe.
Posted on September 7, 2020 by Royal Rosamond Press
The main goal of the KKK was to prevent intercourse between white and black people For this reason the Black Panthers were attacked. Bob Jones outlawed interracial couples on it campus, and lost its tax shelter. Blaming the Civil Rights Movement, Jones put together a think tank and Paul Weyrich came up with the Right to Life movement as a means to TRUMP Martin Luther King who was a Doctor of Divinity. The Rainbow Coalition was a great threat to the KKK that was still strong, and had roots in the evangelical South – as well as the Puritans church in Boston. There was a break away movement that ended up down South and the Southern Baptists – who saw the British was ending slavery, and thus began a Redneck Presbyterian Revolt against the crown. John Witherspoon brought this revolt from Scotland. I am with his great granddaughter in the pic above. I did my DNA and discovered John Wilson was a Puritan leader. In studying his history I conclude the Southern Puritans feared the North would become Abolitionists and form their own revolt. Washington and Jefferson owned slaves. So did Witherspoon. They got the Billyboys Hillbillys, and Rednecks to do most of the fighting as they did against the British on Scotland and Ireland. They knew how to fight.
What I am telling you, is, our Founding Fathers were PRO-SLAVERY and this is why they did not free the slaves in the Constitution – or give women the right to vote. Puritan Women in the North were the first abolitionists and suffragettes. They far outnumbered the Southern Puritan branch.
I declared myself the head of OCCUPY in Eugene due to the attacks by Anarchists – who do not care about black people and the big government programs that help them since the Civil War. They want to get rid of all government and have them own all the power trough terrorist.
On this day I found the Cal-Oregon Rainbow Coalition.
I demand the Anarchists relinquish their power – and stop putting Replicons in power. Fifteen years ago I discovered Jesus was restoring the Jubilee and setting Indentured Slave – FREE! Many Jews sold themselves to other Jews in order to pay for Temple sacrifices. For this reason I call most evangelicals members of a cult and heresy. Below is a video of a dance I did honoring their lunacy. My evangelical neighbors – may have seen it – which caused them to riot and harass cats. Kim Haffner said I brought it on myself by showing her this blog, which she shared with our neighbors.
Posted on February 4, 2021 by Royal Rosamond Press
Kamala was born in Kaiser Hospital that was located two blocks from where I lived with Gloria and our female lab, Deva, which I just discovered in the middle name of Kamala Devi Harris. Devi/Deva means 'divine godlike shiny being'. Kamala is the goddess Lakshmi. Being a follower of Meher Baba while I lived on Yosemite, I can conjure up a divine image of Kamala's birth and life from the perspective of her mother who took her famous daughter to India. I know Kamala is concerned with the Christian Identity of America. Let us remove this block by saying I came back to Oakland with Dottie Witherspoon whose great grandfather was Signer John Witherspoon, a Presbyterian Leader from South Carolina where we visited Baba's retreat. I clear a path for the ever-dwelling presence of The Divine Light. Kaiser was torn down and is now a empty lot. I suggest the U.S. Government purchase this property and build a college and shrine for students who want to know the culture of India.
I can not find the address for the Oakland residence that I believe the photo of Kamala and her father was taken. I am well versed in the blend of Black Politics and the existence of a Divine Transcendence that was very prevalent in the Bay Area. This energy filled the air and hovered on the borderline of Oakland and Berkeley. I am going to retrieve this light and history. Deva lived with my wife, Mary Ann Tharaldsen, and my stepdaughter, Britt, on Miles Street, which is a half-mile away from Kaiser. Deva lived there too.
"On this day I found the Cal-Oregon Rainbow Coalition."
On September 7, 2020, a month before Kamala was elected Vice President, I posted about the Rainbow Coalition. This morning I find the 'Rainbow Sign'. Founding the Marin Sea Cadets is part of 'The Kamala Prophecy'.
John Presco
Kennedy Brothers at Defremery Park | Rosamond Press
Inside Rainbow Sign, a vibrant hub for black cultural arts | Berkeley News
Pete Townshend 'Parvardigar' – Fillmore West, San Francisco 1996 – YouTube
Meher Baba (petetownshend.net)
On any given day, visitors at the Rainbow Sign could have a meal at its restaurant, take a dance class, learn Swahili, attend a book party for Black Panther Party leader Huey Newton, make a batik print, listen to Maya Angelou read from her book of new poems or pull an all-nighter at a jazz festival after-party (with a complimentary breakfast served the next morning).
Posted on June 8, 2021 by Royal Rosamond Press
I believe a Bill should be passed to create The Black National Guard. When I saw President Biden in Tulsa I wanted to post on the Marin Shipmates I founded. I knew they were coming to Tulsa, aspects of the Black Panther Party. I am for making Washington D.C. a State and a sanctuary for the descendants of Black Slaves, who are the target of the ongoing Christian Schism that led to the Civil war. On a Black Panther facebook I posted this video of Indigenous Americans marching Prussian style in Chile. There are eighteen million Guatemalans, many who are crossing our borders looking for a better way of life. There are forty-eight million black CITIZENS in the United States – still waiting for a better way of life.
Now is the time for Church Leaders across America to call for a complete investigation into the Insurrection – and begin authoring a paper showing their involvement. I will prove Jesus is not on their side.
John Presco
(56) Chile Military Parade, with Chilean Commentator – YouTube
US Capitol Police Sgt. Aquilino Gonell, who was wounded while defending the US Capitol during the January 6 insurrection, said Thursday night that he feels "insulted" after Republicans blocked the formation of an independent commission last week."I feel insulted. I feel like they don't have the courage. They demand something from us that they're not willing to do, which is sacrifice their livelihood," he said in an interview with CNN's Don Lemon Thursday night of the lawmakers who did not support the bill establishing the commission.Capitol Police officers are increasingly sharing their frustration publicly as efforts for a commission to investigate the attack and bolster funding for Capitol Hill security have stalled, further exposing the fractured relationship between lawmakers and the officers who protect them.
Posted on June 19, 2022 by Royal Rosamond Press
Posted on June 16, 2022 by Royal Rosamond Press
Mike Pence made a statement that will go down in infamy after his attorney, Greg Jacob, showed him the message he got from Doctor John Eastman.
"That's rubber-room stuff!"
John Eastman and the Claremont Institute went after Kamala Harris when she was nominated by Biden. Would Harry Jaffa approve – if he were alive? Did Jaffa read about my kin, John Fremont, forming The Radical Democracy Party in order to force Lincoln to do the bidding of the Radical Republicans – who put him in office?
On January 8, 2021, I founded the New Army of The Potamic – believing the Insurrection was not over – and was just beginning. No one helped me do this. I had a spiritual vision – and knew my history. J. Michael Luttig, and Hillary Clinton, believe we are about to lose our Democracy. I have seen a New Nation in The West.
I am dedicated to destroying the claptrap of Harry Jaffa who puts Lincoln on the porch of a Greco-Roman plantation with my Clay kindred in Kentucky, drinking mint julips, and discussing the best wishes of Aristotle, and how terrible the hot weather is, as it cuts down on the time black slaves can spend working in the fields – FOR NOTHING!
Ginni Thomas and John Eastman exchanged views on THE LIE Joe Biden and Kamala Harris STOLE the election and were – NOT LIGITIMATE! Did Ginni discuss the Birther theory with her husband – who may have considered running for President, but, being a Conservative Republican, he knew he would not get the Black Vote. How – unfair?
John Presco
"The chairman of the House select committee investigating the Jan. 6, 2021, Capitol riot on Thursday said that the panel will invite Virginia "Ginni" Thomas, wife of Supreme Court Justice Clarence Thomas, to testify about her involvement in efforts to reverse Donald Trump's presidential election loss.
Disclosure of the plan to invite Ginni Thomas came a day after a report that the committee had obtained emails between her and John Eastman, a lawyer who was advising Trump on the 2020 election.
Eastman was a leading proponent of a plan to have Trump and others pressure then-Vice President Mike Pence to block the certification by Congress of President Joe Biden's electoral victory.
https://www.cnbc.com/2022/06/16/jan-6-riot-committee-will-invite-ginni-thomas-to-testify.html
https://www.politico.com/story/2010/07/thomass-wife-takes-on-obama-039426
Radical Democracy Party (United States) – Wikipedia
Some Questions for Kamala Harris About Eligibility | Opinion (newsweek.com)
Editor's note, 8/14: This op-ed is being used by some as a tool to perpetuate racism and xenophobia. We apologize. The essay, by John Eastman, was intended to explore a minority legal argument about the definition of who is a "natural-born citizen" in the United States. But to many readers, the essay inevitably conveyed the ugly message that Senator Kamala Harris, a woman of color and the child of immigrants, was somehow not truly American.
The op-ed was never intended to spark or to take part in the racist lie of Birtherism, the conspiracy theory aimed at delegitimizing Barack Obama, but we should have recognized the potential, even probability, that that could happen. Readers hold us accountable for all that we publish, as they should; we hold ourselves accountable, too. We entirely failed to anticipate the ways in which the essay would be interpreted, distorted and weaponized.
August 13, 2020 at 8:12 p.m. EDT
Trump questions Kamala Harris's citizenship
"It's an open question, and one I think [Sen. Kamala D.] Harris should answer so the American people know for sure she is eligible."
— Trump campaign legal adviser Jenna Ellis, in comments to ABC News, Aug. 13, 2020
"I heard it today that [Harris] doesn't meet the requirements. And, by the way, the lawyer that wrote that piece is a very highly qualified, very talented lawyer. I have no idea if that's right. I would have assumed the Democrats would have checked that out."
— President Trump, in remarks to reporters, Aug. 13, 2020
A legal adviser and spokesperson for President Trump's reelection campaign questioned the citizenship of Sen. Kamala D. Harris, a California native and the presumptive Democratic nominee for vice president. Later in the day, Trump said Harris possibly "doesn't meet the requirements" to serve as vice president.
Harris's citizenship is not under any serious question, legal experts told us.
For years, and as a presidential candidate in 2016, Trump stoked the "birther" conspiracy theory that President Barack Obama was not born in the United States. Now, the citizenship of another prominent African American politician is being challenged with no evidence.
Trump promotes false claim that Harris might not be a natural-born U.S. citizen – The Washington Post
Radical Democracy Party (United States) – Wikipedia
The Radical Democracy Party was an abolitionist and anti-Confederate political party in the United States. The party was formed to contest the 1864 presidential election and it was made up largely of disaffected Radical Republicans who felt that President Abraham Lincoln was too moderate on the issues of slavery and racial equality. John C. Frémont was nominated as the party's presidential candidate, with John Cochrane as his running mate. However, their campaign failed to gain momentum and not wanting to act as a spoiler against Lincoln, they withdrew from the race in September.
Frémont and Cochrane dropped out of the race on September 21, 1864. In a letter to The New York Times, Frémont wrote that it had become increasingly clear that the Democrats could not be trusted on the issues of union or abolition. As such, he did not want to act as a spoiler against Lincoln.[18] At the same time, Frémont remained critical of Lincoln, writing that "his Administration has been politically, militarily and financially, a failure, and that its necessary continuance is a cause of regret for the country".[19] In another letter to the same paper written one week previously, but published in the same edition, he wrote that the ideas of the Radical Democracy Party would nevertheless be pursued.[20] It has been speculated that Frémont's withdrawal may have been part of a deal with Lincoln whereby the more conservative Postmaster General Montgomery Blair was removed from his post.[21]
Most Radical Democracy Party supporters went on to support Lincoln in the general election,[22] though there were some exceptions to this, notably Wendell Philips.[23] The party itself was finished, having only formed to run a candidate in the 1864 election.
Posted on January 8, 2021 by Royal Rosamond Press
This morning I awoke at 5:A.M. determined to BORN AGAIN the Army of the Potomac so that never again will our elected leaders cower on their knees in the Sacred Chamber of The United States Senate. I turn on my T.V, to see the news about the death of a Capitol policeman. I am then hearing about the special jurisdiction of the District of Columbia has, that prevented the calling of the National Guard to come to the rescue of The People's Choice – that most Republican's claim were not legally elected to office. Their President LIED AGAIN saying he called the National Guard – right away – at the first sign of trouble! Why should the majority of Real American Voters have to SWALLOW ONE MORE LIE from a mortal being, who thinks he is a god. Trump – IS INSANE!
Posted on February 20, 2022 by Royal Rosamond Press
Vice President Harris and Ukrainian President Volodymyr Zelenskyy met Saturday at the Munich Security Conference in Germany Saturday morning to discuss aggression from Russia and how the U.S. and its allies would respond.
Posted on April 16, 2021 by Royal Rosamond Press
I have been trying to form The New Jessie Scouts to do battle with the enemy within.
Seer Jon
The House committee investigating the January 6 attack on the U.S. Capitol believes former Energy Secretary Rick Perry is the author of a text message to former White House chief of staff Mark Meadows that was turned over to the committee that called for encouraging Republican-led states to cast their Electoral College votes for Donald Trump in the 2020 presidential election regardless of the outcome of the popular vote, according to CNN.
Jan. 6 Committee Reportedly Believes Rick Perry Wrote Text Encouraging Meadows To Work To Alter Electoral College Vote (forbes.com)
Jessie Scouts and BLM | Rosamond Press
From Austria to Bulgaria, the Czech Republic, the Netherlands, Norway and Sweden, Russian diplomats have been expelled from several European countries in the past few months over Moscow's increasingly aggressive spying tactics.
https://products.gobankingrates.com/r/e48f149e71a19f66115d5f5c8edaefd8?subid=
The United States is on a War Footing now that our troops are in harms way. Anything that looks like TREASON, should be dealt with the same way the Union Army dealt with Insurrectionist Lovers of Slavery. I'm for bringing back THE IRON CLAD OATH and have all the Oath Keepers sign it. ALL OF THEM! That is Rick Perry and his wife with neo-Confederates. Get out of Fremont's Party – you treacherous snake in the grass!
I have turned back the hands of time, not to please the neo-Confederate Fake Christians, but the Radical Republicans who nominated my kin to be the first Republican Presidential Candidate. John Fremont had foreign fighters on his side, and on the side of black slaves. If any foreigner, whose Nation belongs to NATO, wants to join the Jessie Scouts, then I will make that possible.
I wish the best to President Zelensky. May he and our Vice President remain UNITED in the coming fight! We will prevail. The moment for all Americans to stand by the American Flag, and the Bald Eagle, came when Zelensky and Harris stood together. These are TRUE PATRIOTS. I strip that title from any Republican who backed, and still backs, the JAN 6 INSURRECTUION!
TRAITORS!
John Presco 'Republican Candidate For Governor of Oregon'
https://en.wikipedia.org/wiki/Ironclad_Oath
Beside us, Ukraine's president was already climbing out of his vehicle wearing body armour and a helmet and heading across a strip of wasteland towards the trenches.
This week, as western governments escalated their warnings about the threat of all-out war with Russia, Volodymyr Zelensky decided to drop-in on some of the Ukrainian soldiers who could be right in the path of any invasion.
The visit was part of the president's own, two-pronged offensive: showing support for his country's troops on the one hand, whilst warning allies in the West that trying to "appease" Moscow over Ukraine was dangerous.
For two days, we followed Volodymyr Zelensky as he criss-crossed the country.
By plane and helicopter, we moved from military drills to the actual conflict line and from land into the Azov Sea as the West pumped up the volume on its war-warnings.
Meant to deter Russia, its alarm appears to have been ignored.
The idea of Russia bombing Kyiv into submission still seems far-fetched – more damaging to Vladimir Putin than of any possible benefit. But violence in those parts of eastern Ukraine already controlled by Russian-backed forces has suddenly picked-up.
Posted on January 8, 2021 by Royal Rosamond Press
This morning I awoke at 5:A.M. determined to BORN AGAIN the Army of the Potomac so that never again will our elected leaders cower on their knees in the Sacred Chamber of The United States Senate. I turn on my T.V, to see the news about the death of a Capitol policeman. I am then hearing about the special jurisdiction of the District of Columbia has, that prevented the calling of the National Guard to come to the rescue of The People's Choice – that most Republican's claim were not legally elected to office. Their President LIED AGAIN saying he called the National Guard – right away – at the first sign of trouble! Why should the majority of Real American Voters have to SWALLOW ONE MORE LIE from a mortal being, who thinks he is a god. Trump – IS INSANE!
Mr. Insane wanted to send OUR Army into Portland to restore law and order. Donald Trump watched the mob violence – very carefully – looking for a good excuse to be a BIG MAN to his rabid base. He wanted them to see real troops battling rioters in the street. He wanted to hear their praise and read their CONGRADULATIONS on twitter and facebook. Trump gave the VIOLENT INSTECTIONISTS a guarantee that he would back them with the Army, the Navy, and the Marines! In hours, this MANIAC will be – IMPEACHED! This is – TREASON!
After President Joe Biden, and Vice President, Kamala Harris, are sworn in, I would like to see them give birth to THE NEW ARMY OF THE POTOMIC that was created when Republican President Abrahm Lincoln passed the Thriteenth Ammendment, and FREED me and women who were taken hostage and made slaves. The Abolitionist Repubican Party RIGHTED THE WRONG our founding Father's made, when they did not free the slaves – NOR GIVE WOMEN – the right to vote. Our FLAWED Constitution was signed by men who debated about freeing the slaves. Did they consider giving the vote to half of our young Nation?
I declare the republican Party – DEAD! Let the remnants of this party co-founded by my kindred, John Fremont be born this day in the District of Columbia. Let the citizen who live in this district be allowed TO VOTE so that they can own the power to come to the aid of ALL citizens who come under attack. Donald Trump invited people to the DC to commit acts of violent insurrection. If the citizens of DC knew the sacred building in their district would be left UNGUARDED, they might have marched to this Symbol of Freedom – and surrounded it!
The Marin Shipmates | Rosamond Press
I see the New Army of the Pontomac holding an anuel parade down Pennsylvania. I presented the video of the Native Americans in Chile doing the goosetep to Prussian band music. I told the startled members of this Black Panther group, that no black American should be denied access to any empowerment any white man enjoys anywhere in this world. To quote President Biden…
"Enough is enough!"
Let's have the parade that King Donald wanted – only for himself! Let us hold a annual parade of the People's Army – FOR ALL THE PEOPLE!
Freedom!
John Presco
Chile Military Parade, with Chilean Commentator – YouTube