Posted on May 29, 2018 by Royal Rosamond Press
Clarence Thomas may have read the Conservative Racist Rant of Mark Presco – my white brother! Like Thomas, Mark believes white people should stop doing anything for Black People – but set a shining example! Be Pro-Capitalist Life! I got mine – you get yours! Both are encouraging – hatred! Both – hate the Love Generation!
Clarence bases his CONVERSION from being a Radical Black Man – on MISTRUST of White Liberal-Progressives – who he falsely claims WERE behind the Eugenic Movement and putting pieces of murdered embryos in Covid Shots! Mr. C lumps this in with the powerful desire of Democrats to MURDER THE UNBORN as a Anti-Christian Collective. What this adds up to, is C owning a contrived excuse to do nothing for black people and brag to his white conservative friends about how clever he is, which is par for the course for the whole stinking lot of them. Does C have black friends? Does he have – white friends? This is a – Black Howard Roarke – who had no friends! What black man – could trust him?
Above is a pic of David and his son, Malcom. Davide moved in with me when he was ten because his mother had married a abusive man. His father was a Black Panther in Chicago that died in a fire. Malcom was named after Malcom X, and is my grandsons cousin. When I met David's wife, she told me her Huband's three sisters told her stories about Angela Davis. It looks like it's up to me to author another book about a White Radical who had contact with Black People, that somehow ends up causing the repeal of Woe verses Wade thanks to the outrageous racist display of Donald Trump – that C did nothing about? Did he ever offer an opinion?
John Presco
"Indeed, Thomas' embrace of the Republican Party is consonant with a deep mistrust of white liberals, the institutions they control and the policies they try to advance in the name of "social justice."
"Thomas has expressed repeatedly that his aversion to abortion is significantly informed by its deep and longstanding ties to racial eugenics programs. It should be noted that these eugenics initiatives were pushed heavily by white liberals of the time, also in the name of helping the marginalized and disadvantaged. Thomas has no trust in similar social justice rhetoric being deployed by abortion rights advocates today."
Blogger: User Profile: Mark Presco
Clarence Thomas reveals some sympathy for Trump's baseless fraud claims – CNNPolitics
(CNN)Supreme Court Justice Clarence Thomas on Monday claimed election fraud is a threat to America, revealing in a forceful dissent some support for former President Donald Trump and Republicans who have refused to accept the result of the 2020 election.
A longtime conservative, Thomas' legal views naturally aligned with the Trump administration. But his dissent stands out for how much it subscribed to the Trump worldview of fraud, a notion debunked by election law experts and that has failed overwhelmingly in dozens of state and federal court challenges.
"We are fortunate that many of the cases we have seen alleged only improper rule changes, not fraud. But that observation provides only small comfort," Thomas said, dissenting as the court rejected a long-pending challenge to Pennsylvania mail-in voting procedures.
"An election free from strong evidence of systemic fraud is not alone sufficient for election confidence," Thomas wrote.
'Big problems': The Supreme Court just handcuffed EPA on climate change. What comes next? (msn.com)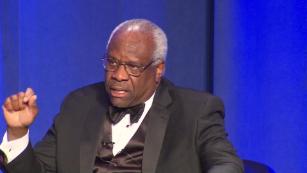 READ: Clarence Thomas' dissent in Pennsylvania election decision
In his 11-page dissent on Monday, Thomas referred to "fraud" 10 times and emphasized alleged flaws in ballots that arrive by mail. He said review of them may be particularly subjective, for example on the validity of signatures, and require state officials to sift through millions of ballots. Each state determines its own election procedures, for balloting in person or by mail, within the safeguards of the federal Voting Rights Act and Constitution.
"The decision to leave election law hidden beneath a shroud of doubt is baffling," he wrote. "By doing nothing, we invite further confusion and erosion of voter confidence. Our fellow citizens deserve better and expect more of us."
Clarence Thomas' deep-seated jealousy of Obama | Commentaries | daytonatimes.com
Thomas's attempt to diminish the president just underscores what they have – and don't have – in common.
Both men are products of elite colleges and law schools. But while Thomas hid behind a self-perceived "defect," Barack Obama took an active role in the life of the institutions he attended. At Harvard, he sought and won membership on the law review, and then, the approval of the review's members to be their president.
Clarence Thomas drew no job offers from law firms when he graduated in 1974. He's claimed this was the result of the "taint" of affirmative action.
The most striking contrast between Clarence Thomas and Barack Obama, of course, is what they've done after law school.
https://en.wikipedia.org/wiki/Black_conservatism_in_the_United_States
How Black Suffragists Fought for the Right to Vote and a Modicum of Respect | The National Endowment for the Humanities (neh.gov)
By Brian Linder | blinder@pennlive.com
Impeach Clarence Thomas?
Well, if things keep trending the way they are, more than a million people will have signed a petition by the time the Fourth of July rolls around requesting just that.
The petition, posted to MoveOn.org, was past 907,000 signatures Saturday.
"The right-wing Supreme Court overturned Roe vs. Wade last week, effectively taking away the right to privacy and bodily autonomy that's been considered legal precedent for the past 50 years," the petition reads. "Supreme Court Justice Clarence Thomas—who sided with the majority on overturning Roe—made it clear what's next: to overturn high court rulings that establish gay rights and contraception rights."
Thomas has expressed repeatedly that his aversion to abortion is significantly informed by its deep and longstanding ties to racial eugenics programs. It should be noted that these eugenics initiatives were pushed heavily by white liberals of the time, also in the name of helping the marginalized and disadvantaged. Thomas has no trust in similar social justice rhetoric being deployed by abortion rights advocates today.
This mistrust was widely shared among Black activists of his generation — and is in keeping with Thomas' Supreme Court decisions, including overturning Roe. If anything, the racialized attacks many liberals directed at Thomas in the wake of the Dobbs v. Jackson ruling confirm the pessimistic view of race relations that prevailed among many of the Black thinkers who shaped Thomas' worldview and is exhibited by Thomas himself.
For instance, Thomas was deeply inspired by Malcolm X. He had a poster of Malcolm X that hung in his dorm room. He memorized many of his speeches by heart, and he continues to evoke him frequently to this day.
It was Malcolm X, of course, who famously declared that, "In this deceitful American game of power politics, the Negros (i.e. the race problem, the integration and civil rights issues) are nothing but tools, used by one group of whites called Liberals against another group of whites called Conservatives, either to get into power or to remain in power."
He argued that white liberals and white conservatives differ "only in one way: the liberal is more deceitful than the conservative. The liberal is more hypocritical than the conservative. Both want power, but the white liberal is the one who has perfected the art of posing as the Negro's friend and benefactor." He continued, "By winning the friendship, allegiance and support of the Negro, the white liberal is able to use the Negro as a pawn or a tool."
A 2019 New Yorker profile reported that Thomas also supported Black Panther leader Kathleen Cleaver and Communist Party member Angela Davis, both of whom had been wanted by police.
"When he was asked at his confirmation hearings what he majored in, Thomas said, 'English literature.' When he was asked what he minored in, he said, 'protest,'" the article notes, pointing out that his first visit to Washington was to march against the Vietnam War and the last rally he went to demanded the release of two Black Panthers. "I was never a liberal," the article quotes him as saying at a talk in 1996. "I was a radical."
Thomas seems to have been put on this path by the assassination of Martin Luther King Jr. King had advanced a particularly optimistic view of white liberals and cross-racial advocacy. However, in the months leading up to his death, even he was forced to concede that "Negros have proceeded from a premise that equality means what it says, and they have taken white America at their word when they talked of it as an objective."
In contrast, he wrote, most whites "proceed from a premise that equality is a loose expression for improvement. White America is not even psychologically organized to close the gap — essentially, it seeks only to make it less painful and less obvious but in most respects to retain it. Most abrasions between Negros and white liberals arise from this fact."
The political theorist Robin notes that, in the aftermath of King's assassination, which occurred when he was a student at Holy Cross in Worcester, "by his own report, Thomas has a realization that nobody is going to do anything for black people. And by nobody, he means white liberals and white leftists."
By the time Thomas arrived at Yale Law School, he was militant on racial matters and more-or-less fully disillusioned with mainstream liberalism. Hillary Clinton, who overlapped with him in the early '70s, recently declared that as long as she has known Thomas, he's always been filled with "grievance," "anger" and "resentment." Unsaid, but critical context: These were feelings Thomas displayed toward white liberals in particular (like Clinton herself), who dominated Yale at the time, and who continue to dominate elite spaces today.
Thomas noted in a recent interview that people regularly assume he has difficulties around other Black people by virtue of his politics. "It's just the opposite," he declared. "The only people with whom I've had difficulties are white, liberal elites who consider themselves the anointed and us the benighted … I have never had issues with members of my race."
In fact, there have been many prominent Black intellectuals and leaders whose Black nationalist-inflected mistrust of white liberals ultimately led them to conservativism. For Thomas, it was the work of Black economist Thomas Sowell that ultimately helped him channel his misgivings toward "white saviors" into a coherent, right-aligned political philosophy.
There is a deep irony in characterizing Thomas as an "Uncle Tom" (or worse) given that, prior to pursuing public service, he identified with Black nationalism.
However, Black nationalist impulses continue to influence his rulings and judicial philosophy. For instance, core to Thomas' thinking, per Robin, is "a belief in Black self-defense." This commitment undergirds Thomas' staunch support for the Second Amendment. It also plays a role in his opposition to abortion.
Thomas has expressed repeatedly that his aversion to abortion is significantly informed by its deep and longstanding ties to racial eugenics programs. It should be noted that these eugenics initiatives were pushed heavily by white liberals of the time, also in the name of helping the marginalized and disadvantaged. Thomas has no trust in similar social justice rhetoric being deployed by abortion rights advocates today.
Early proponents
The American eugenics movement was rooted in the biological determinist ideas of Sir Francis Galton, which originated in the 1880s. In 1883, Sir Francis Galton first used the word eugenics to describe scientifically, the biological improvement of genes in human races and the concept of being "well-born".[10] He believed that differences in a person's ability were acquired primarily through genetics and that eugenics could be implemented through selective breeding in order for the human race to improve in its overall quality, therefore allowing for humans to direct their own evolution.[11] In the US, eugenics was largely supported after the discovery of Mendel's law lead to a widespread interest in the idea of breeding for specific traits.[12] Galton studied the upper classes of Britain, and arrived at the conclusion that their social positions could be attributed to a superior genetic makeup.[13] American eugenicists tended to believe in the genetic superiority of Nordic, Germanic and Anglo-Saxon peoples, supported strict immigration and anti-miscegenation laws, and supported the forcible sterilization of the poor, disabled and "immoral."[14]
Eugenics supporters hold signs criticizing various "genetically inferior" groups. Wall Street, New York, c. 1915.
The American eugenics movement received extensive funding from various corporate foundations including the Carnegie Institution, Rockefeller Foundation, and the Harriman railroad fortune.[15] In 1906, J.H. Kellogg provided funding to help found the Race Betterment Foundation in Battle Creek, Michigan.[13] The Eugenics Record Office (ERO) was founded in Cold Spring Harbor, New York in 1911 by the renowned biologist Charles B. Davenport, using money from both the Harriman railroad fortune and the Carnegie Institution
Ayn Rand Judge Contradicts Himself | Rosamond Press
Manson, Black Panthers, Whites Slaughtered | Rosamond Press
Wake Up Ye Africans | Rosamond Press
Ray West Was No Black Panther | Rosamond Press
My Kidnapped Family | Rosamond Press
Huey Newton Rising | Rosamond Press
Mark Presco – Robert Buck – Reparations | Rosamond Press
Blogger: User Profile: Mark Presco
Eugenics in the United States – Wikipedia
Posted on February 23, 2018 by Royal Rosamond Press
Above are photos of me with Carlos Moore's son, whose mother is the half-sister of my first girlfriend, Marilyn, who is holding a black doll Carlos was a good friend of Fela Kuti who was seen by the Black Panthers as a African archetype. My friend Bryan McLean played in the band Love, with Arthur Lee, who inspired Jimmy Hendrix. Travis Scott says Fela's music influenced the waterfall scene. Carlos sold the rights of his book to a producer who went off Broadway with it.
The top photo was taken in Springfield Oregon. When I turned there was a black man standing there watching me. I thought about speaking, but, his look said;
"We all got our stories. Life, is a movie."
Jon
https://www.usatoday.com/videos/news/nation/2018/02/11/fela-kuti-and-travis-scott-rock-black-panther-set/110256546/
Fela was born Fela Ransome Kuti in Nigeria in 1938; he dropped his given middle name because of its colonial associations. His parents sent him to London for a medical education, but he chose music instead, studying piano, composition and theory at Trinity College of Music.
Fela became an activist after bringing his band to the U.S. in 1969; he met Angela Davis and The Last Poets and learned about Malcom X and other black nationalists.
The cast of "Black Panther" discuss jamming to Fela Kuti on set via USA TODAY.
Fela Kuti and Travis Scott rock 'Black Panther' set
"Black Panther" cast talk favorite music on set – Fela Kuti, Snoop Dogg, Young T.H.U.G., and more. (Feb. 9)
usatoday.com
LikeShow more reactions
11 Comments
Comments
Your comment here…
Derek Ott But the soundtrack is lame and has nothing that sounds like Afrobeat, or traditional African music, for that matter. Unfortunate.
33
LikeShow more reactions
Obi Ezeilo They should've used some Fela tracks (shakara, "who're you?", etc) in the soundtrack. That would've been perfect.
11
LikeShow more reactions
Javier Virgen I rock to Fela all the time, no one is interviewing me
22
LikeShow more reactions
1 Reply
Nnas Toby Where is the African beat on the soundtrack.. Get out here! Not even wiz kid? Give me a break
11
LikeShow more reactions
Scott Fetrow Fela n Femi are amazing
22
LikeShow more reactions
Aulatundey Oyewole Incredible!
11
LikeShow more reactions
Edward A Lennox he will be proud of me
Early life and education[edit]
Newton was born in Monroe, Louisiana. He was the youngest of seven children of Armelia Johnson and Walter Newton, a sharecropper and Baptist lay preacher. His parents named him after former Governor of Louisiana Huey Long. In 1945, the family migrated to Oakland, California, as part of the second wave of the Great Migration of African Americans out of the South to the Northeast, Midwest and West.[3] The Newton family was close-knit, but quite poor, and often relocated throughout the San Francisco Bay Area during Newton's childhood. Despite this, Newton said he never went without food and shelter as a child. As a teenager, he was arrested several times for criminal offenses, including gun possession and vandalism at age 14.[4] Growing up in Oakland, Newton stated that he was "made to feel ashamed of being black."[3] In his autobiography, Revolutionary Suicide, he wrote,
During those long years in Oakland public schools, I did not have one teacher who taught me anything relevant to my own life or experience. Not one instructor ever awoke in me a desire to learn more or to question or to explore the worlds of literature, science, and history. All they did was try to rob me of the sense of my own uniqueness and worth, and in the process nearly killed my urge to inquire.
Newton graduated from Oakland Technical High School in 1959 without being able to read, although he later taught himself; The Republic by Plato was the first book he read.[5] Newton also attended Merritt College, where he earned an Associate of Arts degree in 1966. He then attended San Francisco Law School, and the University of California at Santa Cruz, where he earned a bachelor's degree and, in 1980, a Ph.D.[6] After Newton taught himself to read, he started questioning everything. In his autobiography, Revolutionary Suicide, he states: "Most of all, I questioned what was happening in my own family and in the community around me."[7] This was the start of his involvement in the civil rights movement.
Founding of the Black Panther Party[edit]
Main article: Black Panther Party
As a student at Merritt College in Oakland, Newton became involved in politics in the Bay Area. He joined the Afro-American Association (AAA), became a prominent member of Phi Beta Sigma fraternity, Beta Tau chapter; and played a role in getting the first African-American history course adopted as part of the college's curriculum. He read the works of Karl Marx, Vladimir Lenin, Frantz Fanon, Malcolm X, Mao Zedong, Émile Durkheim, and Che Guevara. During his time at Merritt College, he met Bobby Seale, and the two organized the Black Panther Party for Self Defense in October 1966.[3] Based on a casual conversation, Seale became Chairman and Newton became Minister of Defense.[8] Newton learned about black history from Donald Warden (who later would change his name to Khalid Abdullah Tariq Al-Mansour), the leader of the party, but later decided that he offered solutions that didn't work. In his autobiography, Newton says, "The mass media, the oppressors, give him public exposure for only one reason: he will lead the people away from the truth of their situation."[9]
The Black Panther Party was an African-American left-wing organization working for the right of self-defense for African Americans in the United States. Many of the Black Panther Party's beliefs were greatly influenced by Malcolm X: "Therefore, the words on this page cannot convey the effect that Malcolm has had on the Black Panther Party, although, as far as I am concerned, the testament to his life work."[10] The Party achieved national and international renown through their deep involvement in the Black Power movement and the politics of the 1960s and 1970s.[11] The Party's political goals, including better housing, jobs, and education for African Americans, were documented in their Ten-Point Program, a set of guidelines to the Black Panther Party's ideals and ways of operation. The group believed that violence—or the threat of it—might be needed to bring about social change. They sometimes made news with a show of force, as they did when they entered the California Legislature fully armed in order to protest a gun bill.[12]
Newton adopted what he termed "revolutionary humanism".[13] Although he had earlier visited Nation of Islam mosques, he wrote that "I have had enough of religion and could not bring myself to adopt another one. I needed a more concrete understanding of social conditions. References to God or Allah did not satisfy my stubborn thirst for answers."[14] Later, however, he stated that "As far as I am concerned, when all of the questions are not answered, when the extraordinary is not explained, when the unknown is not known, then there is room for God because the unexplained and the unknown is God."[15] Newton later decided to join the Church[clarification needed] after the party disbanded during his marriage to Fredrika.[16]
Newton would frequent pool halls, campuses, bars and other locations deep in the black community where people gathered in order to organize and recruit for the Panthers. While recruiting, Newton sought to educate those around him about the legality of self-defense. One of the reasons, he argued, why black people continued to be persecuted was their lack of knowledge of the social institutions that could be made to work in their favor. In Newton's autobiography Revolutionary Suicide, he writes, "Before I took Criminal Evidence in school, I had no idea what my rights were." Newton also wrote in his autobiography, "I tried to transform many of the so-called criminal activities going on in the street into something political, although this had to be done gradually." He attempted to channel these "daily activities for survival" into significant community actions. Eventually, the illicit activities of a few members would be superimposed on the social program work performed by the Panthers, and this mischaracterization would lose them support in both the white and black communities.[17][18]
Newton and the Panthers started a number of social programs in Oakland, including founding the Oakland Community School, which provided high-level education to 150 children from impoverished urban neighborhoods. Other Panther programs included the Free Breakfast for Children Program and others that offered dances for teenagers and training in martial arts. According to Oakland County Supervisor John George: "Huey could take street-gang types and give them a social consciousness."[19]
Posted on February 22, 2018 by Royal Rosamond Press
In 1986 I lived near Shattuck and 47th. Street in Oakland California. No white man, or white woman, lived here. Hmm! Hamm! No way! When you drove by, there was a gang hanging around the store on the corner, that is no longer there. After the fire-bombing of their car by a rival gang, they told me I was safe, because I was a member of the hood, and, under their protection. Can you dig it!
An article below claims 'The Revolution Will Not Be Televised' was the Black Panther theme song. I doubt it. This is Oakland's theme song – in my mind! This is what I'm talking about! This is what really goes down in Wakanda after the Wakandans smuggle in another boatload of really cool White Folk! Get down!
Wakanda was invisible. But there were some, who had the eyes to see, and ears to hear.
Most black people I have had conversations with, are Social Scientists. I am a SS. I am a poet and writer. I study how we relate to one another. Huey Newton was a SS. Folks are asking about the song in the Black Panther trailer. Here's the skinny on this;
https://www.bustle.com/p/the-black-panther-trailer-song-makes-this-epic-look-at-wakanda-ten-times-better-video-2920765
"It's an iconic piece that became a slogan for the real-life Black Panther movement in America during the '70s, a spoken-word poem that essentially calls for an awakening of social consciousness in African-Americans, and a turning away from the mind-numbing elements of popular-culture such as TV.
This is an ironic choice of song and reference, considering that Marvel Comics once shied away from even using the name "Black Panther" for the character during 1972, to avoid confusion with the political group. However, Black Panther has gone on to represent a lot of struggles of race and injustice, from "Panther vs. the Klan" in the mid-'70s, to the modern comic series by acclaimed African-American author Ta-Nehisi Coates."
In 1971, I lived in Roxbury with three hippies. Our black roommate was having a bad acid trip. I helped him. As the sun rose, we sat on the front steps. Showing someone that's on a bad trip, the sun will always rise on a new day, is a huge help. Overlooking the square, David recited Scott-Haron's anthem from memory. He did not falter or leave out a word. I was impressed, and deeply moved.
I do not speak for black people. I offer my view thru the sleeve of a white man, as Wiley put it. "No man is a island." Wakanda is an isolated land island. I went there with a ticket. This movie did not say FOR BLACKS ONLY.
You may want to read this instead of reading what a white man has to say.
https://www.refinery29.com/2018/02/191093/black-panther-ending-women-wakanda-feminist-message
INTERJECTION: I blog in the morning and then look at the news. I found these stories.
https://www.cnn.com/2018/02/22/us/billy-graham-mlk-civil-rights/index.html
https://www.cnn.com/2018/02/22/africa/lupita-nyongo-trevor-noah-born-a-crime/index.html
Lagos, Nigeria (CNN)Oscar-winning actor Lupita Nyong'o will star in a movie adaptation of "Born A Crime," the bestselling autobiography by TV host and comedian Trevor Noah.
Nyong'o announced the upcoming role on social media on Wednesday.
I had two black girlfriends. Venus was a beautiful Oakland prostitute. We never fornicated. We made popcorn, watched T.V. and made-out. We kissed a lot. I was her boyfriend. I lived in a converted water tower. I was under the protection of a black gang that was selling crack. I knew them six years earlier when they were children. I came into the hood off Shattuck to fix up a friends apartments. I befriended them. I paid them for work. I gave them cereal on Saturday, and we watched cartoons. I was a status symbol.
an object, habit, etc., by which the social or economic status of the possessor may be judged.
I gave them insights and inroads as to how white people got things. I had them mudding and taping when they were twelve. Their parents just opened the door and let them out. They never bothered to come see what we were doing. It was a good scene. They had money in their pocket and food in their stomachs. We made hotdogs.
When they saw me hanging out with Venus, they put in good word. I was a good man and could be trusted. I belonged!
Social science is a major category of academic disciplines, concerned with society and the relationships among individuals within a society. It in turn has many branches, each of which is considered a social science. The social sciences include, but are not limited to: anthropology, archaeology, demography, economics, history, human geography, jurisprudence, linguistics, management, political science, culture , psychology, and sociology. The term is also sometimes used to refer specifically to the field of sociology, the original 'science of society', established in the 19th century. A more detailed list of sub-disciplines within the social sciences can be found at Outline of social science.
Back to the movie I walked out of. Here's the real reason. The Black Evil One shoots another black man while he is lying on the ground, with a white-man's gun. This is no way to establish any villain. I knew what was coming next a cinematic lesson on why black men should stop shooting other black men, and take their exalted place in Black Socity. Ho-hum! This is bad social science. White men don't shoot other white men lying on the ground. Some white men shoot helpless white children lying on the ground begging for mercy. So far, there is no solition for that.
I just learned the school had a armed guard – who did nothing!
Back to the dancing
I can describe the event that started the revolution. My friend Bob Pratt called me about 9:00 A.M. on Sunday. He told me the record store by Lake Meritt, was wide open. Everyone was going in and grabbing records. I went down to get me some. I passed a young black teenager with his arms full.
"Hey, man! If you want some free records……"
"Yeah. I heard. Thanks!"
I wanted just one record, and I grabbed it! No matter where you lived in Oakland, you knew everyone like music. Bob and I used to stay up late listening to KDIA.
https://en.wikipedia.org/wiki/Bo_Diddley_(1958_album)
I thought I was going to die and go to hell before I learned where Bo's dancers got their -fanning the pussy move. You see it when the Tough Girl Chorus come down 42 Street. Bo had to have seen this movie. He orchestrates the moves of his singers, one who plays a guitar. Check out Peggy Jones history. She grew up in the Apple.
When we enter Wakanda, we see a gleaming modern city. Why aren't we taken into the coolest Black Bar on earth – and perhaps the galaxy? Where's our leisurely stroll down Bohemia Boulevard where the Black Artists live, and on to the Red Light Row. If you're an advanced nation, you don't have sexual hang-ups, and old time religion. You have overcome the Shame-base – dirge! The way foreword is not to go into the past. I'm sorry. I got a beef with the Happy Clappy-Hand People, those choirs that claim they came out of Africa. Black Panther was not made for Africans – who got no money to buy a ticket! Bo's women are – tough! I would have been happy to marry one of them.
And, I solved another mystery. What the hell is Little Richard saying in 'Lucille'. Well, he's saying….."If you don't do it, your sister will"….but they had to alter the words.
42 Street was not only the Height Ashbury of America, but the world. This is the big breakout from Puritanism and the Baptist Bible Belt. It looks like Wakanda missed the boat, and didn't get on the 'Soul Train'. Why? This movie has nothing on 'Westside Story'. The Wakandians………..are expatriots!
Jon
To be continued
TOUGH
adj. excellent, first-rate;
used as a positive description of someone or something;
synonyms include cool, hot, tight, bitchin', sweet, awesome, pissa, hip, rad etc.
Yo, that's mad tough, yo!
Your car looks friggin' tough.
Tough, yo, I'm down.
.
Peggy Jones or Peggy Malone (married name) (July 19, 1940 – September 16, 2015), known on stage as Lady Bo in recognition of her relationship with Bo Diddley, was an American musician. A pioneer of rock and roll, Jones played rhythm guitar in Bo Diddley's band in the late 1950s and early 1960s, becoming one of the first (perhaps the first) female rock guitarists in a highly visible rock band, and was sometimes called the Queen Mother of Guitar.[1][2]
Born in Harlem, New York City, in 1940, Jones grew up in the Sugar Hill section,[3] and attended the High School of Performing Arts where she studied tap and ballet dance and trained in opera. Even from a very young age, she found herself completely consumed with music; purchasing her first guitar at the age of 15. She was briefly in a local doo-wop group, the Bop Chords, which disbanded in 1957.[4] A chance meeting with Bo Diddley, who was impressed to see a girl with a guitar case, led to an invitation to join Diddley's band as a guitarist and singer. She recorded with him from 1957 to 1961[2] or 1963,[5] appearing on singles including "Hey! Bo Diddley", "Road Runner", "Bo Diddley's A Gunslinger", and the instrumental "Aztec" which she wrote and played all the guitar parts on.[1][2][5] However, throughout her career, Peggy Jones always strived to be an independent artist and was involved in an R&B band known as the Jewels, among other various names.[6]
Posted on September 26, 2011by Royal Rosamond Press
It is alleged one does not quit drinking until you hit bottom. Growing up in Oakland, bottom can be a long and dangerous trip, down.In 1987 I fouud myself living in a converted water tower in back of a very old Victorian house on 47th. and Shattuck in Oakland. I had lived here six years prior after a teacher at City Cottage bought the place for next to nothing. I was susposed to be the manager, help this Yuppie keep all the riff-raff at bay, but, he rented another back appartment to two young girls who the local gang were pimping out. In otherwords, I was managing a whorehouse for dangerous young dealers – whom I knew since they were twelve. I had befreinded all of them, and they liked me, remembered me fondly!
One day I emerge from Fort Appache to see a burned out car across the street, I asked my young buddy, the fearless leader, what happened.
"We had a drive by. They torched our car and shot at us!"
Shaking my head, I said;
"You guys are really blowing it."
"Don't worry. We'll protect you.Your part of the hood."
That was the first time I heard the expression "the hood". And, right on cue, a few days later, my crazy friend Lester comes to the hood for a visit. We had lived at the University Hotel, and done some serious damage.
"What in the hell are you doing dressed like that?" I asked Lester the Molester.
"What do you mean?" he replied while opening my refrigierator.
"You're dressed just like a Narco Agent. It's like you jumped out of your squad car, ran into a telephone booth, and emrerged like this! Look at you. You even got hard shoes on. You're going to get me killed!"
"Hey, you're out of beer! What gives? There's a liquor store down the street. Let's go!"
I protested, but Lester is extremely compulsive.
Now, walking down the street, this monkey in a Hawaian shirt is turning heads, getting the funniest looks from everyone we meet. Now my buds are staring hard at me. I could read their minds.
"What gives, Oakland Johnny? Why are you bringing the heat down on us? We tusted you. You're part of the hood."
Twice in my life someone has pointed a gun to the back of my head, and pulled the trigger, several times, but each time the gun had jammed. Alas, I had found the sure way to put an end to my miserable existance.
On the corner of 47th. And Shattuck was a liquor store where my gang hangs. About six of gthem were there at the entrance when Lester and I walked in. There were no hardy hellos or high fives. There was a cold silence.
Lester and I were into Cobra malt beer, because it was twice the alcohol content. We bought two tall six packs. Coming out of the store, Lester, asks,
"Who wants a beer?"
There was grumbling amongst the gang. There were no takers. Lester thrusts a tall one at a beautiful young girl, who hesitates, then goes for it, because…..
"Today's my birthday! I'll take one."
Her boyfriend, reluctantly takes one after looking at his bros, and opens it.
"That's not the way to open a Cobra beer!" Lester shouts. And taking one out of the bag, he bites down hard on it, then holds it out as the beer comes squirtung out of the two punture wounds he made with his canine teeth.
"That's how you open a Cobra beer!" And Lester is sucking the beer out of the can like a Vampire as the gang cracks up. Now, we all want one, and there are big smiles to be shared, and cool talk, because Lester broke the ice, And we weren't going to die that day, because, we had not reached bottom yet. Instead, we sang Happy Birthday in front of the store that is now Pyung chang's Tofu House.
My bottom came a week later, while I was in the yard, raking up the needles used to inject drugs into these – children. I was going to plant a vegetable garden right in the middle of Fort Appache as a means to turn the tide of negativty. As I spaded over the hard earth, I had a vision of how my life was going to end. No, I would not get killed, However, on way my home from the bar at 2:00 A.M. someone is going to creep up behind me and hit me with a blunt insturment, and take what's left of my money. I will suffer iriversible brain damage and become a stumble bum, the very dude I have seen in the Proudce Markety when young. I will be the Fool in the Hood, who can not speak anymore, nor, even think. But, my gang will take care of me until the day they die, which would not be too long into the furture.
I started calling old friends from high in my ivory tower. I called Michael Dundon, and gave him a good cursing out, because he too had betrayed me, left me for dead. He quielty listened, waited till I was finished, then said;
"Do you want to get sober?"
"Yes!"
"Then get on a train, come up to Eugene Oregon, and get in the New Hope program."
"New Hope?"
The rest is history! Thanks the Blue River Dundons, I entered an out program at Serenity Lane, and got sober. The first thing I wanted to do as a Sober Man was build a raft and sail it around Round Lake. Doing this was a world away from hauling sacks of spuds for Captain Victim, who did not believe in playing with his sons.
The child plays
The toy boat sails across the pond
The work has just begun
Oh child
Look what you have done
Jon Presco
Copyright 2011
Lucille, you won't do your sister's will?
Oh, Lucille, you won't do your sister's will?
You ran off and married, but I love you still
Lucille, please, come back where you belong
Lucille, please, come back where you belong
I been good to you, baby, please, don't leave me alone
[Chorus]
I woke up this morning, Lucille was not in sight
I asked my friends about her but all their lips were tight
Lucille, please, come back where you belong
I been good to you, baby, please, don't leave me alone, (whoaa)
[Instrumental break]
[Chorus]
I woke up this morning, Lucille was not in sight
I asked my friends about her but all their lips were tight
Lucille, please, come back where you belong
I been good to you, baby, please, don't leave me alone
[Outro]
Lucille, baby, satisfy my heart
Lucille, baby, satisfy my heart
I played for it, baby, and gave you such a wonderful start
Posted on September 2, 2020 by Royal Rosamond Press
This morning I discovered Frank Coakley prosecuted the Black Mutineers at Port Chicago when he was Judge Advocate Commander for the Navy. He would later prosecute Black Panthers – and Mario Savio! I and my family were very good friends with his daughter, Kay Coakley. Kay wanted to adopt my youngest sister. This goes with my discovery that Richard Rosenberg was a founder of Naval societies and interests. I am going to contact him about The Marin Shipmates. I would like him and the Marin-Buck Foundation to fund this museum and gallery.
I discovered this museum after posting.
https://www.oaklandlibrary.org/locations/african-american-museum-library-oakland
The radical dynamics created back in the seventies is back for an encore, and is having a great affect on our American society and culture – and thus the World's. I am sure more black radical art is being rendered as I type. I would like to see a college dedicated to this art. The Oakland Museum had a show on Black Power. This history can no longer be marginalized. It can be shown that Coakley launched a crusade against black people. The paranoia the Newton's experienced was very deserved.
Kamala Harris was a District Attorney of Oakland before she went to San Francisco. If she is elected Vice President, then there will be a great interest n Oakland Culture and political history. Trump is going – The Law and Order approach to being elected. Black Lives Matter, and rioting in several cities, may bring about the defeat of Biden and Harris. This too will deserve a study. Art and Literature has always played a huge role in how we record history. The BPMG will gather all pertinent images so they can be viewed on-line, or at the BP Gallery that will have a home in Marin County.
I am investigating who owns the Black Panther trademark. Any information will be appreciated. It looks like Fredricka Newton does.
Whenever Kay Coakley needed to go to the store, she called her father and he sent a squad car. Kay was the old crone up the street who had a bad car accident when she was young. Her father was the District Attorney. We were impressed.
John Presco
President: Royal Rosamond Press
The Alameda County District Attorney's Office was formed in 1853 with the appointment of its first District Attorney, William H. Combs. For many years, most of Alameda County's District Attorneys came to the position from private practice and, after relatively short periods in the office, became judges or returned to private practice.
In the modern era, the best-known DA was Earl Warren who joined the office in 1920 as a deputy district attorney and was appointed DA in 1925. In 1939, he was elected Attorney General of California, and in 1946 he was elected Governor. Warren served as governor until 1953 when President Dwight Eisenhower appointed him Chief Justice of the United States Supreme Court. As Chief Justice, Earl Warren is probably best remembered as the author of the landmark case of Miranda v. Arizona.
Warren's successor as DA was his Chief Assistant, Ralph E. Hoyt. Hoyt was DA until 1947 when he was appointed to the Superior Court by Governor Warren. Hoyt was succeeded as DA by J. Frank Coakley who served as District Attorney until 1969.
As DA, Coakley returned to the trial courts in 1955 to prosecute Burton Abbott in one of the most highly-publicized cases in the history of California. Abbott was charged with abducting and murdering 14-year old Stephanie Bryan as she was walking home from school in Berkeley. Abbott was convicted and sentenced to death. He was executed in San Quentin's gas chamber in 1957. For Coakley and the DA's Office, the 1960's were a particularly difficult time because of civil unrest and criminal acts associated with the free speech movement, Vietnam War demonstrations, and the emergence of the Black Panther Party in Oakland.
In this interview Robert Treuhaft, local attorney and ally to The Flatlands, gives an update on the latest developments in the case of Luther Smith. Police had executed a no-knock warrant against Smith and, in a case of mistaken identity, had severely beaten him and traumatized his family. Smith had enlisted Treuhaft and fellow Flatlands ally John George to fight back in the legal arena.
On the day of interview, Treuhaft and George had filed charges on behalf of all seven members of the Smith family, as a preliminary measure on the way to seeking damages from the Oakland Police Department, the City of Oakland, and the 30 police officers involved in the raid.
http://www.itsabouttimebpp.com/BPP_Newspapers/pdf/Vol_II_No1_1968.pdf
https://trademarks.justia.com/853/12/the-black-panther-85312748.html
Prosecution
On September 14, 1944 the trial opened. Coakley argued that a strike was mutinous in time of war. He dismissed the defendants' claims, stating, "What kind of discipline, what kind of morale would we have if men in the United States Navy could refuse to obey an order and then get off on the grounds of fear?"
The questioning of the defendants was loaded with racial language, and the prosecutors often disparaged the men's honesty, especially when their spoken statements contradicted their earlier statements—although the men had complained from the beginning that the transcriptions were inaccurate. One defendant had refused to load ammunition because he'd broken his wrist the day before the work stoppage and was wearing a cast. Coakley replied that "there were plenty of things a one-armed man could do on the ammunition dock."
http://www.sarahsundin.com/port-chicago-the-mutiny-trial-2/
"Rear Admiral Carlton H. Wright later added: "I am gratified to learn that, as was expected, Negro personnel performed bravely and efficiently in the emergency."
"Jim Crow, abuse and ill-treatment. Long hours of work, little recreation, arrogant officers, and constant danger have put most of the Negro sailors here on edge."
"Earlier, defense attorney Veltmann had shot holes into the conspiracy case built up by Judge Advocate Lt. Commander Frank Coakley."
"Boyer said he had never heard his division officer give the men an order to load ammunition. "The cooperation of my men was always wonderful, their discipline excellent," he said."
"…certainly the men, involved, deserve not public condemnation, but, rather, public sympathy."
https://www.nps.gov/poch/learn/photosmultimedia/into-forgetfulness-transcript.htm
https://en.wikipedia.org/wiki/Port_Chicago_disaster
Uncover the history of the Black Power movements in California with a compelling addition to the Gallery of California History. In response to the widely-popular 2016 exhibition All Power to the People: Black Panthers at 50, this new installation will illustrate the creative ways black anti-racist activists in California supported their communities and challenged the U.S. government. Focusing on the example of the Black Panther Party, Black Power will bring to light the tensions between a culturally and socially progressive California and examples of economic racism and oppression in the state. This moment in California history will be represented through historic photographs, provocative objects, iconic posters, paintings and interactive prompts that encourage visitors to take action out in the world. Learn more about the Bay Area role in this national story, and the impacts this history continues to have today.
Black Power is supported in part by the Oakland Museum Women's Board.
https://museumca.org/projects/black-power