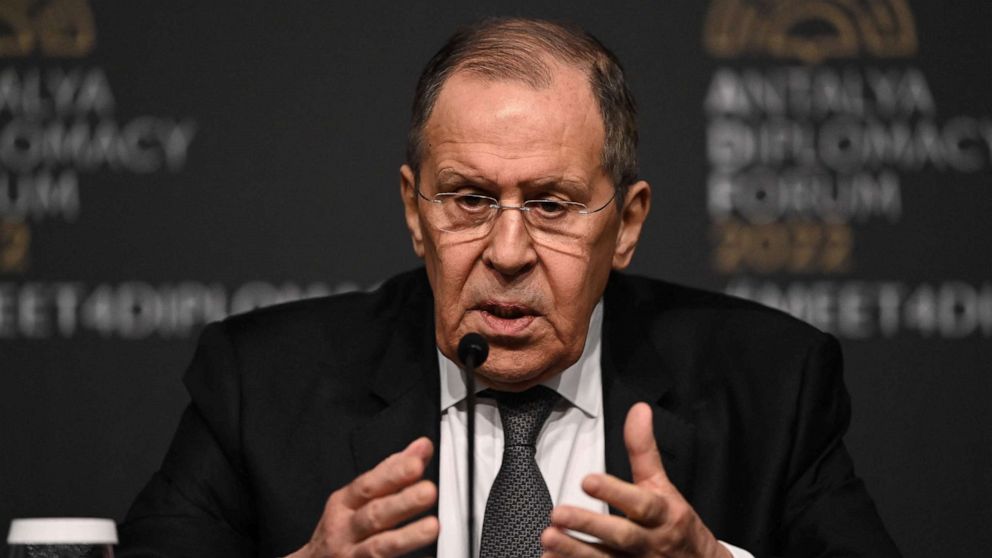 Posted on August 20, 2018 by Royal Rosamond Press
I debated about Miriam Starfish using force to put down Maximorphius, the cook and owner of 'The Bum's Rush' bistro in Eugene. My subconscious altered the name of Max's Tavern, which is around the corner from The Bum's Rush. Miriam Starfish almost skewers Professor John Bond, a name that is a conjunction of John Dee and James Bond, I just discovered. She has a love-hate relationship with John (played by me) who give a lecture on the Habsburg painting and – the Division of the Roses! What!!!!!!! I have yet to write that lecture – that is now the key to my book!
Is Putin's invasion of Ukraine backfiring?
How Putin's war is bolstering world alliances to rebuke Russia's invasion of Ukraine.
Ozan Kose/AFP via Getty Images
Russia is doubling down on its false claims that the U.S. and Ukraine are developing chemical or biological weapons for use against invading Russian forces, bringing the accusation to the United Nations Security Council on Friday.
A web of disinformation, not only from Russian state media but also Chinese propaganda outlets and even some American voices, have increasingly spread the conspiracy theory this week."
STOP THE TRILLION DOLLAR LIARS!
I keep forgetting that powerful men with plenty of money have long had a vested interest in making me out to be – INSANE! I was born in the Bay Area and took part in Anti-War Demonstrations. I marched in Boston. Washington D.C. and in Eugene Oregon – where I wore a Russian flag!
Morale amongst the Russian troops is VERY LOW like it was in Vietnam. I suspect Putin has his mind fully on the possibility of MUTINY. If he brought his DEFEATED ARMY home, then they would compare notes, talk, and demonstrate. Kerry burned his draft card on the Capitol steps. Was I there?
I worked on ANTI-WAR STRATEGY all the time! My opinions – count! This is why I'm writing a SPY NOVEL and have one of my heroines be a RUSSIAN HIPPIE SPY! Will Miriam Starfish Christling be a Russian Anti-War Cult Hero – one day?
The warm weather is coming. Zelensky may want to keep all those conscripts SLOW-COOKING IN THOSE HOT TANKS – till August – wondering if they are going to be FAST-FRIED with a shoulder-rocket – any second.
I'm read to setup my Doomsday Prophecy Show – close by! The old KORE radio tower – will rise above the gold wheat of Ukraine! Last night, I dreamed about an Atom Bomb dropped on Oakland. Is the Battle of Donbass the War of Armageddon that Herbert Armstrong WARNED us about? How does that turn out for Russia?
I'm considering reviving OCCUPY to deal with Mega-Thugs that support Putin and Trump. I have been looking for a Good Villain Starfish can kick the crap out of – when she has more than one Zig Zag Beer. What does Steven Seagal think of Putin's oppression of Pussy Riot? Does The Brute bow down to Killer Kirell? Riot should have played at Putin's party in order to be a Good Example why Russia had to invade Ukraine and bomb a maternity hospital.
I'm going to rub Seagal's face in kitty litter! Then, I'm going to run and hide behind Mother Starfish1
Johnny Revel Ations
Russia escalates false chemical weapons claims about US, Ukraine by bringing them to UN – ABC News (go.com)
https://www.facebook.com/groups/3027215827396933
Steven Seagal has expressed his unwavering support for Vladimir Putin and his allies, even as most of the Western world turns its back on the Russian president following the invasion of Ukraine.
Steven Seagal Tells Putin's Allies 'We Stand Together' at Birthday Party (msn.com)
June 19, 2004
Russian President Vladimir Putin said yesterday that his intelligence service had warned the Bush administration before the U.S. invasion of Iraq that Saddam Hussein's government was planning attacks against U.S. targets both inside and outside the country.
Putin, who opposed Bush's decision to go to war in Iraq, did not go into detail about the information that was forwarded, and said Russia had no evidence that Hussein was involved in any attacks.
"After Sept. 11, 2001, and before the start of the military operation in Iraq, the Russian special services, the intelligence service, received information that officials from Saddam's regime were preparing terrorist attacks in the United States and outside it against the U.S. military and other interests," Putin said, according to RIA Novosti, the Russian news agency. "American President George Bush had an opportunity to personally thank the head of one of the Russian special services for this information, which he regarded as very important," the Russian president told an interviewer while in Astana, capital of Kazakhstan.
When It Comes to the Ukraine War, It's Time to Express Your Point of View (msn.com)
Ukraine latest: Low morale of Russian troops may hinder invasion success taking eastern areas, experts say (inews.co.uk)
I Alone Represent the Evil Empire | Rosamond Press
There's no comparison between Iraq war and supporting Ukraine (nypost.com)
How Putin's Bid to Copy Bush's Iraq War Playbook Ends in 'Shock and Awful' (newsweek.com)
Posted on March 4, 2014 by Royal Rosamond Press
Above are photos of me demonstrating against Bush's pending war against the "Axis of Evil" and the "Beast of Babylon" Saddam Hussain who was being touted by the Christian-right as the Anti-Christ. Merlin was also a candidate for the Anti-Christ. This is why I am wearing Merlin's hat. I am also wearing a Soviet flag because President Reagan titled Russia "The Evil Empire". This has to do with God and Magog, the Satanic force that the forces of King Jesus will do battle with at Armageddon.
Thursday night at 9:00, MSNBC will air 'Why We Did It' a documentary why the Bush administration lied about WMD in Iraq.
Russian President Vladimir Putin has said his country had "no other choice" but to invade Ukraine and that what he has called a "special military operation" was aimed at saving people in the Donbas region.
Posted on March 4, 2014 by Royal Rosamond Press
Giuliani praises Tzar Putin the Savior of Christendom. Reporters are now concluding Putin is on a Mission from God, and thus a rational solution is not possible. The Sane Secular World does not need another nation going Religious Fanatic. Add to this Zionist, Islamic and Redneck Zealots, then the future of the world looks bleak.
Jon Presco
http://www.24hourpreachingnetwork.com/is-obama-the-anti-christ-biblical-analysis-by-john-hagee/
http://mediamatters.org/video/2014/03/03/on-fox-giuliani-praises-putin-hes-what-you-call/198316
GIULIANI: Putin decides what he wants to do and he does it in half a day, right? He decided he had to go to their parliament. He went to their parliament. He got permission in 15 minutes.
CAVUTO: Well, that was kind of like perfunctory.
GIULIANI: But he makes a decision and he executes it, quickly. Then everybody reacts. That's what you call a leader. President Obama, he's got to think about it. He's got to go over it again. He's got to talk to more people about it.
http://www.worldpolicy.org/blog/2013/08/05/putin-man-who-would-be-tsar
Thousands of people have been killed and more than four million have fled as refugees since Russian troops invaded Ukraine in February, prompting sweeping Western sanctions and accusations of genocide and other war crimes, which Russia has denied.
Putin made his remarks while attending an awards ceremony at the Vostochny Cosmodrome in the far east of the country on Tuesday morning. He went on to defend Russia's goals in Ukraine.
"Its goals are absolutely clear and noble," the Russian president said.
Putin said that "we had no other choice" except to take military action against Ukraine and "there is no doubt that we will achieve our goals."
"On the one hand, we are helping and saving people, and on the other, we are simply taking measures to ensure the security of Russia itself," Putin said.
His comments come amid specific concerns for the city of Mariupol, with Russian forces apparently poised to launch a major offensive. The governments of the U.K. and Australia have said they are investigating unconfirmed reports that Russian forces may have used chemical agents in attacks on Mariupol.
In his remarks on Tuesday, Putin went on to say: "They were deliberately fostering these neo-Nazi grassroots, and their clash with the Russian forces was inevitable.
"They were simply biding their time for an attack, and the ensuing events demonstrated how deep these roots go. The neo-Nazism became a fact of life for our neighboring country. It was a matter of time," the Russian president said.
Newsweek has asked the Russian Foreign Ministry for comment.
Russian-backed separatists in the Donbas region have been fighting Ukrainian forces since 2014 and the Russian government recognized the self-proclaimed People's Republics of Donetsk and Luhansk before launching its invasion on February 24.
Reports from Ukrainian authorities on Monday claimed that Russian forces had dropped toxic chemicals over Mariupol using an unmanned aerial vehicle (UAV). The leader of the country's Azov volunteer regiment, Andriy Biletsky, said three people in the city had suffered "poisoning by warfare chemicals, but without catastrophic consequences."
Ukraine latest: Low morale of Russian troops may hinder invasion success taking eastern areas, experts say
'We've seen numbers of troops being unwilling to fight and refusing to engage in operations'
By Serina Sandhu, Richard Vaughan
April 11, 2022 5:41 pm(Updated 7:19 pm)
Russia's military woes are far from over as Moscow still faces significant challenges in Ukraine despite scaling back the invasion to focus on the eastern regions.
The wavering morale of Russian forces could be a major obstacle to the Kremlin's new strategy, while troops withdrawn from other areas may be "in no fit state to fight", military experts have warned.
But the side may benefit from carrying out a unified operation against a possibly depleted Ukrainian resistance.
Russia appears to be inching closer to claiming victory by capturing the south-eastern port city of Mariupol: "Over the weekend they cut the defence of Mariupol in half… Now the Ukrainian defenders are split into two pockets.
"That's a very bad sign, I don't think the city can hold much longer," warned Nick Reynolds, a land warfare analyst at the Rusi thinktank.
But morale among troops, who "have taken a bit of a pounding", remains an issue. "They've been thrust into a situation… without proper explanation, their motivation and their morale is likely to be very low," he added.
After struggling to unseat Ukraine's government in Kyiv, Western Officials believe Vladimir Putin will look to double or treble Russia's military forces in the Donbas region as part of a renewed attack in the east of Ukraine.
Russian troops have withdrawn from the north of the country, but any redeployment of battalions will take time and will face significant challenges, particularly in regards to morale among Russian troops.
Officials have estimated that around 37 or 38 tactical battalions have been rendered ineffective by Ukrainian resistance, leaving Russian forces with just 90 active battalions.
There had been claims that Mr Putin is pushing to be able to declare some sort of victory by the 9 May, which is a national holiday in Russia, marking the country's victory in World War Two.
But Western officials have cast serious doubt on Russian forces being able to regroup and redeploy and overcome the Ukrainians in time for the date.
They added that it was too early to say just how many troops would be redeployed to try to seize and encircle cities, such as Luhansk and Donetsk.
A source told i: "I would imagine we are looking at a force which is probably the Russians looking to double or perhaps even treble the amount of force that they bring into that Donbas area.
"But it's going to take some considerable time to bring themselves up to that sort of number. And even when they bring themselves to that number, there's a question over how effectively they can bring those forces into the battle."
The official added: "Regardless of the reinforcing of their forces in the Donbas, it is still unclear how they're going to overcome some of the morale issues that they will have with the troops. We've seen numbers of troops being unwilling to fight and refusing to engage in operations."
The UK Ministry of Defence has said Russian operations are expected to target the Donbas region, Mariupol, and Mykolaiv in the south. But James Rands, of defence intelligence agency Janes, reiterated the issues facing the troops, and said "a lot of what has withdrawn from the north are in no fit state to fight".
"There's no reason to believe [Russian forces] have managed to address the issues of command and control or the inability to communicate over encrypted channels. There is also a widespread assessment that they are low on strategic reserves of guided munitions."
Still, Russia will benefit from realising "the nature of the war it has started and will adapt its operations accordingly", said Keir Giles, a senior consulting fellow of the Russia and Eurasia Programme at Chatham House.
Posted on April 16, 2021 by Royal Rosamond Press
In memory of my Friend, Ben Toney, and Herbert Armstrong who broadcast WARNINGS about the Russian Menace. I talked with my man, Spooky Noodles, to get Meg Whitman to put a replica of Radio London offshore of her property in Dogpatch – two years ago!
Seer Jon
(16) Herbert W Armstrong- Proving the TRUTH(via The World Tomorrow Radio Program).wmv – YouTube
Augustus John, Ian Fleming, and Ben Toney | Rosamond Press
Russian Parliament Leader Encourages Kremlin to Respond With 'Aggressive Action' to U.S. Sanctions (msn.com)
"He argued that Russia should retaliate quickly and not rush to accept Biden's summit offer.
"Revenge is a dish best served cold," Kosachev wrote. "I believe the saying is quite adaptable to a situation when we talk not about revenge but a due answer to aggressive action by an opponent."
(16) The Chantels – Maybe (1958) – YouTube
Church, State and the Pirate Ship Saga
By Neil Earle
Radio Caroline was the first of the offshore "pirate ships" beaming into Britain, though the idea had been tried off California and elsewhere in the 1930's.
(Jingle) "Radio London reminds you: Go to the Church of your choice."
(Pause)
(Announce, loudly): "THE WORLD TOMORROW! Garner Ted Armstrong brings you the plain truth about today's world news with the prophecies of the World Tomorrow!
(GTA): "And greetings friends, this is Garner Ted Armstrong with the good news of the World Tomorrow. World leaders admit that they are frightened, that they are engaged in a fantastic nightmare. They're scared. They don't know what to do. They're wondering what is going to happen in the future and none of them really know."
This was a typical opener for a "World Tomorrow" radio show beaming down on millions of Englishman in the Greater London area between late 1964 and August 15, 1967. This period is now somewhat notable in British broadcasting circles as the heyday of the Pirate Ships. A fascinating tale, this, of how the Armstrongs, Herbert and Garner Ted (successful radio evangelists based in America) ended up in a curious roundelay involving Her Majesty's government in London, the BBC, some of Britain's elite publications and a host of over-the-top radio personalities – some of whom ended up as legends of British popular culture.
The genius behind the pirate ship idea was the offshore positioning of creaky vessels and the occupation of abandoned World War Two-era sea forts as staging platforms to beam in the music millions in "swinging England" craved. As covered earlier, Radio Luxembourg had represented the first crack in the British Broadcasting Corporation's (BBC) exclusive monopoly over radio broadcasting in Britain. But on March 28, 1964, from a 763-ton vessel propelled by a 1,000 h.p. diesel engine off England's southeast coast came the jived up sounds of Radio Caroline, broadcasting on 199 metres. Radio Caroline was the first of the offshore "pirate ships" beaming into Britain, though the idea had been tried off California and elsewhere in the 1930's. 1
that even a changeover in personnel or leadership at the top is notPause
Loaded: 56.14%LQCaptionsFullscreenUnmute
White House: Putin Can't 'Erase' Ukraine War Failures With New General
These claims have not been verified. U.K. Foreign Secretary Liz Truss said on Tuesday that her government was "working urgently with partners to verify details" of the alleged use of chemical weapons.
"Any use of such weapons would be a callous escalation in this conflict and we will hold Putin and his regime to account," Truss tweeted.
The U.K.'s under-secretary for the armed forces, James Heappey, said on Tuesday that "all possible options are on the table in terms of how the west might respond" if Russian use of chemical weapons in Ukraine is confirmed.