"Hunter S. Thompson's 'Gonzo Journalism,' the 'New Journalism' work of Joan Didion, Tom Wolf, Norman Mailer, surely was influenced by Kerouac's true-to-life, spontaneous prose," Sampas said. "And while there have been monuments built to Kerouac, there is no museum or performance center to celebrate this singular author's artistry. The brilliant team assembled here is looking to change that in creating a space that touches on Kerouac's many talents."
Something woke me this morning around 3;10 A.M. I told my friend Casey Farrell I was going to go to downtown Eugene today, and launch my 'Search For John Madden' campaign after he told me he went to the University of Oregon and played for the Ducks. I mentioned he had died several days ago, and had not found time to google him. Casey did. I was going to bring my laptop and do live broadcasts – starting in front of the giant mural of Ken Kesey in downtown Springfield. I wanted to talk about the sport trophy Ken won for wrestling which crowns this mural. I talked to Chuck Kesey about it. Kesey may have been on the same Duck team as Madden. I tried to get a hold of Nate Kruger of the Oregon Athletic Department so I can do research. I complained about me being thwarted in my efforts to save much Bohemian History. I mention my old blog 'The Bohemian Democratic Register'.
I talked about the City Manager of Springfield telling me we should got get the statue of Ken and bring it to Springfield. Casey wondered if there was a plaque honoring John Madden. I told him I will soon be standing before the Mayor of Eugne and the City Council. We talked about Babb's book 'Cronies' and, is he and the Pranksters – doing their job? I tell Casey I am going to ask for Ken's resignation on one of my live streams.
Why Casey and I, or anyone, did not think about making a Kerouac Museum in the town that talks about him almost every day – deserves a study! Nope! We already got one, in this blog. I tell Casey thanks to my Therapist I'm ready to go out in the field and do – live reporting again! I a getting over the DEATH THREATS and attacks on my cats. I am dealing with my PTSD! I am a – living musem! I've paid my dues!
Casey is not into sports, and I began to explain how sports relate to Beats and Bohemians. I tell him the Oakland Raiders are in my un-finished book 'The Gideon Computer' that Nancy bid me author. Berkeley Bill builds the Mack 4 Ford that races along the Gideon Highway at close to two hundred miles an hour, getting Raider Fans to their new LA home, in three hours – to watch a game! Bill has copped out. He is helping get rid of The Slow Lane, the Slow Road, the Vagabonds, that Jack made famous. The Gideon private prisons stretches for a mile along the Fast Road. Can the Raider Nation pass through Eugene, or even…Springfield?
Jack wrote Vanity of Dulouz which suggests he is a disillusioned Beat gone home to his roots. Can the same be said about Kesey? My grandmother raised the Jensen brothers for over a year. Jackie played with a famous baseball coach. Above is a photo of Victor Stuttmeister who lived in SF, and later worked in downtown Oakland. I am the Hier to 'Gonzo Journalism, but, no writer wants to crown me.
I complained to Casey about all the fake Hippie Hype by ex-Jocks. My ancestors were real Bay Area Bohemians and Freethinkers. I refuse to put pop-ups on this blog, and have not made one rouge cent. Madden and Martin pushed beer. The Kens pushed Legal Pot. I posted on Ruben Blades being the father of Wandel's daughter, and 800 folks piped in – not knowing the content for the most part – because they are not English readers. Those who could, thought my idea for a sitcom called 'Lima Bean' is great. I will compare it to the pot farms of Oregon. The Voice of…..The Consumer!
Trump sells half of America on building a BIG WALL to keep brown people out – and there is talk of another Civil War. Is the Eugene Weekly covering……Wall Wars?
Nancy and I grew up in Oakland and went to the first Be-In where 'Our First Leaders' were introduced to us while guarded by Oakland Hell's Angels. Ms. Yogurt and I were appalled.
"Did we ask for leaders?"
To see our only Leader – with his dead cronies – holding his hand out for one thin dime – will not do. We hippies of SF demanded our old garage bands play for free now and then. I demand the Oregon Pot Growers install a tax amongst themselves and pay for a Beat Writers Museum, or, get out of Dodge! I have stood before two Mayors – begging for a handout in order to save our history – that I am giving away FOR FREE! This is why no fake beat writer – will give me the time of day! It might start a trend.
John Presco
President: Royal Rosamond Press
Obituaries are claiming Michael McClure and other Beat Poets began the Summer of Love. They were the invited guests of the owners of The Oracle. Michael Bowen appears to be the creator of this vision – that did not elect leaders of our Hippie Movement! We were not in need of leaders. McClure has been guilty of feathering his own nest. That the College of Arts and Crafts was founded by Frederick Meyer who was inspired by the Pre-Raphaelite artist and writer, William Morris, changes the Genesis of the Hippie and Bohemian scene in the Bay Area, and is more inclusive of Artists. J.R. Tolkien was inspired by Morris as was Joaquin Miller who I have depicted as Gandalf. The Hobbits inspired the lifestyle of the Hippies – who I renamed. The establishment newspaper put that name on us, and put their own ignorant spin on our new cultural movement.
* *
Kerouac played his first down in the fall of 1935. He was thirteen. The game took place in a sandlot in Dracut, a suburb of Lowell, Massachusetts, his home town. There were no helmets, no referees, just two bands of scruffy kids tackling each other; a pair of men used a homemade chain to measure first downs. One end zone was marked by a pine tree, the other by a peg. Kerouac crossed the goal line, such as it was, nine times.
That, at least, is the account Kerouac gives in "Vanity of Duluoz," an autobiographical novel. Just as "On the Road" fictionalizes his adventures with Neal Cassady, the book dramatizes the years in which he traversed the gridiron. Along with "The Town and the City," his first novel, it stands as his only major writing about his football career, which lasted seven years and carried him from Lowell High School to Columbia University.
At times, the books make for a harrowing read. The worst moment occurs in an early chapter of "Vanity of Duluoz." Playing for Horace Mann, the prep school he attended for a year before matriculating at Columbia, Kerouac takes off on a long run. About to score, he feels a pull at the back of his neck—one of his opponents grabbing him by the shoulder pads and yanking him to the muddy turf. He loses consciousness. Once he wakes up, his coaches deem him fit to return to the game. Standing in the huddle, he asks himself, "What are we doing on this rainy field that tilts over in the earth, the earth is crooked, where am I? Who am I? What's all that?"
Cronies, A Burlesque: Adventures with Ken Kesey, Neal Cassady, the Merry Pranksters and the Grateful Dead: Babbs, Ken: 9780989446297: Amazon.com: Books
"It all began at a cocktail party at Wallace Stegner's for the Stanford writing class of 1958. Ken Kesey and Ken Babbs became cronies, embarking on a frolicking, rambunctious adventure that lasted over 40 years. Babbs calls the 70 stories of this book "burlesques" because, after 85 years of living, much of it in the wide friendly center of an evolving, at times psychedelic culture, memory no longer can, or even should include an exact retelling, but only a tasty sprinkling of the truth, mixed with an endless enigma, all topped with the best of humor and heart.
The troupe of characters include the Kens Kesey and Babbs, Neal Cassady, Allen Ginsberg, Jack Kerouac, Gregory Corso, Timothy Leary, Jerry Garcia, Pigpen, Bob Weir, Phil Lesh, Mountain Girl, Sonny Barger, Larry McMurtry, Wavy Gravy, Hunter S. Thompson, Kirk Douglas, Paul Newman, Jan Kerouac, Bill Walton, Wendell Berry, a pick-up bed-sized sturgeon, and always the many free-spirited, creative, friendly men and women who made up the Merry Band of Pranksters."
A Jack Kerouac museum is on the road to reality in Lowell | WBUR News
Football and the Fall of Jack Kerouac | The New Yorker
The church in Lowell, Massachusetts where beat writer Jack Kerouac's funeral was held — and where he was briefly an altar boy — is on the road to becoming the first permanent home for his legacy.
The iconic author's estate announced Tuesday that it's been pursuing the concept of a Kerouac museum and performance center in Lowell for years. Now it's moving ahead and has formed the Jack Kerouac Foundation to secure funding.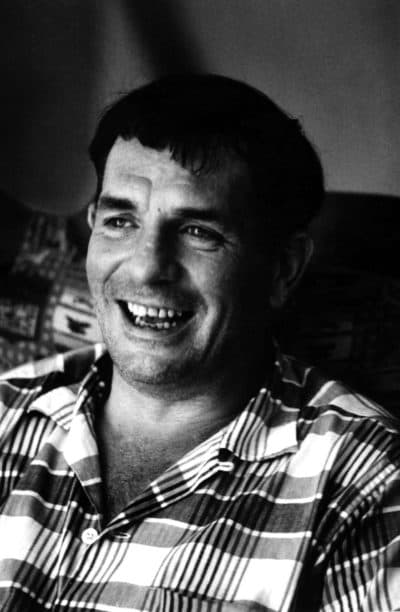 Jim Sampas, literary executor of the estate, elaborated on the project's importance. He pointed to the long list of cultural figures — including Bob Dylan, the Beatles and Barack Obama — who've praised Kerouac for his influence on them. His wild, free-form 1957 novel, "On the Road," captured the counterculture's rise and ethos in the aftermath of World War II America. After Kerouac struggled to get the book published, it went on to become a trailblazing, literary classic.
"Hunter S. Thompson's 'Gonzo Journalism,' the 'New Journalism' work of Joan Didion, Tom Wolf, Norman Mailer, surely was influenced by Kerouac's true-to-life, spontaneous prose," Sampas said. "And while there have been monuments built to Kerouac, there is no museum or performance center to celebrate this singular author's artistry. The brilliant team assembled here is looking to change that in creating a space that touches on Kerouac's many talents."
WBUR is a nonprofit news organization and our coverage relies on your financial support. Please give today.
Lowell is the obvious place for a space that celebrates Kerouac. His connection to his working class hometown ran deep. He was born there in 1922, and his body was laid to rest in Lowell after the 1969 funeral services at St. Jean Baptiste Church. Having the museum open in that building is meaningful, Sampas said, because it played an important role not only in Kerouac's life, but also in his writing.
"A great many scenes in one of Kerouac's most personal novels, 'Visions of Gerard' — about his older brother who died at nine, takes place under this roof," Sampas explained. "His funeral service with some of oldest and dearest friends — Allen Ginsberg and John Clellon Holmes among them — happened here. Catholicism is embedded in Kerouac's work, and truthfully this just feels right."
The estate's dream for a Kerouac museum is moving toward reality, in partnership with the Acre Coalition To Improve Our Neighborhood (ACTION). That organization's president, Dave Ouellette, suggested the cathedral as a potential location.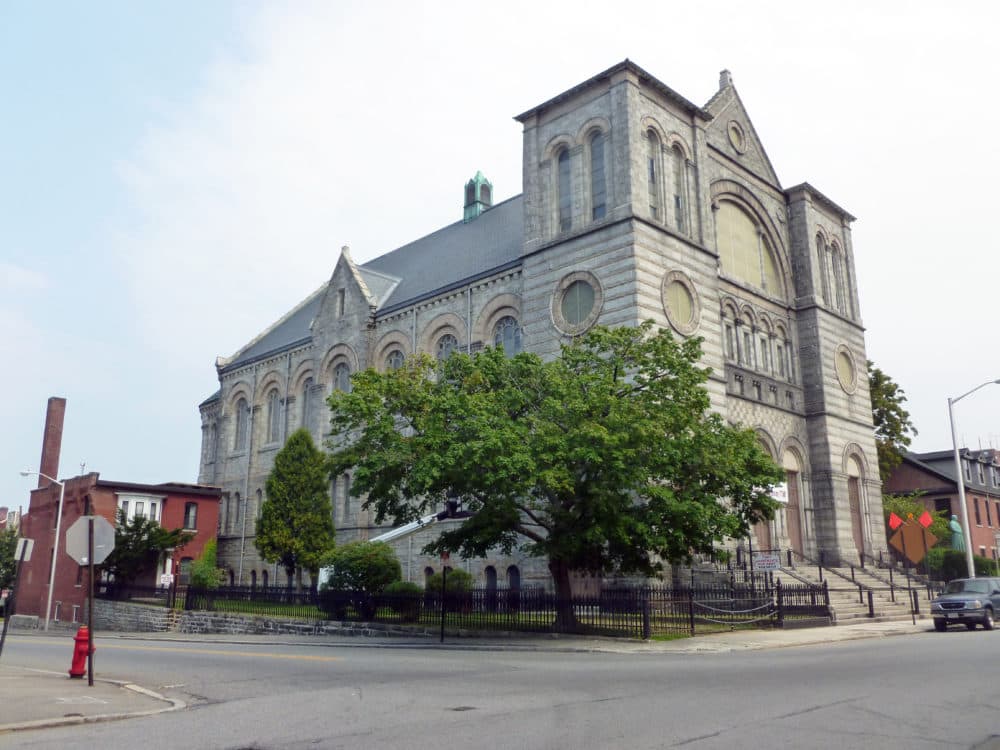 "Memorializing Jack in the place his brother Gerard was baptized, and where he formed a deep bond with the priest who conducted his funeral — Father Spike Morissette — would be incredibly appropriate," Ouellette said in a statement announcing the foundation. He added that renovating the building would contribute to the neighborhood and the City of Lowell. The church is currently owned by TMI Property Management & Development.
When asked about the new museum and performance center's potential look and vibe, Sampas replied, "We envision this as a visually stimulating place. In the short few hours we've made this announcement, we've had offers coming in, both in terms of major designers and collectors, on the work that could be displayed. And we're keeping very open to all."
He added the public programming will present works that illustrate how different genres — from film to music to poetry and painting — have channeled the spirit of Kerouac's writing.
"The key ingredient to the work is the unpretentious, unstructured honesty of the spontaneous prose method he uses — the jazz inspired musicality of it — that's what draws you in and keeps you hooked," Sampas explained. "As William S. Burroughs once said, 'Kerouac opened a million coffee bars and sold a million pairs of Levis to both sexes. Woodstock rises from his pages.' Seeing a community built upon that within this museum, that's what inspires me most."
Two famous writers meet in Washington Square
Imagine two celebrities today greeting each other on a Greenwich Village street, then sitting on a park bench together just shooting the breeze, apparently unrecognized.
That's what happened one day in September 1887, when Mark Twain took the train from his Connecticut home to New York to meet Robert Louis Stevenson, the popular writer of Treasure Island.
"The Scottish-born Stevenson was staying near the square at a hotel on Tenth Street and University Place," writes Emily Kies Folpe in the wonderful It Happened in Washington Square.
Stevenson, suffering from tuberculosis, was passing through the city on his way to an upstate sanitarium.
"The two famous writers strolled down to the park and, following Stevenson's doctor's orders to take in the sun every day, settled down on a sunny bench to enjoy a good talk."
So what did they discuss? According to the website of the Hotel Albert (now a co-op), where Stevenson likely stayed on 10th Street:
"The two men settled comfortably into a sunny part of the northwest corner of the park and spent the next five hours telling stories to one another, 'regardless of wives, lunch and doctors, from 10 a.m….until 3 in the afternoon.'"
Twain moved to the Village in 1900 and spend the rest of his life as a New Yorker. Stevenson died at 44, seven years after his park meetup with Twain.
Mark Twain (Samuel L. Clemens)
Though there is no indication that Twain ever stayed at the Albert, he did visit Stevenson while Stevenson was staying at the St. Stephen, and could conceivably have visited the writer in his rooms, as others did:

Mora's illustration work includes this vignette of the popular authors Robert Louis Stevenson (1850-1894, with his "habitual" cigarette) and Mark Twain (a.k.a. Samuel L. Clemens, 1835-1910, wearing his customary white suit) seated on a bench in Washington Square Park in September of 1887. At the time of their meeting, Twain was living in Hartford, Connecticut; he took the train to New York to meet the frail Stevenson, who was staying at the Hotel St. Stephen, not far from Washington Square, en route to a tuberculosis sanitarium in Saranac Lake, New York. The two men settled comfortably into a sunny part of the northwest corner of the park and spent the next five hours telling stories to one another, "regardless of wives, lunch and doctors, from 10 a.m….until 3 in the afternoon. [The] next day the doctor informed Mrs. Stevenson that R.L.S. seemed like another man."
Twain also lectured at a teachers' association meeting in the Albert:
MARK TWAIN ON TRAINING THAT PAYS Speaks at the Supper of the Male Teachers' Association

The regular monthly supper of the Male teachers' Association of the City of New York was held at the Hotel Albert, East Eleventh Street and University Place, last evening. About 150 teachers from all the boroughs were present…. Mr. Clemens was then introduced, his subject being, "Training That Pays." In part, he said:

"We cannot all agree. That is most fortunate. If we could all agree life would be too dull. I believe if we did all agree I would take my departure before my appointed time, that is if I had the courage to do so. I do agree in part with what Mr. Skinner has said. In fact, more than I usually agree with other people. I believe that there are no private citizens in a republic. Every man is an official; above all, he is a policeman. He does not need to wear a helmet and brass buttons, but his duty is to look after the enforcement of the laws.

"If patriotism had been taught in the schools years ago the country would not be in the position it is in to-day. Mr. Skinner is better satisfied with the present conditions than I am. I would teach patriotism in the schools, and teach it this way: I would throw out the old maxim, 'My country, right or wrong,' &c., and instead I would say, 'My country when she is right.'

"I would not take my patriotism from my neighbor or from Congress. I should teach the children in the schools that there are certain ideals, and one of them is that all men are created free and equal. Another that the proper government is that which exists by the consent of the governed. If Mr. Skinner and I had to take care of the public schools I would raise up a lot of patriots who would get into trouble with his. "I should also teach the rising patriot that if he ever became the Government of the United States and made a promise that he should keep it. I will not go any further into politics as I would get excited, and I don't like to get excited. I prefer to remain calm. I have been a teacher all my life, and never got a cent for teaching."

The speaker then cited some incidents from his boyhood life which, he said, he had later incorporated in his books. The fence whitewashing incident in "Tom Sawyer," he said, brought him in $4,000 in the end, when he never expected to get anything for teaching the other boys how to whitewash way back in 1849.

"I have a benevolent faculty," continued the speaker. "It does not always show, but it is there. We have had some millionaires who gave money to colleges. Now we have Mr. Carnegie building sixty-five new libraries. There is an educator for you on a large scale. I was going to do it myself, but when I found out it would cost over five millions I changed my mind, as I was afraid it would bankrupt me.

"When I found out Mr. Carnegie was going to do it, I told him he could have my ideas gratis. I said to him, 'Are the books that are going to be put into the new libraries on a high moral plane?' If they are not, I told him he had better build the libraries and I would write the books. With the wealth I would get out of writing the books, I could build libraries and then he could write books.

I am glad that Mr. Carnegie has done this magnificent thing, and as the newspapers have suggested, I hope that other rich men will follow his example and continue to do so until it becomes a habit they cannot break."
Posted on September 5, 2017 by Royal Rosamond Press
Henry Brevoort, and Sir Walter Scott, corresponded. They discussed the writing of Washington Irving. Scott wrote about Woodstock and Fair Rosamond who is the subject of the castle Singer built on an island. Churchill grew up in Blenheim Palace were Rosamond's Labyrinth was located. A lake was named after her. Here is The Fair Lady of the Rose and Lake.
The artist, Marcel Duchamp, climbed atop the arch in Washington Square, and declared Washington Square a sovereign nation. On this day I found the New Bohemian Nation of Washington Woodstock, named after Washington Irving, and a generation known as The Woodstock Nation of Flower Children who will be forever known as….
THE ROSE OF THE WORLD
Washington Woodstock will be a Sanctuary for all children who have demonstrated Literary and Artistic Gifts, and find themselves being bullied and harassed. I suggest a Art and Poetry event take place in Washington Woodstock Square for The Dreamers'.
Consuelo Vanderbuilt, and Jennie Jerome, were the daughters of American Millionairs who married into the royal family that lived at Blenheim, and had to be familiar with the Legends of Rosamond. These are the Beautiful American Daughters of Wall Street. Let there be a sanctuary and new understanding of how sane business people conduct business, and themselves in The Bohemian Renaissance.
"In 1817, Washington Irving spent several days with his literary idol, Sir Walter Scott, at Abbotsford, Scott's stately home near Melrose, Scotland. At the time, Scott was known more for his romantic poetry than his novels, though at the time of Irving's visit, Scott was reviewing the proofs of his historical novel Rob Roy, part of his popular Waverley series."
On this day, let the Knight Templars of Rougemont pour out of the Arch of Washington Woodstock, and form a Rouge Line along 14th. Street, from river to river.
Haters of Democracy……………You will not pass! We will crush the fake reports of Breitbart with real history. We will make America and England great again!
Jon Presco
Copyright 2017
Woodstock Manor was destroyed in the English Civil War (1642-51). But a description of it came into the hands of Sir Walter Scott, the great Scottish novelist, and he included it in his 1826 novel Woodstock or The Cavalier.
https://hubpages.com/education/Rosamunds-Labyrinth
The original hunting lodge at Woodstock in Henry I's day became Rosamund's Bower, or Rosamund's Labyrinth, in Henry II's day, as legend would have it (this legend was completely debunked very much later in history, along with the idea that Eleanor of Aquitaine killed the fair Rosamund, though Henry II did have a deep and long-lasting affair with Rosamund Clifford); Henry II did make the original hunting lodge into a very elaborate country estate for his fair Rosamund; then…
Blenheim Palace was built on the site of the original hunting lodge and Rosamund's Labyrinth, and was completed in 1724. It's now a World Heritage Site, and one remarkable building.
The Free And Independent Republic Of Washington Square (Part II)


John Sloan (1871-1951) Arch Conspirators, 1917; Courtesy of New York University
Yesterday in The Daily Plant:
But perhaps as significant a break with the artistic past as the 1913 Armory Show was an event that occurred 90 years ago today in Washington Square Park.
And now, today's conclusion:
It was on the cold, snowy evening of January 23, 1917 that painters John Sloan and Marcel Duchamp, poet Gertrude Drick, and Provincetown Playhouse actors Alan Russell Mann, Betty Turner, and Charles Ellis slipped through an unlocked door and climbed up the spiral staircase to the roof of the Washington Arch. These six so-called "Arch Conspirators" then spread out blankets, hung Chinese lanterns, tied red balloons to the arch's parapet, sipped tea, shot off cap pistols, and conversed until dawn. At some point during the night, the ringleader, Gertrude Drick, read a proclamation by candlelight into the windy night — a declaration of independence for what the Arch Conspirators, somewhat ironically, called the "Free and Independent Republic of Washington Square."
That cold January night on the top of the Washington Arch was immortalized graphically by John Sloan's 1917 print entitled "Arch Conspirators," depicting the artists and bohemians chatting by candlelight high above Fifth Avenue, balloons buffeted by the wind. Social commentator Luc Sante astutely noted that the slightly comical declaration of January 23, 1917 "actually named the thing that all the inhabitants of the Greenwich Village bohemia of that time were aiming for, a revolution in more than just a legislative sense, a free territory untrammeled by convention."
While 1917's Declaration of Independence was soon forgotten, Greenwich Village's spirit of rebellion and breaking with the past was very much alive, then and now. It is no understatement to declare that modern American art became deeply rooted in and around Washington Square in the decades after the Arch Conspirators' stunt. Artists like Sloan and Glackens were the vanguard of an entire movement of realist painters, including Thomas Hart Benton and Edward Hopper, who painted around Washington Square. Other strains of art followed in Duchamp's iconoclastic footsteps, most notably Jackson Pollock and other abstract expressionists. Gertrude Vanderbilt Whitney established the Whitney Museum of American Art in a studio a few blocks from the square, and sustained an entire generation of emerging artists by her encouragement and patronage.
In more recent years, Washington Square continued to exert creative gravity for new generations of artists, writers, and performers — Bob Dylan, Joan Baez, Charlie Parker, and Allen Ginsberg all performed in and around the square. These days, the access door on the west pier of Washington Arch is locked, the spiral stairs secured, and the arch roof off limits. But on a chilly January night, 90 years after Sloan, Drick, Duchamp and the other Arch Conspirators proclaimed the independence of Washington Square, rebellion and artistic expression remain very much a part of the spirit of Greenwich Village.
http://rightherenyc.com/THEYLIVEDHERE_artist.html
http://www.nycatelier.com/map-artists.html
https://en.wikipedia.org/wiki/Willem_de_Kooning
Duchamp's contempt for conventionalism is reflected in his involvement with the "Arch Conspirators." In January of 1917, Duchamp and a group of fellow artists (including poet Gertrude Drick; painter John Sloan; and Provincetown Playhouse actors Russell Mann, Betty Turner, and Charles Ellis) entered the inside of the Washington Square Arch's staircase through an unlocked door, climbed to the top of the arch, and declared liberation for the "Free and Independent Republic of Washington Square" with the intent of having a neighborhood free from mainstream convention. The Daily Plant, the paper of the City's Parks Department, wrote: "These six so-called 'Arch Conspirators' then spread out blankets, hung Chinese lanterns, tied red balloons to the arch's parapet, sipped tea, shot off cap pistols, and conversed until dawn." (Read more about the Arch Conspiracy here).
http://gvshp.org/blog/2013/01/23/conspiracy-atop-the-arch/
Posted On Fri, September 19, 2014 By Dana Schulz In Celebrities, Cool Listings, Greenwich Village, Interiors
You won't find any paint-splattered masterpieces here, but you will get the exclusive bragging rights of saying you live in the former home of Jackson Pollock at 46 Carmine Street. And if that wasn't enough of a conversation starter, the Greenwich Village building was once owned by Aaron Burr.
Posted on December 11, 2017 by Royal Rosamond Press
While I was working on this, Christine called. I asked her about the steel thing they put under the arch. I googled it.
Jon
https://en.wikipedia.org/wiki/Ai_Weiwei
This burial vault full of skeletons was found while work was being done on water pipes under Washington Square Park. Department of Design and Construction
City workers made a stunning discovery this week when they stumbled upon a 19th century burial vault – which then led to the finding of a second tomb – containing skeletal remains beneath the edge of Washington Square Park.
Contractors for the Department of Design and Construction were attempting to dig up a 100-year-old water main near the park to replace them with brand new water main distribution lines when they unearthed the vault.
New York City Department of Parks and Recreation A three-foot-tall sandstone grave marker for James Jackson, who died on Sept. 22, 1799, was discovered during construction work in Washington Square Park.
The workers expected to find bones as they dug below Washington Square Park. After all, the remains of as many as 20,000 people are believed to be lying below. But as the backhoe scooped away earth last Friday, it instead revealed a 210-year-old gravestone, the writing still clear.
"Here lies the body of James Jackson," the inscription declares, "who departed this life the 22nd day of September 1799 aged 28 years native of the county of Kildare Ireland."
The three-foot-tall sandstone marker is believed to be the first found in the area, which served as a burial ground for the indigent — a potter's field — long before the land was developed into a park known for its dramatic archway and its central place in Greenwich Village.
Several times during the restoration of the park workers have encountered loose bones and intact skeletons. Because most of the dead were buried in shrouds or in unmarked wooden coffins, the headstone was an unexpected find.
"It's very unusual," said Joan H. Geismar, the archaeological consultant for the parks department who made the discovery. "In fact, I'm stunned."
The headstone, which is in pristine condition, was uncovered about two and a half feet below ground near the southwest corner of the park during preparation work for the next phase of redevelopment of the park. (Passers-by have stopped to peer into the hole and ask workers about the find, one of whom called in news of the discovery to the Washington Square Park blog.)
After the discovery, workers dug seven feet below the gravestone but found no body, which could have been moved when the area was covered over and developed into parade grounds.
Even in the absence of a body, the city is hoping to learn more about the young Irish immigrant who was apparently buried nearby, said the parks commissioner, Adrian Benepe. "They're going to try to unravel the mystery of James Jackson and how the headstone came to be there," he said.
The New-York Historical Society has identified one James Jackson, of 19 East George Street, who was listed in city death records on Sept. 23, 1799, Ms. Geismar said. In that record his occupation is listed as a watchman, though a city directory at the time listed him as a grocer. "There are many fewer Jacksons than I would have expected in the directory," Ms. Geismar said. "Chances are this is him."
https://www.gotquestions.org/eastern-gate-Jerusalem.html
The Eastern Gate was sealed shut in AD 1540–41 by order of Suleiman the Magnificent, a sultan of the Ottoman Empire. It's believed that the reason for the closing of the Eastern Gate was to prevent the Jewish Messiah from gaining entrance to Jerusalem. Jewish tradition states that the Messiah will pass through the Eastern Gate when He comes to rule. The Muslim Suleiman was attempting to thwart the Messiah's plans with sixteen feet of cement. The Eastern Gate has remained sealed for nearly the past 500 years.
It's the sealing of Jerusalem's Eastern Gate that has caused many students of prophecy to sit up and take notice. The book of Ezekiel contains several references to a gate that faces east. In Ezekiel 10:18–19, the prophet sees the glory of the Lord leave the temple through "the entrance of the east gate of the Lord's house"; the glory then moves east of the city to the Mount of Olives (Ezekiel 11:23). Later, Ezekiel sees the glory of the Lord return to the temple via "the gate facing east" (Ezekiel 43:1–5).
Then, in Ezekiel 44:1–2, we read of the gate being closed: "The man brought me back to the outer gate of the sanctuary, the one facing east, and it was shut. The Lord said to me, 'This gate is to remain shut. It must not be opened; no one may enter through it. It is to remain shut because the Lord, the God of Israel, has entered through it.'" Finally, in Ezekiel 46:12 we read that there is one person, a "prince," who may enter via the eastern gate: "When the prince provides a freewill offering to the LORD . . . the gate facing east is to be opened for him. . . . Then he shall go out, and after he has gone out, the gate will be shut."