My purpose in life have been – fulfilled! There can no longer be any doubt I am the prophet-artist of the age. I am going to write the French Ambassador. I just sent an email to the French Consulate of Portland. Our lawsuit will be a just forum for real grievances.
Johnny Trouble
Attn: Dominique Gellin

French Revenge should be sweet – and classy! I gifted the Louisiana Territory to my fiancé, and founded Fromond and New France. Have your attorney contact me, and I will notify the press of Frances intentions to take back their Territory.
Today, October 1, 2013, I John Gregory Presco, the fiancé of Virginia Hambley de Bourmont, claim what was the Louisiana Territory in the name of the House of Bourbon, wherein said Territory, will be established a Democratic Monarchy, as was established by the Ligitimists of France.
France ordered officials to 'get revenge' on the US, UK, and Australia after it was ditched from $50 billion submarine contract, report says (msn.com)
France ordered officials to "get revenge" after losing a submarine contract, Politico reported.
France was incensed when Australia ditched it in favor of a deal with the US and UK.
There are signs that relations are improving after Biden sought to calm the situation.
France instructed its officials to "get revenge" on Australia, the US, and the UK after being booted from a contract to build Australia's submarines, Politico reported.
A French official made the comment to Politico earlier this week as Paris continued to react furiously to Australia's surprise decision to drop French-owned Naval Group from the $50 billion deal to replace its ageing submarines.
Australia will now build the submarines with help from the UK and US instead as part of a new security pact called AUKUS.
France – accusing the three nations of a "stab in the back"– recalled its ambassadors from the US and Australia, and moved to disrupt trade talks between the two nations and the EU, of which France is a leading member.
French officials have also found support from other EU members to delay talks with the US scheduled for next week, Bloomberg reported.
Posted on October 20, 2019 by Royal Rosamond Press
I believe the ancestors of Jesus were Kurds. All Knight Templars prepare to work for the Kurds, and New France in America! Trump and the Republican party destroyed my Democracy and Chivalry. Our allies will never trust us, which is what Putin dreamed. Trump is a Russian.
Thomas Jefferson believed the Lousiana Purchase was not legal as it went against the Thirteen Colonies and the Constitution. He believed Napoleon had no right to sell this land – that I claim due to my ties to many Royal Houses. If Virginia and I get married, we will be the most Royal Couple in America.
John 'The Prophet;
Posted on October 3, 2013by Royal Rosamond Press
Virginia Hambley de Bourmont's great, great grandfather, Louis Auguste Joseph De Ghaisne Comte De Bourmont, rekindled the Colonial ambitions of the French Crown when he took Algeria.
A group of Sioux leaders is passing a petition claiming the Dakotas were not part of Louisiana, a French Colony established by the House of Bourbon, and thus null and voids the sale of Louisiana to the United States. As acting Regent of the Bourbon Kingdom of New France in America, I will honor this claim and grant the Dakotas to the Sioux people so that they may establish a sovereign nation.
Here is why the President of the United States should sell the former Louisiana Territory to me and my fiancé for $1:
1. It would reopen the U.S. Government and end the debt ceiling crisis by eliminating Republican Congressmen from the states of Arkansas, Oklahoma, Missouri, Kansas, Iowa, and Nebraska, as well as parts of Minnesota, South Dakota, North Dakota, Montana, Wyoming, Colorado, New Mexico, Texas, and, of course, Louisiana. This would give the Democrats the majority in the House.
2. Once this is done, then I will arrest these Republican Anarchists and imprison them as un-desirable aliens.
3. I will then offer Mexico the State of Texas for $4,000,000,000 dollars. That's four billion dollars.
J.G. Presco
King of Califoria
Regent of New France in America
Posted on August 2, 2018 by Royal Rosamond Press
Posted on July 23, 2018by Royal Rosamond Press
For several years I have been trying to bring to the attention of the Austrian Government the existence of the large canvas at the University of Oregon Museum titled 'The Last Audience of the Habsburgs' that was smuggled out of Austria. Alas, I have found just the right person. He is my kindred, Karl Schwarzenberg, who himself had to flee a oppressive regime. Karl opposes Putin, and backs Britain. I will contact him and see if he would like to come give a talk on this painting. His relative, Prince Felix Schwarzenberg, restored the Habsburg Empire.
John Presco
President: Royal Rosamond Press
https://www.huffingtonpost.com/lan-anh-vu/how-i-got-there-karel-sch_b_9043274.html
Prince Felix of Schwarzenberg (German: Felix Prinz zu Schwarzenberg; 2 October 1800 – 5 April 1852) was a Bohemian nobleman and an Austrian statesman who restored the Habsburg Empire as a European great power following the Revolutions of 1848. He served as Minister-President of the Austrian Empire and Foreign Minister of the Austrian Empirefrom 1848 to 1852.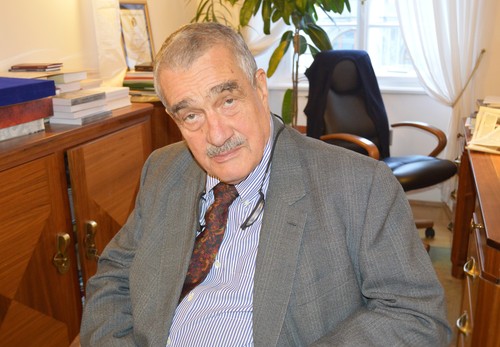 Karel Schwarzenberg is the Prince of Schwarzenberg, Duke of Krumlov, former first Deputy Prime Minister and Minister of Foreign Affairs of the Czech Republic and honorary Chairman of Top 09 party. Schwarzenberg was also a Member of the Senate of the Czech Parliament and a candidate for the President of the Czech Republic in the 2013 presidential election. He is noted as a pro-European member of the center-right governing coalition.
Schwarzenberg's family, who once ranked among the oldest and wealthiest aristocrats in Central Europe, had to leave the Czechoslovakia after the Communist coup of 1948. He spent most of his adult life in Austria to plot against communism. He is a great proponent of human rights and has been for his entire life. In 1989, he was awarded, together with Lech Wałesa, the Council of Europe's Human Rights Award. Lan Anh Vu sat down with Schwarzenberg to learn more about his political life, the challenges he faced and his advice for young people across the world when it comes to pursuing a career in politics.
As told to Lan Anh Vu
My Career in Politics
In my early childhood, I was an observer of politics. In 1948, when the Communists took over, I was ten years old when I had to leave the Czechoslovakia and move to Austria. When I went to the school in Vienna to study law, I engaged in some political activities and became active in promoting human rights. At Munich university where I studied Graz and forestry, I was elected to student government. Due to the early death of my adoptive father, Jindrich Schwarzenberg, I had to cut my studies short and start managing the family properties.
From 1984 to 1991, I became president of the International Helsinki Federation for Human Rights. I pushed for human rights in Europe and was negotiating the question of human rights in the former USSR, Bulgaria, Kosovo and the Czech Republic.
When the Communist regime fell in 1989 , I returned to live in the Czechoslovakia and work for the late President Vaclav Havel. In 1990, I was appointed as the Chancellor of the Office of the President.
Some people told me I should become a senator. I first ran in the senate elections in 2002 and was unsuccessful, and in 2004 I ran again, succeeded and was elected a senator. Three years later, I became the foreign minister of the Czech Republic. Politics has been a constant part of my life ever since childhood.
My whole life I fought for liberty and democracy. I always thought that if you had opportunities ahead, you have responsibilities and should do something for your country.
Posted on July 24, 2018by Royal Rosamond Press
My mother called her children Bohunks because our father descended from Bohemians. She did not know she had Bohemian blood in her veins.
The Boii were a Celtic Gallic People who rebelled against the Slave Masters of Rome, and fought for Freedom From Slavery. They were allies of Hannibal who practiced a religion closely allied to Judaism and the Moabites. There was a temple to Melqart at Marseilles where allegedly Mary Magdalene fled.
Before the book The Davinci Code came out, I and others studied the idea of a Jesus bloodline, called The Rex Deus. The Habsburgs is a Rex Deus candidate. I found the core theories without merit, but for my conclusion Jesus was not a Divine Immortal, but a Messiah who was born to evict Rome from Judea and other places in the Crescent Circle. Jesus was another Hannibal a 'Gift of Baal'. There were coordinated attacks. I suspect the Boii sent forces to defend the Temple in Jerusalem in 69 A.D. and led a rebellion in the Transalpine, Germany, and Britain. This was a World War against Slavery. It is this theory that I place at to core of my Tolkien book I am also destined to write.
John Presco
https://www.cnn.com/2018/08/02/politics/james-lankford-amy-klobuchar-election-security/index.html
Posted on October 8, 2013by Royal Rosamond Press
Virginia is kin to Count Richard Nikolaus von Coudenhove-Kalergi who gave birth to the European Union. Otto von Habsburg shared the dream of a Paneuropean Union that may be carried out in a bloodline that Virginia shares. The idea of a New France in America is not so farfetched now that the Republicans are on the brink of creating world chaos from which a new order will rise.
When one views the funeral march of Otto you see the flag of the Paneuropean Union followed by the flags of related families from many nations. Where did they get these uniforms? Were they, and the flags, at ready? This looks like a prearranged marriage. I believe Virginia and I represent the World Union in the West.
Jon Presco
Copyright 2013
Vinzenz was 1,300th Knight of the Order of the Golden Fleece in Austria. From his first marriage (1981–1991) with Hélène de Cossé-Brissac (1960–) he had two daughters:
Princess Adelheid Marie Beatrice Zita (b. Vienna, 25 November 1981), married in Deutschfeistritz-Peggau on 31 January 2009 Count Dominic von(b. London, 7 October 1973), son of Count Hans Heinrich von Coudenhove Kalergi and wife Cornelia Carter Roberts
The International Paneuropean Union, also referred to as the Paneuropean Movement and the Pan-Europa Movement, is the oldest European unification movement. It began with the publishing of Count Richard Nikolaus von Coudenhove-Kalergi's manifesto Paneuropa (1923), which presented the idea of a unified European State. Coudenhove-Kalergi, a member of the Bohemian Coudenhove-Kalergi family and the son of an Austro-Hungarian diplomat and a Japanese mother, was the organisation's central figure and President until his 1972 death.
It is independent of all political parties, but has a set of principles by which it appraises politicians, parties, and institutions. The International Paneuropean Union has four main basic principles: liberalism, Christianity, social responsibility, and pro-Europeanism. At the same time, it openly welcomes and acknowledges the contributions of Judaism and Islam whose heritage they share.[1]
The organisation was prohibited by Nazi Germany in 1933, and was founded again after the Second World War.
Otto von Habsburg, the head of the Habsburg dynasty and former Crown Prince of Austria-Hungary, became involved with the Paneuropean Union in the 1930s, was elected its Vice President in 1957 and became its International President in 1973, after Coudenhove's death.[1] The President of the Union since 2004 is Alain Terrenoire, former Member of Parliament in France and MEP and Director of the French Paneuropa-Union.[1] Otto became the International Honorary President of the International Paneuropean Union in 2004. Its Vice President is Walburga Habsburg Douglas, a member of the Swedish Parliament.[1]
The Union has branches in many European countries, with the General Secretariat located in Munich. In France, the Pan-Europa Union was founded by later President Georges Pompidou and later cabinet minister Louis Terrenoire, with the support of Charles de Gaulle. The Union achieved high political influence in France, particularly within the gaullist segment of French politics.
The Austrian-Hungarian border crossing where the Pan-European Picnic took place in 1989
Among its notable members were Albert Einstein, Fridtjof Nansen, Johan Ludwig Mowinckel, Thomas Mann, Franz Werfel, Bronisław Huberman, Aristide Briand, Konrad Adenauer, Sigmund Freud, Benedetto Croce, Bruno Kreisky, Léon Blum and Georges Pompidou.[2] Winston Churchill lauded the movement's work for a unified Europe prior to the war in his famous Zurich speech in 1946.[3][4]
Grounded in liberal democratic values, the Paneuropean Union was considered staunchly anti-communist from its inception and especially during the Cold War. For this reason, the organisation was much reviled by the communist regimes of the Eastern Bloc. The organisation became renowned for its role in organising the Pan-European Picnic, an important event during the Revolutions of 1989.
Presidents[edit]
Count Richard Nikolaus von Coudenhove-Kalergi (1923–1972)
Otto von Habsburg, MEP, the former Crown Prince Otto of Austria-Hungary (1973–2004)
Alain Terrenoire, former Member of Parliament and MEP, France (2004–)
Coudenhove-Kalergi is a noble Bohemian family of mixed European descent formed when Franz Karl Coudenhove (1825-1893) married Maria Kalergi (1840-1877). The Coudenhoves had been Counts of the Holy Roman Empire since 1790 and rose to great estate in the Netherlands and Belgium. After the upheaval of the French Revolution, they followed their dukes from the Low Countries into Austria. Maria's family had a great name in Crete.[1]
History[edit source | edit]
The Coudenhove family dates back to the Duchy of Brabant nobleman and crusader Gerolf I de Coudenhove (died 1259) and, after it fought for the Habsburgs in the Dutch Revolt, it moved to Flanders before the Habsburgs and Coudenhoves were both driven to Austria by that war.[2]
The Kallergis claimed descent from the Byzantine Phokas family, which produced several generals and an emperor (Nikephoros II). During the Venetian rule over Crete, the Kallergis family was one of the most important Greek Orthodox families in the island.
http://en.wikipedia.org/wiki/Paneuropean_Union
Vincenz Karl, Pr von und zu Liechtenstein
Given Name: Vincenz Karl, Pr von und zu
Surname: Liechtenstein
Sex: M
Change Date: 27 JAN 2008 1 2 3 4
Birth: 30 JUL 1950 in Graz, Steiermark, Austria
Death: of of a massive heart attack 14 JAN 2008 in Graz, Steiermark, Austria
Event: Vincenz Karl Alfred Maria Michael et Omnes sancti (Full Name)
Father: Heinrich Karl, Pr von und zu Liechtenstein b: 5 AUG 1916 in Graz, Steiermark, Austria
Mother: Elisabeth Charlotte Alphonsa Christina etc. Archduchess of Austria b: 31 MAY 1922 in El Pardo, Madrid, Spain
Marriage 1 Hélène de Cossé Brissac b: 26 SEP 1960 in Neuilly-sur-Seine, Seine, France
Married: 5 MAR 1981 in Florence, Tuscany, Italy
Note: Married Paris (civ) 5 Mar 1981 (rel) 7 Mar 1981 (div 1991) 1
Children
1. Adelheid Marie Beatrice Zita, Princess von und zu Liechtenstein b: 25 NOV 1981 in Vienna, Lower Austria, Austria
2. Hedwig Maria Beatrice Hermine, Princess von u. zu Liechtenstein b: 28 NOV 1982 in Vienna, Lower Austria, Austria
Marriage 2 Roberta Valeri Manera b: 12 FEB 1953 in Milano, Lombardy, Italy
Married: 19 JUN 1999 in Venice, Venetia, Italy
Adelheid Marie Beatrice Zita, Princess von und zu Liechtenstein
Given Name: Adelheid Marie Beatrice Zita, Princess von und zu
Surname: Liechtenstein
Sex: F
Change Date: 8 AUG 2004 1
Birth: 25 NOV 1981 in Vienna, Lower Austria, Austria
Death:
Father: Vincenz Karl, Pr von und zu Liechtenstein b: 30 JUL 1950 in Graz, Steiermark, Austria
Mother: Hélène de Cossé Brissac b: 26 SEP 1960 in Neuilly-sur-Seine, Seine, France
Posted on September 17, 2013 by Royal Rosamond Press
The Chateaus of the Anjou Legitimists who grow grapes and make wine while they wait for the return of the French Monarchy.
Jon Presco
The Château de Bourmont is located in the commune of Freigné in the Department of Maine-et-Loire, Pays de la Loire, France.
History
The La Tour-Landry, then mesh of La Tour-Landry held the lands of Bourmont since XIVe century. By the alliance in 1691, Marie-Hélène de Maillé de La Tour – Landry (1670-1752) with Marie-Henry, count of Ghaisne (1662-1710), it passes to the family of Ghaisne de Bourmont, to which it still belongs.
In 1773, the Château de Bourmont is the place of birth of Louis Auguste Victor de Ghaisne de Bourmont, author of the taken of Algiers in 1830. Conquest by which it will be made Marshal of France.
In 1795, during the chouannerie, the Viscount of Scepaux established his headquarters.
Claire Clémence de Maillé-Brézé (25 February 1628 – 16 April 1694) was a French noblewoman from the Brézé family and a niece of Cardinal Richelieu. She married Louis de Bourbon, Prince of Condé, known as Le Grand Condé (The Great Condé), and became the mother of Henri Jules. She was Princess of Condé and Duchess of Fronsac.
Brézé was the name of a noble Angevin family. The founder and most famous member of the family was Pierre de Brézé (c. 1410-1465), one of the trusted soldiers and statesmen of Charles VII. He was succeeded as seneschal of Normandy by his eldest son, Jacques de Brézé (c. 1440-1490), count of Maulevrier; and then by his grandson, Louis de Brézé (died 1531), husband of the famous Diane de Poitiers, whose tomb in Rouen Cathedral, attributed to Jean Goujon and Jean Cousin the Elder, is a splendid example of French Renaissance work.
The lordship of Brézé passed eventually to Claire Clémence de Maillé, Princess of Condé, who sold it to Thomas Dreux, who took the name of Dreux-Brézé when it was erected into a marquisate. Henri Evrard, marquis de Dreux-Brézé (1762-1829) succeeded his father as master of the ceremonies to Louis XVI in 1781. He died on 27 January 1829, when he was succeeded in the peerage and at court by his son Scipion (1793-1845).
Notable members of the Brézé family[edit source | editbeta]
Pierre de Brézé
Louis de Brézé, seigneur d'Anet (grandson of Pierre)
Claire Clémence de Maillé Brézé
Jean Armand de Maillé-Brézé (brother of Claire Clémence)
Urbain de Maillé-Brézé (1597 – February, 13 1650) , Marshall of France,marquis de Brézé
Château de Brézéis a Castle of XVIe century located on the common namesake, in the Maine-et-LoireDepartment, ten kilometres to the South of Saumur.
The peculiarity of the Château de Brézé lies in its cave network located under the Castle and in ditches, with both parts of everyday life (bakery, stables, magnanerie) military (drawbridge, path). The castle is a ranking as Historical Monuments since 6 March 19791.
The Château de Brézé is a private property belonging to Jean de Colbert, son of fire Mr. the count Bernard de Colbert and the now defunct Marquise Charlotte de Dreux-Brézé.
History[change the code]
Lands are those of the Lords of Brézé from the XIe century. The first Lords of Brézé made many donations to the nearbyAbbey of Fontevraud .
Among these Lords of Brézé, it knows Louis de Brézé , who married Diane de Saint Vallier known as Diane de Poitiers.
In 1448, Gilles de mesh Brézé gets permission to fortify the castle of King René and will dig trenches.
Italian style renaissance Castle and dependencies have been rebuilt at the beginning of the XVIe century by Arthur de cell2.
Urbain de Brézé mesh will be the first marquis after Louis XIII had erected the domain to a marquisate in 1615. He married Nicole du Plessis, sister of Richelieu and they have two children, Armand, grand Admiral of France, who died in Tuscany at the age of 27 years without posterity, and Claire-Clémence , who married Louis II de Bourbon Condé, le grand Condé, and transmit this heritage in 1650.
The grand Condé takes the helm of the Sling, is thus opposed to the Regency during the minority of the young Louis XIV and, in 1653, the castle is occupied by Royal troops.
In 1682, Conde will exchange the Château de Brézé against la Galissonière, belonging to Thomas de Dreux.
In 1685, Thomas de Dreux, Councillor at the Parlement of Paris, was the title of Marquis de Brézé by King Louis XIV is confirmed.
Henri Evrard de Dreux-Brézé, grand master of the ceremonies to Louis XVI will extend part revival of the Castle, and then his son Pierre, Bishop of Moulins, and his grandson Henri Simon will transform the castle which became Gothic Revival thanks to the angevin architect René Hode (pupil of Viollet-le-Duc).
Henri Jules was born to Louis II de Bourbon, Prince de Condé and his wife in 1643. He was five years younger than King Louis XIV. He was the sole heir to the enormous Condé fortune and property. His mother was a niece of Cardinal Richelieu. He was baptised at the Église Saint-Sulpice, Paris on his day of birth. For the first three years of his life, while his father was duc d'Enghien, he was known at court as the duc d'Albret.
Henri Jules' four surviving daughters, Gobert.
Upon the death of his grandfather, he succeeded to his father's courtesy title of duc d'Enghien. As a member of the reigning House of Bourbon, he was born a prince du sang with the style of Monsieur le Duc.
Jean Armand de Maillé-Brézé, Duke of Fronsac, Marquis of Brézé (18 October 1619 – 14 June 1646) was a French admiral.
He was born in Milly-le-Meugon, in one of the most powerful French families of the time; his father was Urbain de Maillé-Brézé, marquis de Brézé, Marshal of France, his uncle Cardinal Richelieu, King Louis XIII's renowned minister, and his brother-in-law, Louis II de Bourbon, Prince de Condé, (better known as the le Grand Condé), was the First Prince of the Blood.
Thanks to his uncle, at the age of seventeen, he received the title of grand-maître de la navigation (Grand-master of Navigation), a new title created by King Louis XIII for Cardinal Richelieu and equivalent to Grand Admiral of France.
One of the leading figures in the Eighty Years' War, he defeated the Spanish fleet near Cadiz (20 July 1640), and then seized Villafranca. In 1641, he arrived in Portugal to help in the Portuguese Restoration War against Spain. In 1642, he fought an indecisive action against the Spanish forces near Barcelona, and nearly completely destroyed their fleet near Cartagena on 3 July 1643. He was killed on 16 June 1646, during the Battle of Orbetello, where his fleet was defeated.
His remains were buried in the church of Milly le Meugon, abutted to the castle walls.
The Most Serene House of Condé (named after Condé-en-Brie, now in the Aisne département) is a historical French house, a noble lineage of descent from a single ancestor. The name of the house was derived from the title Prince of Condé originally assumed circa 1557 by the French Protestant leader, Louis de Bourbon (1530–1569),[2] uncle of King Henry IV of France, and borne by his male line descendants. It became extinct in 1830 when his eighth generation descendant Louis Henri Joseph de Bourbon died without surviving male issue. The title was held for one last time by Louis d'Orléans, Prince of Condé who died in 1866.
http://en.wikipedia.org/wiki/Princes_of_Cond%C3%A9
Louis was born in Paris, the son of Henri de Bourbon, Prince de Condé and Charlotte Marguerite de Montmorency. His father was a first cousin-once-removed of Henry IV, the King of France, and his mother was an heiress of one of France's leading ducal families.
Conde's father saw to it that his son received a thorough education – Louis studied history, law, and mathematics during six years at the Jesuits' school at Bourges. After that he entered the Royal Academy at Paris. At seventeen, in the absence of his father, he governed Burgundy.
Signature of Gaston, Duke of Orléans at the marriage of the Louis, and Claire Clémence de Maillé on 7 February 1641
His father betrothed him to Claire-Clémence de Maillé-Brézé, niece of the powerful Cardinal Richelieu, chief minister of the king, before he joined the army in 1640
http://a.decarne.free.fr/gencar/dat930.htm#5
http://translate.google.com/translate?hl=en&sl=fr&u=http://www.de-bric-et-de-broc.com/France/maille.html&prev=/search%3Fq%3Dde%2Bbreze%2Bde%2Bbourmont%26start%3D10%26sa%3DN%26biw%3D1011%26bih%3D466
http://translate.google.com/translate?hl=en&sl=fr&u=http://www.de-bric-et-de-broc.com/France/maille.html&prev=/search%3Fq%3Dde%2Bbreze%2Bde%2Bbourmont%26start%3D10%26sa%3DN%26biw%3D1011%26bih%3D466
http://www.de-bric-et-de-broc.com/France/maille.html
http://www.de-bric-et-de-broc.com/France/tourlandry.html#francoisdemaille
Geoffroy de la Tour-Landry
(1320-1391)
1) ép. 1353 Jeanne de Rougé
(?-ap. 1383)
soeur de Mahaut de Rougé
et fille de Bonnabes de Rougé
seigneur d'Erval
vicomte de la Guerche
chambellan du roi
et de Jeanne de Maillé
fille de Jean de Maillé
seigneur de Clervaux
et de Thomasse de Doué
2) ép. 1380 Marguerite des Roches
veuve de Jean Clérambault
Dame de la Motte-de-Pendu
Ponthus de la Tour-Landry
(1381-1447)
chevalier
seigneur de la Tour landry
de Bourmont
du Loroux-Bottereau
baron de Bouloir en Vendomois
ép. N, Sidoine (v.1380-?)
http://www.de-bric-et-de-broc.com/France/tourlandry.html#francoisdemaille
Urbain de Maillé-Brézé (French pronunciation: ​[yʁbɛ̃ də maje bʁeze]) (1597 – February 13, 1650), was a Marshal of France during the Thirty Years' War and Franco-Spanish War (1635).
He was married to Nicole du Plessis-Richelieu, sister of cardinal Richelieu.
Urbain de Maillé-Brézé had a brilliant career. He was ambassador in Sweden in 1631, Marshal of France in 1632 and viceroy of Catalonia in 1641.
Urbain de Maillé-Brézé fought in many battles. He participated in the Siege of La Rochelle (1627–1628). In 1635 he conquered Heidelberg and Speyer, together with Jacques-Nompar de Caumont, duc de la Force, at the head of the Army of Germany.
In 1635 he was put, together with Gaspard III de Coligny, at the head of the French army that invaded Flanders. They victorious at the Battle of Les Avins against the Spanish, but the Siege of Leuven was a complete failure.
In 1641, together with duc de la Meilleraye, he conquered Lens in 3 days, Aire-sur-la-Lys (august) and Bapaume (September).
After these successes Maillé-Brézé was made Viceroy of newly conquered Catalonia. He attempted to drive the Spanish from Collioure, Perpignan and Sainte-Marie, but failed. In May 1642 he was replaced and retired from active duty to spend the rest of his life in his castle in Milly-le-Meugon.
Marriage and children[edit source | editbeta]
He married on November 25, 1617 Nicole du Plessis-Richelieu (1587–1635), sister of cardinal Richelieu. They had two children :
Jean Armand de Maillé-Brézé, (1619-1646), French admiral.
Claire-Clémence de Maillé-Brézé, (1628–1694), married Louis II de Bourbon, prince de Condé
http://geneanjou.blog.lemonde.fr/2013/02/17/exposition-le-marechal-de-bourmont-itineraire-dun-grand-angevin/
http://histoire.mayenne.53.free.fr/conf911.htm
Posted on January 16, 2020 by Royal Rosamond Press
https://en.wikipedia.org/wiki/Divine_right_of_kings
Evangelical leaders who surround The Impeached President, have promised millions of American Citizens a Kingdom of God. They are not qualified to make this offer. They bid The Impeached President to return prayers back in our schools to back up their false claims as Kingdom Givers. Our National Intelligence has asked Congress not to make their report public for fear it will enrage The Impeached President who divided our Nation in twain on the orders of these false prophets and Kingdom Makers! They too should be arrested for undermining the Government of the United States – forever – and for destroying our Diplomatic Core.
https://baptistnews.com/article/in-the-twisted-two-kingdoms-theology-of-jerry-falwell-jr-donald-trump-is-the-perfect-fit/embed/#?secret=WRP7fQ6nRV
Thomas Jefferson believed the Louisiana Purchase was illegal and went against the Constitution of the first Thirteen States. I concur.
The Second Kingdom of God shall be called….Lousiana! The True Knowledge of God shall prevail! Ignorance will be vanquished!
The blue area shall be given to the Dakota People. Alaska will be a Kingdom. The Gadson Purchase will be the Kingdom of the Kurds. The pink section will be the Kingdom of California. The brown area will be the American Kingdom. This is where the Evangelicals will live so they can continue to argue and pray for Doomsday, while the rest of North America, lives in peace!
So bet it
I do see a purple are down there. This will be the Kingdom of Artica. Only artists, writers, and other creative people can dwell here.
Need I say, there will be a Kingdom of Texas.
John 'The King Maker'
https://www.cnn.com/2020/01/15/europe/putin-reforms-analysis-intl/index.html
Posted on August 24, 2018by Royal Rosamond Press
Above are photos of Virginia Hambley, and I protesting the second Iraq war. I am reminding people of Reagan's 'Evil Empire' and claiming Bush's 'Axis of Evil' is fake. That couple is her kindred in line for the throne of France.
Now that I am aware I am the embodiment of John Dee, and a descendant of Dee's compatriots, the Rosenberg: and with Sir Francis Drake claiming California for Queen Elizabeth, my claim of the Lousiana Territory, is rendered more valid.
Both the Democrats and Republicans are failing to do their job during our Constitutional Crisis due to Rapture Rat Voters and the coming elections. I have warned my readers for fifteen years these hereitcs will take over, and destroy, our Democracy. Anticipating this sad state of affairs I claimed the Lousiana Territory.
https://www.churchmilitant.com/news/article/french-royalists-commemorate-murder-of-king-louis-xvi
My kindred, John Fremont, and the Benton family, secured California, and the Oregon Territory from Britain, and the Habsburg family. John was the first Republican candidate for President, which he co-founded. His party lies in disgrace and ruin.
PARIS (ChurchMilitant.com) – On the 224th anniversary of the execution of King Louis XVI, French royalists gathered Saturday on Place de la Révolution (now Place de la Concorde) to commemorate his death. And in the Basilica of St-Denis, Prince Louis-Alphonse de Bourbon, the Duke of Anjou and descendant of the French kings, attended a Requiem Mass with his wife, Princess Marie-Marguerite.
The group that congregated on the Place de la Révolution, site of the king's execution, waved flags bearing fleurs-de-lis — symbol of Royal France — and offered speeches honoring the memory of the fallen monarch, killed by guillotine on January 21, 1793, after five months' imprisonment at the hands of anti-Catholic Jacobins. Heavily influenced by freemasonry, the revolutionaries had protested against the ancien régime, represented by the Catholic Church and the Catholic monarchy.
Posted on August 2, 2018by Royal Rosamond Press
Posted on October 3, 2013by Royal Rosamond Press
Virginia and I are no longer engaged to be married. I posted this for the Russian Trolls to see. Putin wants to bring back the Russian Monarchy. I wanted to get in his way – and Trumps. If you recall the Bourbons opposed Napoleon. Well, Virginia's family are the Bourbon who tried to stop the Emperor who illegally sold the Lousiana Territory which I give to Virginia as an engagement gift. She, and her family, thought/think I am mad. But I was out to thwart the Evangelicals who think Putin is a co-savior of religion in America. I am a real Freedom Fighter, and the Real James Bond, who would be tackling all the issues that I have met head-on, without M-16's help. I might be the only man on the job! I need an agent to promote me!
Posted on October 1, 2013by Royal Rosamond Press
Today, October 1, 2013, I John Gregory Presco, the fiancé of Virginia Hambley de Bourmont, claim what was the Lousiana Territory in the name of the House of Bourbon, wherein said Territory, will be established a Democratic Monarchy, as was established by the Ligitimists of France.
Three generations of de Bourmonts, personally accompanied the Duchess Du Berry in her families efforts to claim the throne of France in the name of the Bourbons.
Today, the President of the United States claimed our Democracy was shut down by Republican Congressmen who were conducting a "ideological crusade". I have identified this crusade as coming from the economic ideology being pushed upon this nation by Libertarianism and libertarian Republicans who site the economic philosophy of Jean Baptiste SAY, who is the brother of another economist philosopher, Louis (Augustin) SAY, who is Virginia's great great, great, grandfather.
This is to SAY, if Libertarians believe they own the right to shut down the Government of the United States of America in the name Jean-Baptise Say, and are the true owners and rulers of this Democracy, then, it stands to reason this is a Family ''ideological crusade'', owned by the linear descendants of the Say family.
It is my intent to apply the de Bourmont Family Ideology to the formation of the Democratic Bourban Monarchy, and make a claim to the Louisiana Territory, declaring this sale null and void because it went against the very philosophy of the Say Economists who promoted 'Small Government' and no Government Involvement in Economic Matters. This so happens to be what the opponents of the Louisiana Purchase believed in, as it drastically affected the adventure capitalist pioneers who had a right to exploit the land and resources as they saw fit. This right has been held by royal families in Europe and America.
With the coming union of Virginia Hambley, and John Presco, we also have the purchase of the Oregon Territory as promoted by my kindred, Senator Thomas Benton who son-in-law. John Fremont co-founded the Republican Party and was its first Presidential nominee.
Whether there will be a hereditary monarchy established in the New Bourbon Monarchy in America, remains to be determined – by fate? If this is what was meant to be, then I hereby recognize Virginian Hambley's siblings, Caroline, Heloise, and Mark Hambley – and their children – as Heirs to the Democratic Throne of New France in America.
It is my desire to see a marriage between the rulers and subjects of New France, with the Arts and the New Enlightened Business Man, who will take the very best from the Say Brothers in order to keep this Economy going forward, and give a base for all Americans to reunite.
Above is a photograph of me holding on to the root of the grape vines Clarke Hambley planted in frot of his daughters' house seventeen years ago. He built the trellis. I believe he felt guilty for denying his children their French Heritage by marrying Elizabeth de Bourmont. He had seen the Bourmont castle surrounded by vineyards.
Because Clarke was born in a Democracy, and his wife was born in France, here is the Root of the Bourbon Democratic
Monarchy in America brought to this Democracy to take hold.
On this day, I hereby declare Virginia Hambley de Bourmont 'Titular Queen of the Bourbon Democratic Monarchy in America'. May she rule with dignity and grace.
As a wedding present I will gift unto her the Oregon Territory that was established and protected by my kindred. For the reasons set forth by Jean-Baptise Say, this territory should not have been purchased by the Government of the United States, and is now under the protectorate Virginia Hambley de Bourmont 'Queen of the House of Bourbon in America'.
As for Religious Permission, I am a Nazarite after the Prophet Samuel, known as 'The King Maker'.
So be it!
Yours Truly
John Gregory Presco
Founder of New France
Copyright 2013
"Benton was instrumental in the sole administration of the Oregon Territory. Since the Anglo-American Convention of 1818, Oregon had been jointly occupied by both the United States and the United Kingdom."
Some historians argue that Jefferson was a hypocrite in the Louisiana Purchase, primarily pointing to the fact that Jefferson was a strict constructionist in his views on the Constitution, yet allegedly took a loose constructionist view of the Constitution regarding the Louisiana Purchase.
WASHINGTON (AP) — President Barack Obama says House Republicans have shut down the federal government over an ''ideological crusade'' against his health care law.
Obama is speaking in the Rose Garden on the first day of the government shutdown. He says the longer the shutdown continues, the worse the impact will be.
The president says Republicans should not be able to hold the entire economy ''hostage.'' He is urging them to reopen the government quickly and allow furloughed federal employees to go back to work.
The government shut down because Congress did not pass a funding bill ahead of Monday's midnight deadline for the end of the 2013 fiscal year.
https://rosamondpress.wordpress.com/2013/09/30/genealogy-for-virginia-hambley/
This argument goes as follows:
The American purchase of the Louisiana territory was not accomplished without domestic opposition. Jefferson's philosophical consistency was in question because of his strict interpretation of the Constitution. Many people believed he, and other Jeffersonians such as James Madison, were being hypocritical by doing something they surely would have argued against with Alexander Hamilton. The Federalists strongly opposed the purchase, favoring close relations with Britain over closer ties to Napoleon, and were concerned that the United States had paid a large sum of money just to declare war on Spain.[citation needed]
Both Federalists and Jeffersonians were concerned about whether the purchase was unconstitutional. Many members of the United States House of Representatives opposed the purchase. Majority Leader John Randolph led the opposition. The House called for a vote to deny the request for the purchase, but it failed by two votes, 59–57. The Federalists even tried to prove the land belonged to Spain, not France, but available records proved otherwise.[17]
The Federalists also feared that the political power of the Atlantic seaboard states would be threatened by the new citizens of the west, bringing about a clash of western farmers with the merchants and bankers of New England. There was concern that an increase in the number of slave-holding states created out of the new territory would exacerbate divisions between north and south as well. A group of northern Federalists led by Massachusetts Senator Timothy Pickering went so far as to explore the idea of a separate northern confederacy.
Another concern was whether it was proper to grant citizenship to the French, Spanish, and free black people living in New Orleans, as the treaty would dictate. Critics in Congress worried whether these "foreigners", unacquainted with democracy, could or should become citizens.[18]
Most domestic objections were politically settled, overridden, or simply hushed up.[dubious – discuss] One problem, however, was too important to argue down convincingly: Napoleon did not have the right to sell Louisiana to the United States.[dubious – discuss] The sale violated the 1800 Third Treaty of San Ildefonso in several ways.[dubious – discuss] Furthermore, France had promised Spain it would never sell or alienate Louisiana to a third party. Napoleon, Jefferson, Madison, and the members of Congress all knew this during the debates about the purchase in 1803.[dubious – discuss] Spain protested strongly, and Madison made some attempt to justify the purchase to the Spanish government, but was unable to do so convincingly.[dubious – discuss] So, he tried continuously until results had been proven remorsefully inadequate.
The Louisiana Territory was broken into smaller portions for administration, and the territories passed slavery laws similar to those in the southern states but trying to encompass the preceding French and Spanish rule (for instance, Spain had prohibited slavery of Native Americans in 1769, but some slaves of mixed African-Native American descent were still being held in St. Louis when the US took over the Louisiana Territory).[35] In a freedom suit that went from Missouri to the US Supreme Court, slavery of Native Americans was finally ended in 1836.[35] The institutionalization of slavery under US territorial law in the Louisiana Territory contributed to the American Civil War a half century later.[34] As states organized within the territory, the status of slavery in each state became a matter of contention in Congress, as southern states wanted slavery extended to the west, and northern states just as strongly opposed new states being admitted as slave states. The Missouri Compromise of 1820 was a temporary solution.
Senator Benton's greatest concern, however, was the territorial expansion of the United States to meet its "manifest destiny" as a continental power. He originally considered the natural border of the US to be the Rocky Mountains, but expanded his view to encompass the Pacific coast. He considered unsettled land to be insecure, and tirelessly worked for settlement. His efforts against soft money were mostly to discourage land speculation, and thus encourage settlement.
Benton was instrumental in the sole administration of the Oregon Territory. Since the Anglo-American Convention of 1818, Oregon had been jointly occupied by both the United States and the United Kingdom. Benton pushed for a settlement on Oregon and the Canadian border favorable to the United States. The current border at the 49th parallel set by the Oregon Treaty in 1846 was his choice; he was opposed to the extremism of the "Fifty-four forty or fight" movement during the Oregon boundary dispute.
Daguerreotype of Thomas Hart Benton, ca. 1850
Benton was the author of the first Homestead Acts, which encouraged settlement by giving land grants to anyone willing to work the soil. He pushed for greater exploration of the West, including support for his son-in-law John C. Frémont's numerous treks.
A titular ruler, or titular head, is a person in an official position of leadership who possesses few, if any, actual powers.[1] Sometimes a person may inhabit a position of titular leadership and yet exercise more power than would normally be expected, as a result of their personality or experience. A titular ruler is not confined to political leadership but can also reference any organization, such as a corporation.
Etymology[edit]
Titular is formed from a combination of the Latin titulus (title) and the English suffix -ar,[2] which means "of or belonging to." [3]
Development[edit]
In most parliamentary democracies today, the Head of State has either evolved into, or was created as, a position of titular leadership. In the former case, the leader may often have significant powers listed within the state's constitution, but is no longer able to exercise them, due to historical changes within that country. In the latter case, it is often made clear within the document that the leader is intended to be powerless. Heads of State who inhabit positions of titular leadership are usually regarded as symbols of the people they "lead."
http://en.wikipedia.org/wiki/Oregon_Country
http://en.wikipedia.org/wiki/Oregon_Territory
http://en.wikipedia.org/wiki/Thomas_Hart_Benton_(politician)
Jean Etienne SAY
Né en 1739
Décédé en 1806 , à l'âge de 67 ans
Parents
Jean SAY
Jeanne MUSSARD
Union(s) et enfant(s)
Marié avec Françoise CASTANET dont
Jean Baptiste SAY
Denis (André) SAY
Jean Honoré SAY
Louis (Augustin) SAY
Louis (Augustin) SAY
Parents
Jean Etienne SAY 1739-1806
Françoise CASTANET
Union(s) et enfant(s)
Marié avec Constance MARESSAL dont
Gustave SAY
Achille SAY
Constant SAY
Adolphe SAY
Louis (Octave) SAY
Laure SAY
Constance SAY
A libertarian Republican is a person who subscribes to libertarian philosophy while typically voting for and being involved with the United States Republican Party.
Sometimes the terms Republitarian or liberty Republican are used as well. Libertarian Republicans' views are similar to Libertarian Party members, but differ in regard to the strategy used to implement libertarian policies.[citation needed]
http://en.wikipedia.org/wiki/Libertarian_Republican
http://en.wikipedia.org/wiki/Libertarianism
Libertarianism (Latin: liber, "free")[1] is a set of related political philosophies that uphold liberty as the highest political end.[2][3] This includes emphasis on the primacy of individual liberty,[4][5] political freedom, and voluntary association. It is the antonym to authoritarianism.[6] Different schools of libertarianism disagree over whether the state should exist and, if so, to what extent.[7] While minarchists propose a state limited in scope to preventing aggression, theft, breach of contract and fraud, anarchists advocate its complete elimination as a political system
Louis Say (1774–1840) was a French economist. Brother of Jean-Baptiste Say, he issued a number of economic pamphlets criticizing the latter's opinions.
Adam Smith (5 June 1723 OS (16 June 1723 NS) – 17 July 1790) was a Scottish moral philosopher and a pioneer of political economy. One of the key figures of the Scottish Enlightenment,[1] Adam Smith is best known for two classic works: The Theory of Moral Sentiments (1759), and An Inquiry into the Nature and Causes of the Wealth of Nations (1776). The latter, usually abbreviated as The Wealth of Nations, is considered his magnum opus and the first modern work of economics. Smith is cited as the "father of modern economics" and is still among the most influential thinkers in the field of economics today.[2]
http://en.wikipedia.org/wiki/Adam_Smith
David Ricardo (18 April 1772 – 11 September 1823) was a British political economist. He was often credited with systematizing economics, and was one of the most influential of the classical economists, along with Thomas Malthus, Adam Smith, and John Stuart Mill.[2][3] He was also a member of Parliament, businessman, financier and speculator, who amassed a considerable personal fortune. Perhaps his most important contribution was the theory of comparative advantage in which he advocates that a nation should abandon industries in which it is internationally competitive in order to concentrate solely on those industries in which it is most competitive.
http://en.wikipedia.org/wiki/David_Ricardo