Ed Corbin introduced me to the Poet, Tom-Tom, who married into the Schlumberger family. Ed stayed in their estate in Texas. I hope Tom is at the Life Celebration. Katrine was married to a Rockefeller. I am kin to the Getty family, via Elizabeth Rosemond Taylor. I read Tom's poetry in Springfield with Kenny Reed backing me up. Marilyn Reed was photographed by Silverstein who studied under Sarah Moon. I am going to become a Fashion Designer under the assumed name….John Rosamond Presco. I'm going to do the Hugo Gambler Line, named after my grandfather, Victor Hugo, the professional gambler of the Barbary Coast.
John Rosamond Presco
President: Royal Rosamond Press
Rosemond Getty | Rosamond Press
Victor Hugo of the Barbary Coast | Rosamond Press
The Getty Rosemond Bond | Rosamond Press
Schlumberger brothers – Wikipedia
Where there is oil and gas there is Schlumberger | Environment | The Guardian
Pierre Schlumberger was born in 1914, the son of Marcel Schlumberger, a mechanical engineer, and his wife Jeanne Laurans.[1] Marcel co-founded Schlumberger in the 1920s with his brother, Conrad, a physicist.[1] Pierre was the brothers' only male heir.
Schlumberger worked for Schlumberger for 25 years, rising to president and CEO in 1956 (Henri George Doll, Conrad Schlumberger's son-in-law, was the chairman), until he retired in 1965 and was succeeded by Jean Riboud.[1][2] Under Pierre, the company ceased to be a family business, expanded into electronics, centralized its operations in Houston, Texas, and became a publicly traded company.[2]
Art collector[edit]
Schlumberger acquired a "superlative collection of modern art", including works by Pierre Bonnard, Henri Matisse, and Piet Mondrian; then with his second wife, São, they expanded to include contemporary artists, adding works by artists including Mark Rothko, Ad Reinhardt, Andy Warhol, and Robert Rauschenberg.[3] Their collection was auctioned by Sotheby's over four days in November 2014, who called them "two of the most visionary collectors of the Twentieth Century."[3]
Schlumberger co-founded the Contemporary Arts Museum Houston.[1]
Personal life[edit]
Schlumberger's first wife, Claire Simone Schwob d'Héricourt (1917–1959), was a French aristocrat, the daughter of film producer Jacques Schwob d'Héricourt [fr]; they were married for two decades and had five children before she died from a stroke in 1959.[4]
In 1961, he married Maria "São" da Conceição Diniz (1929–2007), who had been married to Pedro Bessone Basto, a Portuguese "boulevardier", for less than a year.[4] He was 47, she was 32.[4] They lived in Houston until he was ousted as CEO in "a family coup" in 1965 and moved to New York City and then Paris.[4] His house in Lazy Lane in Houston was designed by the family's French architect Pierre Barbe.[5] Barbe also restored a holiday home for them on the Normandy coast and designed a new house at Tourrettes-sur-Loup on the Riviera.[5]
They lived in an 18th-century hôtel particulier in the Rue Férou, next door to Man Ray, restored by Barbe, with interior design by Valerian Rybar in "a provocative mix of classic and modern styles".[4][5] They were prominent in New York and Paris society and hosted guests including Yves Saint Laurent, Andy Warhol, Rudolf Nureyev, Robert Rauschenberg, Christo, Man Ray, Salvador Dalí, and Roy Lichtenstein.[3]
In 1964, he bought Quinta do Vinagre [pt], a 16th-century manor with 103 acres (42 ha) near Sintra, Portugal, built for the local bishop.[6] From 1965 to 1975, Barbe restored and updated the 18-bedroom property.[5] In 1968, Schlumberger and Antenor Patiño both held parties at their Portuguese estates with over 1,000 guests including Gina Lollobrigida, Audrey Hepburn, Zsa Zsa Gabor, Douglas Fairbanks Jr., and Henry Ford II.[6][7] The singer Madonna was thought to have bought it for €18 million in 2017, but instead chose a smaller more "manageable" house nearby.[8]
They had two children, Paul-Albert in 1962 and Victoire in 1968.[4] Schlumberger, an invalid from an earlier stroke, died in Paris in 1986.[1]
Amanda Harlech, the muse of John Galliano and Karl Lagerfeld (nssgclub.com)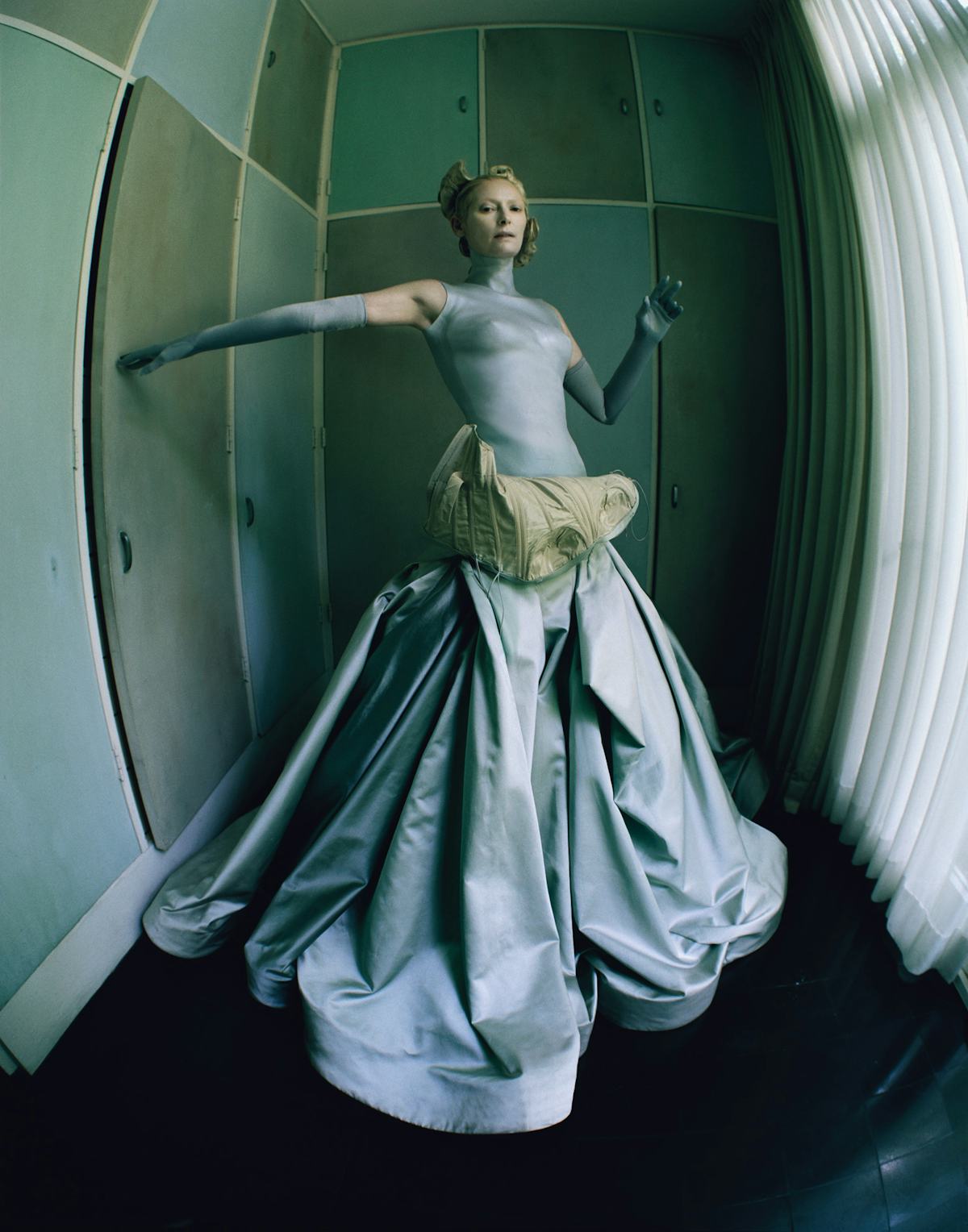 Photographer: Tim Walker Styled: Jacob K
In 1984, Dominique de Menil staged an enormous exhibition at the Grand Palais in Paris, offering art lovers, for the first time, an in-depth look at the vast collection she and her husband, John, had assembled. The more than 600 works on view ranged from a paleolithic bone carving dating from 22,000–15,000 BC to 20th-century masterpieces by Pablo Picasso, Andy Warhol, and Georges Braque. But when it came time to choose an image to represent the show on the posters that would be plastered around the city, Dominique passed over the blue-chip names and dramatically ancient artifacts in favor of a piece by the virtually unknown 19th-century artist Joseph Sacco. Called Oeil de Jeune Femme, it's a tiny painting of an eye, framed by a brass oval and dark crimson velvet, and placed in a rough leather box. A surreal object made decades before Surrealism, it elegantly summed up, for de Menil, the idea of perception—on the part of the artist, the collector, and the audience.You'll Also LikeA Must-See Art and Design Exhibition in a Restored Philip Johnson BuildingGetting to the Heart of 'Provence Style'Email
Sign UpW DailyYour daily digest of the biggest stories in style, film, TV, music, and more.In & Out WeeklyThe ultimate cheat sheet to what's trending this week.SUBMIT
It is fitting, then, that precisely 30 years after the Grand Palais show, the miniature work is sitting in the gloved hand of the actress Tilda Swinton, a woman who has made a career out of playing with perception: transcending time and gender in Sally Potter's 1992 film Orlando, passing as an octogenarian dowager in Wes Anderson's 2014 The Grand Budapest Hotel, and becoming a buck-toothed villain in last year's sci-fi thriller Snowpiercer. Today, Swinton has come to the Menil Collection, the museum Dominique de Menil founded in Houston, to create a portfolio for W with the photographer Tim Walker. "An object that had such a powerfully inspiring effect on Madame de Menil holds a special frisson," she says as she stands in a bright white corridor examining the eye.
This shoot is the third collaboration between Swinton, Walker, the art director Jerry Stafford, and the stylist Jacob K. As a team, they have already traveled to Iceland ("Planet Tilda," W, August 2011) and to Las Pozas, the Surrealist sculpture garden built by the British poet and art patron Edward James in a Mexican jungle ("Stranger Than Paradise," W, May 2013). "The majority of my life as a photographer is about persuading people to do things on account of my imagination," Walker says. "Working on these projects is much more of a creative commune—I've been led up pathways I wouldn't necessarily have approached." Stafford, who initiated the series, explains what attracted him to this latest subject: "The de Menils were true visionaries whose influence remains fascinating and far-reaching. There is one common goal and desire of this series: to challenge and seduce the eye."
That's just what Swinton is doing later that morning. Wearing a painted metal corset by the London designer Johanna O'Hagan, a pair of black boots by Versace, and little else, she is conjuring a key moment in the history of Surrealism. In 1923, Max Ernst painted a full-length female nude with a large white bird at her crotch, titled La Belle Jardinière. In 1937, the work was confiscated by the Nazis and featured in the notorious exhibition "Degenerate Art." (There is a photograph of Adolf Hitler looking upon the painting disapprovingly.) The original was never seen again and is assumed to have been destroyed, but Ernst painted a second version in 1967 called Retour de la Belle Jardinière, which the de Menils, close friends of the artist and ardent collectors of his work, bought. "This is the special magic of these collaborations," Swinton says as she poses as the gardener. "There is not just a vague referencing of de Menil but also an immersion into her world. We're crossing into a no-man's-land between history and imagination, in an attempt to evoke her spirit, and the spirit of the world she inhabited."
And what a world it was. John de Menil was a 26-year-old Parisian investment banker when he met Dominique Schlumberger, a 22-year-old scion of a leading French industrialist family, at a ball at Versailles in 1930. They married the following year and, during that intoxicating time in Paris between the wars, took their first steps toward becoming collectors—importing from Moscow an early 16th-century Russian Orthodox icon of St. George slaying the dragon, commissioning a portrait of Dominique by Ernst, buying a painting of Othello by Christian Bérard, and acquiring a pair of painted bark cloths from New Guinea. But their real artistic education began in 1941 in New York, where they landed after fleeing occupied France. There, they met Father Marie-Alain Couturier, a Dominican priest who would go on to commission the Matisse Chapel in Vence, France, and Le Corbusier's chapel in Ronchamp, France. He introduced the de Menils to the Metropolitan Museum of Art, the Museum of Modern Art, and to the leading galleries in Manhattan. Around that same time, the couple met Alexander Iolas, a ballet dancer–turned–art dealer, who helped them acquire some of their most important works; and the designer Charles James, who created an astonishing, pragmatic wardrobe for Dominique.
Once the war ended, they settled in Houston, where the American headquarters of Schlumberger Ltd. were located. John eventually became chairman of the board. Finding themselves in a new city that had little cultural context, they set out to create one. In 1948, the de Menils hired Philip Johnson to design them a modernist home, giving the young architect one of his first commissions—and then made an even bolder decision by selecting James to finish the interior. Johnson had designed a straightforward 5,500-square-foot International Style house in brick, steel, and glass. Into this rigid frame, James injected a sense of history and voluptuousness. "Philip felt that we should have a Mies van der Rohe settee, a Mies van der Rohe square glass table, and two Mies van der Rohe chairs—on a little square musty-colored rug," Dominique once explained. "We could see right away how we would get bored." Instead, James brought in a "lips" sofa inspired by a Man Ray painting, a swooping chaise longue in wrought iron and gray raw silk, an 18th-century Venetian settee covered in bright green satin, and a rococo Louis XV desk. Johnson was incensed, but James's interventions gave the house a layer of elegant complexity.
The de Menils spent decades assembling their art collection, curating scores of shows in Texas, and building ambitious showcases for the work. In 1971, they inaugurated the Rothko Chapel, a windowless octagonal structure filled with 14 monumental dark canvases they'd commissioned from Mark Rothko. From the chapel, it is just a short walk to the Menil Collection, through allées of enormous live oak trees, a small park, and blocks of bungalows all painted the same shade of soft gray. Opened in 1987, the museum—the first building in the United States designed by Renzo Piano—is a long, low structure of white steel, glass, and gray cypress siding. The light-filled interior, in keeping with the de Menil house, has glistening black floors and walls of windows that openonto lush tropical gardens. On display are Cycladic idols, Byzantine relics, and African and Oceanic totems, as well as modernist masterpieces from Paul Cézanne, Pablo Picasso, Georges Braque, René Magritte, Alexander Calder, Robert Rauschenberg, Andy Warhol, and Jasper Johns. There is no admission fee; the bookstore has been banished to a bungalow across the street. It is one of the most universally praised art institutions of recent decades.
In addition to their Houston residence, the de Menils always kept a place in New York, an apartment in Paris, and a country house north of Paris. John was a trustee of MoMA, and Dominique played a pivotal role in the establishment of the Centre Pompidou. Yet the vast majority of their artistic activities, until John's death in 1973 and hers in 1997, were in their adopted hometown. "Our first responsibility is in Houston, and that is where our efforts must be concentrated," John de Menil wrote to Dorothy Miller, the legendary curator at MoMA. "Because here we are almost alone."
Their commitment continues to bear fruit for the city and all who visit,including—if Swinton is any indication—Academy Award–winning actresses. "They presumed art to be good for human dignity," Swinton says of the de Menils as she makes her way around the museum's Oceanic galleries dressed in a full-length Delpozo coat. "There is a practical magic that shows itself in the exquisite simplicity of each installation; there is nothing to get in the way of a direct relationship between the viewer and a work of art."
Before leaving the gallery, she takes the time to stand before some of the pieces on display: a 19th-century Melanesian club from the Solomon Islands; a towering slit drum from Vanuatu carved from the trunk of a breadfruit tree; and a 19th-century Polynesian club from the Cook Islands, more than eight feet high and crafted from exceptionally hard wood. She observes them individually, in silence, slowly and deliberately. Much like the de Menils, she is fully engaged with the art—and the world of artists—around her. It is an outlook well summed up Dominiquede Menil: "Art requires action. Passivity is fatal."
Tilda Swinton: The Surreal World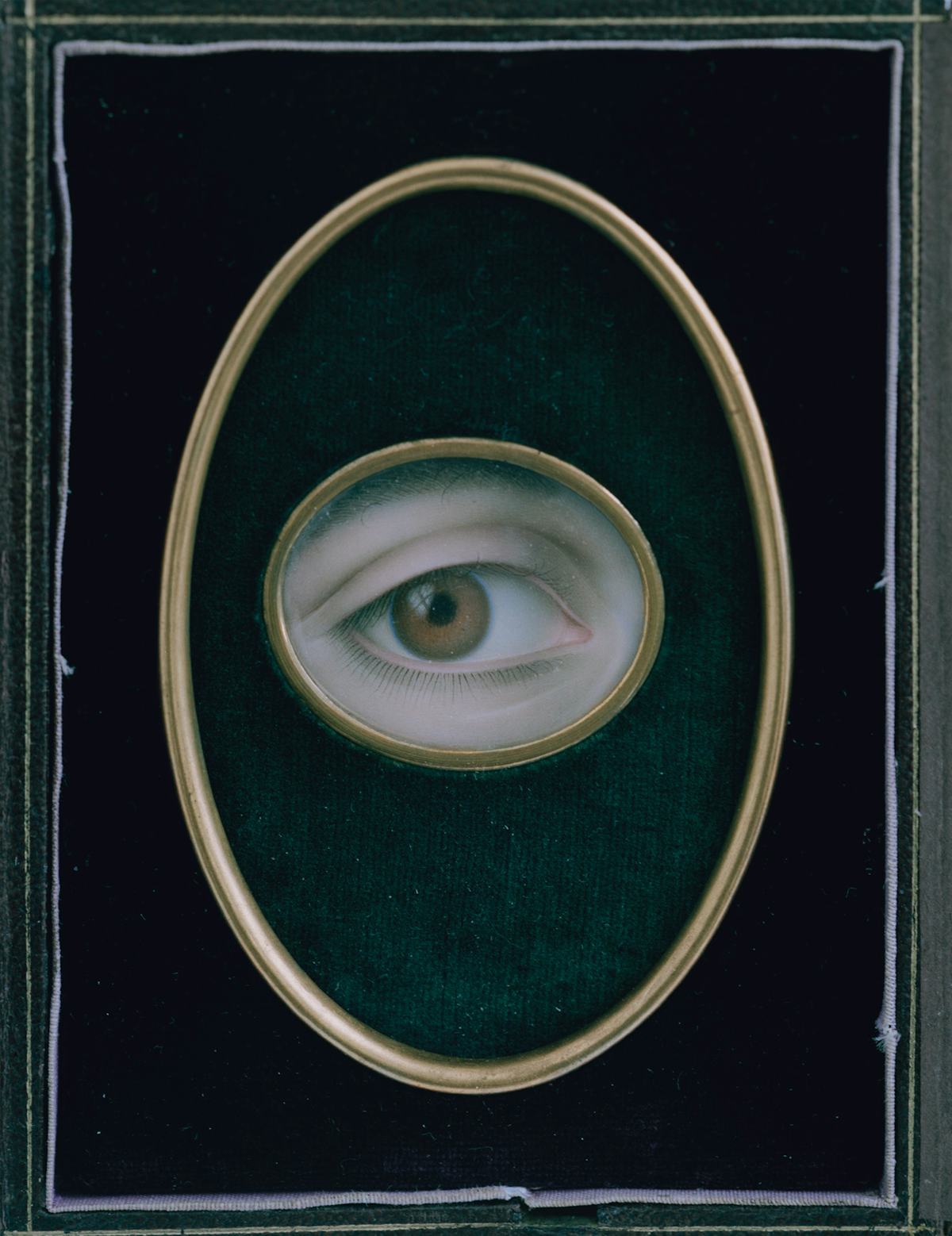 Joseph Sacco's Oeil de Jeune Femme, 1844.Photographer: Tim Walker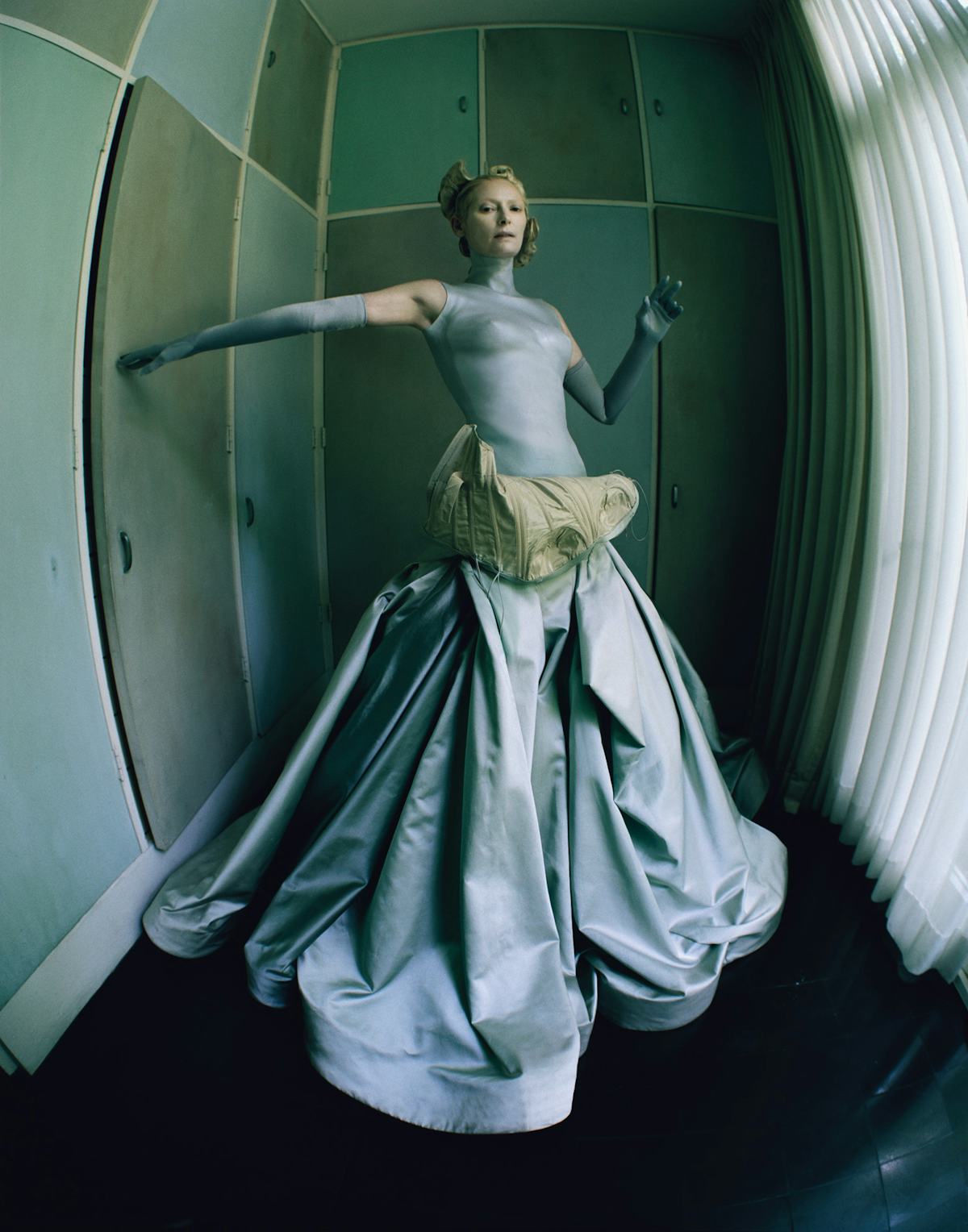 In the de Menils' dressing room, with doors painted by Charles James. Tilda Swinton wears a Zac Posen gown, $13,990, Bergdorf Goodman, New York, 212.753.7300; Francesco Scognamiglio corset, francescoscognamiglio.it; Gaspar Gloves gloves, $24, gaspargloves.com.Photographer: Tim Walker Styled: Jacob K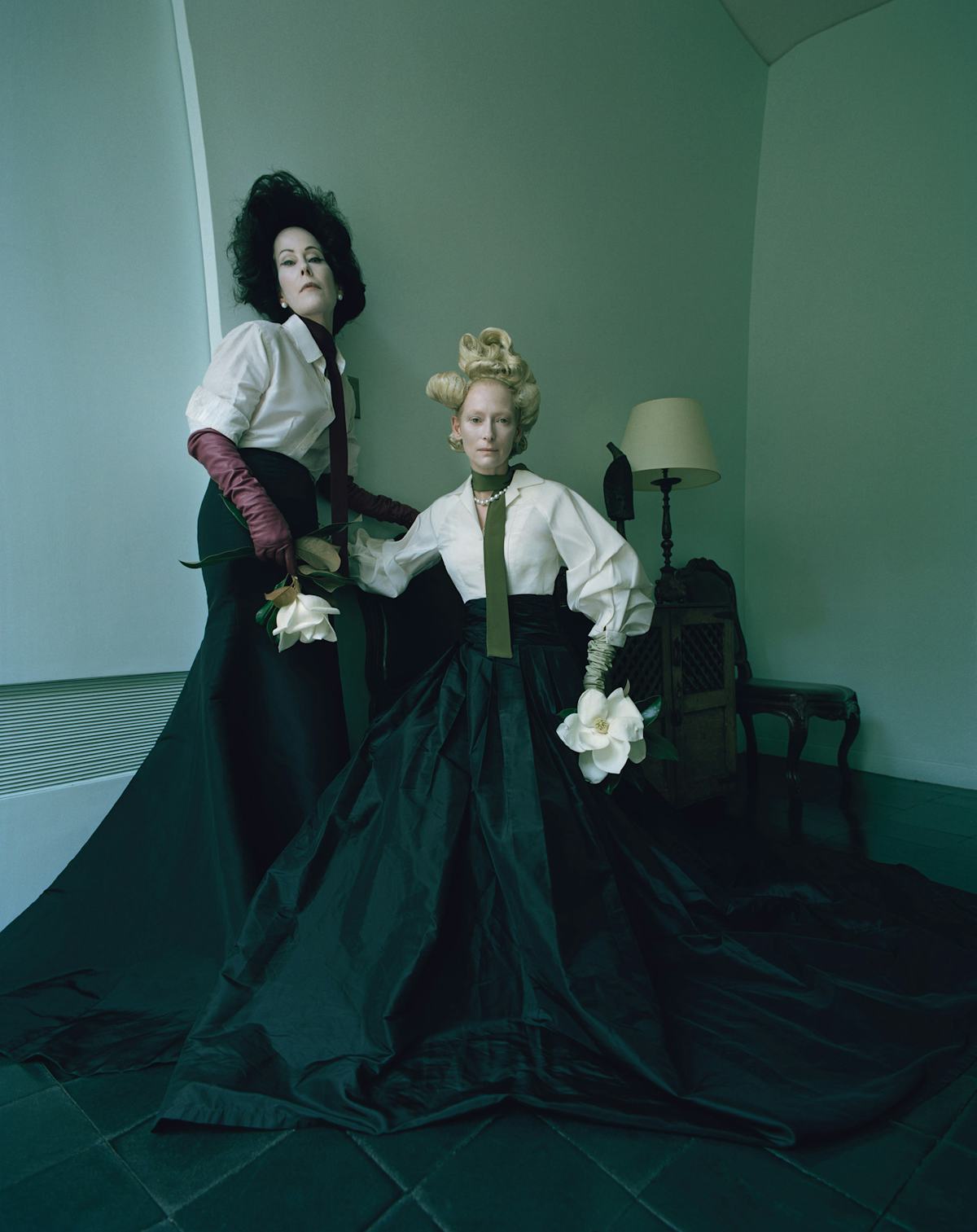 In the de Menils' Houston residence, Chanel muse Lady Amanda Harlech, evoking Maria Ruspoli, the Duchess of Gramont (a great friend of the de Menils who introduced them to Charles James), wears Carolina Herrera blouse, $990, and skirt, $1,990, Carolina Herrera, New York, 212.249.6552; Mikimoto gold and cultured pearl earrings, $860, Saks Fifth Avenue, 877.551.SAKS; Prada scarf, $285, prada.com; LaCrasia Gloves gloves, $500, lacrasiagloves.com. Swinton wears Carolina Herrera blouse, $1,690, and skirt, $2,490, Carolina Herrera, New York, 212.249.6552; Assael gold and South Sea cultured pearl necklace, $8,800, select Neiman Marcus stores, 888.888.4757; Prada scarf, $285, prada.com; LaCrasia Gloves gloves, $250, lacrasiagloves.com.Photographer: Tim Walker Styled: Jacob K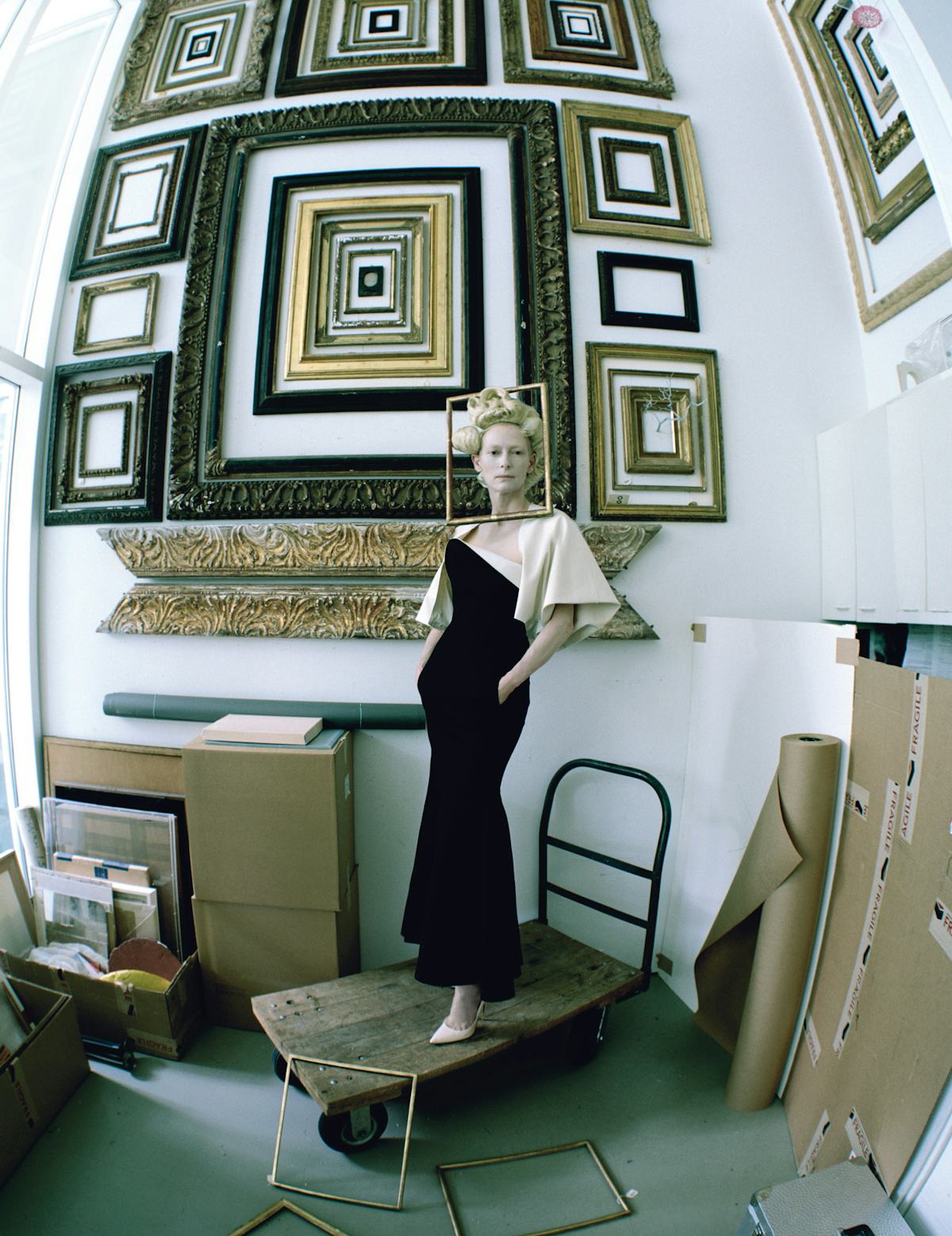 In the framing department of the Menil Collection, Swinton wears Calvin Klein Collection cape and dress, prices upon request, Calvin Klein Collection, New York, 212.292.9000; Oscar de la Renta pumps, $750, oscardelarenta.com.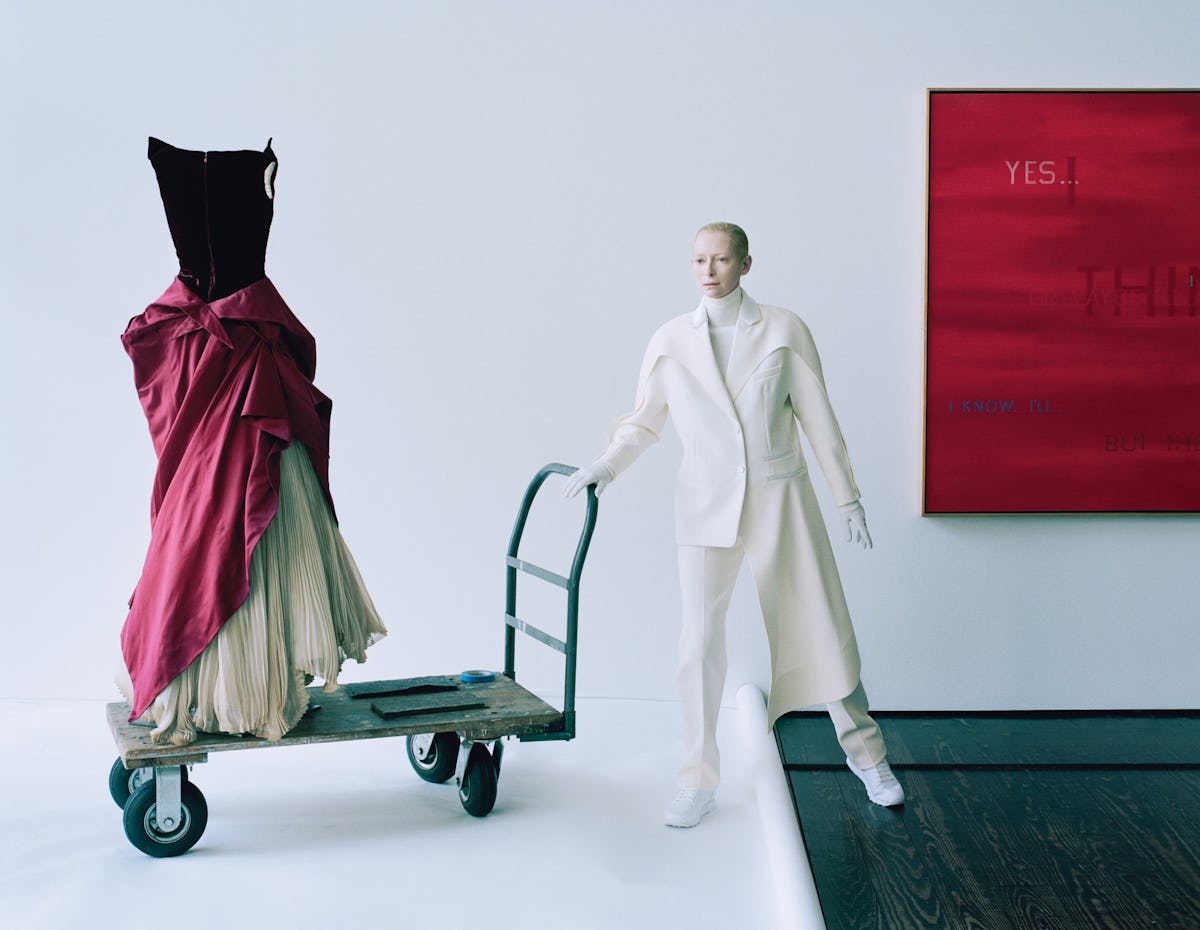 In the entrance of the Menil Collection, Swinton wears Balenciaga custom jacket and trousers, prices upon request, balenciaga.com; Balenciaga sweater, $995, Bergdorf Goodman, New York, 212.753.7300; Sermoneta Gloves gloves, $99, Sermoneta Gloves, New York, 212.319.5946; Reebok sneakers, $65, reebok.com. She's flanked by Charles James's March of Dimes dress, 1949, and Edward Ruscha's Indecision, 1982.Photographer: Tim Walker Styled: Jacob K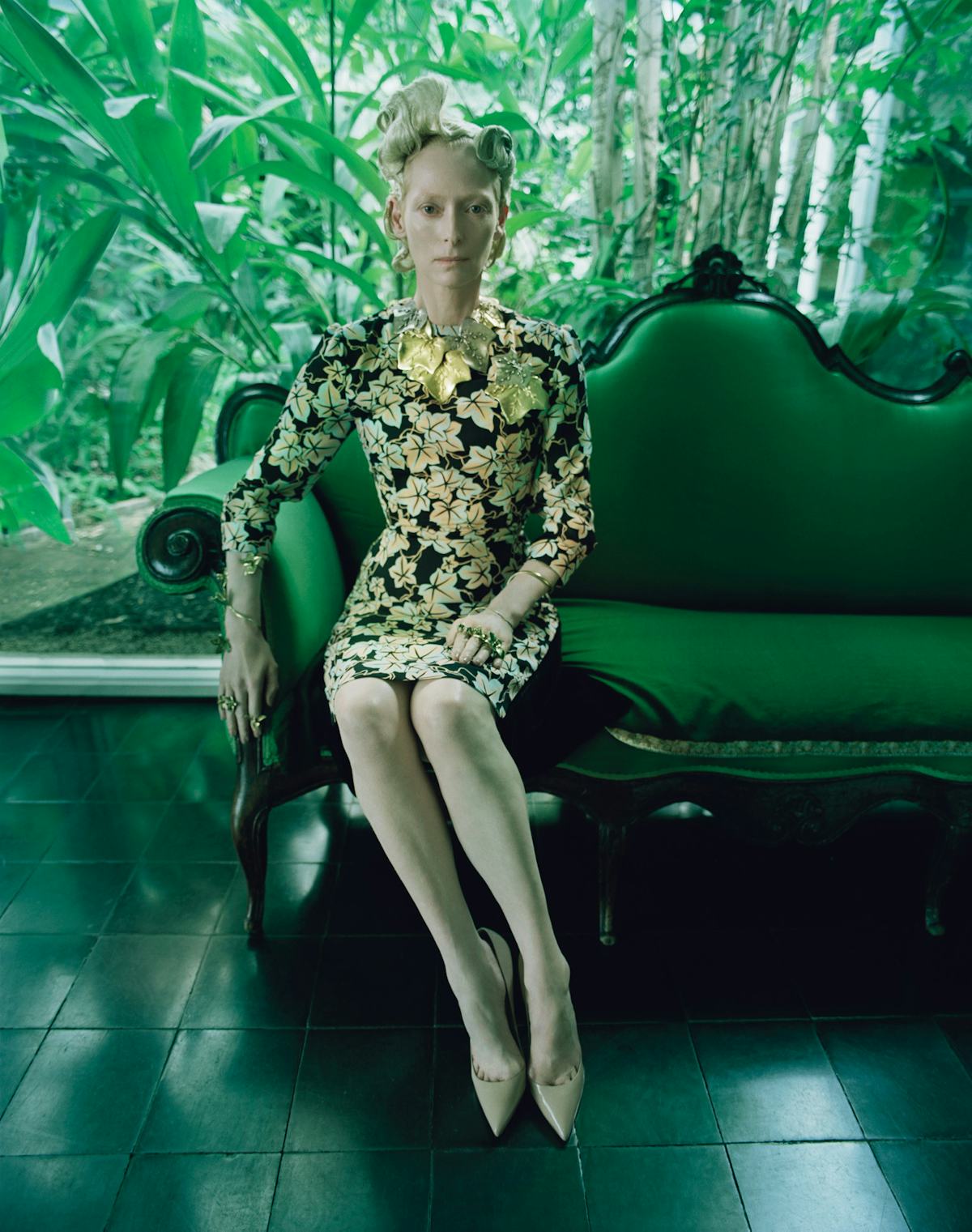 Swinton wears Schiaparelli dress, price upon request, Maison Schiaparelli, Paris, 011.33.1.76.21.62.59; Ben-Amun by Isaac Manevitz necklace, $670, and brooch, $395, shopbop.com; (right wrist, from top) Dominic Jones bracelet, price upon request, by special order, Barneys New York, New York, 212.826.8900, Monserat De Lucca bracelet, $120, monseratdelucca.com; (right hand, from left) Dominic Jones ring, $370, Barneys New York, New York, 212.826.8900, Dominic Jones ring, $260, Barneys New York, New York, 212.826.8900; (left wrist) Dominic Jones bracelet, price upon request, by special order, Barneys New York, New York, 212.826.8900; (left hand) Monserat De Lucca rings, $65, $55, and $58, monseratdelucca.com; Christian Louboutin pumps, $675, christianlouboutin.com.Styled: Jacob K Photographer: Tim Walker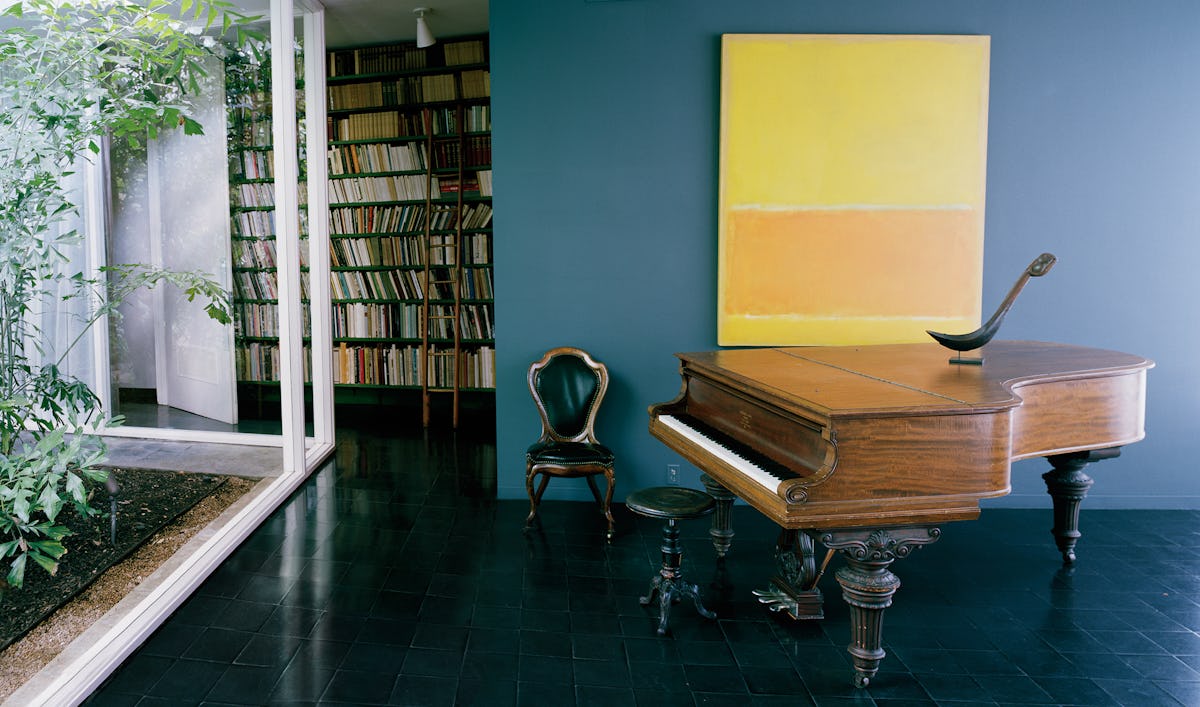 Mark Rothko's The Green Stripe, 1955, in the living room of the de Menil house; Ladle in the Form of an Eagle Head, from the Kwakiutl tribe, sits on the piano.Photographer: Tim Walker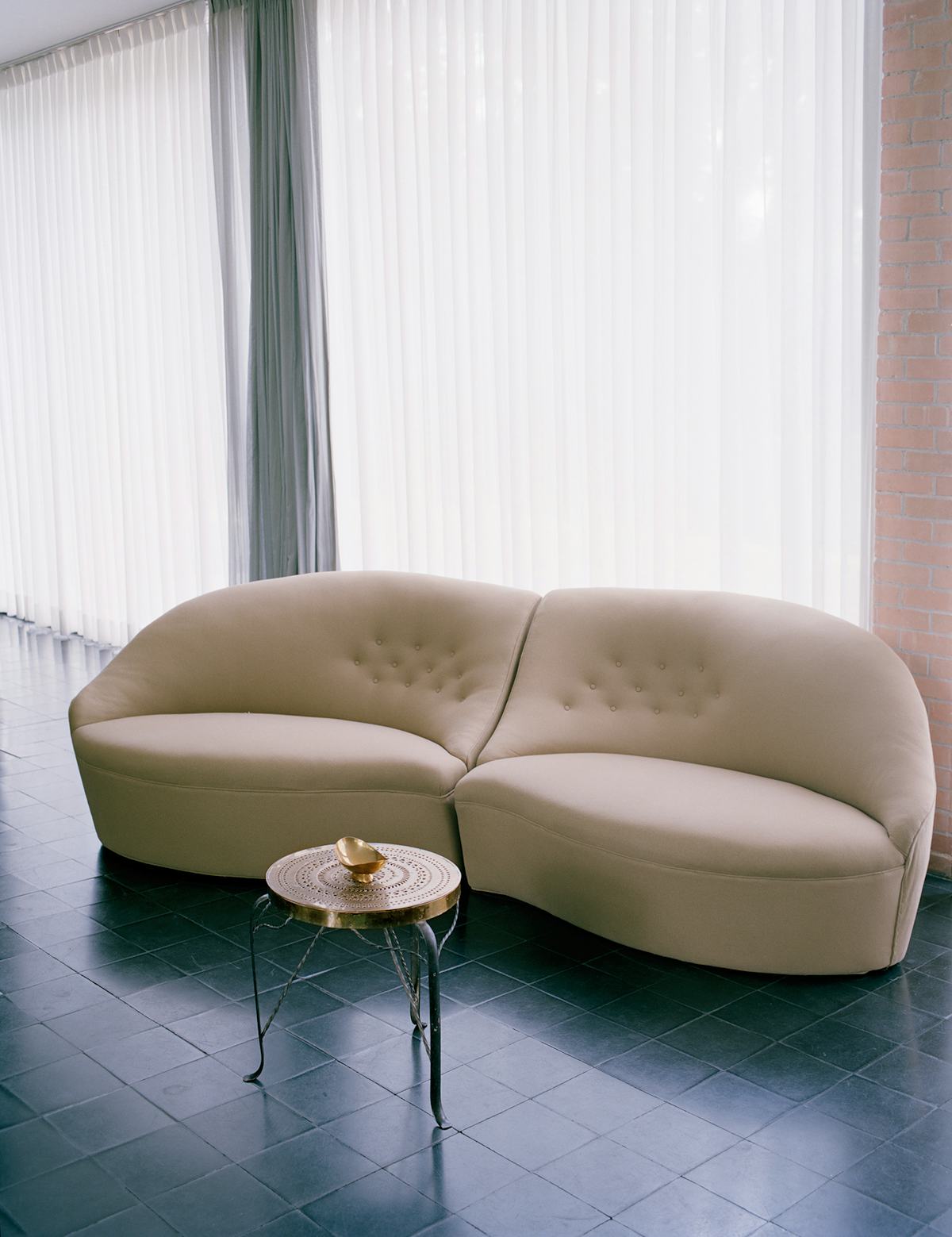 A "lips" sofa in the living room.Photographer: Tim Walker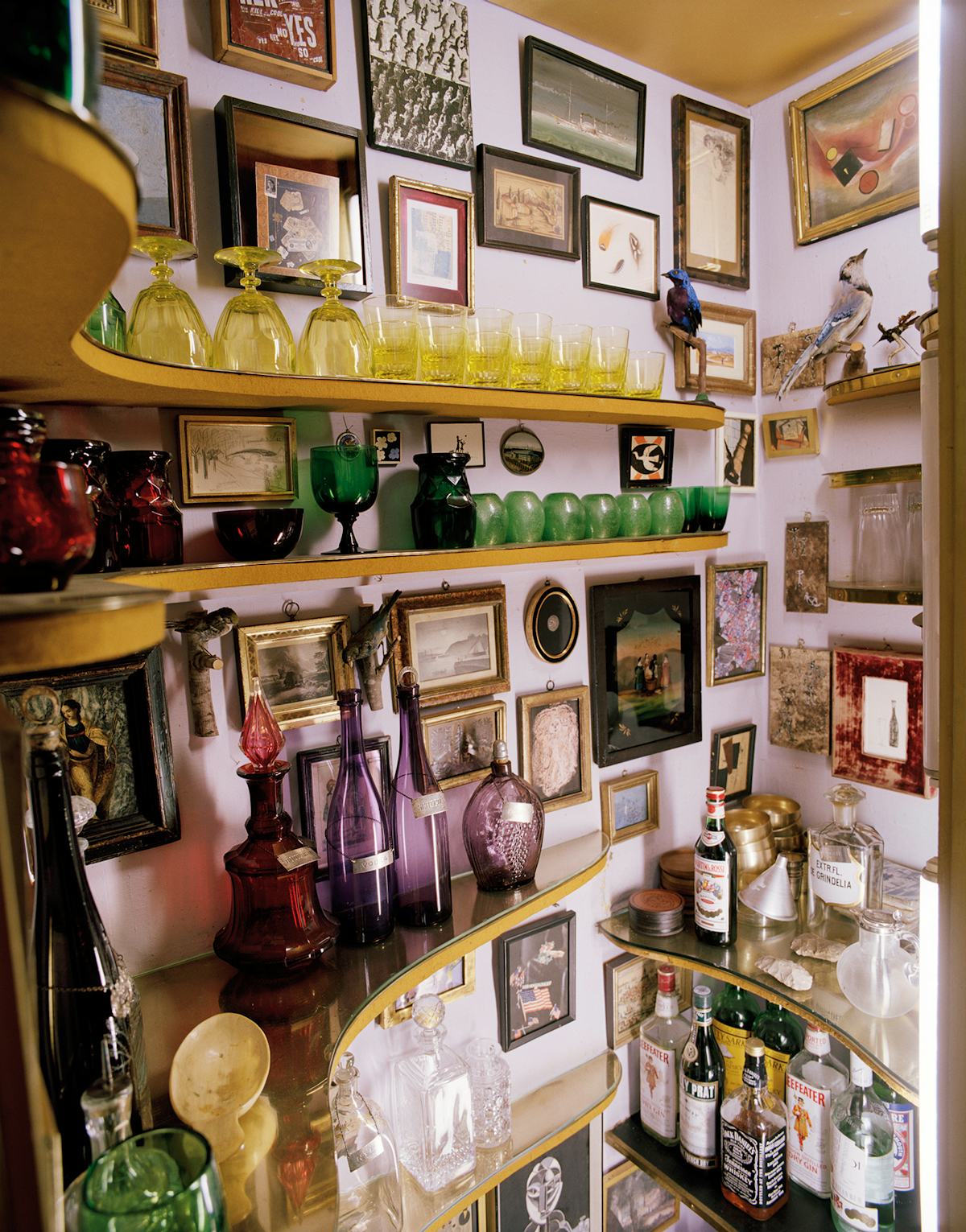 The bar, tucked in a corner of the living room.Photographer: Tim Walker Styled: Jacob K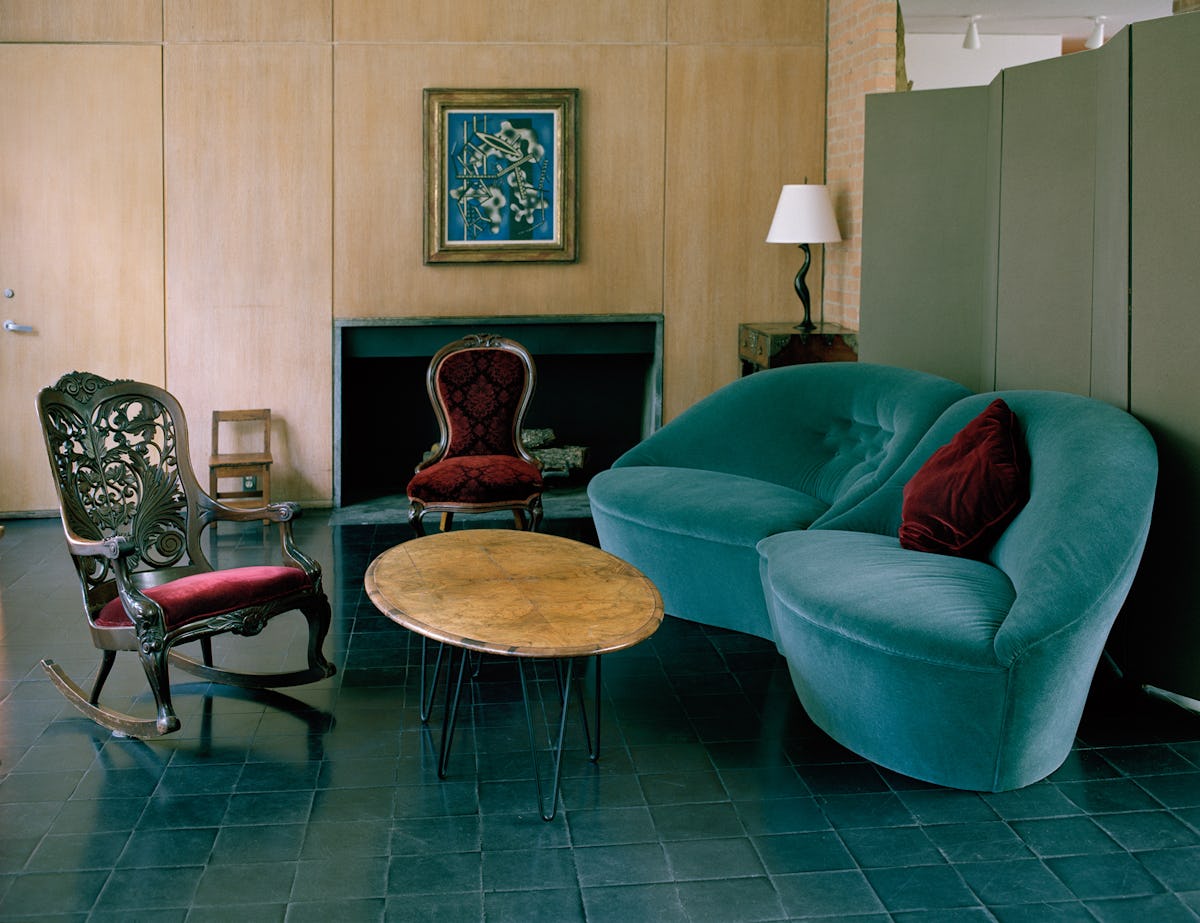 Another shot of the living room.Photographer: Tim Walker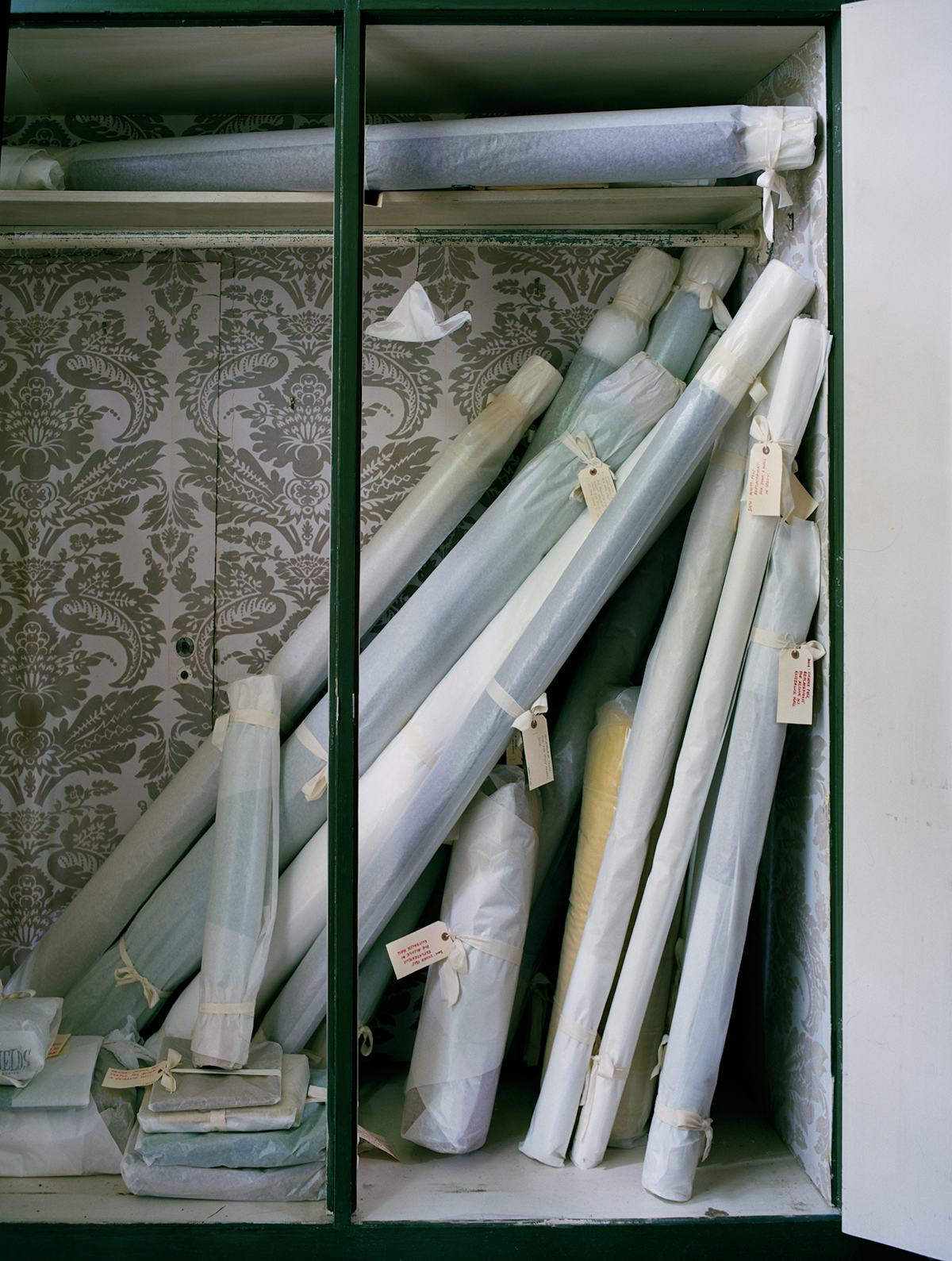 Rolls of vintage fabrics in a closet.Photographer: Tim Walker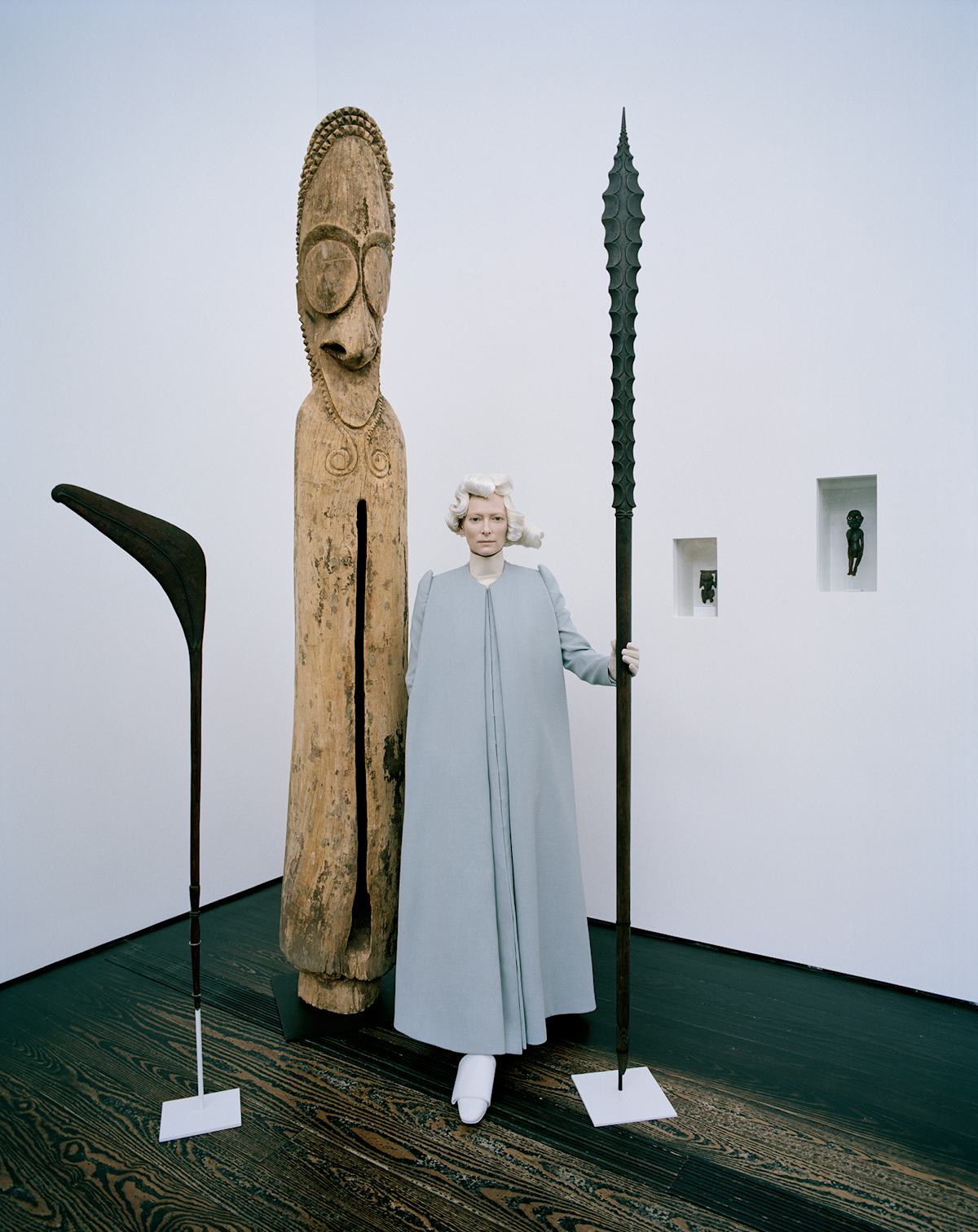 Swinton, among 19th-century Oceanic works, wears Delpozo cape coat, $5,750, modaoperandi.com; Delpozo collar, price upon request, delpozo.com; Julien d'Ys for Comme des Garçons wig, juliendys.com; LaCrasia Gloves gloves, $250, lacrasiagloves.com; J.W. Anderson shoes, $1,050, theline.com.Photographer: Tim Walker Styled: Jacob K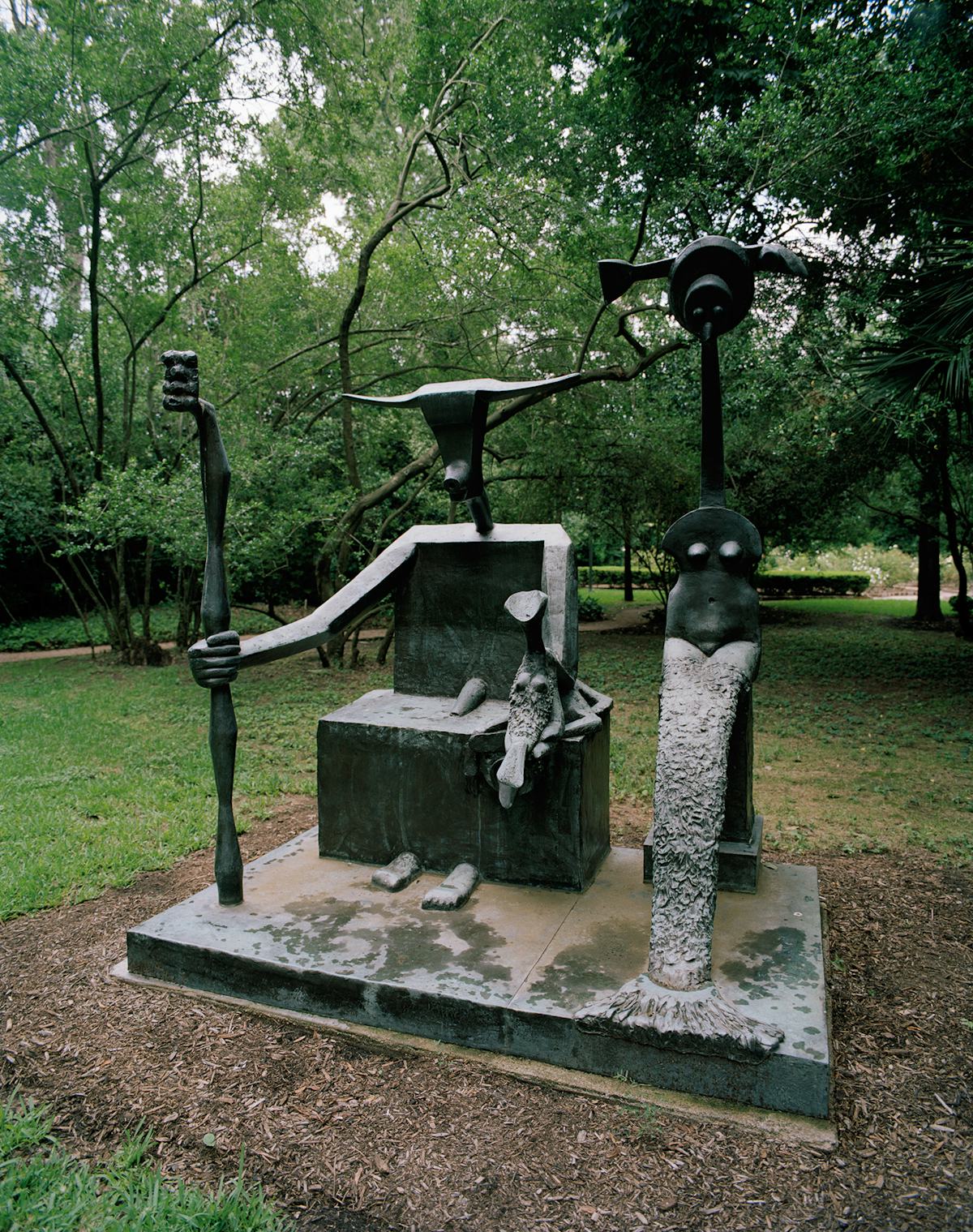 Max Ernst's monumental bronze Capricorn, 1964, in the garden of the de Menil house.Photographer: Tim Walker Styled: Jacob K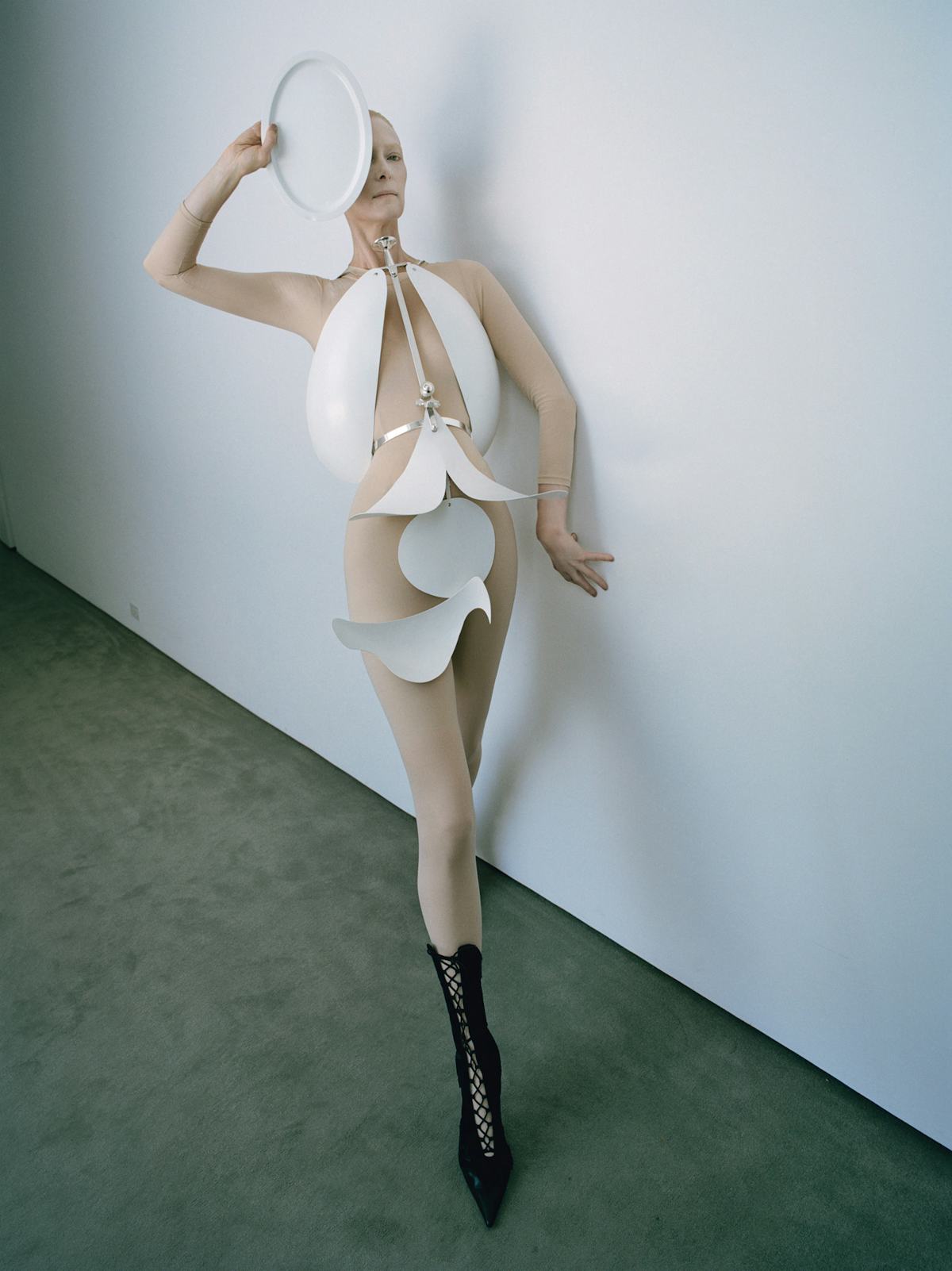 Swinton brings Max Ernst's 1967 Retour de la Belle Jardinière to life, wearing a Johanna O'Hagan corset, price upon request, johannaohagan.com; Cosabella catsuit, price upon request, shop.cosabella.com; Versace boots, $1,675, select Versace stores, 888.721.7219.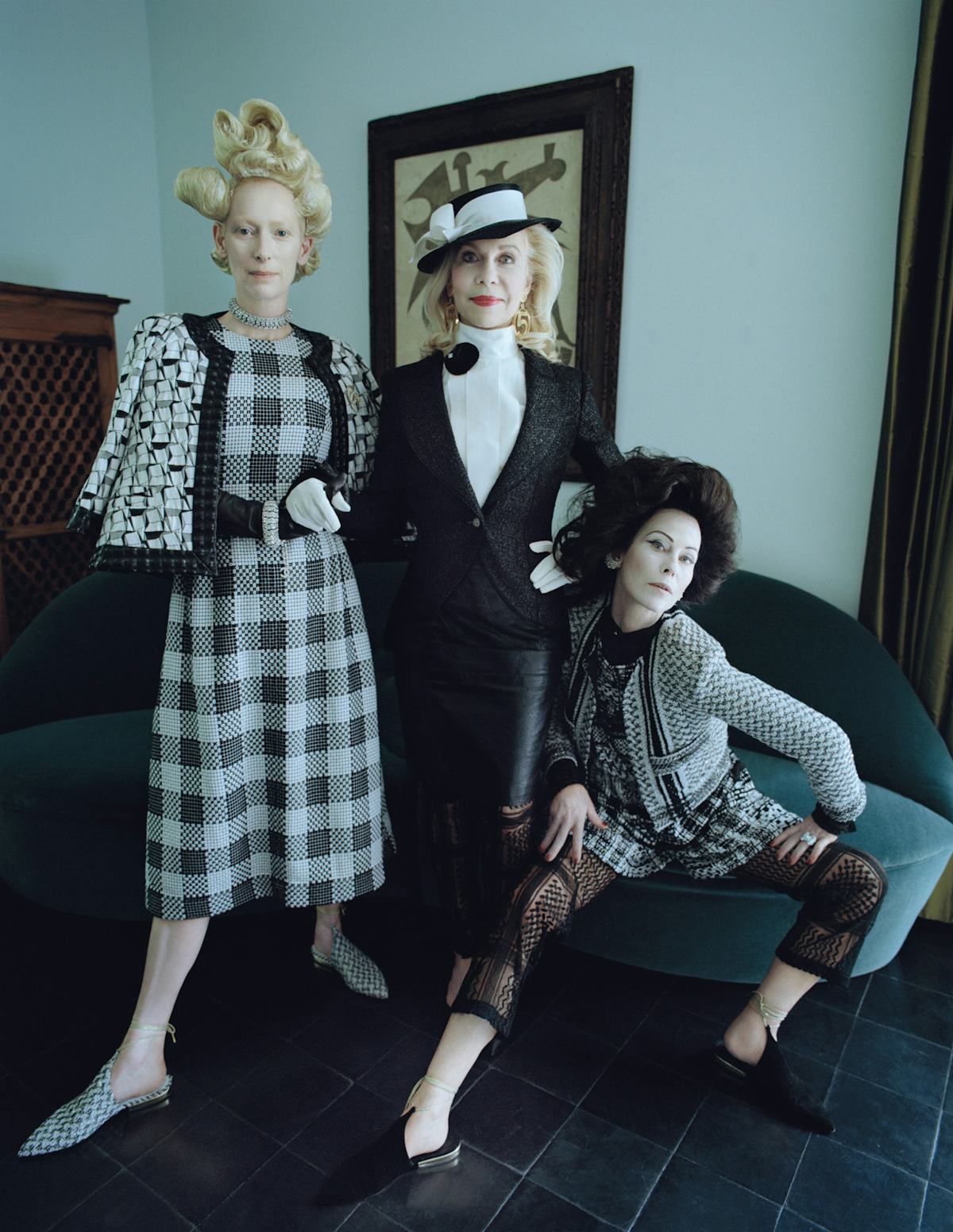 Swinton wears Chanel jacket, $4,250, dress, $4,400, necklace, $4,000, brooch, $475, bracelet, $2,500, and shoes, price upon request, select Chanel stores, 800.550.0005; Perrin Paris gloves, $625, perrinparis.com. Lynn Wyatt, a Houston socialite and friend of the de Menils, wears her own Chanel jacket, shirt, skirt, hat, earrings, brooch, and pumps; a Chanel jumpsuit, $8,300, select Chanel stores, 800.550.0005 (underneath); Sermoneta Gloves, Chicago, 312.915.0694. Lady Amanda wears a Chanel jacket, $7,350, jumpsuits, $8,250 and $10,250, earrings, $1,650, ring, $950, and shoes, $895, select Chanel stores, 800.550.0005.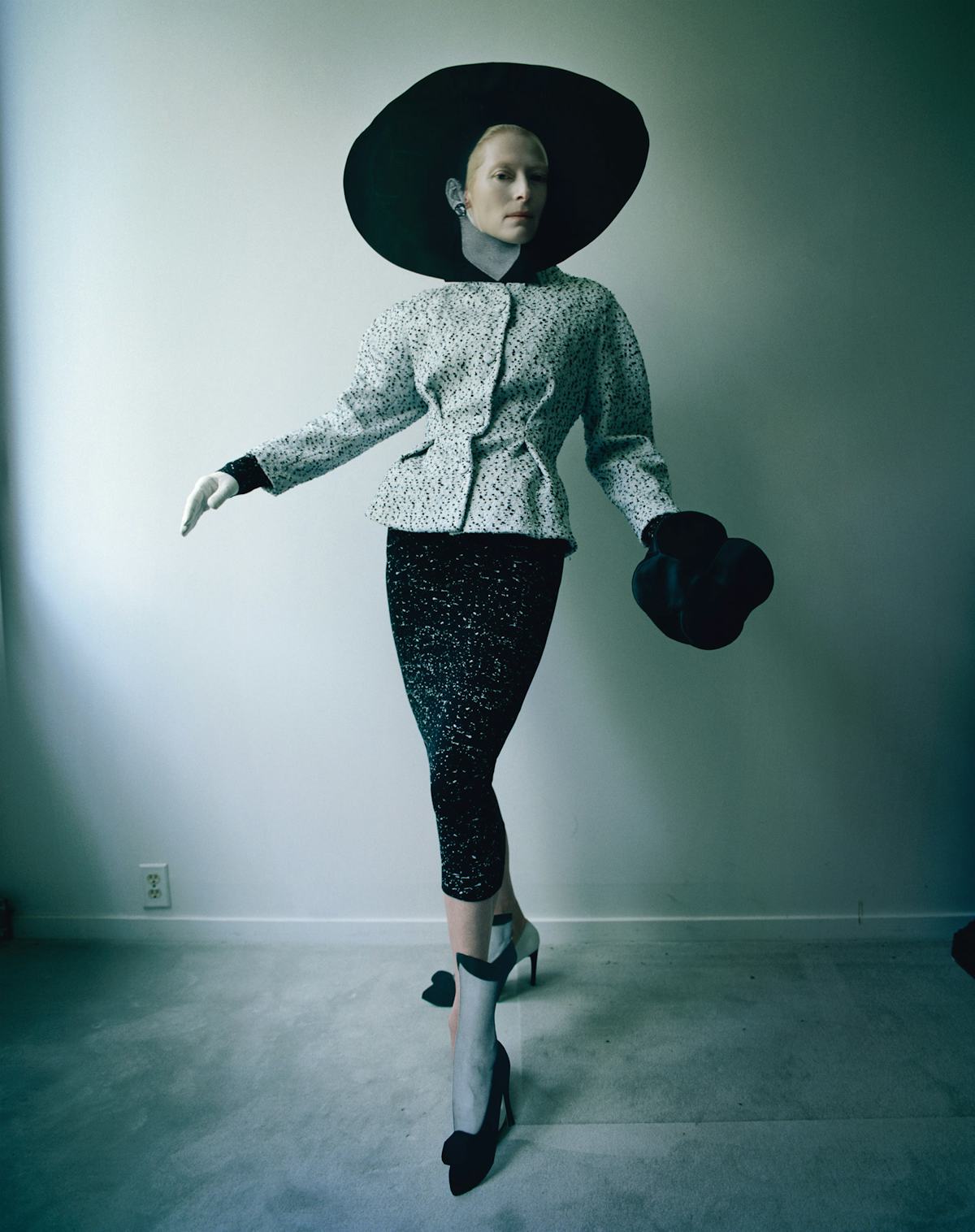 Swinton wears Proenza Schouler jacket, price upon request, at stores: for similar styles, Proenza Schouler, New York, 212.420.7300; Proenza Schouler top, $1,380, skirt, $1,250, and pumps, $650, Proenza Schouler, New York, 212.420.7300; Sermoneta Gloves gloves, $99, Sermoneta Gloves, Boston, 857.284.7788; hat and foot adornments by set designer Rhea Thierstein; Charles James hat from the Menil Collection (in hand).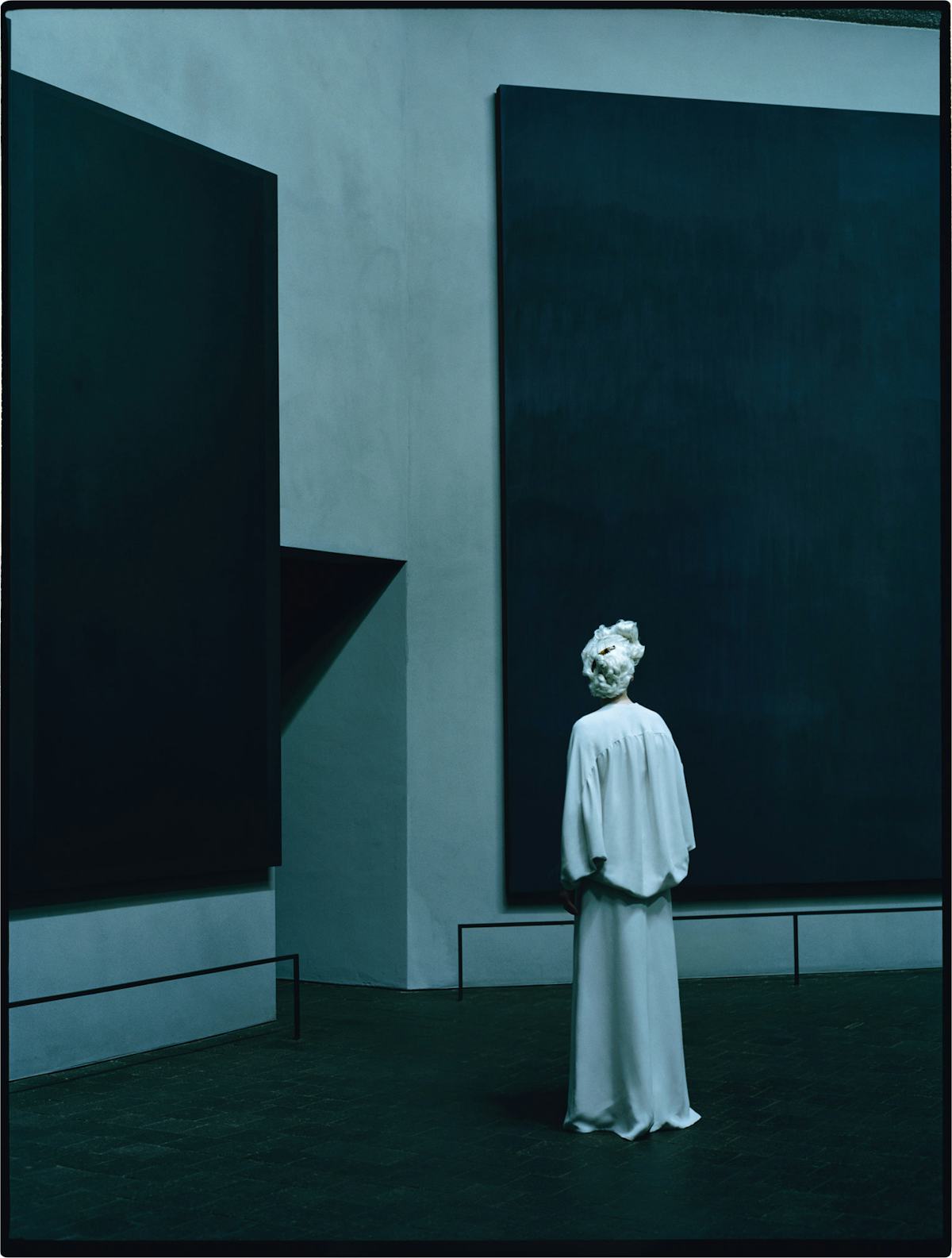 In the Rothko Chapel, Swinton stands before a canvas by Mark Rothko, wearing a Valentino Haute Couture dress, price upon request, Valentino, New York, 212.355.5811.Photographer: Tim Walker Styled: Jacob K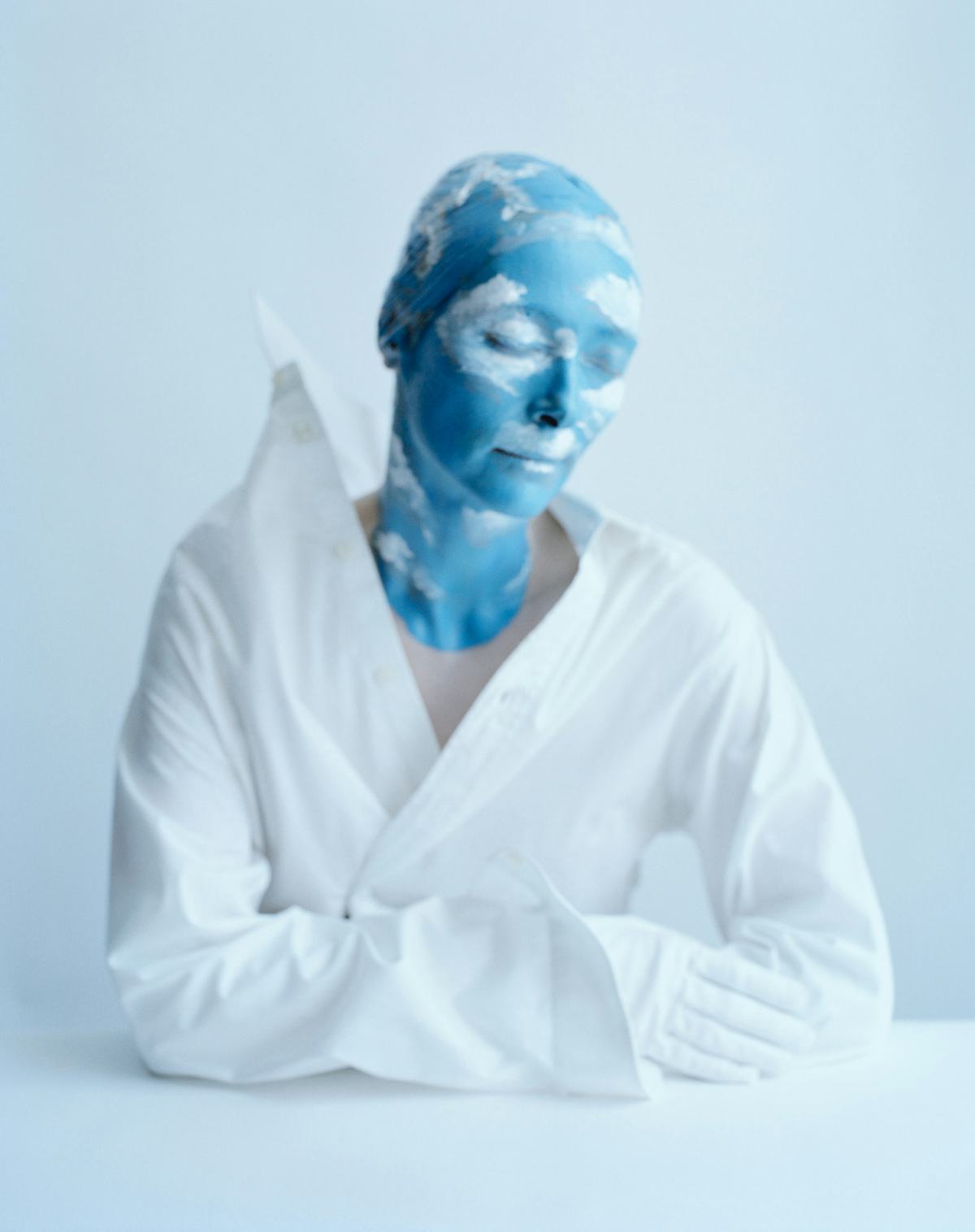 Swinton wears Salvatore Ferragamo shirt, $370, Salvatore Ferragamo, 866.337.7242; Sermoneta Gloves gloves, $99, Sermoneta Gloves, Boston, 857.284.7788.Tim Walker
Historical records matching Dominique de Ménil
Dominique Izaline Zélie Henriette Clarisse Menu De MÉnil (born Schlumberger) in MyHeritage family trees (site SCHWOERER Paul & Anne)
Dominique Menu de Menil in Brazil, Rio de Janeiro, Immigration Cards, 1900…
Dominique Isaline Zelia Clarisse SCHLUMBERGER in FamilySearch Family Tree
Dominique Izaline Zélie Henriette Menu De Ménil (born Schlumberger) in MyHeritage family trees (KOCHERT Web Site)
Dominique Demenil in U.S. Social Security Death Index (SSDI)
Dominique De Menil in Famous People Throughout History
Dominique Isaline Demenil in U.S. Social Security Applications and Claims, 1…
Dominique Isaline Zelia Henriette Clarisse de Menil (born Schlumberger) in WikiTree
Dominique Isaline Zelia Clarisse Menu De Menil (born Schlumberger) in MyHeritage family trees (Vié Web Site)
Dominique De Menil (born Schlumberger) in MyHeritage family trees (Schlumberger Web Site)
Dominique De Menil (born Schlumberger) in MyHeritage family trees (ANDREWS4 Web Site)
Dominique Izaline Zélie Henriette De Ménil (born Schlumberger) in MyHeritage family trees (Brocard Web Site)view all 16
Immediate Family
Privatechild
Privatechild
Privatechild
Privatechild
Privatechild
Privatechild
Privatechild
Privatechild
Privatechild
Privatechild
Privatechild
About Dominique de Ménil
http://en.wikipedia.org/wiki/Dominique_de_Menil
Dominique de Menil (March 23, 1908 – December 31, 1997) was a French-American art collector, philanthropist, founder of the Menil Collection and an heiress to the Schlumberger Limited oil-equipment fortune. She was awarded the National Medal of Arts in 1986.
Early life
Dominique de Menil was born Dominique Isaline Zelia Henriette Clarisse Schlumberger, the daughter of Conrad and Louise Delpech Schlumberger. She studied physics and mathematics at the Sorbonne and developed an interest in filmmaking, which took her to Berlin to serve as script assistant on the Josef von Sternberg production of The Blue Angel. She also published articles on film technology in the French journal La revue du cinéma.
In 1930 she met the banker Jean de Menil (who later anglicized his name to John), and they were married the next year. Raised a Protestant, Dominique converted to Roman Catholicism in 1932. The de Menils' Catholic faith, especially their interest in Father Yves Marie Joseph Congar's teachings on ecumenism, would become crucial to the development of their collecting ethos in the coming decades. They had five children: Marie-Christophe (who was married to Robert Thurman and the grandmother of artist Dash Snow), Adelaide (a photographer who is married to anthropologist Edmund Snow Carpenter), Georges (an economist), Francois (a filmmaker and architect), and Philippa (co-founder of the Dia Art Foundation).
Following the outbreak of World War II and the Nazi occupation of France, the de Menils emigrated from Paris to the United States of America. They maintained residences in New York and France but settled in Houston, where John would eventually become president of Schlumberger Overseas (Middle and Far East) and Schlumberger Surenco (Latin America), two branches of the Houston-based oilfield services corporation.
Collecting Art
John and Dominique de Menil began collecting art intensively in the 1940s, beginning with a purchase of Paul Cézanne's 1895 painting Montagne (Mountain) in 1945. With the guidance of the Dominican priest Marie-Alain Couturier, who introduced the de Menils to the work of artists in galleries and museums in New York, they became interested in the intersection of modern art and spirituality. They ultimately amassed more than 17,000 paintings, sculptures, decorative objects, prints, drawings, photographs, and rare books.
The de Menils were particularly interested in modern European art, and a core strength of the collection was the many Cubist, Surrealist, and other Modernist works they acquired. By the 1960s the de Menils had gravitated toward the major American post-war movements of Abstract Expressionism, Pop Art, and Minimalism.[6] Over the years the family enjoyed close personal friendships with many of the artists whose work they collected, including Victor Brauner, Max Ernst, Jasper Johns, Yves Klein, René Magritte, Robert Rauschenberg, Dorothea Tanning, and Andy Warhol.
The de Menils, however, did not limit their acquisitions to modern art, and their eclectic tastes became a hallmark of their collecting practices. As modernists, they recognized the profound formal and spiritual connections between contemporary works of art and the arts of ancient and indigenous cultures, broadening their collection to include works from classical Mediterranean and Byzantine cultures, as well as objects from Africa, Oceania, and the Pacific Northwest. Influenced by the teachings of Father Couturier and Father Congar, the de Menils developed a particular humanist ethos in which they understood art as a central part of the human experience. Their collection was motivated by their shared interest in the many ways individuals over different cultures and eras reveal through art their understanding of what it means to be human.
Art Patron
After moving to Houston, the de Menils quickly became key figures in the city's developing cultural life as advocates of modern art and architecture. In 1949 they commissioned the architect Philip Johnson to design their home in the River Oaks neighborhood in Houston. One of the first International style residences in Texas, it generated controversy not only by standing out amongst the mansions of River Oaks but also by pairing Johnson's clean, modernist lines with a bold color palette and eclectic interior design by Charles James. The de Menils filled their home with art and hosted many of the leading artists, scientists, civil rights activists, and intellectuals of the day.
Spurred in part by the lack of a real arts community in Houston, in the 1950s and 1960s the de Menils promoted modern art through exhibitions held at the Contemporary Arts Association (later the Contemporary Arts Museum Houston), such as Max Ernst's first solo exhibition in the United States, and the Museum of Fine Arts, Houston, to which they gave important gifts of art.[10] They were instrumental in the Contemporary Arts Association's decision to hire Jermayne MacAgy as its director, who curated several groundbreaking exhibitions, including "The Sphere of Mondrian" and "Totems Not Taboo: An Exhibition of Primitive Art." In 1954 they founded the Menil Foundation, a non-profit organization dedicated to the "support and advancement of religious, charitable, literary, scientific and educational purposes."
That same year they provided the University of St. Thomas, a small Catholic institution in Houston, with funding to build Strake Hall and Jones Hall, designed by Philip Johnson per their recommendation. In an effort to provide a strong art history curriculum in Houston for students and adults, they founded the Art Department at the University of St. Thomas in 1959, inviting Jermayne MacAgy to teach courses and curate exhibitions held at Jones Hall. They established the university's Media Center in 1967. The de Menils often personally recruited faculty members for the departments and brought many renowned artists and art historians to Houston, including Marcel Duchamp, Roberto Matta, and James Johnson Sweeney, whom they convinced to serve as museum director for the Museum of Fine Arts, Houston from 1961 to 1967. After Jermayne MacAgy's death in 1964, Dominique de Menil took over her classes and became the chairperson of the Art Department at the University of St. Thomas, curating several exhibitions over the next few years.
After being met with increasing resistance by the more traditional Basilian clergy at the University of St. Thomas, in 1969 the de Menils moved the Art Department—including the art history faculty—and Media Center to Rice University, where they founded the Institute for the Arts to manage the exhibition program at Rice Museum. Notable exhibitions at Rice Museum organized with the help of the de Menils were "The Machine as Seen at the End of the Mechanical Age," curated by Pontus Hulten for the Museum of Modern Art, New York, and "Raid the Icebox 1 with Andy Warhol," an exhibition of objects selected by Warhol from the storage vaults of the Museum of Art at Rhode Island School of Design. At Rice John and Dominique de Menil also cultivated their interest in film, working with such noted filmmakers as Roberto Rossellini, who made several trips to Houston to teach Rice University students and create television documentaries. Other filmmakers who visited the Media Center included Ola Balogun, Bernardo Bertolucci, James Blue, Jim McBride, and Colin Young.
John and Dominique de Menil also shared an interest in photography, inviting photographers to come to Houston to document events in the city and exhibit their work. They commissioned Henri Cartier-Bresson to photograph the 1957 American Federation of Arts convention, held in Houston that year, and worked with photographers such as Frederick Baldwin and Wendy Watriss, who went on to establish FotoFest, and Geoff Winningham, who served as head of the Photography Department at Rice Media Center. Photography became an important component of the collection, which includes works by Eve Arnold, Henri Cartier-Bresson, Danny Lyon, Hans Namuth, and Eve Sonneman.
Civil and Human Rights
In addition to becoming known as collectors and patrons of art, John and Dominique de Menil were vocal champions of human rights worldwide. Their actions in Houston focused on civil rights in particular. In 1960 they launched the ambitious scholarly research project "The Image of the Black in Western Art," directed by art historian Ladislas Bugner. An ongoing project that seeks to catalogue and study the depiction of individuals of African descent in Western art, it is now under the aegis of Harvard University.
Their most controversial action on behalf of civil rights was their offer of Barnett Newman's Broken Obelisk as a partial gift to the city of Houston in 1969, on the condition that it be dedicated to the recently assassinated Dr. Martin Luther King, Jr. The city refused the gift, sparking a controversial debate that ended only when the de Menils purchased the sculpture themselves and placed it in front of the newly completed Rothko Chapel.
The de Menils had originally made plans to build the Rothko Chapel in 1964, when Dominique de Menil commissioned a suite of meditative paintings by Mark Rothko for an ecumenical chapel intended for the University of St. Thomas as a space of dialogue and reflection between faiths. After undergoing revisions by several architects, including Philip Johnson, Howard Barnstone, and Eugene Aubry, the non-denominational Rothko Chapel was dedicated on Menil Foundation property in 1971 in a ceremony that included members of various religions. It was established as an autonomous organization the next year and began hosting colloquia, beginning with "Traditional Modes of Contemplation and Action," which brought together religious leaders, scholars, and musicians from four continents.
The de Menils also organized exhibitions that promoted human and civil rights, including "The De Luxe Show," a 1971 exhibition of contemporary art held in Houston's Fifth Ward, a historically African-American neighborhood. Coordinated by civil rights activist and later U.S. Congressman Mickey Leland, it was one of the first racially-integrated art shows in the United States.
In 1986, Dominique de Menil deepened her involvement in social causes, establishing the Carter-Menil Human Rights Foundation with former president Jimmy Carter to "promote the protection of human rights throughout the world." The Foundation offered a prize, sponsored by the Rothko Chapel, to organizations or individuals for their commitment to human rights. She also established the Óscar Romero Award, named after the slain El Salvadoran bishop.
Plans for a Museum
Plans to create a museum to house and exhibit John and Dominique de Menil's collection began as early as 1972, when they asked the architect Louis I. Kahn to design a museum campus on Menil Foundation property in the Montrose neighborhood of Hoston near the Rothko Chapel. Kahn did produce some preliminary drawings, but the project was suspended in 1973 after John de Menil's and Kahn's deaths less than a year apart.
In the 1980s Dominique de Menil again began looking for an architect to design the museum, eventually commissioning Renzo Piano, a renowned Italian architect known for his provocative Centre Georges Pompidou building in Paris, to come up with a design that would fit her vision for the museum. "I dreamed of preserving some of the intimacy I had enjoyed with works of art," she wrote. "We would show only portions of the Collection at a time, but displayed in generous and attractive space… The public would never know museum fatigue and would have the rare joy of sitting in front of a painting and contemplating it… Works would appear, disappear, and reappear like actors on a stage." Piano's understated design for the Menil Collection echoed the architecture of the surrounding bungalows, which had been painted gray by the Menil Foundation, and featured a roof of canopy leaves that allowed filtered natural light to fill the galleries. The result was a museum that appeared "small on the outside, but…as big as possible inside."
Dedicated on June 7, 1987, the Menil Collection exhibits objects from John and Dominique de Menil's collection, including selections of African Art, a vast collection of Surrealist pieces, and the work of a number of contemporary American artists such as Jackson Pollock, Barnett Newman, Clyfford Still, Robert Motherwell, Cy Twombly, and Mark Rothko. It also features temporary exhibitions. It is often cited as one of the most significant privately assembled art collections, alongside the Barnes Foundation and the J. Paul Getty Museum.
The nearby Cy Twombly Gallery, opened in 1995, houses more than thirty of Twombly's paintings, sculptures, and works on paper. Designed by Renzo Piano, the permanent gallery echoes some of the architectural features of the Menil Collection, such as the use of diffused natural light, while retaining its own, separate identity.
The Menil campus also includes the Byzantine Fresco Chapel. When Dominique de Menil learned that a group of 13th-century Byzantine frescoes had been stolen from a chapel in Lysi, Cyprus, and cut up by smugglers, she paid the ransom and funded their restoration. In return for her efforts, the Holy Bishopric of Cyprus allowed the works to remain in Houston on a long-term loan. The frescoes—a dome with Christ Pantokrator and an apse depicting the Virgin Mary Panayia—are currently installed in a reliquary-like space interior. The building was designed by architect Francois de Menil and mimics the original Lysi chapel.
Dominique de Menil's final project was a 1996 commission of three site-specific light installations by Minimalist sculptor Dan Flavin for Richmond Hall, a former Weingarten's grocery store in Houston. The Dan Flavin installation consists of two horizontal green fluorescent lights on the eastern and western sides of the building's exterior, two sets of diagonal white lights on the foyer walls, and a large work in the main interior space featuring pink, yellow, green, blue, and ultraviolet lights. Also on display in Richmond Hall are four examples of Flavin's "monuments" to V. Tatlin, created between 1964 and 1969.
Dominique de Menil died in Houston on December 31, 1997.