So back to the pun in our title: Gov. Newsom, will your wine interests Trump your ethics?
Governor Newsom: Don't Let Your Wine Interests Trump Your Ethics – Alcohol Justice
I sent e-mails to board members of Alcohol Justice and got no response. Leonard Buschel founded Writers In Treatment and appears to be a Brother in Recovery. Bruce Lee knew I was in conflict with Special Executor, Sydney Morris, a law partner of Robert Brevoort Buck, who helped set up the Buck Foundation, and did legal work for Wells Fargo. I sent letters to Morris and Judge Richard Silver, begging them not to sell my family sobriety to outsiders because my family will need OUR RECOVERY PROGRAM for generations to come – if not forever! How many of these minority authors understand that the Buck Search For A Longer Life does not apply to them, because only the very rich will be able to afford the treatment. How does Monic Cole feel about this Vortex of White Privilege? The President visited that prosperous black city that was attacked and wiped out by white racists. This is why I founded Marin Shipmates.
Buck Institute of Eternal White Supremacy | Rosamond Press
The Marin Shipmates | Rosamond Press
Bruce Lee had to know this was a major point of all writers in recovery. Why didn't Mr. Lee refer me to Leonard Buschel and other sober writers – so I can contribute MY STORY – that will include a world famous woman artist who drowned on her first sober birthday, and, our kinship with Liz Taylor and Carrie Fisher. My mother told me THEY are trying to get Carrie to author a book about Christine Rosamond Benton, and, there was talk of a movie. Mark Presco told me proceeds from the book and movie – would not be going to our nieces – the named Heirs. After reading Phil Stimic's letter to the court – I had every reason to be alarmed. This is when THE SERIOUS GASLIGHTING of Shannon Rosamond and I – began. Why didn't Morris ask Robert Buck if he knew some SOBER AUTHORS IN RECOVERY who are wanting to do a Twelfth Step by brining a message of hope to those who suffer from the disease of alcoholism?
Betraying and Killing 'The Dream' | Rosamond Press
These 'Writers In Treatment' are MY PEERS! I could have used their support. How I remained sober since my sister died under mysterious and conflicting accounts – IS A MIRACLE WORTH A BOOK! How many of these sober authors saw THE CONFLICT OF INTEREST by Bruce Lee titling Wells Fargo a PLANTINUM LEVEL SPONSOR? But, they kept their mouths shut lest they get BUMPED from the Platinum Flight to a Steller Recovery? This is exactly why Conflict of Interests – have to be slain like a dragon! They create secret and unhealthy loyalties – and loyalty checks. All WHISTLEBLOWERS WILL BE EXCOMMUNICATED AND CAST OUT! Alcohol Justice is funded by the Buck Foundation and is out to destroy a Democrat Politician. My bank is a Political Entity – AND A CULT! Consider Dietrich of Synanon.
"San Rafael-based Alcohol Justice announced today that Wells Fargo Bank has become the first Platinum level sponsor for the Bay Area's newest film event
My grandfather was an integral self-publisher who saw his writing as an art. Julie Lynch wrote the second book about his granddaughter and a movie script 'Before The Wave'
I just made a complaint with my bank, Wells Fargo, and have a complaint number.
The Royal Self-Publisher | Rosamond Press
John Presco
President: Belmont Soda Works
Gavin Newsom For The Arts | Rosamond Press
Getting Off (1998) – Rotten Tomatoes
Who We Are – WRITERS IN TREATMENT
Buck Institute for Research on Aging – Wikipedia
History[edit]
The Buck Foundation Trust was created by Beryl Hamilton Buck after the death in 1953 of her husband, pathologist Leonard W. Buck. Leonard's father, Frank Buck, was one of the founders of Belridge Oil.[8] When Beryl Buck died in 1975, the bulk of the estate became part of the San Francisco Foundation, about $7.6 million dedicated to "charitable purposes in Marin County" including, "extending help to the problems of aging." The Belridge Oil stock in the trust was bought in 1979 by Shell Oil for $253 million, increasing the trust's value substantially.[8][9]
Attempts by the San Francisco Foundation to use the cy pres doctrine to spend outside of Marin County resulted in litigation which the SF Foundation lost.[8][10] As part of a 1986 court settlement, the Marin Community Foundation was established to administer the trust, valued in 2013 at approximately $1 billion.[11] The settlement required that 80% of the trust's annual earnings be distributed to causes specific to Marin County. The remaining 20% is to be distributed among three Marin County organizations:[2]
The Buck Institute for Research on Aging
The Buck Institute for Education[12]
Alcohol Justice, formerly named The Marin Institute, which deals with alcohol-related problems.
In 2016, the institute began talks with the Gladstone Institutes, a San Francisco-based foundation, regarding a possible research alliance or merger. That discussion ended in October 2016.[13]
Greetings Advocate,
As the old year winds down, we continue to celebrate our recent legislative victories and prepare to tackle the challenges of 2019. But before we ring out the old we are being given an opportunity to tell California's next Governor what is important to us.
Governor-Elect Gavin Newsom's staff is circulating a brief survey that gives us an unusual opportunity to put our most critical concerns on his desk before he takes office in January.
Please take this opportunity to let him know that:
As an advocate for public health and safety, do not let this unique opportunity pass by. Click below, take the quick survey, and write in these most important alcohol-related issues we think the Governor needs to know about.
Thank You and Happy Holidays,
Bruce Lee Livingston
Executive Director / CEO
Alcohol Justice
Tell Gov. Newsom what you think – Alcohol Justice
About Writers In Treatment
We are dedicated to increasing awareness about the prevalence of substance abuse and mental illness in society, and to reducing stigma through honest and open expression. Writers in Treatment in concert with the Reel Recovery Film Festival presents cultural events that seek to expand the recovery community and open hearts and minds to the creative spark in every individual. Rebuilding one's life need not be a solitary effort and we aim to provide opportunities for individuals suffering from addictive disorders to continue to take steps towards recovery. It's important for people in and on the cusp of recovery to have entertaining and culturally stimulating events that inspire enthusiasm for clean and sober living. In addition to assisting people get clean and sober through connection and collaboration with top treatment centers in the U.S., Writers In Treatment has given away 1000's of tickets to individuals in treatment centers and sober livings. All are welcome and encouraged to come.
For more information,
contact Leonard Buschel at
leonard@writersintreatment.org
818-762-0461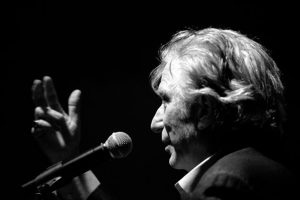 Leonard Buschel is a Philadelphia native, and a very happy Studio City resident. He is a California Certified Substance Abuse Counselor with years of experience working with people struggling with addiction. He attended Naropa University in Boulder, CO. Mr. Buschel is the founder of Writers In Treatment whose primary purpose is to promote 'treatment' as the best first step solution for addiction, alcoholism and other self-destructive behaviors. Leonard is the director of the twelve year old REEL Recovery Film Festival & Symposium®, and for seven years has been the editor/publisher of the weekly Addiction/Recovery eBulletin®. He also produces the annual Experience, Strength and Hope Awards® in Los Angeles.
Postcards from the Edge (film) – Wikipedia
Star Wars actress Carrie Fisher reveals her bizarre friendship with Elizabeth Taylor – the woman who stole her father from her mother | Daily Mail Online
'"Dear Carrie," the note began, "thank you so much for your participation in tonight's important event and for joining me in this extraordinarily important fight against AIDS. Yours sincerely, Elizabeth." '
Well, my remarks caused the gay cowboys to cry and laugh enthusiastically.
The following day Elizabeth's assistant, Tim, phoned to invite me to her house for her annual Easter party. 'There'll be an egg hunt and brunch and swimming for the kids,' he informed me.
So the following Sunday, I found myself at Elizabeth's elegant ranch home in Beverly Hills. I sat in a chair near the pool and watched while my daughter Billie, about to turn six, splashed around with other favoured children.
Posted on March 20, 2021 by Royal Rosamond Press
Sydney Morris works for, or is a partner of Robert Buck, who put together the Buck Foundation employing his legal expertise. Morris destroys the estate of Brett Weston and Christine Rosamond Benton, two of Carmel's most creative citizens. Jack London and George Serling founded this famous Bohemian Mecca. Ben Maddow wrote Edward Weston's biography.
Here is a Buck Baby going after Gavin Newsom thinking they are saving Californians from becoming alcoholics or – whatever! The whole board ignores me – and my late sister.
John Presco
One of modern photography's greatest pioneers, Edward Weston awakened his viewers to the sensuous qualities of organic forms. In this biography Ben Maddow draws heavily on Weston's uncut journals and letters and on the reminiscences and written accounts of his closest friends and family to reveal the man behind the opaque formalism of the photographs.
Lawsuit Against Buck, Chazen, Pierrot, and Comstock | Rosamond Press
Governor Newsom: Don't Let Your Wine Interests Trump Your Ethics – Alcohol Justice
So back to the pun in our title: Gov. Newsom, will your wine interests Trump your ethics? President Trump is under suspicion of violating the emoluments clause of the Constitution. Is the President financially gaining from the Trump Hotel on the Capital Mall by sucking in foreign visitor monies? While California's constitution does not have an emoluments clause, the same conflicts of interest arise. If the 4 a.m. Bar Bill lands on Governor Newsom's desk, he could gain financially from signing the bill, through wine sales and through the PlumpJack Squaw Valley Inn. Alcohol Justice must directly ask: Governor-elect Gavin Newsom – could you please completely divest from the wine industry and invest in public health? And please do not support any attempts to further gut alcohol regulations which have been deteriorating for decades in California while the body and injury counts rise.
READ MORE about the ongoing alcohol catastrophe in California.
Members of Gavin Newsom's wine, restaurant, bar, resort and real estate partnerships since 1991:
Kevin & Bronwyn Brunner, John Burton, Casey and Michelle Cadwell, Bob and Barbara Callan, Frank Caufield, Donna Chazen, Lawrence Chazen, Joe & Victoria Cotchett, Michael & Hilary Decesare, Philip DeLimur, Don Dianda, Gretchen Dianda, Edward Everett, Richard Freemon, James Fuller, Stanlee Gatti, Robert Gerry, Andrew Getty, Ann Getty, Anna Getty, Chris Getty, Gordon Getty, Mark Getty, Peter Getty, Ronald Getty, Tara Getty, William "Billy" Getty, Robert Goldberg, Florianne Gordon, Stu Gordon, Gordon Goletto, David Goodman, Arthur Groza, Richard & Martha Guggenhime, Tony and Anthony Guilfoyle, Shelly Guyer, James & Shea Halligan, Bob & Jill Hamer, Erin Howard, Thomas Huntington, Isolep Enterprises (Paul and Nancy Pelosi family personal investment company), Peter Jacobi, Gaye Jenkins, Jeffrey Kanbar, Chad Kawai, David Lamonde, John Larson, Rob Lavoie, Leavitt/Weaver interior designers, Marc Leland, Maryon Davies Lewis, Anne McCutcheon, Chris McCutcheon, Ross McGowan, Rich McNally, Robert & Carole McNeil, Paul Mohun, Robert Mohun, Jeff Morin, Sara Moughan, Terry Moughan, Brian Mueth, Bob Naify, Marshall Naify, John Nees, Barbara Newsom, Brennan Newsom, Catherine & David Newsom, Gavin Newsom, Patrick Newsom,
Tessa Newsom, William Newsom, John O'Hara, Jack Owsley, Pacific Design, Matt Pelosi, Robynne Piggott, James Samuel Powers, Elizabeth Rice, Jeremy Scherer, Paul Scherer, Gary Schnitzer, Steve & Theresa Selover, Steve Siino, Trevor Traina, Chris Vietor, Francesca Vietor, Kenneth Weeman, Nicki West, Justin & Aridne Williams, Kevin Williams, Thomas & Kiyoko Woodhouse
"By September 2000, however, plans were underway for a biography of Decedent, which Petitioner hoped might create interest in her work. The book was published in 2002. Although the book did not spur the hoped-for interest in Decedent's life and work, efforts continued to market the concept of a screenplay based upon Decedent's life. Petitioner hoping that this might be brought to fruition, elected to keep the estate open. However, it is the Petitioner's belief the likelihood of an increased interest in Decedents work is negligible, and the time has come to close the estate."
"Pierrot later bought the business from the estate, royalties
from which go to Rosamond's daughters, Drew now 11, and Shannon, 28.
Pierrot has a determined vision of where she wants the business to
go. A poster of Rosamond's creation "Dunkin the Frog" will be
distributed to children in hospitals. T-shirts and tote bags will
also be produced featuring the whimsical character, Pierrot says. All
manner of upscale merchandising is contemplated using the images from
Rosamond's paintings…bed linins, throw pillows and other elegant
household items."
"As suggested by a review of the court documents and interviews with many of the principals in the court case, the dispute over Weston"s estate has been a grotesque, acrimonious soap opera, replete with insinuations and outright charges of deception, theft, financial manipulation, malfeasance and mismanagement."
http://www.amazon.com/Rosamond-Complete-Catalogue-Raisonne-1947-1994/dp/0615359892
Posted on March 26, 2016 by Royal Rosamond Press
Before the Wave: The Life Story of Christine Rosamond
Drama
Not yet released
When the idealistic artist known as Rosamond defiantly emerges from a dark childhood, suppressed by abuse and alcoholism, and rockets to worldwide fame, becoming the world's most published painter, she discovers that her road into the light is twisted, wrought with sabotage, and at the tips of her reach.
| | |
| --- | --- |
| | Before the Wave: The Life Story of Christine RosamondDramaNot yet releasedWhen the idealistic artist known as Rosamond defiantly emerges from a dark childhood, suppressed by abuse and alcoholism, and rockets to worldwide fame, becoming the world's most published painter, she discovers that her road into the light is twisted, wrought with sabotage, and at the tips of her reach. |
Rosamond Press
EDITOR'S NOTE: Keep in mind there exist a 276 page autobiography that Christine Rosamond wrote, that has been closeted – disappeared. Any movie based upon Christine's words would belong to my two nieces, and the outsiders would not get any money. Outsiders did not want my nieces, or myself, to author a biography for the same reason. They were not in Christine's Will. Consider what Walter Keane did to Margaret Keane in the movie 'Big Eyes'. This is IDENTITY THEFT!
http://www.cbsnews.com/news/big-eyes-and-the-eye-opening-story-of-margaret-keane/
Julie Lynch is the third ghost writer, my late sister's, Evil Double, hired. Stacey Pierrot is "desperate" to make the Rosamond Movie come true. It is "the dream" she spoke of outside the Rosamond gallery, while down on one knee, grasping my mother's hand;
"Don't let the dream die!"
Wells Fargo to Sponsor REEL Recovery Film Festival San Francisco Bay Area Edition; In Partnership with Alcohol Justice and Writers In Treatment
Four Day Event Will Take Place April 24-27, 2014
---
NEWS PROVIDED BYAlcohol Justice
Mar 27, 2014, 05:52 ET
SHARE THIS ARTICLE
---
SAN FRANCISCO, March 27, 2014 /PRNewswire-USNewswire/ — San Rafael-based Alcohol Justice announced today that Wells Fargo Bank has become the first Platinum level sponsor for the Bay Area's newest film event – The REEL Recovery Film Festival San Francisco Bay Area Edition. The four-day festival, taking place during National Alcohol Awareness Month, will present 33 select feature-length and short, fictional and factual alcohol and drug addiction themed films in twenty sessions at two locations and include two world premieres that highlight the disease as well as the hope and opportunity for recovery. There will be expert panel discussions following most of the screenings.
"Wells Fargo Bank is proud to support the REEL Recovery Film Festival," stated Ann-Therese O'Neill, Vice President, Wells Capital Management. "This unique and creative public health and community wellness initiative will go a long way in creating public awareness about the options available to those facing the devastating disease of alcohol and drug misuse."
"The generous corporate sponsorship of Wells Fargo, along with rehab facilities like Duffy's Napa Valley, will help make the festival a huge success and help us turn it into an annual event," stated Bruce Lee Livingston, Executive Director/CEO of Alcohol Justice.
Other sponsors of the REEL Recovery Film Festival San Francisco Bay Area edition currently include Center Point Inc., Kaiser Permanente, Recovery Station TV, Salesforce Foundation, KRON-TV, ConocoPhillips and numerous individuals. All income beyond expenses will support the work of Alcohol Justice and Writers In Treatment, both 501(C)(3) non-profit organizations.
The festival will be screening such films as "Flight," starring Denzel Washington, and the documentaries "Sober Indian – Dangerous Indian" (a world premiere), "The Honour of All," "Bill W," and "Russell Brand: My Life Without Drugs." There will also be an opening night symposium called "Chasing the Muse – When You're Stone Cold Sober," moderated by KCBS and KRON4 Film Critic Jan Wahl. Other participants in this candid conversation are Michael Pritchard, Beverly Allen, Scott Stevens, Jackie Bendzinski, Michael Shapiro and Mario Cipollina."From The Lost Weekend to The Days of Wine and Roses to Flight, film has the power to help transport us to sobriety, one day at a time," stated Wahl.
"Sober Indian – Dangerous Indian" is a documentary about Pine Ridge, South Dakota tribal members seeking empowerment through sobriety on the eve of their tribe's vote to repeal prohibition on August 13, 2013. "As a former state liquor prosecutor, I've followed Alcohol Justice's work for the past five years," stated the film's director John Maisch. "So I'm honored to premiere my documentary at the REEL Recovery Film Festival."
"The event is a collaborative effort by Alcohol Justice and Studio City-based Writers In Treatment, founded by Leonard Buschel," stated Michael Scippa, Director of Public Affairs for Alcohol Justice. "We are holding it during National Alcohol Awareness Month to help bring alcoholism and addiction out of the closet, reduce the stigma, and raise public awareness that it is not a moral failing but a devastating disease that, like other potentially fatal diseases, requires specialized treatment."
The four-day festival takes place primarily at the Delancey Street Foundation Theater on The Embarcadero in San Francisco. There will also be special sessions for youth and families at the California Film Institute's beautifully restored Art Deco Smith Rafael Film Center in San Rafael where "Behind the Orange Curtain," and "On Life's Terms: Mothers in Recovery" (a world premiere) will be screened.
It is the policy of the REEL Recovery Film Festival to charge a nominal ticket price for most of the sessions ($5), and to allow anyone admittance regardless of their ability to pay, if seats are available. Tickets are available now through BrownPaperTickets.com.
For More Information go to: FilmFestSFBay.org
To view the festival PSA featuring Michael Pritchard, click here.
Contact:
Michael Scippa: 415 548-0492
Jorge Castillo: 213 840-3336
Logo – http://photos.prnewswire.com/prnh/20110727/DC41105LOGO
Logo – http://photos.prnewswire.com/prnh/20140129/MM55777LOGO