A Rose Among The Woodwose
This morning I had trouble waking up. I was half in a dream state trying to grasp my handle, my headline of the day.
I found myself in the last row, high up in the balcony of the Southern Baptist Church my first loves mother forced me to attend, if I wanted to see my beloved Marilyn again. Marie's minister is glaring up at me, as if his hateful denigration of Catholicism was meant for me – just me – the Catholic boy of sixteen who dare come into his church for all these weekends – and I have not repented, not forsaken my faith – for love?
Marilyn's mother, Marie, was convinced we were fornicating every Saturday night, I allowed to stay over in Marilyn's bedroom – if I went to church come Sunday morning. I had trouble taking that in. Marilyn was the bait in a Tiger Trap! I was the Tiger From Hell upon which rode the Scarlet Whore of Babylon! I could insert my errection into a beautiful fifteen year old teacher, at will, because it was all worth it, if, they could vanquish the devil in me, that had bow down before the Virgin Mary, and cross myself.
I was a virgin until I was twenty! As I awoke, I rehearsed my rebuttal after 46 years. I did not know Norte Dame was burning.
"I am a Catholic! I worship the Virgin Mary. You, Sir, are losing it!"
For three days I have been preparing myself to do battle with Steve Bannon's heresy. My kindred had to flee Germany due to the Kulturkampf.  The three Nuns and Priest in this picture, are my grandmother's Wieneke cousins. Mary Magdalene Rosamond had no idea her husband's grandfathers were famous Puritans. We might descend from a Huguenot. Consider the painting 'A Huguenot'.  The burning church was founded in Boston by my grandfather, John Wilson. I believe Norte Dame will look like this after the restoration.
At this hour, and on this day, I come to the defense of Ilhan Omar, for her message was loud and clear;
"Please do not leave me out, and reject a million Muslims, for the horrific actions of a few!"
I chose to become a Nazarite in 1989. At the LA Coliseum, Marilyn offered me a choice. She had gone looking for me. And found me. It was easy, I wasn't wearing a silly Chinese hat, or a pair of sunglasses. Will – their President give his condolences for the ruin of Our Lady?
"If you do not go down and be saved my mother will not let me see anymore. She said she will call the police if you try."
I could not stand some more Teen Sex Shaming from Billy Graham, so I got up, and took a walk. I found a rose garden, where I could meditate. I heard "To thy own self be true".
Marilyn had gone looking for me. Marilyn's tears rained down upon the roses. My heart, my soul, held firm: For what would she be getting – in a Pretend Man – who is afraid to speak his mind?
We talked about this, yesterday, Marilyn and I. I and Marilyn, My dear flame, my Juliet, holds all the roses because she has me back in her life again. And, I have my – fresh truths. This is what we came here for.
That rose garden is gone. I couldn't believe Marilyn found me. I was ready to be left behind. I considered the long walk home. There was never any calling my mother, Rosemary. I was a hopeless romantic.
"Here is my church. Those arches – these roses!"
I hate the sight of porky Baptist men in their odd pastel suits, suggesting every day is Easter Sunday, a good day to shame Eve, the wanton teenage hussy and temptress. We see the Trojan Horse on Saturday, but, never Helen on Sunday.
To each their own! I was a real pain in the ass! Only in America! The word "Crusade" is offensive to most Muslims.
"I will never go down!"
Why aren't the Trumpites crying for the destruction of the Coliseum, a symbol of Roman slavery, where "things happened" to ten thousand Christians that were not good? Did the real Trojan's have a Coliseum? All of a sudden, they have Helen, and here come Cassandra, the Drama Queen and Robber of the Lover's Limelight! It was this prophetess who made famous 'The Moral Emergency' lest we forget, because, we are forced to!
"Twas I who stole Helen from the Crusader Baptists of Sparta. And, they wanted her back. My sister declared no good will come of our love. But, she told all the lovers of Troy, this. She was right half the time! Oh how we suffer for our first flame!"
To the Lovers of Paris………………Sanctuary!
John Presco
Hundreds of Yemeni American deli owners across New York City have stopped carrying the New York Post on their newsstands in response to what they viewed as an inflammatory cover it ran last week targetting Rep. Ilhan Omar of Minnesota. They're worried the cover could inspire more threats of violence toward Omar and her fellow Muslim congresswoman, Rep. Rashida Tlaib.
The cover depicted the Twin Towers burning on 9/11, along with a partial quote from Omar's recent speech to the Council on American Islamic Relations in which she decried Islamophobia. "CAIR was founded after 9/11, because they recognized that some people did something and that all of us were starting to lose access to our civil liberties," Omar said, in explaining how Muslim Americans are often collectively blamed for the actions of a few.
https://www.reuters.com/article/us-usa-trump-omar/ilhan-omars-supporters-rally-outside-trump-event-in-minnesota-idUSKCN1RR1WD
Notre-dame de Paris
Naturally, being in the centre of Paris, Notre Dame was a ripe target for the lunatics, so it was rapidly looted of anything that moved. The great Gallery of Kings became a prime target for the ignorant mob, chopping the heads off what they thought were the kings of France, the resulting mess being thrown into some yard. Some heads were eventually rescued and can now be seen in the Cluny museum in Paris. They also ripped off the lead roofing to turn into bullets, allowing the rain to enter, thus adding to the damage.
Eugène Viollet Le-Duc supervised the restoration of Notre-Dame, including the Gallery of Kings, that is the Kings of Judea.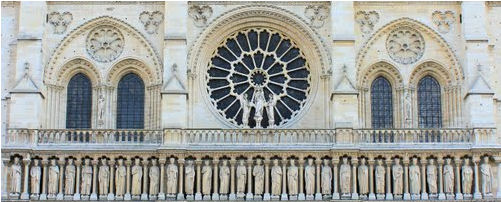 gallery of kings, notre-Dame de Paris. image: marto55
https://en.wikipedia.org/wiki/A_Huguenot
https://rosamondpress.com/2016/06/29/my-stark-family/
https://rosamondpress.com/2013/01/10/born-of-two-roses/
https://rosamondpress.com/2018/04/13/i-was-born-when-stars-fell-from-the-heavens/
https://en.wikipedia.org/wiki/Kulturkampf
Above is a photo of the Wieneke farm in Iowa. Here Sisters of the Order of Saint Francis were grounded in America after they were forced to flee Germany due to Bismark's Kulturkampf.  This is a story of how a religious order was helped by an American family who had immigrated from Germany fifty years before. The Wieneke family was given credit for preparing the way for Saint Francis, and, Jesus Christ. They were seen as Saints.
Last night I read this book again, online. I was hoping John Stark would have posted the rest of the book on ancestry.com. He has not. I tried to get him to give this book to the Sister' of Briarcliff. John said the book contained accounts that ranged "from the reidulous to the sublime". You are going to have to cut and past this to url.
file:///C:/Users/jongr/Downloads/Mother%20Mary%20Dominica.pdf
Phillipine was a muse to an artist. Her brother studied at Louvain. There is a missing chapter on the "Family Grotto". I suspect there were sightings here. Please, John, publish the rest of this book!
A Huguenot, on St. Bartholomew's Day, Refusing to Shield Himself from Danger by Wearing the Roman Catholic Badge. (See the Protestant Reformation in France, vol. ii., page 352) (1851–52) is the full, exhibited title, of a painting by John Everett Millais, and was produced at the height of his Pre-Raphaelite period. It was accompanied, at the Royal Academy of Arts in London in 1852, with a long quote reading: "When the clock of the Palais de Justice shall sound upon the great bell, at daybreak, then each good Catholic must bind a strip of white linen round his arm, and place a fair white cross in his cap.—The order of the Duke of Guise." This long title is usually abbreviated to A Huguenot or A Huguenot, on St Bartholomew's Day.[1]
It depicts a pair of young lovers and is given a dramatic twist because the girl, who is Catholic, is attempting to get her beloved, who is a Protestant, to wear the white armband declaring allegiance to Roman Catholicism. The young man firmly pulls off the armband at the same time that he gently embraces his lover, and stares into her pleading eyes. The incident refers to the St. Bartholomew's Day Massacre on August 24, 1572, when around 3,000 French Protestants (Huguenots) were murdered in Paris, leading to other killings elsewhere in France. A small number of Protestants escaped from the city through subterfuge by wearing white armbands.
Millais had initially planned simply to depict lovers in a less dire predicament, but supposedly had been persuaded by his Pre-Raphaelite colleague William Holman Hunt that the subject was too trite. After seeing Giacomo Meyerbeer's opera Les Huguenots of 1836 at Covent Garden, which tells the story of the massacre, Millais adapted the painting to refer to the event. In the opera, Valentine attempts unsuccessfully to get her lover Raoul to wear the armband.[2] The choice of a pro-Protestant subject was also significant because the Pre-Raphaelites had previously been attacked for their alleged sympathies to the Oxford Movement and to Catholicism.[3]
Millais painted the majority of the background near Ewell in Surrey in the late summer and autumn of 1851, while he and Hunt were living at Worcester Park Farm. It was from a brick wall adjoining an orchard.[4] Some of the flowers depicted in the scene may have been chosen because of the contemporary interest in the so-called language of flowers. The blue Canterbury Bells at the left, for example, can stand for faith and constancy.[2] Returning to London after the weather turned too cold to work out-of-doors in November, he painted in the figures: the face of the man was from that of Millais's family friend Arthur Lemprière, and the woman was posed for by Anne Ryan.
The painting was exhibited with Ophelia and his portrait of Mrs. Coventry Patmore (Fitzwilliam Museum, Cambridge) at the Royal Academy of Arts in 1852, and helped to change attitudes towards the Pre-Raphaelites. Tom Taylor wrote an extremely positive review in Punch. It was produced as a reproductive print by the dealer D. White and engraved in mezzotint by Thomas Oldham Barlow in 1856. This became Millais's first major popular success in this medium, and the artist went on to produce a number of other paintings on similar subjects to serve a growing middle class market for engravings.[5] These include The Order of Release, 1746 (Tate, London), The Proscribed Royalist, 1651 (Lord Lloyd-Webber Collection), and The Black Brunswicker (Lady Lever Art Gallery, Port Sunlight). All were successfully engraved.
There are smaller watercolor versions of the picture in the Cecil Higgins Art Gallery, Bedford, the Fogg Art Museum, Harvard University, and a reduced oil replica in the Lord Lloyd-Webber Collection, all by Millais.