Joaquin Miller is connected with this artist.
Rosamond Press
It's time to bind my book. I need – a cover!
John Presco
A Triple Portrait of May Morris
Untamable, tigeris a painting by John Trivett Nettleship which was uploaded on August 13th, 2019.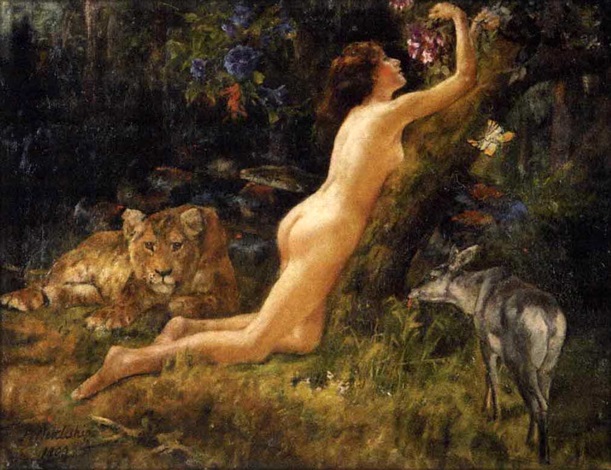 John Trivett Nettleship
A forest idyll, 1899
58.5 x 76 cm. (23 x 29.9 in.)
(British, 1841–1902)
Here.
John Trivett Nettleship – Wikipedia
He was one ofThe Brotherhood, a group of the 1870s includingJohn Butler YeatsandEdwin John Ellis. They were admirers ofWilliam Blake, on friendly terms with thePre-Raphaelitesor at least the Rossetti brothers, and part of theBedford Parksocial and artistic group.[2]He created a group of what he called "Blake drawings" exploring the style of the poet-artist. He also made the Blake-influenced illustrations toArthur O'Shaughnessy's poetry collectionEpic of Women and other poemsin 1870.
View original post 8,351 more words