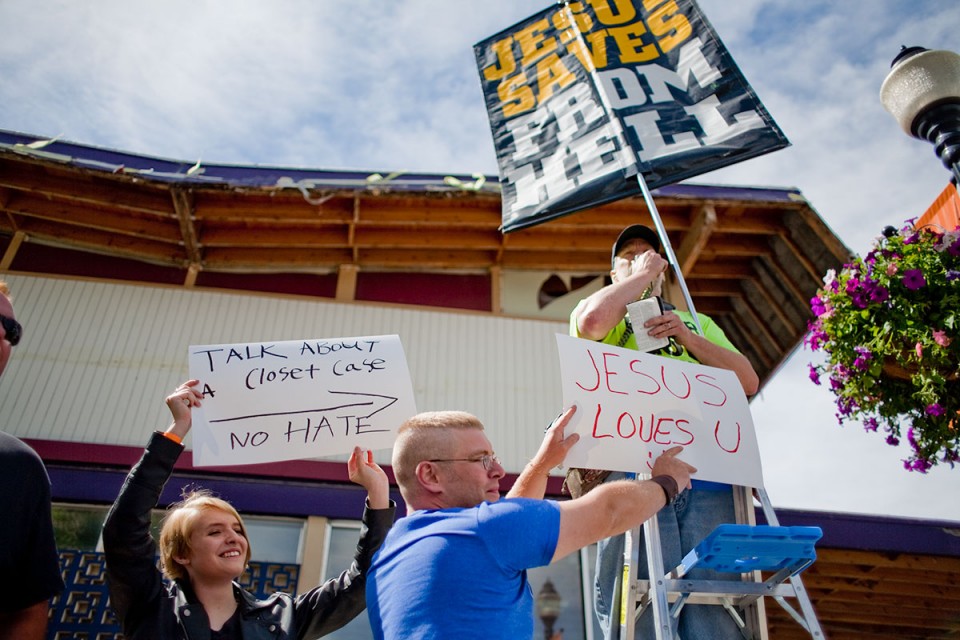 Posted on July 21, 2019 by Royal Rosamond Press
When Rena Easton said I was "Left-leaning" in her letter, I took it to mean, she (and her husband) love America more than I do. This idea is a Theme to many white people who head North, or were born there. My grandfather, Royal Rosamond, says he was born in Helena. He wrote several stories about Montana.
Last night, on Rachel Maddow, I saw my core prophecy come true in regards to my dream about Rena surrounded by a militia – even Nazis. Rachel then does a item on there being laws against militias in ever State which I will inform Governor Kotek of, being Republican embraced the Three Percenters, and even hired them as bodyguards. Kotek was also on the news being questioned about the walkout of Republicans – who might be subject to arrest. As to what came between Rena and I, alas I have the answer??? After she sent me her letter, and before I sent her mine, her friend got hold of my blog which she must have read all of – and memorized – in one day! add to this I said I would kiss the first cowboy I see, destroyed us, because I believe she is extremely homophobic. You can read the birth of Victoria Rosemond Bond in these early posts.
Now I get it, why Rena told Dan Mayland not to mess with my blog…she has an audience wacthihc my blog to see how I react. How many Montanans are waiting for the next installment of…
The Royal Janitor?
Time has caught up with itself and is repeating itself like a hamster on his wheel. It may be Hight Noon – forever! Our story is The Architype of Existence. We are Adam and Eve -loaded with knowledge of good and evil. We are……God's Spies!
John Presco
When a ex-dance partner of Rena's called me back to get the url of this blog, again, after I gave it to her in my first call, I was 80% sure Rena asked for it. That was August. When months went by, and I had not heard from Rena Easton, I was worried she had read my controversial posts where I tear into the evangelicals and declare myself a Savior of sorts. I did make contact with Rena's minister in August also. Rena was a member of a church.
Rena admonishes me for not treating Red-necks like human being which is the fake complaint most Tea Party Evangelicals invented in order to steal the fire from the Civil Rights Movement – with Ural Rights! Rena says in here letter;
"I see you are left-leaning. Please do not in your urban world…."
https://rosamondpress.wordpress.com/2013/07/27/californias-bohemian-muse/
I, John Gregory Presco, send an invitation to, Irene Victoria Easton, to come with me to Bellevaux for a reunion. I have a Trust that will pay for transportation, but not for food and lodging. If you accept, I will contact the History Channel to see if they will film, even fund our adventure. Our Quest to find the tombs of the Knight Templars who owned the Shroud of Turin, will be seen by millions.
Let us leave in October, mon beau voyageur, and bring our capes. Let us leave our tracks in the snow as we gaze upon the beautiful mountains and valley. We are Romantics. We must put on another play ma belle muse who taught me there is life after beauty, and I could have a beautiful life. Bellevaux means 'Beautiful Valley'.
Love Always
Jon Gregory
MSNBC's "The Rachel Maddow Show" sent pizza to Montana law enforcement officials who helped rescue Fox News anchor Bret Baier and his family after a car accident.
Sgt. Patrick McLaughlin of the Montana Highway Patrol shared a photo on Twitter Wednesday of the pizza provided on behalf of Maddow's show.
A note accompanying the food delivery said the pizza was for "everyone at the Bozeman Highway Patrol with great respect for your rescue of Bret Baier and his family."
McLaughlin added in a subsequent tweet that "the gesture was classy."
Baier thanked Maddow for sending the pizza. The Fox News anchor added that the fire department and emergency services were getting lunch Wednesday provided by his network show, "Special Report with Bret Baier."
"They had 255 accidents to deal with in that area this weekend (because) of snow & ice #countyourblessings" Baier added in a tweet.
https://www.msnbc.com/live?icid=tve-mini-tease
https://www.bozemandailychronicle.com/news/bozeman-pride-celebrates-queer-joy-despite-hateful-protesters/article_511614aa-f68f-11ed-87cf-9ff16bb26e62.html
Dozens of people celebrated LGBTQ+ pride and community in downtown Bozeman on Saturday, and drowned out hateful protesters with dancing, chanting and joy.
This week marked the first formal pride event in Bozeman in over a decade. There were events like an allyship workshop and queer comedy show leading up to the main event on Saturday.
Crowds gathered at the Bozeman Public Library on Main Street in the morning, where they heard from organizers with the drag performer group The Countship of the Imperial Sovereign Court of the State of Montana, Bozeman Mayor Cyndy Andrus and others.
Andrus said Bozeman is focusing on being inclusive, but has a ways to go.
"It is on all of us to stand together and stand strong to ensure the promise of equality, dignity and protection for everyone," Andrus said. "So let's celebrate today, let's celebrate our progress."
Tierney Hula, who is trans, spoke about his experience in Bozeman and dealing with hate, discrimination, and recent legislation affecting trans and LGBTQ+ people in Montana and elsewhere. Though that weighs heavy on him, Hala said the local trans and queer community has lifted him up.
"I have hope that someday I, and my trans siblings, and the trans people that follow us can someday live in a Montana, or even a world, that truly loves and values and empowers us to live as the vibrant, loving and diverse people that we are," Hala said.
After the speakers wrapped up, the crowd dispersed throughout downtown for a block party, resource fair, drag story hour and deals and specials at local businesses.
About an hour into the event, as community organizations gathered at Soroptimist Park, a group of about 20 white supremacists showed up and started chanting hateful, anti-LGBTQ+ statements at the crowd. Many of them had their faces covered and held signs with racist and homophobic slogans.
Many pride attendees simply ignored them, or tried to block them from the rest of the park.
Alotta Shadow — an organizer of the event going by her drag name — said they were bothered by the protesters, but resolved to continue with the event.
"I think it's ridiculous to have people's safety put at risk simply for being themselves," Shadow said. "It's unfortunate, it's a reality. But we're queer, we're here, we're not going away, and we will not be silenced. And we'll be here for the rest of eternity."
The protesters eventually headed west down Main Street, where they started chanting outside the block party.
The majority of people ignored them there, too, and drowned them out by singing and dancing to Lady Gaga's "Born This Way" and Gloria Gaynor's "I Will Survive."
In front of the Country Bookshelf bookstore, where a drag story hour was scheduled, attendees chanted, "We're here, we're queer."
Several police officers were on scene, but largely stayed out of the fray.
Inside the bookstore, children and adults listened to the drag story hour, which Emi Lim Morison, an events coordinator with the store, said went well despite the noise outside. Lim Morison said from inside, the pride chants were louder than the hateful ones. After it was over, Lim Morison said it felt like a "win."
"It was a really fun event … it was really exciting to see that everyone really seemed to enjoy it," Lim Morison said.
Later, one person was sprayed and struck by members of the protester group after engaging with them, though it is unclear who the person was and why the altercation happened. An ambulance responded and treated the man.
The protesters dispersed after 1:30, and things at Bozeman Pride rolled on as planned. Attendees strolled up and down Main Street, stopping into stores and chatting with each other.
At the block party, the crowd cheered and danced in support of a family-friendly drag show — which included one performer revealing a shirt printed with the words "I am not a crime."
Anita Shadow, another organizer, said during a family-friendly drag show at the block party that they were not deterred.
"This is Bozeman's first annual pride, we will be back for the foreseeable future. You can't get rid of us that easily," Shadow said. "In some of the toughest times, we stood up and we made it."
Posted on May 31, 2017 by Royal Rosamond Press
You do realize CEO Jeff Laszloffy needs sinners and the transgender folks to make his life work – and his Holy Foundation?
"Laszloffy is no good until he has his covfefe!"
What is COVFEFE? It is a wicked coffee bean being brought West on a train by Antonin Artaud, Gertrude Stein, Van Gough, and Hemingway. The Satanic Four have a wicked desire to convert Montana into a Pink FeFe State by having the Montanians drink The Devil's Seed of Conversion. This BAD NEWS will perk Lazloffy up. No doubt he will pass out more yellow scarves to protect the delicate necks of his Dull Believers, who are not who they used to be. They were very dull to begin with. Then, they got bored out on that vast Bozeman plain that is turning out to be The Devil's Stage'. Look out when White People get bored – in the name of The End Time Jesus!
The two horseman under the two clocks accent my High Noon masterpiece I have been working on for three years. Jeff and Greg gather the Chozen Ones in the Montana State Capitol of The Holy Last Chance, and await the Christian Passover. Those wearing a yellow scarf will be spared. Those without the scarf, will be turned into French Speakers – for starters! Artaud is coming!
Posted on April 25, 2014 by Royal Rosamond Press
Last night my draw dropped as Rachel Maddow gave me the answer as to why Rena filed stalking charges on me. The night before Deputy Sheriff, Dan Mayland, called me on the phone from Galliten County Montana, I had a dream. I came into Rena's house and she started scolding me in a half-ass manner. He heart wasn't into it. A strange woman joins in, and I look in the living room I see about four dudes in camo, they all wearing the same cap. Sensing I do not belong, I slip out the front door, and am met by Rena who slipped out the back door, and she gives me as kiss, as if to say she will always love me.
What Rachel showed, via pass videos of Clevin Bundy, is that he subscribes to the idea of the Posse Comitatus an extreme right-wing organization.
Jon Presco
The Posse Comitatus (from the Latin phrase meaning "force of the county")[1] is a loosely organized, far-right social movement that opposes the federal government of the United States and believes in localism. There is no single national group, and local units are autonomous.
Posted on February 2, 2014 by Royal Rosamond Press
Right after Dan Mayland called me I had a sense that some white dudes were putting me in their cross-hairs. Does Rena Easton hang with White Supremacists? If so, the thing that could have ticked them off, was at the poetry reading, a black man invited me to come to the microphone with my image of Rena, and, Nisha reads Rena's poem in front of a black man playing drums. Kenny Reed identifies Nisha as his daughter. This is because Kenny is married to a white woman, my childhood sweetheart, Marilyn.
BINGO!
"Can she be my must too!"
Everything fits, the trailer on the hill so you can see the enemy coming and be assured your neighbor – if they be black – are going to be a ways from you so you don't have to LOOK AT THEM! That video is THE TARGET. That's what they want off my blog, and will take down my whole blog to get it out of their lily white racist faces! This why Dan is relaying the message that Rena will not be sending me any more information because I misused the information she sent me. I defiled her, brought her down from her Tower of White Power.
This why Rena didn't call me, send me a PERSONAL letter, because I had crossed the line of no return, and, these White Chicken-Shit Racists love to work in the dark, pretend they must conduct covert paramilitary operations in the name of White Folks – and their White Nazi Jesus.
Racist Bookburners for the White Killer Jesus are gathering in Montana for the fake End Time apocalypse invented by John Darby in 1840. Not once did Rena mention anything in this blog she has read. She says this;
"It amuses me a bit that I have become a SUCH a Red-neck woman."
What Rena is saying, is, she used to a Liberal-Leftist, and the person she was beholds her now and see she IS SUCH a Red-neck Woman. I think my life is in danger. Has Dan Mayland heard things that might suggest I am, thus he felt he was doing me a favor in trying to get me away from Rena, and destroy all evidence I know her.
"He who accuses, excuses."
If this is going on, then let me say this…Come get me you white Satanic deluded trailer trash!
Jon Presco
http://www.dailymail.co.uk/news/article-2488551/The-Village-Damned-North-Dakota-town-taken-white-supremacist.html
"For two years in the mid-1990s, Judge Greg Mohr carried a gun and wore a bulletproof vest while presiding over his tiny courtroom east of Kalispell. Members of the Montana Freemen, an armed group of racist extremists, were regularly appearing before him, and they didn't mince words. Some of them later sentenced Mohr to death in their own pseudo-legal "common-law courts."
Yet another organization with a white supremacist agenda — this one packaged as a "white nationalist think tank" — has moved its operations to northwestern Montana, leaving Georgia to join a rag-tag collection of some of the country's leading racists and extremists.
The National Policy Institute (NPI), which enjoys tax-exempt status, now lists a post office box in Whitefish, Mont., where, public records show, its new director Richard Bertroud Spencer lives in a $3 million home. Spencer moved NPI to Montana after the late 2011 death of chairman Louis R. Andrews, documents filed with the Internal Revenue Service reveal.
On those documents filed annually with the IRS, the white nationalist institute lists thousands of dollars in expenses for a conference, a book, an educational video and a website — all devoted to "subjects of the U.S. and international social and scientific issues."
http://www.splcenter.org/blog/2013/05/16/npi-think-tank-is-latest-racist-outfit-to-move-to-nw-montana/
If you want to learn about the clusters of Aryan, White Supremacist, Neo-Nazi groups in Montana, take a look at the Hate Map on the SPLC website. Add to them a significant number of Freemen, Militia groups, and Sovereign Citizens followers and you will have a pretty clear but underestimated picture of what's happened in Western Montana. Like-minded paranoid, conspiracy believers cling in loose woven relationships and tightly warped minds.
I'm not sure that I understand why this group is attracted to Montana…"
I think the answer is fairly simple. When they first started coming to Montana and Idaho and nearby states, they were coming to very rural areas where there might be miles and miles between houses, and no worry about having to live near a "non-white".
But also, the very rural aspect makes it easier for them to set up their indoctrination camps. What better places than heavily wooded areas often accessible by only one road (if any). While there certainly are still wooded areas in Georgia, they are often much closer to big cities.
Oh, and it's very simple to see that Montana is in no way part of the PACIFIC Northwest. Would you call Ohio part of the Atlantic Midwest? Ohio is much closer to the Atlantic than Montana is to the Pacific.
Nearly two decades later, similar types of antigovernment stirrings are frequently being felt again across Montana, especially in this nearly all-white city in the northwest corner of the state. Far-right extremists are vowing that if a war with the federal government comes, their base will be in the mountains here.
Chuck Baldwin, a Baptist preacher who ran for president under the Constitution Party banner in 2008, moved 18 members of his family to Montana's Flathead Valley last fall after receiving what he called a divine message telling him the state was the "tip of the spear" in the fight for liberty. Stewart Rhodes, a Yale-educated lawyer, former Army paratrooper and head of the conspiracy-minded Oath Keepers, also moved here. Rhodes is laying the groundwork for a new militia and is calling for citizens to adopt a barter economy to escape the bondage of U.S. currency. Neo-Nazi April Gaede, also a transplant to the state, has issued a call for white nationalists to "come home" to the Northwest.
These extremists and others came for different reasons, but they are having a cumulative effect. Law enforcement officers and courts have seen a surge of antigovernment activity by "sovereign citizens," radicals who believe that most laws do not apply to them. Rooms at the Kalispell Public Library host regular screenings of racist films. Christian Identity adherents are papering neighborhoods with their message that whites are the true chosen people of the Bible and Jews are directly descended from Satan. And, once again, so-called "Preparedness Expos" are being held so shoppers can get ready for the imminent collapse of government.
For Mohr, who got to know most of the Freemen long before their famed 81-day standoff with FBI agents in 1994, it's the second act in a frightening drama.
"Here we go again," he said with a nervous chuckle in September.
'There's a Fight Coming'
What is happening in Montana — thanks to this newest wave of extremists — is a convergence of two "separatist" ideas that have long fermented in the brew of Pacific Northwest extremism. The antigovernment "Patriots," the larger of the two movements, want to establish a remote base of like-minded allies as a bastion of resistance for the day when, as they believe, the government will impose martial law. White supremacists are organizing around the idea of forming a long-desired all-white homeland far away from the multicultural cities.
The idea of staking a claim in the American West is tied intimately to Montana's history and identity. The state is quintessentially Western, predominantly white, and home to a frontier ethos of militant individualism and support for the Second Amendment. Moreover, Montana's residents tend to distrust the federal government, which is seen as a distant meddler, and they are vigilantly protective of the privacy afforded by the state's remote location and rugged terrain.
Such an environment has historically drawn antigovernment and extremist groups — from the Freemen to the Militia of Montana, founded in 1994 by John Trochmann, a militant with white supremacist leanings. Unabomber Ted Kaczynski also was caught after years of hiding in Montana's remote forests in 1996.
Now, it all seems to be happening again.
Karl Gharst
Karl Gharst, a neo-Nazi activist
Karl Gharst, a former member of the neo-Nazi Aryan Nations and a Christian Identity adherent, is one example. He recently moved to Montana and is working to make a white nationalist presence felt in the Rocky Mountain West. In September, he sent an E-mail to the anti-racist Montana Human Rights Network threatening to convene a "citizens grand jury," a tactic commonly employed by radical-right extremists, to investigate what he described as a "Jewish criminal organization working with other Jewish crime networks." He made similar comments about the Southern Poverty Law Center and Media Matters for America after learning that both were preparing reports on the situation in Montana.
More recently, militia leader Francis Schaeffer Cox, now under federal indictment for a scheme to murder state troopers and judges, spent time in Montana building support for his nascent militia before moving to Alaska.
This past June, militia activist Dave Burgert — who spent eight years in prison for his part in the "Project 7" plot to kill judges to spark a revolution a decade ago — allegedly fired shots at a Missoula County sheriff's deputy before disappearing into the Lolo National Forest. Officials believe that Burgert, a trained survivalist armed with only a handgun, is living in the woods on caches of food, ammunition and other supplies. He was still on the lam at press time.
The Flathead County Sheriff's Department, the FBI and others have not associated Burgert with other radical groups now active in Montana, including those linked to Baldwin, Rhodes and Gaede. Nevertheless, Burgert represents the militant extreme that ideologies now pervasive in the state are capable of reaching.
During a speech to a packed house at Kalispell's Outlaw Inn in January, shortly after moving to Montana, Chuck Baldwin strolled onto the stage like a lawman of old, promising to round up the "terrorists of Washington, D.C.," and restore liberty to America. A firebrand Patriot and "constitutionalist," he vowed to lead anyone who would follow him into the breach.
"We know there's a fight coming," Baldwin said. "We know there is a line being drawn in the sand, and we want to be in the right place. The good ground is right here in Montana."
A Modern-Day Alamo
Baldwin is by far the most visible of this new generation of extremists in Montana, a state he has praised for being thousands of miles from the "Orwellian machine" of government and for being more gun-friendly than most others. Last fall, he arrived in Kalispell after abandoning a church he led for 35 years in Pensacola, Fla.
"We are going [to Montana] to fight!" Baldwin wrote in a Sept. 15, 2010, letter to his followers. "The Mountain States just might become The Alamo of the twenty-first century, with, hopefully, much better results. But if not, I would rather die fighting for Freedom with liberty-loving patriots by my side than be shuttled off to some FEMA camp." (Fears of government prison camps have long animated the radical right.)
Eighteen members of Baldwin's extended family moved with him to Montana, most notably his son Timothy Baldwin, a writer and lawyer. The family has wasted no time in feathering a nest for what Baldwin has called a "gathering of eagles" — people opposed to oppressive "big-city liberalism and UN-sponsored globalism."
The Baldwins established a new church, Liberty Fellowship, which meets every Sunday at Kalispell's Red Lion Inn and claims to attract as many as 200 people every week, including Randy Weaver, a white supremacist who engaged in a famous standoff with federal authorities at Ruby Ridge, Idaho, in 1992. Timothy Baldwin ran for the board of trustees of Flathead Valley Community College and, although he lost, received a surprising 20% of the vote. Together, Chuck and Timothy Baldwin formed The Baldwin Institute of Education, a school with a distinctly Patriot curriculum focusing on American Revolutionary War history.
It's virtually impossible to accurately say how many extremists have heeded the call to come to Montana. Christian Identity adherent Karl Gharst, in an E-mail to the Intelligence Report, claimed, "For every one of us you know, there are 10,000 you don't" — an obvious and wild exaggeration. But there are signs the numbers may be significant.
Chuck Baldwin has publicly said that dozens have already moved to the Flathead Valley and "scores" more are on the way because of his urgings. His speeches draw audiences numbering in the hundreds, and his family has made inroads with many prominent figures on the Patriot scene. They included Weaver; Stewart Rhodes, the Oath Keepers founder who since coming to Montana has embraced a host of conspiratorial fears, including the idea that the U.S. Army has trained soldiers to invade cities; and Dane Clark, a Constitution Party advocate known for wearing a gun on his hip to political functions.
The Baldwins' move to Montana is part of a grand design to prepare the Northwest for an apocalyptic clash between "liberty-loving" Patriots and international agents of the New World Order. The idea of building a fortified home for "Christian Patriots" in the Northwest is known as "The American Redoubt," a plan to strategically group people across five Western states (Montana, Idaho, Wyoming, Oregon and Washington) as a "defensive reaction" to threats to liberty and the Christian way of life. It was first proposed by survivalist author and sovereign citizen James Wesley, Rawles. (The comma is part of his name; sovereigns often use such bizarre forms of punctuation.) "I am a separatist, but on religious lines, not racial ones," Wesley, Rawles wrote on his website. "In calamitous times, with a few exceptions, it will only be the God fearing that will continue to be law abiding. Choose your locale wisely."
What Wesley, Rawles casually ignored — as, for that matter, did the Baldwins — is the history of the idea. Others have chosen the Northwest for similar reasons. They were Nazis.
Coming Home
In the mid-1980s, the idea of carving out a white homeland in the Pacific Northwest was highly popular among neo-Nazis and other white supremacists. The so-called Northwest Territorial Imperative, popularized by Aryan Nations founder Richard Butler, imagined enclaves of "racially conscious" white people. Two decades later, in 2006, April Gaede left her home in California for Kalispell, where she took up residence in a quaint, two-story house adorned with a sunflower garden. Not long afterward, she set out to breathe fresh air into that Aryan dream.
"I am formally making your [sic] invitation to 'come home,' she wrote on the white nationalist Web forum Stormfront in 2008. "Over 20 years ago some of the first White Nationalist pioneers started moving to this area. The numbers are not clear, but we are slowly but surely gaining ground." Touting "wonderful neighborhoods," "the best high schools in the nation" and a "state of the art hospital and care," Gaede implored fellow white supremacists to move to Montana and form "Pioneer Little Europe" communities. The idea, first proposed in a 2001 pamphlet by H. Michael Barrett that was titled Pioneer Little Europe Prospectus, envisioned consolidating white residents in existing cities and towns and actively repelling racial minorities.
Gaede's invitation drew apparently widespread but largely anonymous support online, despite the comical reservations of some detractors who feared that creating a white homeland in landlocked Montana, with no harbors, would make it impossible to ever secede from the Union.
Meanwhile, white nationalists are growing more visible to Montanans. British Holocaust denier David Irving gave a speech in Kalispell last May. Gaede and Gharst hold frequent white nationalist film screenings at the Kalispell Public Library, despite public protest.
Police in Montana are more than aware of the white nationalists' activities. But in the absence of criminal activity, there's little they can do. "We've got a lot of dangerous guys in Kalispell," Police Chief Roger Nasset said. "But as long as they are peaceful, we can't hold [their beliefs] against them."
Gaede insists that people are coming, but the indications are that no more than a half dozen families have answered her call. And she has the Patriots to contend with. If the white nationalists are whispering their wishes in shadowy gatherings, the Patriots are yelling through a bullhorn. In June, a survivalist "Preparedness Expo" in Kalispell drew at least 1,000 people to learn about "resources and workshops to help you prepare for the unexpected," as event fliers advertised.
Speakers included Stewart Rhodes, Chuck Baldwin and former Arizona Sheriff Richard Mack, a hero to many Patriots for challenging gun control laws in the 1990s. Such expos were frequently held during the first wave of the militia movement in the 1990s, when the Militia of Montana and other groups were hell-bent on preparation for a war that never came.
The current popularity of the expos is due largely to one group, the Flathead Liberty Bell.
Calling All Patriots
Founded in 2009 with the help of Francis Schaeffer Cox, the boyish, self-made militia leader who spent time in Montana before leaving in March for Alaska, the Liberty Bell arguably represents the future of the Patriot movement in Montana. It is loosely organized, keeps no public records of its members and remains exceptionally secretive.
Francis Shaeffer Cox
Francis Schaeffer Cox helped found the Flathead Liberty Bell, a Montana "Patriot" group, before moving on the Alaska. He has since been charged in a plot to kidnap and kill police officers and judicial officials. PHOTO CREDITS contributed from Francis Shaeffer Cox's facebook page
Mike Greskowiak, a Kalispell barber who now leads the group and serves as its primary spokesman, bristles at the suggestion his Liberty Bell is anything more than a grassroots organization informing the community of constitutional rights that have been systematically dismantled. "We want nothing more than constitutional government and to get these sons-of-bitchin' Marxists out of office," he told the Report in September.
In reality, the group wants much more. The Liberty Bell clings to an ideology closely akin to that of the sovereign citizens movement, holding that modern government is slavery and that citizens can once again be free. "American's Founding Fathers would say that Americans today are slaves. Wealthy slaves that enjoy luxury and tranquility, but slaves none the less," its website states.
Members see government as a "Big Brother" figure meddling in the lives of well-meaning citizens, and the group offers primers on "living off-grid" through "solar power, alternative housing systems and herbal remedies."
The mindset is distinctly survivalist and tied intimately to the origins of the group. In its early days, founding members met at a sprawling property on top of Big Mountain, near Whitefish, Mont. The property belonged to Sam Halpern, a tax protester, survivalist and sovereign citizen who went by the name Sam Bentacour de Valencia Halpern. His fears, in fact, led him to build a $500,000 hermetically sealed shelter underground on his property.
The Liberty Bell continues to work closely with many extremists in the area. Greskowiak appeared alongside Rob Blair at a Flathead County Commissioners meeting in February, during which Blair, who heads the Christian Patriot group Mountain Mission, asked the commission to investigate "invalid oath of offices [sic]" among county officials. Chuck Baldwin and Stewart Rhodes also routinely speak for the group.
On March 8, for example, Rhodes and Baldwin spoke at a Liberty Bell function at Valley Victory Church, just outside Kalispell. There, Rhodes issued a call, in front of a giant American flag, for citizens of Flathead Valley to help form his nascent militia. The collapse of the government was imminent, he warned, and the federal government would soon start rounding up American citizens. "You're weak," he admonished. "You're militarily weak."
This apparent militarization, or at least such rhetoric from many of the movement's most visible figures, has grown increasingly worrisome. Several judges and law enforcement officers say the concerns are real, just as they were two decades ago. People are coming to court armed with a vitriolic distrust of government — and, on occasion, sidearms. Judge Mohr, who sees frequent sovereign citizens and Patriots in his courtroom, said many believe they have been sold a bill of goods. And they are rallying around what he calls "messianic" figures who would much sooner die than bow to a government they hate.
How dangerous does he fear it will become? Is he carrying a gun this time? Mohr just laughs. "I'm not talking about it. Not talking about it."
Posted on February 2, 2014 by Royal Rosamond Press
When a ex-dance partner of Rena's called me back to get the url of this blog, again, after I gave it to her in my first call, I was 80% sure Rena asked for it. That was August. When months went by, and I had not heard from Rena Easton, I was worried she had read my controversial posts where I tear into the evangelicals and declare myself a Savior of sorts. I did make contact with Rena's minister in August also. Rena was a member of a church.
Rena admonishes me for not treating Red-necks like human being which is the fake complaint most Tea Party Evangelicals invented in order to steal the fire from the Civil Rights Movement – with Ural Rights! Rena says in here letter;
"I see you are left-leaning. Please do not in your urban world…."
This is the only time she speaks of me in first person. She is implying ownership of a lifestyle that holds her and her and her kind in a poor light. If she is a Christian Addict, she could be defending her faith. If she is a Tea Party Addict, she is defending the Republican party. If she is both, then she is on a Mission from God, and more than likely a member of the God Squad.
Why is a Deputy sheriff making a out of state call at 8:00 P.M.? You would think a Detective would be doing this. I do not know where Rena lives. How could she feel unsafe? Rena wrote me a letter on Christmas Day. Why? Was she trying to get me to change my ways before her Cult Members stepped in? If her Jesus-Cult did not like one of their Ural citizens getting all this attention, then their plan would be to get Rena's name out of my blog. Dan Mayland began to verbally attack my blog, and mentioned the word "attorney". There better be a police report filed against me for stalking.
Getting religion is responsible for folks changing their minds in a real hurry. One day they are normal, and the next day they are doing inexsplicable things. I forgot to add this to my reality check;
4. Is addiction to religion involved?
The Meth Boon report said folks in Montana take meth because they are real bored. How many find Jesus for the same reason? Rena says she is bored, but has a few friends. Are they members of her church? How about her boss, did she bring her to Christ?
In 1971 I began a novel about Rena called 'Golden Girls of the Corn Cob'. Home from college Rena goes swimming in the Platte, and when she emerges from the water she is seen by an all female cult, who see her as the Woman Christ. They abduct her and take her to their hideaway. I and my friend set out to rescue her. The Mary Magdalene Cult was fifteen years in the future. I am a Prophet.
I hereby order all fake Rednecks to never use the name Rednecks, because it applies to my family. Get out of the Republican party, founded by my kindred.
https://rosamondpress.wordpress.com/2013/07/31/golden-girls-of-the-corn-cob/
There is nothing going on in Bozeman. All of a sudden Rena gets a letter from a guy who is writing a book – and our little Ms. Janitor is going to be in it. The first thing Rena's God Squad is going to ask, is;
"Is he one of us?!! Oh sqqqqqueeeee! I pray he is, or, I can't allow our beloved Rena to get involved."
What this is, is, a addict getting a vicarious fix via the very limited and fixed guidelines set by Jesus-speak. So all the Do-gooders get on their computers and check out my blog and lay the Jesus-graph over it to see if the points of the Holy Cross line up.
"SQUEEEEEEEEEEEEE! It's him!"
Not only am I not one of them – I am the Anti-Christ! A exorcists is called in to try to snatch Rena's soul back from Satan. But how?
"Oh my Lord Jesus. Rena has to make contact with the forces of evil in order to get the name God gave her away from the anti-Christ!"
"Are you telling me, Rena is……SATAN'S MUSE!"
"SQQQQQQQQQQQQQQQQQQUUEEEEEEEEEEEEEEEEEEE!"
Someday this will be a Play Station game. I wonder if my blog 'Waiting For Artaud' was proof that I was sending forces of evil against Bozeman and the blessed Humble Salt of the Earth Janitor of God?
And, so the Jealous Ones of Jesus have shot down the one shot the "abusive girl" had. Back to the Salt of the Earth mine! Rena wrote that apology knowing her elders of the church had read that, and they put the screw on Rena to repent and retract her sins. Now, if they can just trick Satan-Man to retract employing cunning and guile, the very tools of Satan – because that's fair! Abusing folks in the name of religion – is huge!
"Say it!"
"I was not his girlfriend!"
"AGAIN!
"I was not his girlfriend! Please stop. You're scaring me!"
Below is the police blotter for Bozeman the day Dan gave me a jungle. There is nothing going down. The God Squad is chomping on the bit. They need a real big sinner so they can launch The Vex of Jesus on him or her. The citizens of Bozeman are real spooked.
"A person teaching someone how to drive a manual transmission wanted to know if he could use the fairgrounds parking lot to do it."
"I think we are going to have to outsource!"
"What about that Easton woman who claims she is being stalked by some dude in Oregon?"
And, so it goes…………all winter long!
Jon Presco
The following Letter to the Editor was published in the Bozeman Daily Chronicle on Sunday, November 17, 2013–
In light of recent irresponsible comments about the Tea Party, I thought I'd take a moment to explain who we are.
We are salt-of-the-earth, hard-working Americans who have pride in and love our country. We are a generous people, who quietly give to those that need a hand up. We treat one another with respect and dignity and believe we are all created equal.Top of Form
Many are business owners who are truly concerned about how they will be able to stay in business and provide good-paying jobs and health insurance for their employees. With Obamacare, the EPA and the many other regulations coming from the government that are being forced upon us, the costs are simply too much.
We feel it is our duty to stand up and protect the freedoms and pass on the same opportunities to the generations that follow. We don't want to leave our children and grandchildren with an unsustainable debt. It is immoral and puts their future in grave danger.
We are for all Americans to be given the opportunity to succeed in life; we are for a free-market healthcare system that is affordable and provide for those that were falling through the cracks. We are for being good stewards of our land while taking advantage of the vast energy resources. We are for protecting our Constitution.
We realize that the people who want to control every aspect of our lives and want us to see our soul and livelihood for small handouts from the governmentwill attack us and make us out to be the enemy and something we are not. The thrugh will eventually shine through. k We are the backbone of a free and prosperous society.
Debbie Moran
– See more at: http://bozemanteaparty.com/#sthash.XnEme1Or.dpuf
Posted on February 1, 2014 by Royal Rosamond Press
In Rena Easton's letter to me, where she come out of the darkness where she lurk, she hardly says a word about me. She apologizes for being a "abusive girl", and she bids me to be civil towards "Red-Necks", a name she misspells because she doesn't know what a Redneck is. I correct her. Is this what really piss-off the Monster of the Id?
Rena asked me to be respectful of her Red-Neck husband, but, I wondered why she isn't using his surname – if they are married! Hmmmm! Maybe sheriff Dan Mayland should start asking some real questions.
What was really missing in Rena's letter was any account of our time together, and, she never speaks of me being her Knight in Shining Armor – who rescued her.
Above are images of Saint George slaying the Dragon – The Beast! It looks like I am kin the Rougemonts who founded the Noble Order of Saint George, that has ties to the House of Orange and William of Orange. If Rena became a British subject when she married Sir Ian Easton, then Saint George is her Patron Saint.
Above is a photo of Bennett Rosamond who was a grandmaster of the Orange Order in Canada. The Rosamond family represents the Lodge in America. I believe many of the readers of this blog are members of the Orange Lodge, because I post revelations pretainting to the Ulster-Scots.
Here is another candidate for what made Rena really frightened.
https://rosamondpress.wordpress.com/2014/01/20/what-do-they-think-of-us/
The other source you have to consider for Rena's fear – is meth!
Jon Presco
In 1925 William Sam Rosamond did a relatively complete genealogy. His research indicated that we were descended from a Huguenot born in France sometime in the mid to late 1600s. He discovered that his earliest traceable ancestor was a "Sergeant" Rosamond who left France following the Revocation of the Edict of Nantes on 22nd October 1685. He found that Sergeant Rosamond supposedly travelled to Holland where he joined the army of William III, went to England, and from there went with William's army to Ireland. He fought in the Battle of the Boyne on 1st July 1690 (by the old calendar – 12th July by the new calendar) and then remained in County Leitrim, Ireland. (There is still a family of Rosamonds in County Leitrim.) He had three sons, two of whom went to the American colonies and settled in the mid-Atlantic region. One of the sons' names was either John or Thomas Rosamond. Current researchers have not been able to confirm this connection. It appears probable that the American branch of the family are descended from John "The Highwayman" Rosamond who arrived in Annapolis, Maryland in 1725. He was sentenced to be transported into 14 years servitude for robbery from the Oxford Assizes. This John could be the son of Sergeant William Rosamond, and the mix up in names likely stems from the fact that his father-in-law's name was Thomas Wilson.
2. Mary Jane Loya of California, whose mother was born in County Leitrim, Ireland, still has cousins living in England, some of whom are also researching the family history. Her family there has the same story of Sergeant Rosamond except that they show his name as James, and say that he took part in the Battle of the Boyne on 1st July 1690. He distinguished himself during the battle and William III, following the battle, knighted him. The family in England, specifically her cousin Jane, has a Coat of Arms for the family name, which is supposed to date back to that date.
Redneck
The origins of this term are Scottish and refer to supporters of the National Covenant and The Solemn League and Covenant, or Covenanters, largely Lowland Presbyterians, many of whom would flee Scotland for Ulster (Northern Ireland) during persecutions by the British Crown. The Covenanters of 1638 and 1641 signed the documents that stated that Scotland desired the Presbyterian form of church government and would not accept the Church of England as its official state church.
Many Covenanters signed in their own blood and wore red pieces of cloth around their necks as distinctive insignia; hence the term Red neck, which became slang for a Scottish dissenter. One Scottish immigrant, interviewed by the author, remembered a Presbyterian minister, one Dr. Coulter, in Glasgow in the 1940's wearing a red clerical collar – is this symbolic of the rednecks? Since many Ulster-Scottish settlers in America (especially in the South) were Presbyterian, the term was applied to them, and then, later, their Southern descendants. One of the earliest examples of its use comes from 1830, when an author noted that red-neck was a name bestowed upon the Presbyterians. It makes one wonder if the originators of the ever-present redneck jokes are aware of the term's origins?
Hillbilly
The origin of this American nickname for mountain folk in the Ozarks and in Appalachia comes from Ulster. Ulster-Scottish (The often incorrectly labeled "Scots-Irish") settlers in the hill-country of Appalachia brought their traditional music with them to the new world, and many of their songs and ballads dealt with William, Prince of Orange, who defeated the Catholic King James II of the Stuart family at the Battle of the Boyne, Ireland in 1690.
Supporters of King William were known as Orangemen and Billy Boys and their North American counterparts were soon referred to as hill-billies. It is interesting to note that a traditional song of the Glasgow Rangers football club today begins with the line, 'Hurrah! Hurrah! We are the Billy Boys!' and shares its tune with the famous American Civil War song, Marching Through Georgia.
Origin (1390)The noble Brotherhood of Saint Georgewas created in 1390 by two gentlemen of Franche-Comté to honor the relics of the megalomartyr that had been brought back from the Holy Land. Philibert de Mollans, squire to the Duke of Burgundy, was its main driving force. His second-in-command, Jehan d'Andelot, was the son of Sir Jean of Andelot-les-Sallins, and of Marie of Usier, Lady of Vaudrey and Rougemont, where lived the precursors and was held the annual chapter.
https://rosamondpress.wordpress.com/2013/07/27/californias-bohemian-muse/
I, John Gregory Presco, send an invitation to, Irene Victoria Easton, to come with me to Bellevaux for a reunion. I have a Trust that will pay for transportation, but not for food and lodging. If you accept, I will contact the History Channel to see if they will film, even fund our adventure. Our Quest to find the tombs of the Knight Templars who owned the Shroud of Turin, will be seen by millions.
Let us leave in October, mon beau voyageur, and bring our capes. Let us leave our tracks in the snow as we gaze upon the beautiful mountains and valley. We are Romantics. We must put on another play ma belle muse who taught me there is life after beauty, and I could have a beautiful life. Bellevaux means 'Beautiful Valley'.
Love Always
Jon Gregory