After publishing 'The Phantom of the Coronation THREE HOURS AGO, I took a nap and woke before 2:00 P.M. I turned on MSNBC and heard the news the ex-President of the United States was just found guilty of Sexual Assault, and Defamation of Character. These are major sins according to the Laws of Moses. Trump's attorney said – on live T.V. – he was grateful his client was not found guilty of PENETRATION, or he would be GUILTY OF RAPE. Would he also be guilty of
ADULTERY?
The ex-President was married to Marple who was in the photo with Jean Carroll, who Trump mistook for his wife. Have the jurors ruled our ex-President LUSTED AFTER a woman – in front of his wife? The Access Hollywood tape was admitted as evidence. The Ex was married when he encouraged Billy Bush to LUST AFTER a woman. Was she married?
Here is an article that suggests King Charles may have to give back his crown, because he ADMITTERED TO BEING A ADULTERER. I concur, because the whole world is now witness committing adultery IS DEVASTATING TO CHILDREN – even un-born children? There is no Mosaic Law against abortion. There is a law against bearing false witness.
I encourage the Church of England demand Charles abdicate the thrown, and name Harry the Rightful King! I encourage Pope Francis to demand the Supreme Court Justices The Ex appointed – step down! Pope Francis should encourage the Republicans' to raise the debt ceiling for the sake of poor children, and poor widows. I suggest Protestant and Evangelicals Leaders follow suit. or, you will be on your way TO HELL according to your teaching.
Four years ago, Iwent to a Three Percenter gathering and demonstrated the Judging of the Sotah, the woman accused of Adultery. How many thousands of Christian men committed adultery last year? The New Age of Shaming Women – IS OVER!
Thte Day of Judgement – is upon you! I am the embodiment of John Wilson and John The Baptist. I am a prophet.. Stars are falling out of heaven.
John 'The Nazarite'
https://en.wikipedia.org/wiki/Thou_shalt_not_bear_false_witness_against_thy_neighbour
Ancient understandingEdit
You shall not spread a false report. You shall not join hands with a wicked man to be a malicious witness. You shall not fall in with the many to do evil, nor shall you bear witness in a lawsuit, siding with the many, so as to pervert justice, nor shall you be partial to a poor man in his lawsuit.

— Exodus 23:1-3[8]
https://en.m.wikipedia.org/wiki/Donald_Trump_Access_Hollywood_tape?fbclid=IwAR1mRshJqv4rk5tjaQ8M7z1nYA2AwRdrQWmsnkgjYdy34KwFacmu2tBIMms
https://en.m.wikipedia.org/wiki/Thou_shalt_not_bear_false_witness_against_thy_neighbour?fbclid=IwAR2GIVK0tVZzz6rsF91EsnBJyNx8XKkPJB7L22FIhILKmBnxnih_9D1L8BY
https://www.hindustantimes.com/world-news/king-charles-iii-s-coronation-royal-family-news-king-charles-coronation-could-be-invalidated-because-what-royal-author-said-101672659246878.html?fbclid=IwAR25fmY11NLRlCpC4RFtxX6p7XknoiOmKkFCfA_DhZl3CnRzekou9fhnyNY
https://www.cnn.com/2023/05/09/politics/e-jean-carroll-trump-lawsuit-battery-defamation-verdict/index.html?fbclid=IwAR250fGzrYgW4v1RQlGEtY5aUV358xofpLeumtu5A9YSpctQhOXJ3utqQRM
New YorkCNN —
A Manhattan federal jury found that Donald Trump sexually abused E. Jean Carroll in a luxury department store dressing room in the spring of 1996 and awarded her $5 million for battery and defamation.
Carroll alleged Trump raped her in the Bergdorf Goodman department store and then defamed her when he denied her claim, said she wasn't his type and suggested she made up the story to boost sales of her book. Trump denied all wrongdoing. He does not face any jail time as a result of the civil verdict.
Jury finds Donald Trump sexually abused E. Jean Carroll in civil case
While the jury found that Trump sexually abused her, sufficient to hold him liable for battery, the jury did not find that Carroll proved he raped her.
ADVERTISING
Carroll filed the lawsuit last November under the "New York State Adult Survivors Act," a state bill which opened a look-back window for sexual assault allegations like Carroll's with long-expired statutes of limitation.
Trump did not attend the trial. Like any defendant in a civil case, he was not required to appear in court for trial or any proceedings and has a right not to testify in his own defense.
Carroll left the courthouse after the verdict without speaking to reporters.
Trump, on his social media site Truth Social, called the jury's verdict a "total disgrace" and said it was "continuation of the greatest witch hunt of all time." He repeated his claim he did not know who Carroll was.
The verdict comes as the 2024 Republican presidential primary field takes shape, with Trump as the early frontrunner.
His potential rivals, including Florida Gov. Ron DeSantis, have so far criticized Trump on electability grounds but have stayed away from the former president's legal troubles – including Carroll's allegations and the Manhattan probe into a hush money scheme.
That reluctance to attack Trump over allegations stems from his ability to survive scandals that would have doomed most politicians – including the 2016 release of the "Access Hollywood" tape, in which he bragged that stars can "do anything" to women.
But as his legal troubles mount, with probes in New York, Washington, DC, and Georgia still underway and primary debates set to begin in August, Trump's goodwill with GOP voters will again be tested in the coming months.
Jurors urged not to identify themselves
Judge Lewis Kaplan dismissed the jury after the verdict and informed them they are now allowed to identify themselves publicly if they choose. However, the judge suggested they remain silent.
"My advice to you is not to identify yourselves. Not now and not for a long time," Kaplan said. "If you're one who elects to speak to others and to identify yourselves to others, I direct you not to identify anyone else who sat on this jury. Each of you owes that to the other whatever you decided for yourself."
As the verdict was read, Carroll held onto the hand of her attorney Shawn Crowley. She looked relieved and appeared to rock forward. They exchanged smiles with each other as the clerk read through each of the counts going in her favor.
After the judge dismissed the jury, Trump attorney Joe Tacopina walked over the Carroll and shook her hand. He also shook the hands of her attorneys.
Carroll and her lead attorney Roberta Kaplan (no relation to Judge Kaplan) embraced each other's shoulders. They exited together.
Carroll testimony
On the stand last week, Carroll testifying in chilling detail about what happened in 1996.
"I'm here because Donald Trump raped me, and when I wrote about it, he said it didn't happen," Carroll testified. "He lied and shattered my reputation, and I'm here to try to get my life back."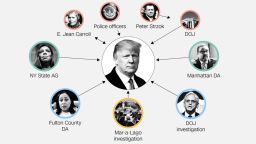 Notable legal clouds that continue to hang over Donald Trump in 2023
Carroll acknowledged she is a registered Democrat and thinks Trump is "evil" and "vile" and was a terrible president, but testified that her political views have nothing to do with her pursuit of this lawsuit.
"I'm not settling a political score," Carroll said. "I'm settling a personal score because he called me a liar repeatedly and it really has decimated my reputation. I'm a journalist – the one thing I have to have is the trust of the readers."
Carroll's attorney Michael Ferrara asked why she didn't go public with her allegations when Trump first ran for president.
"I noticed that the more women who came forward to accuse him, the better he did in the polls," she said.
Tacopina, in cross examination, repeatedly asked questions about why Carroll did not scream during the approximately 3-minute alleged attack
"I'm not a screamer," Carroll responded. "I was too much in panic to scream."
"You can't beat up on me for not screaming," she told the defense lawyer. "Women who don't come forward, one of the reasons they don't come forward is they are asked why they didn't scream. Some women scream, some women don't. It keeps women silent."
Attorneys for Trump and E. Jean Carroll dispute character and evidence in closing arguments of civil rape trial
In his closing argument Monday, Tacopina said he knows Trump is a divisive figure, but that shouldn't matter to jurors when reaching a verdict.
"People have very strong feelings about Donald Trump. That's obvious," Tacopina said. "There's a time and a secret place to do that: it's called a ballot box during an election."
"What they want is for you to hate him enough to ignore the facts," Tacopina added. "All objective evidence cuts against her."
Jury did not find that Carroll proved rape
While the jury did not find that Carroll had proven rape, it did find that she proved Trump committed sexual abuse.
The jury had been instructed that a person is liable for sexual abuse when they another person to sexual contact without consent.
Under New York law, "sexual contact" means "any touching of the sexual or other intimate parts of a person for the purpose of gratifying the sexual desire of either party."
The state's law says that a person is liable for rape when a person forces sexual intercourse with another person without their consent. For the purposes of this law, "sexual intercourse" means "any penetration, however slight, of the penis into the vaginal opening."
Both sexual abuse and rape are sexual offenses in New York.
Verdict doesn't affect Trump's legal ability to run for president
The verdict not have any legal effect on Trump's presidential candidacy. For one, it is a civil case, and during the 2016 campaign Trump also faced all sorts of civil action – like the fraud cases concerning Trump University that were settled shortly after he was elected – that had no bearing on the requirements for the presidency that are laid out in the Constitution.
Trump also faces unrelated criminal exposure, most prominently in the case that Manhattan prosecutors have brought against him for hush money payments to adult film star Stormy Daniels, who claimed they two had an extramarital affair (Trump denies the claim).
At the same time, a successful criminal prosecution of the former president is unlikely to affect – at least from a legal standpoint – his ability to be reelected to the White House.
Notably, there is precedent for convicted felons to run for federal office – including for the office of the presidency. Eugene V. Debs, a perennial socialist candidate for the White House in the early 20th century, was incarcerated on an espionage conviction when he won more than 900,000 votes in a 1920 presidential campaign.
This story has been updated with additional details.
Posted on August 12, 2019 by Royal Rosamond Press
Jesus said;
"Judge not, lest thee be judged!"
This has everything to do with the judging of the woman accused of adultery that I ALONE solved the riddle of. I announced that I know the answer surrounded by men and women carrying guns. One said;
"No one knows the answer!"
"I do!" says I.
Why does Jesus pretend he does not hear the accusation? Because, one becomes sinful by just hearing this sin. It is suggested those wh heard the sin, take the Oath of Nazarite to purify themselves. John's mother was named Elizabeth, which means 'Daughter of the Oath'. Hannah drank the cup in which THE NAME of God, had been poured, because The Law of God and Moses declares that if a BARREN WOMAN take the judgement be judged, then she will be able to conceive. I was named after John the Baptist.
King John
Posted on March 2, 2019by Royal Rosamond Press
Noah's sons are WITNESS to the sin of adultery due to their father drinking too much wine. This is similar to the Samson story. Samson was born a Nazarite, but, break his vow. Those who witness the sin of adultery must take the Nazarite vow. The story of Ham is another attempt at reform. Adultery was destroying the tribal system and the covenant of God, the very reason He caused the flood. Jesus deals with the CURSE of adultery in what I believe was another reform – that failed due the murder of John the Baptist, the Nazarite while in his mother's womb.

John

'The Nazarite'

"Based on this explanation, we can now proceed to our original
question. When one witnesses the humiliation of the Sotah, he
realizes that the averah he once thought to be unimaginable is now a
distinct possibility. In order to protect himself, the witness must
therefore become a Nazir and thereby elevate himself to his former
level."

Book of Jubilees[edit]

In the Book of Jubilees, the seriousness of Ham's curse is compounded by the significance of God's covenant to "never again bring a flood on the earth".[20] In response to this covenant, Noah builds a sacrificial altar "to atone for the land".[Jub. 6:1–3] Noah's practice and ceremonial functions parallel the festival of Shavuot as if it were a prototype to the celebration of the giving of the Torah.[20] His "priestly" functions also emulate being "first priest" in accordance with halakhah as taught in the Qumranic works.[21][22] By turning the drinking of the wine into a religious ceremony, Jubilees alleviates any misgivings that may be provoked by the episode of Noah's drunkenness. Thus, Ham's offense would constitute an act of disrespect not only to his father, but also to the festival ordinances.[23]
Rosamond Press
Everything is accelerating at a fast clip. Why has no priest, minister, rabbi, or T.V. evangelical prophet solved the riddle of what Jesus wrote in the dust. Why me? Why did I discover the truth and not one else. Rabbi Irons knows very little about Christianity, and does know John was a Nazarite – for life! Jesus knew this. I had no problem reading Judaic teaching.
Posted onAugust 10, 2015byRoyal Rosamond Press
Jesus is judging the woman accused of adultery employing an ancient custom that was done away with before he was born. Being a candidate for the Messiah, Jesus must be WITHOUT SIN….without error. Sin means 'missing the mark'. This is why Jesus pretends not to hear the accusations against the woman accused of adultery. When I read this lesson by Rabbi Eliezer Irons eight years ago, I got it, the answer to…
View original post 2,603 more words