A Russian Government hacking operation aimed at the US power grid did not compromise operations at any of the nation's commercial nuclear power plants, federal regulators and the nuclear industry say.
Who is that robed figure with a staff seen whooshng past the entrance of Westminster. Should I save my guesses for my fictional James Bond novel?
Victoria and Starfish were ordered to attend the coronation at the last miniature. They were in Switzerland looking at the chapel that contains the real remains of real Knight's Templar, when they got a call from the Wizard of BAD.
The Royal Janitor
"Poor Harry, he was sworn to keep family secrets after his father is naked in bed with Camilla SHARING the good news Diana is pregnant with William. This truth – will never go away -if indeed it has anywhere to go. The Queen-Consort knew all the deep family secrets – before the press got wind of them – and there is no marriage certificate – with vows!! Keep family secrets in my family – my ass!"
Victoria shot Miriam a hard glance.
"You just swore! Then – your'e not a Christian – after all!"
Mirian Starfish Christling was about to retort to this accusation, when she spotted a dark figure in a black cape!
"Look! There goes the Devil of Adultery!"
"What? Who?"
"Shit! He disappeared. Elusive bastard!!"
Victorian Bond and her bodyguard sat in the Grey Phantom with the top up to keep out the rain. Being in Britain for two days, her wife had picked up British Cussing., which was not the same as American Cussing, and thus she was – free of sin!
"It's part of English colloquial, a crassness that Shakespeare took into account. There was a Roman occupation influence.." The next day Starfish pointed out the nasty guesses about what the choir boys were singing when the wanna-be queen passed.
"This is so – Eaton?"
"I love Vagina – Camilla!"
Sitting in Greyhaven, with the only one she would ever love, she heard the strange story of the Devil of Adultery that was once a feared Roman deity. But, with the introduction of Christianity to Rome, it took on a very sinister form.
"Oh – my – God! Ive seen this phantom on cotes of arms!"
"You just took the Lord's name in vaain!"
"Get off my fooking case! This is serious!"
Starfish took in her husbands eyes as they were turned off in this present world as her amazing photographic memory went racing through the College of Arms, and retrieved member of the…
"Wilson family! I descend from Johm Wilson who was born at Windsor. His father was a famous cleric who is buried at Saint Geroge Cathedral wtth many royals. Oh-my-God! My 10th grandfaters appears in Hawthorne's…..The Scarlet Letter! Holy fook!"
"Holy fook – indeed! The plot thickens! Queen Elizabeth did not want her son to bestow the tile "Queen" on Cammila, because she is guilty of the sin of Adultery, And, she refused to repent! She is letting Harry carry her great sin – that she thinks she is free of!
"Harry married an American Citizen – who he is very loyal to. He's proven that!"
"Look! There goes Harry now!" cried Victoria.
"I think we are smack dab in the middle of the greatest morality drama – ever! No wonder the Son of God intervened in the Judging of the Adulteress! He and God were trying to capture – what's its name?"
Victoria looked dead at her wife, who lowered her eyes – in guilt.
"I have something to tell you!"
"What? Why are you looking so ashamed?"
"Were going to have………A Phantom Child! I was seduced by the Devil of Adultery whose name I can not say aloud!
"Holy shit!" said Victoria. When she came to, Starfish was tending to her bloody nose.
"You….knocked me out!"
"Yes I did! Care to tell me why?"
"I'm going to be…..a father?"
"Yes. I have sinned!"
Why are your beating on me – when you are The Cheater? Did the man you lay down with know we were, and still are – very close?"
"Yes! Forgive me. I have sinned. You must hear my Nazarite Confession!"
The Nazarite Confession was not like the Catholic Confession. It lasted a long time! When it ended, the coronation was over.
"Look! There goes Harry!"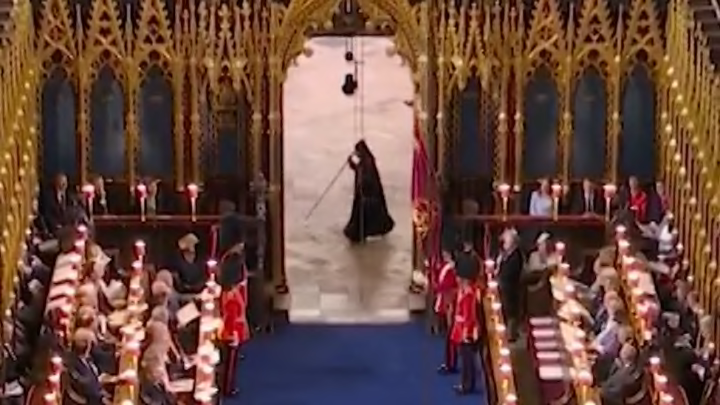 King Charles III had his coronation on Saturday morning. It was a star-studden affair that included everyone from Prince Harry to Katy Perry, but was the Grim Reaper in attendance? Some viewers who tuned in early caught a dark, cloaked figure walking past an open door in Westminster Abbey shortly after 5am Eastern Standard Time. Initial guesses were that this was the Grim Reaper.
Anyone else just notice the Grim Reaper at Westminster Abbey? 👀#Coronation pic.twitter.com/77s4XIY17i— Joe (@realjoegreeeen) May 6, 2023
Moment 'Grim Reaper' appears at Westminster Abbey during the coronation pic.twitter.com/udmkkRfIHp— The Sun (@TheSun) May 6, 2023
But was it?
We're going to say no. You don't get to attend the coronation without being on a very exclusive list and there's just no way with such limited seating the Grim Reaper scored an invite.
So who was it?
Well, it could have been just about anyone. It's not like there were people working this event in khakis and a polo today. This could have been like a hundred different church figures who would have cut a shadowy figure walking past a doorway. It's more likely this was a member of Ghost than the Grim Reaper.
Anyway, congrats on the new king.
Who is that robes figure with a staff seen whooshng past the entrance o
https://www.upi.com/Archives/1993/12/12/Clerics-concerned-about-Prince-Charles-fitness-to-be-king/5954755672400/#:~:text=The%20Sunday%20Times%20surveyed%20100%20members%20of%20the,be%20king%20if%20he%20has%20had%20an%20affair.
Video Player is loading.
CLICK TO UNMUTE
https://imasdk.googleapis.com/js/core/bridge3.572.0_en.html#goog_102855059
King Charles and Queen Camilla were officially crowned on Saturday, in an extremely long (some might say endless) ceremony full of pomp, circumstance, and a ton of singing. Like, truly had no idea England had so many different songs to hype themselves up about the monarchy, but here we are!
And one moment that went immediately viral? Queen Camilla walking down the aisle at Westminster Abbey while a choir sang what sounded a LOT like "I like vagina Camilla."
Honestly, once you watch this and get it stuck it in your head, it's impossible to envision any other lyrical option. Though, according to Bustle, they were actually singing "Vivat Regina Camilla," which, yes…makes more sense.
Posted on April 2, 2021 by Royal Rosamond Press
The Launch of Falcon Fleet Forty Five From Boston
Yesterday, my friend Casey called me and I told him I was not in my body and had been astro-traveling to Oakland where I visited the homes of all my friends – who had died. There were hostile people. One man pulled a gun on me. I awoke in the middle of the night and removed the name of a helper and her dog because I believed I was under psychic attack. I read about the Russian threat. Then I found the long poem of my 9th. grandfather that speaks of the plague and the Spanish armada. John (Jack) is the person that wants to be in me right now. I told Casey my Walk-ins go way back and began at a early age. We talked about Jack London's father being a medium and Tarot card reader.
The image of my ancestor was rendered – after he was exhumed from his grave -because no one thought to paint his portrait while alive. We have the same aquiline nose. That is the church he founded burning down. I am in Real Time. The Russians have made their Rasputin. This is why I made my helpers, Victoria Rosamond Bond, and Miriam Starfish Christling. They are my Spirit Guide and Spirit Protection.
No man of God, or theologian – but I – can explain the event of the dead coming out of their graves – at the moment of the death of Jesus. This did not happen – when he was resurrected. Jesus had opened The Land of The Dead – so he could enter – and do holy work with the dead. I believe he was conducting a Baptism of the dead so they would be free of the sins they collected – while alive – so then could be citizens of The New Earth and Heaven – that the Puritans believed they were ordained to dwell in, be fruitful…..and multiply! I believe the holy ghosts of the Puritans wandered the American Wilderness as Holy Spirits. I call to them – and their horses! This is it! This is no dress rehearsal. It's…….Show Time! The makers of Lord of the Rings, did not have the Dead Kings attack on horseback. Why?
Jack Wilson
Furturian Warrior and High Priest
"I see the shapes of men….and horses!"
(6) How to Read the Judgment Card | Tarot Cards – YouTube
(6) Aragorn and the Army of the Dead (EXTENDED) – LOTR – YouTube
(6) FRIESIAN HORSE – A Documentary about the Amazing Friesian Horse .. – YouTube
"and coming out of the graves after His resurrection, they went into the holy city and appeared to many."
These verses see the resurrection of "many" saints, and their appearance in the city where they are seen by "many." The concern that Biblical scholars have had for centuries with this story, is that these momentous events are mentioned nowhere else. Not only are they not noticed by any contemporary non-Christian sources, but none of the other gospel writers mentions this occurring. The author of Matthew gives no further details himself about this event.[2] No reaction to these events is described, nor does he mention what happened to the saints after their appearance. Nolland speculates as to what happened after to the risen saints. He considers it unlikely that they simply returned to the grave after a brief time among the living, he also does not think it likely that the saints resumed their normal lives on Earth. Thus Nolland feels that Matthew probably imagines the saints being translated directly to heaven after a short time on Earth, similar to Elijah.[3]
Posted on August 7, 2018 by Royal Rosamond Press
Posted on December 10, 2019 by Royal Rosamond Press
The chubby Witches and Warlocks have been playing mind games. They hated my spirit guides that have disappeared. I am now two people – two spirits. William Wilson – is alive! I do not care to let my dark half do my work, but, my enemies think they have me surrounded. The actor, Christopher Lee, is my kin. We were twins from another dimension. Meow!

They'reeeeee…..back!

John Wilson Rosamond
Rosamond Press
Greyhaven and I would take walks together. He was the largest cat anyone has ever seen. I caught Sonny Barger's ex-wife selling drugs and told his son to tell his mother to knock it off. Three days later my landlord came rushing over and told me the Hell's Angels were coming for me. We packed my things, and I got on a Greyhound for Oregon.
We gave Greyhaven to a Native American Grandmother, who put a protection around me while Greyhaven was in her lap. It is his spirit that walks with me, that Clark and Brembe could see.
John Presco