March 30, 2023 at 6:57 pm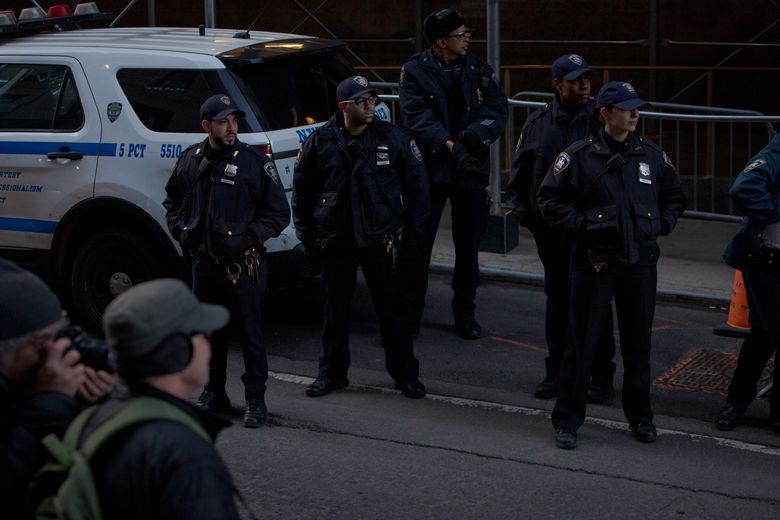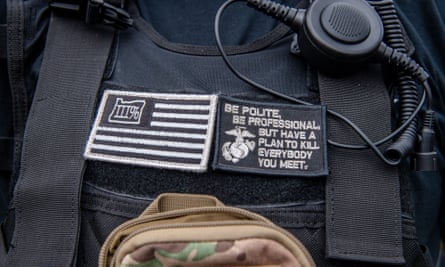 A Three Percenters pach is worn at a Proud Boys rally in Portland, Oregon, in September 2020. Photograph: Amy Harris/Rex/Shutterstock
Here is the question that is vital for American History….
If Trump had won the election, did he have plans to hire members of the militias to be his personal bodyguards at ready in many States? Dictators have always sought a Praetorian Guard to protect their interests – and themselves! It appears Republicans embraced radical militias in order to form a circle around Donald Trump. The Oregon Resolution was replicated in OTHER STATES who I believe constitute CONSPIRACY. I am composing a letter to Senator Ron Wyden. I believe their should be a senate Investigation.
When Trump surrenders himself, Americans will be seeing armed men and women in uniform, at ready for another ATTACK by self-elected patriots. Regrettably, these images will be MORE ADVERTIZING for anarchists. Will those who oppose them- show up? Will Trump be reelected?
Four years ago I confronted the Three Percenter – ALL BY MYSELF! No leftist group, and Ken Kesey Pranksters' – backed me up! My ancestors were real Patriots, and I own a newspaper registered in Lane County.
John Presco
President: Royal Rosamond Press
Hundreds of members of alleged militia groups mobilized over the weekend to protect Republican senators in Oregon who fled the capitol last week in an attempt to block the passage of landmark climate change legislation.
In 2017, the Multnomah Republican Party hired members of the Three Percent and Oath Keepers militias to provide security at their events.
But the frequency with which the party has embraced once fringe characters did not slow in the time before or since Jan. 6, as heated talk spilled into violent actions.
At the same Dec. 21 rally where Heard seemingly encouraged demonstrators to break into the Capitol, his colleague Rep. Mike Nearman appeared to let those same activists in through a side door to the building. Nearman lost a great deal of his political power for that action, as House Speaker Tina Kotek, D-Portland, stripped him of his committee assignments.
But within the Republican Party, Nearman heard no calls for his resignation. In fact, at the same meeting where Heard was elected party leader, Nearman chief of staff Becky Mitts was able to fend off a challenge for party secretary, showing just how little blowback the Polk County representative and those close to him faced within the party.
Oregon Republican Party condemns impeachment, aligns itself with conspiracy theories
Updated: Jan. 19, 2021, 8:37 p.m.|
Published: Jan. 19, 2021, 8:02 p.m.
By
On the eve of Joe Biden's presidential inauguration, the Oregon Republican Party issued a statement condemning the 10 Republican members of Congress who voted to impeach President Donald Trump and aligning itself with conspiracy theories about the Jan. 6 insurrection at the Capitol building.
The statement and accompanying resolutions – passed by the party's executive committee — were issued by the party establishment itself, not elected lawmakers. However, the executive committee includes Becky Mitts, the chief of staff for Rep. Mike Nearman, R-Independence, who was stripped of his committee assignments after he helped violent right-wing protesters enter the Capitol building on Dec. 21, when it was closed to the public.
Chris Barreto, the wife of former Rep. Greg Barreto, R-Cove is also a member of the executive committee, which is chaired by Bill Currier of Adair Village in Benton County and vice-chaired by Tracy Honl of Hillsboro.
The executive committee of the party includes its six-member leadership team plus congressional district chairs, vice chairs and alternate vice chairs. Mark Shull, recently elected to the Clackamas County Board of Commissioners, is the party's alternate vice chair in that county. He is facing bipartisan calls to resign for his derogatory statements on social media about Black Lives Matter, Islam and transgender people.
The news release described the Republican votes in favor of impeachment as a "profound betrayal," and the impeachment vote itself as a "sham process" without an investigation and "in contradiction to the known and emerging facts."
"This type of sham process has become the norm for Democrats, but no Republican should support or give in to such an abuse of our Constitutional system," Oregon Republican Party Chairman Bill Currier was quoted in the news release.
https://03a43b83596b263c27e445b10e998e66.safeframe.googlesyndication.com/safeframe/1-0-40/html/container.html
Members of the party's leadership team did not return calls for comment.
The set of resolutions passed by the executive committee also said the transcript of Trump's speech contradicted Democrats' claims that he incited the insurrection. It called the insurrection a "false flag operation" designed to discredit Trump and support Biden's introduction of new domestic terrorism legislation, and cited a variety of right-wing pundits and publications that have advanced the same theories.
"This provided the sham motivation to impeach President Trump in order to advance the Democrat goal of seizing total power, in a frightening parallel to the February 1933 burning of the German Reichstag,' the resolutions said.
The resolution also thanked U.S. Rep Cliff Bentz for challenging presidential electors from Pennsylvania in one of his first acts as Oregon's newest congressional representative, and said U.S. Rep. Kurt Schrader had accurately described the impeachment as a "lynching." The Oregon Democrat has since apologized profusely for the comment and promised to take diversity, equity and inclusion training.
A variety of Republican lawmakers have attempted to pin the blame for the Capitol riot on left wing groups. The FBI originally said there was no indication that was the case, though one liberal activist from Utah was arrested last week on federal charges that he took part. More broadly, courts and federal investigators have found no evidence that there was widespread fraud in the November election, though Trump has continued to repeat those lies for two months, and fed them to his backers at the rally on the morning of the riot, urging them to march on the capitol and "fight like hell" against the "stolen" election.
The Justice Department has arrested more than 100 people since the Jan. 6 riot, and the Washington Post reported Monday that the FBI was zeroing in several right-wing extremist groups that appeared to be more prepared and organized, including the Proud Boys, Oath Keepers and Three Percenters.
Portland area pollsters and other observers said they were puzzled by the strategy behind Tuesday's statement by Oregon Republicans, beyond appealing to the party's base. However, they said, it perfectly reflected the growing schism in the Republican party nationally.
"It is a really curious strategy for a political party that is so weak in the state right now to try to find a way back," said John Horvick, a pollster with DHM Research. "Republicans haven't won the governor's mansion since Vic Atiyeh. They've won two statewide races in the last two decades. They're in the wilderness in the Legislature and they spent the summer trying to recall Kate Brown.
"Maybe this represents their base to some extent, but it doesn't make any sense to me as a short-, medium-, or long-term strategy."
About 26% of registered voters in Oregon are Republican, versus 36% as Democrats and 39% who identify as non-affiliated or other. A CNN poll conducted by the independent research company SSRS that was released Sunday found that nationally, three in four Republican voters don't believe Biden legitimately won the election. Earlier polls by Fox news returned similar numbers.
Jim Moore, a political scientist at Pacific University in Forest Grove, said the resolutions simply highlight the fact that party leadership in Oregon and nationally is still perfectly aligned with Trump, and that people elected into party positions over the last four years "needed to be Trumpist."
Moore said it was interesting that it came on a day when Senate Republican Leader Mitch McConnell publicly said that the mob who stormed the capitol had been "provoked by the president and other powerful people" and that "the mob was fed lies."
Moore said party officials are usually much more to the right or the left than the general electorate. But, he said, they may be more aligned with the right than usual now. He said that because the Republicans have had such a weak stable of candidates for statewide office, the people who are running tend to reflect more extreme views, such as Jo Rae Perkins, a follower of the QAnon conspiracy theories who won the Republican nomination to run for U.S. Senate against Jeff Merkley. Merkley won the election easily, by 57% to 39%, almost exactly the same margins that Biden won by in the presidential election in Oregon.
"Conspiracy theories seem to be a perfectly reasonable way to go right now," Moore said, "It's doubling down and appealing to your base. But as a way to grow the party it's a dead end."
— Ted Sickinger; tsickinger@oregonian.com; 503-221-8505; @tedsickinger
https://www.oregonlive.com/politics/2021/01/oregon-republican-party-condemns-impeachment-aligns-itself-with-conspiracy-theories.html
https://www.theguardian.com/email/form/plaintone/us-morning-newsletter
https://www.nbcnews.com/tech/tech-news/trump-qanon-impending-judgment-day-behind-facebook-fueled-rise-epoch-n1044121
Former practitioners of Falun Gong told NBC News that believers think the world is headed toward a judgment day, where those labeled "communists" will be sent to a kind of hell, and those sympathetic to the spiritual community will be spared. Trump is viewed as a key ally in the anti-communist fight, former Epoch Times employees said.
In a Facebook video released on 19 January, the Oregon Republican party chairman, Bill Currier, said that Oregon Republicans were working with Republicans in other states to release similar resolutions. "We are encouraging and working with the others through a patriot network of RNC members, the national level elected officials from each state, to coordinate our activities and to coordinate our messaging," Currier said as part of the video conversation with other members of the Oregon Republican party.
"In addition to labeling the Capitol attack a potential false flag operation, the Oregon GOP's resolution also condemned several House Republicans who voted to impeach Trump over the 6 January assault. The statement called the legislators "traitors" who had "conspired" with the enemy, and described members of the Democratic party as "Leftist forces seeking to establish a dictatorship void of all cherished freedoms and liberties."
https://www.portlandmercury.com/news/2017/06/30/19130461/multnomah-county-republicans-formally-allow-militia-groups-to-run-security
https://www.insider.com/the-three-percenters-militia-group-protecting-gop-lawmakers-in-oregon-2019-6
Hundreds of members of alleged militia groups mobilized over the weekend to protect Republican senators in Oregon who fled the capitol last week in an attempt to block the passage of landmark climate change legislation.
As INSIDER previously reported, upwards of 600 people were expected to mobilize on Saturday, consisting of 21 Oregon III% county groups, five Idaho III% groups, the statewide Nevada III% group, and six independent militias across the state, according to a source with Oregon's Three Percenters.
Prior to this recent stand-off, the militia group was also involved in the Malheur National Wildlife Refuge takeover in 2016, in which armed protesters took over the refuge headquarters in Oregon.
The source told INSIDER that he doesn't anticipate violence among Three Percenters, but did acknowledge that "I would not be surprised if every member of the group is armed," adding that members are willing to "go to any lengths required" to protect the senators.
The militia movement formed in 2008, according to the Anti-Defamation League, with its name originating from the myth that only 3% of colonists fought during the Revolutionary War. Members view themselves as "modern day versions of those revolutionaries, fighting against a tyrannical US government rather than the British."
On its website, the movement claims that it's not a militia group, but rather a "national organization made up of patriotic citizens who love their country, their freedoms, and their liberty."
The group insists they are not anti-government, but rather "very pro-government, so long as the government abides by the Constitution, doesn't overstep its bounds, and remains 'for the people and by the people.'
https://www.theguardian.com/us-news/2021/mar/03/us-militia-membership-military-police-american-patriot-three-percenter-website-leak
https://www.theguardian.com/us-news/2021/mar/03/us-militia-membership-military-police-american-patriot-three-percenter-website-leak
Oregon House Republicans disavow controversial resolution from state GOP blaming U.S. Capitol riot on 'false flag' operation
Updated: Jan. 27, 2021, 9:29 p.m.|
Published: Jan. 27, 2021, 6:37 p.m.
By
Oregon's House Republicans on Wednesday disavowed the state Republican Party's resolution issued last week that called the Jan. 6 riot at the U.S. Capitol a "false flag operation" initiated by left-wing groups.
A statement signed by all 23 House Republicans said there "is no credible evidence to support false flag claims." It also said the election is over and that it was time to deal with the many crises facing the state.
"Our focus must remain on urgently helping hurting Oregonians," the House Republican statement said. "Far too many Oregonians have been impacted by lost wages or a lost family member—we are in a crisis and that crisis requires steady leadership and action, not partisan rhetoric. The election is over. It is time to govern."
The false flag conspiracy theory circulated widely after the riot and was promoted by several Republican members of Congress in the immediate aftermath. But it has been debunked by law enforcement officials, video and social media posts and facts on the ground.
Nevertheless, The Oregon Republican Party's executive committee issued a resolution on Jan. 19 condemning President Trump's impeachment as a "profound betrayal" and "sham process," and comparing the 10Republicans who voted for it to Benedict Arnold, the Revolutionary War traitor. It went on to say that the riot was a "false flag operation" designed to "advance the Democrat goal of seizing total power, in a frightening parallel to the February 1933 burning of the German Reichstag."
https://b9d732a03e1d477878d081dbdba40522.safeframe.googlesyndication.com/safeframe/1-0-40/html/container.html
The fringe statement has attracted national attention and become a distraction for lawmakers just as the new legislative session is getting started. Political observers were also puzzled by the strategy for a party that is deeply in the minority in Oregon and shows no sign of recovery. As the controversy around it continued this week, with the Anti-Defamation League of the Pacific Northwest issuing a statement asking the Oregon GOP to rescind the baseless accusation, lawmakers apparently felt the need to distance themselves from the party's executive committee.
The signatories to the House Republican statement included Rep. Mike Nearman, R-Independence, who was stripped of his committee assignments after he helped violent right-wing protesters enter the stateCapitol building on Dec. 21, when it was closed to the public.
While the party's executive committee includes no current lawmakers, it does include Nearman's chief of staff, Becky Mitts, as well as Chris Barreto, the wife of former Rep. Greg Barreto, R-Cove.
Senate Republicans did not respond to a request for comment on whether they planned a similar response. But Sen. Tim Knopp. R-Bend, issued his own statement condemning political violence on both sides and saying he had seen no credible evidence that the attack on the U.S. Capitol was a false flag operation.
"I do not support the Oregon Republican Party's resolution," he said. "I find it disheartening that while Oregonians are struggling, these political distractions get in the way of helping them recover."
In a Different Capitol Siege, Republicans in Oregon Call for Accountability
G.O.P. lawmakers in the state are calling for the resignation of a legislator who appears to have encouraged protesters to breach the State Capitol in December.
By Mike Baker
June 8, 2021
A little more than two weeks before a mob of supporters of Donald J. Trump stormed the U.S. Capitol, falsely claiming that he had won the election, a strikingly similar event had unfolded on the other side of the country, at the State Capitol in Oregon.
There, in December, a restive crowd had breached the exterior doors and battled law enforcement officers in a building that is capped by a gold-leaf pioneer wielding an ax. The agitators, waving Trump flags and clad in body armor, wielded pepper spray and smashed windows. "Arrest Kate Brown!" the crowd chanted, referring to the state's Democratic governor.
Republicans in Congress have resisted a full, formal investigation into the much larger attack by protesters on the U.S. Capitol on Jan. 6, but in Oregon, lawmakers facing new evidence about the Dec. 21 siege in Salem are taking a different approach. On Monday, the state's House Republican caucus signed a letter encouraging the resignation of a colleague, Representative Mike Nearman, who in a newly discovered video appeared to be coaching protesters on how they might gain access to the building.
The House Republican leader, Christine Drazan, said on Tuesday that she believed there was enough support in her caucus to expel Mr. Nearman from the State Legislature if he did not resign. Legislators in the state have never before expelled one of their own.
ADVERTISEMENT
Continue reading the main story
https://7f66776a3c5c878a859175305dd23afa.safeframe.googlesyndication.com/safeframe/1-0-40/html/container.html
"I would hope that Representative Nearman would make the decision to not be the first," Ms. Drazan said in an interview.
The protest in Salem was part of a series of demonstrations that broke out across the country after the Nov. 3 election as supporters egged on by Mr. Trump mobilized to contest an election they falsely believed had been stolen. Some of the protests targeted state leaders who had imposed lockdowns and mask orders to counter the coronavirus pandemic.
Dig deeper into the moment.
Special offer: Subscribe for $1 a week for the first year.
In Salem on Dec. 21, dozens of people mobilized outside the Capitol, expressing frustration that the building had been closed to the public amid the pandemic. Carrying signs condemning the "lying lockdown" and shouting, "Let us in," some in the crowd surged through an open door on the building's north side before law enforcement officers moved to confront them.
Understand the Events on Jan. 6
A larger crowd later managed to push in through the doorway but, facing a line of officers in riot gear, they did not reach the rotunda area or areas of the building where legislators were working. Officers later made some arrests and cleared the building.
In the months since the breach, videos have made it clear that the crowd had assistance from someone on the inside. Security footage made public days afterward showed Mr. Nearman, who has represented a district that lies south and west of Salem for the past six years, opening a door in a way that allowed protesters inside as he left the building. Mr. Nearman, who walked around the building and re-entered it, faces misdemeanor charges of official misconduct and criminal trespass.
Editors' Picks
4 New Artists You Need to HearIt's Work, Not Junior HighSheet-Pan Recipes for When You're Down
ADVERTISEMENT
Continue reading the main story
https://7f66776a3c5c878a859175305dd23afa.safeframe.googlesyndication.com/safeframe/1-0-40/html/container.html
After the first video emerged, Mr. Nearman said he did not condone violence but also said he believed that legislative proceedings should be open to the public.
Then last week, new footage surfaced, suggesting not only that he may have expected protesters to enter the building, but that he had offered to help them. The video, earlier reported by Oregon Public Broadcasting, appeared to be streamed online a few days before the December intrusion. It showed Mr. Nearman making public remarks in which he coyly gives out his own cellphone number with a suggestion that anyone who might need to enter the Capitol building could text him if they needed a way inside. He referred to the idea as "Operation Hall Pass."
"That is just random numbers that I spewed out. That's not anybody's actual cellphone," Mr. Nearman said after giving out his cell number. "And if you say, 'I'm at the West entrance' during the session and text to that number there, that somebody might exit that door while you're standing there. But I don't know anything about that."
Barbara Smith Warner, a Democratic lawmaker from Portland who is the House majority leader, said she found it hard to believe that a sitting legislator would put everyone in the building at risk, not only by intentionally opening the door but by doing it in a premeditated way.
"That is mind-boggling," Ms. Smith Warner said. "If that's not traitorous, I don't know what is."
Mr. Nearman did not respond to messages seeking comment. In an interview with the conservative radio host Lars Larson, Mr. Nearman said he had been "clowning around" in the video and "setting up" for what he had assumed would be a peaceful protest. He said he had been speaking in the video to a group that was not known to be violent.
ADVERTISEMENT
Continue reading the main story
"I'm willing to have some consequences for what I did, or whatever, but this is super extreme," Mr. Nearman said.
Ms. Smith Warner said she came to see the Dec. 21 siege as a kind of dress rehearsal for what happened in the nation's Capitol a few weeks later, with the same types of grievances on display. While Republican legislators in Oregon had been largely silent about the December siege until now, she said, she applauded those who were now willing to take on the issue.
"I don't want to minimize that at least some of the Republicans here are doing the right thing," Ms. Smith Warner said. "That is no small thing. I do think their base will consider that a betrayal."
The U.S. House voted in May to create an independent commission to investigate the Jan. 6 assault on the U.S. Capitol, which left several people dead, injured law enforcement officers and had lawmakers fleeing for safety as a mob ransacked the complex. But that plan for a broader accounting of the day was stalled by Republicans in the Senate who appeared to fear the political consequences of an open-ended inquiry.
ADVERTISEMENT
Continue reading the main story
https://7f66776a3c5c878a859175305dd23afa.safeframe.googlesyndication.com/safeframe/1-0-40/html/container.html
In Oregon, House Speaker Tina Kotek announced that a bipartisan special committee would convene this week to consider whether Mr. Nearman should be expelled. Ms. Drazan, the Republican leader, said she believed that the matter should have been handled by a different committee but supported the idea of considering expulsion.
If a resolution to expel goes to the full House, it would need 40 of the chamber's 60 lawmakers to approve it. The chamber has 37 Democrats.
Ms. Drazan said she did not see much of a parallel between the siege in Washington and the one in Salem, and said she preferred to keep her focus on events in Oregon rather than weighing in on how Republicans in Congress should handle the Jan. 6 events. She said she hoped Republican lawmakers would be as focused on doing the right thing in their own party as they have been on criticizing the opposing party.
"I am just exhausted by national politics," Ms. Drazan said. "They just need to get their act together. They need to start to serve the greater good."
Ms. Drazan noted that when Republican Party leadership in Oregon passed a resolution that embraced the unfounded conspiracy theory that the Jan. 6 attack was a left-wing "false flag" plot to frame Mr. Trump's supporters, her caucus in the Legislature disavowed the resolution, declaring that there was no evidence of a false flag effort and that the election was over.
"We have, I hope, a clear-minded view of what is public service and what is not," Ms. Drazan said.
Mr. Nearman was among those who signed the letter.