Jacob Chansley during the Capitol riot in Washington, Jan. 6, 2021. Chansley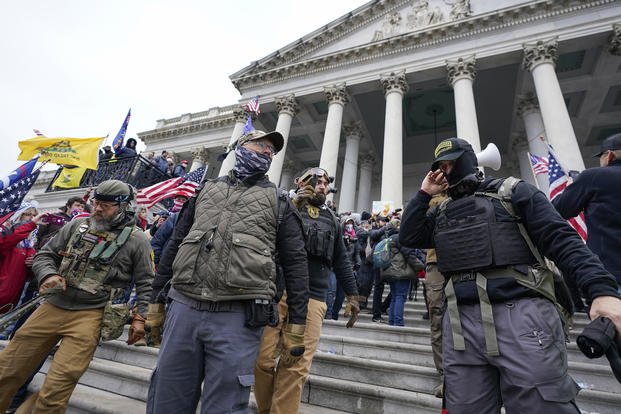 The Oath Keeper's trial has begun. A year before the elections I attended a rally put on by The One Percenters. They were to speak after a Gay Pride event. There was – violence! This was a very prophetic AND DRAMATIC event. Religious schisms and strife – have always been dramatic because a Vortex of Righteousness must be built. That the leader of the Oregon Shakespeare Festival established a perimeter into the community, and polices that area – IS ALWAYS THREATENING – especially if there is…
CENSORSHIP
I came armed with Luke's Light Lazer in a quiver that got the attention of a Percenter armed with a assault rifle. This is…..High Drama! It's all about Ratings, The Draw, Ticket Sales, Tithing – and Trump know it. Millions of Christians got – BORED SILLY – listening to the same old promises fifty two times a year. THEY WANTED ACTION! This is why they forgive Hershal Walker and the Oath Keepers. They don't want anything to do with Civil Justice and Civic……REST! They are the Children of Unrest. They grow hungrier every day. They did not wear masks in church. They….died!
Today is the morning of the Day of Atonement. We are in The High Holidays!
Repent!
John 'The Nazarite'
Oath Keepers Texts Provide Window Into Conspiracy Mind-set – The New York Times (nytimes.com)
Posted on January 14, 2021 by Royal Rosamond Press
When I went to Wayne Morse Square dressed as The Antichrist, I did so trying to get my courage back after being threatened by the Alleybellites and Kimites. In looking at the video I took, talking to a Three-Percenter, I wondered why he made no comment about me saying – I am The Antichrist. After the Storm The Dome Day, I realized there's eight or ten guys (and a woman?) who claim to be the Antichrist – at every event! I thought I was original! My Light Sabre did get some attention.
In the God Gun Liberty video, it appears I might get in a fight with a young man wearing a MADA cap. He got punched in the nose when the T-Mob pushed people around to get to the podium and mic – that the Gay Pride Day folks refused to hand over. A Lesbian socked him in the nose – and drew blood.
It is now being reported Lawmakers helped the T-Mob in Oregon, and at the Dome, that looks like a scene out of Gone With The Wind. As I talk to an armed man, Belle's old boyfriend (who changed his name to Marla) danced half-naked in the background. The Crazy are legion at Trump rallies. This is what he meant by "wild time". Consider the source. Trump is not sorry – at all! His office is just another disguise for the real Antichrist – who might start a nuclear war.
Johnny Antichrist Presco
Trump is isolated and angry at aides for failing to defend him as he is impeached again (msn.com)
"With less than seven days remaining in his presidency, Trump's inner circle is shrinking, offices in his White House are emptying, and the president is lashing out at some of those who remain. He is angry that his allies have not mounted a more forceful defense of his incitement of the mob that stormed the Capitol last week, advisers and associates said."
(1) Video shows mobs attacking Capitol police as investigators ramp up search for rioters l GMA – YouTube
Gone With The Wind (1939) Battle of Atlanta Injuries – YouTube
(1) Return of Merlin – Antichrist – YouTube
(1) Praise Be To Zardoz – YouTube
ICE acting director resigns weeks after assuming post (msn.com)
Video Shows Ore. Lawmaker Letting Rioters Inside State Capitol | PEOPLE.com
Ed Ray Speaks To You – His Chosen Ones! | Rosamond Press
(1) Must-See New Video Shows Capitol Riot Was Way Worse Than We Thought | All In | MSNBC – YouTube
"Ed Ray has opened the proverbial Can of Worms. Our lawmakers go hide in Idaho. Here come the Three Percenters! How do they feel about Robert E. Lee and his statues – that are works of art?
The Art Gods have been awoken! Below is a hand-carved grave marker for the son of a Patriot. This is my Badge. Royal Rosamond Press is named after this family that were too poor to buy tombstones. Being kin to Robert E. Lee is a Pass. Freedom of the Press should matter to the Three Percenters. If not – get out of Dodge!
These Militias are all for Family Values and Family Traditions. They don't got my family tree. How much more permission do I own……………for going bad? If I became one of them, then I would not be alone. I would have an extended family – and legal representation?
"Republican state representative Mike Nearman has been billed for damages to the Oregon Capitol caused by a group of anti-mask and armed demonstrators in December, after security footage showed that the lawmaker opened the door to allow the group inside.
Nearman, who has since been removed from his legislative committees and had his own access to the state Capitol restricted, has now been asked to resign by the state's top House lawmaker.
The incident occurred during a Dec. 21 special legislative session at the state Capitol in Salem, when a group gathered to protest the state's coronavirus restrictions.
Though the state's Capitol building was locked, deterring the group from entering, security footage from that day shows Nearman walking to an exit and opening the door, allowing a large number of rioters to begin streaming inside."