"During his show on Wednesday, Carlson accused Johnson of being afraid of going on Fox News to answer questions about his support for Ukraine.
"We knew that Johnson himself was a coward," Carlson said. "We watched during Covid as he transitioned into a terrified old woman, but we had no idea he was also a liar. We should have known."
After my last post I turn on the news and witness the fear some lawmakers have about Armed Republicans' at the hearings they want in order – TO GET THE BIDENS. Then come a story about Boris Johnson tearing into Tucker Carlson's Love of Putin, he even encouraging more terrorist attacks on the civilians of Ukraine. Carlson sees nothing wrong with his buddy Putin bombing appartment buildings – and murdering children. On the other hand, the former Prime Minister bids the U.S. to give Ukraine jet fighters so they can shoot down these terrorist planes.
THIS IS IT…..The High Noon I saw coming – to Bozeman Montana. But the fear a lot of Lone White Cowboys on the hill have of women of color – has turned them into hysterical haters of Democracy – everywhere! These Fake Cowboys don't want Democracy to do well – anywhere – lest it take away the sick racist power Trump and his Gang – have been feeding them – like hogs at a trough!
Yesterday, everything the Free World hated about Hitler, has found a home in America. Commodore Ian Easton – is turning in his grave. He got shot down in North Afrika in a arial battle with Nazi pilots.
The love I own for my muse, keeps transforming, taking on many shapes of fiction and reality. We have a real important work of historic-fiction in…….
High Noon Hill
by
John Presco
Rena Easton had to get out of their small trailer where inside, her husband and two of his friends, were whooping and hollering as Tucker Carlson testified, let the Bidens have it, he accusing them of plotting a regime change in Russia – after Trump was elected! Was this why Biden stole the election from Trump, Rena wondered? Everything was beginning to make sense, now that Little Brother was spilling the beans on The Hill! Burley Cowboys and Truckers loved Little Brother – who had an answer for everything! When he revealed the dastardly plot regarding that giant highflying balloon over Billings, Tucker was voted the Most Trusted Reporter in America.
Suddenly, Rena hears the prop of a low-flying plane. It was coming out of the high noon sun. Was it a crop-duster, or, a chemtrail traitor? These days it was hard to tell friend from foe. Now the plane was circling the ranch, causing the cattle to huddle in the shadow of the barn. Rena could see the pilot. She gasped when he waved to her!
"Ian?" she uttered. "Ian!" she shouted, and he smiled at his beloved wife, from beyond – the grave.
Rena fell to her knees and wept in her cupped hands. Her whole being shuddered with the energy that rushed from out of her past. And she knew, she had gone astray, been led into a valley of spiritual death.
To be continued
https://www.fp4america.org/atlantic-alliance
"During the last administration, President Trump routinely criticized the U.S.' participation in NATO. His repeated complaints about NATO's cost to the U.S. and comments about the alliance being "obsolete," severely damaged the U.S.' relationship with NATO allies"
Carlson and his ideological allies, like Steve Bannon and Donald Trump, see in Putin someone with a shared worldview — authoritarian, fiercely nationalistic, happily bigoted.
Easton joined the Royal Navy in 1931 and qualified as a pilot at the start of World War II in which he saw active service on aircraft carriers.[1] On 4 January 1941, flying a Fairey Fulmar of 803 Squadron from HMS Formidable during a raid on Dakar he force landed, with his aircrewman Naval Airman James Burkey and was taken prisoner and held by the Vichy French at a camp near Timbuktu until released in November 1942.[2] He was appointed Assistant Director of the Tactical and Weapons Policy Division at the Admiralty in 1960 and was seconded to the Royal Australian Navy as Captain of HMAS Watson in 1962.[1] He went on to be Naval Assistant to the Naval Member of the Templer Committee on Rationalisation of Air Power in 1965, Director of Naval Tactical and Weapons Policy Division at the Admiralty in 1966 and Captain of the aircraft carrier HMS Triumph in 1968.[1] After that he was made Assistant Chief of Naval Staff (Policy) in 1969, Flag Officer for the Admiralty Interview Board in 1971 and Head of British Defence Staff and Senior Defence Attaché in Washington D. C. in 1973.[1] He last posting was as Commandant of the Royal College of Defence Studies in 1976: he commissioned armourial bearings for the College which were which were presented during a visit by the Queen in November 1977.[3] He retired in 1978.[1]
The British Defence Staff in the United States comprises some 750 military and civilian MOD personnel based in over 30 states across the US. Their mission is to protect and advance the UK and its interests by reinforcing the transatlantic defence and security relationship.
House Republicans on the Natural Resources Committee rejected an attempt by Democrats to ban firearms from hearings.
House Republicans shoot down firearms ban for Natural Resources hearings© Provided by Washington Examiner
The amendment, introduced by Rep. Jared Huffman (D-CA), failed on a party-line 25 to 14 vote in the committee's organizing meeting.
HOUSE JUDICIARY MEMBERS FIGHT OVER PLEDGE AMENDMENT, BOTCH OATH IN TWEET
The panel's rules prohibited carrying weapons into the hearing room during the last Congress while Democrats were in control, prompting outrage from lawmakers who are Second Amendment advocates. That rule was absent from the rules Republicans put forward and approved on Wednesday.
"My amendment explicitly prohibits carrying or having readily available any firearm, dangerous weapon, explosive, or incendiary device within the hearing rooms and conference rooms of this committee," Huffman said, and the written amendment expanded that only weapons that are part of exhibits would be allowed.
https://www.msn.com/en-us/news/politics/house-republicans-shoot-down-firearms-ban-for-natural-resources-hearings/ar-AA170jDW
Tucker Carlson called Boris Johnson a 'terrified old woman,' officially kicking off a feud with the former British PM
Thu, February 2, 2023 at 8:51 PM PST·2 min read
Tucker Carlson has ignited a feud with former UK Prime Minister Boris Johnson.
During his show on Wednesday, Carlson called Johnson a "terrified old woman."
Johnson earlier said he was "amazed and horrified" by how many people were "intimidated by" Carlson.
Fox News host Tucker Carlson and former British Prime Minister Boris Johnson are feuding.
During his show on Wednesday, Carlson accused Johnson of being afraid of going on Fox News to answer questions about his support for Ukraine.
"We knew that Johnson himself was a coward," Carlson said. "We watched during Covid as he transitioned into a terrified old woman, but we had no idea he was also a liar. We should have known."
Carlson's ire may have been stoked by comments Johnson made earlier that day. During a panel discussion with the Atlantic Council, Johnson accused Carlson of influencing "wonderful Republicans" with anti-Ukraine rhetoric.
"I've been amazed and horrified by how many people are frightened of a guy called Tucker Carlson," Johnson said.
"Has anybody heard of Tucker Carlson? What is it with this guy? All these wonderful Republicans seem somehow intimidated by his perspective," Johnson said. He added that he was "struck by" how often Carlson's name came up in conversations.
"Bad ideas are getting into, starting to infect the thinking around the world about what Putin stands for, what he believes in, it's a disaster," Johnson added. "He stands for war, aggression, systematic murder, rape, and destruction. That's what he stands for."
People across the left — including me — routinely lambaste Fox News megastar Tucker Carlson for his alarming right-wing populist screeds. But this past week, as Carlson downplayed concerns about Russia's invasion of Ukraine up until Moscow began a full-fledged incursion, something striking happened: Critics began to deem him a "traitor."
For some activists, lawmakers and commentators, Carlson's decision to minimize Russia's imminent invasion and push back against critics of Russian President Vladimir Putin meant he was siding with Russia against the U.S. But that's a misread. Carlson isn't in favor of Russia over America or angling to aid Russia in dominating or controlling the U.S. — he wants the U.S. to be like Russia. And in accordance with paleoconservative and white nationalist principles, he has an aversion to foreign interventionism so American militarism can grow at home. Carlson's ideas are dangerous and must be fought, but loyalty rhetoric misses the real problem. Furthermore, the traitor insult is one that could derail the quality of our national debate at a critical time. Setting Carlson aside, there is great risk in associating opposition to war with betrayal of the republic.
Carlson and his ideological allies, like Steve Bannon and Donald Trump, see in Putin someone with a shared worldview — authoritarian, fiercely nationalistic, happily bigoted.
In the run-up to the invasion, Carlson persistently downplayed the severity of what Russia could be doing and pushed back against the prospect of American involvement. He characterized the situation as a "border dispute," distracting from the reality of Russia's yearslong meddling in eastern Ukraine and the illegality of Putin's recognizing and ordering troops into Ukraine's eastern separatist-held regions. Carlson argued Ukraine was "not a democracy" to denigrate the case for America's supporting it. He posited a ludicrous theory that Democrats stand to benefit financially from war in Ukraine. And he delivered a long monologue about how Americans are socialized to hate Putin even though he's not responsible for what Carlson sees as Americans' primary social ills ("Has Putin ever called me a racist? Has he threatened to get me fired for disagreeing with him? Has he shipped every middle-class job in my town to Russia?"). That monologue was, in fact, replayed by Russian state-sponsored television because it served naturally as Russian propaganda.
Posted on August 2, 2021 by Royal Rosamond Press
Treacherous Republican-Christians, and their disgraced ex-president, tried to end our alliance with Britain, formed by the artist , Winston Churchill.
John Presco
British Defence Staff in the USA
Location:USAPart of:Ministry of Defence
The Ministry of Defence (MOD) protects the security, independence and interests of our country at home and abroad.
We work with our allies and partners whenever possible. Our aim is to ensure that the armed forces have the training, equipment and support necessary for their work.
The MOD works with the United States on joint overseas operations and contingency planning, bilateral defence co-operation, interoperability and engages on defence trade.
Our team in the United States assists this work and communicates the broader transatlantic defence relationship, elevates the UK's interests and reputation and provides high-quality advice and reporting to the UK on all aspects of defence business.
Responsibilities
The MOD is responsible for: defending the UK and its overseas territories, providing strategic intelligence, providing nuclear deterrence, supporting civil emergency organisations in times of crisis, defending our interests by projecting power strategically and through expeditionary interventions, providing a defence contribution to UK influence and providing security for stabilisation.
The British Defence Staff in the United States comprises some 750 military and civilian MOD personnel based in over 30 states across the US. Their mission is to protect and advance the UK and its interests by reinforcing the transatlantic defence and security relationship.
Priorities
Preserving global peace & security — The UK and the US co-operate to address the world's most pressing security challenges.
Supporting trade and investment — Driving forward industry, the UK works with the US on facilitating defence trade and investment.
Co-operating in science, innovation, energy and higher education — The UK and the US collaborate in science and innovation; including advanced defence technologies.
Tucker Carlson calls Boris Johnson a 'coward' and 'liar'
Holly Patrick
Fri, February 3, 2023 at 3:53 AM PST·1 min read
Tucker Carlson accused Boris Johnson of being a "coward" and a "liar" for not appearing on his Fox News show.
The TV host's comments came after the former British prime minister claimed at the Atlantic Council that US Republicans are "frightened" of Mr Carlson.
On Thursday, Mr Carlson said that Mr Johnson had been invited on his show to speak about his stand on the war in Ukraine.
"We watched during Covid as he transitioned into a terrified old woman, but we had no idea he was also a liar," he added.
Boris Johnson calls on US to give Ukraine fighter planes
Former UK prime minister tells US on Washington visit that giving Ukraine planes 'is humane thing to do'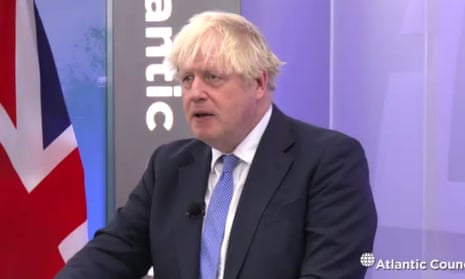 Patrick Wintour, Diplomatic editorWed 1 Feb 2023 15.03 EST
Boris Johnson has confronted US Republicans' scepticism about providing more arms to Ukraine, saying it was time to give Kyiv the tools – including F16 aircrafts – to reclaim land taken by Vladimir Putin since the 24 February invasion.
He also said he now supported ending the ambiguity by allowing Ukraine to join Nato.
With support for Ukraine slipping in US opinion polls, Johnson has used a speech to the Atlantic Council thinktank, TV appearances, an article in the Washington Post and meetings with senior Republican senators to try to stiffen US resolve. His visit was understood to be a freelance operation and not on behalf of Number 10.
He said: "Give them the deep fire artillery systems, give them the tanks, give them the planes, because they have a plan. They know what they need to do."
He dismissed claims that the Ukrainians would be unable to fly sophisticated US planes, saying Ukraine had already shown their ability to use modern Nato technology. Referring to the repeated debates inside Europe about the risk of escalation if a specific weapon was provided, he said that these debates had all ended with agreement to provide the weapons. "Let us do it now and end this delay because that is the humane thing to do."
Admitting his thinking had changed, he said there was an inescapable logic to offering Ukraine Nato membership, saying Putin had ended the argument to keep Ukraine out of Nato by invading.
In an attempt to demolish Republican talking points on Ukraine he urged the US to realise that it was a cost-saving to win the war, saying the cost of defending the borders of the old Soviet Union would be infinitely higher in the long run.
"For a relatively tiny outlay in expenditure, we will have greatly strengthened the entire Euro Atlantic area, and bear in mind that America's contribution is noble and huge, but it is still only 5% or 6% of the annual US defence budget so far, and has helped to degrade about 20% – some say 50% – of Putin's war machine.
"To those who say we may be denuding our own arsenals by giving the support, I say what is the point in deploying tanks and planes in North Carolina or North Rhine-Westphalia when Ukrainians could be using them now, where they are needed to help assure our collective security for decades?"
Challenging another largely Republican concern, he said: "Putin won't use nuclear weapons, because he would instantly extinguish the last flicker of Chinese support, he would lose every one of the world's swing voters from India to Africa, to Latin America, he would terrify his own people who would live in dread of the consequences for them, he would plunge Russia into such a cryogenic freeze of economic isolation as to make the present sanctions regimes seem like a blessing."
A Russian capture of Kyiv "would have emboldened the Kremlin to increase the intimidation and threats towards every country and region on the fringes of the old Soviet empire. It would have told the Chinese all they need to know about our reluctance to stand up for freedom and democracy in the South China seas or anywhere. It would have sent a signal to every opportunist autocrat around the world that international borders are fungible and frangible and can be changed by force, and we will not do a damn thing to stop it. And the guilt for the whole Ukrainian tragedy will then be upon us."
Johnson said he had met several top senators in Washington this week, including Mitch McConnell, Lindsey Graham and House speaker Kevin McCarthy.
The former prime minister also defended Brexit, saying it had given the UK greater freedom to challenge some of the thinking of France and Germany that dominated the Normandy format, the main means by which the EU related to the Ukraine issue. "Because of Brexit we have been able to do things differently," he claimed.
Posted on October 2, 2022 by Royal Rosamond Press
Marjorie Taylor Greene walks with supporters to cast her primary ballot in Rome, Ga., on the first day of early voting.
"Democrats want Republicans dead and they've already started the killing," she said.
Twice the crowd chanted, "lock her up" as Greene attacked Democratic Gov. Gretchen Whitmer and Greene also called for jailing doctors for gender reassignment surgeries.
Watch: MTG calls for imprisoning her political enemies in combative speech at Trump's Michigan rally (msn.com)
Putin and Greene have gone insane! Employing Fictional Christianity, things have not gone well enough for these two Villains. Both politicians have resorted to Horrific Propaganda, of – The Mixed Kind! Greene appears to be calling for the imprisonment of Lesbians and Transgenders – which will make Killer Kirill very happy. She is giving Putin – hope!
"Speaking for more than twenty minutes, Greene lashed out at her political enemies and painted a dark portrait of a dystopian portrait of a country where Republicans are persecuted and transgender Americans are the "most protected class."
I'm going to directly employ them in my propaganda novel 'The Royal Janitor'. Why bother to change their name, as both lunatics are dedicated to altering reality as we know it.
John Presco
Russian forces have allegedly detained the chief of Europe's largest nuclear plant (msn.com)
Russia's President Vladimir Putin is seen during a meeting with members of Russian business community in the Moscow Kremlin. Alexei Nikolsky\TASS via Getty Images
On Saturday morning, news began to circulate that Russian forces have allegedly blindfolded and then kidnapped the head of Europe's largest nuclear plant, which provides nuclear power to Ukraine.
According to AP News, the event allegedly took place after Russian President Vladimir Putin escalated the on-going attack on Ukraine by "annexing four Ukrainian regions that Moscow fully or partially controls."
Ihor Murashov, director-general of the Zaporizhzhia Nuclear Power Plant, is said to have been seized around 4 p.m. on Friday, according to word from the Ukrainian state nuclear company Energoatom.
As detailed in the report by AP News, "Energoatom said Russian troops stopped Murashov's car, blindfolded him and then took him to an undisclosed location."
Hey, Franklin Graham: Muslims Already Do Love Jesus (thedailybeast.com)
Watch: MTG calls for imprisoning her political enemies in combative speech at Trump's Michigan rally